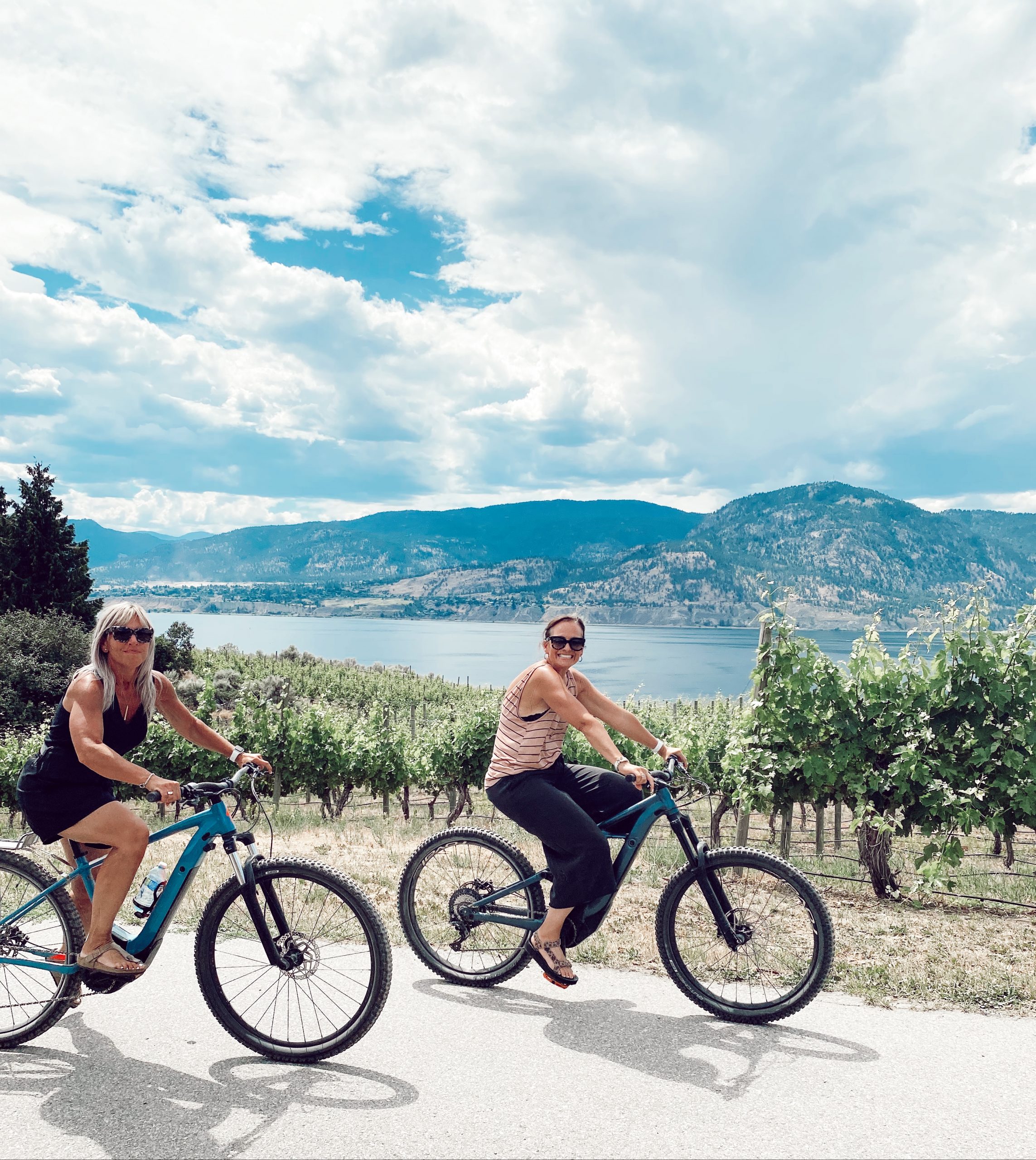 A couple short weeks ago, Pam and I, along with our families made a sprint up to Penticton for a mini vacay! It honestly felt like we were embarking on a trip of a lifetime…how many months has it been since we were able to travel anywhere? We had taken a chance booking for the last week of June with our fingers (toes, eyes…everything!) crossed that restrictions would loosen and allow us to make this trip happen! So when it happened, we were almost giddy with excitement!
Here's the funny story of how the trip even came to be: Months ago, Pam casually said, "Hey, Jason and I are taking the kids to Penticton during the last week of June….you and the kids should come too!" At the time, I thought it pretty much wouldn't be possible as the girls are busy this summer with jobs/volunteer work/etc. But…I couldn't resist scrolling VRBO. The scroll brought me to the most awesome rental that looked too good to be true. The home's rooftop deck sported a hot tub, putting green, fairy lights and a stellar view of Lake Okanagan. It was new and looked so pristine and spacious. AND…it was free the dates we wanted to go. After checking the cancellation policy (which was super flexible due to the travel restrictions), I thought, what the heck…I'll just book it and cancel if I need to.
In my excitement, I called Pam to tell her the awesome score I had just booked. As I was reading the house description to her, she interrupted me to say that it sounded like the exact same place she had booked on Air Bnb! What?!?! Ok guys, we literally booked 2 vacations rentals side by side in a 4 Plex!!  Hers on AirBnB, mine on VRBO…with no discussion. I dunno…is that a sister thing or what?!?!
So, let's say that was an awesome start!
Over the years, we've spent some time in Penticton, usually coming for our boys' hockey tournaments. And we've seen how the city has been morphing…and yet still maintaining its relaxed, beachy vibe. The food scene has really evolved and the offering for delicious, locally sourced food is seriously incredible!
We loved that we could pack in so many of our favourite things in 4 1/2 short days…and still feel like we had chill time. So, we thought we'd share our itinerary to give you an idea of all that you can enjoy visiting Penticton!
Day 1:
We arrived later in the day and got ourselves settled into our home for the week. Next door was Pam's Air BnB. We ending up spending a lot of time on the rooftop deck…hot tubbing, visiting and taking in the gorgeous sunsets.
Dinner: Bad Tattoo Pizza – Mmmm. Super casual with unreal yum pizzas and craft beer.  Our favourites: Caprese Salad, the Forager Pizza, The Donair pizza.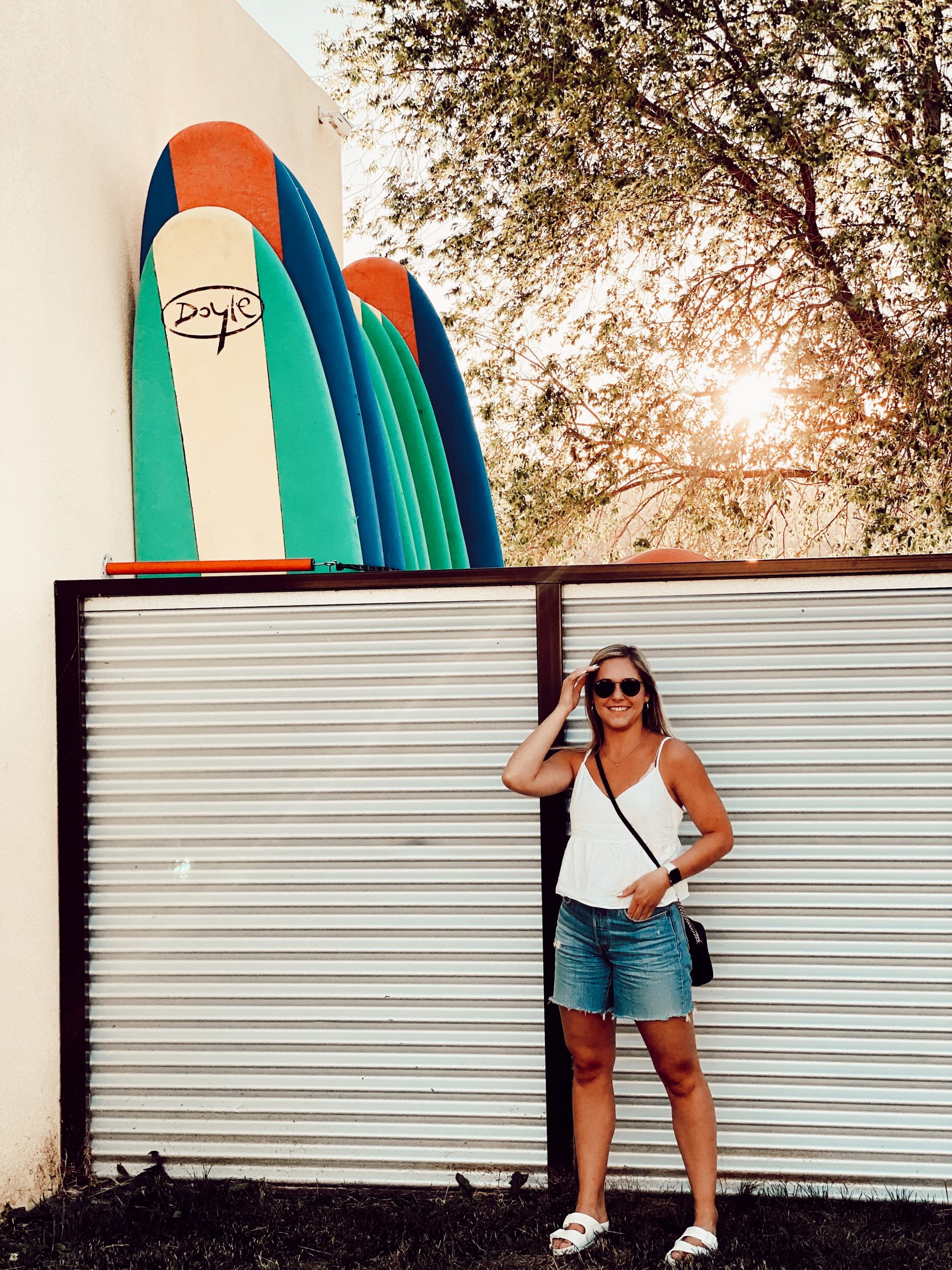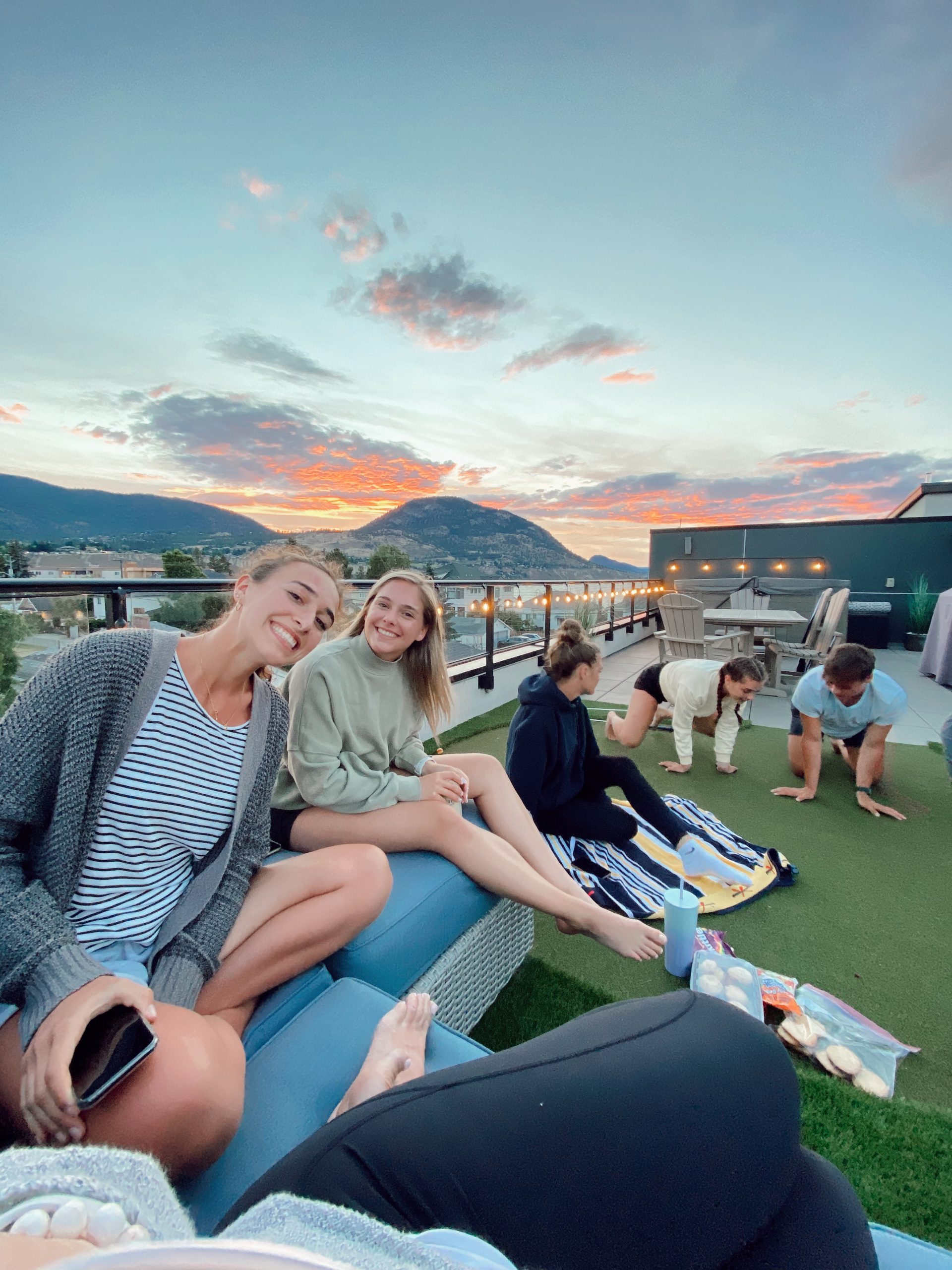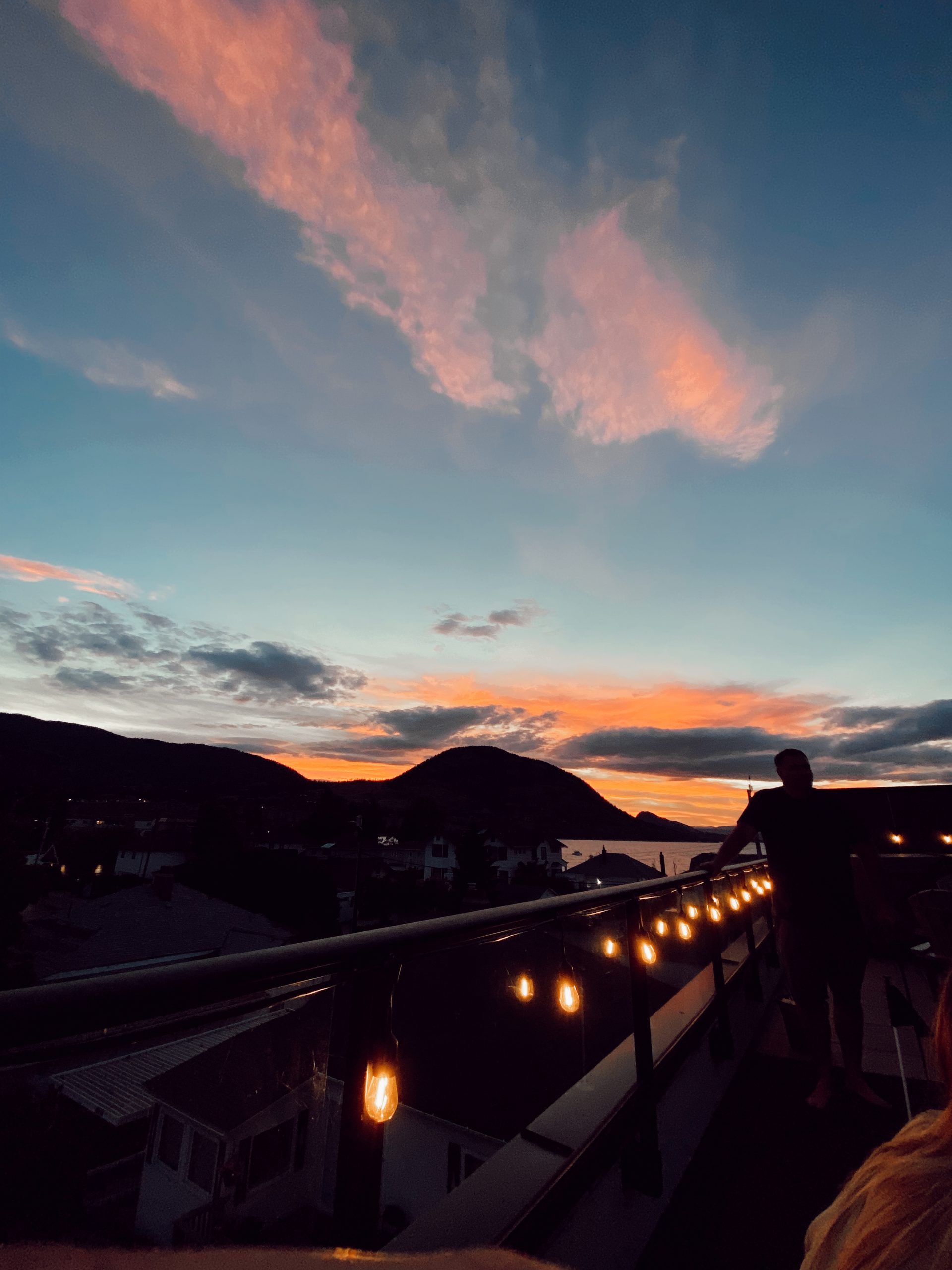 Day 2:
Breakfast: Joy Road Bakeshop  – Such a treat! This was a perfect start to the day…. pastries, sourdough, coffees in the cutest little courtyard. There's also a curated marketplace to shop local items. Our favourites: Breakfast sandwiches (that bacon!), cinnamon buns, oat milk lattes.
Fueled for the day, we headed over to Freedom Bike Shop to pick up our e-bikes for the afternoon! Oh my word. So so fun! They got all 9 of us set up on bikes and we headed out to explore the Naramata Bench. A friend had suggested e-biking as the perfect way to experience the wineries and scenery of this gorgeous area and she was so right! Riding the KVR (Kettle Valley Railway) is incredible …I had to pinch myself as the trail took us through the middle of a vineyard…vines on both sounds, surrounded by rolling hills, the Okanagan lake in the distance. It doesn't get better than this! Also a bonus? The e-bikes made light work out of the hills…we had an absolute ball taking detours here and there for wine or cheese or both! I can't recommend e-biking the bench enough!
Fun stop: Lock and Worth for a picnic. Choose your wine from their tasting room and then assemble your charcuterie by shopping their marketplace which offers Poplar Grove cheeses as well as spreads/crackers/saucisson. Take it all outside to enjoy on picnic tables in a beautiful setting.
Dinner: We enjoyed a more upper end dinner at Poplar Grove. The views from their patio overlooking Lake Okanagan are pretty wonderful. The dishes are thoughtful and inventive and pair well with their wines. Our favourites: Italian burrata, Scotch egg, Halibut.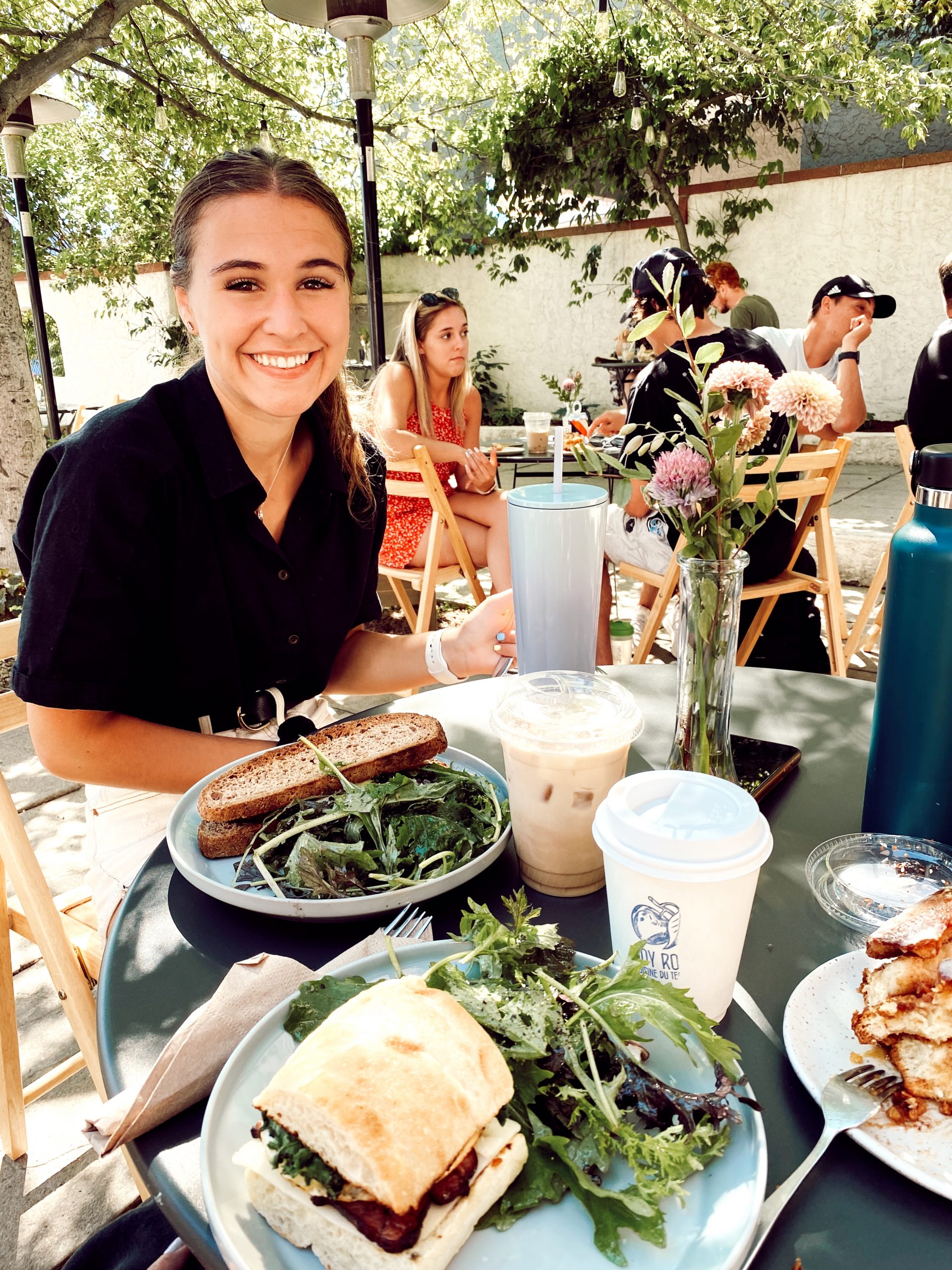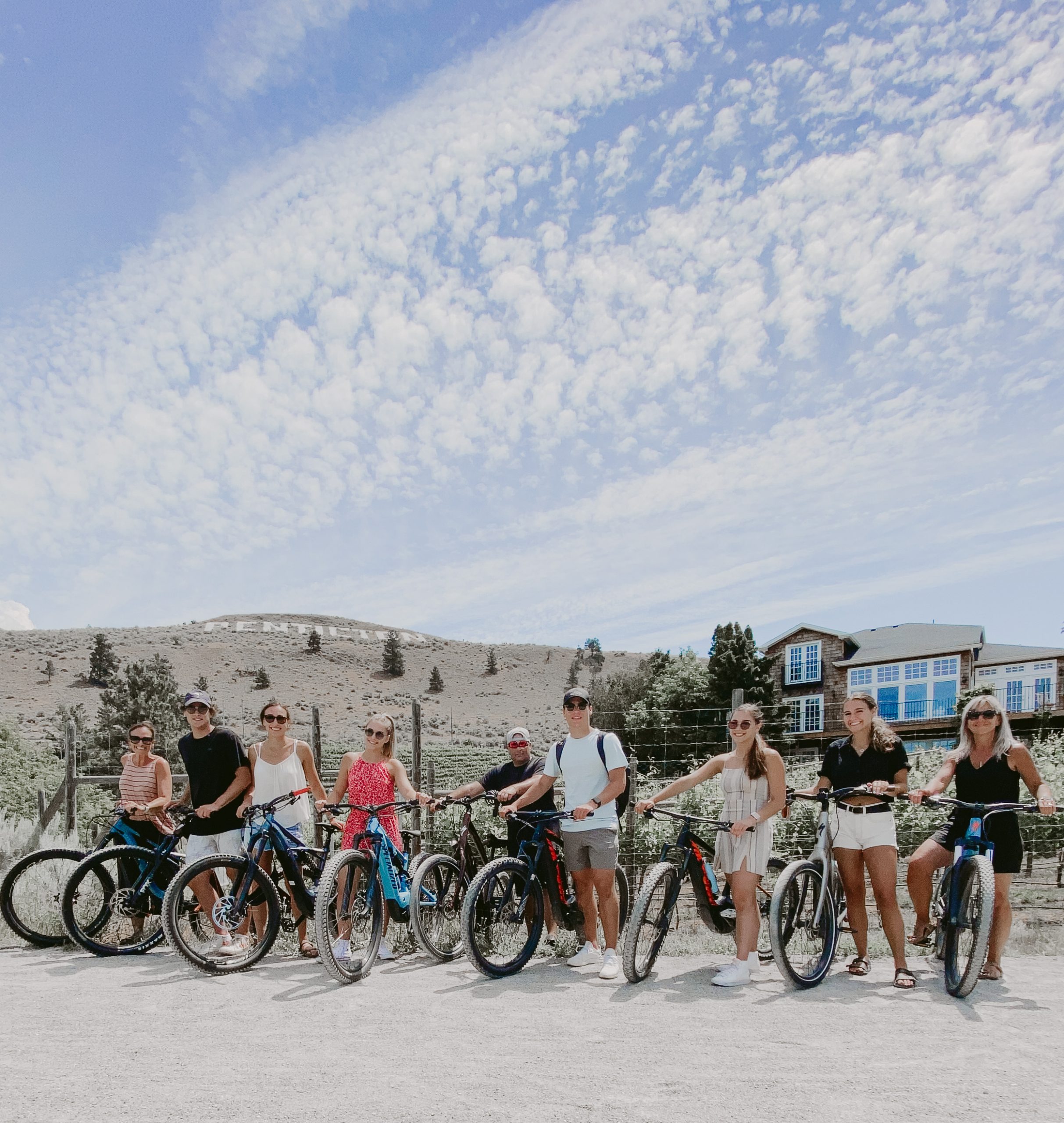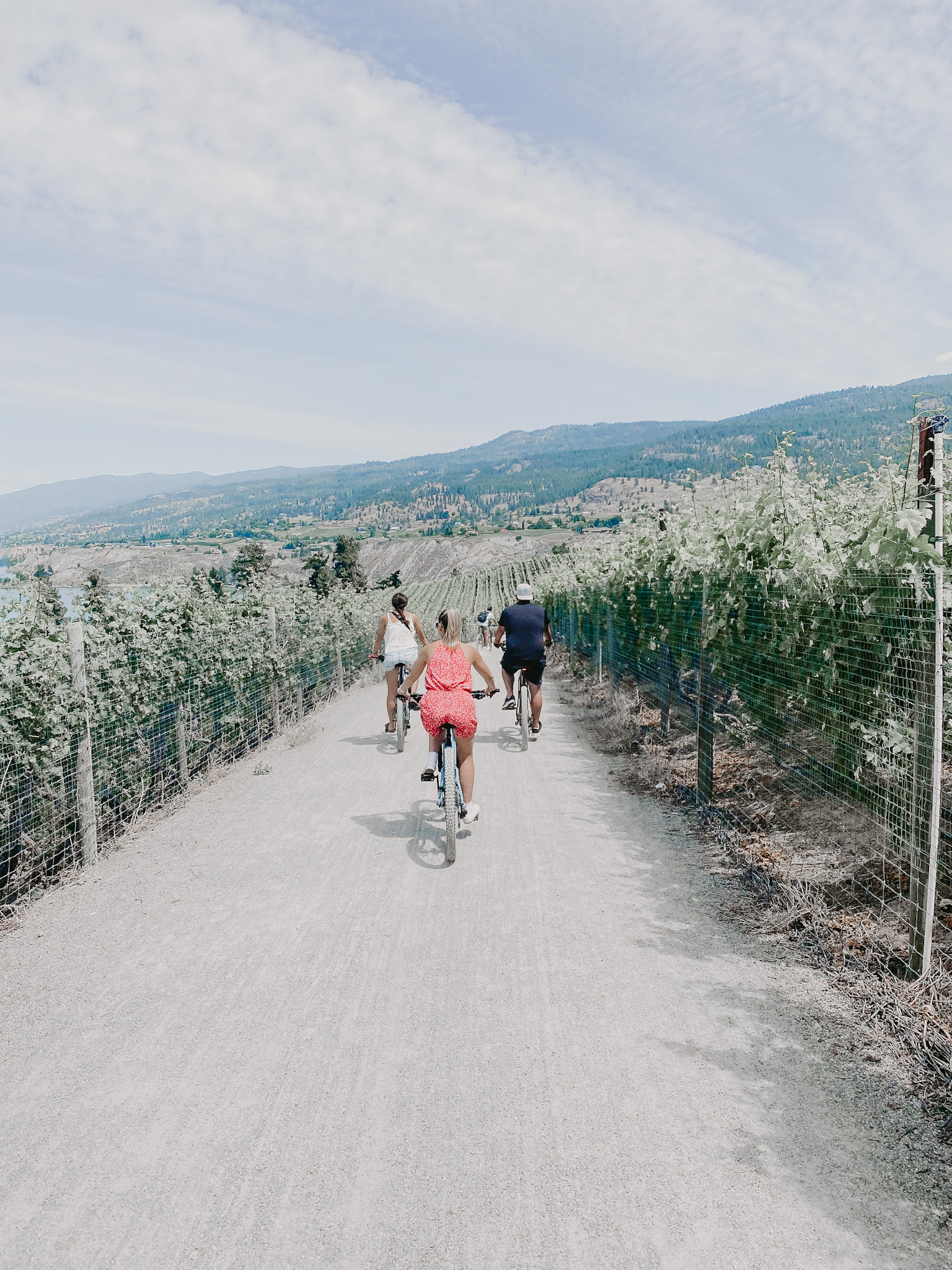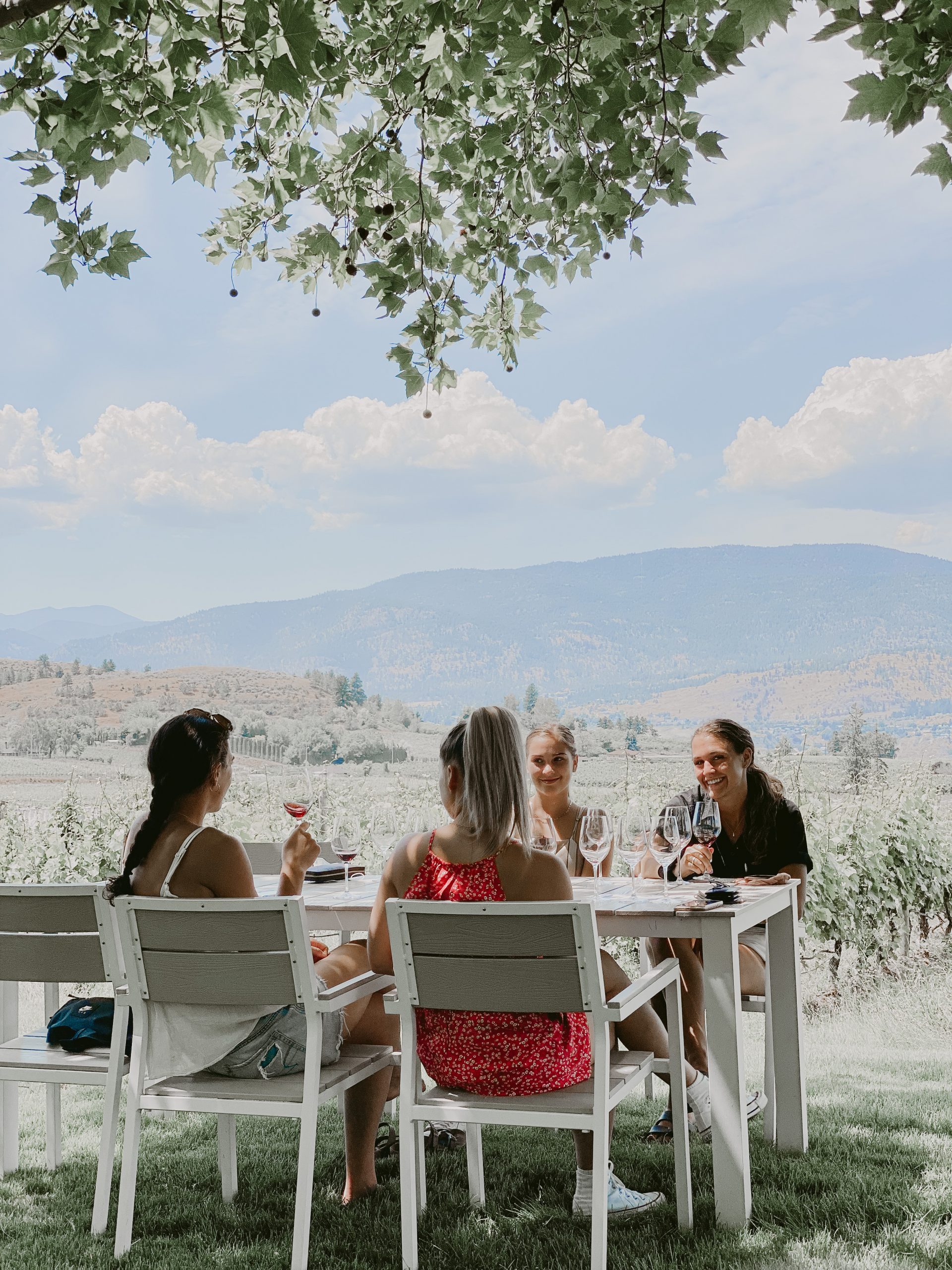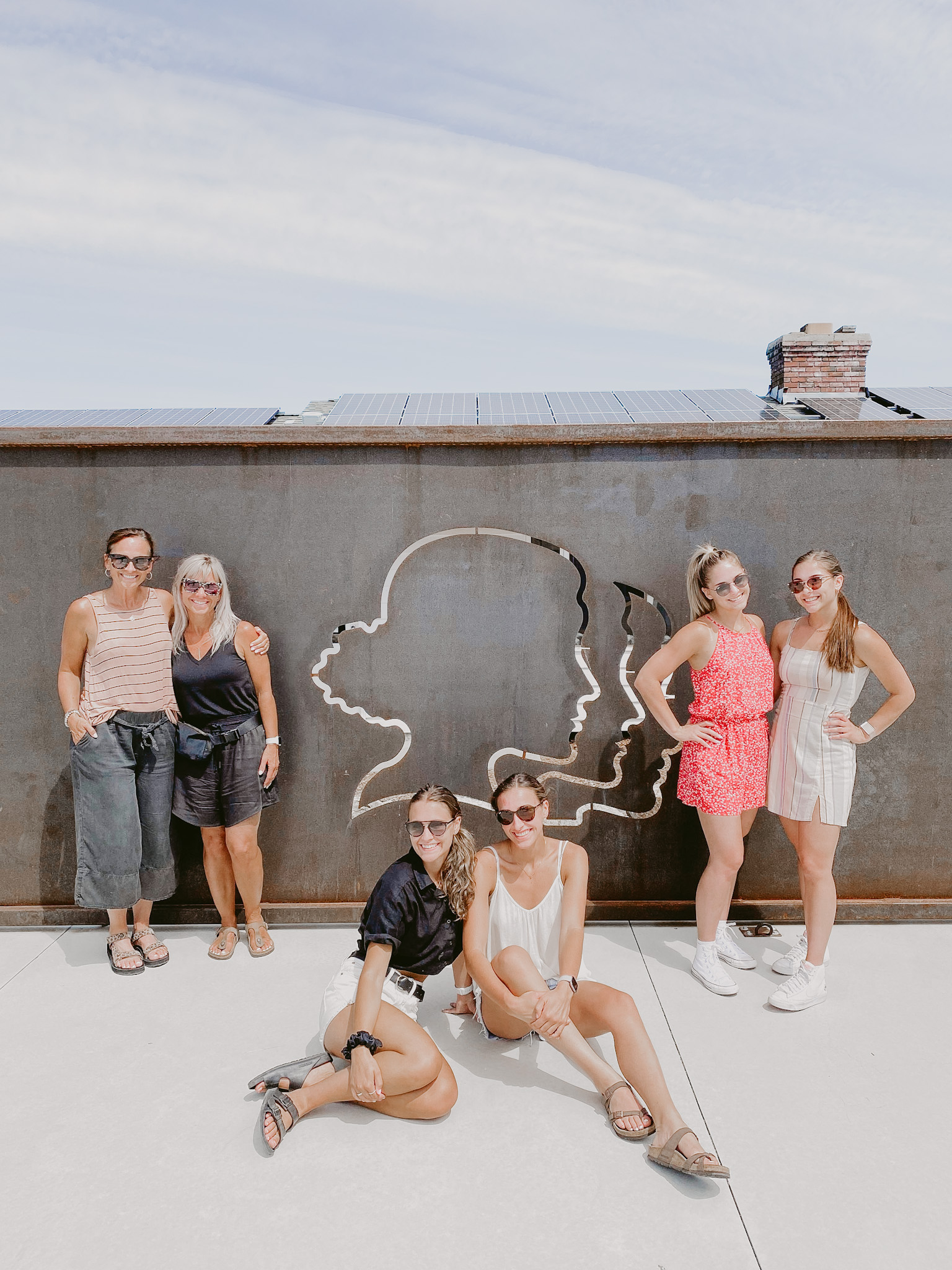 3 sets of sisters at…. Three Sisters Winery…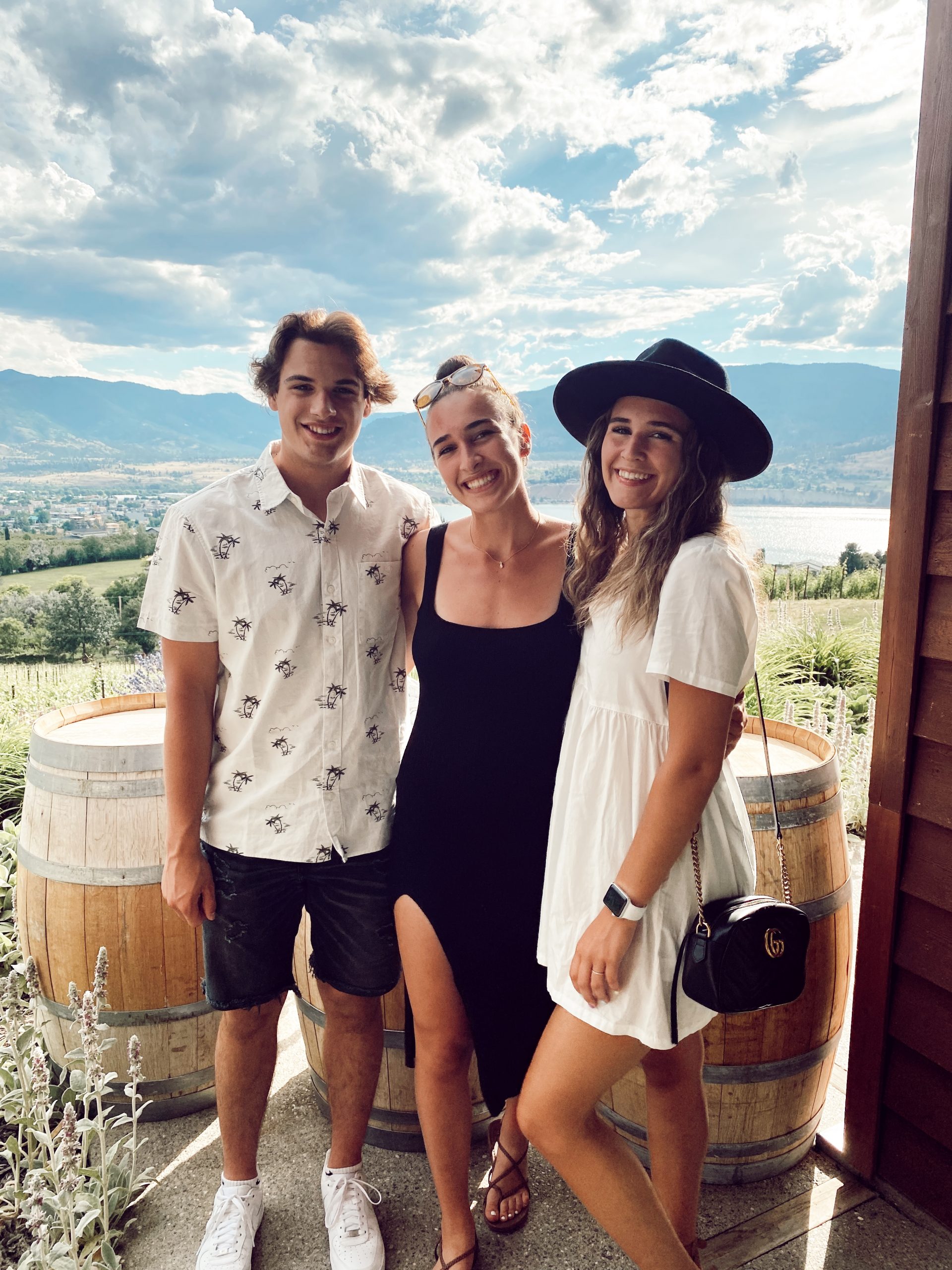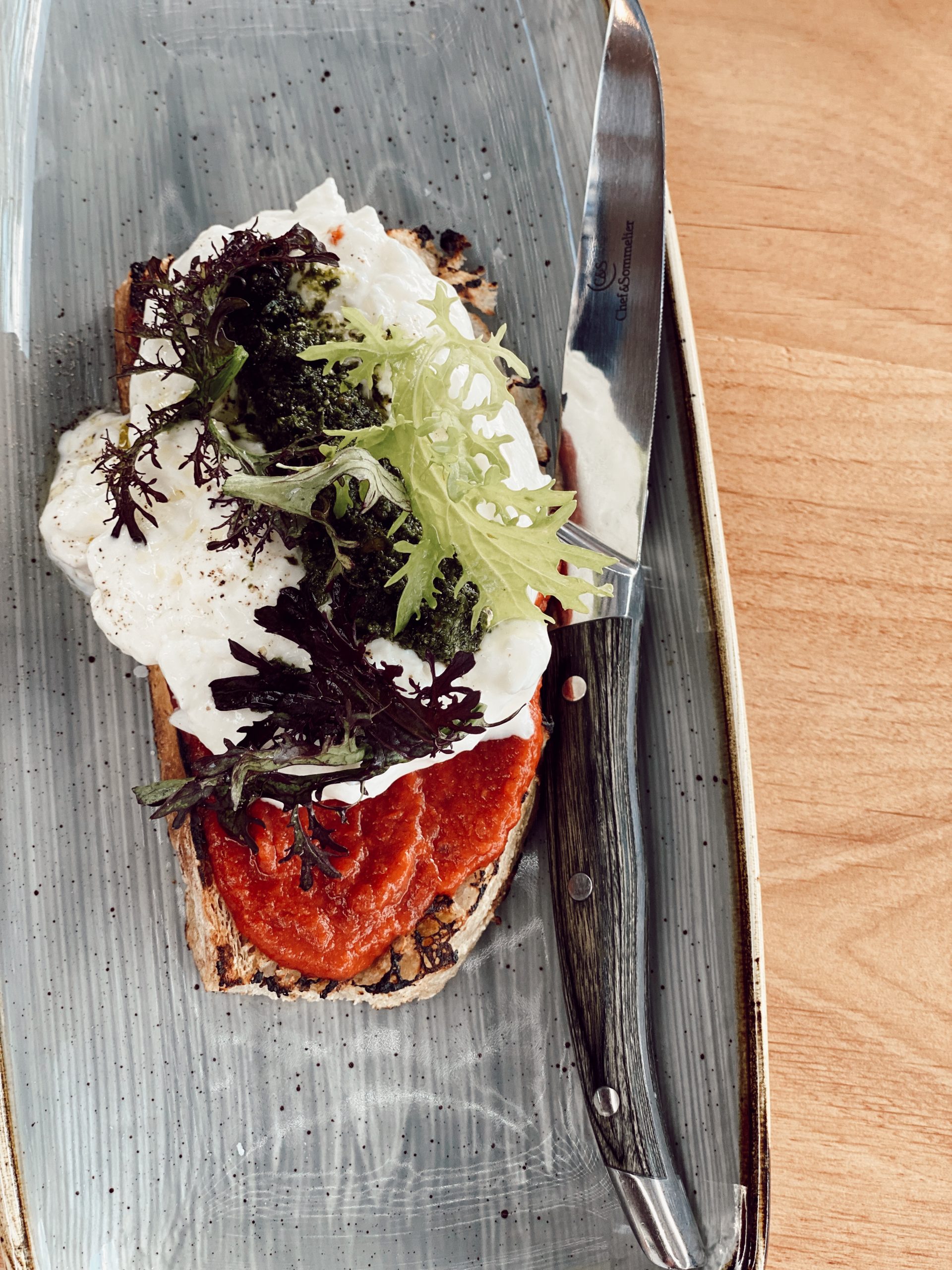 Day 3: 
The guys started their day at the crack of dawn getting a golf round in, so us girls decided to go for a long walk…well, we squeezed a breakfast stop in there too!
Breakfast: The Bench Market. Consistently good food every time we've visited! They offer all day breakfast with additional brunch dishes on the weekend. We also love that they have many gluten free options for Melina! Favourites: Avocado Toast, the Bench Eggwich.
After a long walk, we plopped down on the beach to enjoy the afternoon. If you know me, you know that I love to read on vacation, so this was my chance!
Dinner: Pizzeria Tratto. This is the place for incredibly delicious forno baked pizzas, Neapolitan style (aka soft and yet charred…mmmm!). It's Italy right here in BC.   If you do nothing else, you must have their Burrata Bomb. It is reee-diculous! So good.  I have to also say that they put together a gluten free charcuterie dish for Melina to enjoy…of course with the burrata in there, because…well, burrata! I just appreciated them taking care of my celiac girl! Favourites: Meatballs and Bread, Arugula Salad, Sausage & Smoke Pizza, Bee Sting Pizza.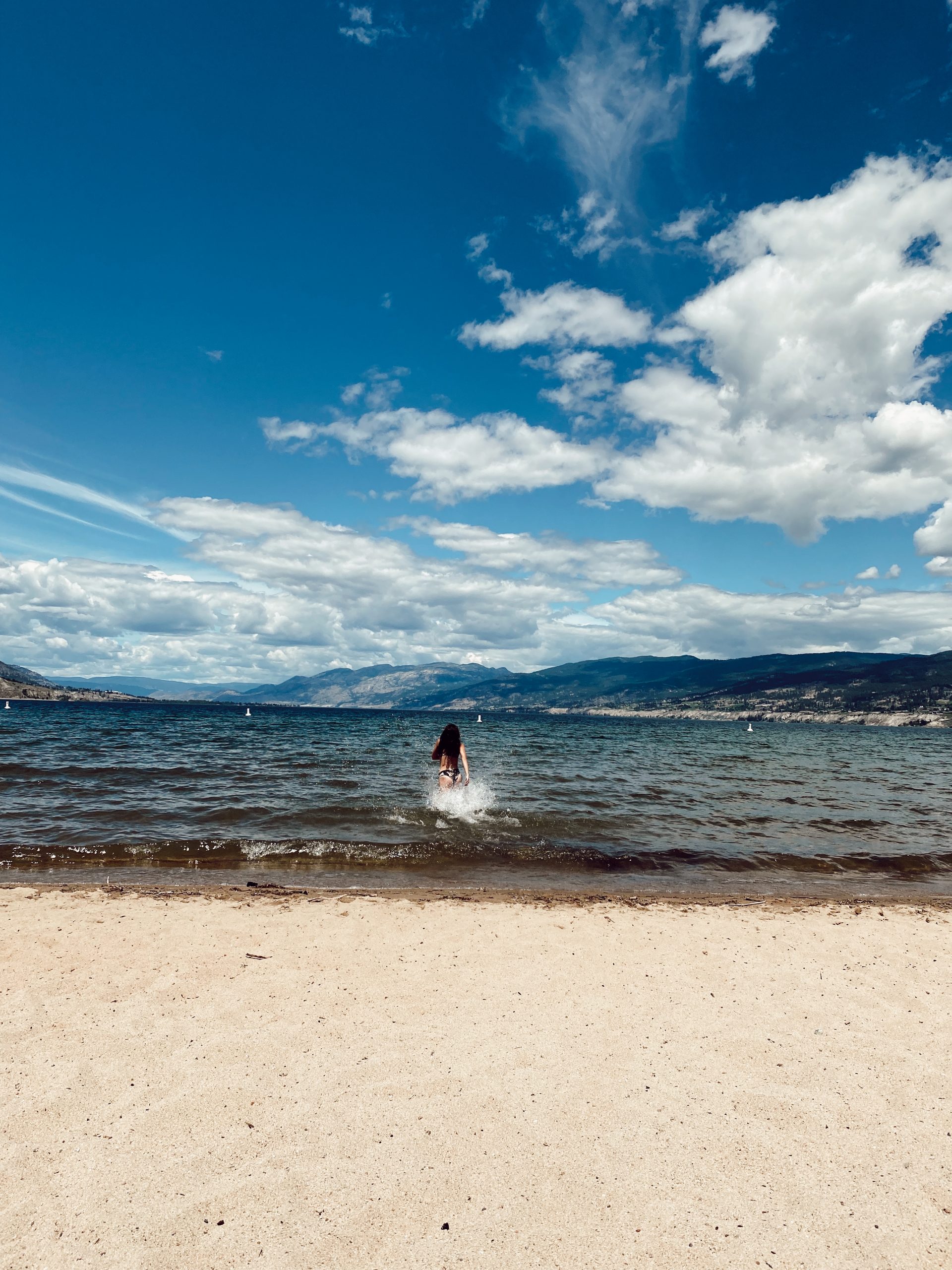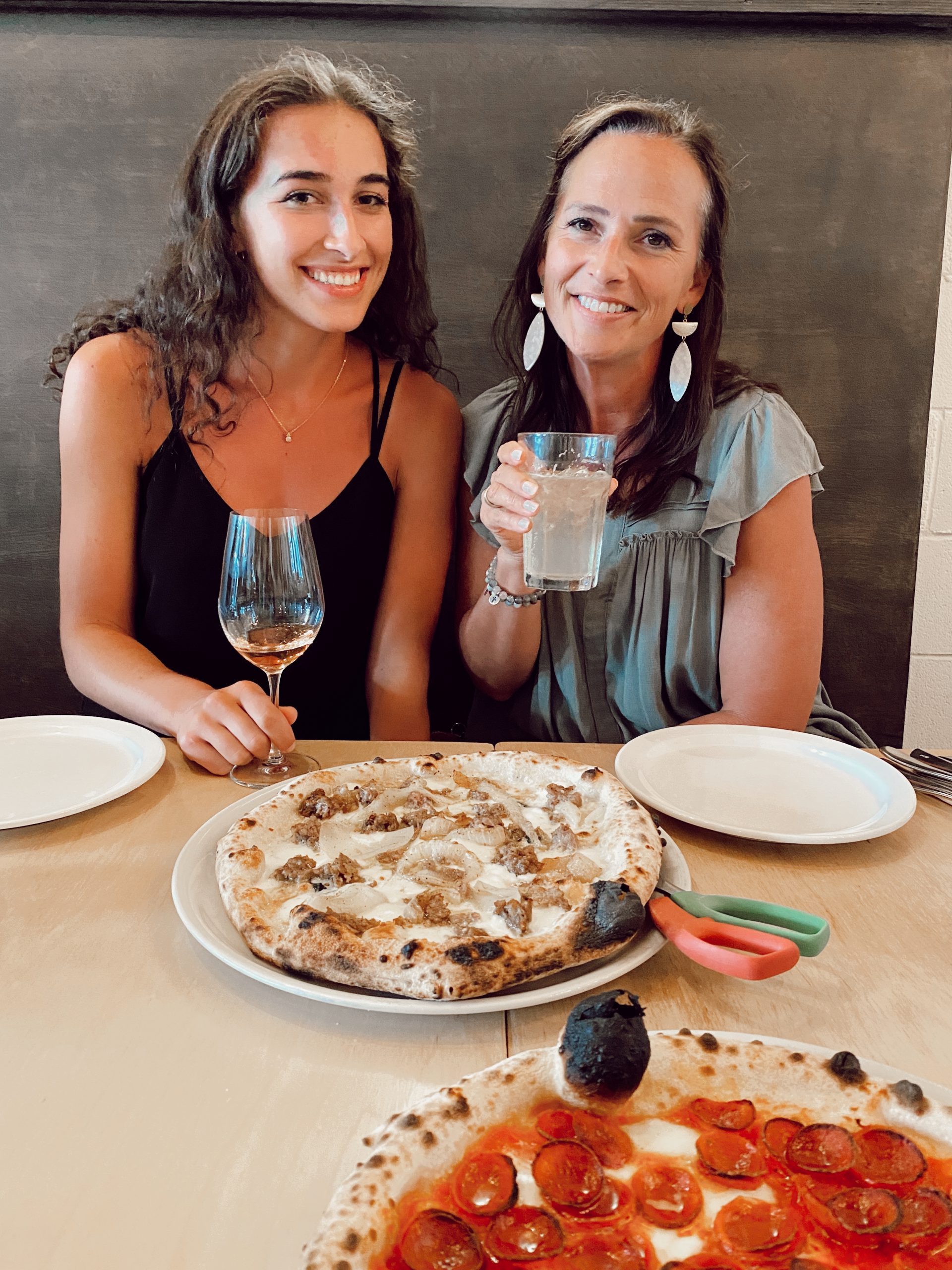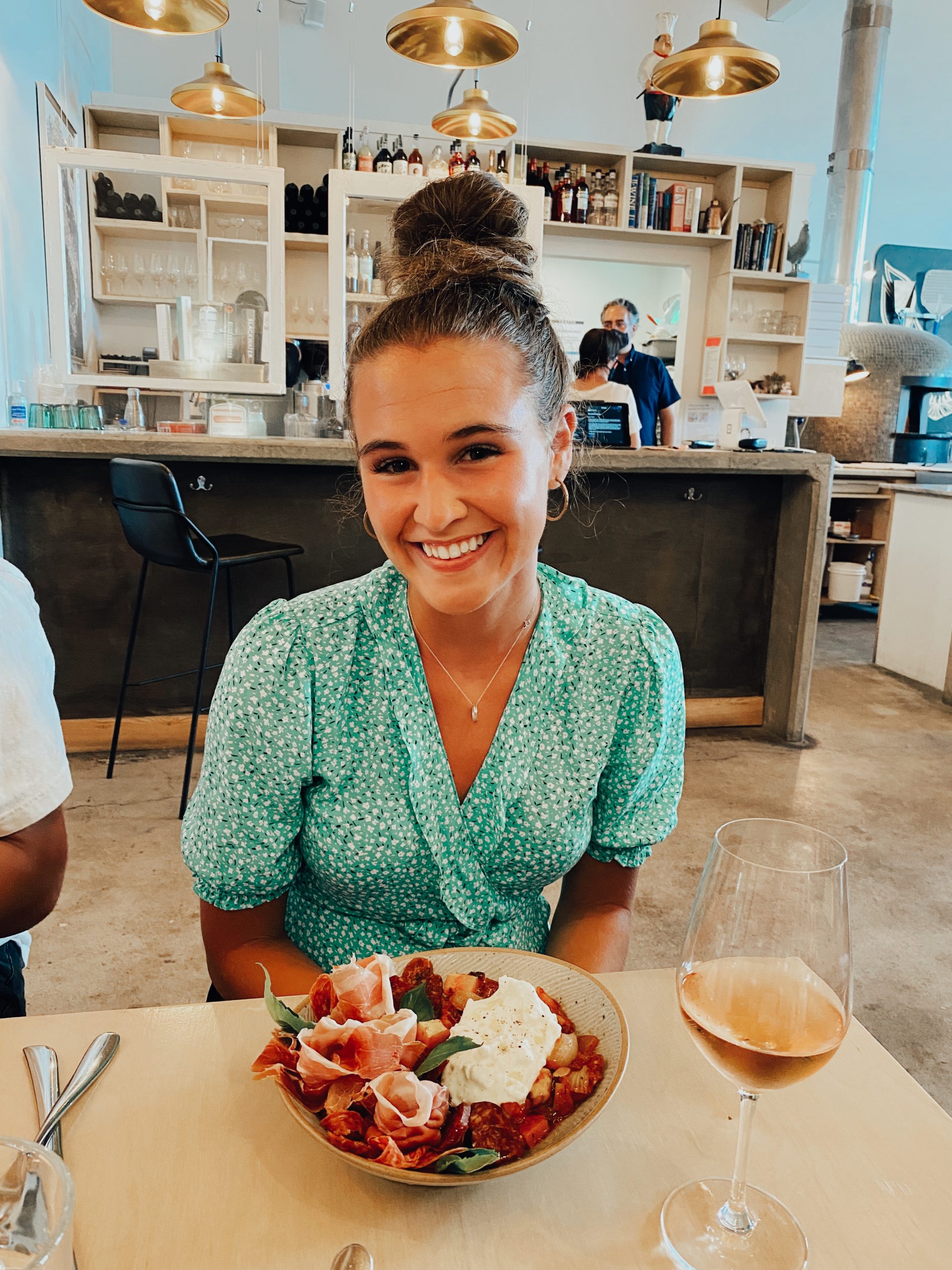 Day 4: 
Breakfast: Crêperie Ooolala . Pam and I were walking one day and saw this cute parisian food trailer right on the lake. We were drawn in by the red and white striped canopies and when we explored closer we were even more enchanted with the owner and her incredibly chíc french accent! Savory or sweet, there are so many combinations to choose from! And again, thrilled for the buckwheat savoury crepe options that were gluten free. Favourites:  Olé crepe, Nutella crepe, Butter & Sugar crepe
The afternoon was a nostalgic moment for Jason! A little float down memory lane…on the Penticton channel… was a total highlight. While you can opt to rent floatables and have your transportation looked after through Coyote Cruises, we did it old school. We dropped a car off at the end point early in the morning to have a way back, brought our own floaties and jumped in. Oh my goodness, we crisped ourselves (even with layers of SPF!) but it was such a blast! So much fun. ps The float took us about 2 1/2 hours.
In the late afternoon, we visited my fave winery on the Naramata Bench: Little Engine Wines. After discovering it a number of years ago, it remains my "must stop" whenever I am in the area.  It was a real treat to have a tasting in the newly built wine cellar… the science of wine making is fascinating. Little Engine has recently built a Lakeside Patio, where you can sit in the shade, enjoy the view and savour a glass of their wine (could I suggest the Rosé or the Gold Chardonnay??)
Dinner: Elma  It might be one of our most favourite restaurants ever. Turkish- inspired, Elma is not only so instagram worthy, but the dishes and cocktails are inventive and so delicious. Our favourites: Where to start? Mezze flight, Charcoal grilled halloumi, Mushroom and Leek Pide, Turkish Fried Chicken, Kebab (chicken or lamb), any of their cocktails.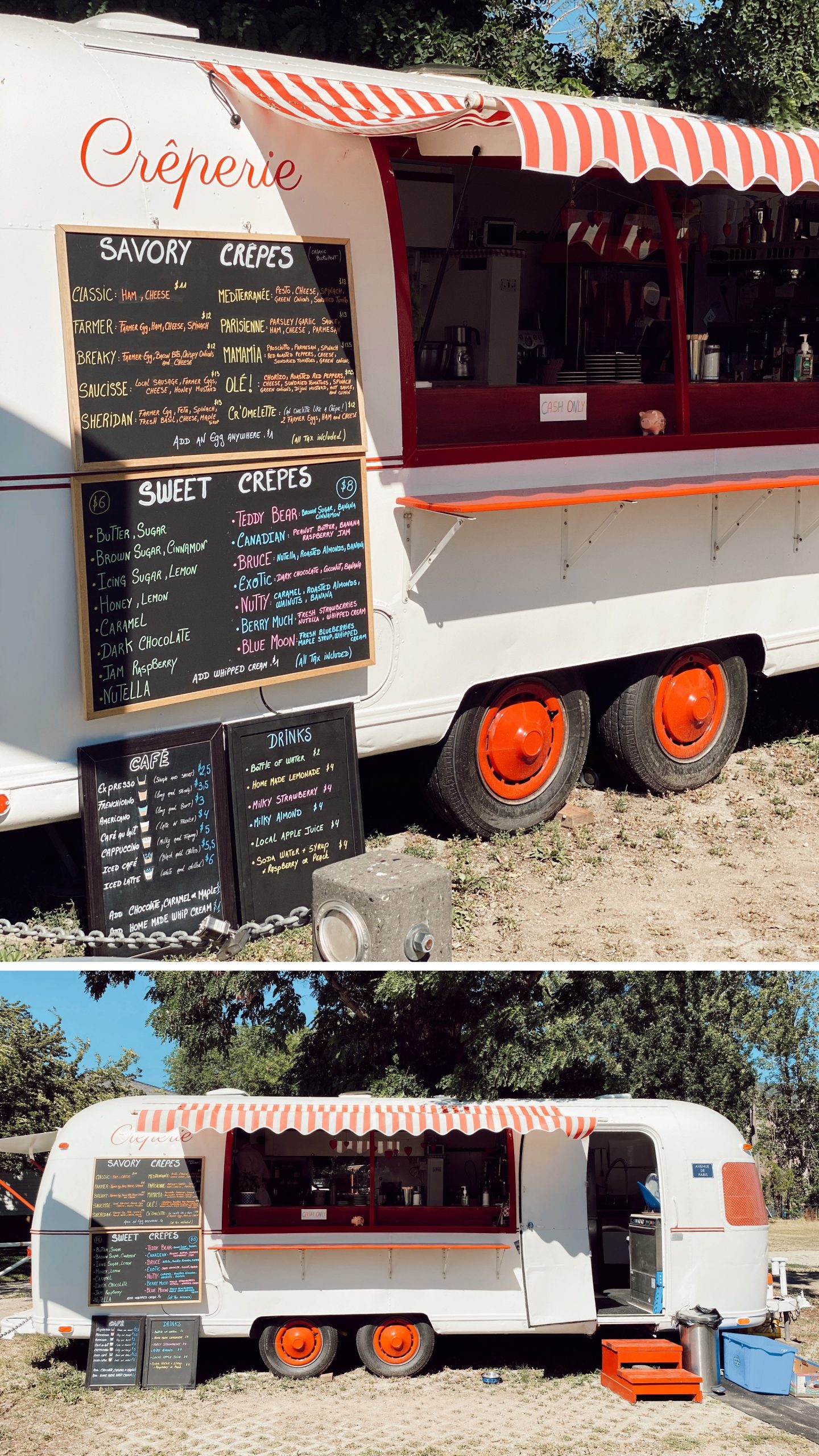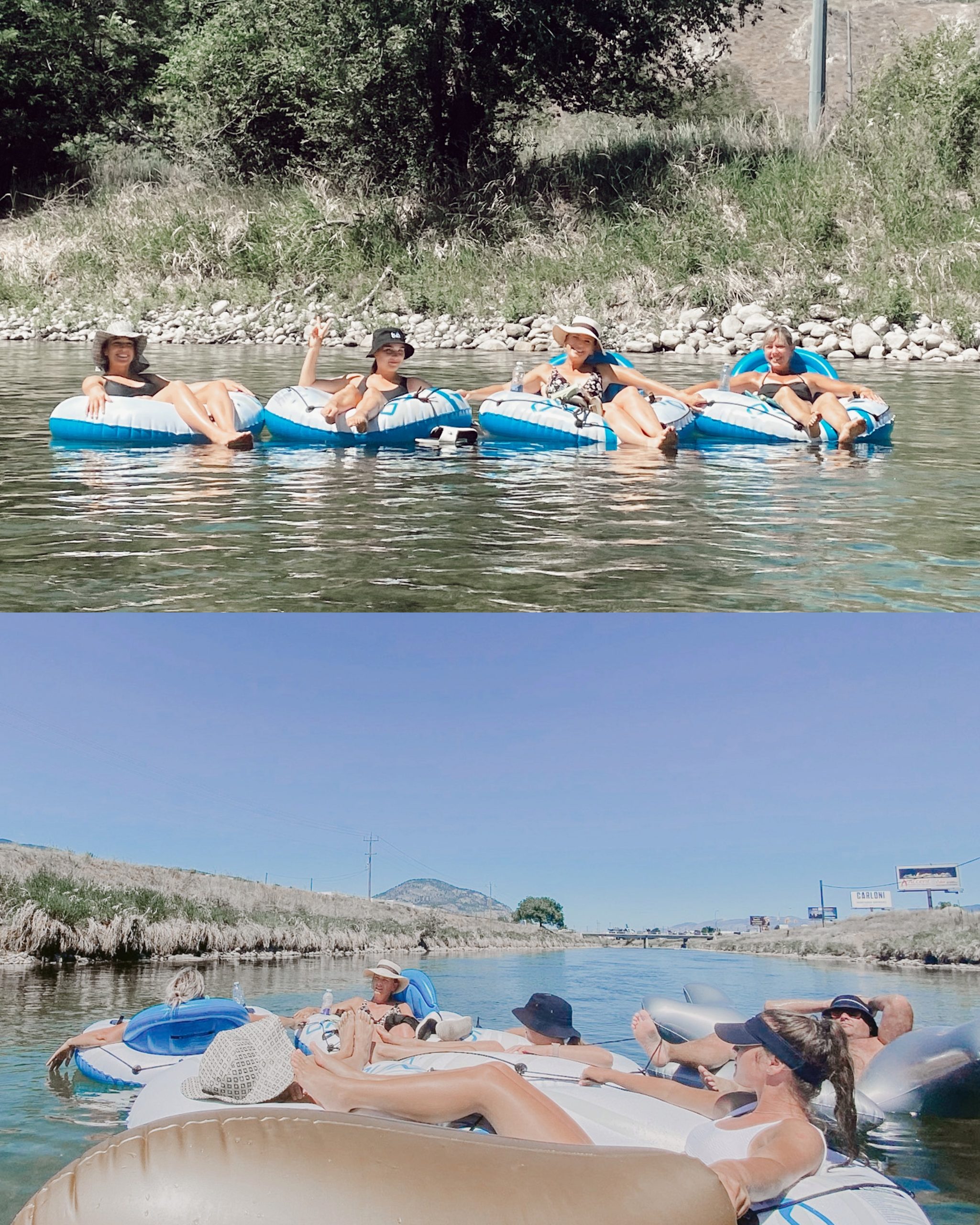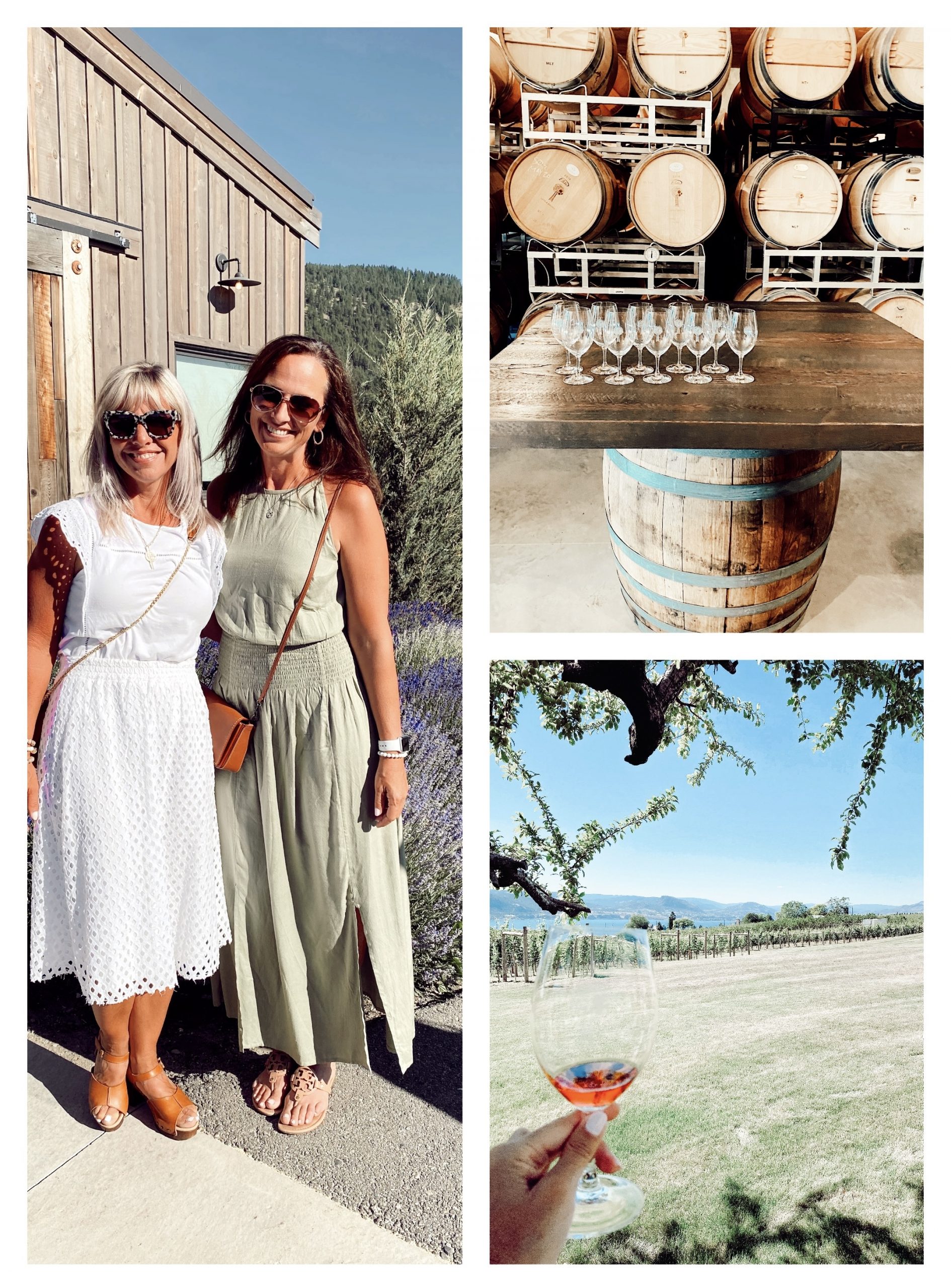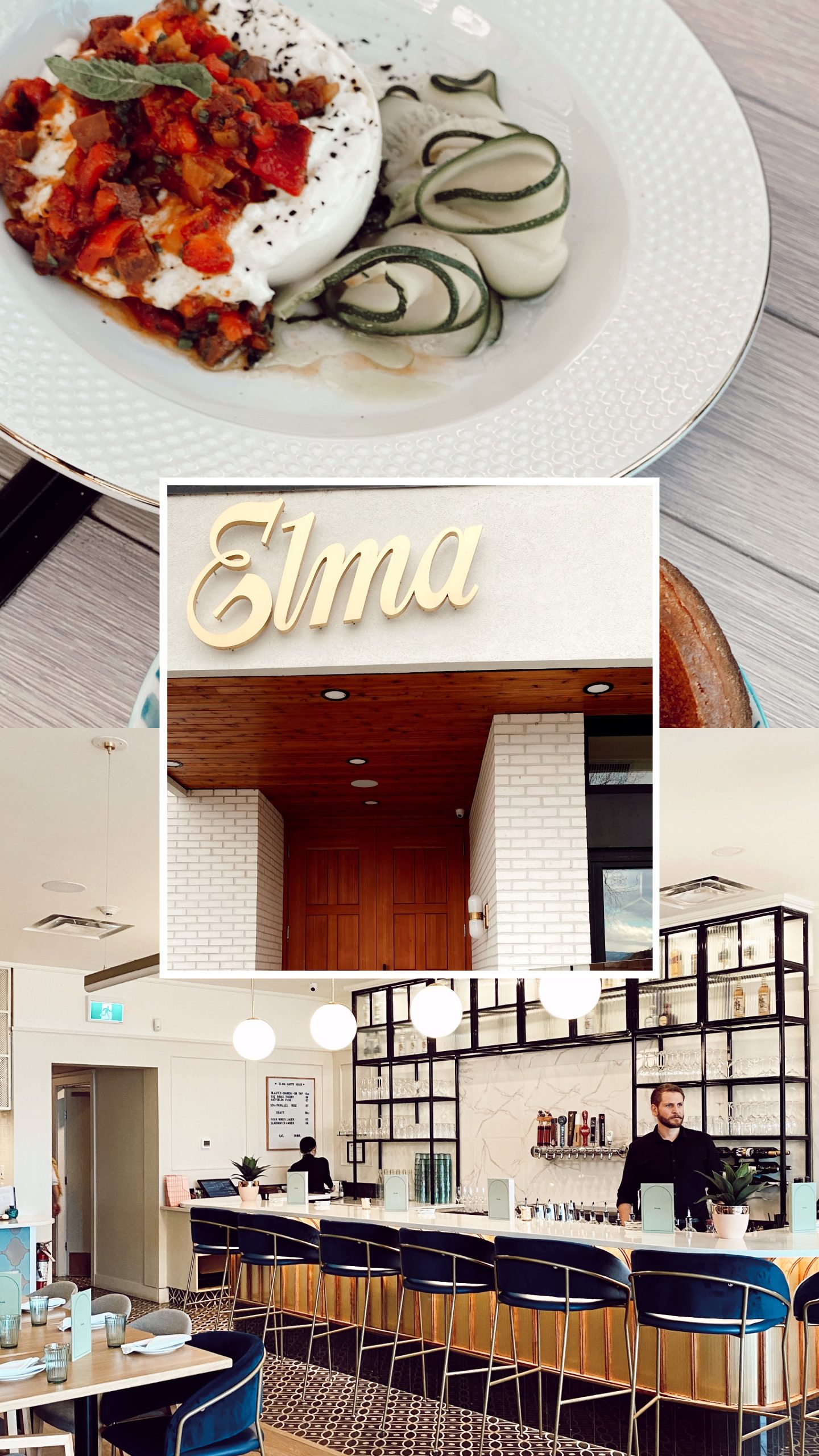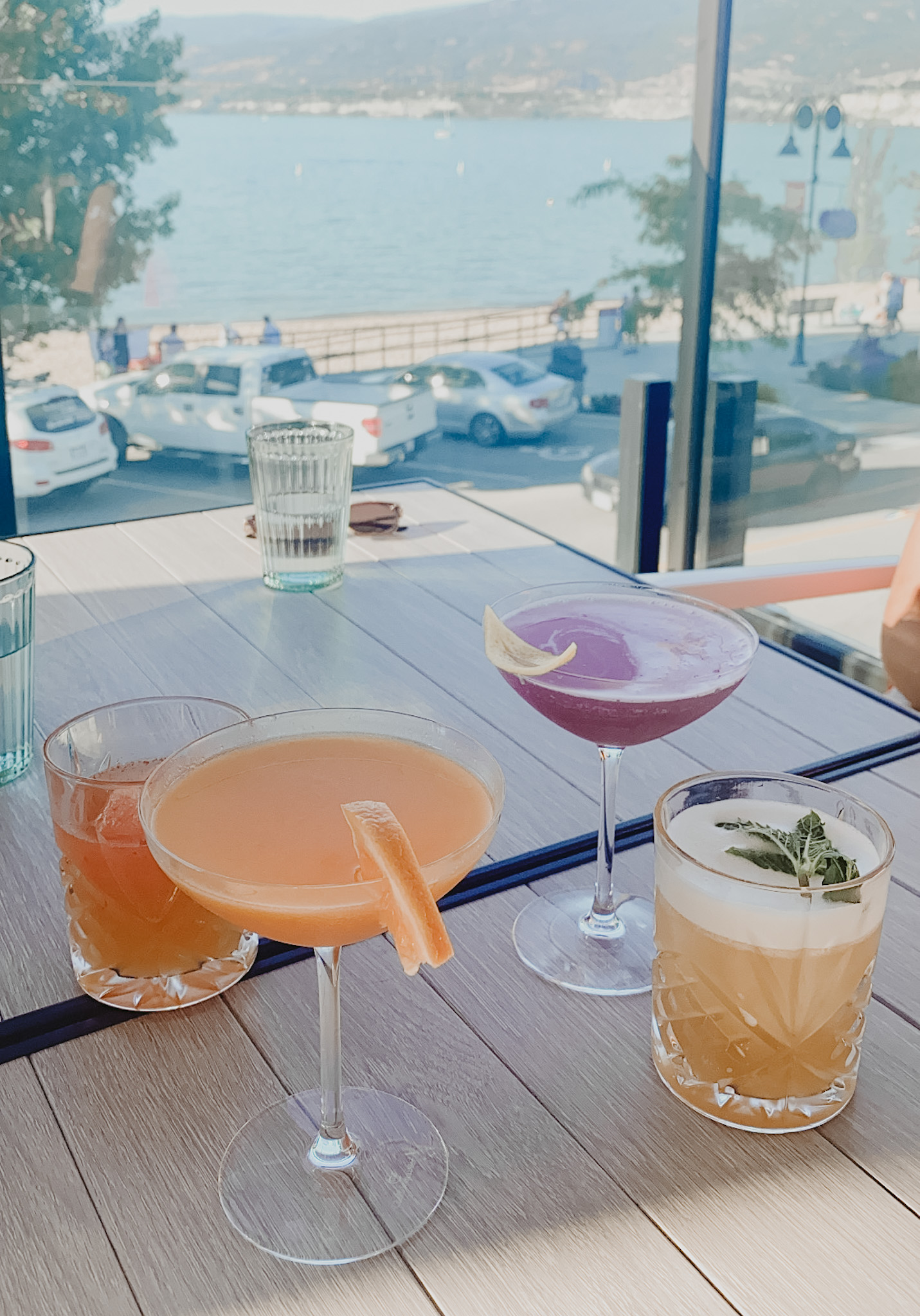 Day 5
Breakfast: Wayne and Freda. Standard Pam and Laurel stop lol. Darn good oat milk lattes and breakfast treats including toasts, bowls, and smoothies.  Favourite: The Bacon Breakfast Sandwich (the bun tho…so good!!), Iced Oat Milk Latte.
Saturday morning,  head over to the Farmer's Market which offers a bounty of fresh fruits and vegetables and locally made goods. The earlier you get there, the more there is for you to browse! We picked up treats to bring home with us: fresh cherries, kale, greens.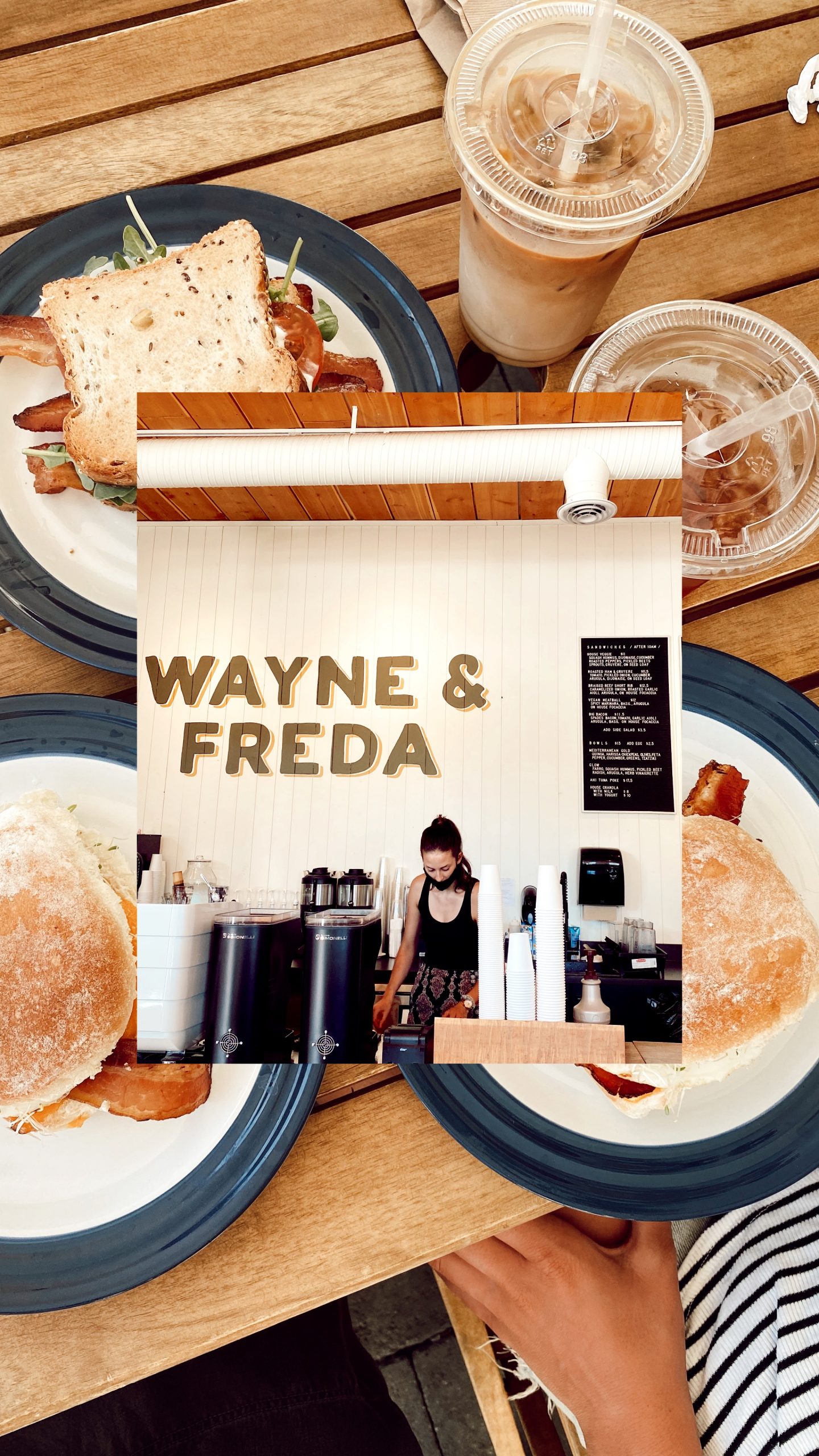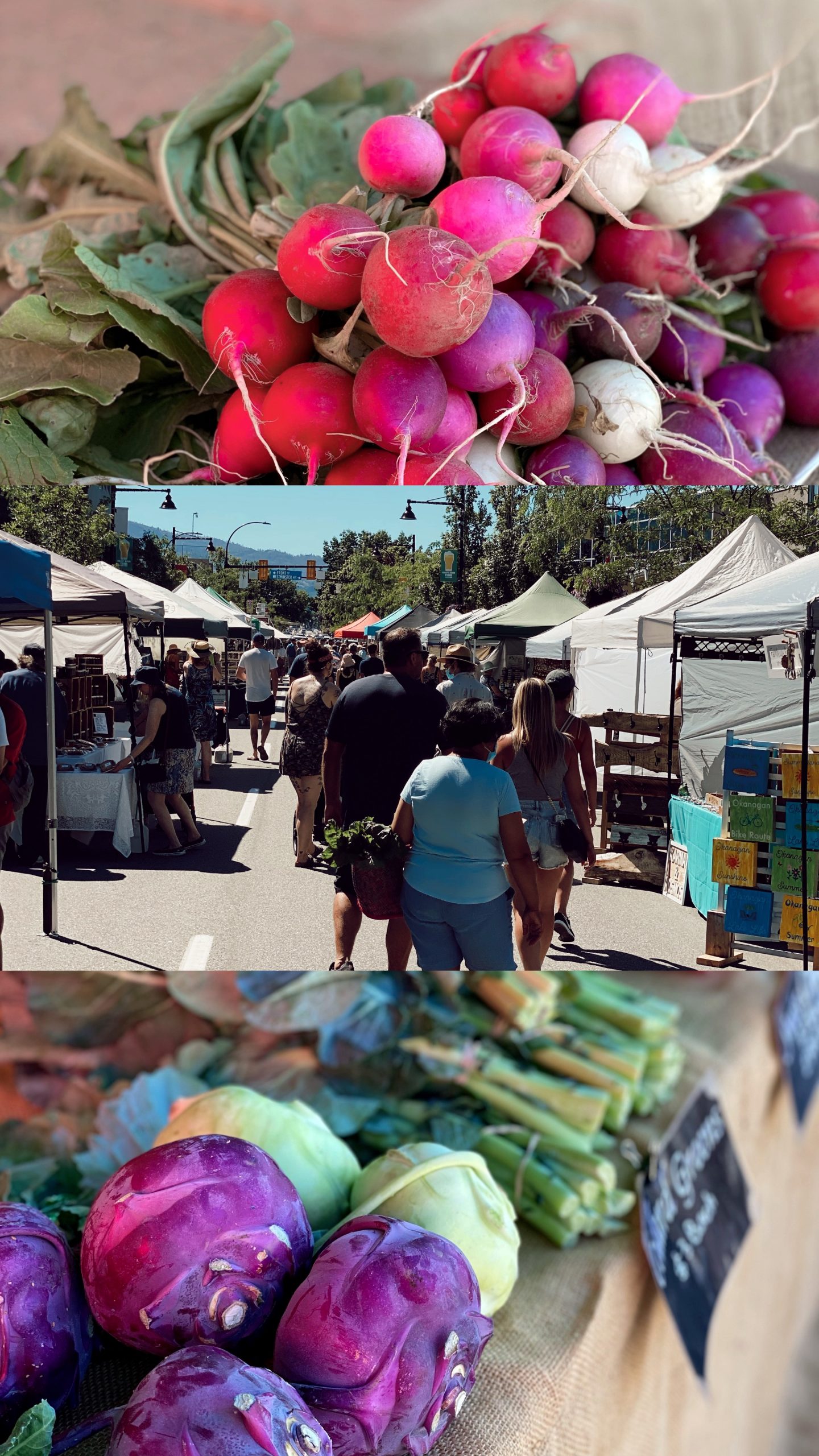 Well there you have it! Our Penticton itinerary…there were more stops we wanted to make, but we're just gonna have to save them for next time! If you have favourites that we've missed, we would love for you to share them with us! Happy travelling, friends!
Laurel xo