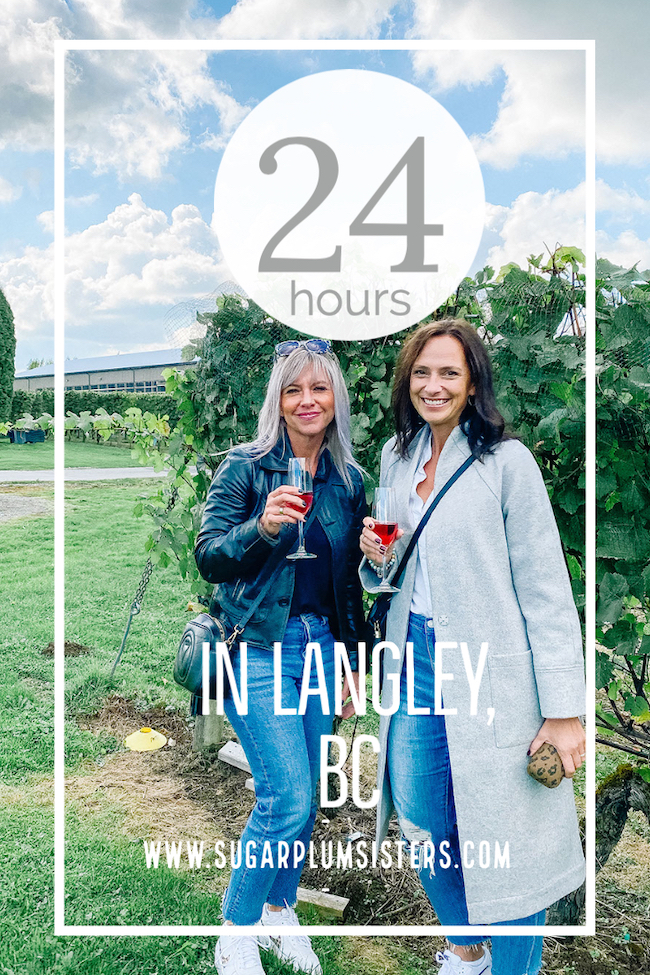 COVID has definitely changed how we do life in many ways, not excluding travel plans. These last 7 months have had us staying close to home and adapting to this new norm.  However, as with every challenge comes an unexpected opportunity… and COVID has give us the chance to explore and experience some amazing gems right in our backyard.  Tourism Langley invited us to spend a day and overnight in the Township of Langley.  While Langley feels like a somewhat compact community, it actually spans over 300 square km with a number of distinct neighborhoods, including the charming and historic village of Fort Langley (BC's birthplace!). It extends south to the Canada/US border with beautiful green countryside that is home to many local wineries and farms. What I guess I'm trying to relay is that you can easily make a full day of winery, cafe, retail & experience hopping!
Pam and I live about 20 minutes away, so we may have thought we had all the Langley deets but…not so! We were delighted to visit a list of incredible places that were new to us. And, of course, no day would have been complete without stopping at some of our already favourite haunts.
The morning could not have started better….it was one of those quintessential fall mornings: beautifully bright and sunny and oh so fresh and crisp. The drive to Fort Langley was stunning.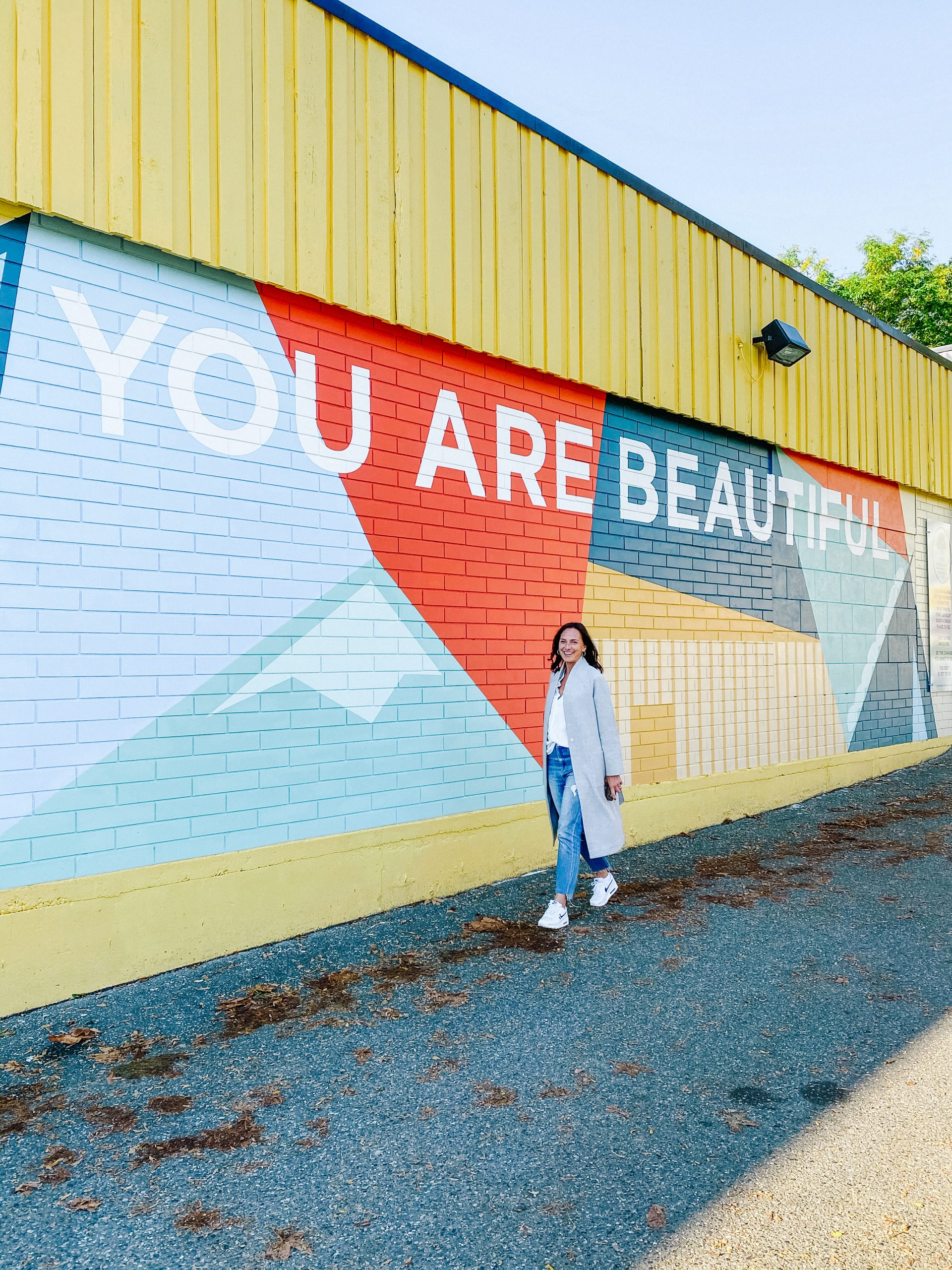 ~ Our first stop was brunch…hello…our fave….at Saba Cafe & Bistro . Pam and I love the bustling vibe both inside this cafe and outdoors on their Parisian-esque patio . All the COVID protocols in place, it still feels alive and vibrant. To enjoy a non-rushed brunch with a hot cuppa….is that a good way to start the day or what?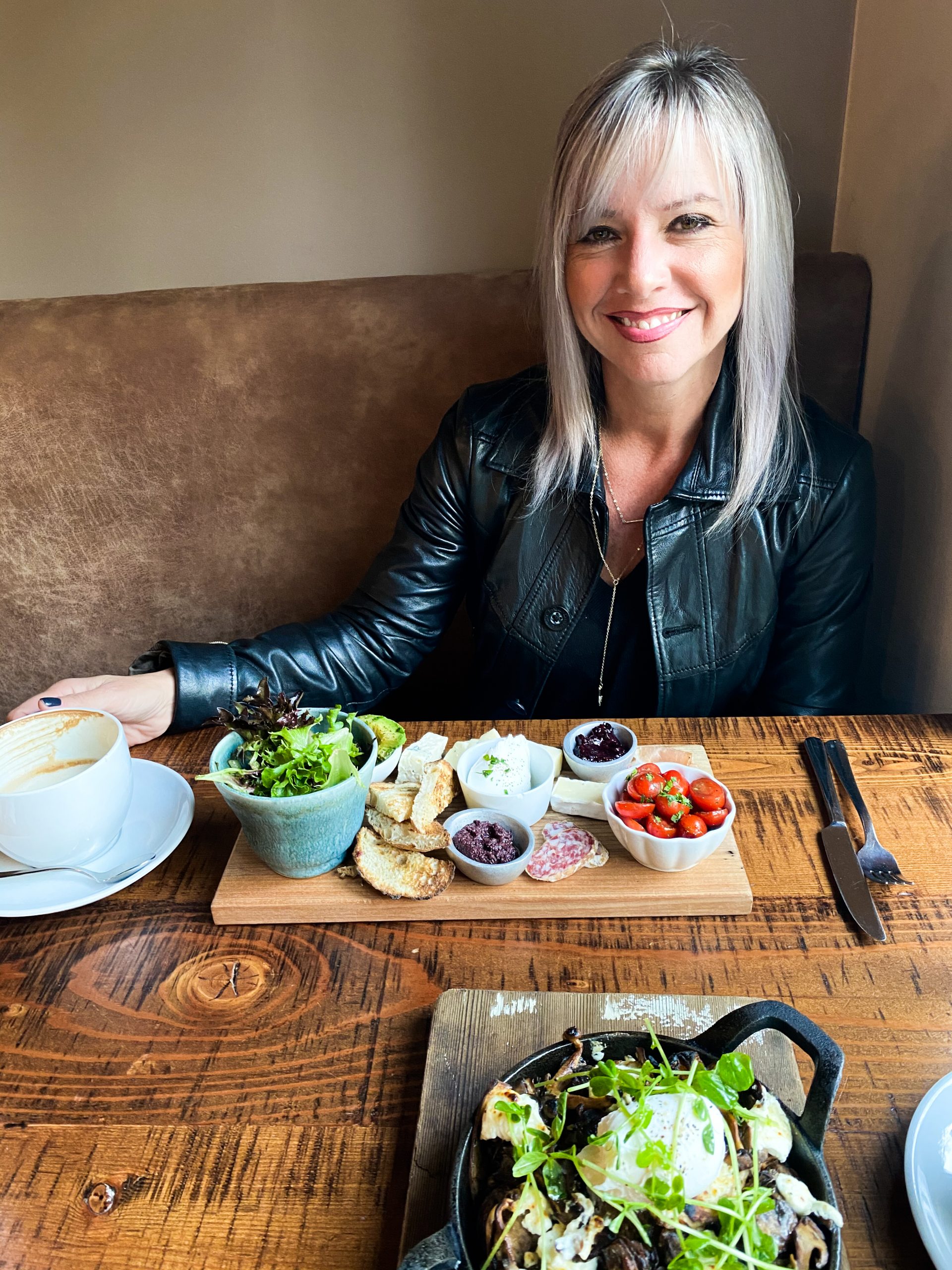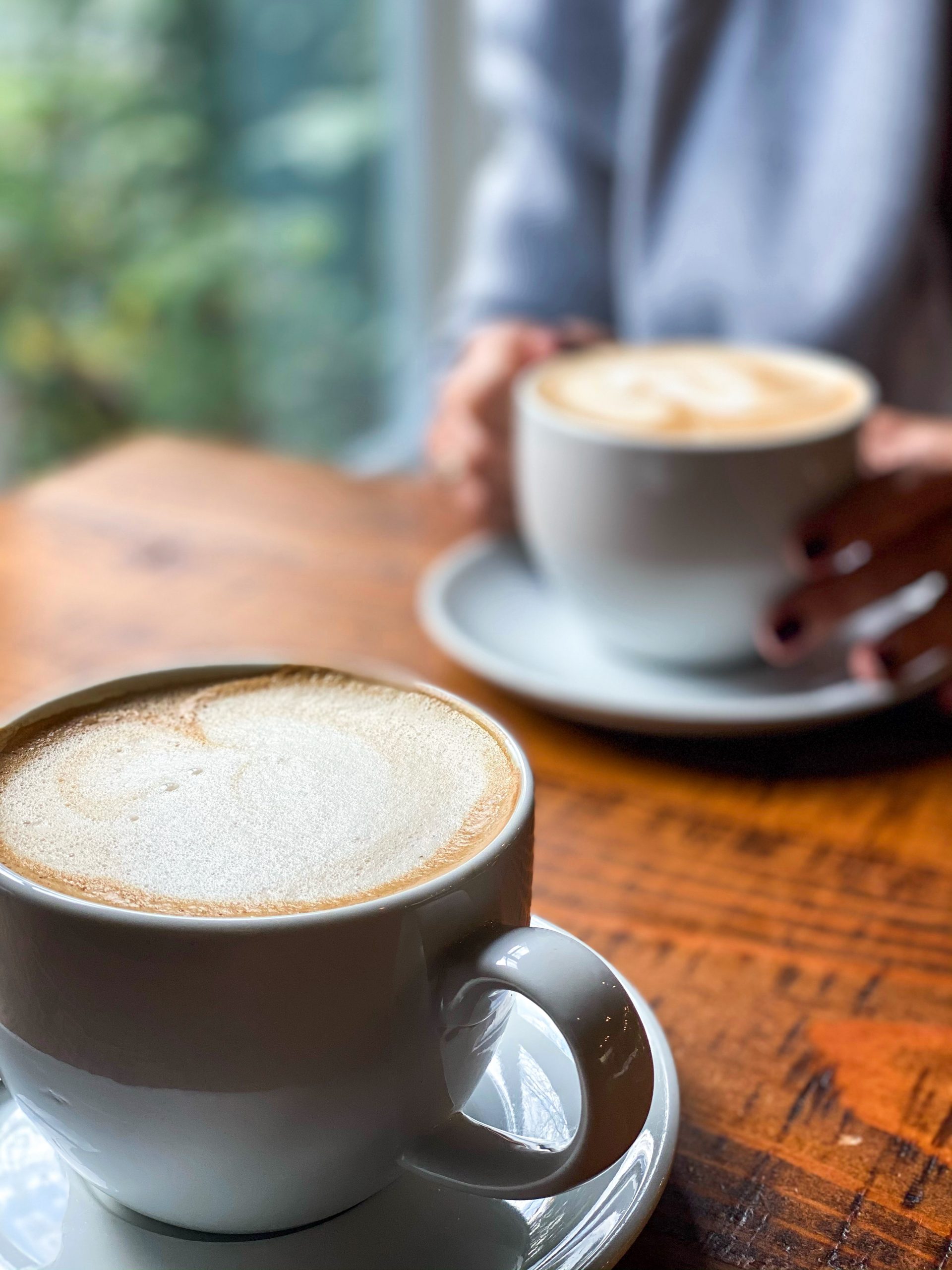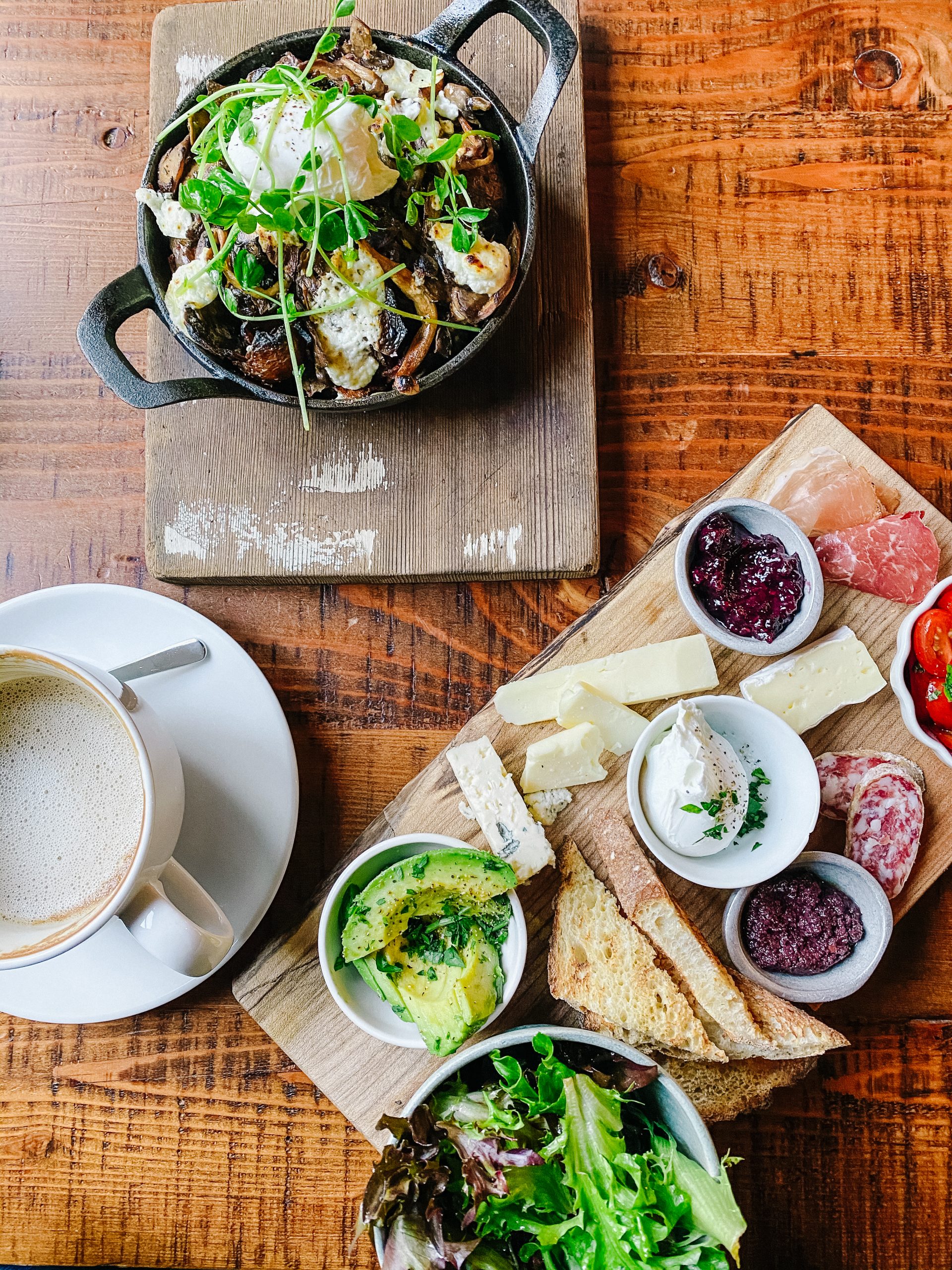 Recommend: the oat milk latte with a splash of lavender, the breakfast board, roasted mushroom skillet
Beyond the charming cafes, a meandering walk along the river (highly recommend), galleries and antique shopping, the Fort is home to some beautiful boutiques .  We popped into  Bella & Wren's new Home Store. Ummm yes please! It is a sight. Layers of white and neutral textiles, fragrant candles, kitchen pieces, dried florals….after being home for the last 7 months, I just saw so many beautiful pieces that I wanted to bring home and freshen up my space! This is a perfect spot to Christmas shop as well…both the Home Store as well as Bella &Wren's clothing boutique offer online shopping with curbside pickup and shipping options. Such a great way to support local and stay safe all at once!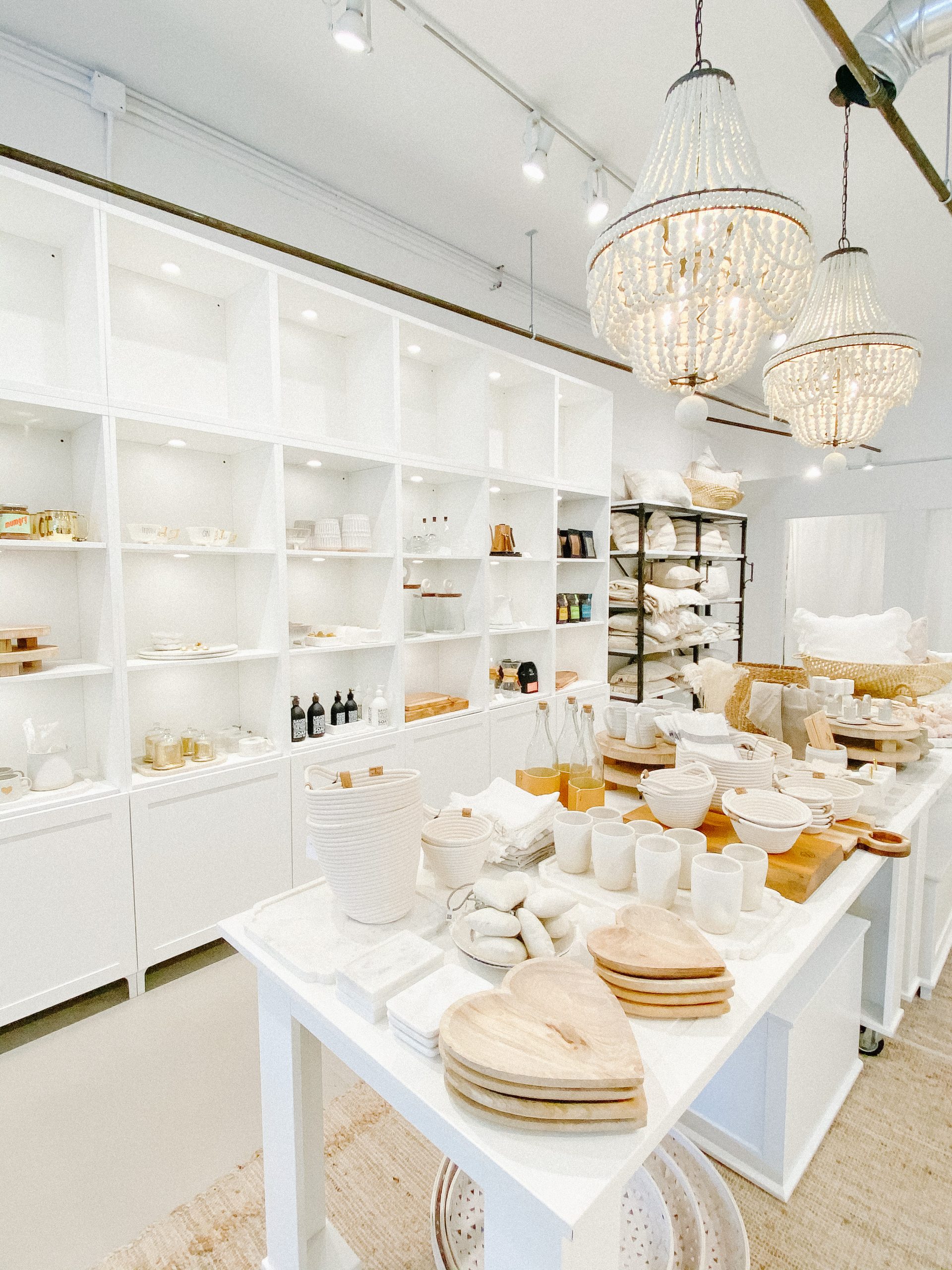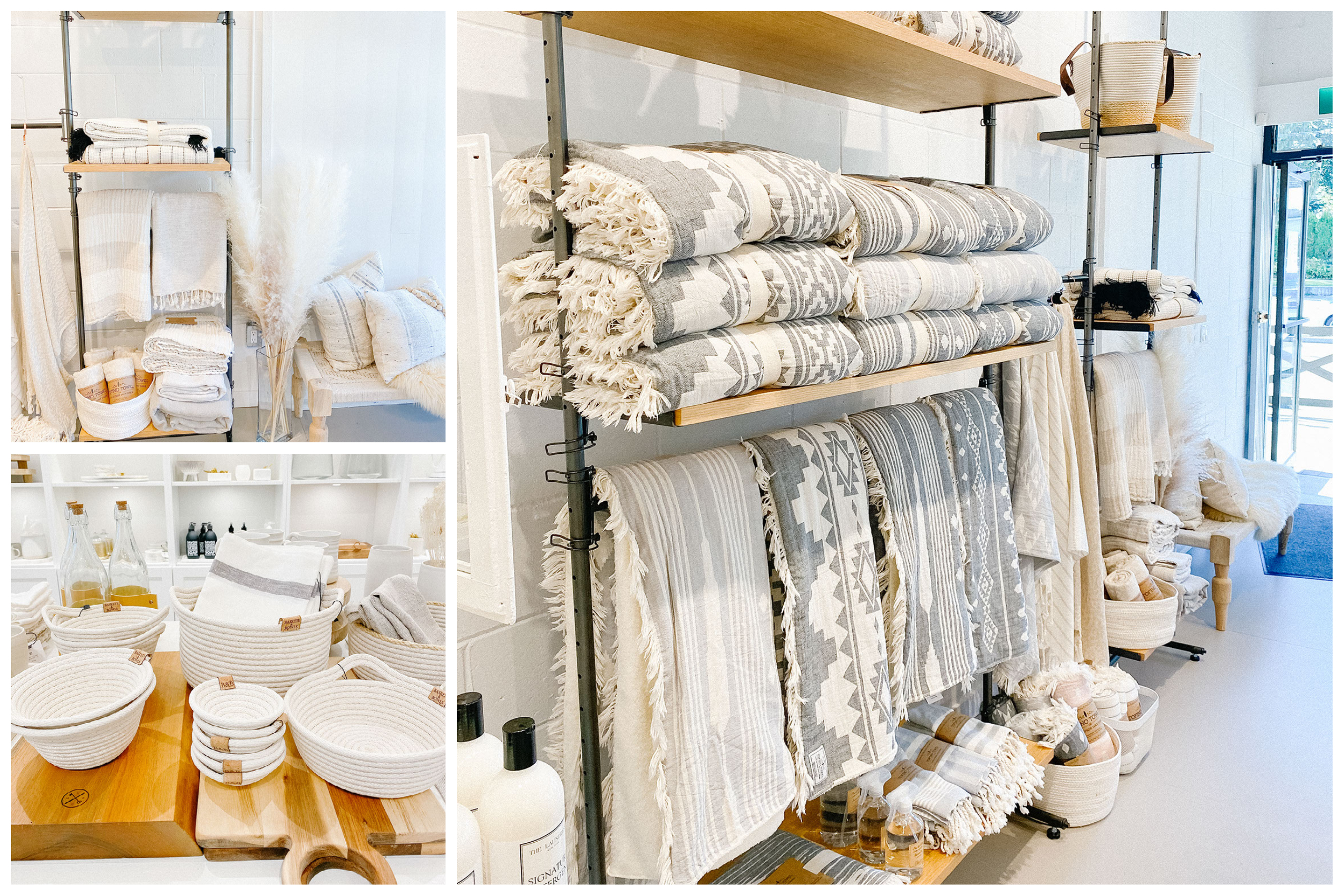 Recommends: Tofino Towel throw, wood serving pedestal, heart mug 
~ Early Bird Family Farm was next on the agenda. We left Fort Langley and headed towards farm country on the border of Aldergrove.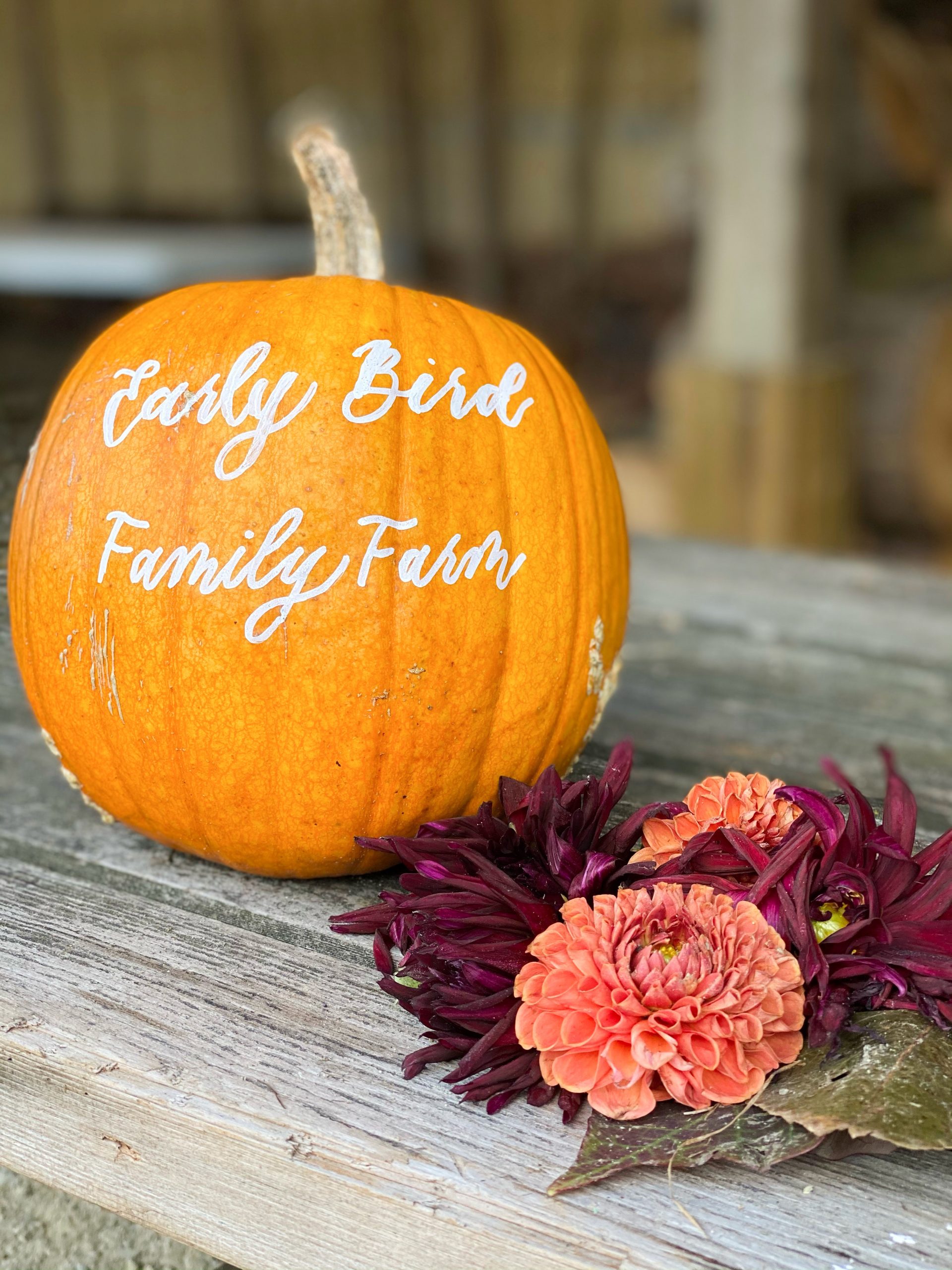 What an absolute delight! This was a new venue for Pam and I and we just fell in love with both this farm and also, Barb, the owner of this gorgeous place. Barb hails from downtown Vancouver…an artist who views this 20 acre property as her newest canvas. Early Bird Farm seeks to be a wholesome farm, healing the land through regenerative farming. Going back to the basics of simple, sustainable farming and incorporating an intention to make a difference with each action. One action of which is fascinating: Early Bird Farm was able to team up with an expert from UBC to create a rehab for sick beehives…did you know there was such a thing? This project then led to the farm's extensive flower garden which is breathtaking (in season, cut flowers and bouquets are sold out of a vintage horse trailer on site).
Having a numbest of automimmue diseases has been a motivating factor for Barb to take on farming with a passion and zest that is palpable! Figuring out ways to stay healthy is paramount….for example, Barb raises Nigerian Dwarf Goats and they aren't just there to be pretty…errr..cute faces! Rather, they provide milk that Barb is then able to make into yogurt and other dairy products that she is able to consume. Cool, right?
Rows upon rows of flowers…everything from dahlias to roses to varieties that we had never heard of. This venue would be exquisite for a small wedding or family celebration. On-site workshops, such as flower arranging,  are also offered so stay tuned on their IG page. We can't wait to come back, Barb!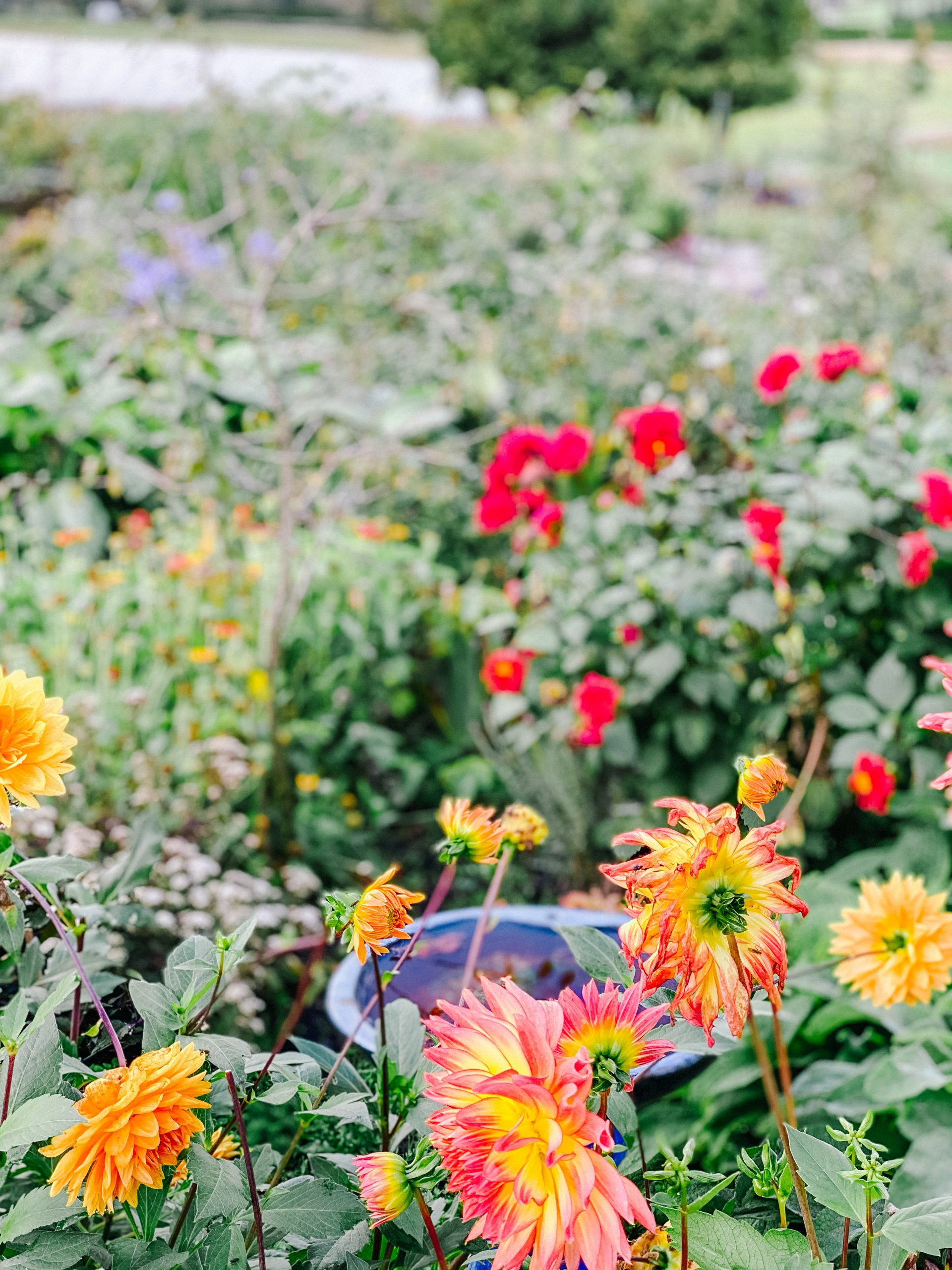 I have to say that I fell in love with the two farm dogs too…gentle giants whose main task is to guard the livestock. Their size would absolutely deter coyotes and other predators from harming the chickens, duck & geese that wander free range over the property. But, oh dear, they are cute!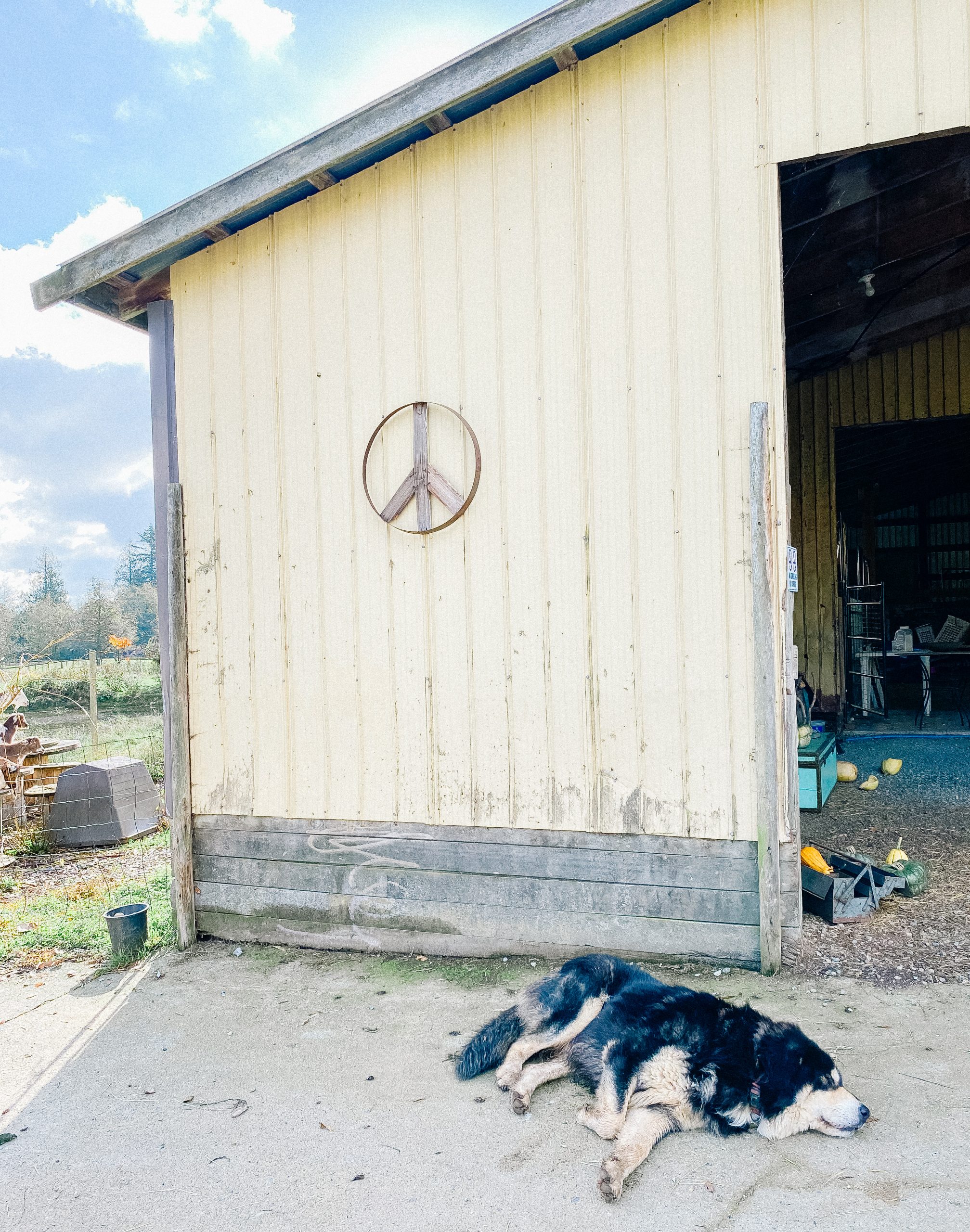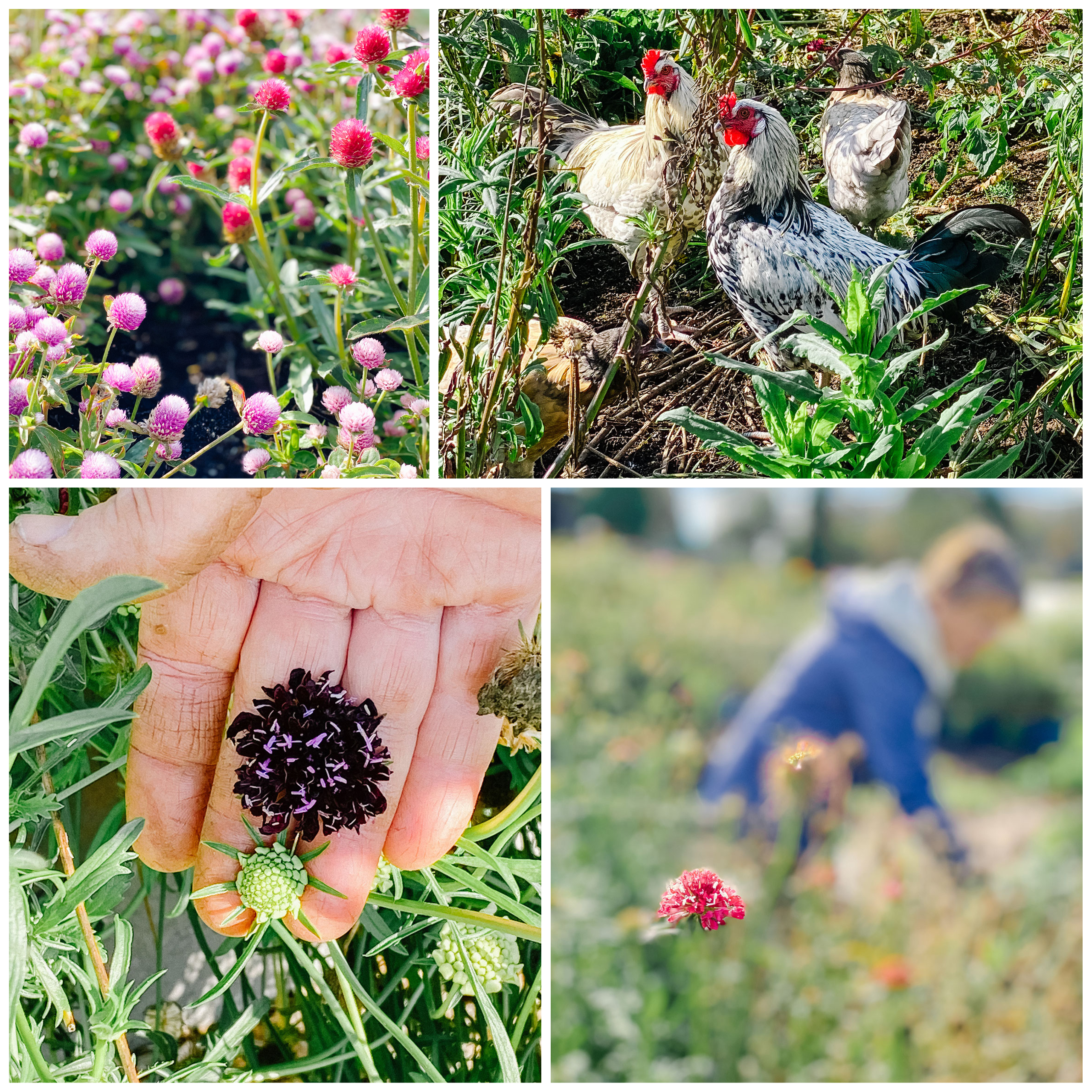 ~ It was just past lunchtime, so we were ready for a wine tasting and charcuterie at Backyard Vineyards. We were welcomed warmly by Norma, who has been with Backyard for some time and has an extensive knowledge of the wines.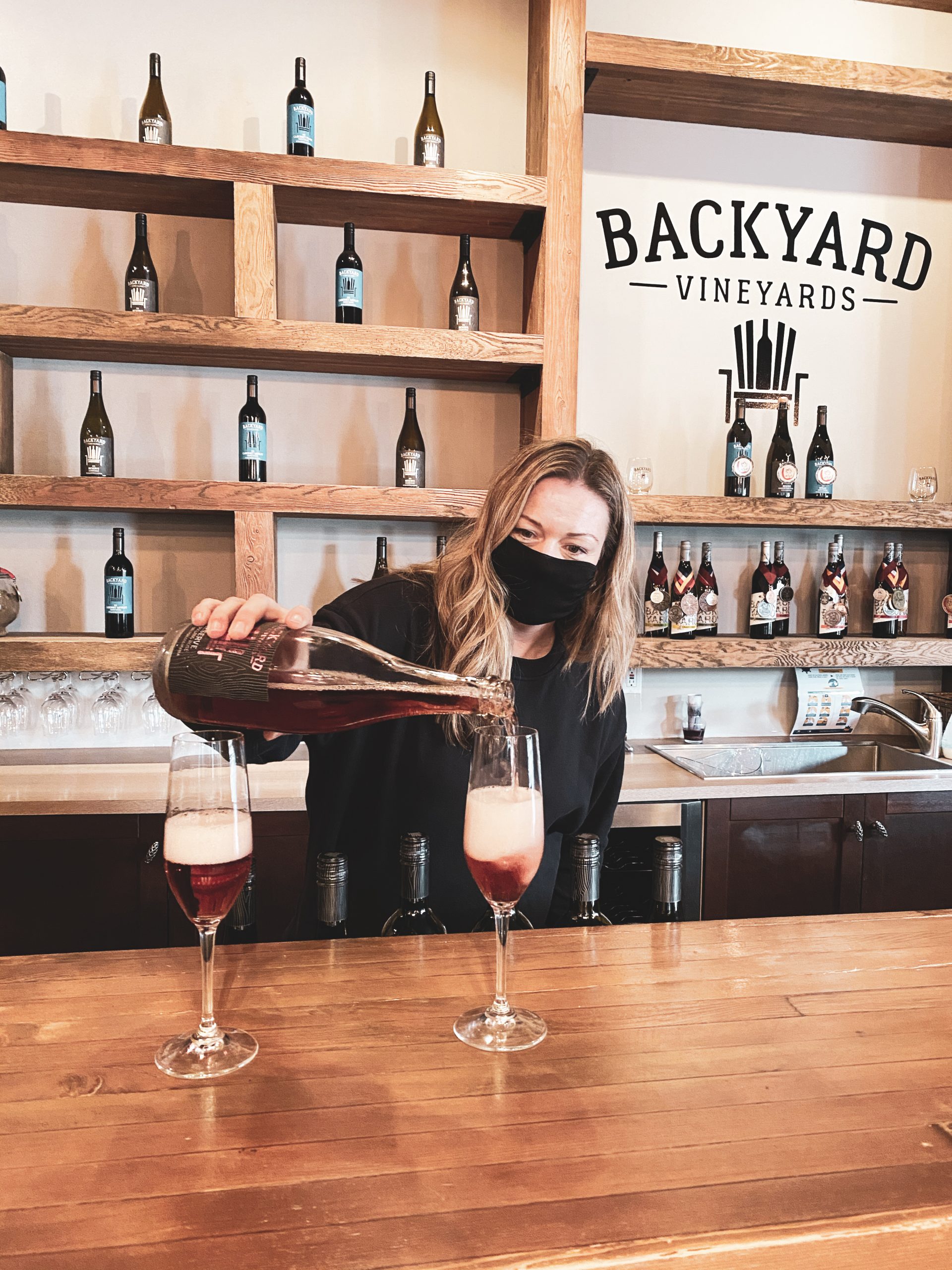 With rosé in hand, we were taken to look at the vines which had recently been harvested…harvest time! Backyard is bustling this time of year and we took in the process of seeing the team in action. Backyard has a real welcoming atmosphere and they have pivoted smoothly with COVID regulations. Spaced out tables inside and an outdoor gazebo with tables and festive lights allow room for enjoyable sips and bites. This fall, they are also hosting trivia evenings. Purchase your ticket and enjoy an evening of wine, trivia in a cozy space. Watch for a giveaway that we will be hosting… it's gonna be good!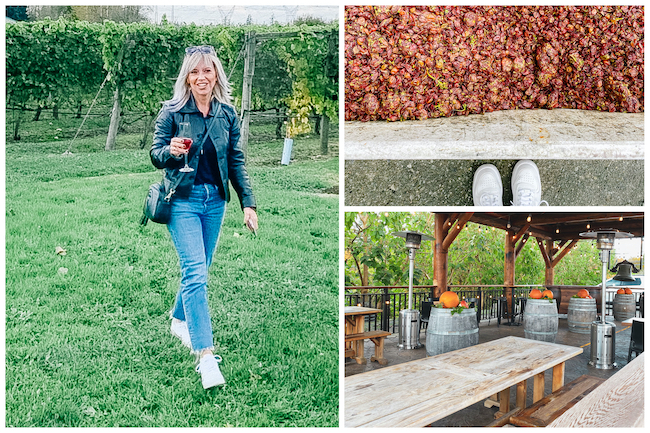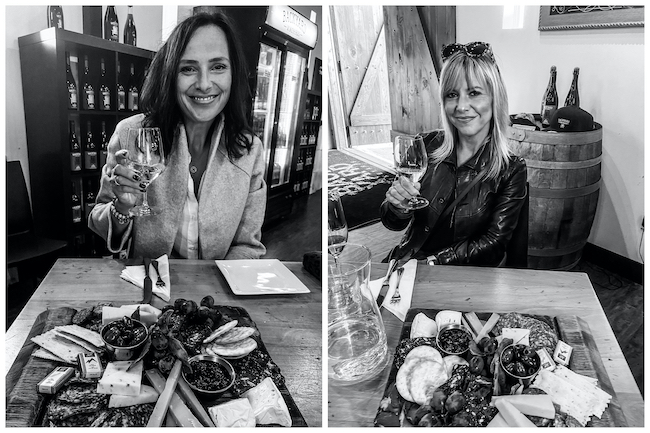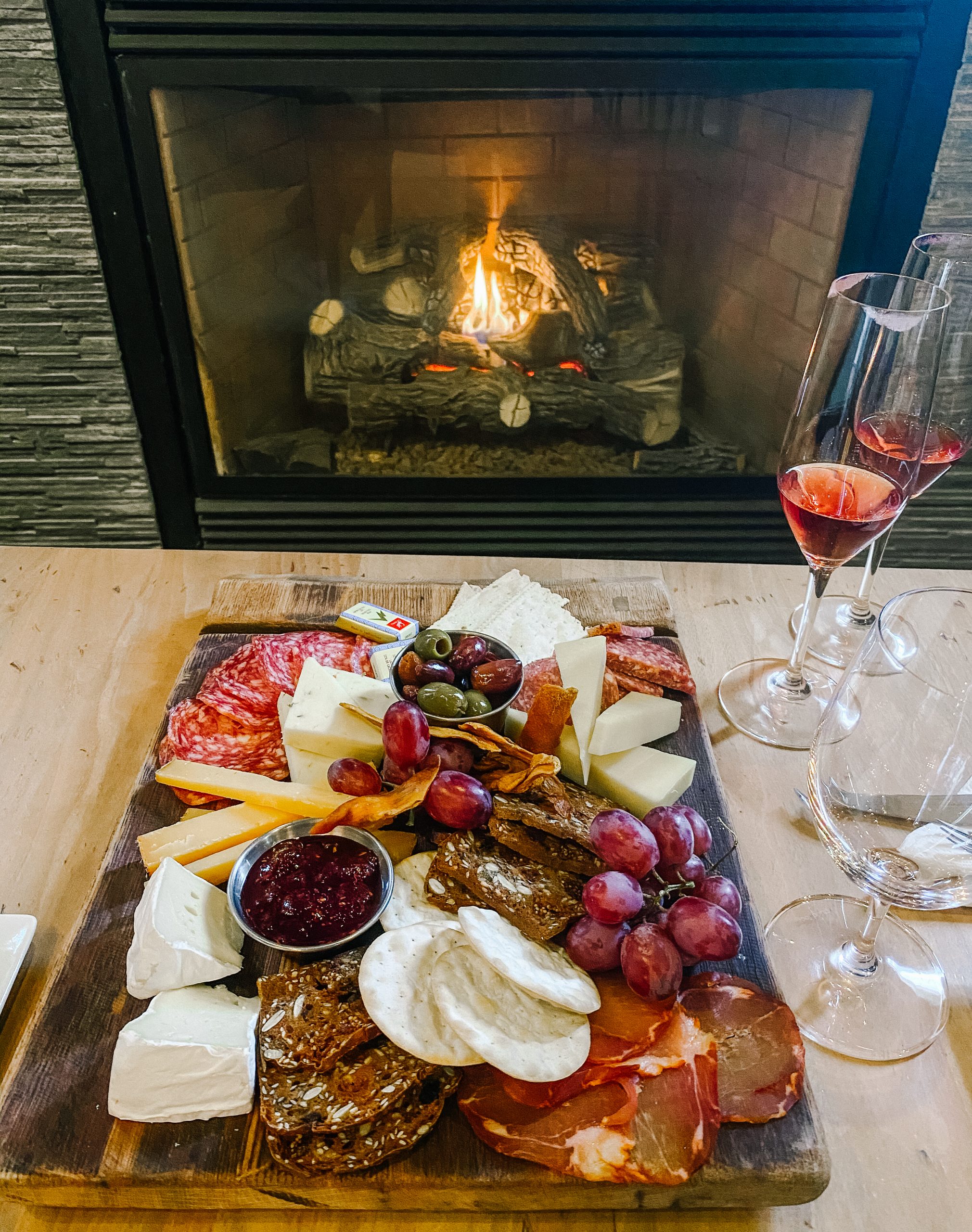 Recommend: 2018 Reserve Viognier, Rosé bubbles, charcuterie (in front of the fireplace if you can!!)
~ Just a short drive away, we stopped in at Festina Lente Estate Winery , located in the Campbell Valley region of Langley and learned about honey wine. Am I the only one who had never tried mead before?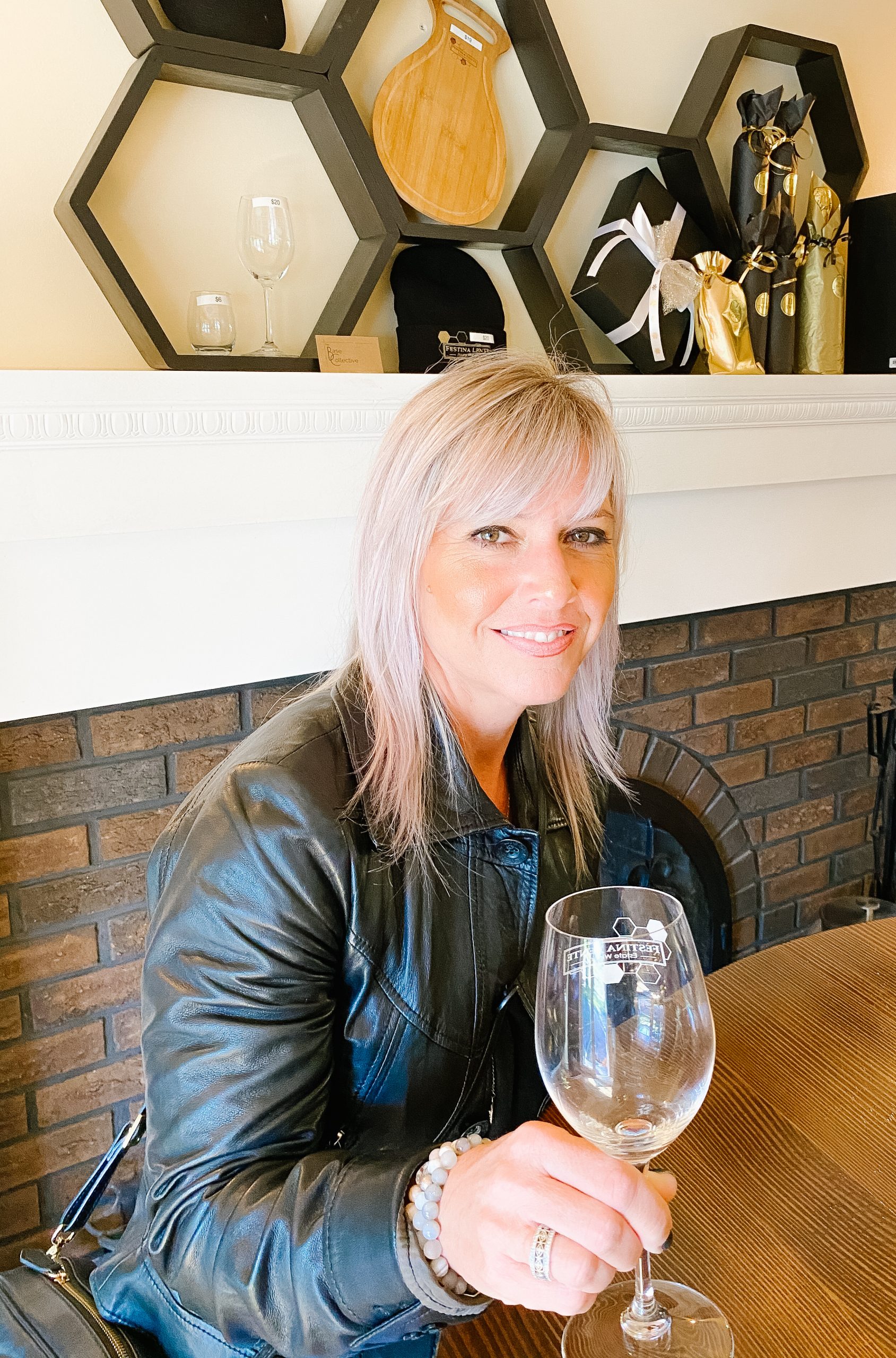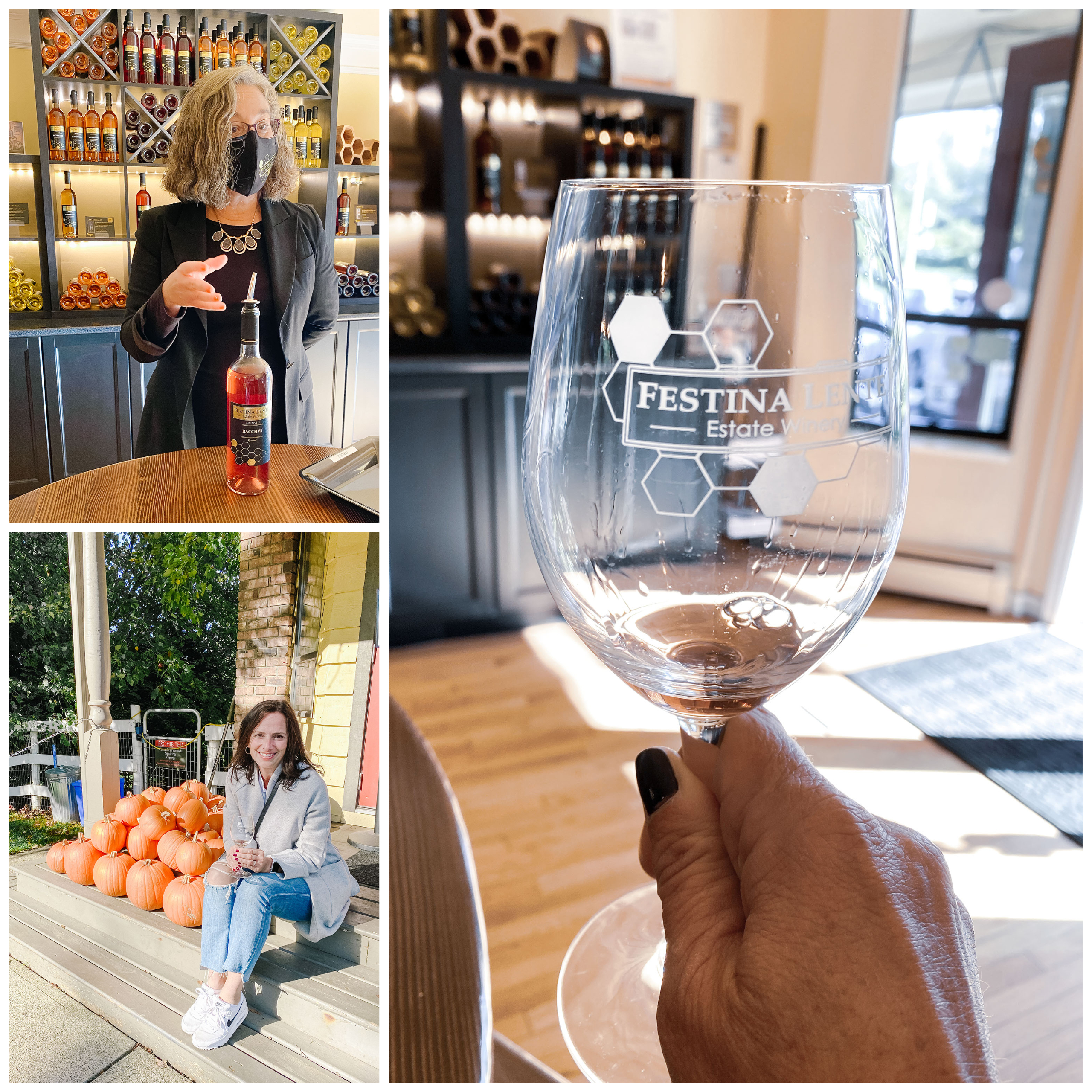 Bill and Teresa Townsley, the husband and wife team at Festina Lente Estate Winery, are passionate about their craft … Bill is the third generation in a family line of winemakers. Both bee keepers and winemakers, the creation of mead was an obvious fit for this couple. Festina Lente wines are made in small batches and change with the seasons, which reflects their care and intention of echoing the land around them. The different mead varieties are created to pair with suggested foods which is so helpful. Bill and Teresa were so knowledgeable in giving us novice mead enjoyers a lesson on honey wine…from it's inception (did you know it is the world's oldest alcoholic drink?) to how it has evolved today to a modern, sophisticated drink. Festina Lente is a wonderful place to arrive with some charcuterie and add a flight of mead… and enjoy a picnic on their grounds.
Recommend: the Zephyr, a coffee infused mead wine enjoyed with a square of chocolate…yum! Also visit the property to sample their themed seasonal flights served on the heated porch,
~ Because we hadn't eaten enough (wink wink) we made our way for a late afternoon visit to one of our friends, Tracy, who happens to be one of the most lovely and hard working women I look up to! In her quaint Murrayville location, we enjoyed high tea at Tracycakes Bakery.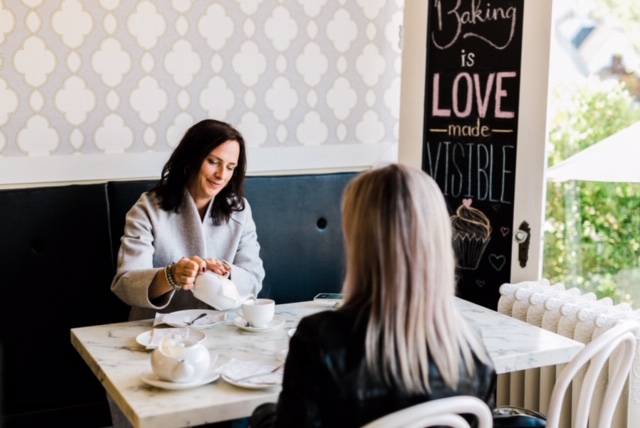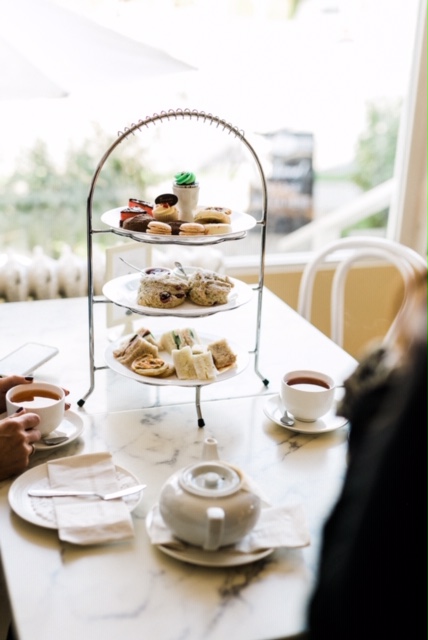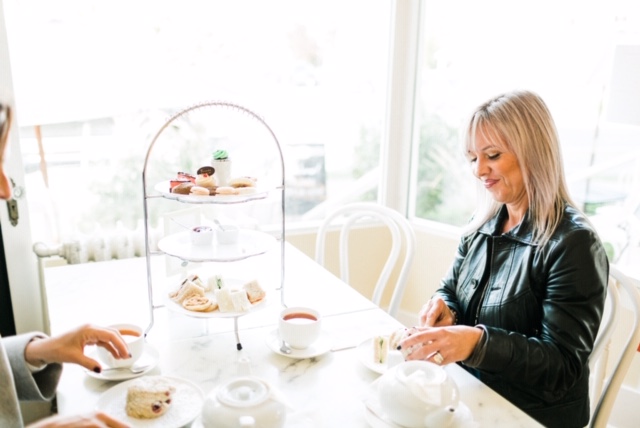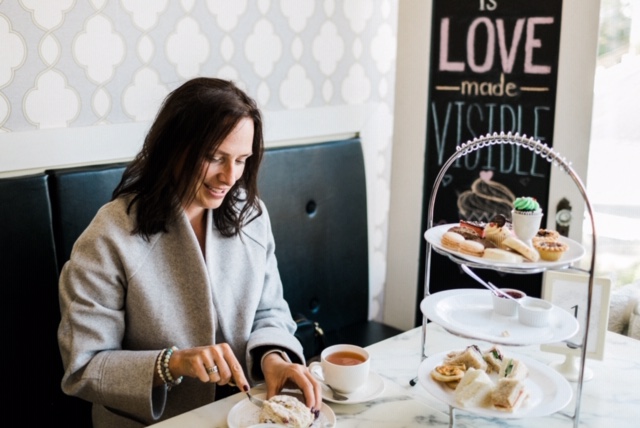 One can find Tracy either at her Murrayville or Abbotsford tea house, serving up her delicious cupcakes and baked sweets, chatting with guests and generally ensuring everyone's experience is a wonderful one. I always feel the need to put away my phone, take a deep breath and just slow down when I'm there…there's no rushing tea, is there??
Recommend: High Tea… enjoy your choice of loose leaf tea alongside an assortment of freshly baked scones with devonshire cream and preserves,  delicious finger sandwiches , dainties and baby cakes.  Tracycakes will be releasing their Home for the Holiday High Tea on Nov 16th. This High Tea is available for both in-cafe eating as well as take home if you prefer to enjoy it in your cozy pj's:)
~ And just across the roundabout was our home for the night, The Princess and the Pea B&B.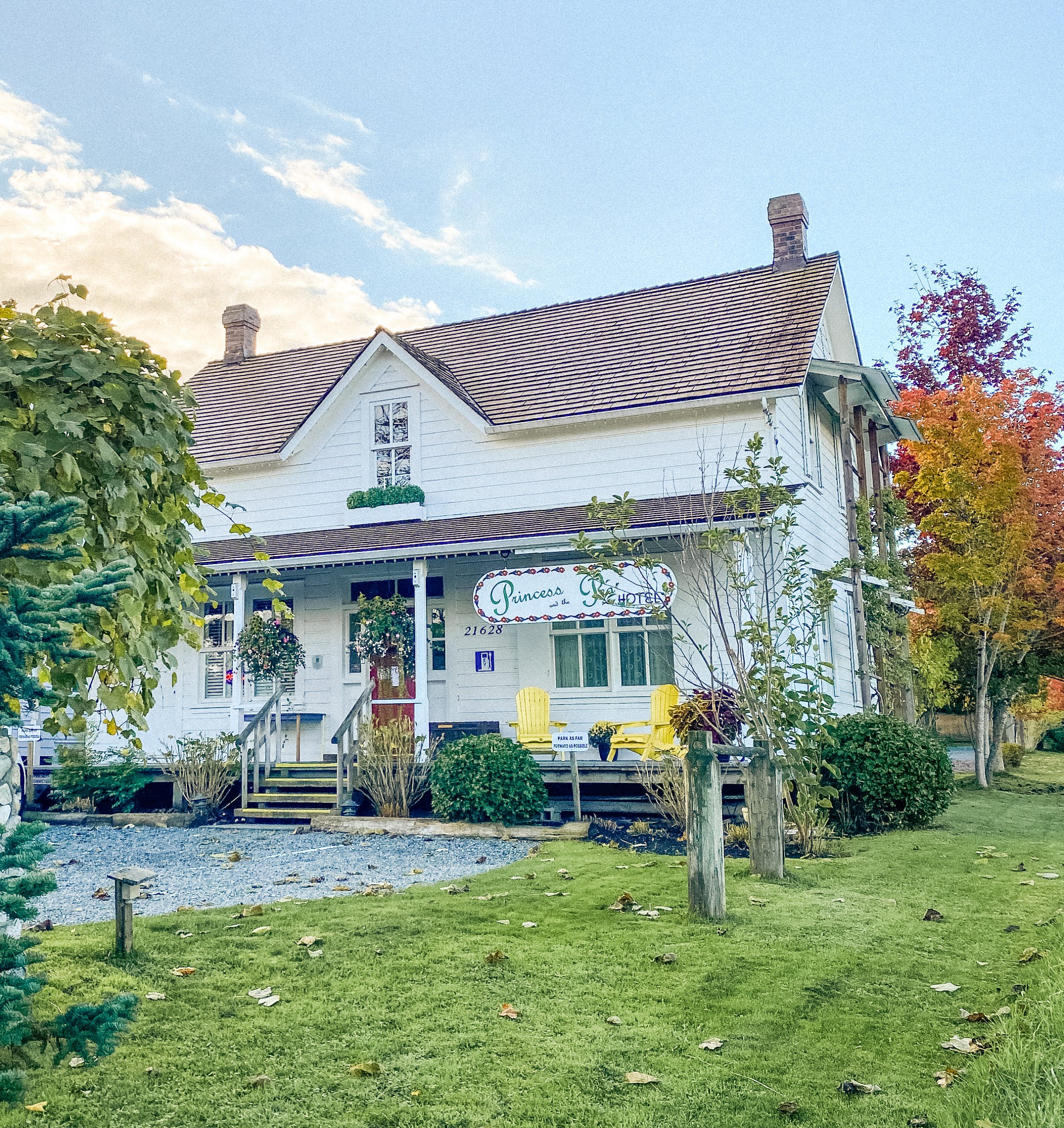 We were thoroughly enchanted by this 1870s home, first constructed as an overnight stop during the gold rush.  We were greeted by Angela, whose family has lovingly restored this home to its original splendour and now welcomes guests to experience both the history of the home and…a tremendous night's rest! Every detail has been attended to, including exquisite bed linens (and we don't throw that compliment around!).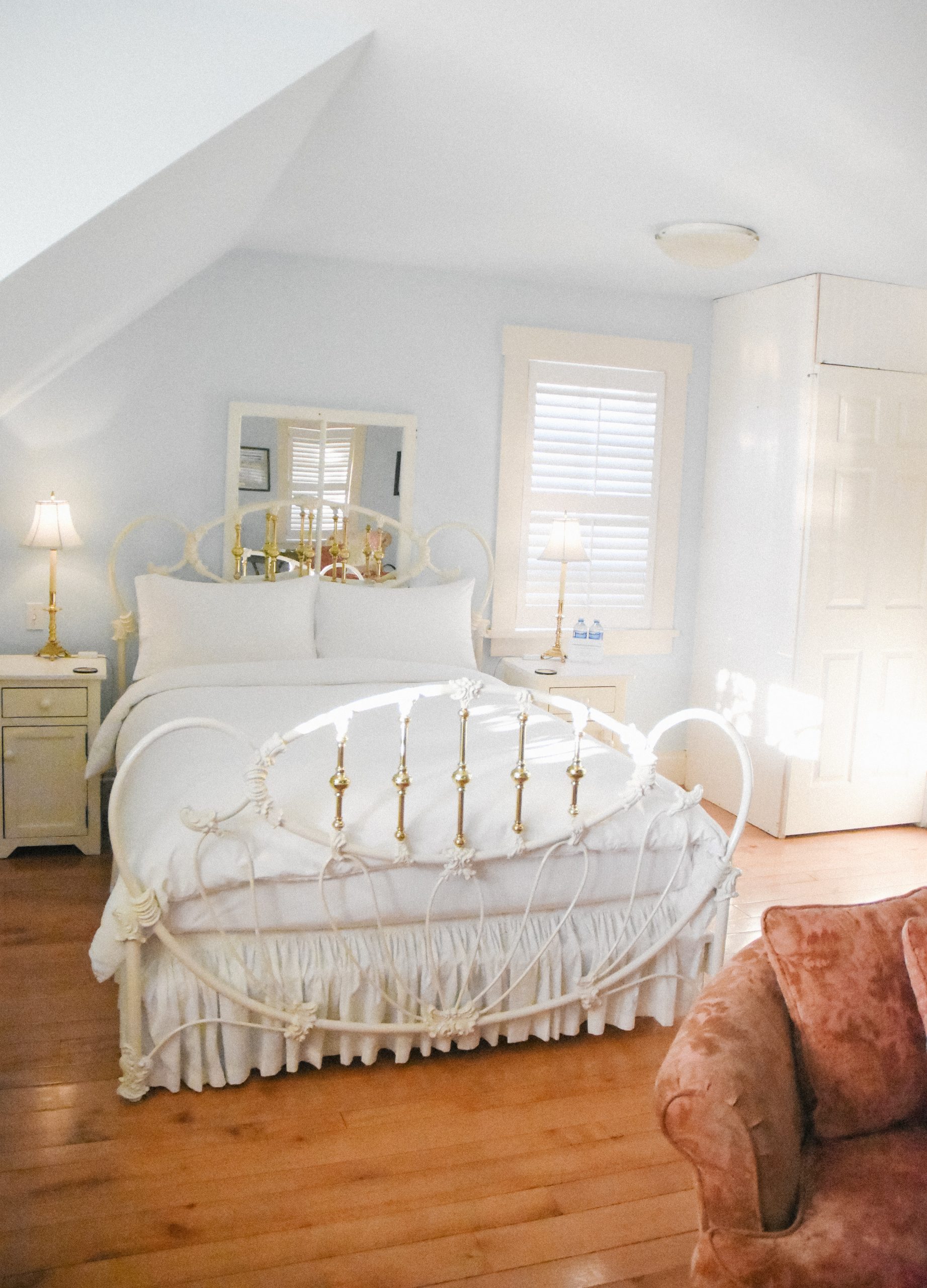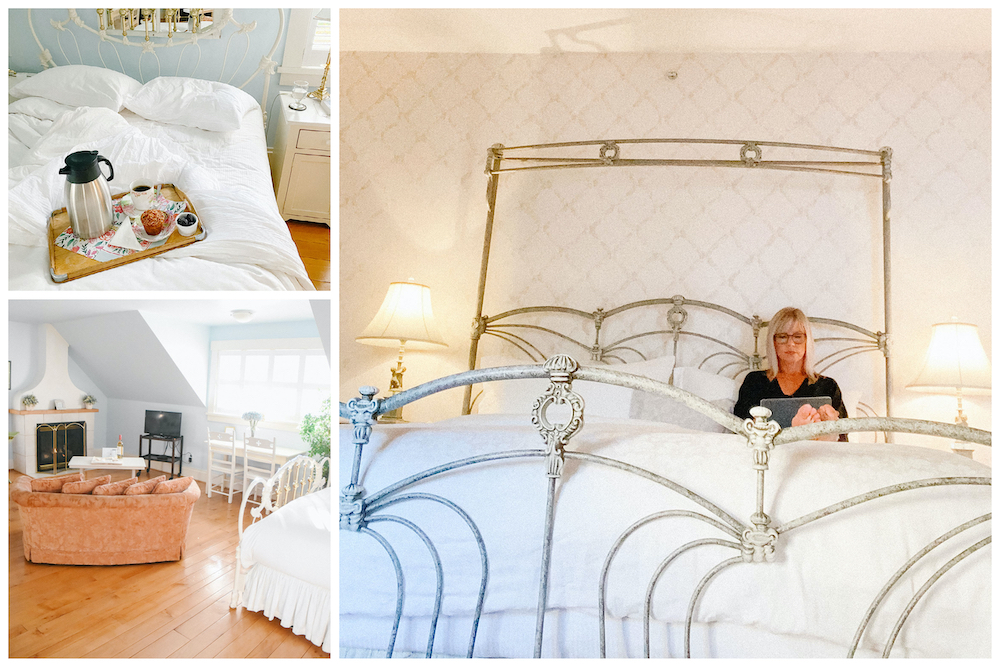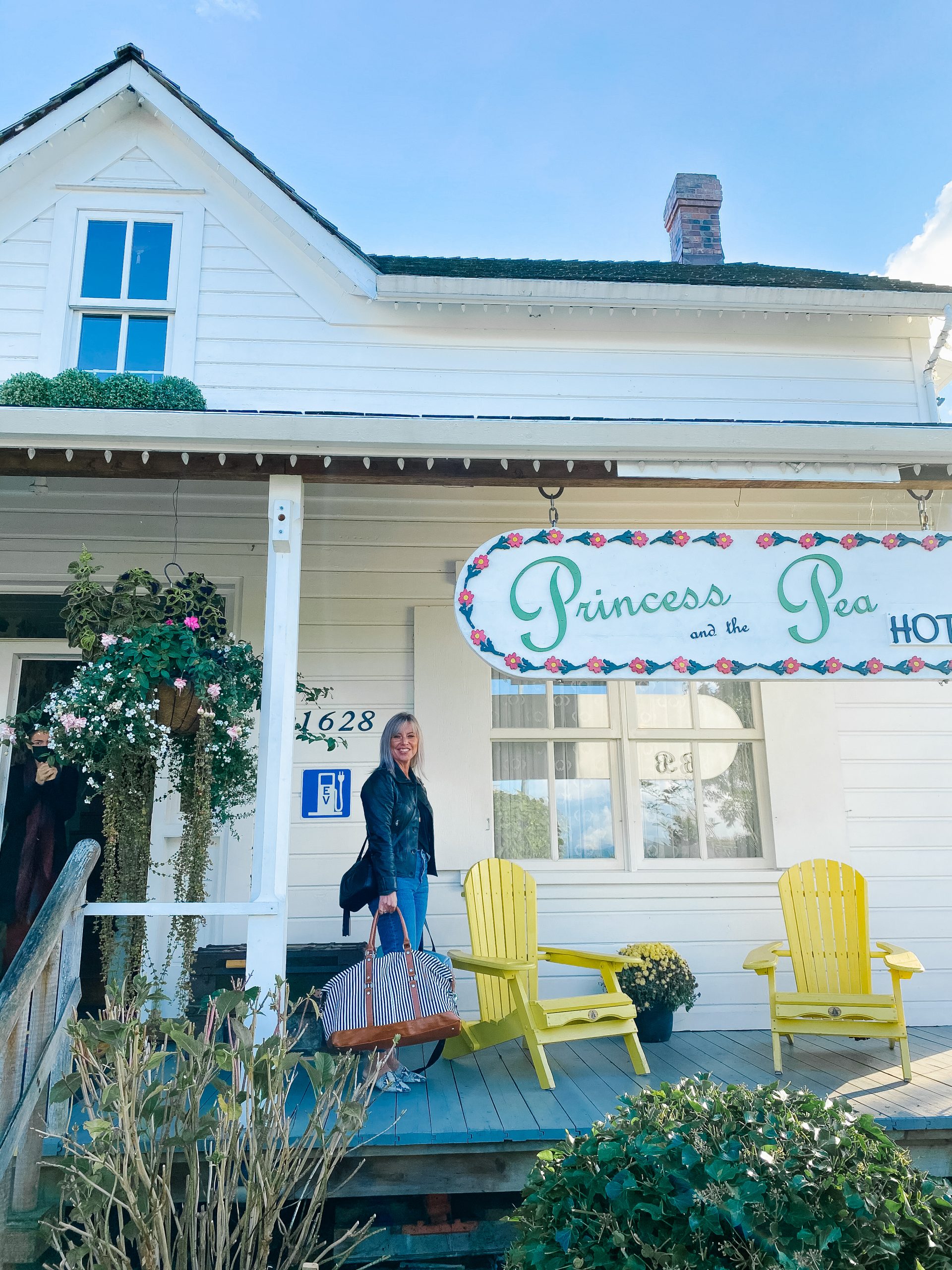 A wonderful touch is the morning tray delivered to each room with hot coffee, berries and a freshly baked muffin from the historic Porters cafe across the road. As a side note, Porters is another stop worth making. Built in 1888, this building still has many of its original fixtures…
Pam and I felt so treated and taken care of…Angela and her family truly made our stay memorable. Perfect for out of town guests or, as someone messaged me that they had visited for  a "mom alone time night" (what a great idea!), we would highly recommend the Princess and the Pea.
~ Dinner was at Haven Kitchen + Bar. Seriously, I know by now you're wondering how we could still be eating!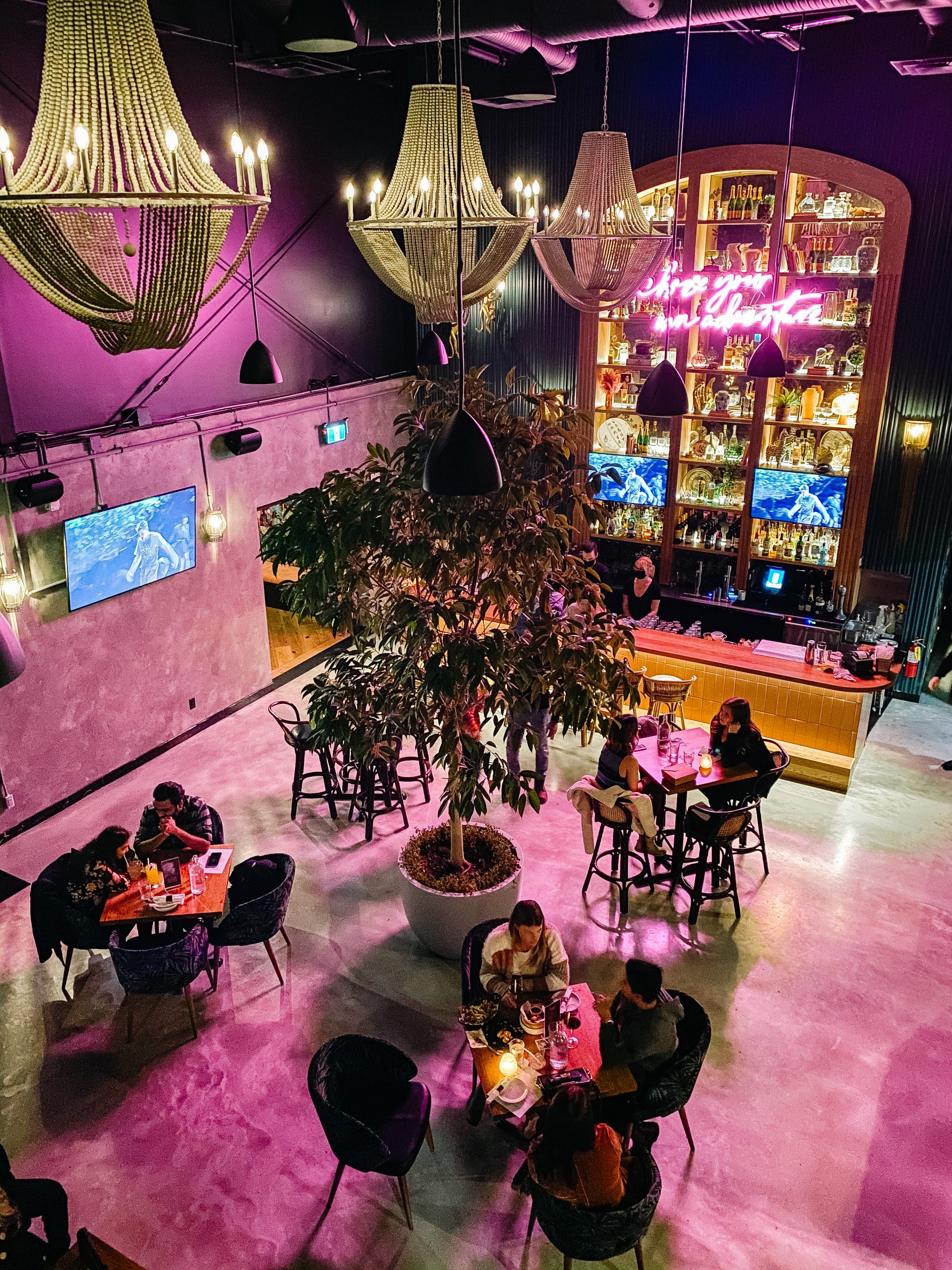 I had heard so much about this new Langley "hot spot" (Pam, who had already been, was so excited to be with me on my first visit). Our dinner did not disappoint. Both the outdoor patio and interior are so well done…a modern and yet quirky vibe which really separates it from the plethora of chain restaurants in the surrounding area.   Known for their inventive cocktails (we had the gin and tonic, next time I want to try the Tourist), as well as unique and simply delicious food, Haven delivers on what we all want: good food, great service and a cool ambiance. We will so be back. PS the tempura cauliflower though…how can it be so good?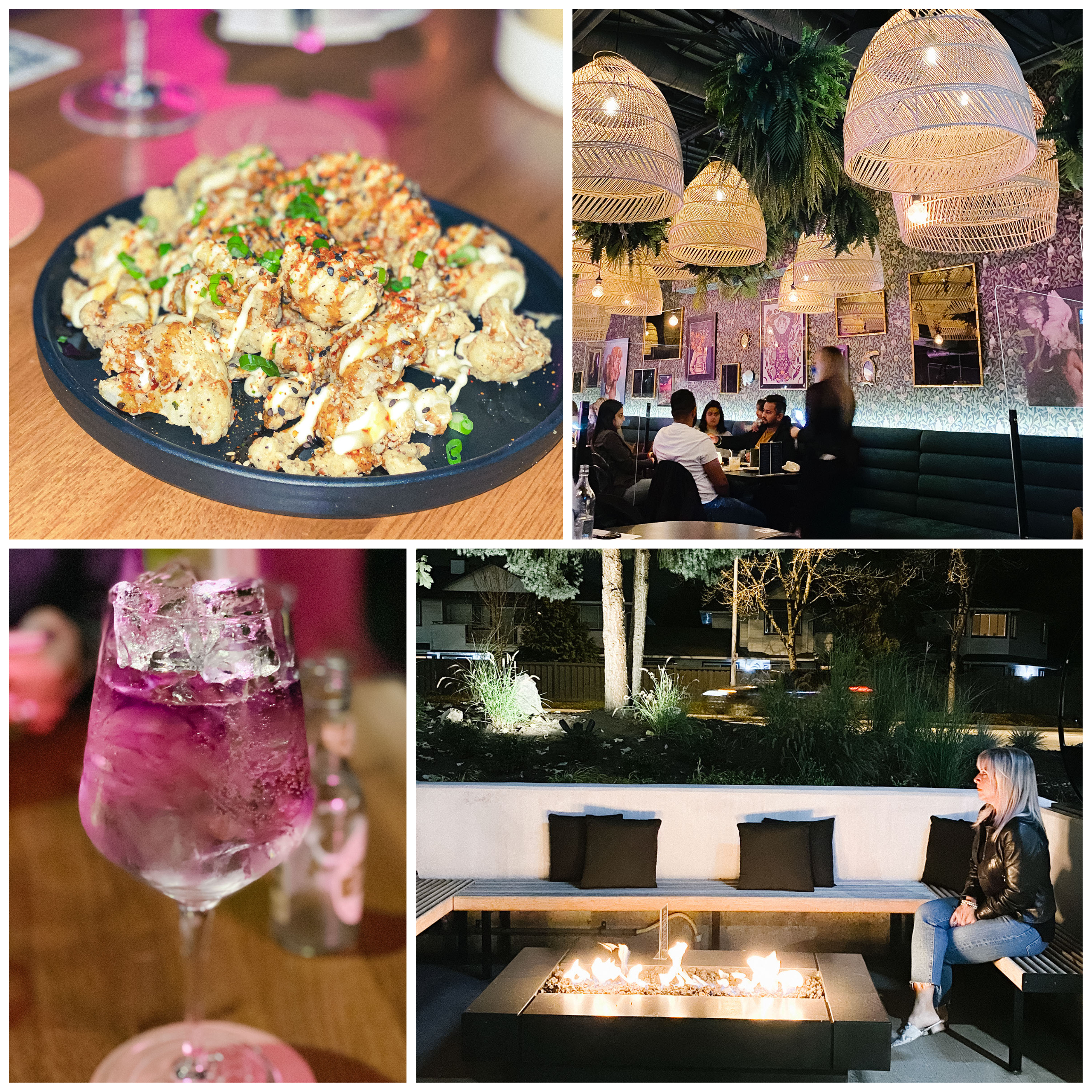 Recommend: Cauliflower, Lettuce Wraps,, Peanut Tofu Bao Buns…we're also told the Haven Burger is crazy good.
~ After a restful and rejuvenating sleep, we started the next morning with the delivery of the breakfast tray. Guys, we were not lacking for food on this staycation!! After our warm muffin and coffee was delivered to each of our rooms, we thought we should go and stretch our legs a little and get those steps in.  The crisp, autumn air felt so good as we walked to the new Blacksmith Bakery at the Langley Airport.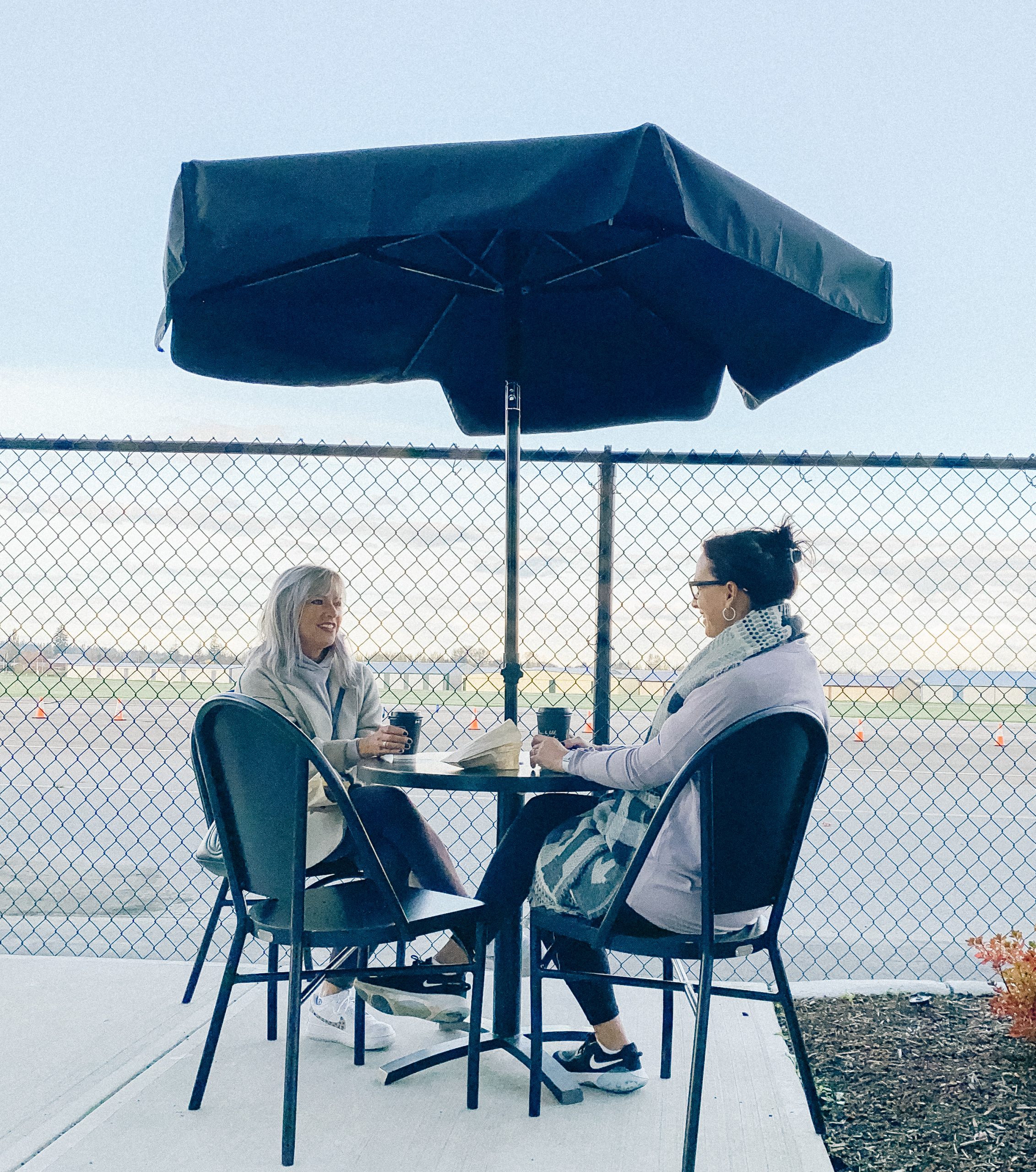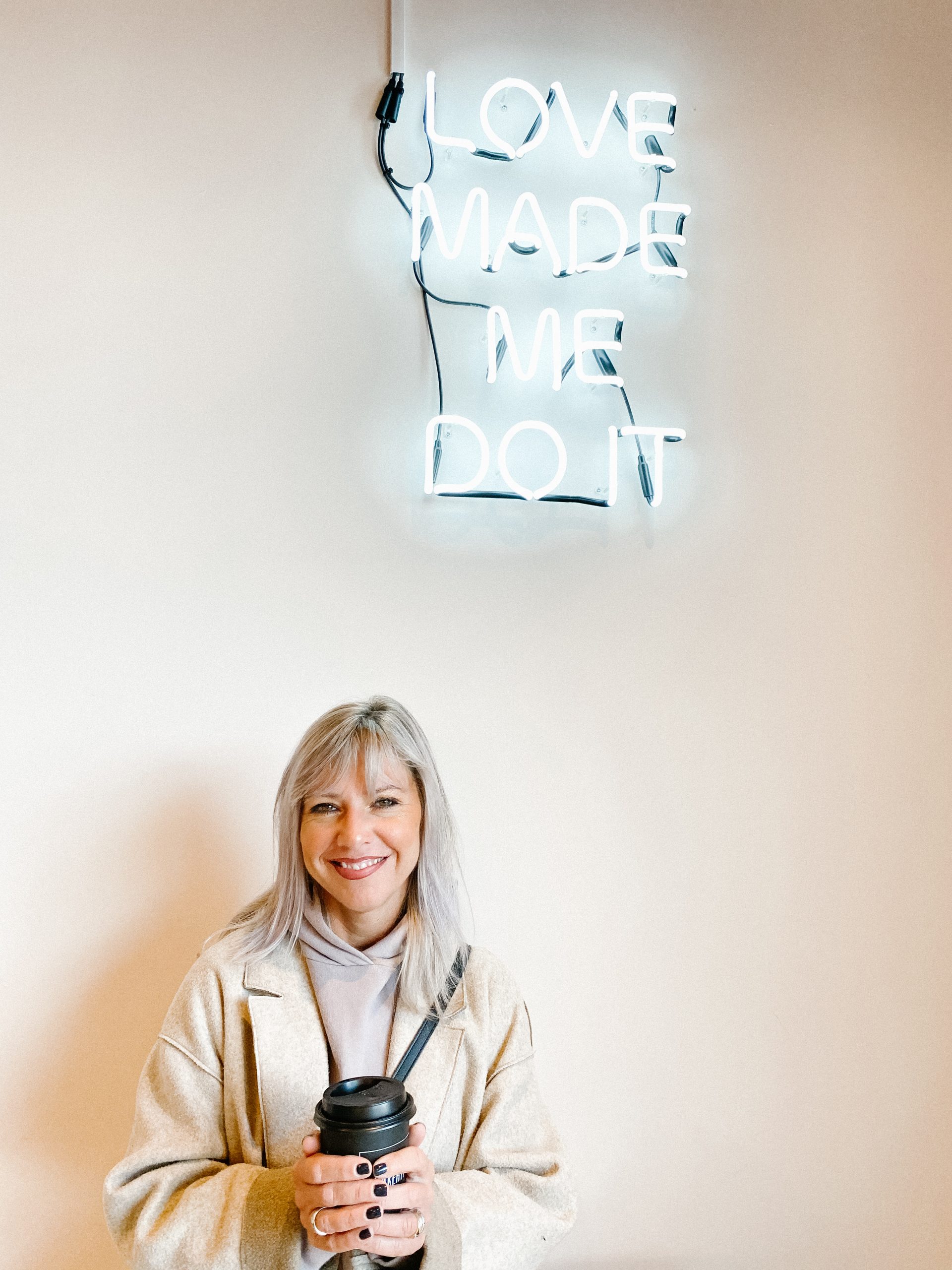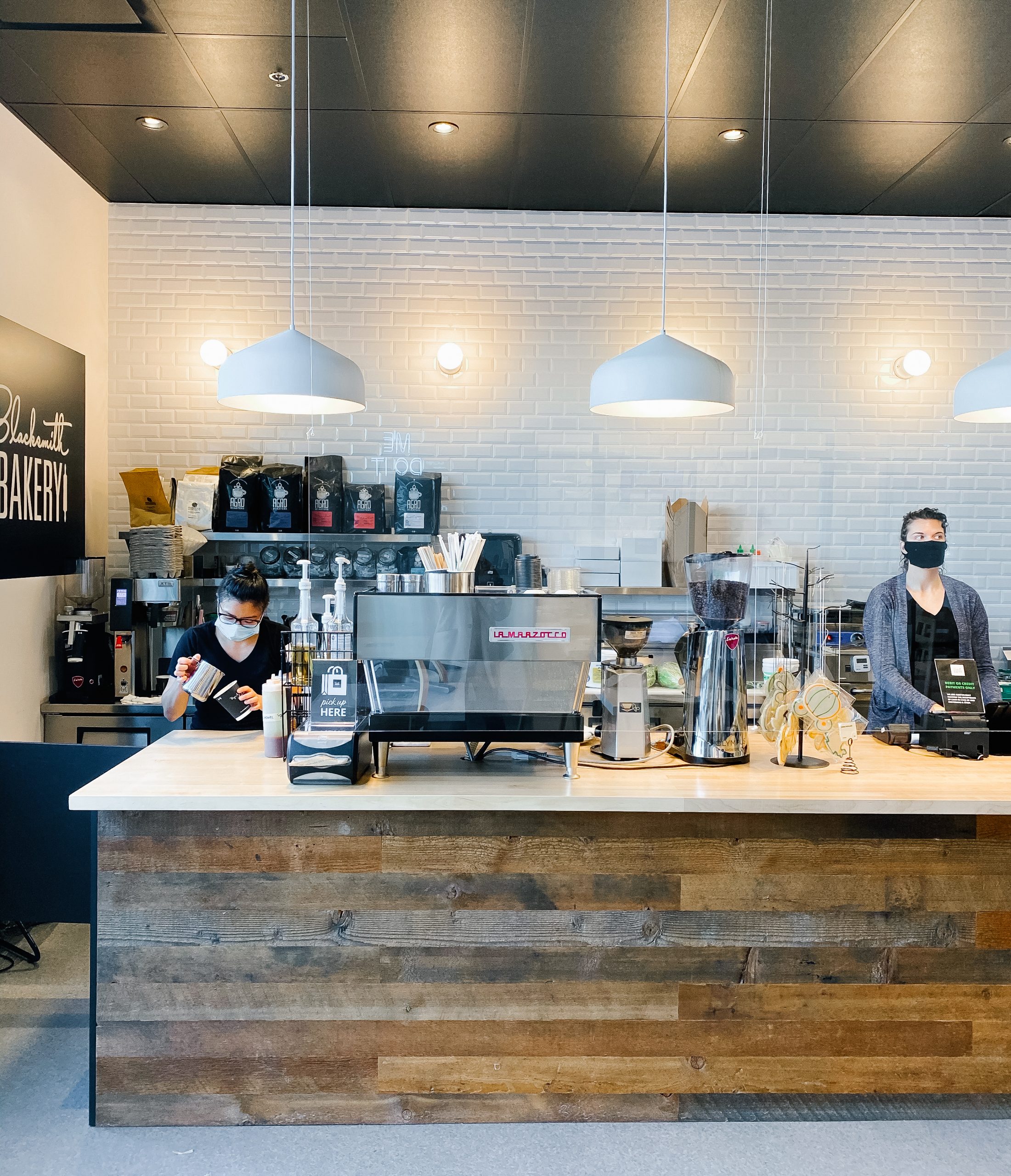 Recommend: Kouign Amann (just trust us!!), Croissant, Oat Milk Latte, Shortbread..it's hard to pick, it's all so good. Visit this new location or their original cafe in Fort Langley to satisfy your craving for a treat!
Thank you to Tourism Langley for allowing us to experience the best of this destination…from city to country, there are countless stops to make. To sip, savor, stay, see and shop…we are home with full hearts (and bellies!) and proud of what is right in our backyard!
Laurel and Pam xo