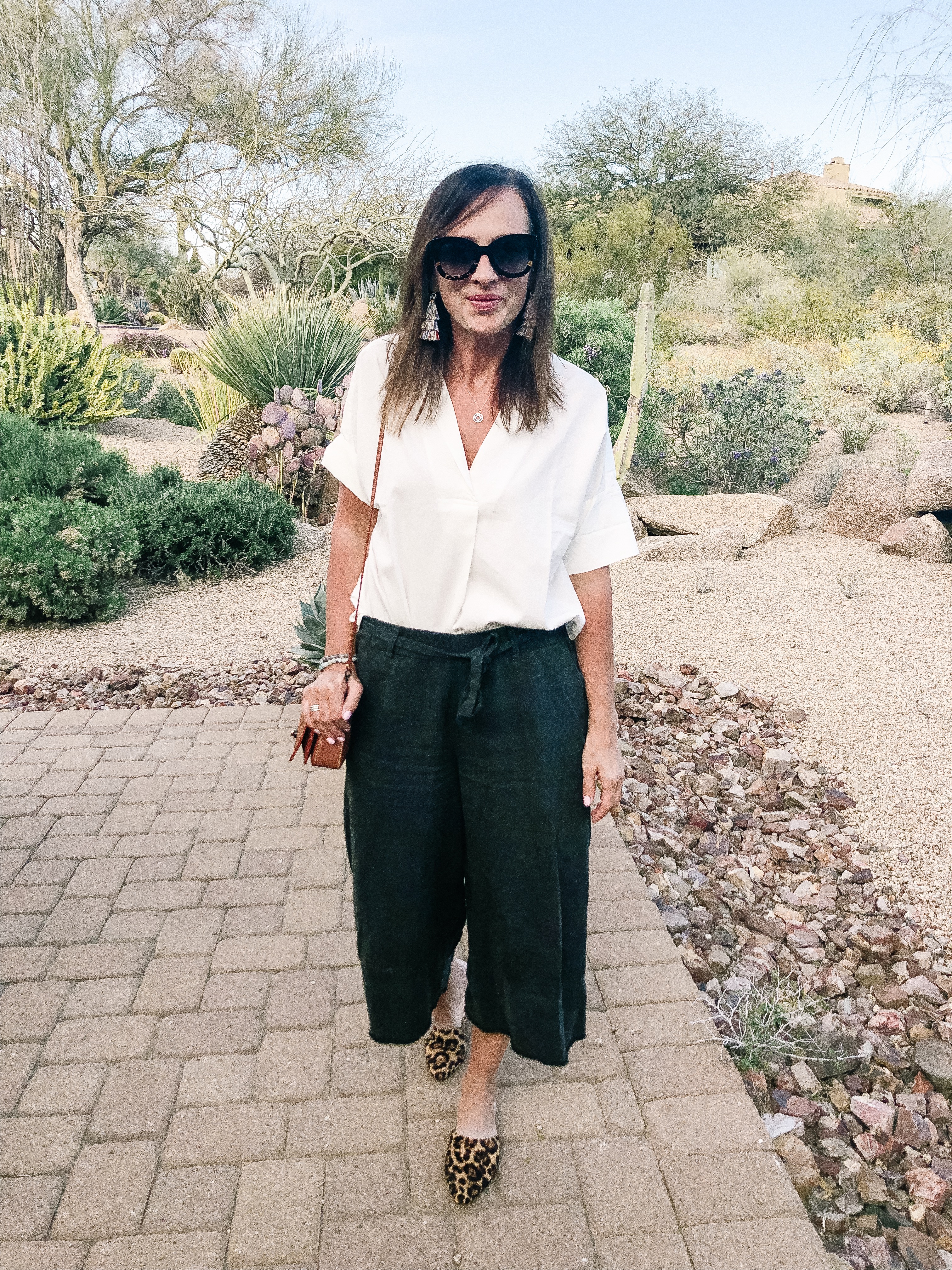 In the words of the completely stylish Jenna Lyons, " As far as I'm concerned, animal print IS a neutral". She may have come to this conclusion much sooner than me…but I've slowly caught up to her lol.
I might have been dragging my heels for this reason: The line between stylish leopard and cheesy leopard is pretty darn narrow. Am I right?? But when done right, this pattern looks timeless and chic. Done wrong and…well…it's all wrong! My idea of doing it "right" is keeping it in small doses..read: the head to toe version is extremely hard to pull off! I'm not saying it can't be done, but it might take a little extra something something in the confidence department. Anyways, the idea for me is to slip it into the wardrobe in some pops here and there.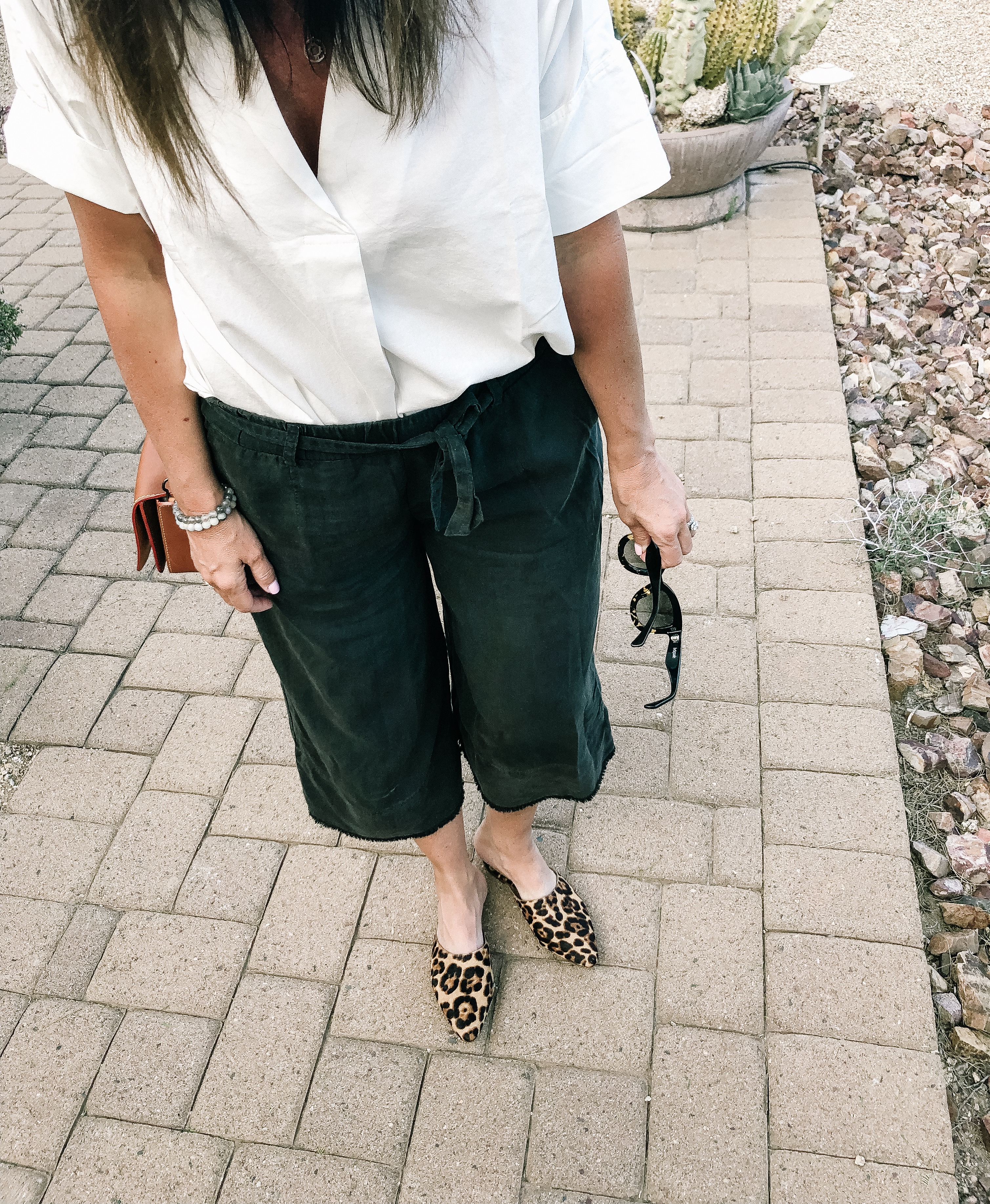 Outfit: Top, Pants, Leopard Slides, Crossbody Handbag, Sunnies
I love to pair leopard with solids…and allow the print to add a subtle edge. It does read somewhat as a neutral (thanks Jenna!) in that it goes well with many different colors…denim, black, white, army green, neutrals, and even with some more bold hues such as pink.
Here are some pieces that have me going rawr…ok, that's a lion sound, but you get my drift:)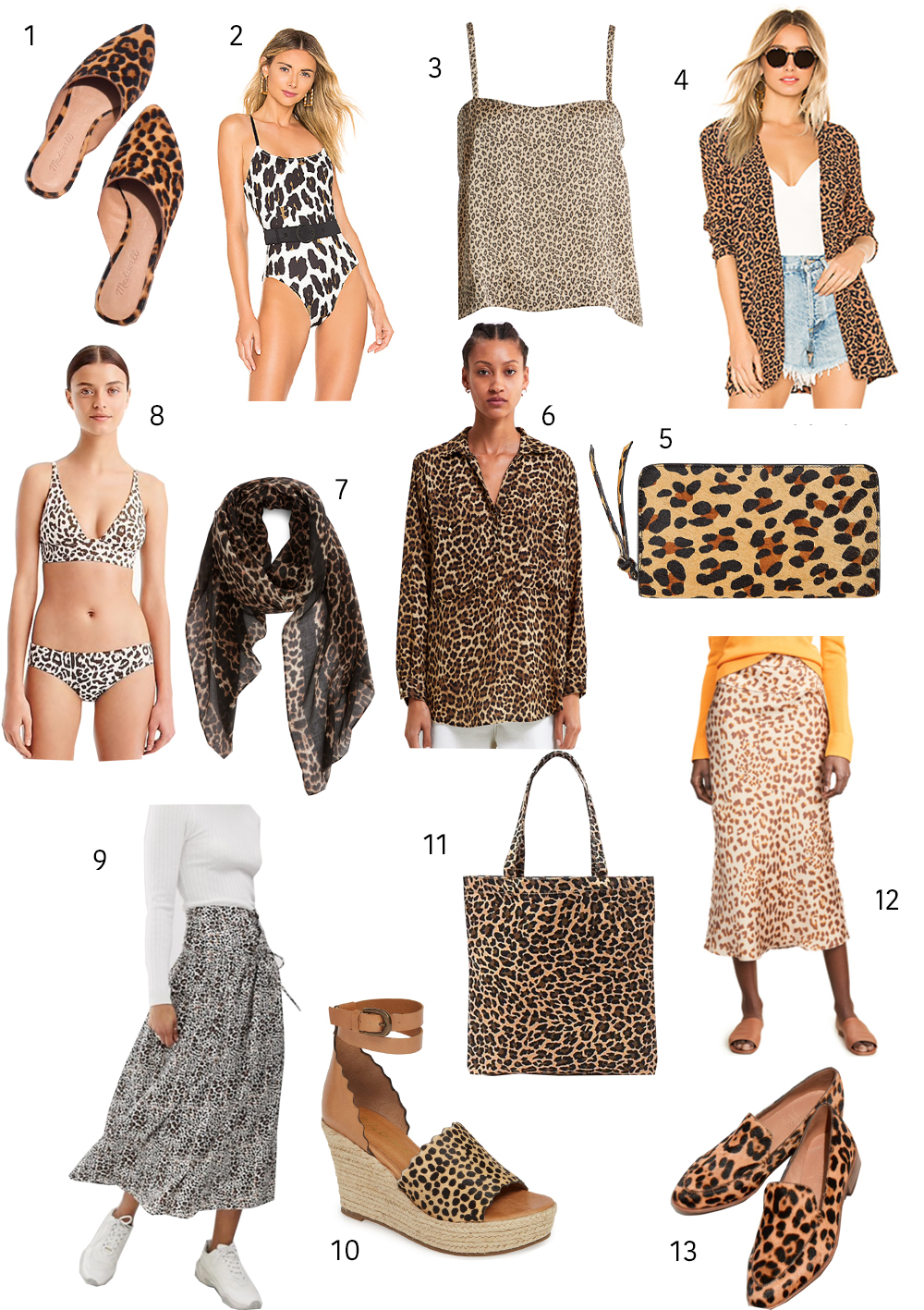 Leopard Mules  | 2. Belted One Piece Swimsuit | 3. Strappy Camisole | 4. Leopard Print Blazer | 5. Leather Card Wallet | 6. Animal Print Shirt | 7. Oblong Scarf | 8. Leopard Bikini | 9. Lace up Leopard Print Midi Skirt  | 10. Espadrille Wedge | 11. Everyday Tote | 12. Satin Midi Skirt | 13. Leopard Loafers |
**on a side note…the white top I'm wearing deserves a little shout out. I have to say I'm a bit of a pick when it comes to the fit and fabric of what I'm wearing. Over the last couple of years, I have continually scored with Madewell tops. Their more blouse type tops are often created with super wearable fabrics that move and drape so well. They often have some length in the back which I go for. I don't like crunchy tops! Madewell has figured it out:) Here are some favourites: The Drapey Shirt (my FAVE) White Short Sleeve, Rainbow Striped, Tie Front Top,