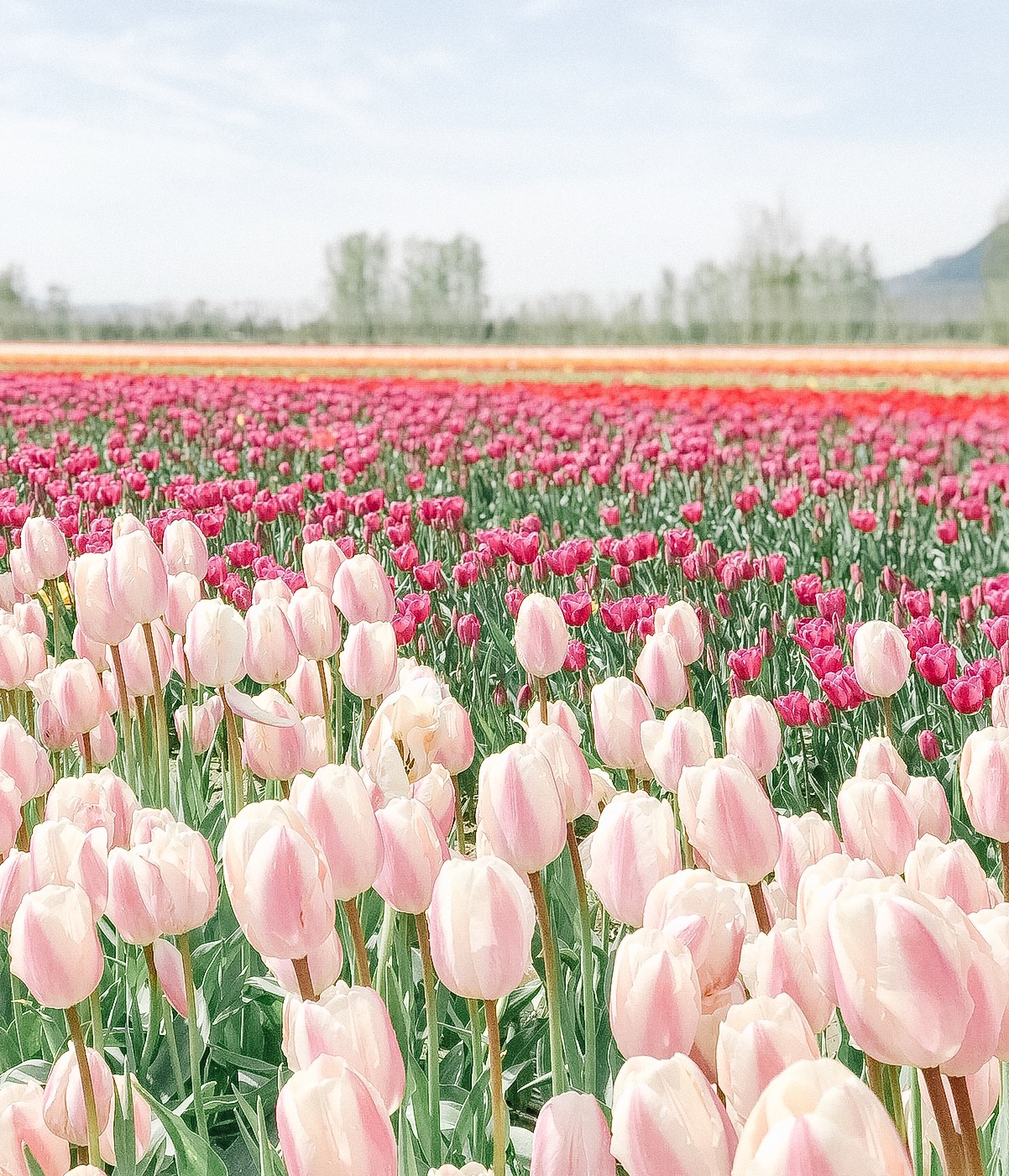 Envision a middle aged woman bopping awkwardly to a rhythm looking totally ridiculous. YES! That's ME! I'm doing a happy dance because spring is coming! hahah!! Anyone who knows me KNOWS that I get so pumped as the days get longer and warmer and brighter. It's like I'm unearthing, stretching out and shaking off the cobwebs. Pam often says she feels like a mushroom in winter. Ya. Me too. I prefer to eat them..not feel like one. Good news is March is here, spring is on the way. There are hints of it everywhere and I just want to celebrate it.
There are a couple of things that I do to mark the switch and I thought I'd share them with you today. If you're not feeling spring yet, this might help you get the vibes going.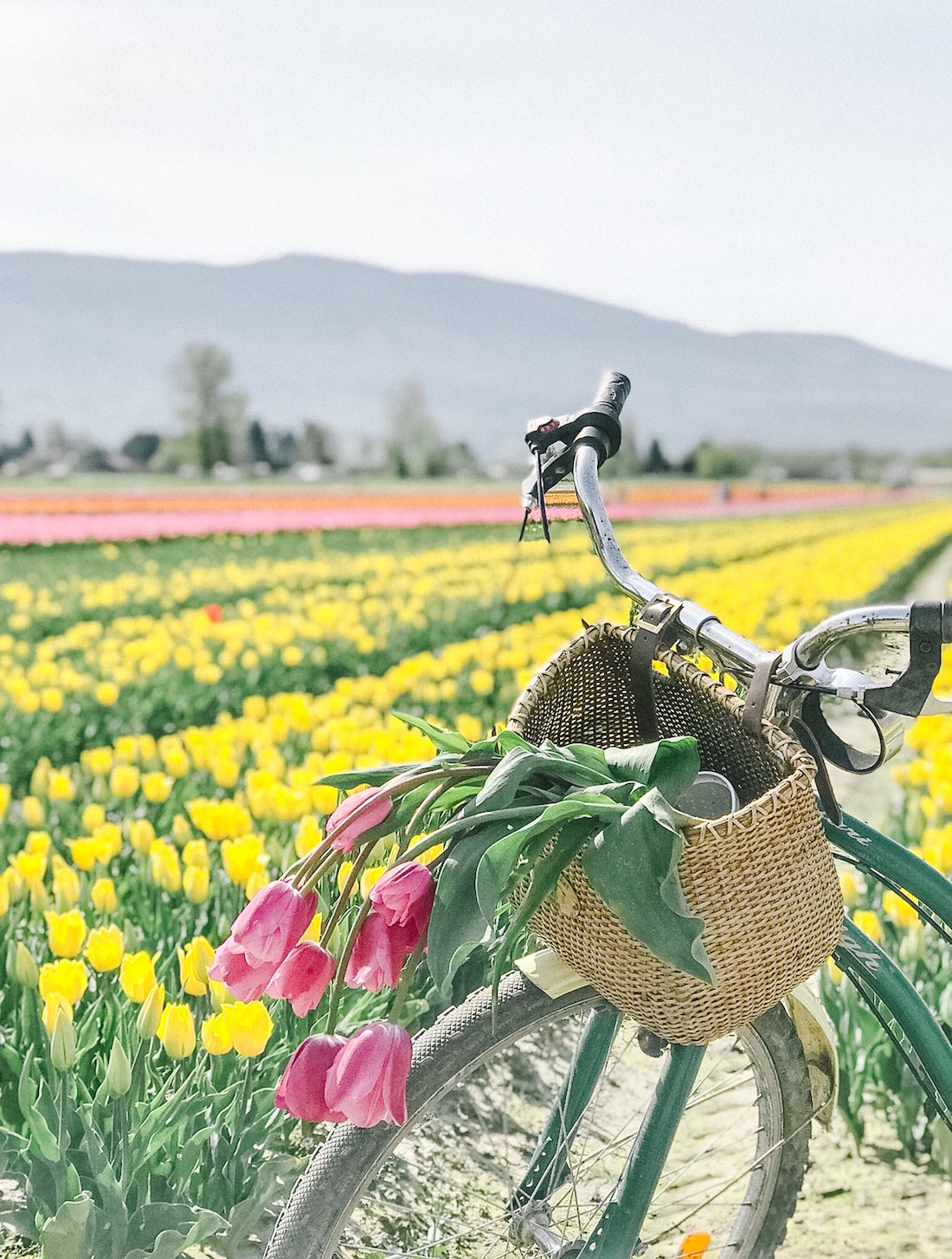 1. Get a spring-y manicure. OK…you don't have to go out an get a professional manicure. If you're a wee bit creative and have toothpicks and polish you could probably create a mani of your own. I'm not so artistic…besides I need a new and stronger prescription for my reading glasses so…anything small and detailed is currently outta my scope lol.  Here are a couple of my favourite spring manis… cherry blossoms, negative space, winky eyes, and some geometrics.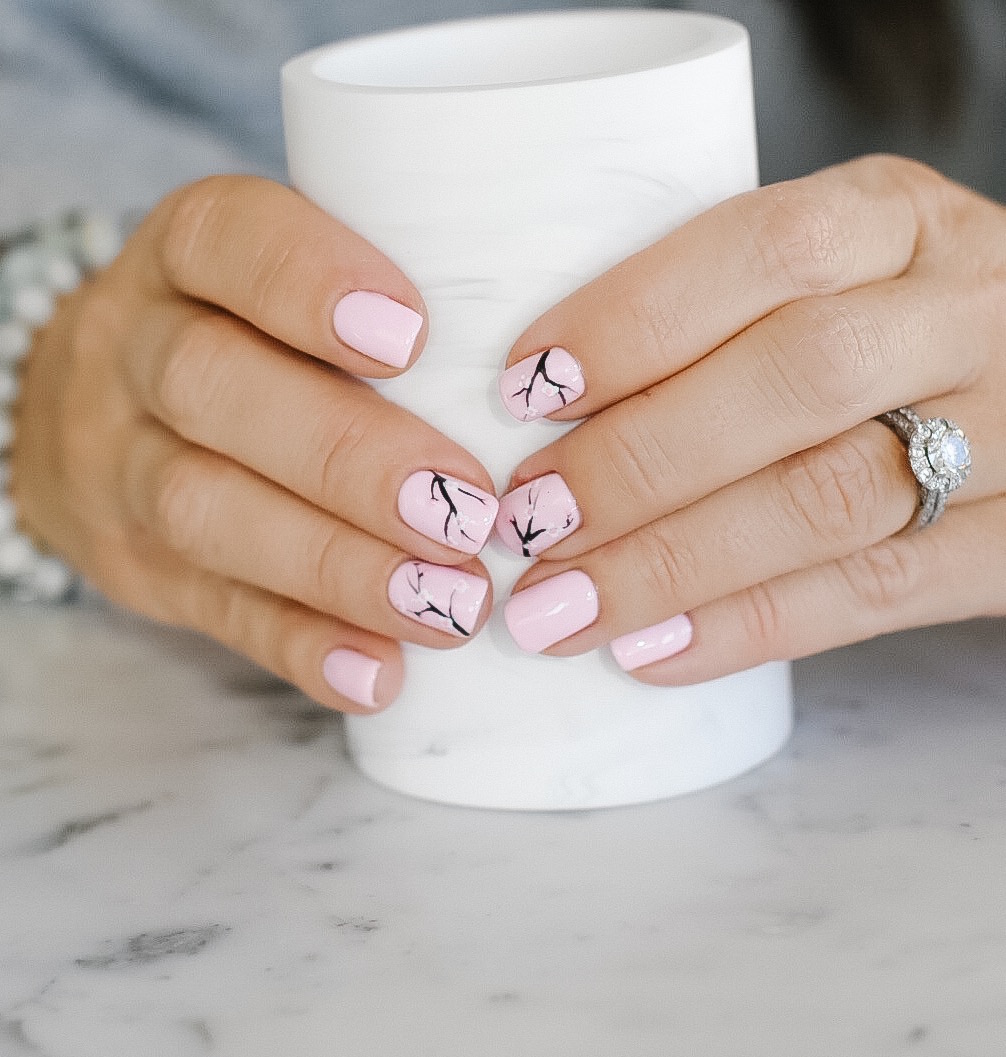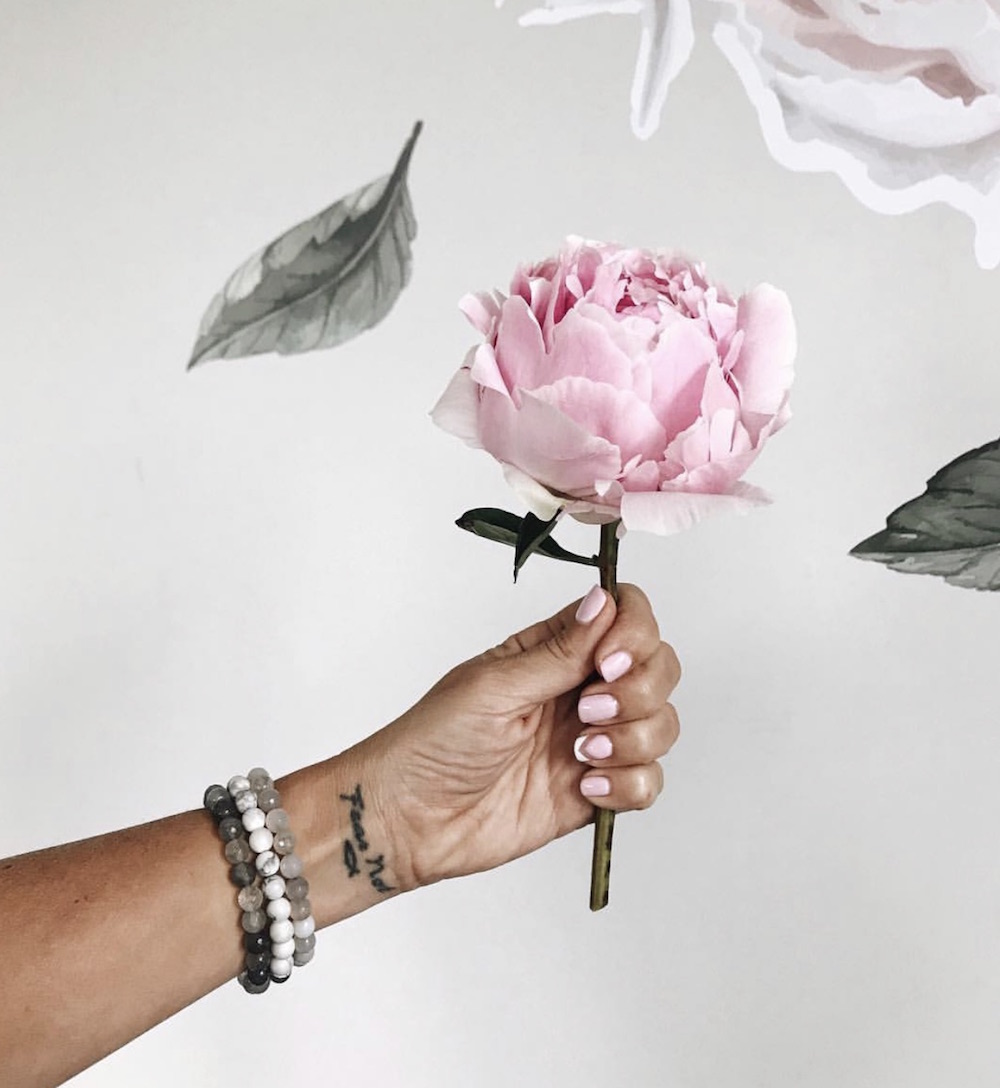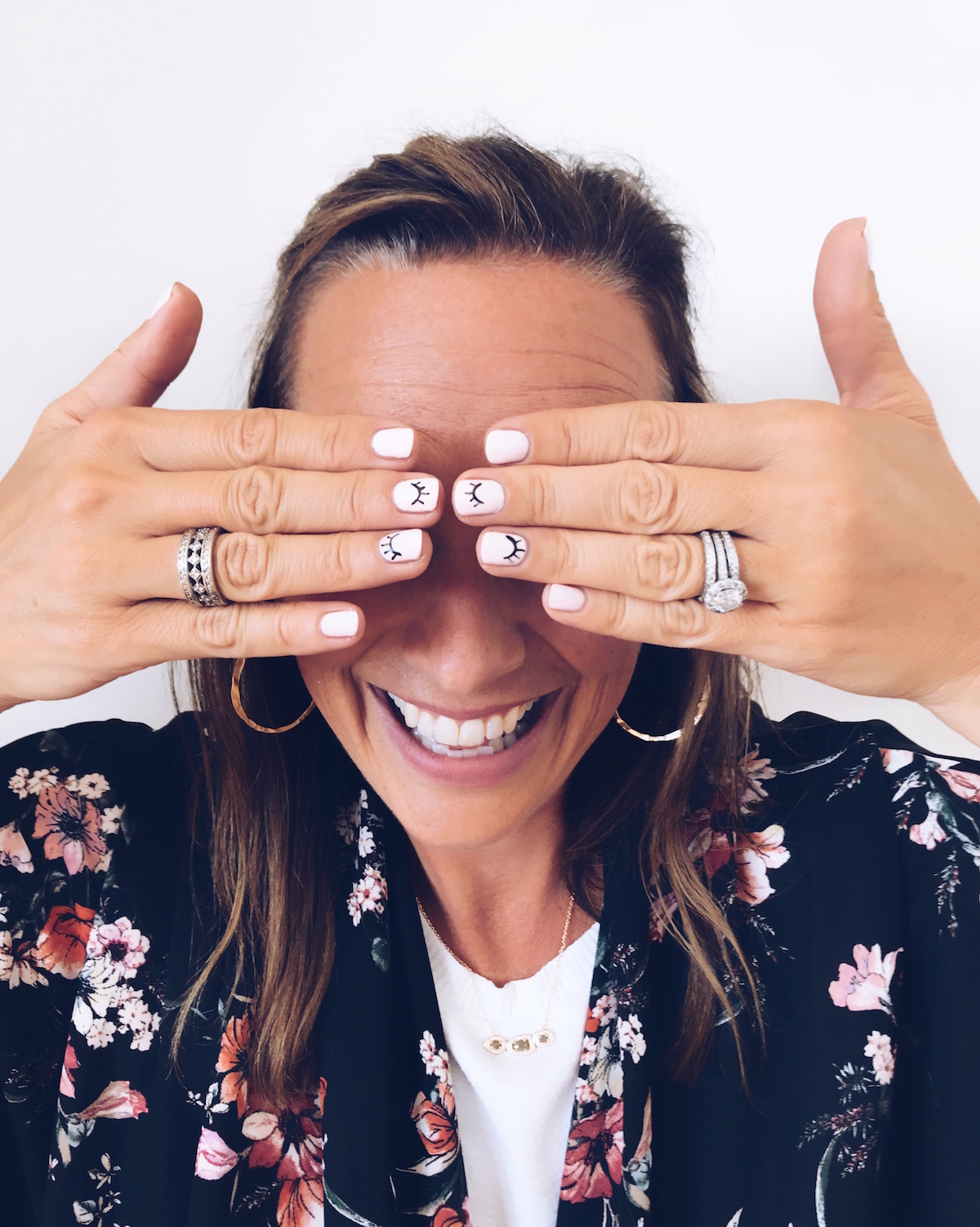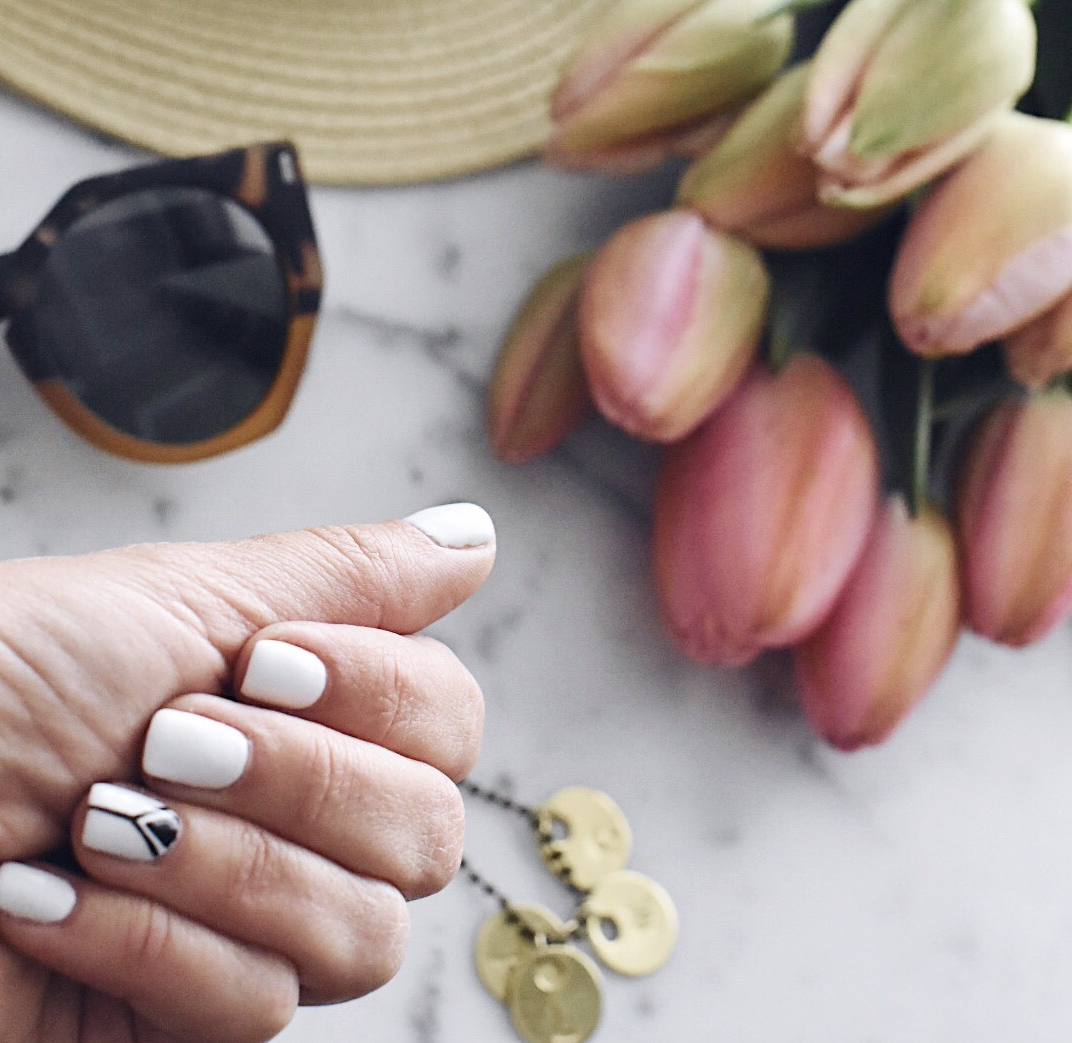 2. Plants. This is the time of year where everything outside is starting to "wake up".  I might just becoming a crazy plant lady…but there's something so energizing about having living nature in the home. I found the jasmine wreath (below) last week at a local grocery store for a total steal. It was in a neon pink wrapped pot that kinda took away from the actual plant (man, marketing..they weren't helping themselves with that fuchsia!).  I envisioned it in a large white pot right away.  Now, it's so simple and pretty…and jasmine has a wonderful fragrance. I'm like a happy plant mom! But, really, bringing some live greenery into the home brings new life. Succulents are a wonderful option for the who aren't into babysitting anything other than their own children lol. I also love to buy a fresh bouquet every couple of weeks…as different parts of it start to wither, I just keep re-arranging it into a smaller posy. This way, I can enjoy it for at least a couple of weeks!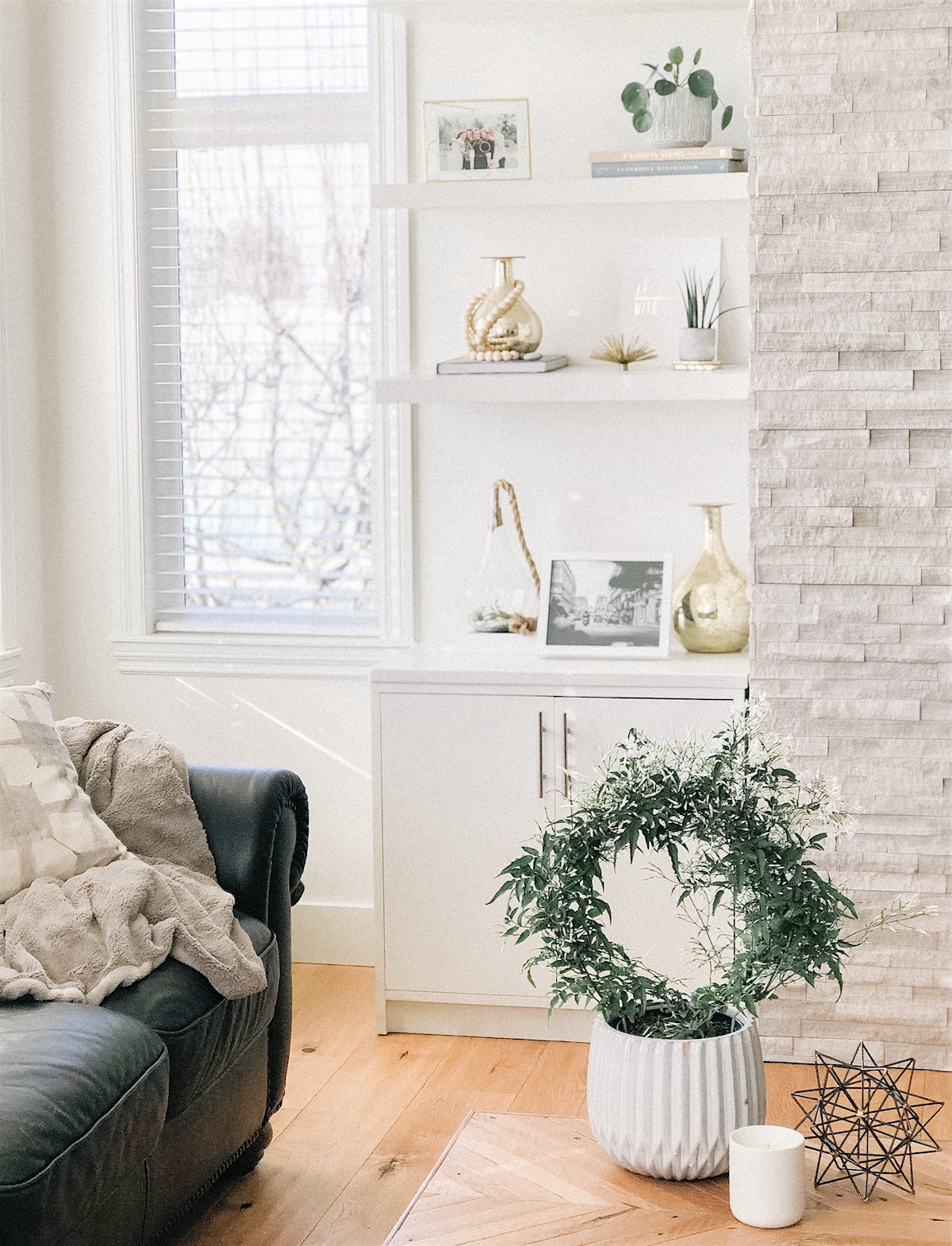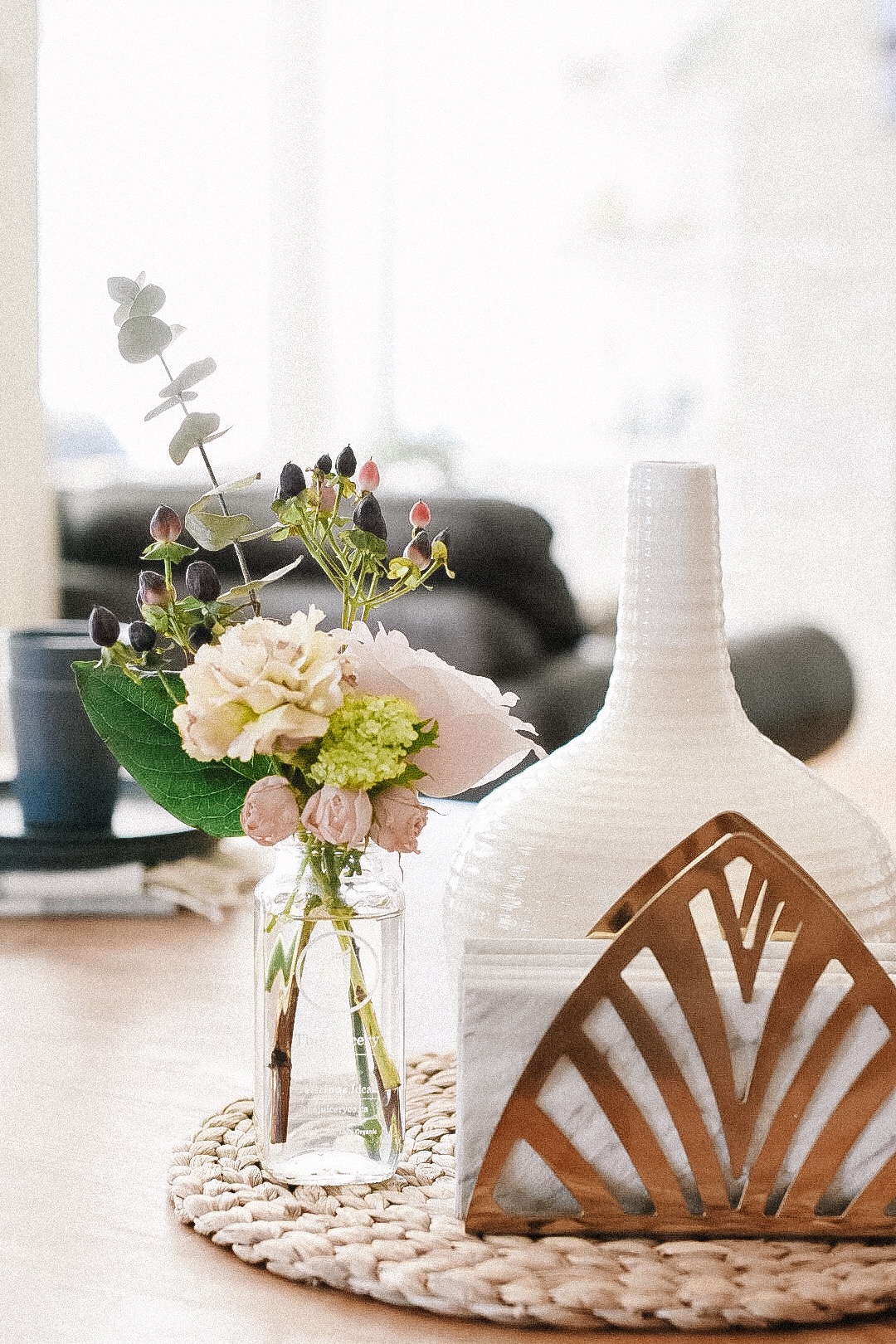 3.  Lighten your lip color. During the winter, we tend to deepen our lip shades. But when spring approaches, I always make a switch to some softer and lighter hues…it signals the start of more sunshine and warm temps! Here are three of my favourites: RMS Lip Shine  , Smashbox Lipstick in Primrose , Bite Crystal Shimmer in Rosé Glacé (a clean, vegan product!).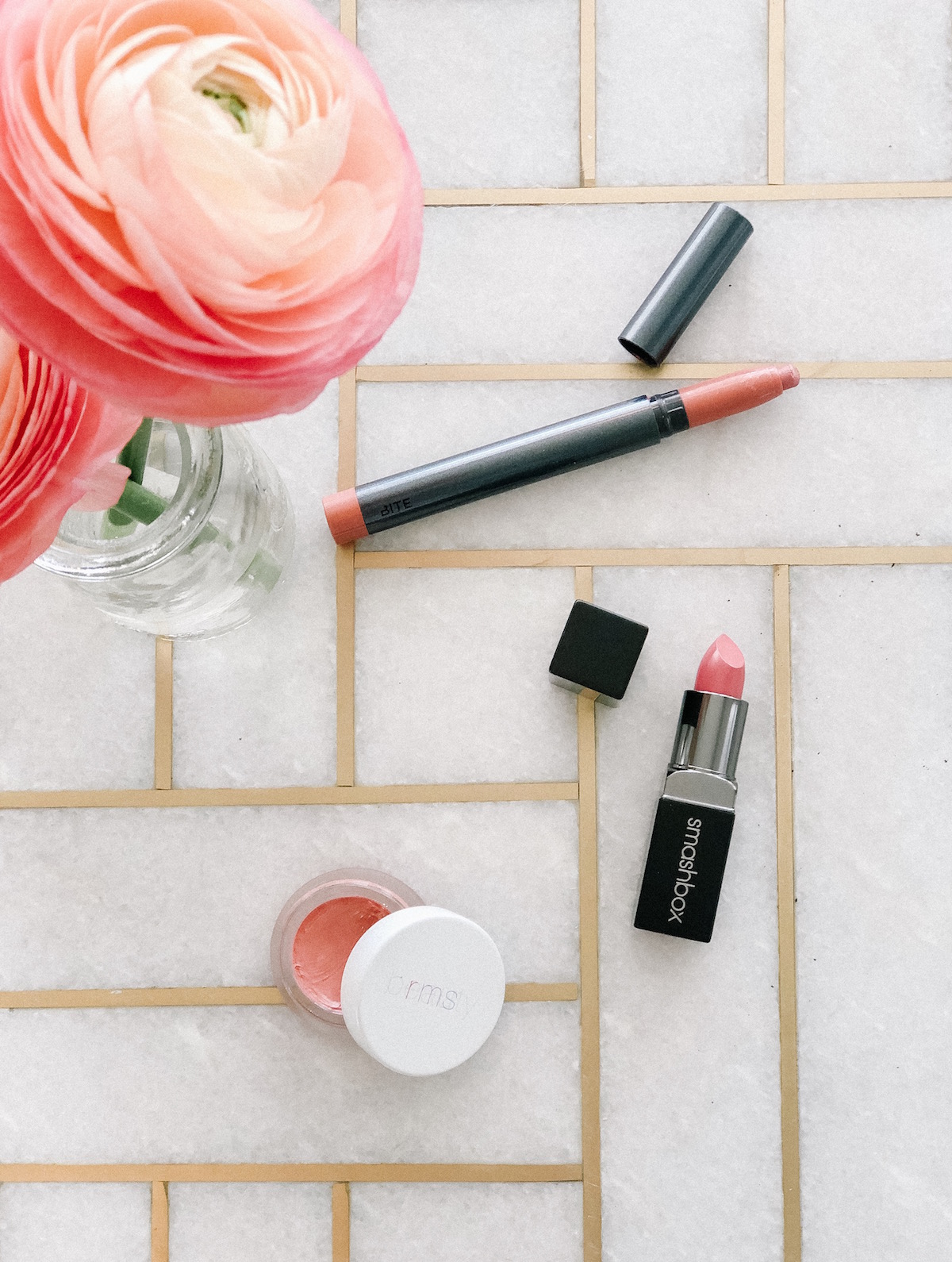 4. Get your smoothie on! I like to make smoothies year round, but right now, specifically, oranges are so delish! My favourite variety is Heirloom Oranges (you can find them at Lepp Farm Market!)…so sweet and juicy. As more produce pops up locally, get your daily fix by blending up a healthy and vitamin packed drink! It might just be the easiest way to enjoy your daily servings of fruit/veggies.
Here's a quick and yummy smoothie:
1 orange, peeled and quartered
1/2 cup frozen pineapple chunks
1/4- 1/2 cup almond milk…add more to your preferred consistency if wanted.
1/2 tsp ginger, grated
*add 1/2 a banana for a creamier version.  (I keep banana slices in my freezer to add to smoothies.) Omit if wanted.
**I add a handful of spinach if I have some on hand…nutrient rich and just so good for you.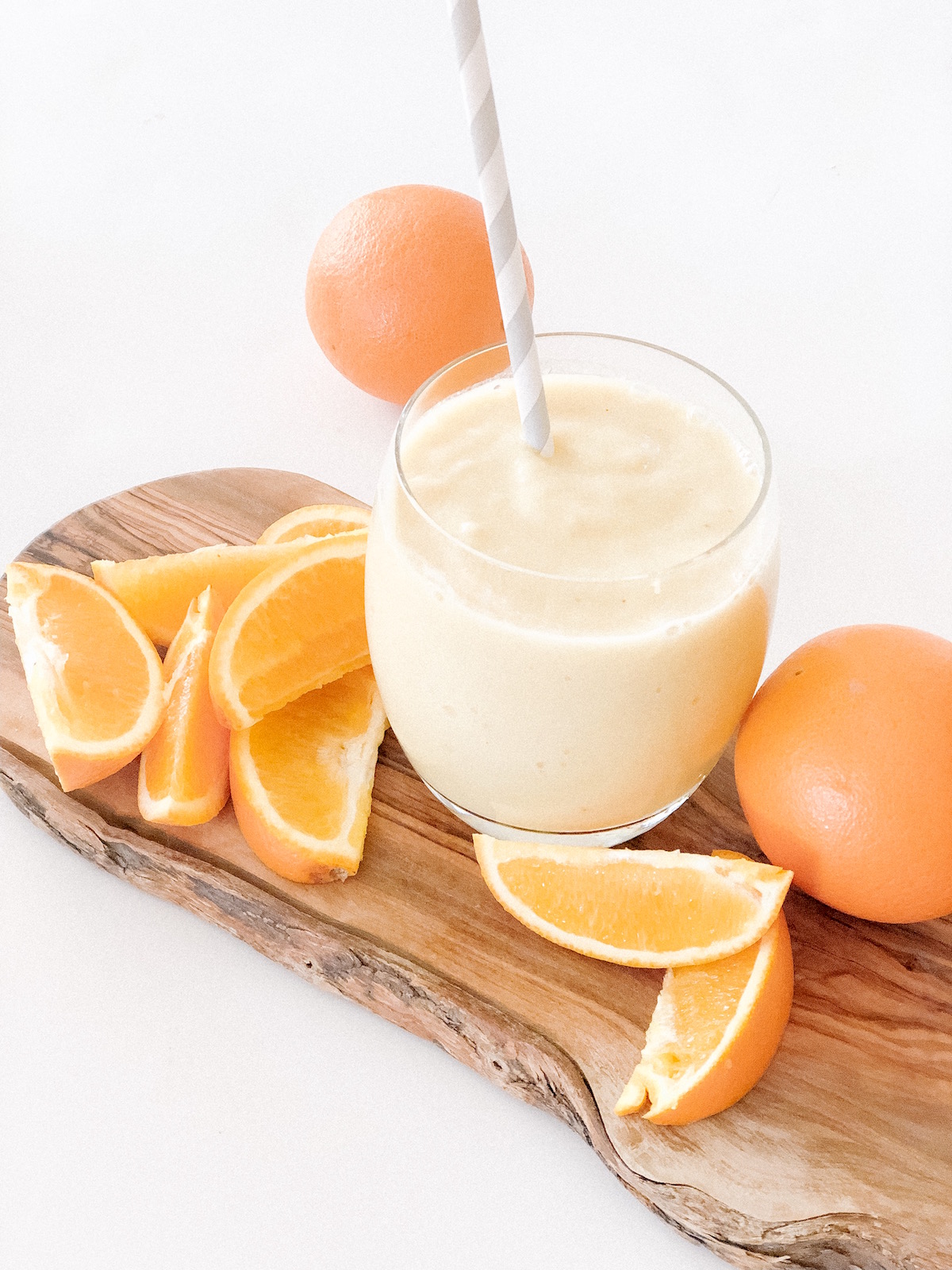 5. Get outside! If there's one thing I just LOVE…it's being able to go for walks, especially later in the day because it's still light out! There's just no denying the benefits of fresh air….physically for sure, but don't downplay the emotional and mental affects. It just gets everything moving, serotonin flowing and provides a chance to recharge. When I'm at home, I love the quiet walks around our farm with our dogs running ahead of me. I also love the chance to walk in more urban areas too, though…Pam and I are known to walk great lengths for coffee or brunch! Will walk…for food. Wherever you are, I challenge you to get out and just breathe in the fresh air! Don't wait to have an opening in time. Rather, schedule it in and make it happen!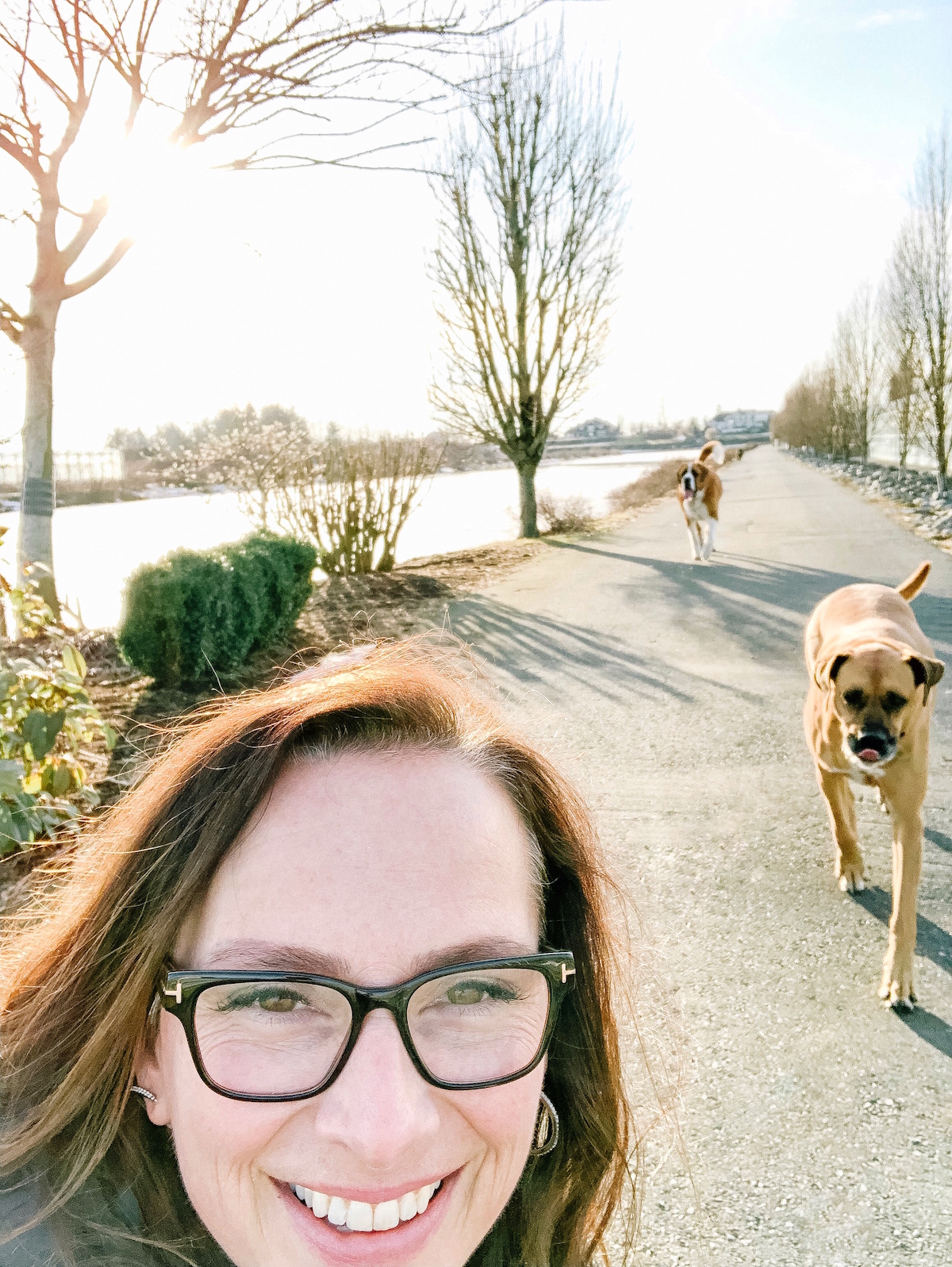 Ok…I didn't talk about spring cleaning. But, it's on my list. I'm working away at some different areas in our house, sorting and purging and donating. Feels good but I've still got lots more to do.
Hope these ideas can inspire you to "spring" forward into his new season. Welcome it in…bring on the sun! Thanks so much for reading. Have a great week everyone ~ Laurel xo