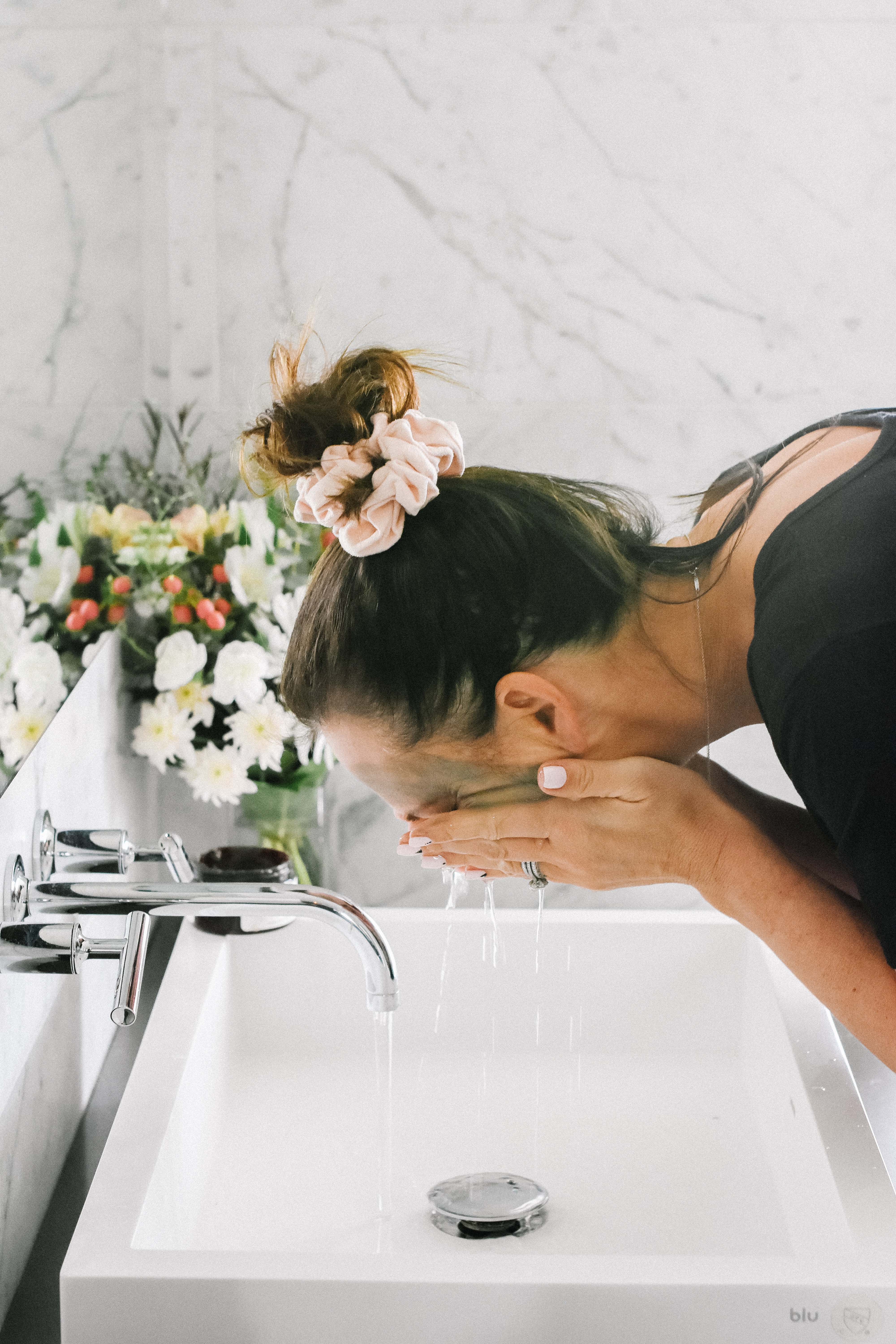 I don't know about you but this dry winter weather is wreaking havoc on my skin…my hands are hangnail central. But…I'll tell ya, my face is doing ok. That kind of sounds weird…but it's true.
Since my photofacial in December (I'll talk about it more below), I have really been trying to protect that investment. I've always been pretty religious about my"before bed" skin routine but now, even more so. Having the photofacial left me with much more rejuvenated and repaired skin and I'd like to extend that as long as possible! Another reason I put some effort into my nighttime routine is that I'm pretty low maintenance in the morning (read…no maintenance). I'll put on some moisturizer with spf but other than that, I can't be bothered. The evening is when I take the time.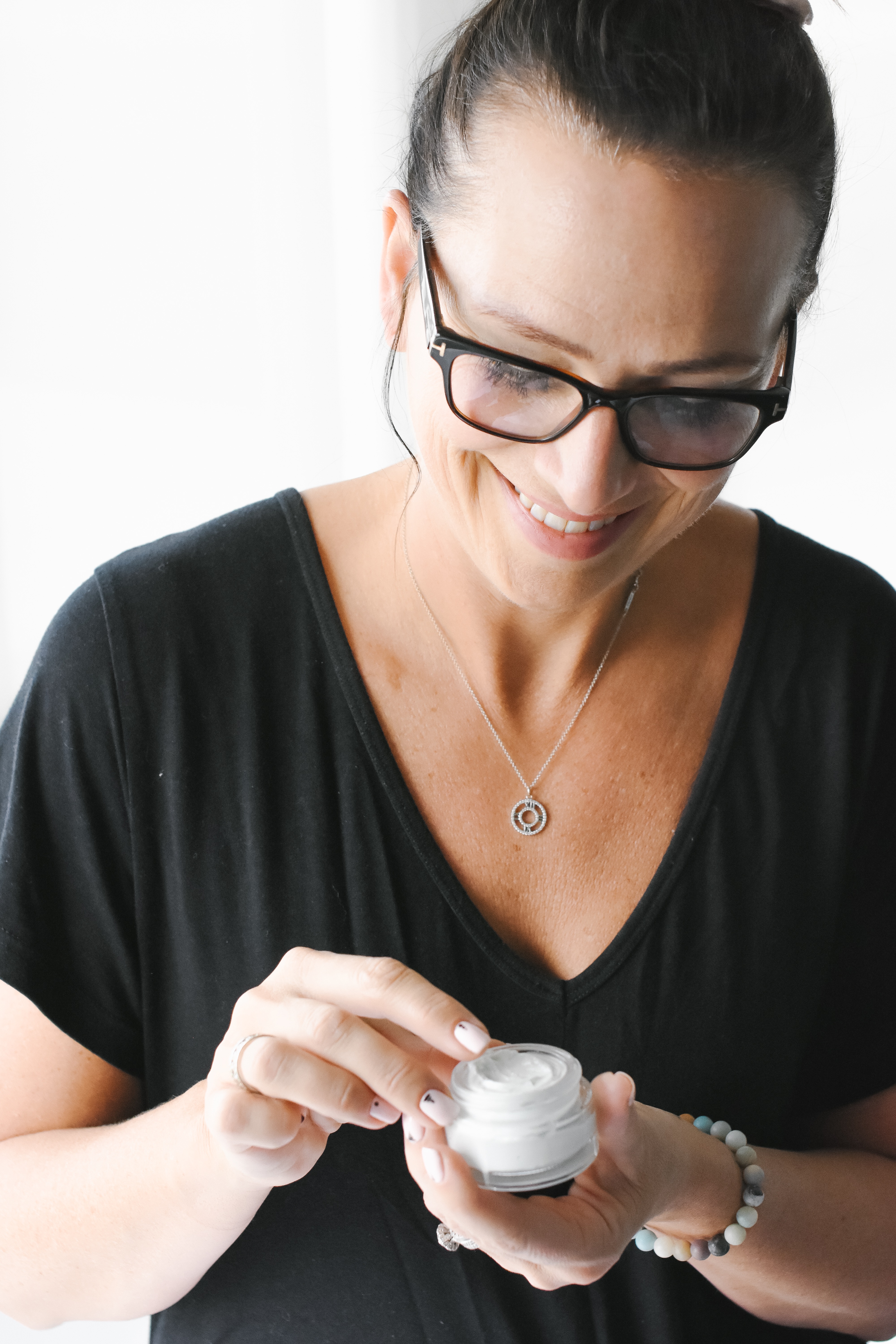 Having a routine and doing it the same every night makes it more of a ritual than a chore. I love how my skin feels after I've followed the steps and I think it's actually part of my decompressing mode each day. There was a time when anything more than one step would have been way too much to commit to lol! In my 20's and much of my 30's who was thinking about wrinkles or collagen production?!? Not me! I'm in a different place now! And now that I understand what each product does and feel the benefits of them, it's all good.
Simply put, this is my routine each night:
Cleanse
Tone
Apply serum
Moisturize
Lip balm
1-2 days a week, I also like to do a facial mask to make sure I'm getting a deep clean. If you're a visual type person, think of how you clean your kitchen: on a daily basis, you keep your kitchen tidy and clean up after food is made, etc… and then once or twice a week, you gotta just get those rubber gloves going and take it to the next level with a super clean. Am I right? The same principle can apply to your skin. There's value in daily maintenance and also in doing weekly deep cleans!
Here are my favourite products that I use on the regular. These are my tried and true…and cover the range of budget. I pay much more attention to what's in the products than I used to. Since going through cancer, I just care more. I try to do my homework and ask questions to find products that will work the best without putting unnecessary "crap" onto my skin.
CLEANSE ||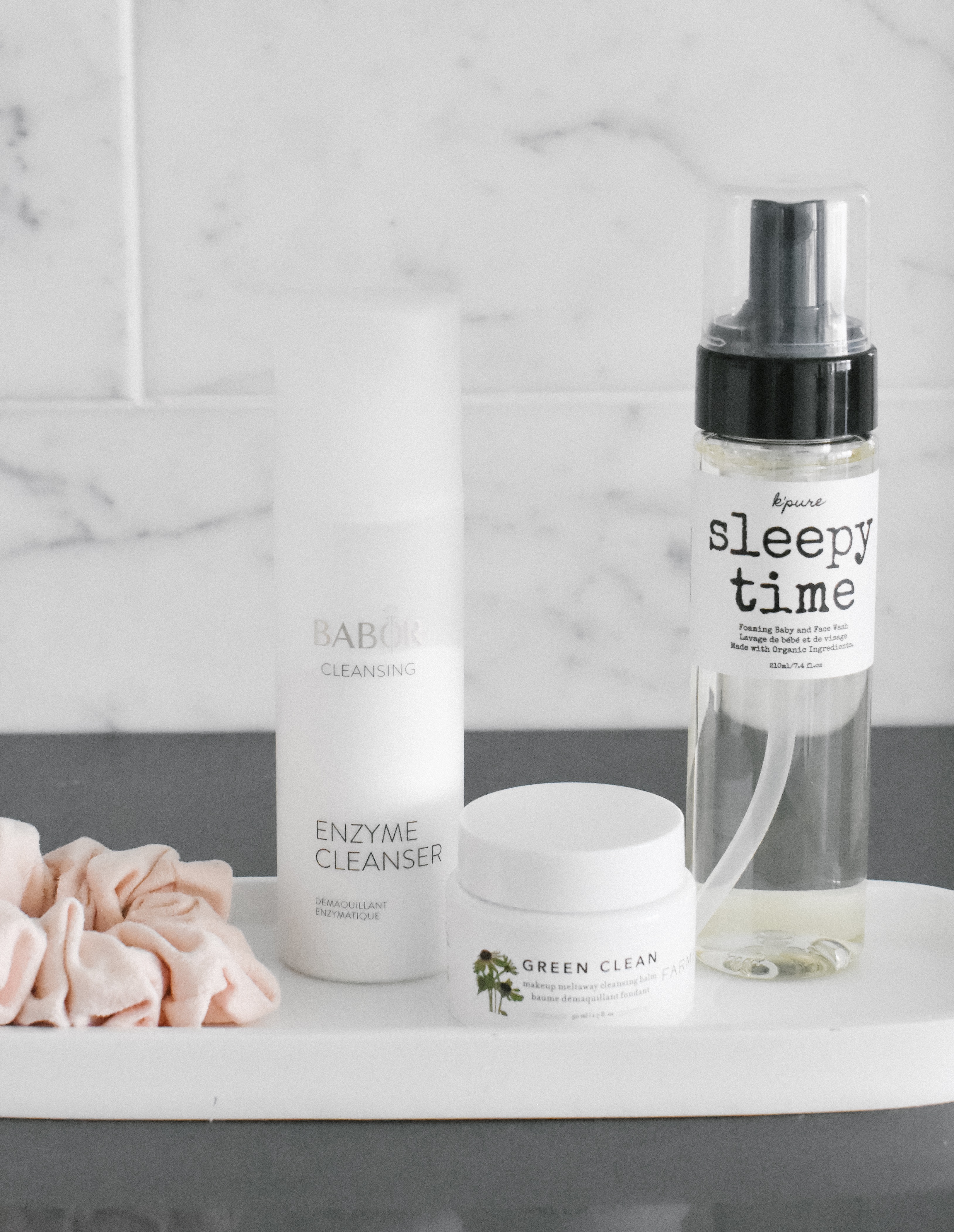 The first step is finding a cleanser that works for you. I switch between a couple of them. K'pure's Sleepy Time  is so gentle (the Washed Up is also one of my favourites, especially if you opt for fragrance free). Gentle enough that it's also suggested for bathing your babies. Perfect for both washing your makeup off and cleansing at the same time. I love the foam application and once you've rinsed it off your face feels literally clean.
The Babor line is another favourite. The Enzyme Cleanser works double duty as a cleansing and exfoliating powder. Yes, friends, a powder! Know what this is perfect for? Travel! Pour a little powder into the palm of your hand and add a touch of water to create a light cleansing paste. So good for carryon travel and so good for adding an exfoliating agent into your routine. Because I have dryer skin, it's vital to get rid of those dead cells. This helps to prevent pores from clogging (acne) and allows your product to seep into clean skin.
Green Clean is another gentle cleanser that removes makeup and other debris and is good for all skin types. Massage the balm onto your skin to take advantage of it's natural exfoliating properties..rinse off with warm water. The formulation is light and fresh but strong enough to melt away even the most long lasting makeup products. Main ingredients include sunflower oil, ginger root oil and papaya extract. It smells so good!
2. TONE ||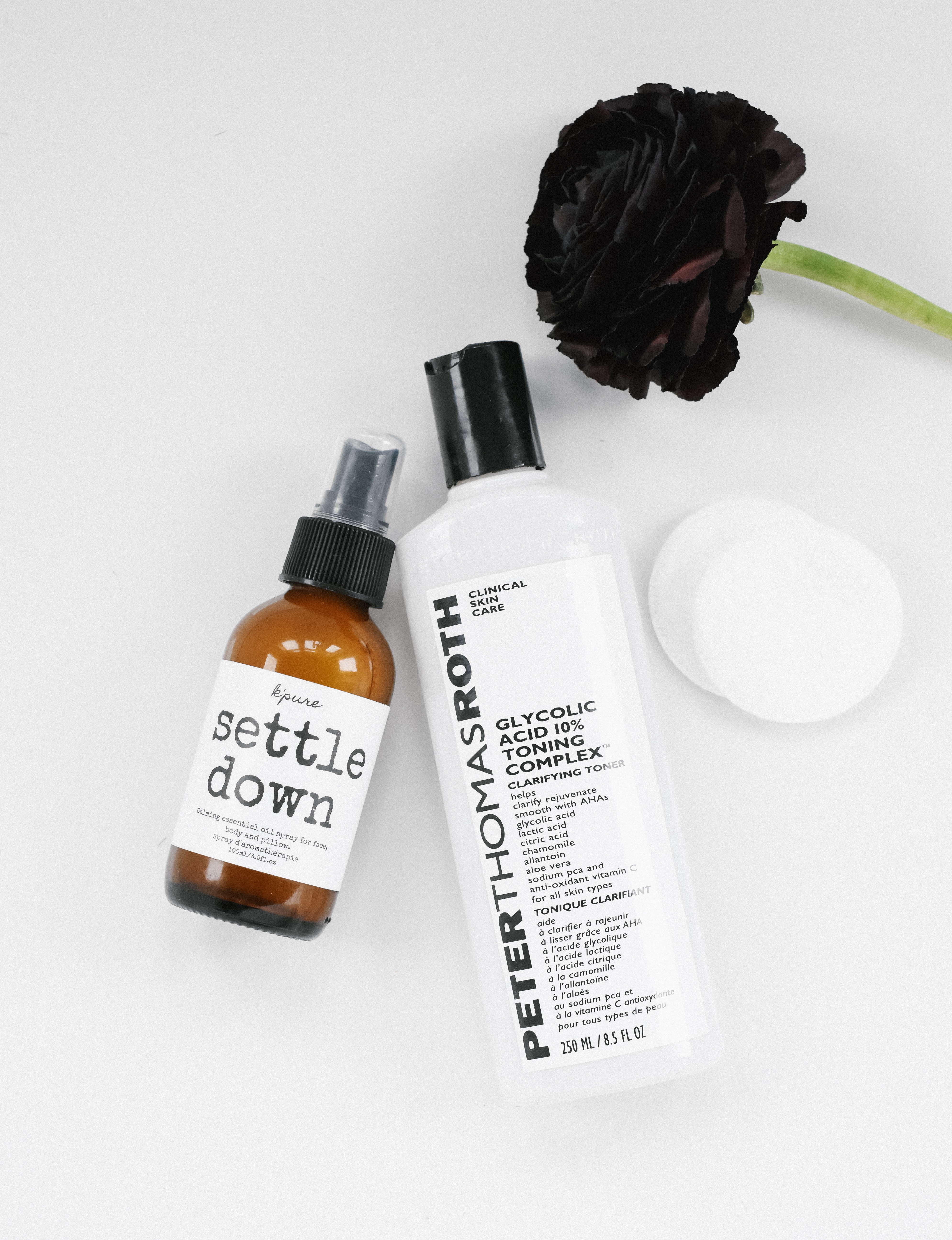 What's the purpose of toning? Depending on the type that you use, toning can help remove any dead skin cells, makeup or excess oils that you might have missed during your face cleansing step. Toning can also help prep your skin to better absorb your moisturizer/serum. I switch between two products for this step: On the daily, I use Settle Down. It's a spray application and combines organic essential oils, such as lavender. This spray is also a calming elixir…so using it in the evening is perfect timing.
When I have any acnes flare ups, I use Peter Thomas Roth's Glycol Acid 10% Toning Complex. Guys, I love this product…and find it to be a great combination of powerhouse exfoliation and gentle oil reduction (as I said I don't usually have oily skin but there are times when it seems to come outta nowhere). This actual product looks to have been recently discontinued so I'll link the same product but with a 8% glycol solution so even a bit more gentle.
3. SERUM ||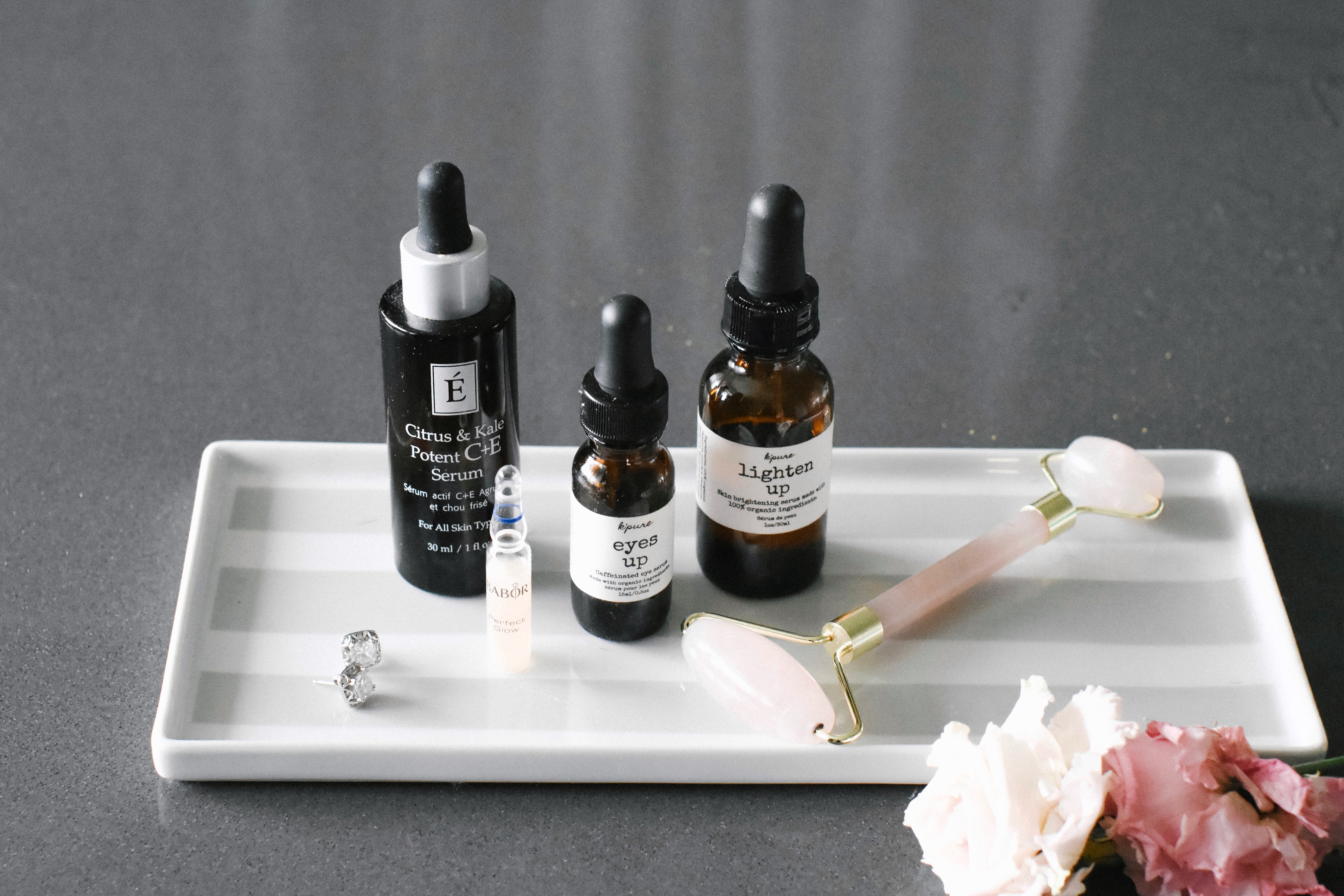 Serums are used for skin repair and hydration. I used to have n0 time for them..I am now smarter lol! I love K'Pure's Lighten Up serum as it feels really lightweight but is a huge source of hydration. It softens and rejuvenates skin.
Babor also makes intensely nourishing ampoule concentrates that suit the different needs of your skin. I like the Active Night Fluid and the Collagen Concentrate (as we age, it's all about the collagen!)  Just a note: upon cracking open the glass ampoules, I only use half of the vial at a time. So, each vial is good for 2 uses.
Eminence's Citrus & Kale Potent C + E Serum is a fabulous serum. Vitamin C has so many benefits for your skin. It boosts collagen production and as we age, our bodies stop producing collage naturally so it's essential for us to get it in different forms. (So important that I also take it in powder form…it's been amazing for my joints as well as healthy hair and nails). Vitamin C also helps lighten dark spots and assists in repairing damaged skin by stimulating cell regeneration. Wow, that's heavy science talk there lol! Basically put, Vitamin C is is a superhero for fighting aging skin.
All of these serums give my skin a sort of radiance …and much hydration which for many years has been my achilles heel. My skin has always been classified as dry and somewhat dull. I'm not sure if the radiance is something others notice or more something that I feel, but really it's about me feeling like my skin is clearer, brighter and more hydrated.
I also like to use Eyes Up Caffeinated Eye Serum to reduce puffiness and dark circles that have never been an issue for me…until now. Jeesh, the 40's has become all about the skin game for me! After applying the serum, I use a rose quartz facial roller and roll out my face lol..this roller is used to promote better absorption of the serums, more elasticity and I love the cool effect of it (maybe it's a menopausal thing, but it's all about the cooling situation right now). If your skin leans towards being puffy, this might be an effective addition to your evening skin ritual. Keep the roller in the refrigerator to amp up the cool factor.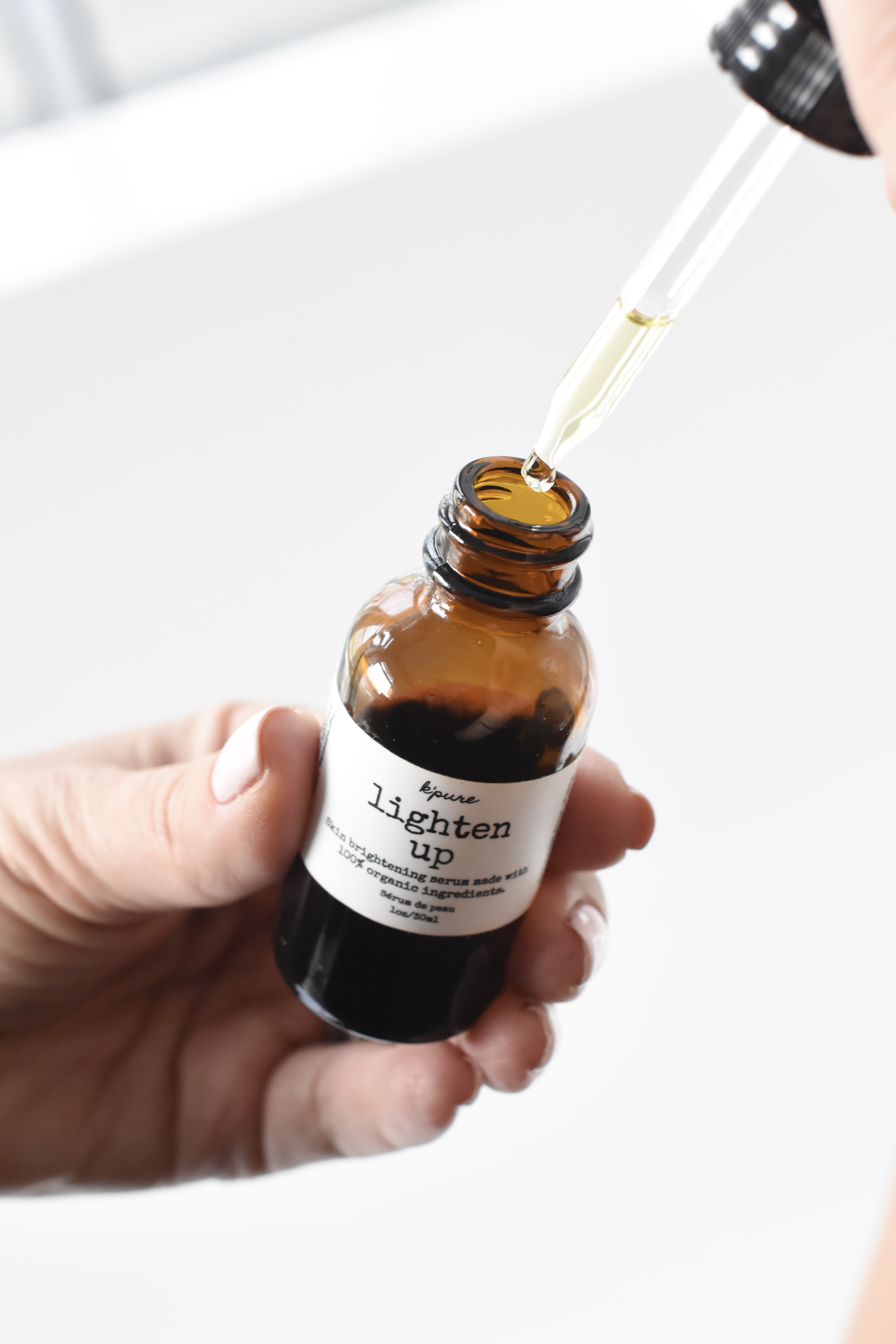 6. MOISTURIZE ||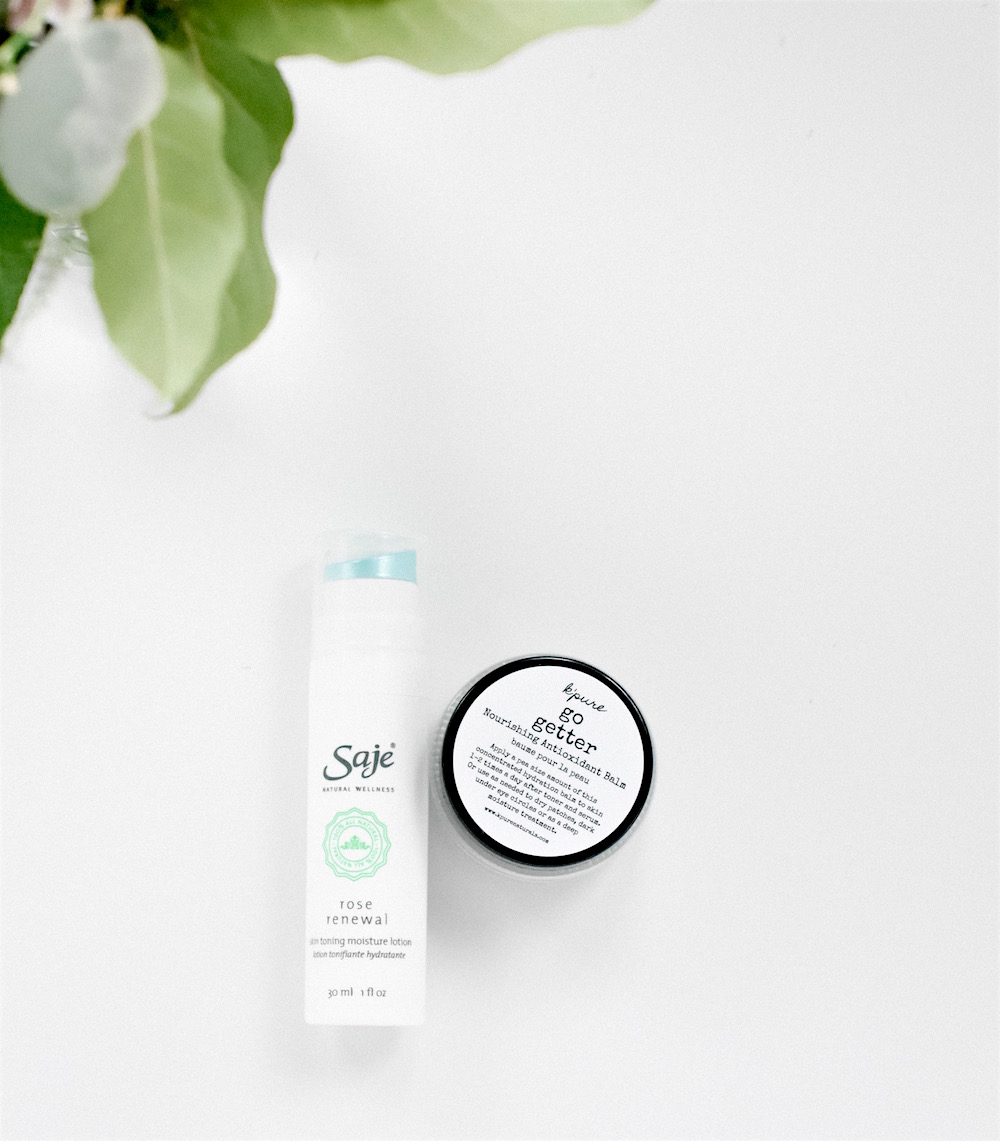 This last step locks in the goodness you've just put on your skin so it's a step not to be skipped. Serums have added a layer of hydration and applying moisturizer (especially while your skin is still damp) will help seal that in. Don't forget to apply moisturizer to your neck as well.
I have two moisturizers that I switch between: K'Pure's Go Getter is extremely hydrating. At first glance, this formulation might appear heavier to you but no fear, once applied, it soaks in and leaves your skin feeling ah-mazing. It also smells SO good. This balm can be used as a spot treatment for dry patches on your body, such as elbows or hands.
Saje's Rose Repair is a lightweight moisturizer that I've found I really like as well. It's specifically for mature skin…did I just say that?!? Yikes, I did.  It's super hydrating, absorbs well and smells like a rose bouquet!
5. MASK ||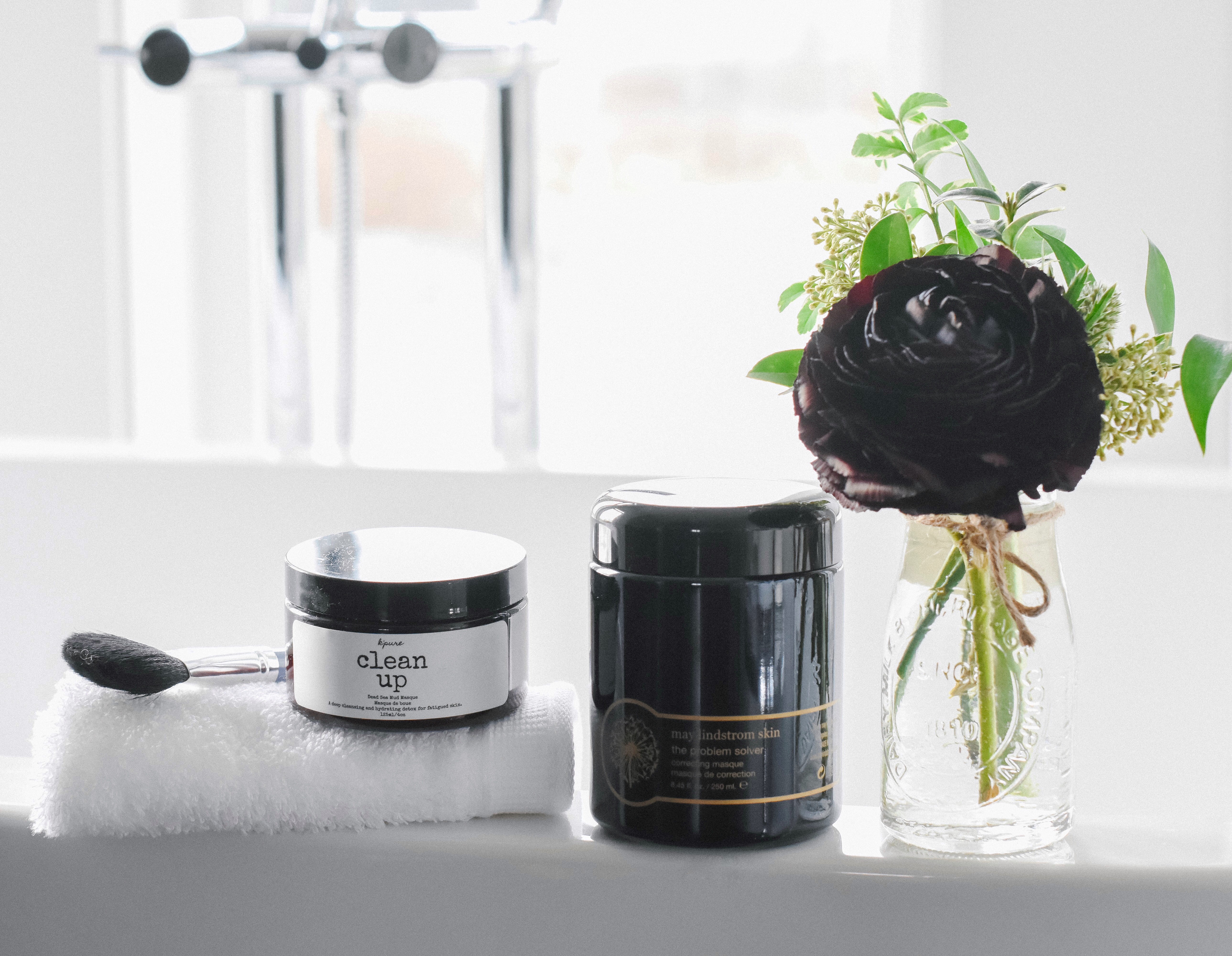 Masking is a real thing! There's something so relaxing and rejuvenating about it, right? If you haven't indulged before, trust me! Your skin will love you for it:) Once or twice a week, I'll add this into my evening routine after cleansing my face. Clean Up is a mud masque formulation that cools and detoxes (created originally as an armpit detox to draw out toxins and restore your skin's pH…I use it for that too!). Once rinsed off, your skin feels so fresh and clean.
May Lindstrom's "Problem Solver" is one that I've had in my arsenal for years. It's definitely a luxury product and is like a little gift to your skin. A little goes a long way so it also lasts a long time. Comprised of earthy ingredients such as raw cacao, bamboo charcoal and spices, this masque warms the skin and works specifically to lower inflammation. Those who struggle with rosacea, severe acne, psoriasis will love this masque (I have mild rosacea… aka perpetually "rosy cheeks"). So luxe.
5 LIPS ||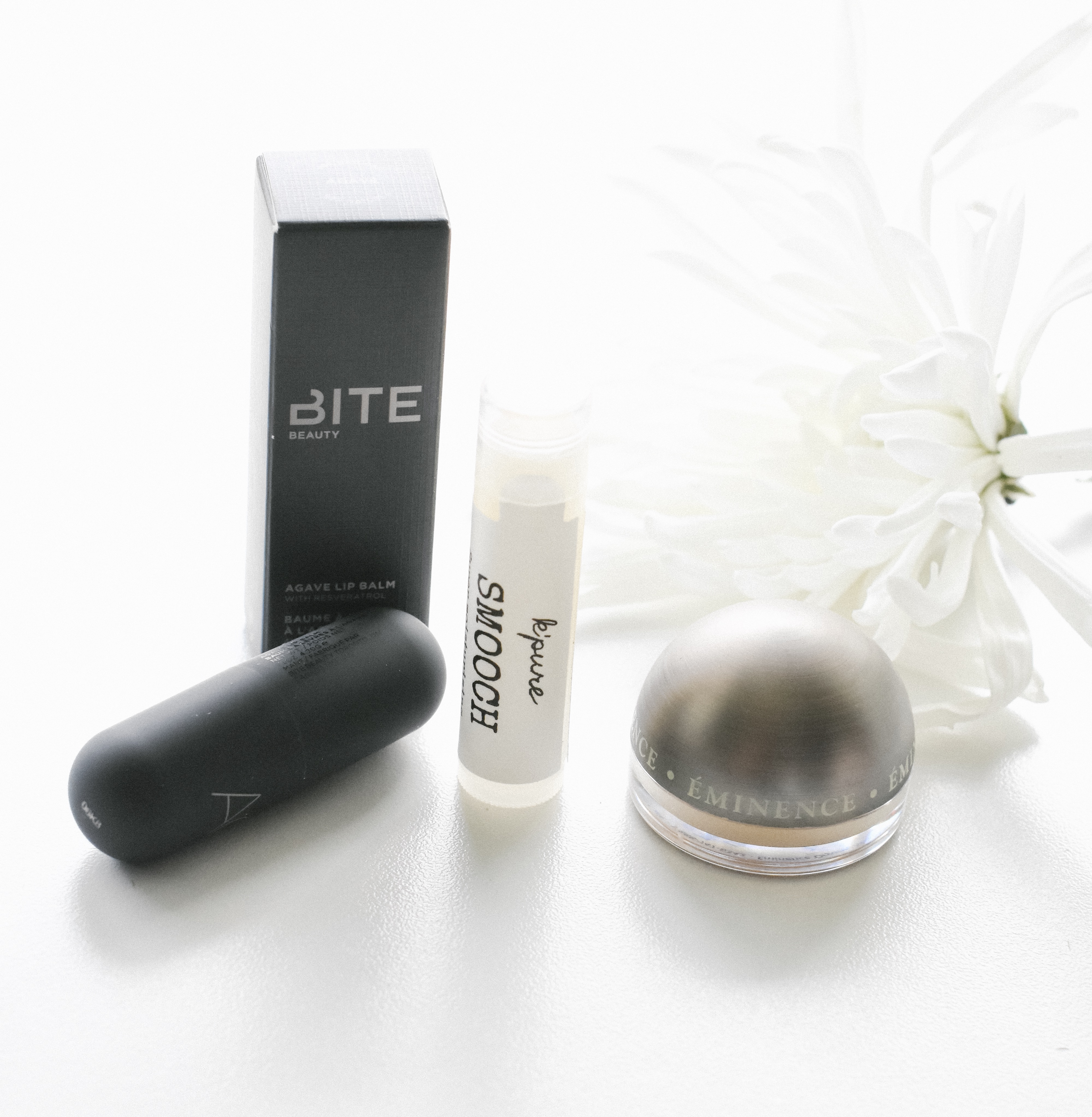 Lip care is worth a mention here because I'm a freak about it lol! I have a bit of a relationship with lip balm…as in, I can't be without it. Over the years, I've struggled with cold sores…like big massive ones that hurt oh so bad…and while I know that there are factors like stress and the trifecta of sun/wind/water that I can only control so much, I've found that hydrating is so effective in battling the triggers for painful coldsores. The best way to hydrate is from within, so drinking water is so important. I really need to get better at this! It's not easy for me to get in the recommended 8 glasses of water a day. Why can't coffee count? lol. Second, moisturize those lip by protecting them with effective lip balms. I got this one down pat!
Melina gifted me the Bite Agave Lip Balm for Christmas and I am in love. It feels more like a masque for your lips. Coverage lasts for hours and I've found that while the rest of my body has been so dry this last month, my lips are holding steady. No cold sores, no chapped lips.
Smooch is a balm that I stockpile…I have one in every purse, my car, my bathroom, my bedside table. At it's incredible price point ($3) you can afford to keep em everywhere! I sometimes apply it underneath my lipstick as it's a more light formulation.
Eminence has a wonderful Citrus Lip Balm that is full of good stuff, such as shea butter, lemon balm and peppermint oils.   I like that it gives my lips a bit of sheen and a bit of a plumping feel. Some have called it a "bullet proof vest for the lips"…lol. I like the visual! A fantastic protector.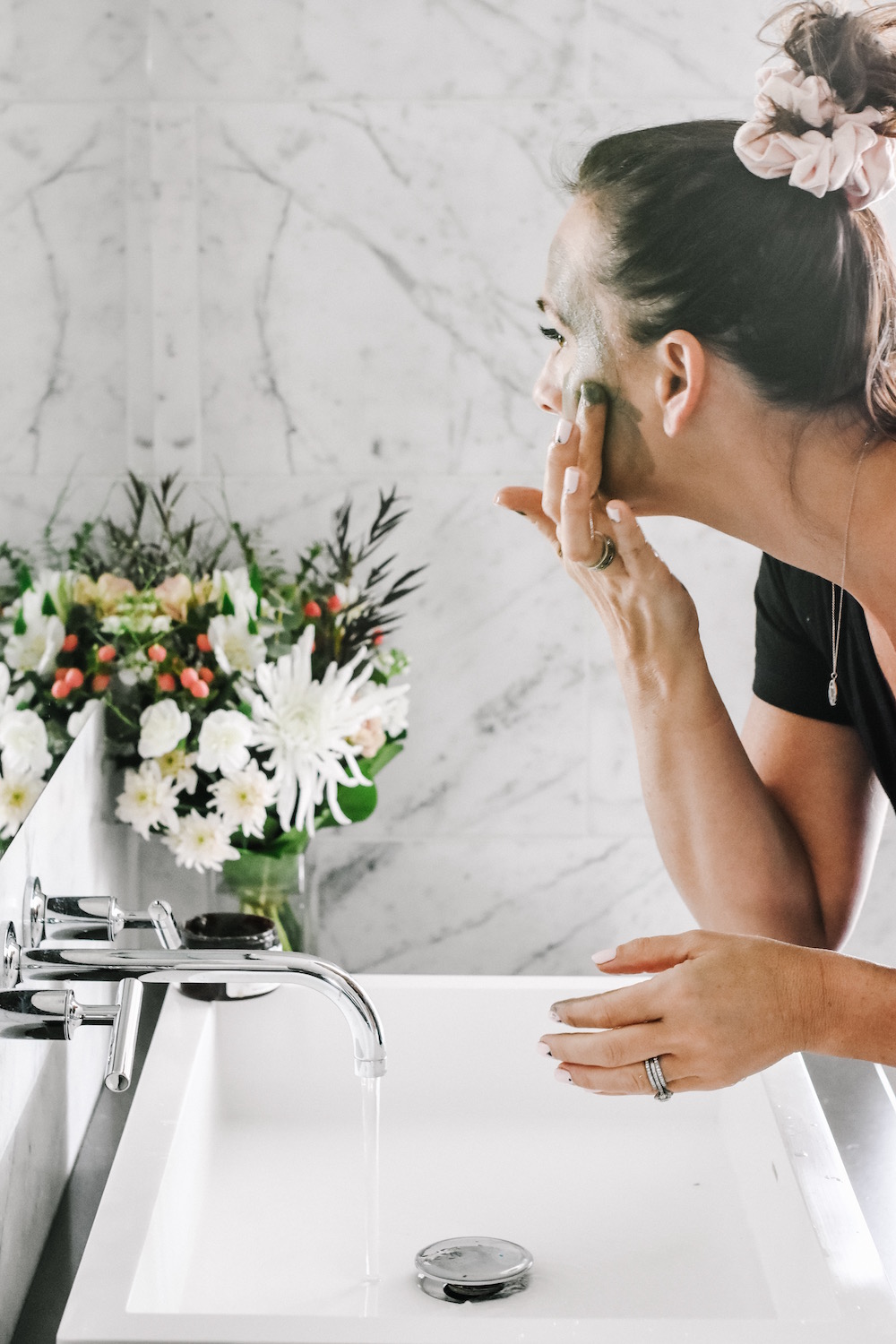 To go back to the beginning, I wanted to explain a little about the photo facial with IPL (intermittent pulse light) I had done in December. I have been a sun lover forever and a day and didn't really use sunscreen for most of my growing up years. I'm here to say that it DOES catch up with you. I had a lot of sun damage. Ironically, I didn't realize just how much I had until I had the photofacial done.
Originally, I was wanting something to freshen up my skin. It felt dry and dull and lifeless. When I had a consultation at MD Cosmetic, I found out that my complaints were really the result of damaged skin. The photo facial with IPL targets pigment issues: dark spots, sun damage, rosacea. Side note, it helps coderize broken capillaries as well as minimizes fine wrinkles by stimulating collagen.
I was nervous about pulling the trigger and getting the photo facial …I'm a chicken! The side effects are swelling and redness.  Many of you saw me post my swollen face…I had some pretty funny reactions from y'all! Most of you were surprised that I would show my face in public lol. Truthfully, I was thrown off by how swollen I looked but a person can't go in hiding!
The facial itself doesn't take very long at all…about half an hour. The biggest question that I had was level of pain. Truthfully, it's uncomfortable…like elastic bands snapping against your face as well as heat. But…friends, I've had kidney stones. This is not comparable lol. It's completely do-able. I think it was more  that I was just nervous about doing something to my face!
The recovery time on the pain scale is a non issue. As soon as the facial was complete, I felt heat for the next couple of hours and beyond that, there is no pain. The only downtime is how comfortable you feel in public with puffy and mottled skin. It really is quite interesting to see how the laser brings out the pigment of the damaged skin. As it heals, those dark spots come to the surface and have the appearance and texture of coffee grounds. After a number of days they begin to slough off. And the end result is softer, even textured and amazing feeling skin. I am so glad that I went for it.
And now, as I said I want to continue protecting it! If you've made it all the way to the end, you're a star! Thanks so much for reading…I hope this helps you in establishing an evening skin routine that you actually look forward to and feel the difference with!
Would love to hear if you've used any of these products or have others that you love! Thanks again for reading… wishing you all an awesome week! Laurel xo