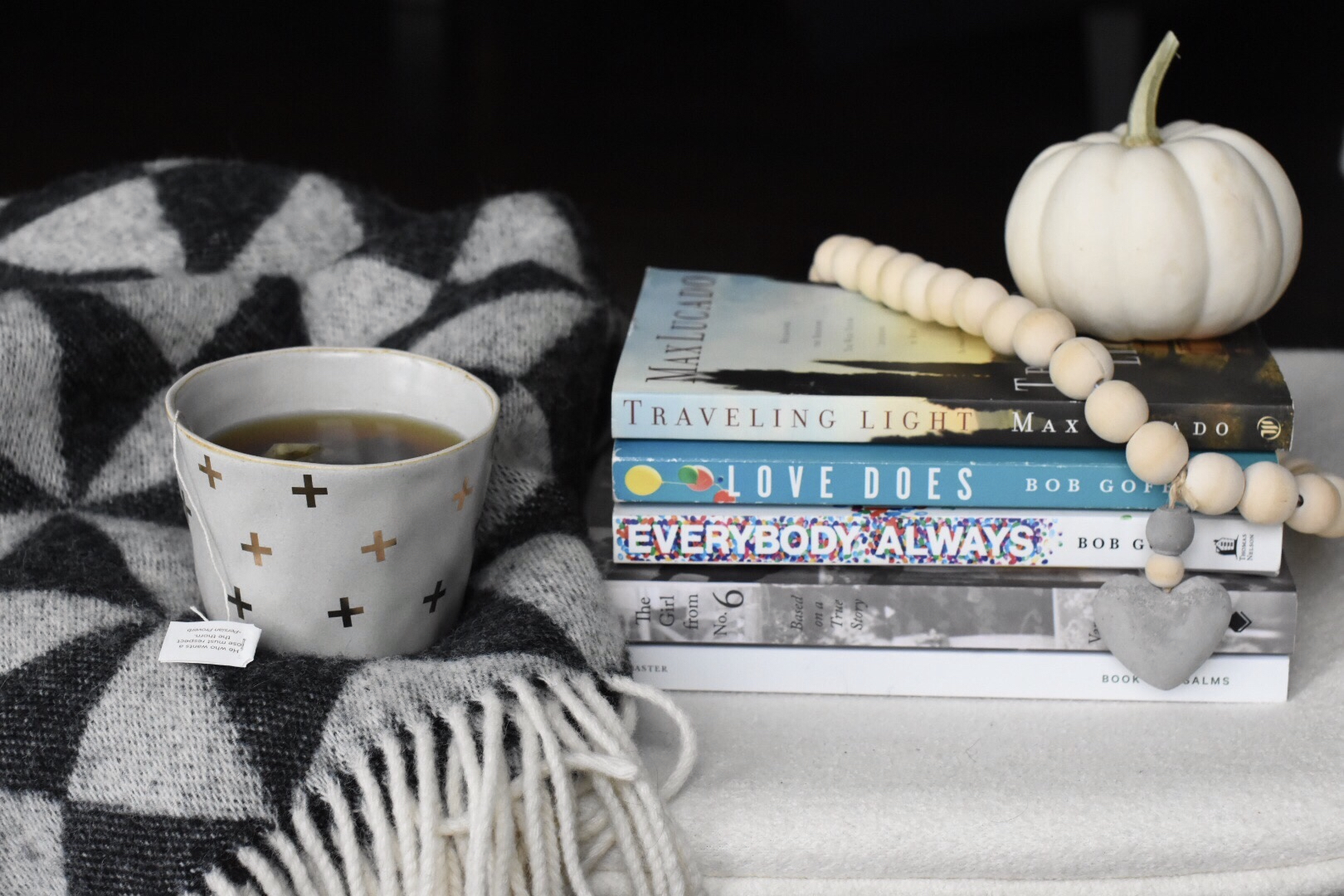 I don't know about you, but when the cozy (and sometimes gloomy) days of fall arrive, I tend to get a bit hibernation oriented. lol. True though… when it's dark and wet, there's nothing like being home in some cozy loungewear (aka my Smash + Tess Romper ), with a candle burning, tea or coffee in hand and hunkering down with a good book. Fall tends to be a season where I fell a bit more heavy…not body shape lol but more emotionally.  And I've always found that the written word has an incredible way of bringing perspective and clarity. And so, I've been settling in with some good reads. And really specifically loving books that are encouraging and uplifting.
If you're not a reader, you might think this post isn't for you…BUT…Pam is a self-proclaimed non-reader and she passed a book along to me a couple of weeks ago saying I'd get hooked! What?!? So pumped that Pam got jazzed about reading! I've included the book in the list below that had her staying up way too late: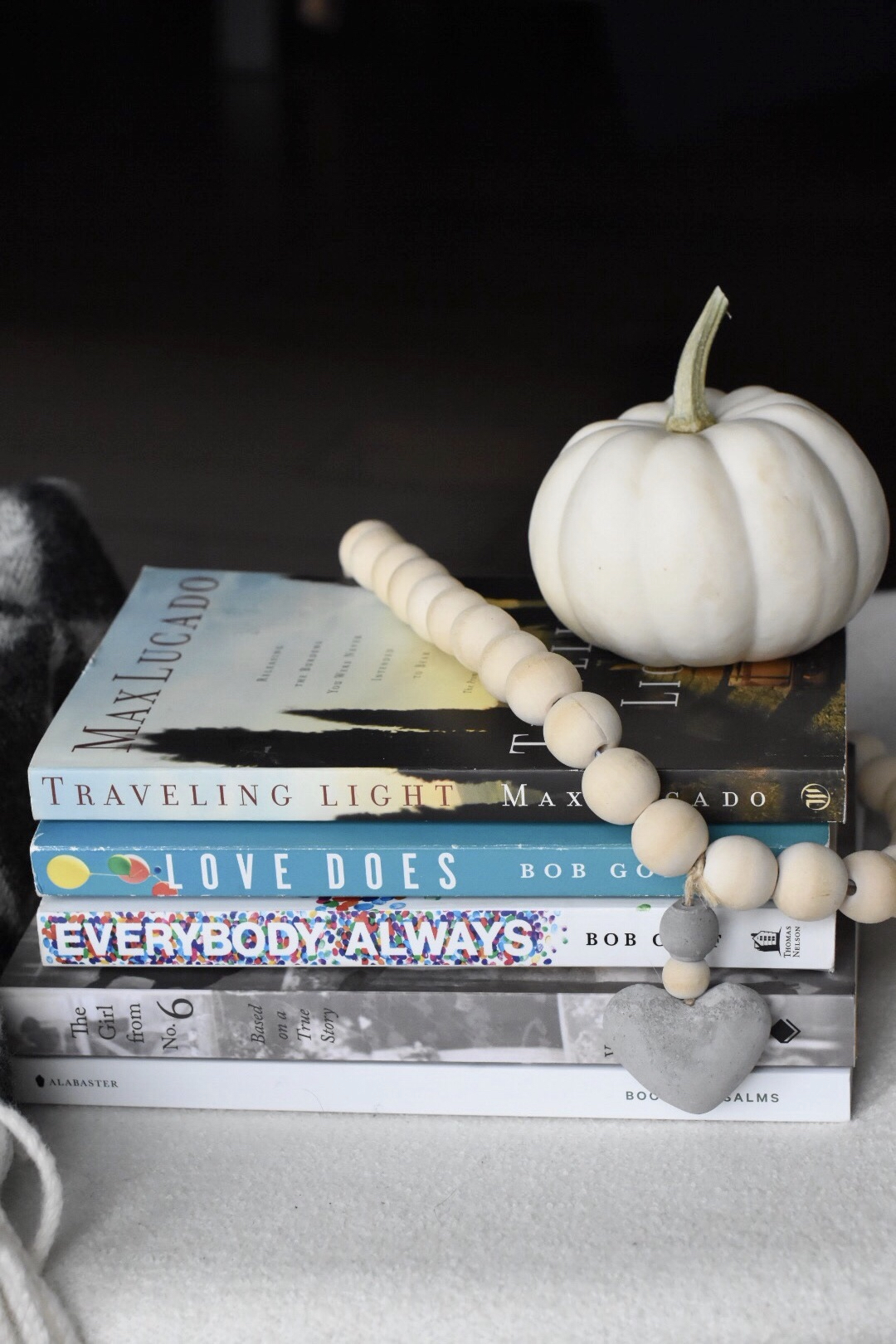 Love Does ~ by Bob Goff and Everyone, Always ~ by Bob Goff      Ok…this is me asking (like seriously trying to convince) you to read these books. Life changing. Guys, sometimes we just miss the mark on what our purpose is…and I love how the author just says it straight. It's easy to love the people that you love….does this make sense? It's not too much of a stretch to extend ourselves out to people that are sorta like us. But..difficult people? That's when it's easy to find every excuse in the book as to why we want to create distance rather than connection.  Bob Goff is an incredibly engaging writer and shares his own personal stories which really do inspire you to move into action. Love is something we can give freely…so why don't we do it more often? Why do we play life so safe? How do we live out our faith or why should faith be the basis for our actions? Here's his TED talk if you want a snippet of what Bob shares in his books. The truth is that we need to do more…with love.  Put aside all the status, planning and agendas and just "do". Reading these books has shown me areas where I have been really narrow in my judgements of others…and his personal insights have prompted me to be more honest with myself and where I've allowed fear or insecurity keep me from loving others.  If you need some words to inspire, some real life stories to be relatable and straight talk to get you excited on how you personally can make a difference, I just know you'll love these books!
Travelling Light ~ by Max Lucado   This book has been in my arsenal for years and it's one I continue to come back to. Based on Psalm 23, each chapter tackles a different burden that might be creating baggage in our lives, such as worry, loneliness, discontent, weariness, fear. It is such an encouragement and is a resource you can keep coming back to.
The girl from No.6 ~ by Vanessa Voth    I told you that Pam couldn't put a book down…this is the one! Based on the true story of the author's grandmother, it is a story of perseverance and resilience. The journey of a family leaving Stalin's Russia and starting their lives over. How their faith and determination and hard work got them through some very desperate times. I can't wait to dive into this book…to know more of what our ancestors before us endured to build a life here in Canada.
The Book of Psalms ~ Alabaster Co   The book of Psalms written in a coffee table book format is more than just a pretty decor addition. The text includes stunning and meaningful imagery. I love that you can sit down for a minute or two and read a psalm for encouragement and support. These books are such a great  gift idea as they would be used and treasured for years to come:)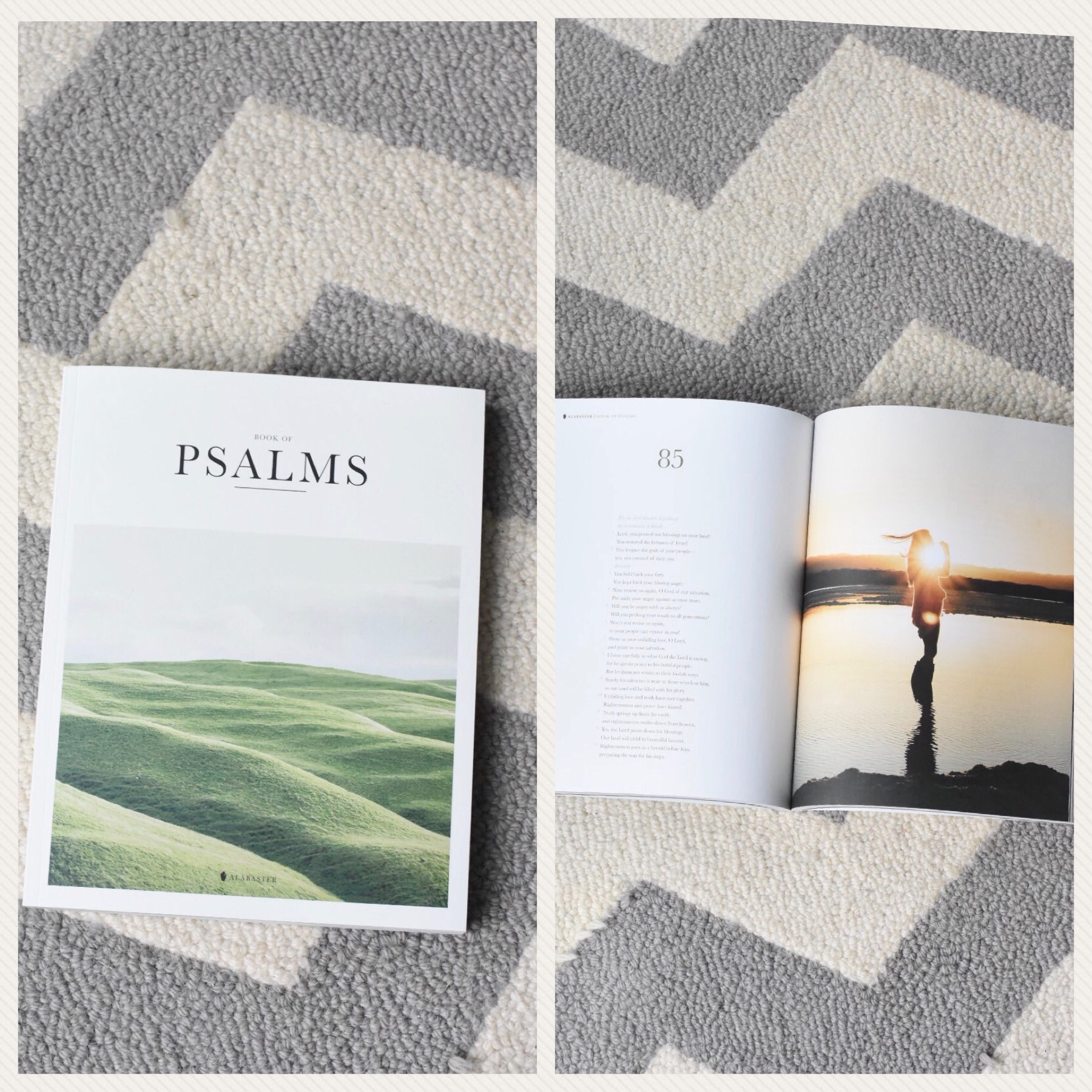 Do you have some inspirational books you love? Share them in the comments below…let's compare notes ok?
Thanks so much for reading…wishing you all a wonderful weekend! If you live locally, it looks like we'll be using our umbrellas and raincoats for the next while. Sigh.  Oh well, more time to stay dry inside and read, right?? Laurel xo