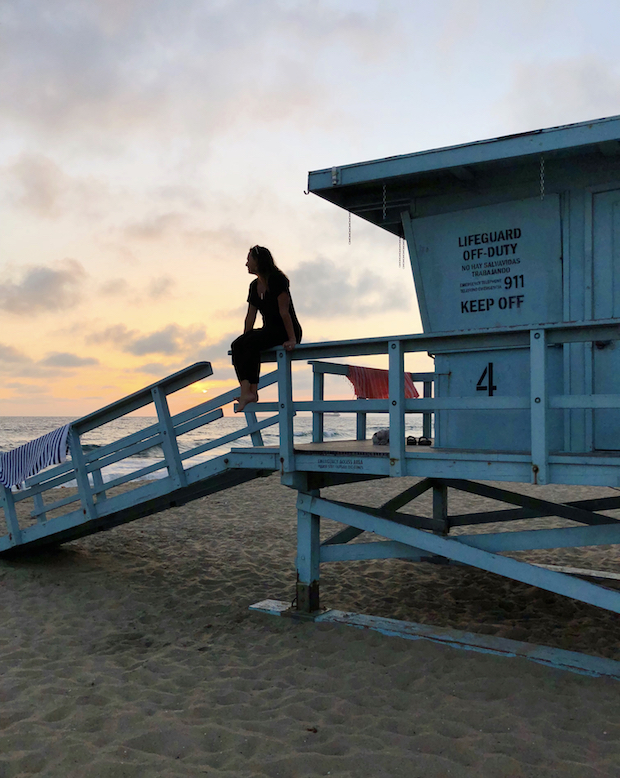 It's hardly a surprise that California might just be one of my favourite places. There's so much that I love: the beaches that go on forever, the palm trees, the warm ocean…really it's just the whole So Cal vibe that gets me! The lifestyle feels just a bit more chill here with boardwalks full of bikes, skateboards and surfboards. The evenings stretch out with people soaking up every last minute of daylight. Have you got my feeling yet?? I love it.
This July we spent some time on some of our favourite beaches…and made sure to include a bunch of exploring too. That's my idea of vacationing: a mix of familiar and new.  And, of course, we could have spent much more time in each of our stops, but we really enjoy doing a sort of progressive vacation where you get a taste of multiple areas that each have their own charm,
We had some incredible recommendations this year from some friends (Cali natives!!) who we can thank for full bellies pretty much all day every day! Little side note here, it really is the best way to find where to eat, shop and wander….locals know their stuff!
I'm sharing our favourite stops that we made…you're going to read this and think all we did is eat! Lol! I promise we did more than that!
Malibu \\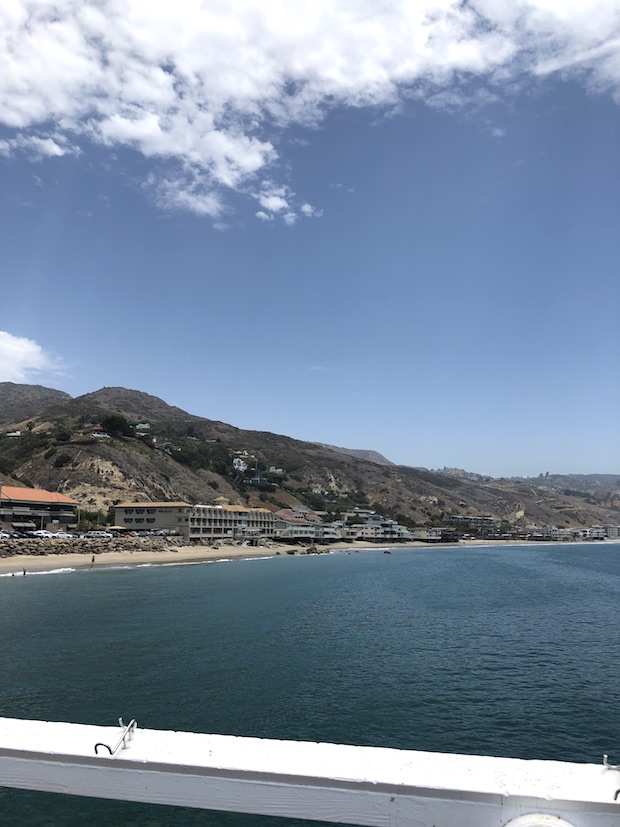 I almost hesitate to write about Malibu because we had such a short time here. Time enough only for brunch and a drive along the Malibu coast. But I just had to make mention that if you're in this area, be sure to visit Malibu Farm. It had come highly recommended to me and so upon landing in LA we headed straight there.
It is such a special spot. The Malibu pier feels so removed from Los Angeles and the more southern beaches. Maybe a bit quieter and more peaceful. There were a couple of pop up shops at the pier's entrance to browse through…an artisan jewelry shop housed in a bowler trailer on the pier and a beautiful shop at the pier's end carrying the most cool (and "non-tacky") California memorabilia.  And then Malibu Farm….sigh. We opted to eat at the end of the pier at the more casual cafe. The food was so delicious and eating on the rooftop deck overlooking the ocean was the perfect way to start a relaxing vacation!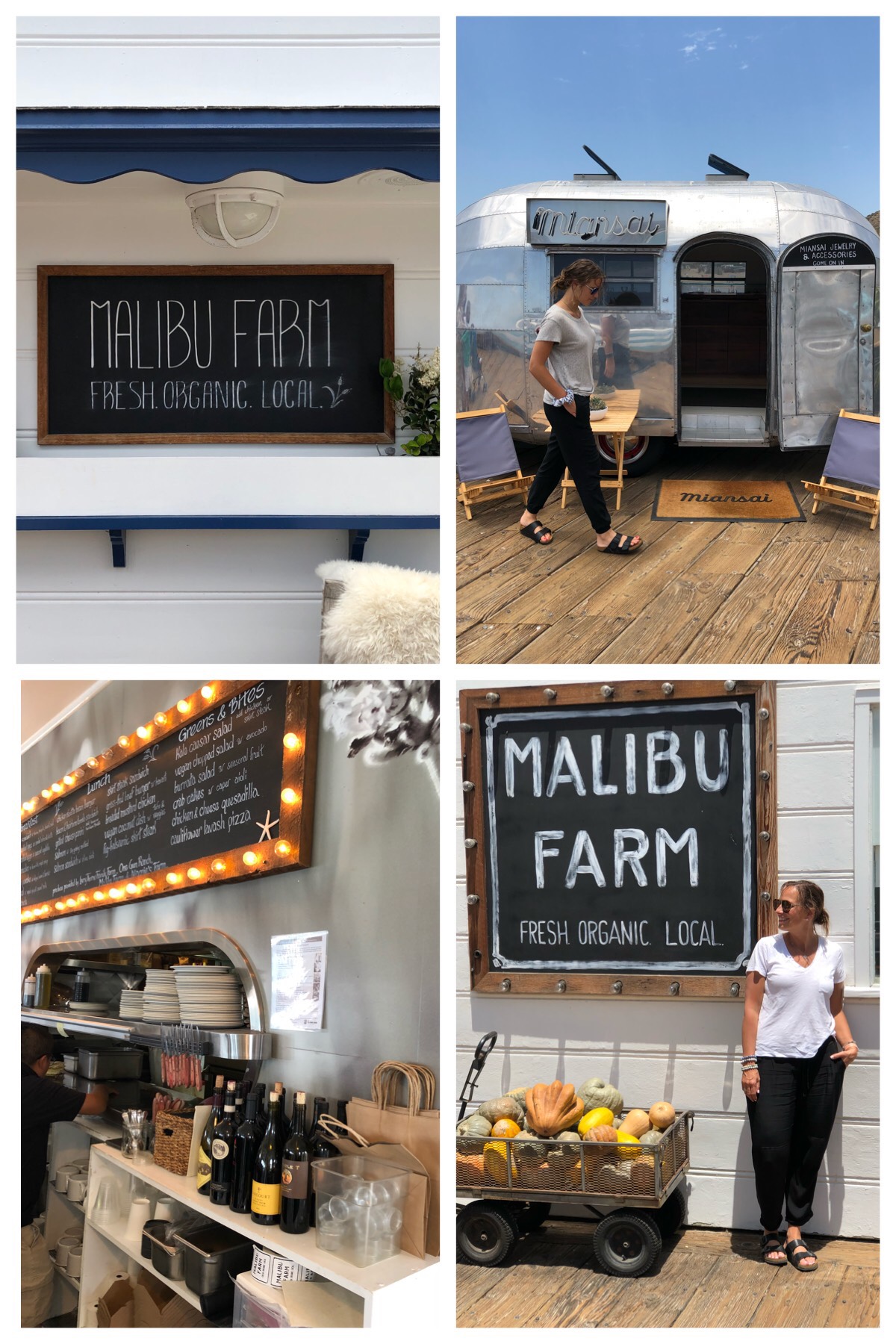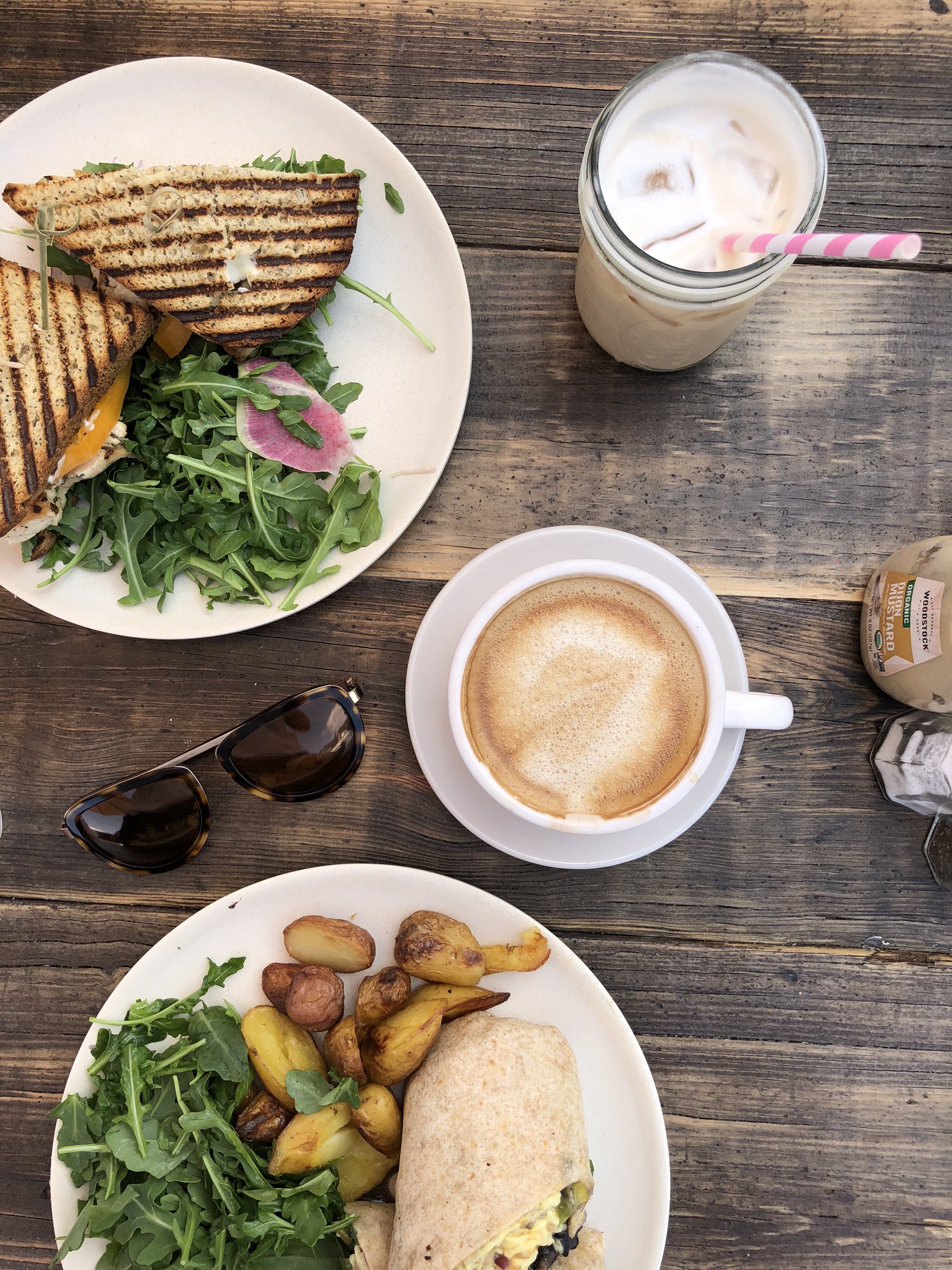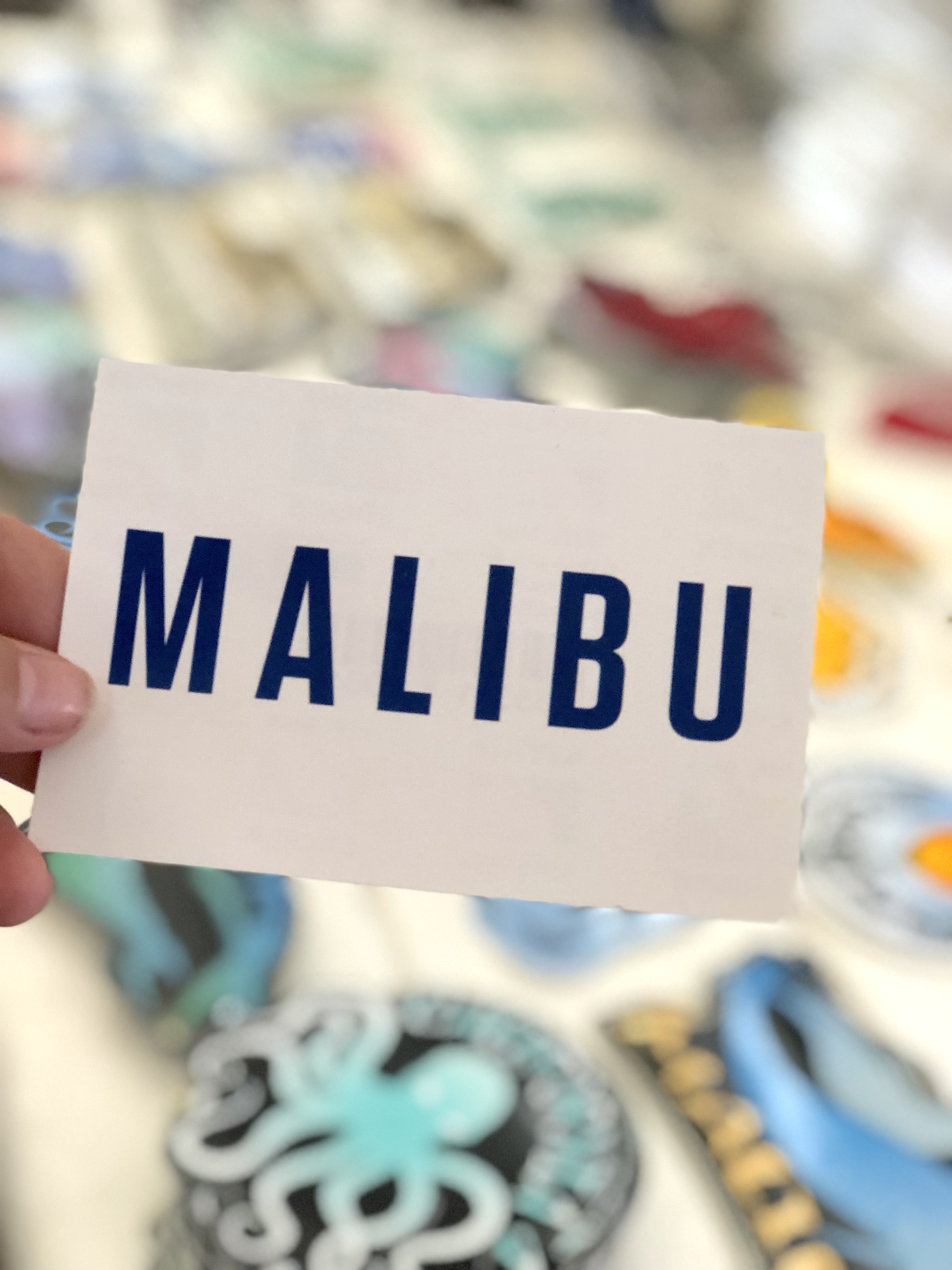 Abbott Kinney \\
They call it the "coolest block in America". They might just be onto something! Located in Venice Beach, this stretch begs you to park and wander. We had just a short time here this trip but I forced Scott to make a pit stop here for some quick goodies!
Salt and Straw – There's ice cream and then there's ICE CREAM. The lineup is your first hint that you're at the right place. No worries, it movies fast! Ok, ice cream. The flavours are so out there and how they make these incredible pairings I have no clue. But, they've got it dialed. So freaking good! Some favourites: Goat Cheese Marionberry Haberno, Peanut Butter Cookies and Wildberry Jam, Cinnamon Snickerdoodle.  Scott got a sundae this last time… un.real.
Intelligentsia ~ I originally came across this coffee roaster in Chicago years ago and fell in love with their Black Cat espresso beans! I hope you have visions of me stuffing coffee bean bags into my suitcase lol! True story. Yes, it has the total hipster vibe, but don't let that intimidate or detract from the fact that they make good good coffee.  Also yummy are their matcha lattes.
Gjelina and The Butcher's Daughter ~  Two highly recommended lunch spots that we just didn't have time to get to. Next time!
Wander the area…there are so any cool murals (aka photo ops!) and beautiful boutiques to explore. A couple to note: Cuyana (I've been a fan of their leather essential for quite some time. Their totes and travel pieces are gorgeous), Aesop, Gorjana, Same, Show Me Your Mumu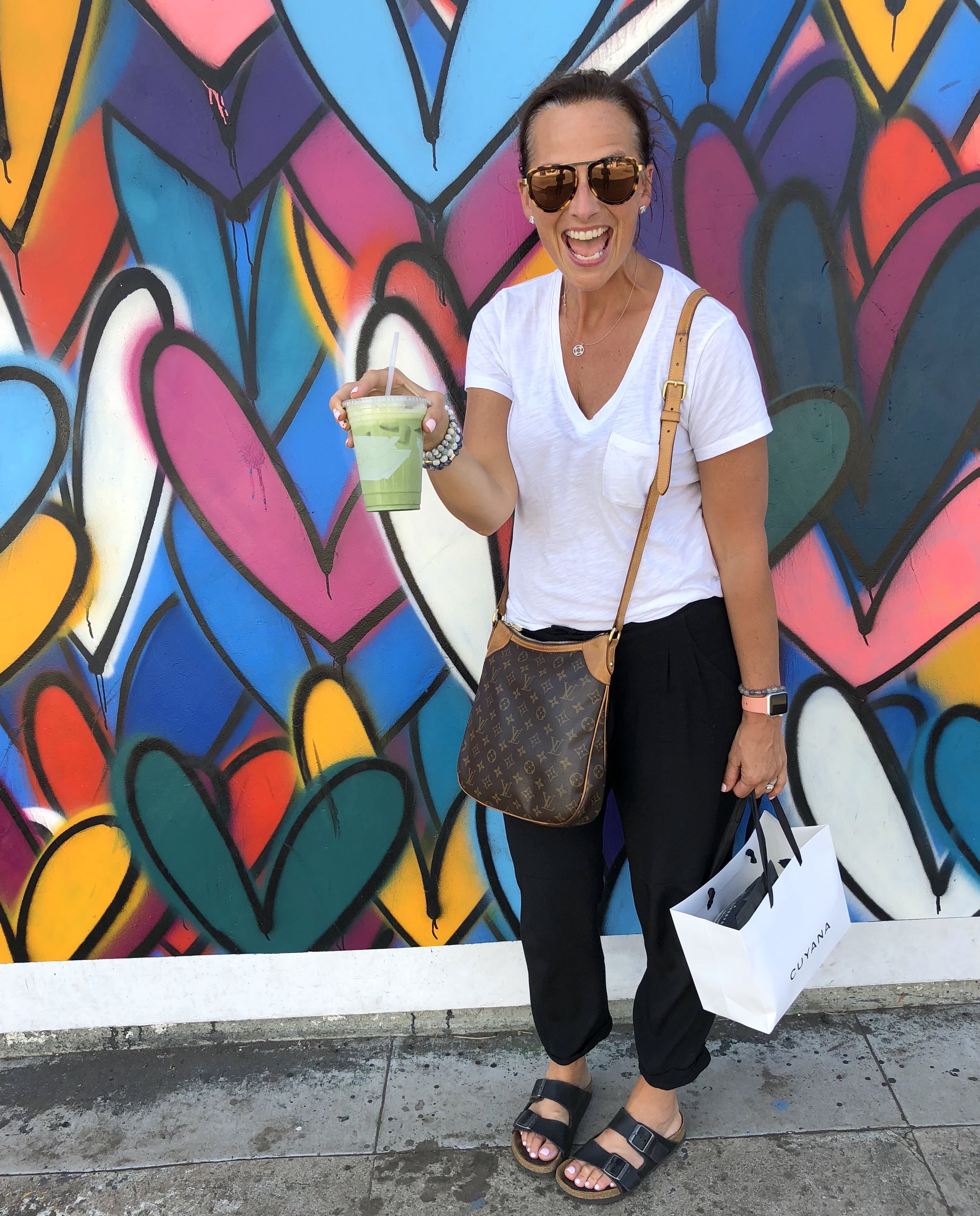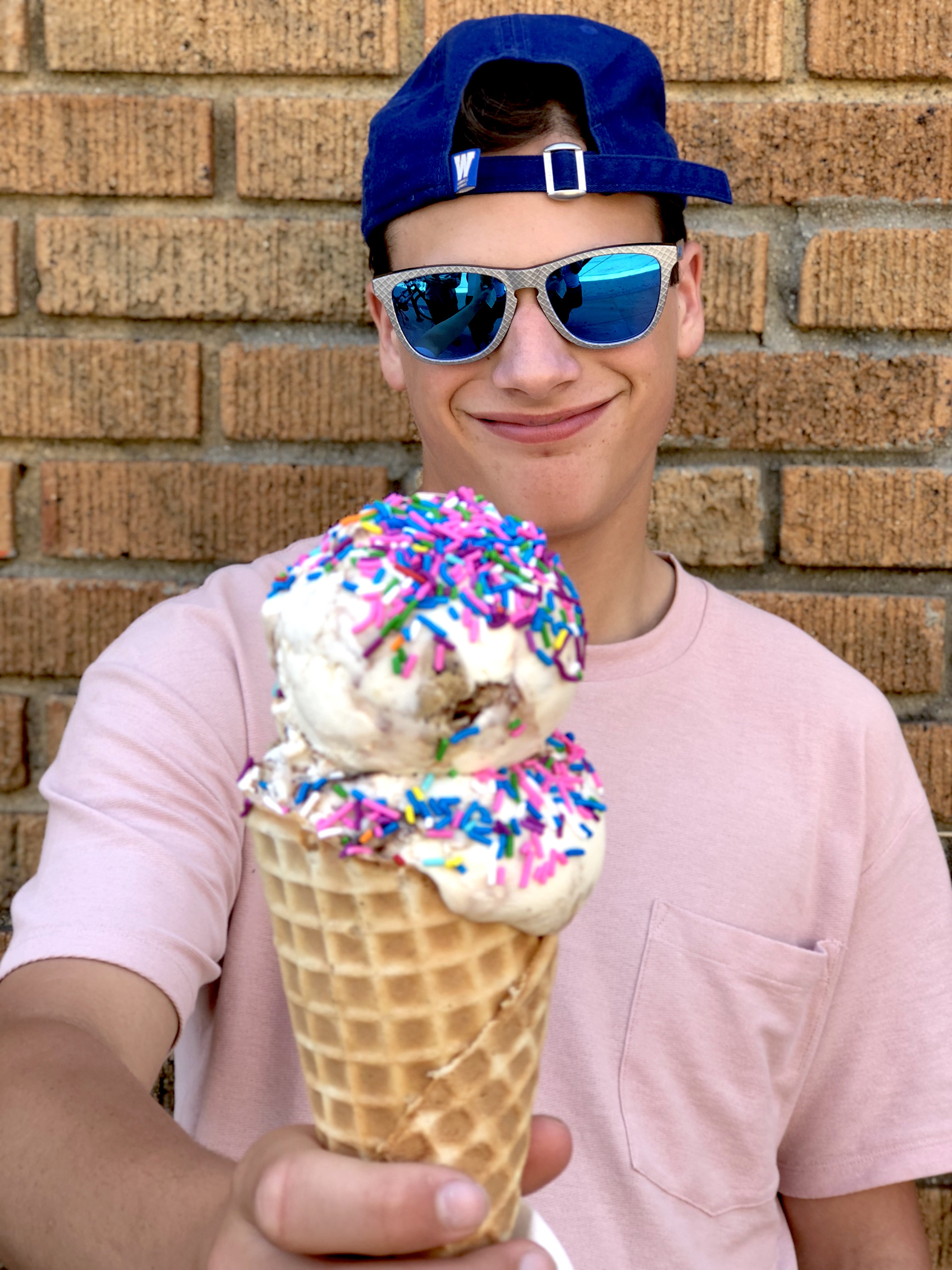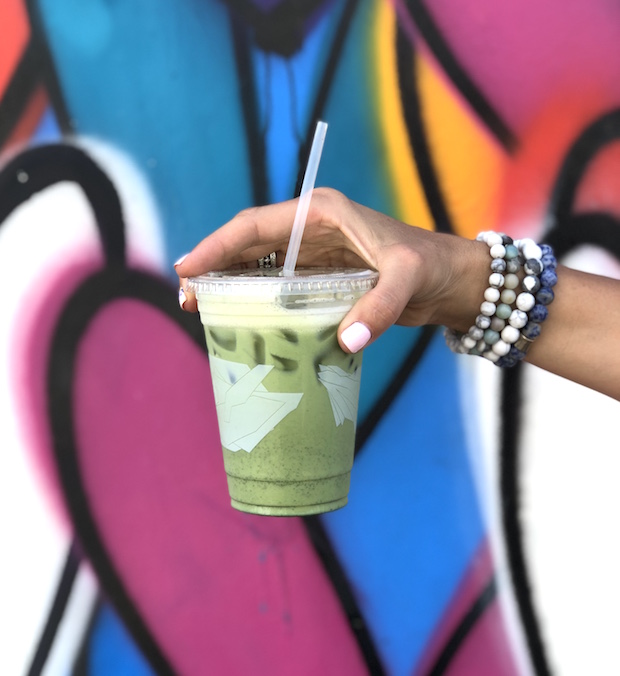 Manhattan Beach \\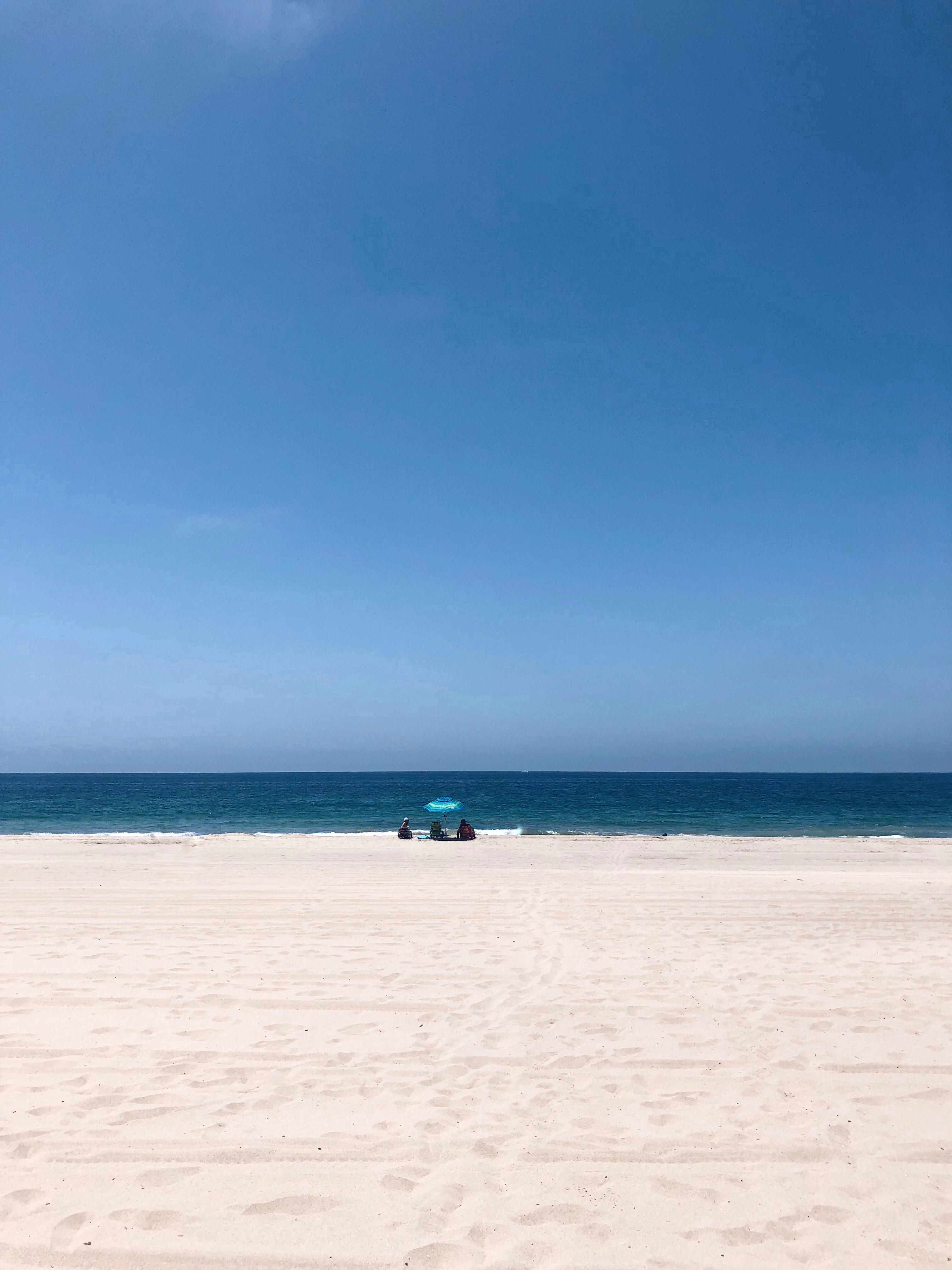 We fell in love with Manhattan Beach last summer and felt the pull the visit again. The beaches are expansive and there's a less touristy feel as there are very few hotels.  We found air bnb and vrbo to be the best resource for accommodations…staying in a beach house is pretty quintessential to a beach vacation! The area is super walkable…the boardwalk is goes on forever.  Or rent bikes and you can pedal down to Hermosa or Redondo Beach. It's a great location to take I'm the beach but also to take I'm some of LA as well.  We took in a Dodgers game one night!
Eat |
Love and Salt ~ Italian food with a California vibe. Can we just talk about their appetizer of Homemade English muffins? What?? Love the share plate idea…so we could try a bit of everything! Not to miss: their pizzas, lamb bolognese
Manhattan Beach Post ~  Recommend the share plate route again. Start with a customized charcuterie board…and make sure to order some bacon biscuits. If you love pasta, you've got to order the gnocchi.
Simzys ~  Perfect after a beach day. Burger and brew!
Uncle Bills ~ Down home breaky served in a down home atmosphere.  Be prepared to wait..the earlier you go, the better.
Paradise Bowls ~  FAVOURITE! Peanut butter pipeline with açaí and almond slivers. Every day if I could!
Creamery ~  if a good day for you includes ice cream, get in line and snag one of their ice cream sandwiches.
Two Guns Espresso ~  off the main strip, I would walk the hills to get there for my morning coffee. Well worth it. They also have an offering of breakfast items.
Blue Star Donuts ~ it was closed for renos this year and Scott had a meltdown!  Cake style donuts in super interesting flavours… guaranteed you'll want to try more than just one!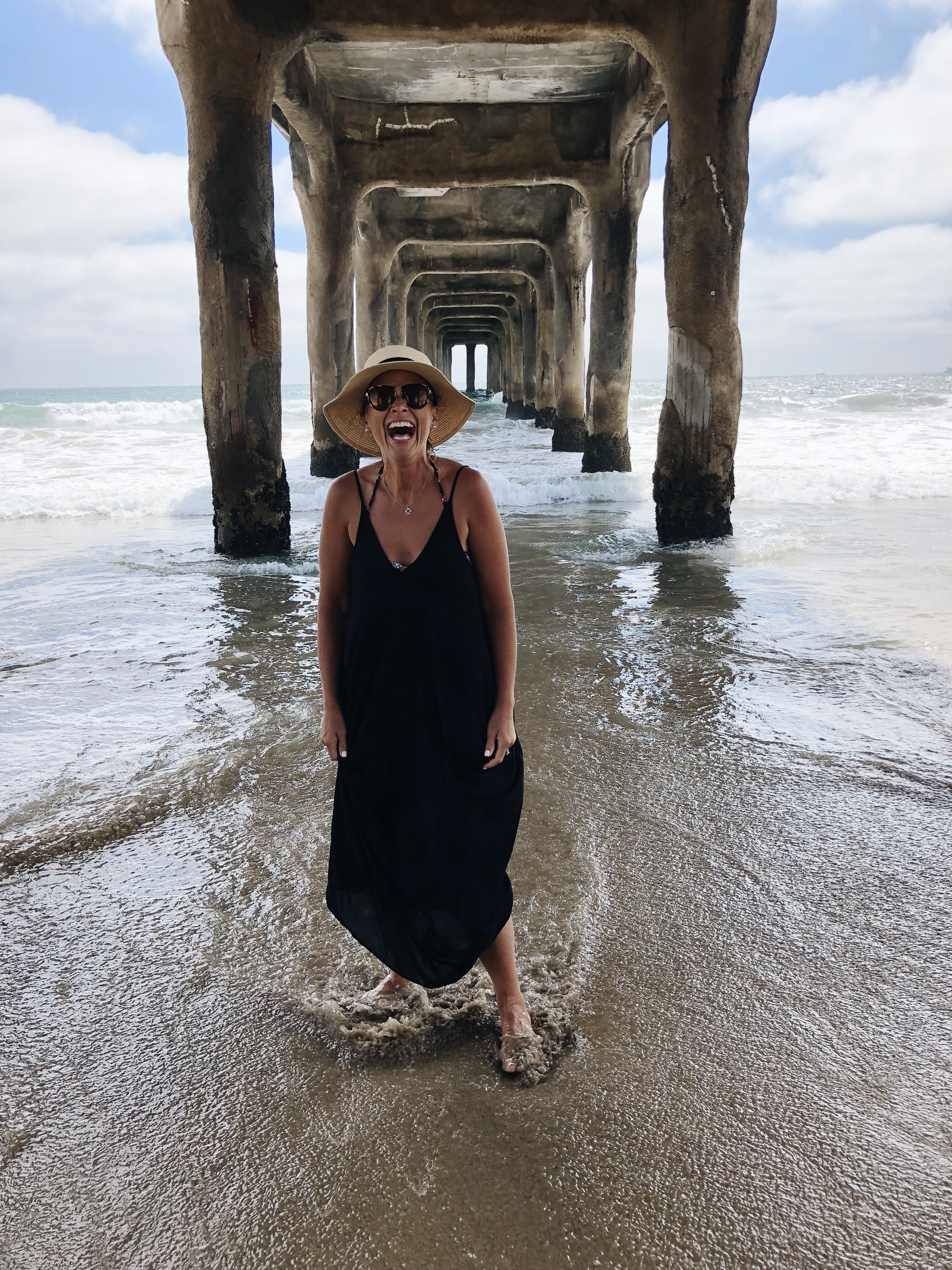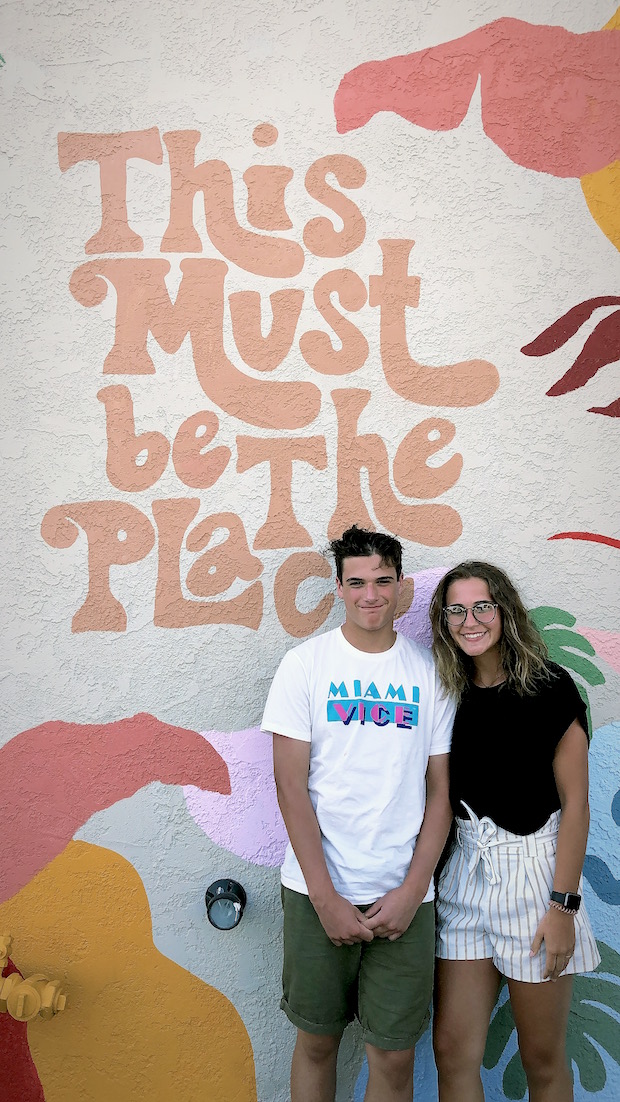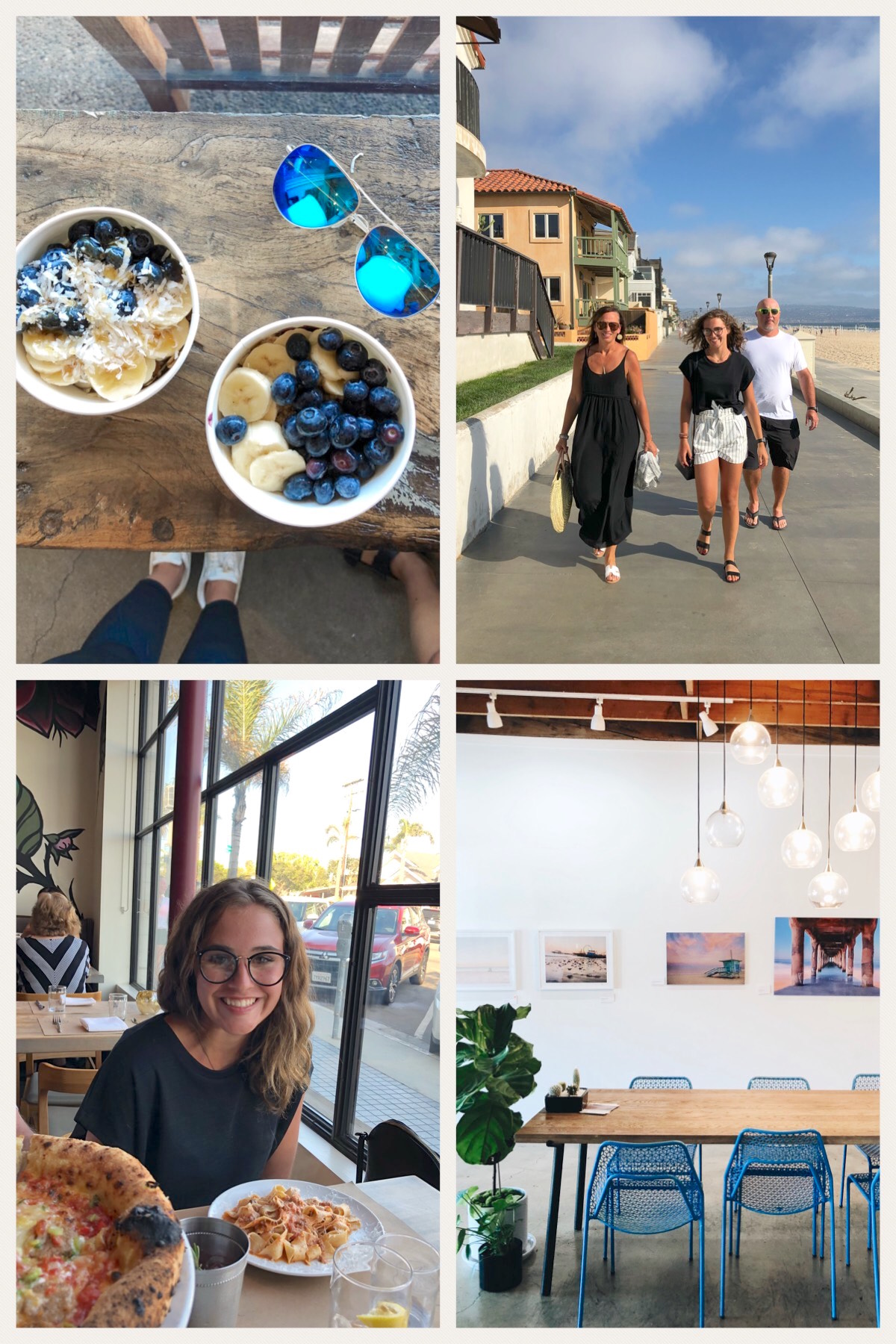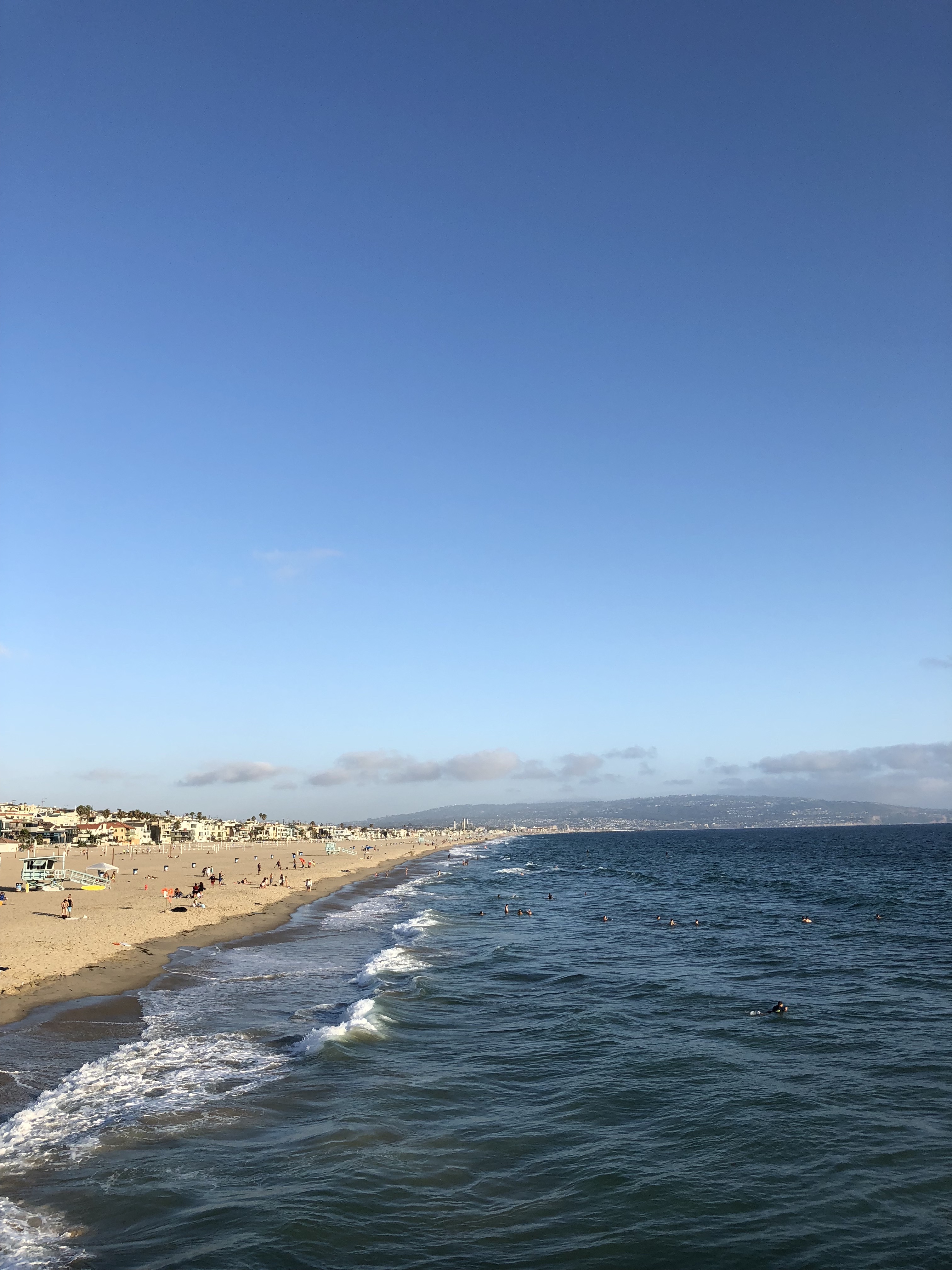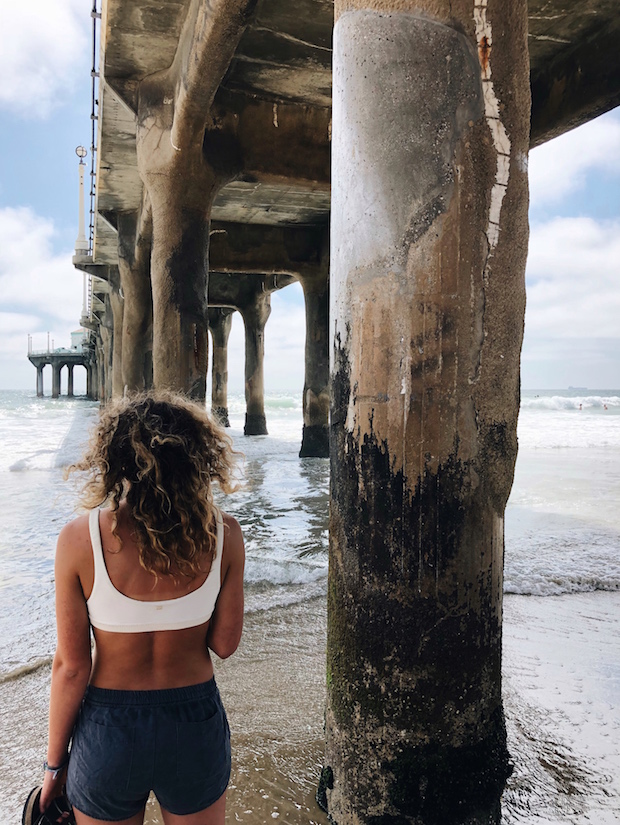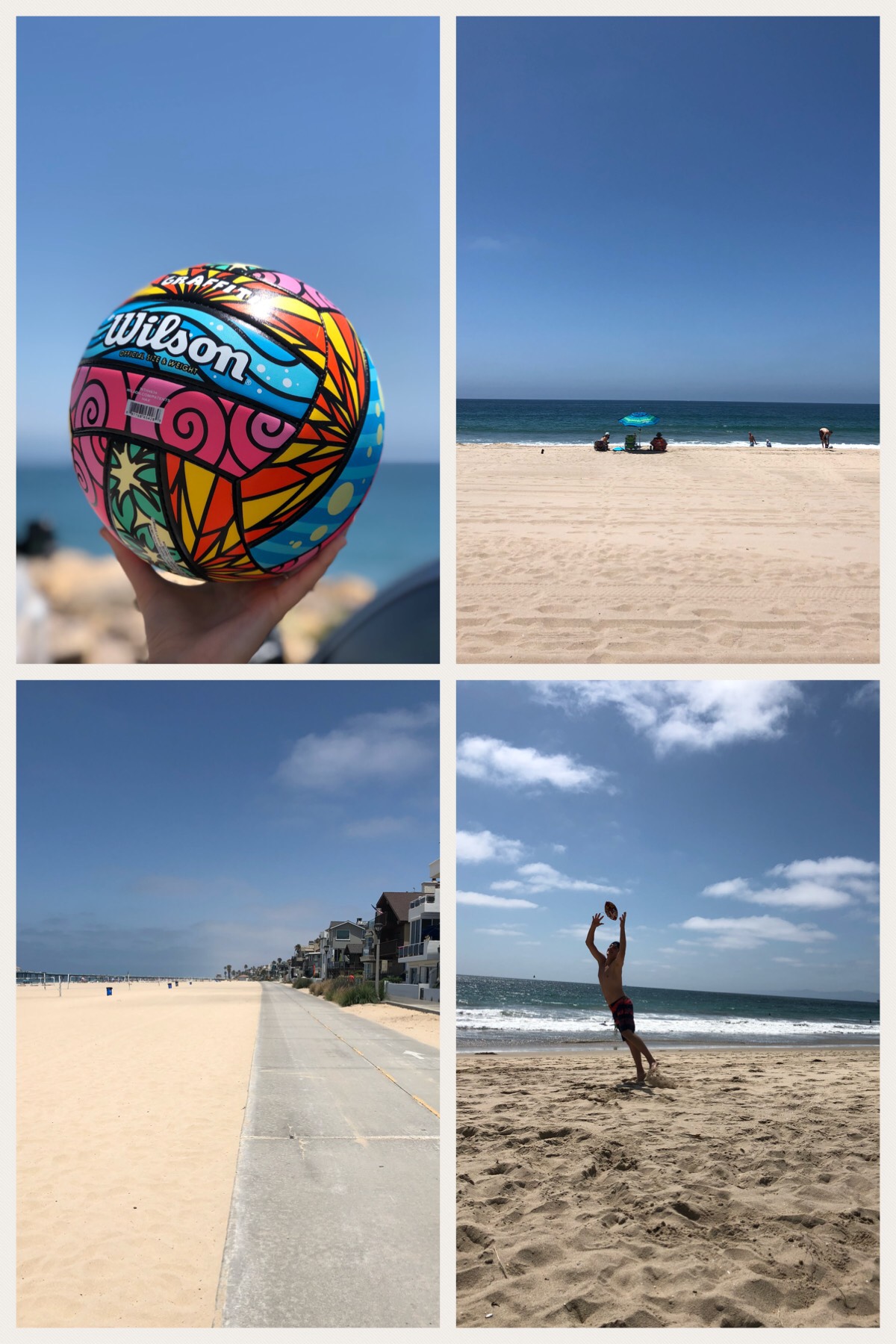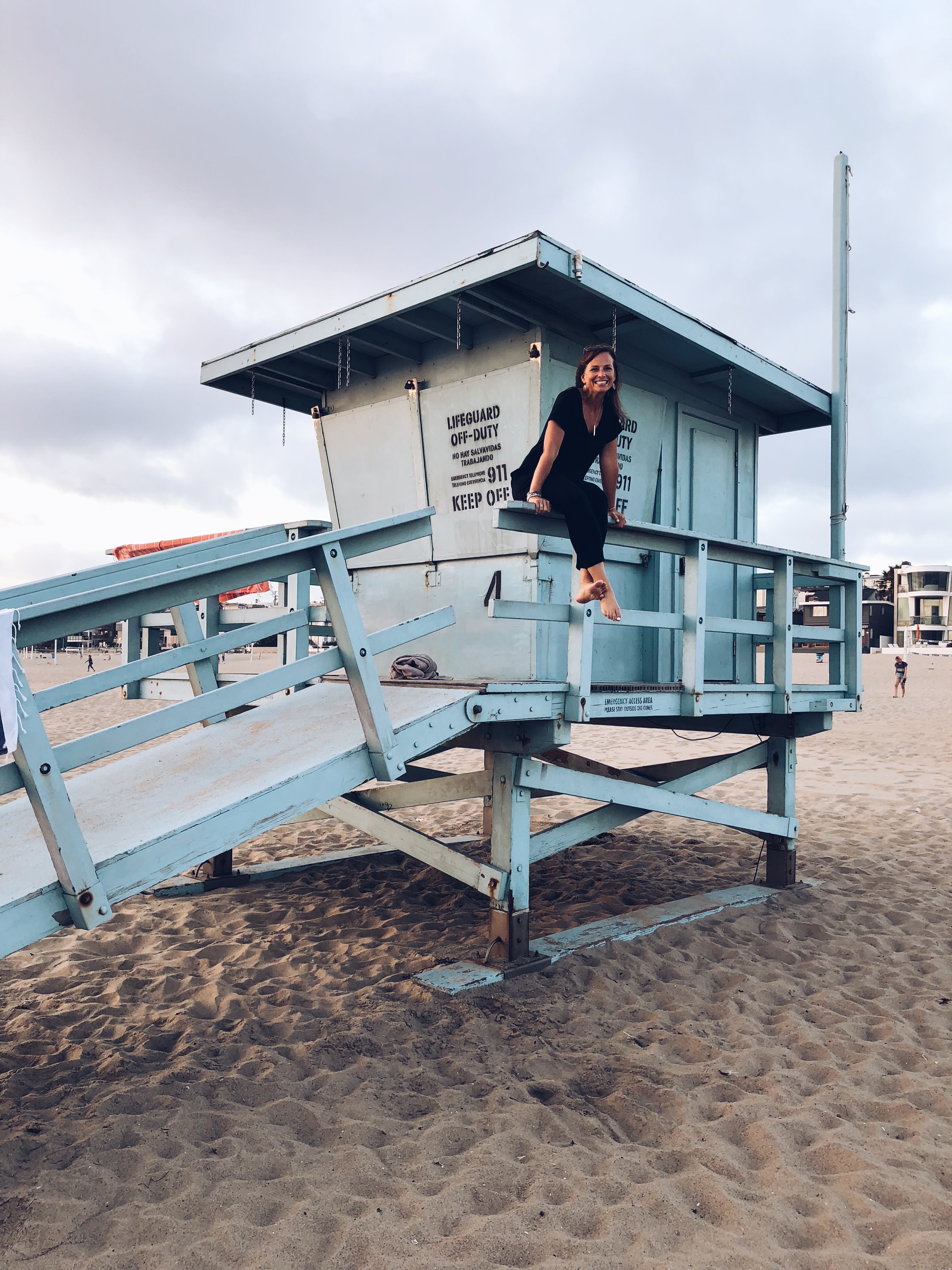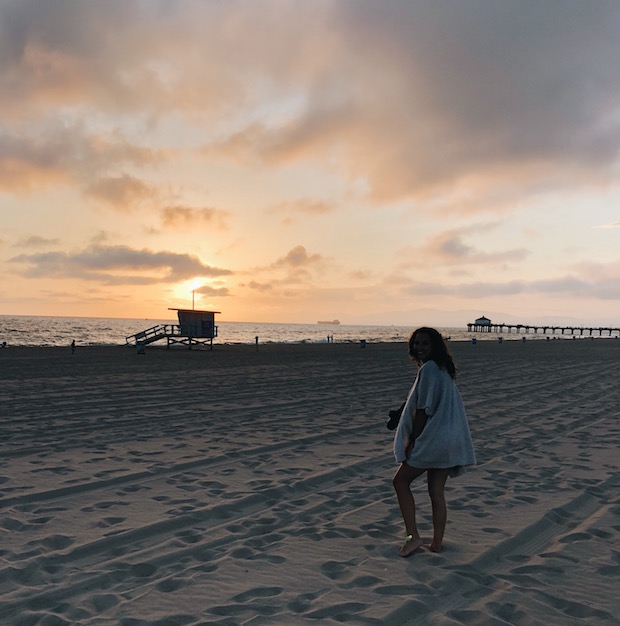 Huntington beach \\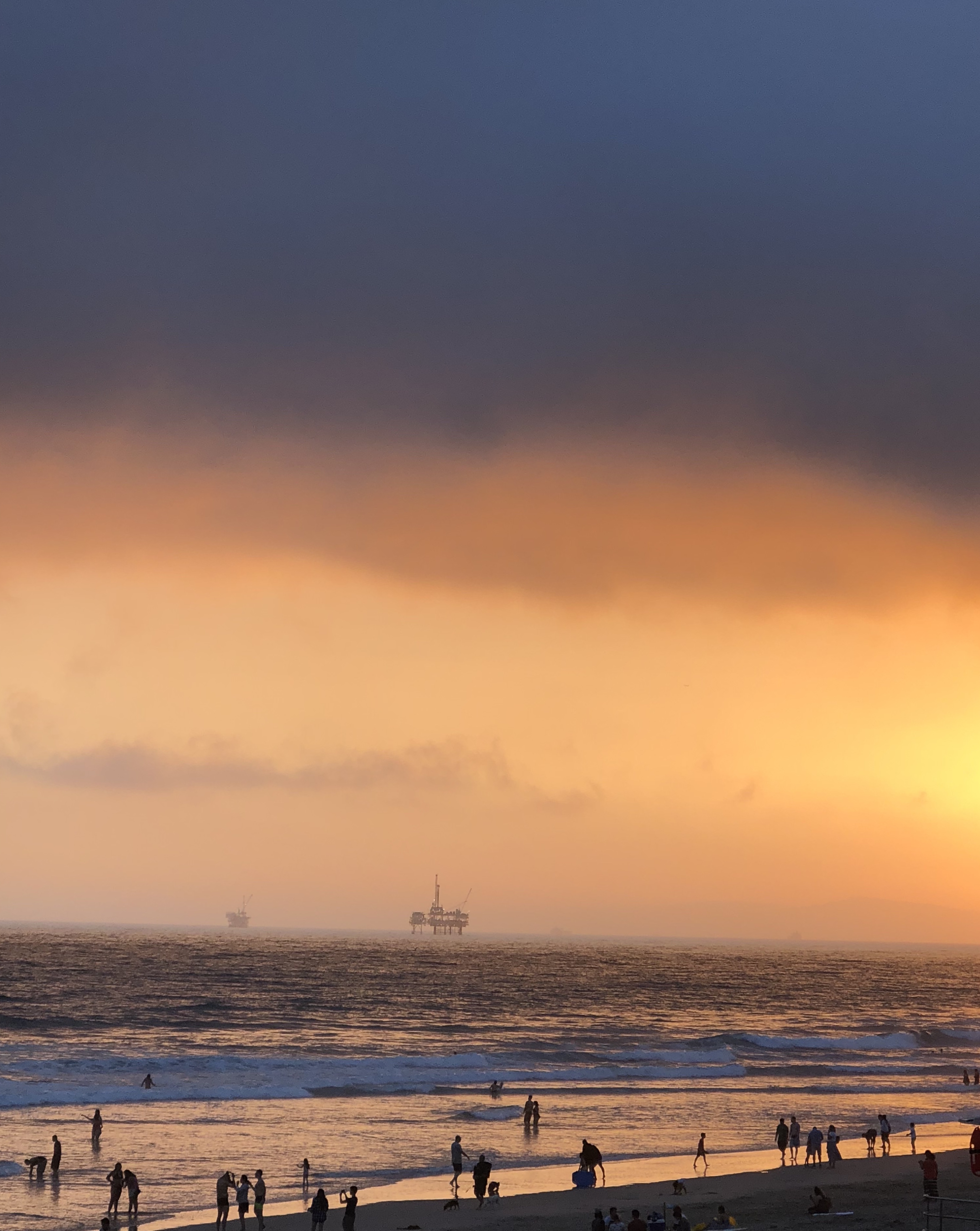 Surf City USA is one of our favourite places to completely relax. It has the most chill vibe and we can spend hours on the beach watching surfers (in human and canine form!), volleyball games and an eclectic mix of entertainers. The sunsets are stunning and the mood is just so relaxed it's hard to imagine getting worked up about much around here!
Eat |
Banzai Bowls ~We so have you covered when it comes to finding the best acai/smoothie bowls…it's a thing! Start your day off with these killer acai bowls (Pam's absolute favourite!!)
Philz Coffee ~ The iced mint mojito (coffee based). Don't ask…just trust!
Bruxie Waffles ~ Waffle lovers unite. The best waffles in many different forms… and home to the original fried chicken and waffle sandwich.
Shop at Pacific City~ Oceanfront shopping and eating, this mall is a great place to get your Philz Coffee (see above!) and wander through the shops, such as Urban Outfitters, Seafolly and Free People. A great place to grab a quick snack and spend some time when you might need a break from the sun!
Jack's Surfboards ~ Iconic HB. For anything beach or surf wear, this is your spot. Our family's favourite stop to pick up tees, flip flops or swimsuits.
Stay |
Hyatt Regency ~ Consistently great service in true Hyatt style, this hotel is located on the beach but a few minutes walk removed from the main centre.
Pasea Hotel & Spa ~ A fairly recent addition to the Huntington Beach scene, the location of this hotel cannot be beat. Steps to the beach, shopping and food make this place hard to beat. Just keep in mind the weekend scene is BUSY. We wondered if we had been transported to Vegas for a hot minute!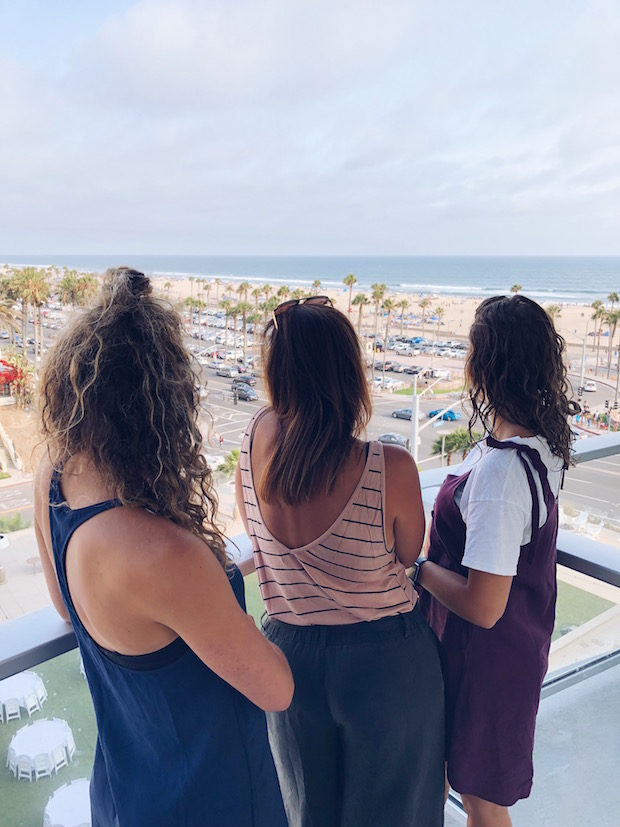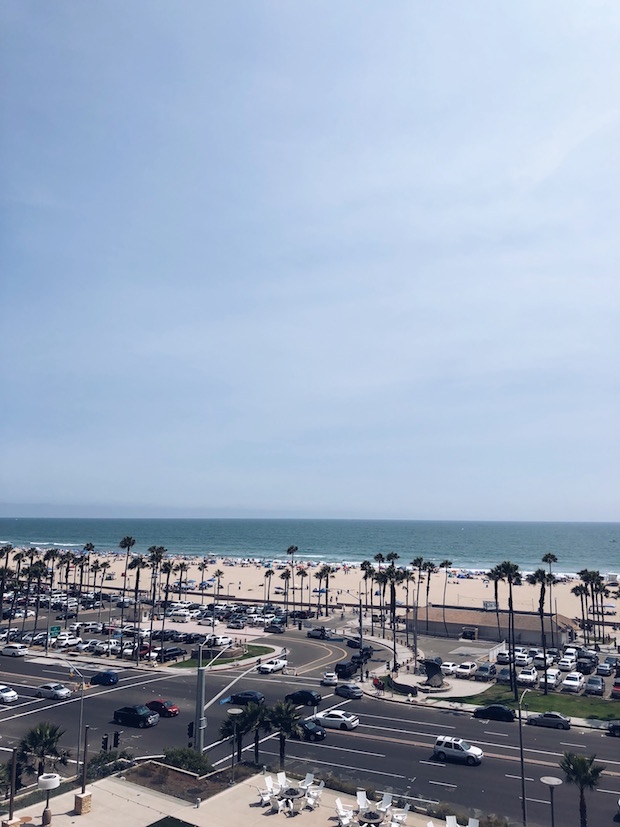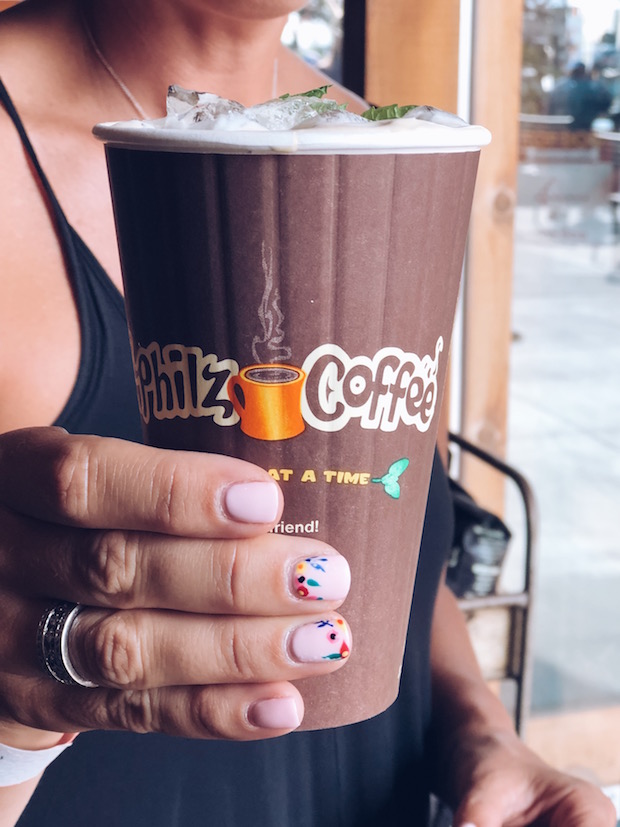 Newport Beach \\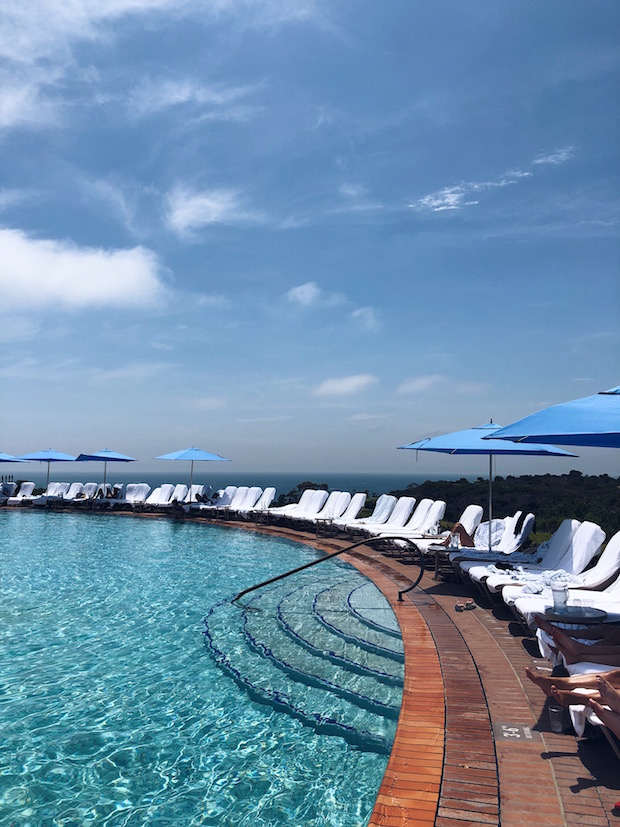 Newport is just minutes away from Huntington Beach and yet has a totally different flavour. Maybe a bit more refined..more city- ish. Polished beach life? Ha…I'm sure there's a better term!  It felt like a natural progression to end our vacation here. A transition from beach hanging to pool lounging ..a chance to shake off the sand before we headed home!
Eat |
The Farmhouse at Rogers Gardens ~ Farm to table in a beautiful outdoor nursery filled with charming nooks. Excellent food…fresh and creative.
Nobu ~  I'm so leery of celeb type eateries… the hype always seems to be better than the actual experience but wow, blown away here. The server MADE our dinner such an incredible evening. We were sashimi virgins and our first experience was seriously so delicious. Highly recommend trusting your server to just keep the dishes coming!
The Beachcomber ~ Undoubtedly one of the best places to take in the sunset. Located in Crystal Cove, this rustic restaurant is filled with sun kissed guests finishing their day at the beach as well as those like us who arrived just for dinner.
Zinc Cafe ~  Love the breakfast here. Oat milk lattes and avo toast for breaky! The outdoor courtyard is charming to enjoy your meal in.
Haute Cakes ~ Bustling eatery that serves up some yummy breakfast. Nina was sold on the gluten free pancakes!
Sidecar Doughnuts ~ Mercy, the doughnuts are good. AND, they always feature a gluten free version. Scott's was sold on the Old Fashioned…Link wolfed down the Maple Bacon.
Kit Coffee ~ Loved this coffee shop…the open, clean aesthetic is super attractive, but more than that, they have great beans which makes for great lattes. Nina also thought her chai tea latte was one of the best she's ever had
Pressed Juicery ~ treat yourself to a pressed freeze without feeling guilty. Think nut milks frozen into soft serve and topped with your choice of goodies. My fave: The  Creamy Coconut (homemade coconut milk..frozen!)  with almond butter drizzle, fresh berries and sliced almonds.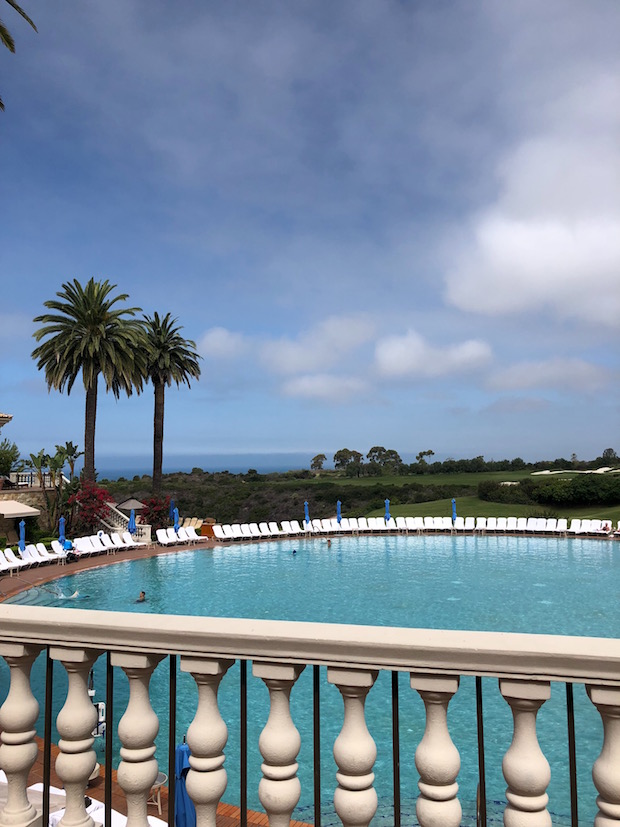 Stay |
We've stayed at different places over the years…mostly vrbo or air bnb. Those places have been great and served us super well for a beach vacation. But if you are looking for something a bit more of a treat, the Resort at Pelican Hill is spectacular. Set above Crystal Cove, this resort has an expansive view of the ocean and the bungalows offer more of a condo feel with all of the amenities of a hotel.
Pelican Hill is home to 2 spectacular golf courses if that's your thing (umm..it's totally Scott's!). The iconic Coliseum pool is exceptional…the circular pool is massive and allows all of the guests to lounge poolside. No fighting for lounges!
Shop |
Fashion Island ~ Home to pretty much every store you can think of in an open air setting.  If shopping is your thing, this is where you'll find yourself. We like that there are restaurants close by… True Foods Kitchen is located on the same property so you can end the day with a delicious meal!
Lido Marina Village ~ Such a charming area with shops and cafes all at the marina. We were there on a Wednesday on which day they have a farmers market full of local produce and goods. A creative lineup makes different days special there, wherever it be flower pop ups, kids club, live music or markets.  A favourite stop was Serena and Lily, a home and design store that's just so dreamy.  Oh and coming soon is Malibu Farm… amazing.
Studio McGee ~ you might have seen me post about making a stop here on my insta stories! I've an avid follower of this interior design studio… their style is right up my alley.  They have opened a store which I had to go visit.  So for all things home, this is such a worthwhile stop!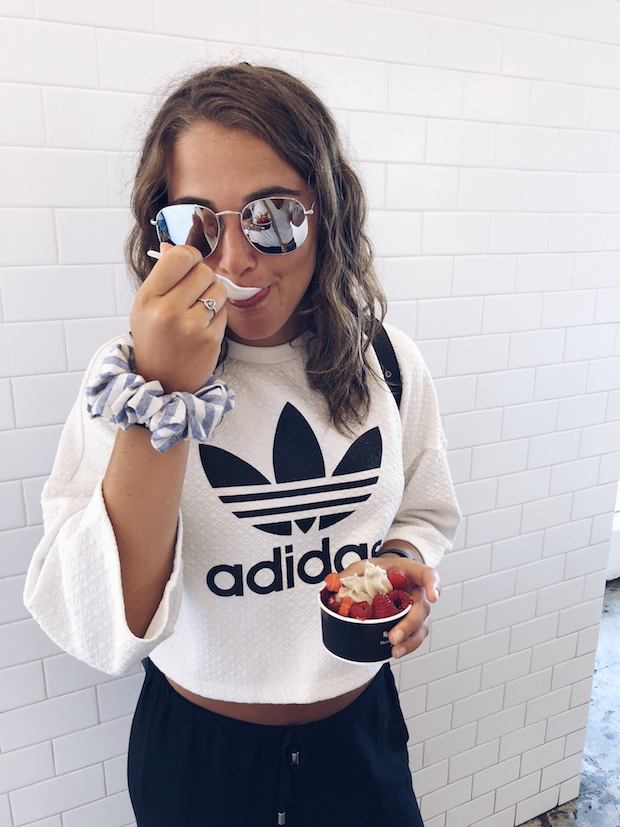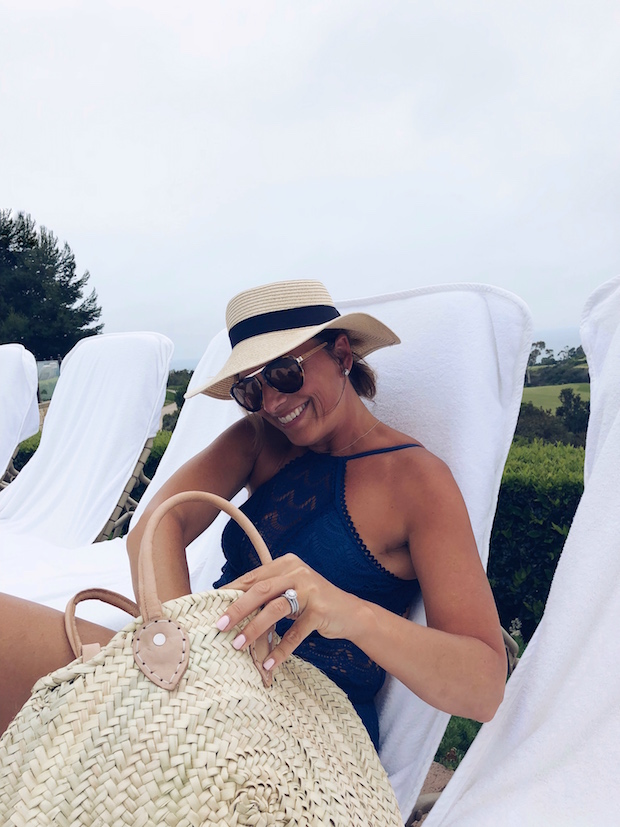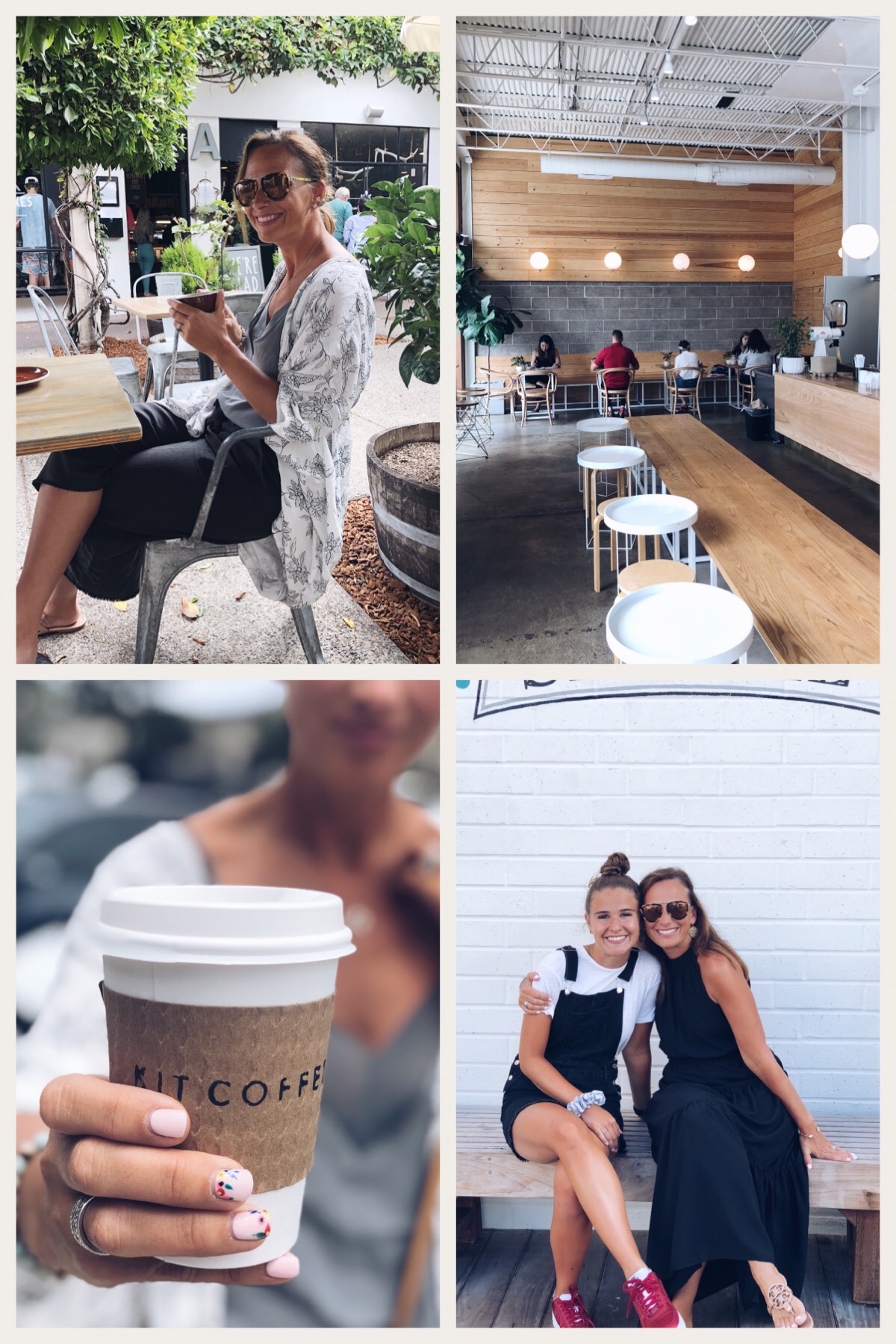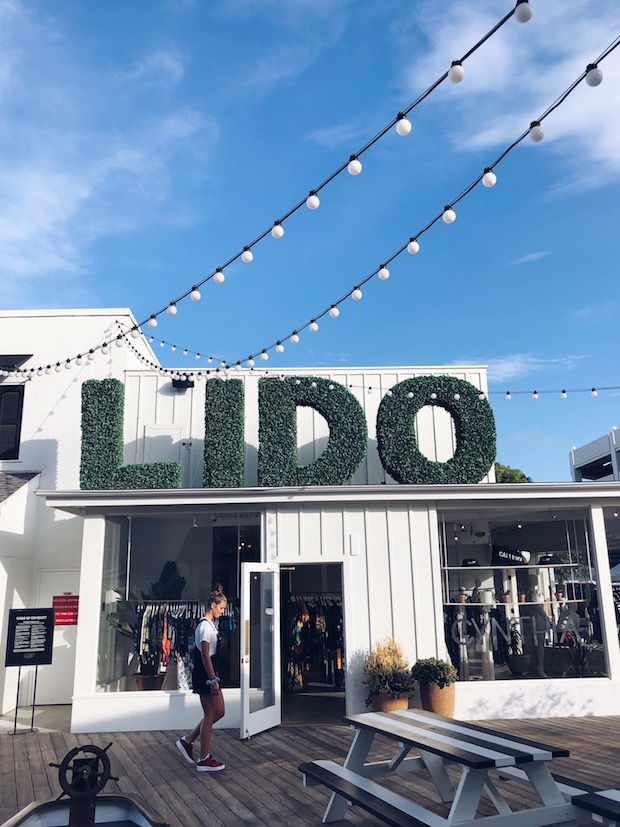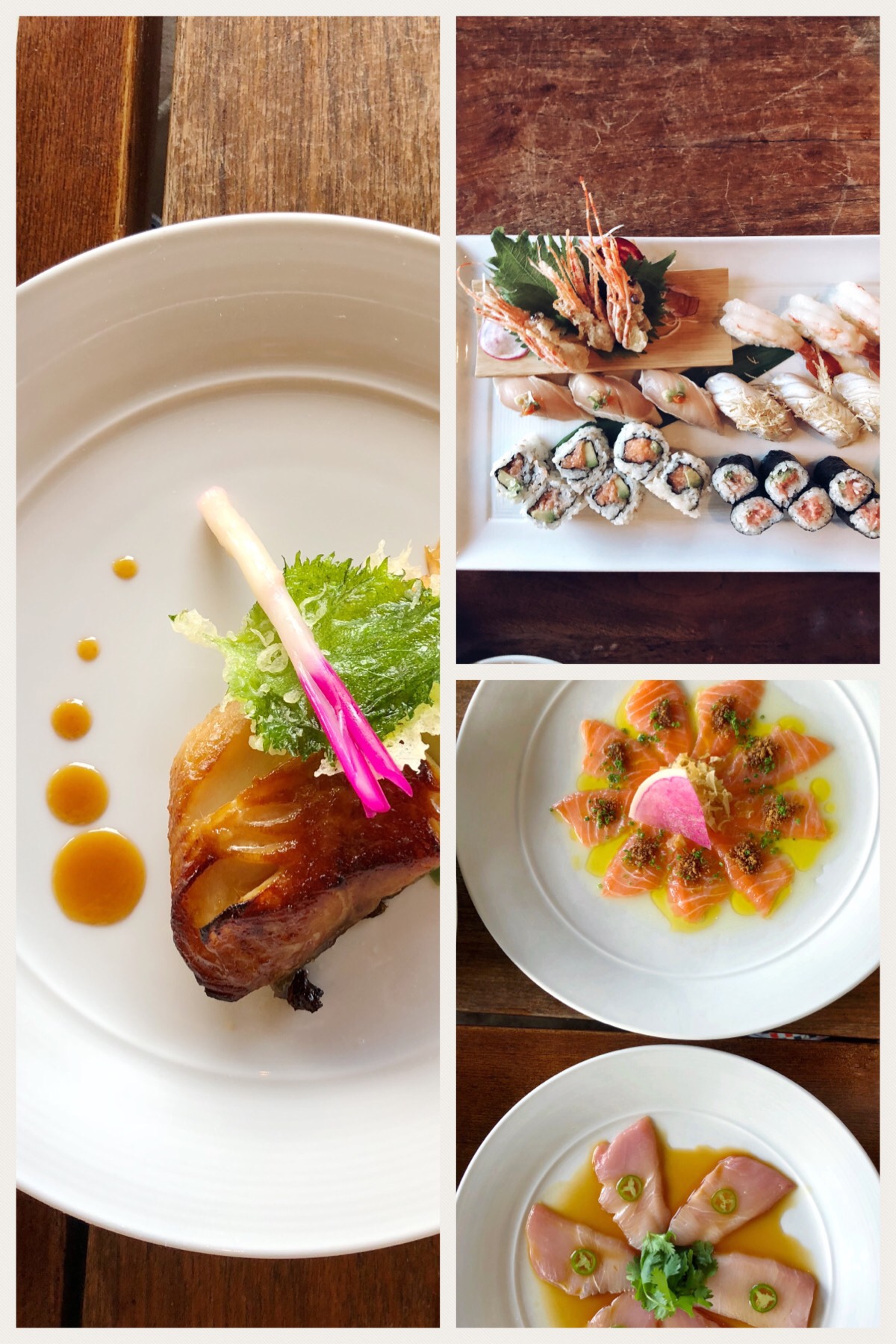 Have you made it this far? If so, hear me clapping! So much info but I didn't want to leave anything out!! Thank you so much for reading and I'd love to hear if this is helpful for you! Thank you to those who gave us recommendations ..we simply ran out of days to get to them all so that means we need to go back…right?!? Hope to check them all off the list at some point:)
Wishing you all a wonderful weekend (a long weekend in Canada!! yay!) Laurel xo