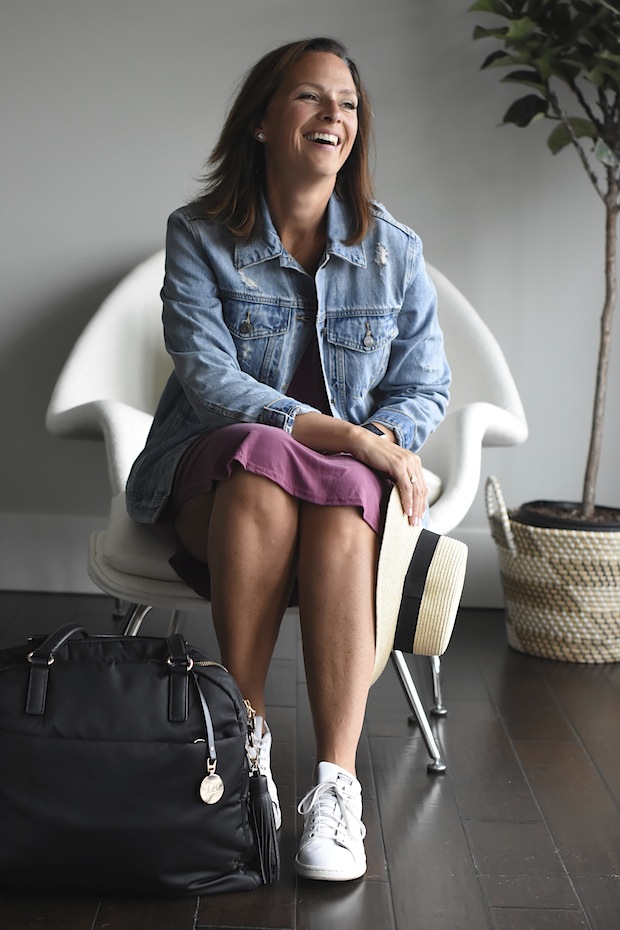 You might remember that I went to Italy in September with my MIL and SIL. I still feel like that vacation is seriously marinating in my memory. We had a fantastic time and there are just so many things that made it special. We were able to eat some off the charts meals, experience some firsts like an Italian cooking class and stay in some charming airbnbs. I want to share it all with you! But I wanted to first lay out how I packed for this trip. It was a 2 week vacation and we were going to be doing the planes, trains and automobile thing…literally. With it being mid September, it was somewhat of a transitional time on the weather front. Starting in northern Italy and ending up in much more south also factored in to what the temps were going to be. Packing for the range of weather meant layers were key.
I feel like I made some solid choices this time (cheer!). My past tendency is to do the last minute panic and start throwing in "I might need these" items. This time, I wasn't havin any of that.
Truth be told, I think I could've done this as a carry on. BUT, my issue with that was some of the gifts I planned on buying would make it impossible. Wine and olive oil. How can you not in when you're in their motherland?! The downside:  I had to go with checked baggage. Keep in mind, though, that this packing list would completely work if you're travelling soley with carry on. Next time, I really want to go that route…and maybe pack an expandable bag that I could check on the way home if I couldn't resist the liquids!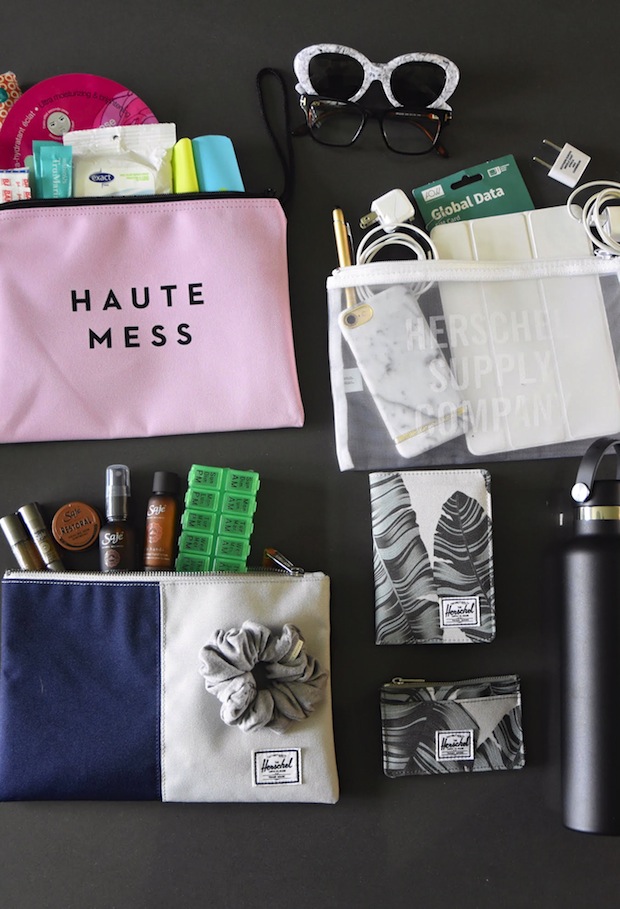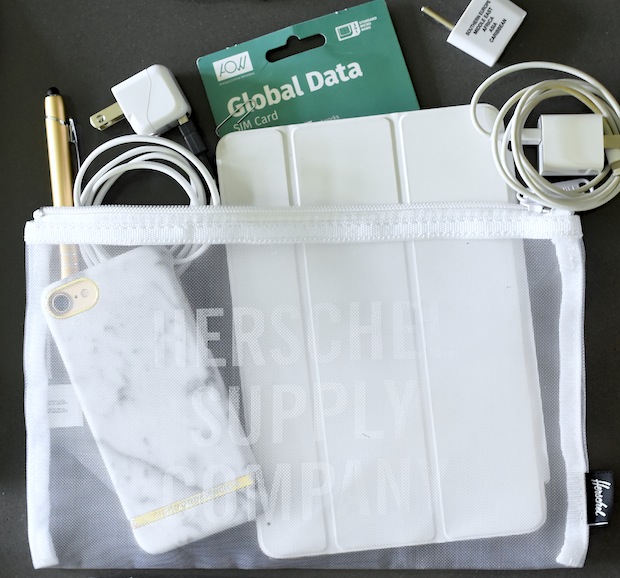 Organization was what made the difference on the toiletries, tech, misc front. I often travel with pouches to keep my items easy to access and organized . I love this mesh Herschel pouch that kept all my tech items in one place…it held my phone, my charging cords, my mini iPad, adapters, stylus and my global pre-paid sim card (which is a total game changer if you're planning on using data…google maps anyone??).
A second pouch held my medications (thanks hormone therapy!), necessary scrunchie, and my "feel refreshed" products. This travel pack from Saje is honestly my fave and I used it countless times. The hand lotion and "Arrive Revived" essential oil spray were not only my favourite, but from comments around me, fellow passenger favourites! Let's just say I was popular on that flight…
And one last pouch held my misc items: a face mask (which I was going to use on the plane but chickened out because, well, the guy beside me intimidated me), facial cleansing wipes, exercise bands, travel collagen packs, bandaids, you get the drill.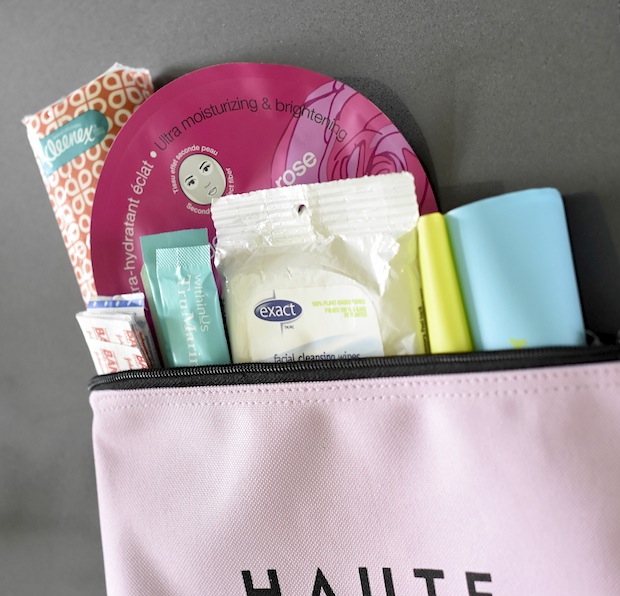 COSMETICS/SKIN CARE
It's not necessarily what you've packed that's most important, but how you've packed it. I didn't want to deal with exploding bottles as I've done on occasion in past. Isn't it the worst when you open your suitcase to this?  These silicone tubes were a great solution. Shampoo, conditioner, facial cleanser and toner all in no-drip, easy to fill and TSA approved containers. My face serum, as well as hair styling cream also went into smaller packaging to condense space.
Ok, are you wondering what those white "drug" looking packages are? Ha! I never travel without laundry detergent…especially when packing light. Laundry is a must.  These little packets worked where our accommodations had washing machines , as well as places that didn't. The packets could be opened and used in a sink as well. Super handy. *Just a note that it's super rare to come across a clothes dryer, so air drying is standard in Europe.
Three other standards to pack are: deodorant, lotion, chapstick. These products are my favourite and I love that you can buy them in small travel sizes.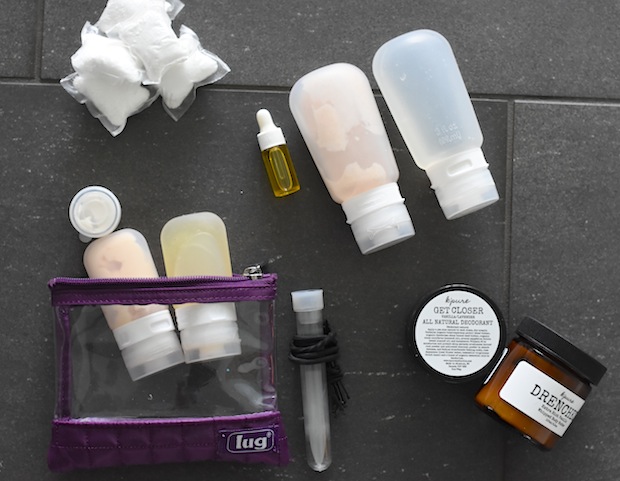 CLOTHING
My strategy here was to only bring pieces that would work with multiple items. That means I went pretty classic with my colour palette. Black and white is as classic as it gets, right? But I feel like it really worked. Keeping the majority of bottoms on the darker side was also helpful in keeping laundry to a minimum. I packed:
5 tops
4 bottoms
3 dresses
3 top layers (a cape, a sweater & a long sleeved blouse)
1 denim jacket
4 pairs of shoes *
crossbody bag
*In restrospect, I could have shaved off one pair of shoes, but I brought the runners in case we did some hiking. In the end, the weather didn't permit, so those coulda been ditched.
One of the better moves I made was packing these ballet flats. They were my go-to for dinner and evenings. Dressed up enough to elevate my look for the evening, but still comfortable enough to get those steps in! They honestly took up zero space in my luggage as they fold into themselves…brilliant.
I added a couple of pieces with colour to add a pop of interest to the mix but still be basic enough to pair with multiple other pieces. My absolute favourite pant for travelling has to be this pair of culottes. Sneakers paired well with these for day time and a quick change on top and to ballet flats transitioned them for evening wear. They might also be the most comfortable pant out there (…and under $40!).
An oversized denim jacket was such a versatile piece. It worked with everything I packed…this easy style could be slipped overtop any amount of layers.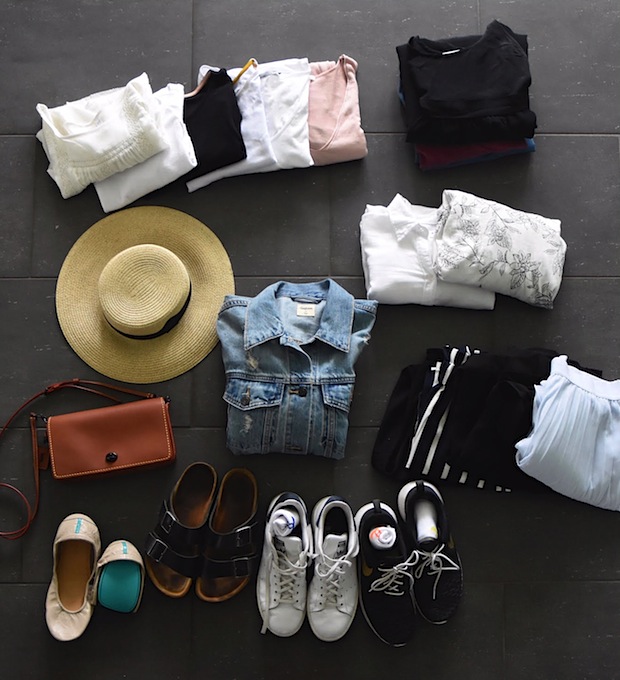 QUICK TIPS
Wallet / If your wallet looks anything like mine, words that would NOT come to mind are: slim, condensed and organized. So it's no surprise that I didn't want to pack it. Instead, I took only the cards and ID that I would need and used this style of Herschel card holder. It was easy to switch this back and forth between my camera bag (which I used during the days) and my purse (for evenings).
Passport / A great idea is to make 2 copies of it. Leave one at home and bring one with you. Keep the one you bring in a DIFFERENT place than your passport. No one plans on having their passport stolen, but you'll never regret being prepared for it!
Adapter / Make sure to pack an adapter that can accommodate more than just one outlet, like this all in one model. Many of us travel, with iPads, iPhones, Apple watches… and it's not ideal to be able to charge only one device at a time.
Currency / This was an interesting revelation while prepping for my last trip….the currency exchange provided a much better exchange rate than the bank. It was a substantial difference and well worth remembering for future travel.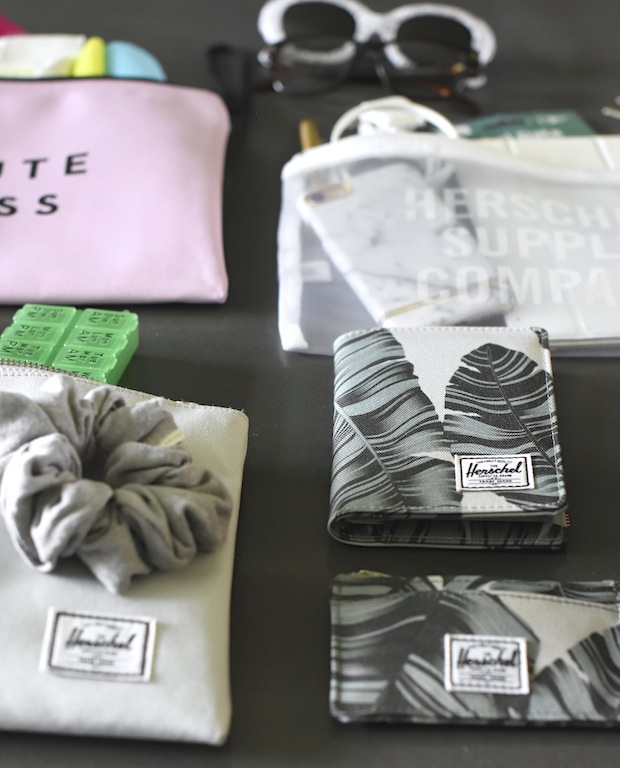 Hope this post helps you with adventures you might be planning.  The basics of this packing list could serve as a jump off point for year round travelling. Colder temps would require that the "tops" would be warmer ones, obviously, and the Birks might need to be swapped out for a pair of boots, but I hope it gives you something to work with. As I mentioned above, I'd love to travel more carry on style and I think it's doable with this list.
Have I missed something? If you have a travel tip or hack, please share it with us.
Wishing you all an awesome weekend…my current wish is that it would stop raining long enough to get a good walk in as much of the next couple of days will be spent in a gym/ice arena watching the kids:) Also have some plans to re-create the Italian menu on Saturday that we prepared during our cooking class in Tuscany….should be real good! Laurel xo