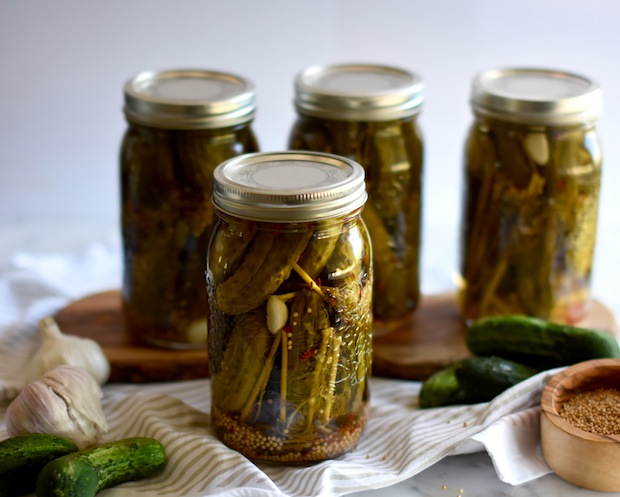 OK…last week it was jam and this week dill pickles? What is going on? Ha!  I have learned so much! And I kind of feel like it's been a rite of passage to be taught some of these recipes that were a part of my childhood.  My mom canned and jammed and always had a pantry full for us kids.
Especially the pickles. My mom made garlicky, crunchy, spicy dill pickles that were so good! She had, in turn, learned from her mother-in-law. It pains me to realize just how little I appreciated the time my mom had spent making them. They are a labor of love. Not that they're difficult to make, but there are a number of steps and it's the little tips and tricks that make these pickles so much better than anything you'll buy in a store.
So…mom came over for a pickling party! I was so glad that was here to walk me through the recipe. There were many times that she said, "Oh, grandma would be so proud of us right now!"
So now we wait to crack these jars open. It's a waiting game! At least three weeks. In the meantime, I hope this recipe makes its way into your treasured recipe books. If I can do it, you sure can too.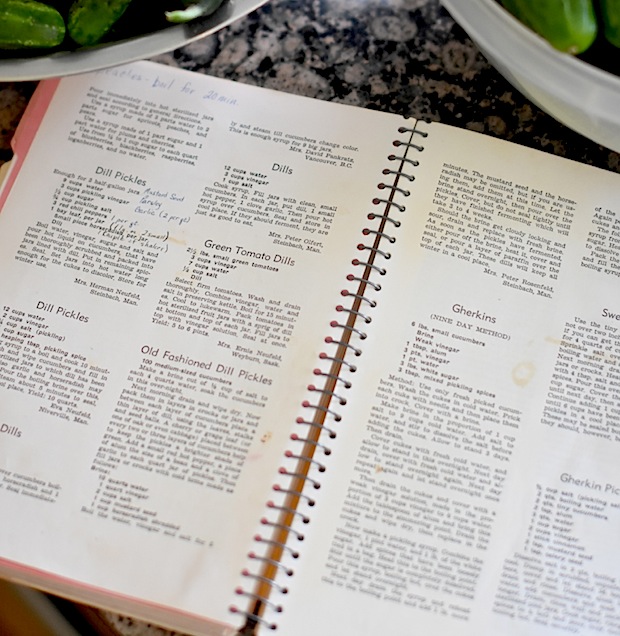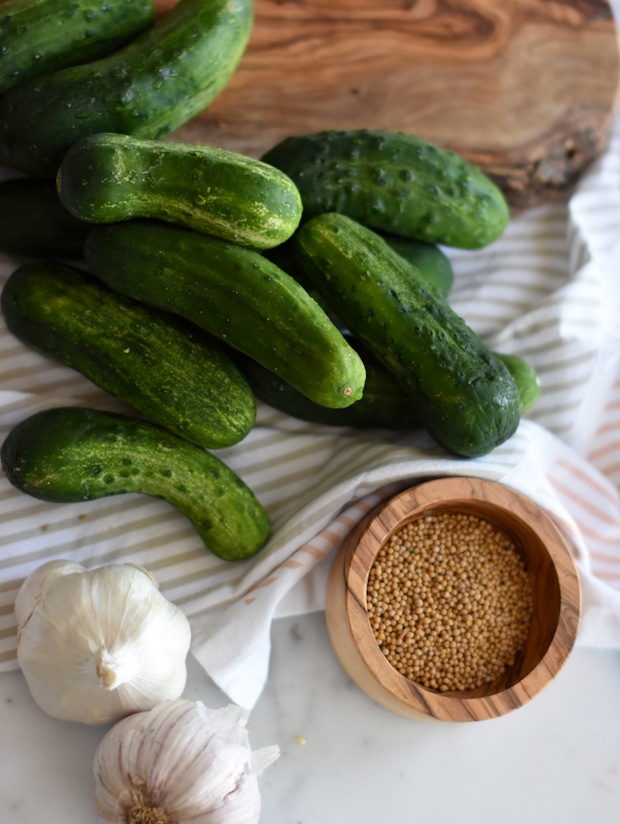 Ok, so I'm trying to break this down in a way that will be helpful…so lots of pics and lots of notes coming up: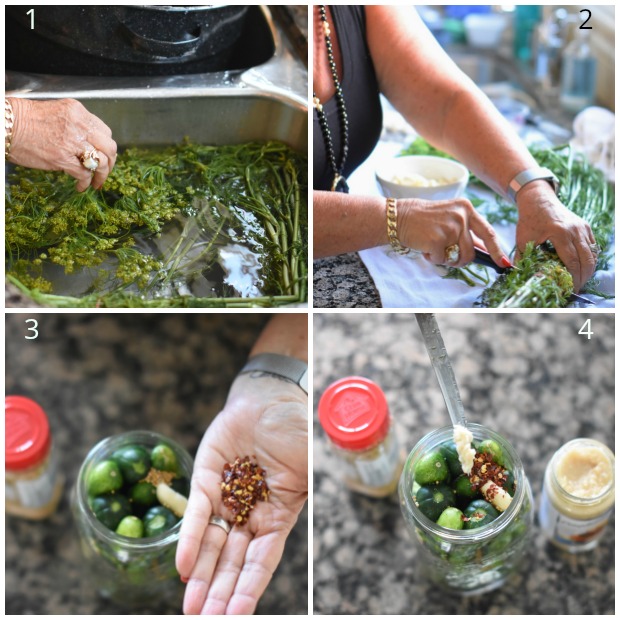 Soak dill weed to remove any dirt or insects. Then set aside on a dish towel.
Cut the dill weed into approx 4 segments.
Pack the jars with layers of dill weed, garlic clove, bay leaf, cucumbers, another layer of dill and cucumbers. Top with garlic clove, crushed red pepper chili peppers, horseradish, mustard seed & allum. Pack the cucumbers as tight as possible.
The amount of horseradish you use, determines your level of flavour "kick".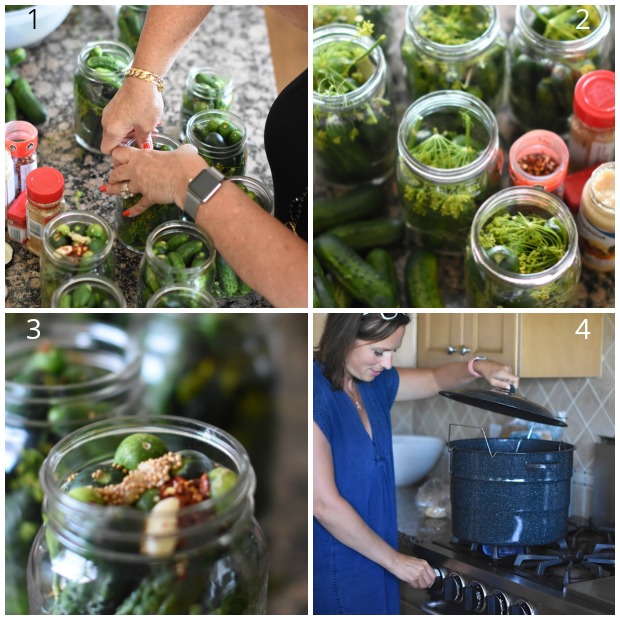 Some tips:
As my mom says, if you don't finish the day with a sore thumb, you haven't packed the cucumbers tight enough!
Use the tops of the dill weed for the middle layer so the seeds will disperse up and down.
Make sure that the jars are filled to about 1/4″ inch from the top.
Get your water simmering in the canner at the beginning so you can bring it to a quick boil when you're ready to add the jars.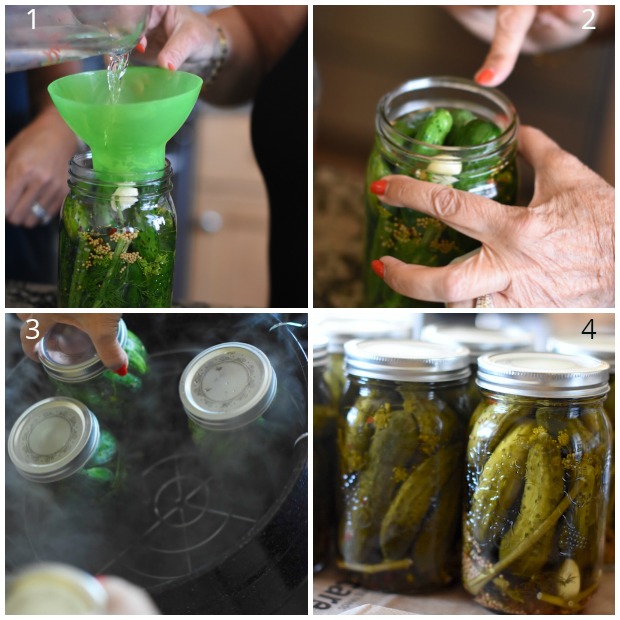 Fill the jars 1/4-1/2″ from the top.
Make sure to wipe the rim dry before putting the jar seal and screw top on.
Boil the jars 10-12 minutes…and know that it might take a bit longer for this process. Test by colour…make sure the bright green colour has faded to a more olive tone.
Be patient with the jars sealing…it can take up to 40 minutes.
Dill Pickles
Author:
Elma Voth adapted from the Mennonite Treasury of Recipes
Ingredients
Per quart:
Pickling cucumbers, 1-1/2lbs
Dill weed
Garlic cloves, 2
Mustard seed, 1 tsp
Red chile flakes, 1 tsp
Allum (found in the spice aisle), a few shakes
Prepared Horseradish, a knife tip
Bay leaves, 1 large or 2 small
12 quart jars
Brine:
18 cups water
6 cups vinegar
1 cup sugar
1½ cups coarse salt (or pickling salt if you can find it)
Instructions
Before you begin, wash the jars. Place lids and seals in a container and pour boiling water overtop. Set aside.
Fill canner with water and heat slowly so that it is boiling by the time you are ready to can the cucumbers.
Wash & remove "bumps" from cucumbers. An easy and efficient method to do this is to put the cucumbers in your washing machine with a couple of large towels and run a rinse and spin cycle. Soak the dill weed in a sink full of water to clean & then set aside. Cut stalks into approx 4 segments.
Pack the jars in this order: A handful of dill weed, a garlic clove, bay leaf, a layer of cucumbers (bigger ones on the bottom), another layer of dill weed & another layer of cucumbers. Pack VERY tightly.
Top with red chili pepper flakes, horseradish, mustard seed, another garlic clove and a couple shakes of allum.
Bring water, vinegar, sugar and coarse salt to a boil.
Once boiling, pour mixture over the cucumbers in the jar filling to approx ¼-1/2 inch from the top.
Wipe jar rim dry and put jar seal and lid on. Only pour liquid in the number of jars that will fit in the canner.
Add jars to canner (mine fit 7 quart jars) and cover.
Boil for 10-12 minutes. Remove when the cucumbers have faded from bright green to a more olive color.
Remove from canner and set on counter and allow to seal. This could take 30-40 minutes.
Store for a minimum of 3 weeks before opening.
Prep
Tips for crunchy pickles:
Sprinkle allum into the jars. Allum is found in the spice aisle in your grocery store.
Pack the cucumbers as tight as you possibly can. It's like putting a puzzle together. Use the bigger cucumbers for the bottom layer and the smaller ones on top.
Slice some of the larger cucumbers to fill in the gaps.
Only pour the brining liquid into jars RIGHT before you place them in the canner...don't fill the jars and let them sit.
Happy canning everyone! Thanks so much for reading this…hope these tips are helpful. xo Laurel