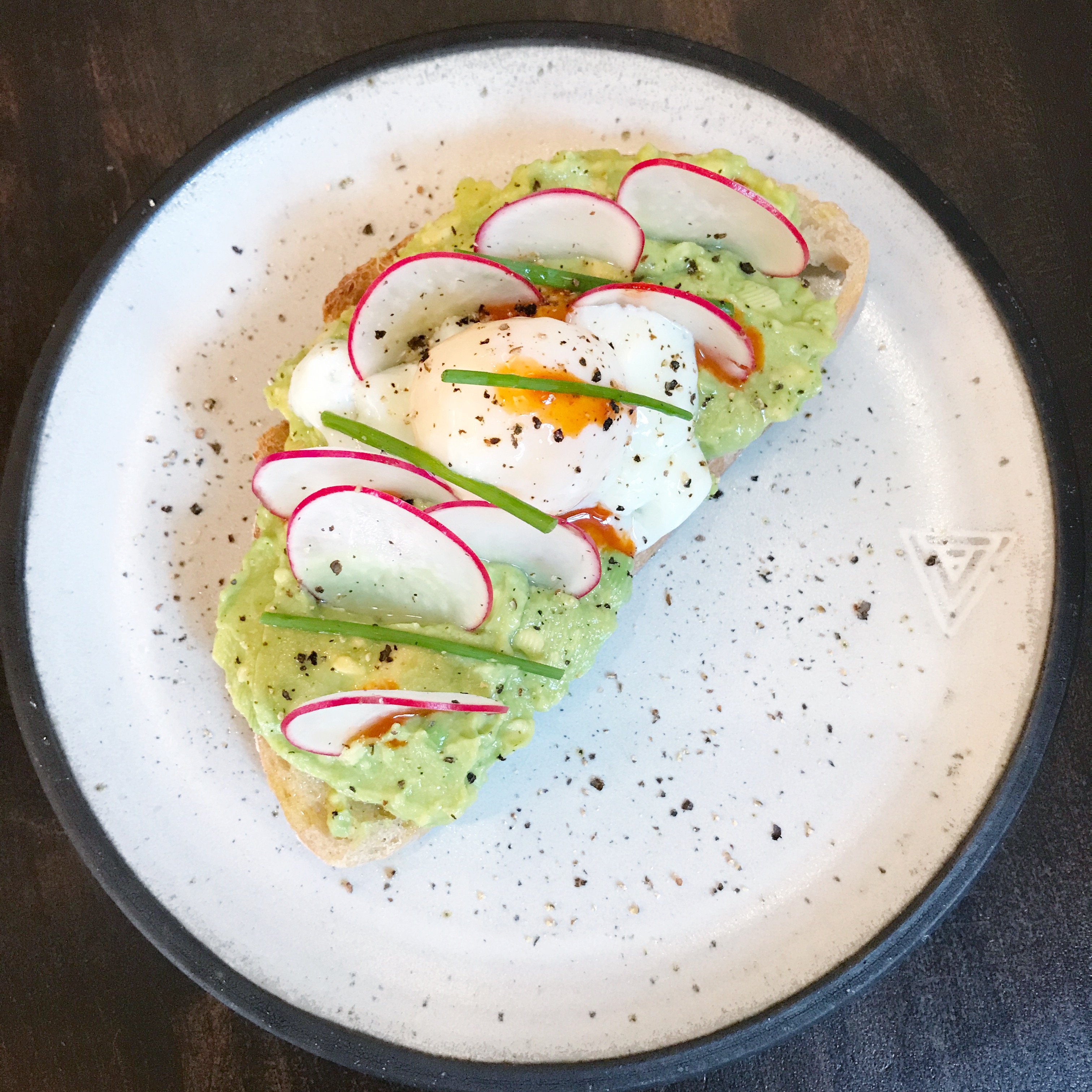 I have spent a fair chunk of time in Toronto between last summer and this summer so far.  There is a really amazing food and coffee thing going on there.  This last trip I decided I needed to branch out and not just stick to my favorites, but try some new places.  So, I did some research on IG before my trip…and by the way, the new "collections" option for saving pics on IG is amazing for this!!  I had my Toronto pics saved and ready for easy reference before I left.  Here's a round-up of some tried and true places as well as new spots that I love!
COFFEE
Hailed – my favorite east side coffee place.  They serve "hailed" lattes, that is cardamom in Arabic.  They also have a nice selection of croissants and Middle Eastern treats and dates, my favorite being kunafa which is a cheese pastry sprinkled with pistachios that they warm up for you.  Next time I'm trying their freshly baked chocolate chip cardamom cookies.  They also serve Arabic and Turkish coffee.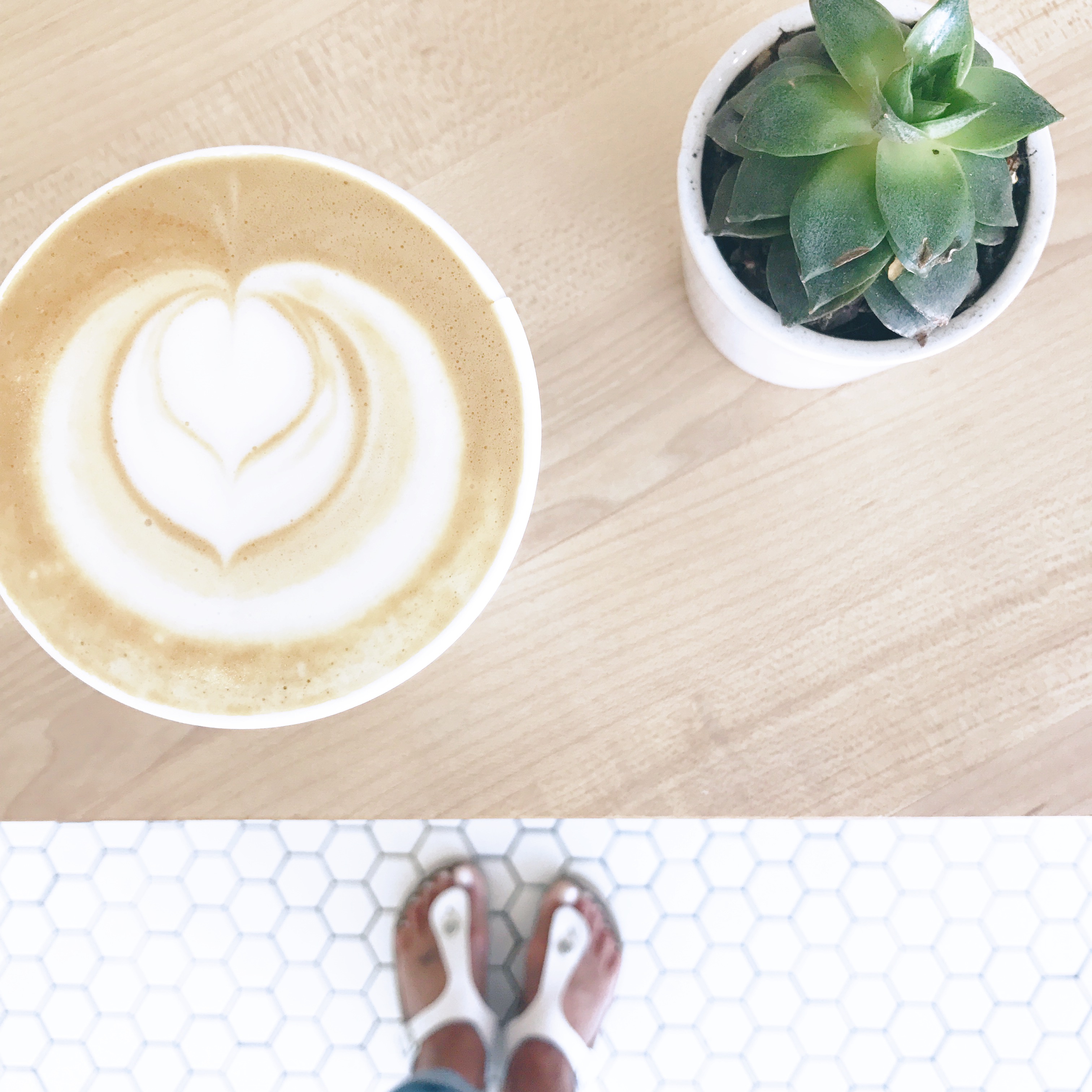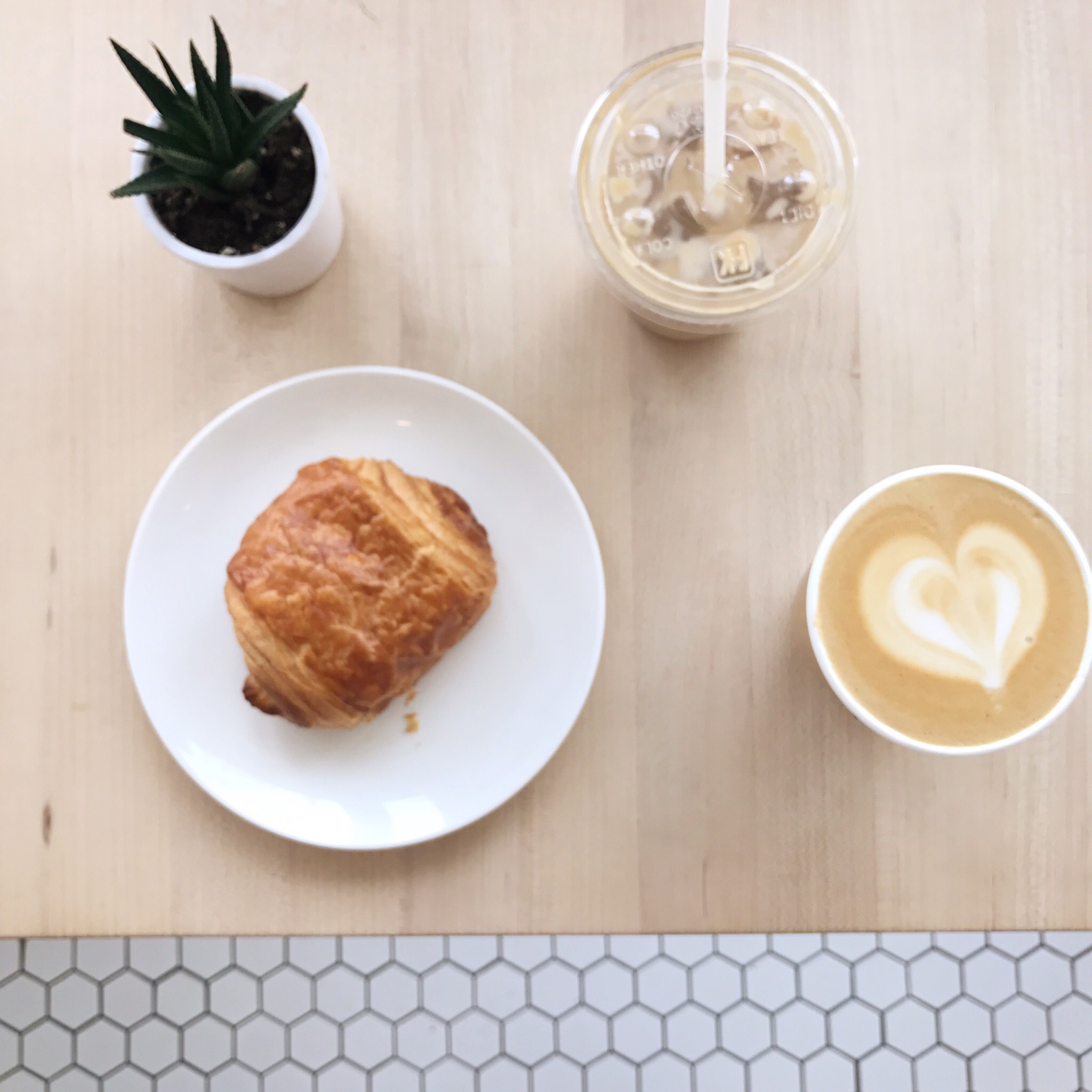 Quantum – I'm all over the super modern decor in this downtown coffee spot.  Great lattes and pastries and an awesome patio.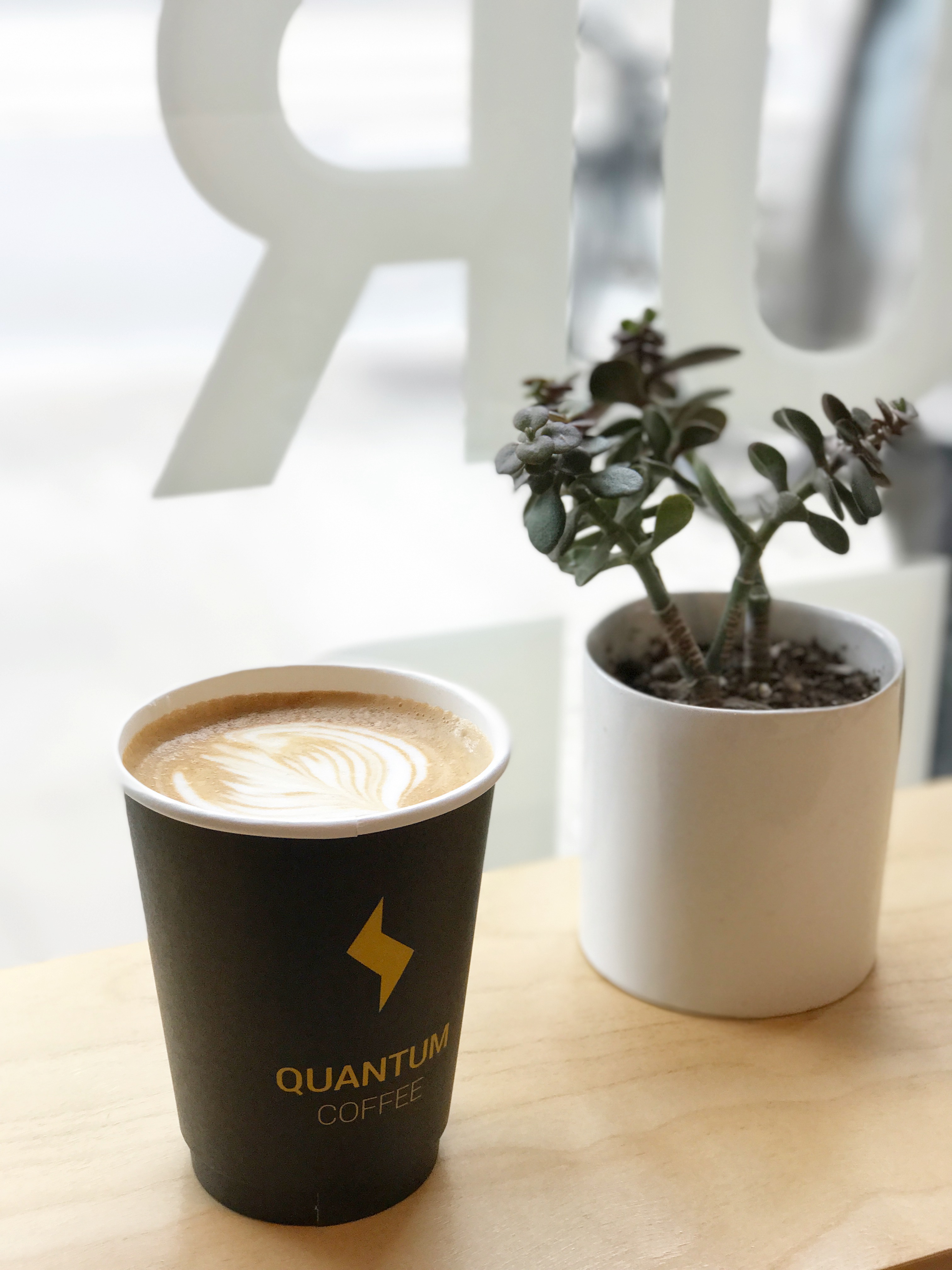 Fahrenheit  – has two locations and I love that you can pick the beans for your bevvie.  I usually have an almond milk latte with the Diablo beans.  And there's just something about their red lids that make me happy!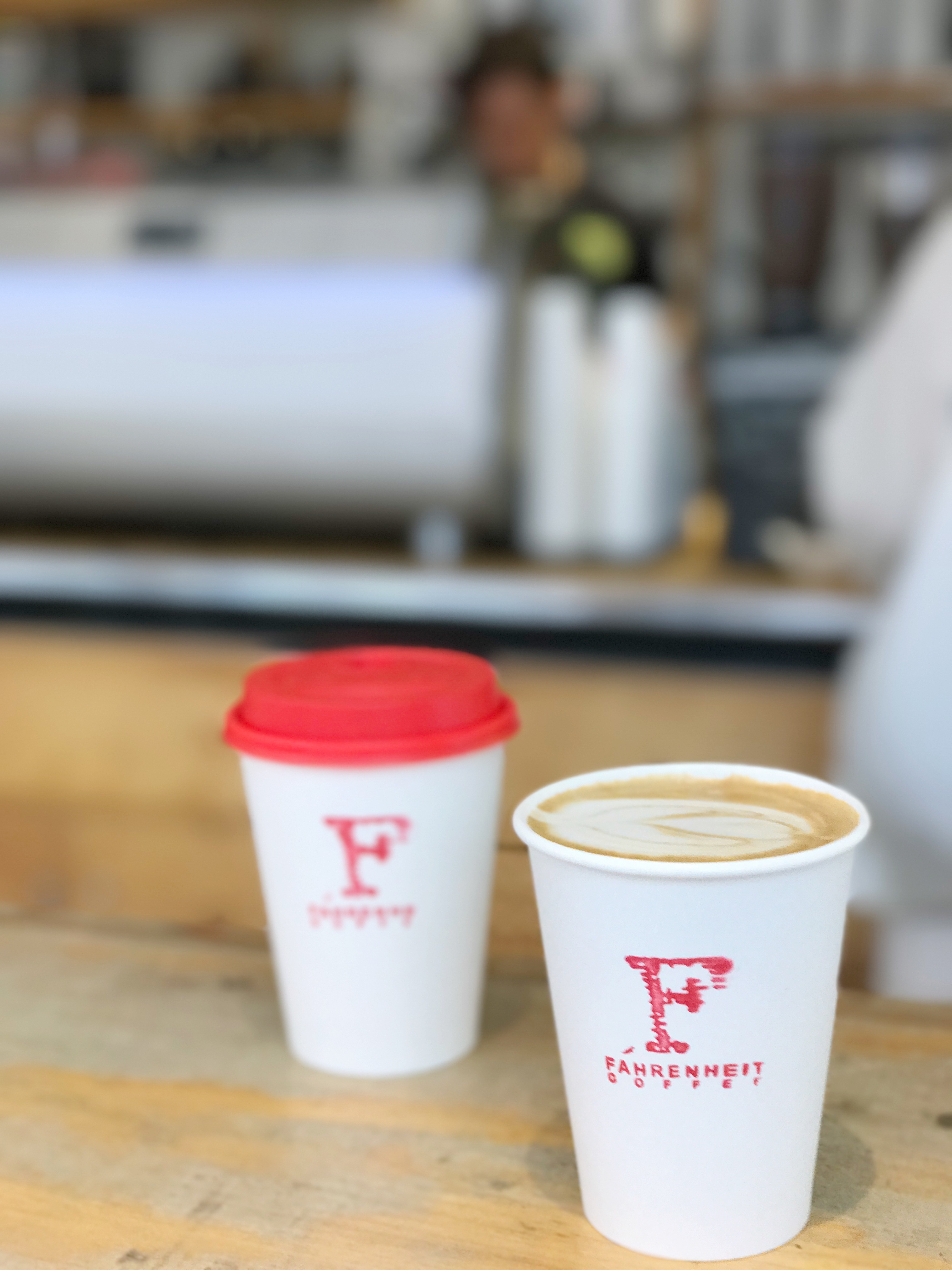 Versus – two words….colorful lattes!  Incredibly pretty and they taste great too.  This downtown coffee joint also serves avo and toast, but make sure to get there before 12noon as they often sell out, but their toast and honey is very yummy too!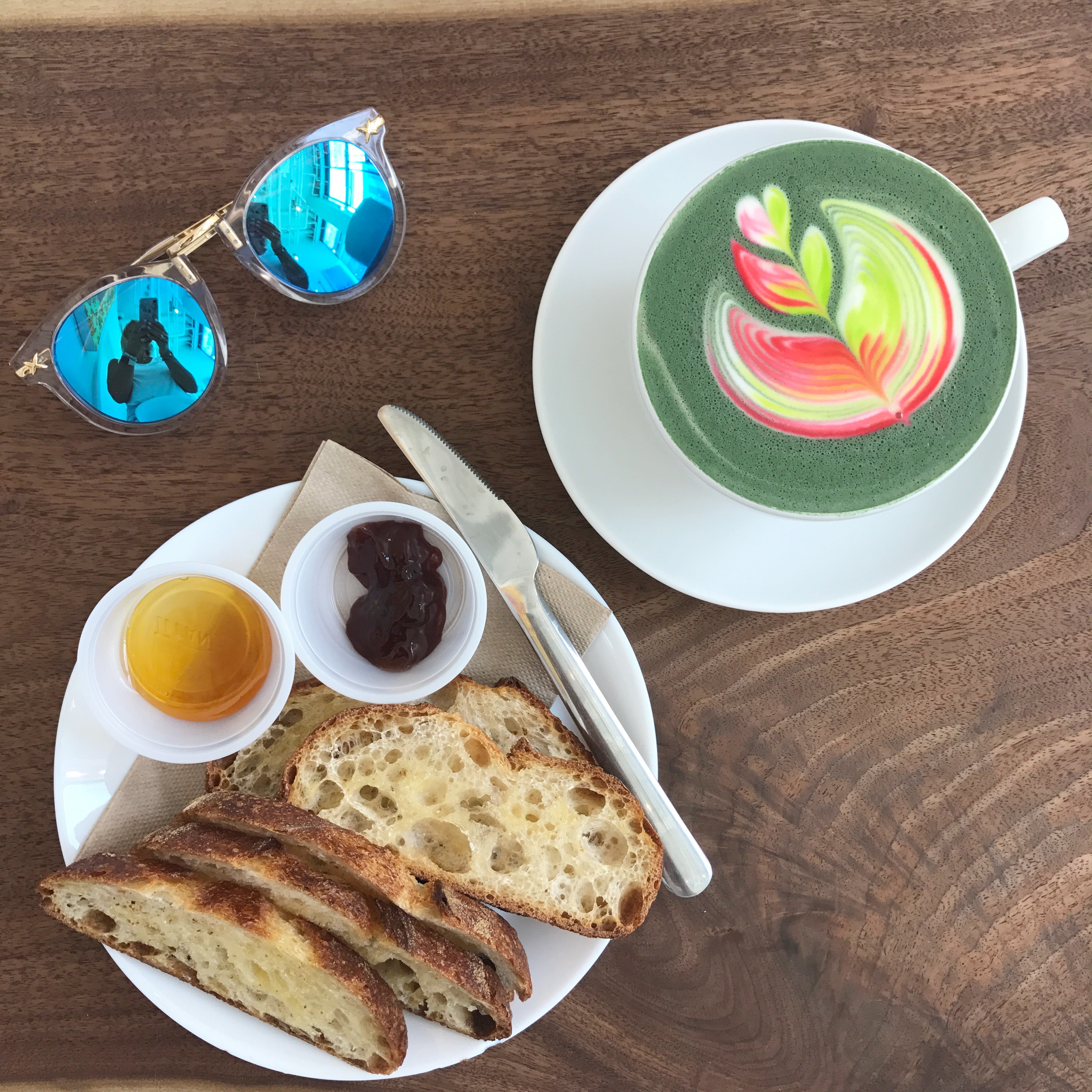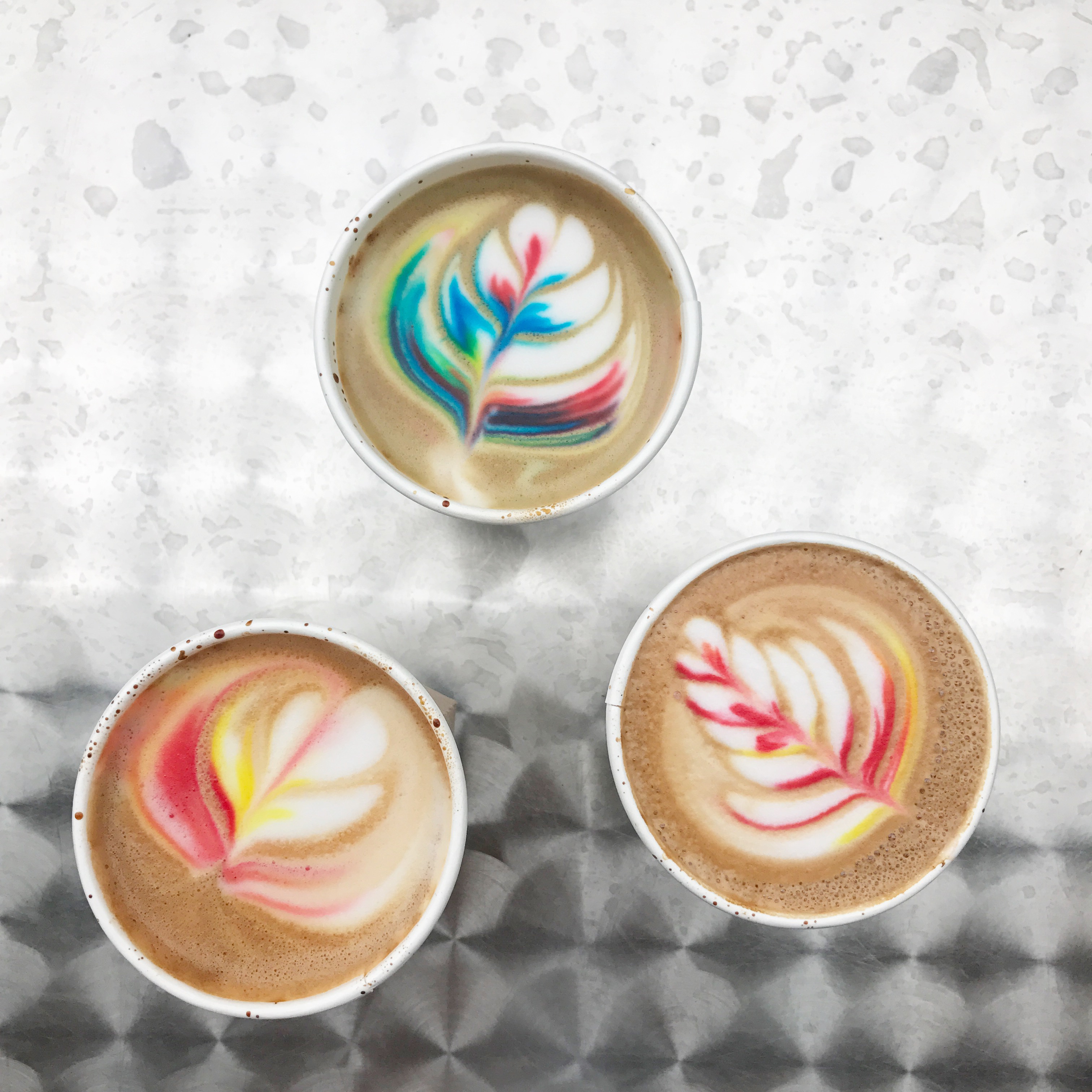 Arvo – this Distillery District shop has a toast bar open from 8am to 3pm daily.  The taste of their avo and eggs matched the beautiful presentation.  I tried their date latte which is similar to a chai latte sweetened with dates.  Super friendly service.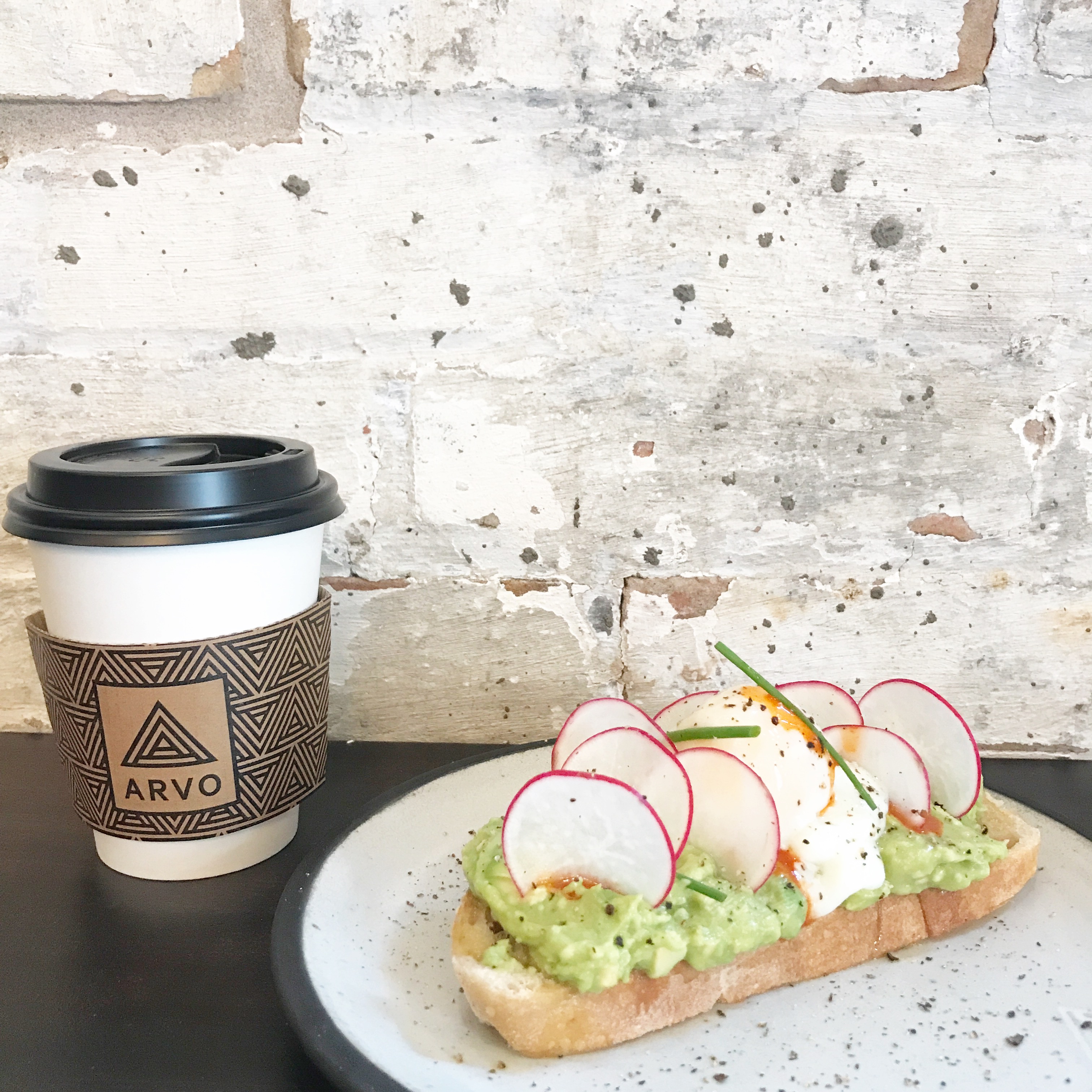 ICE CREAM
La Diperie – two locations…one on the Danforth and one on Queen West.  You pick your soft-serve size from mini to large, and pick from over 20 chocolate dip flavors, and add toppings.  Totally customizable!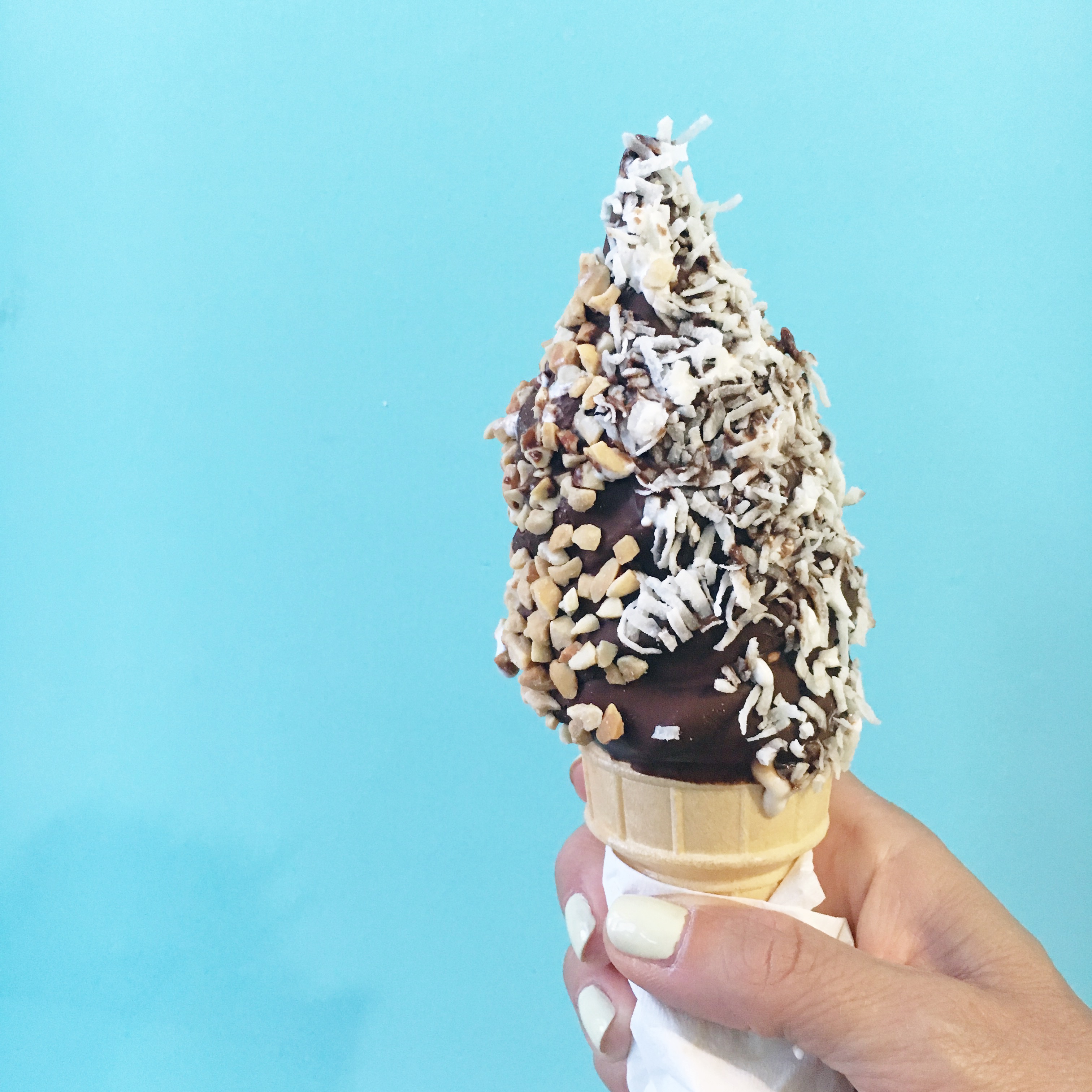 iHalo Krunch – black ice cream.  Yes, it's soft-serve charcoal ice cream that is coconut flavored.  The purple ice cream is taro, the green is matcha and the white is vanilla.  I was going pretty much just to get a pic for Instagram, but I was extremely surprised!  The ice cream and cones were delish and despite the long lines, the service was very friendly.  This place worth the wait as it's living up to all the hype!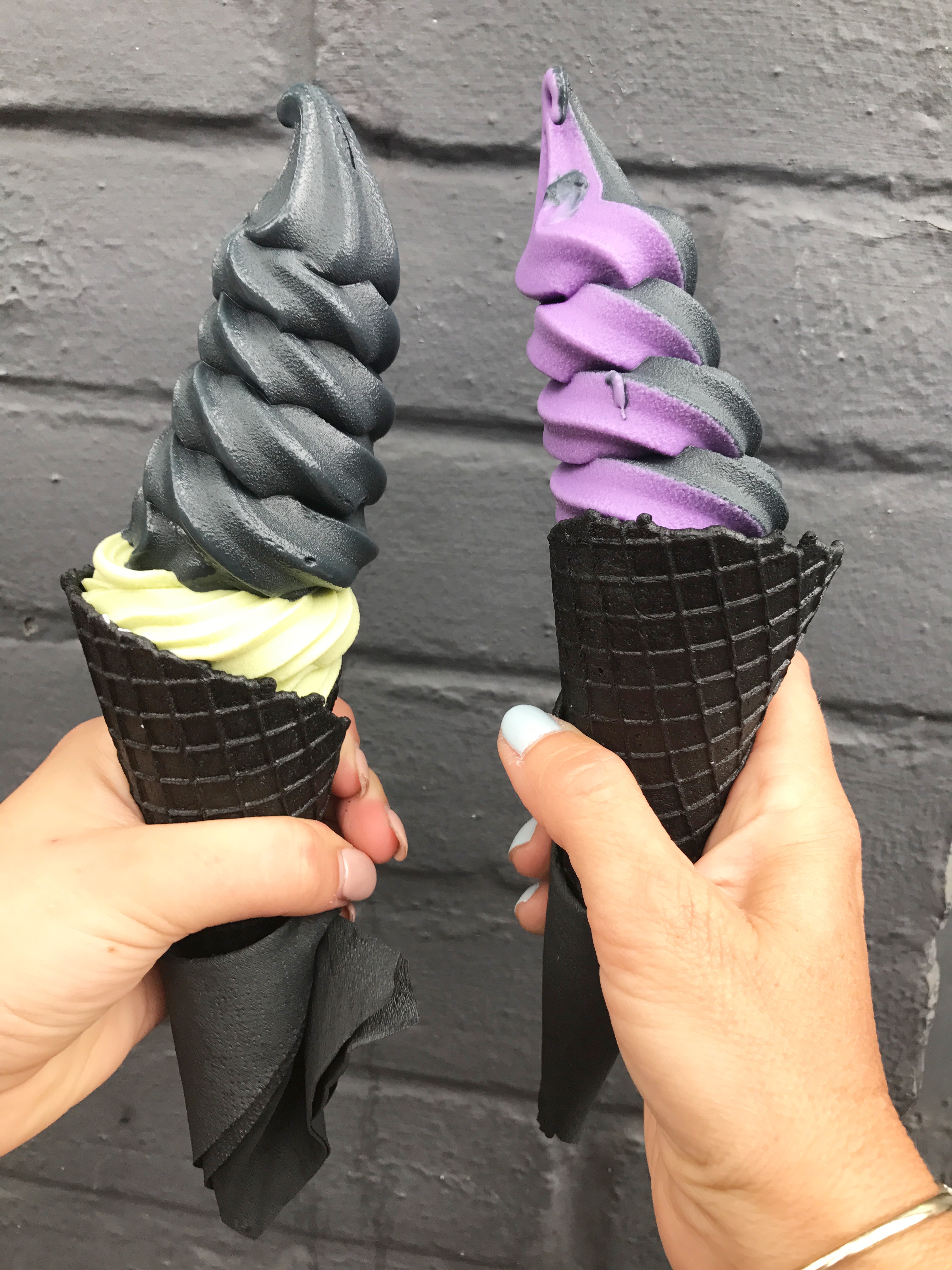 BRUNCH
Maha's Egyptian Brunch – I walked by this spot during the middle of the week and the line up went well down the road.  We got up early one more to check what the fuss was all about and then we knew!  This tiny east side restie serves coffees with intricate latte art.  Brunch here is about skillet type dishes with beans and eggs, falafels, hummus and yummy charred balady bread to mop it all up.  On my list to try is the honey cardamom latte, the chicken sandwich and the date grilled cheese.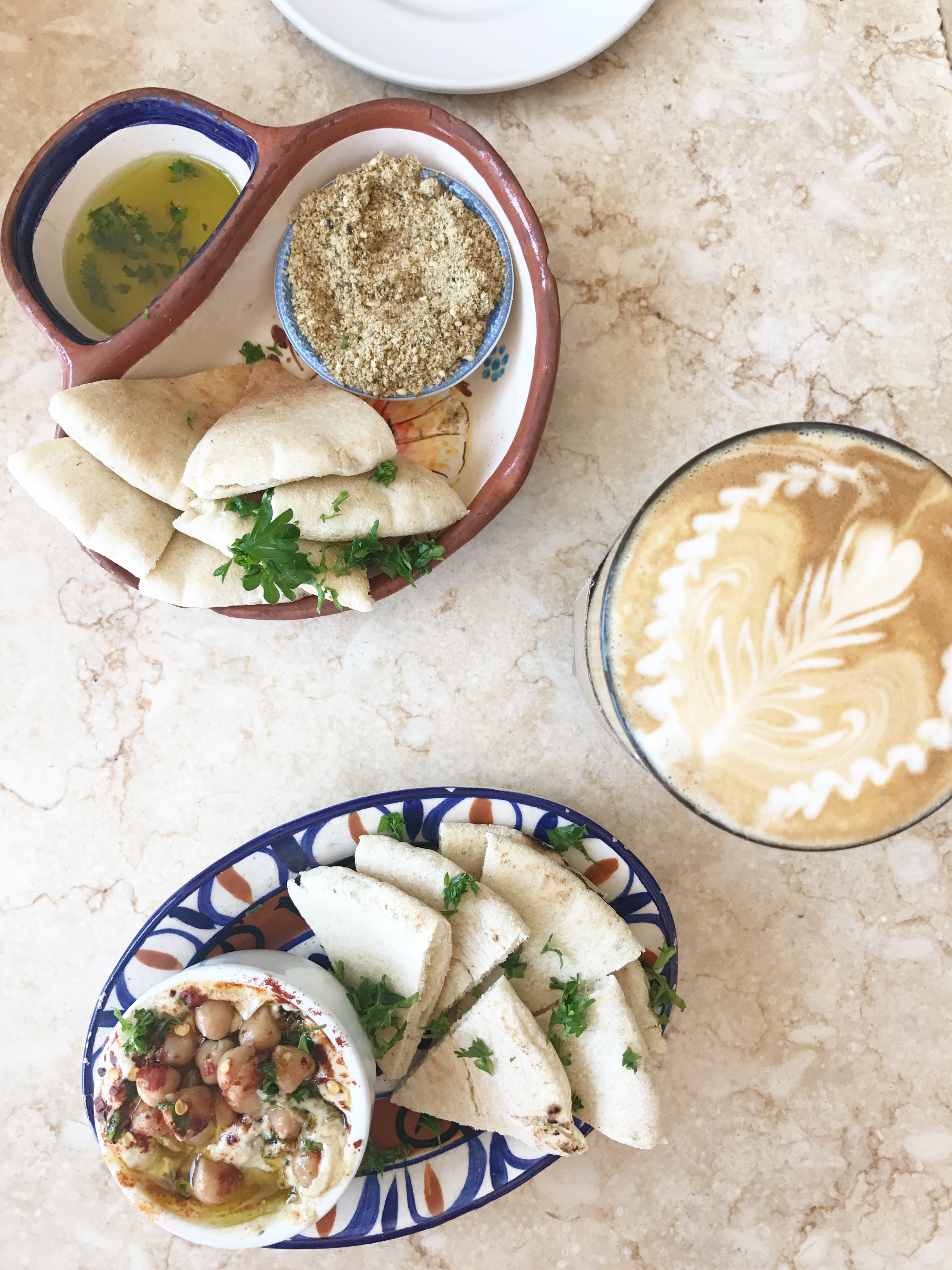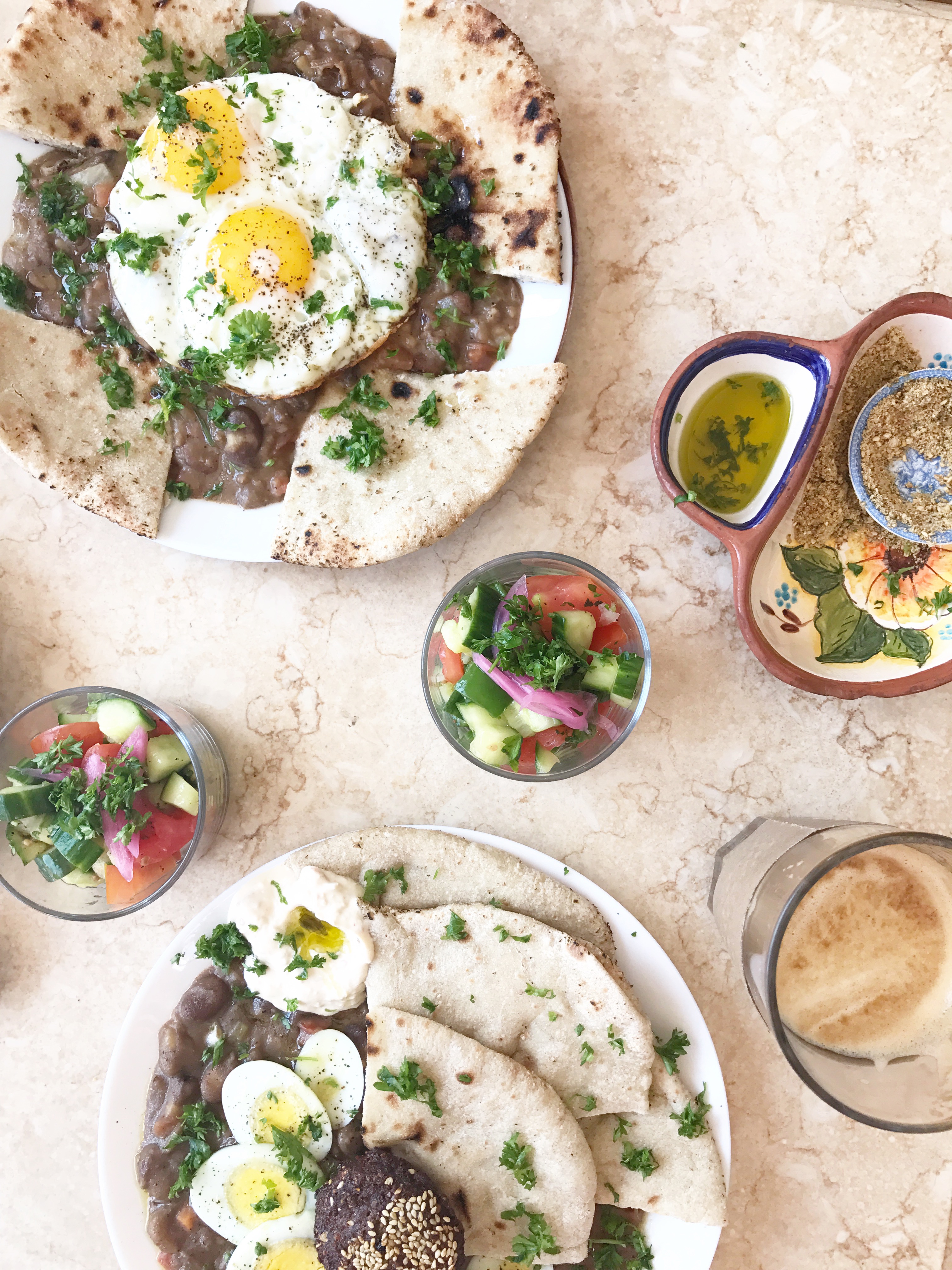 Lady Marmalade – For me, it's all about the bennies here.  My fave is the brie, avocado and bacon but they also have build you own benny. Another thing to try is the crepe croque monsieur.  Note that this east side spot takes cash only.
Bonjour Brioche – Some say this east side brunch spot has the best croissants in the city!  They are also known for their latte bowls and croque madam.
Portland Variety – This trendy downtown restie is known for it's baked goods, smashed avo on toast with scrambled eggs, and brioche French toast.  The lattes are great and they serve fresh juices.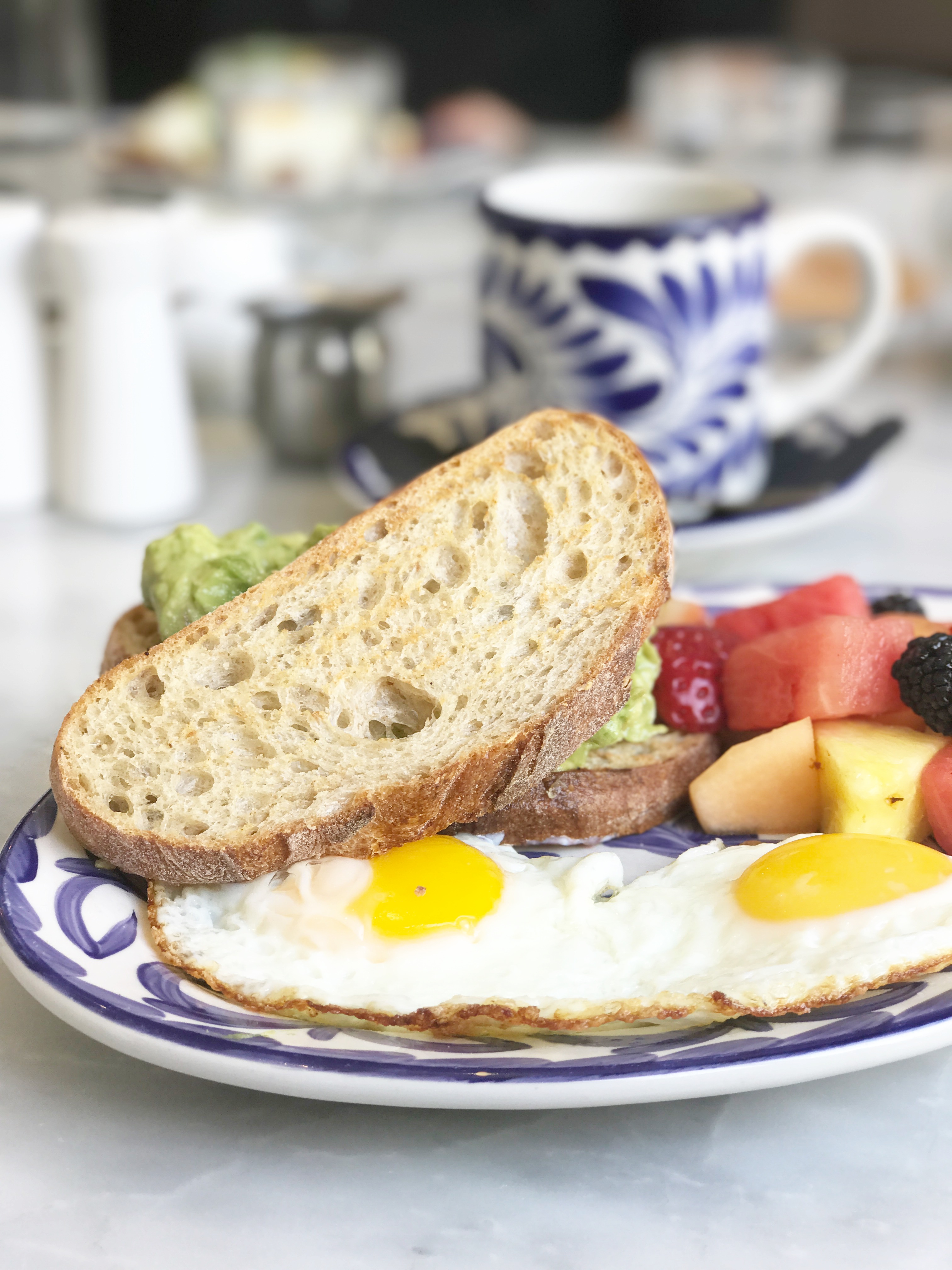 LUNCH/DINNER
Calii Love – This place is all about the acai bowls for me.  I usually get the "loved" bowl.  The "dreamy" bowl is the pretty blue bowl that you will often see on Instagram.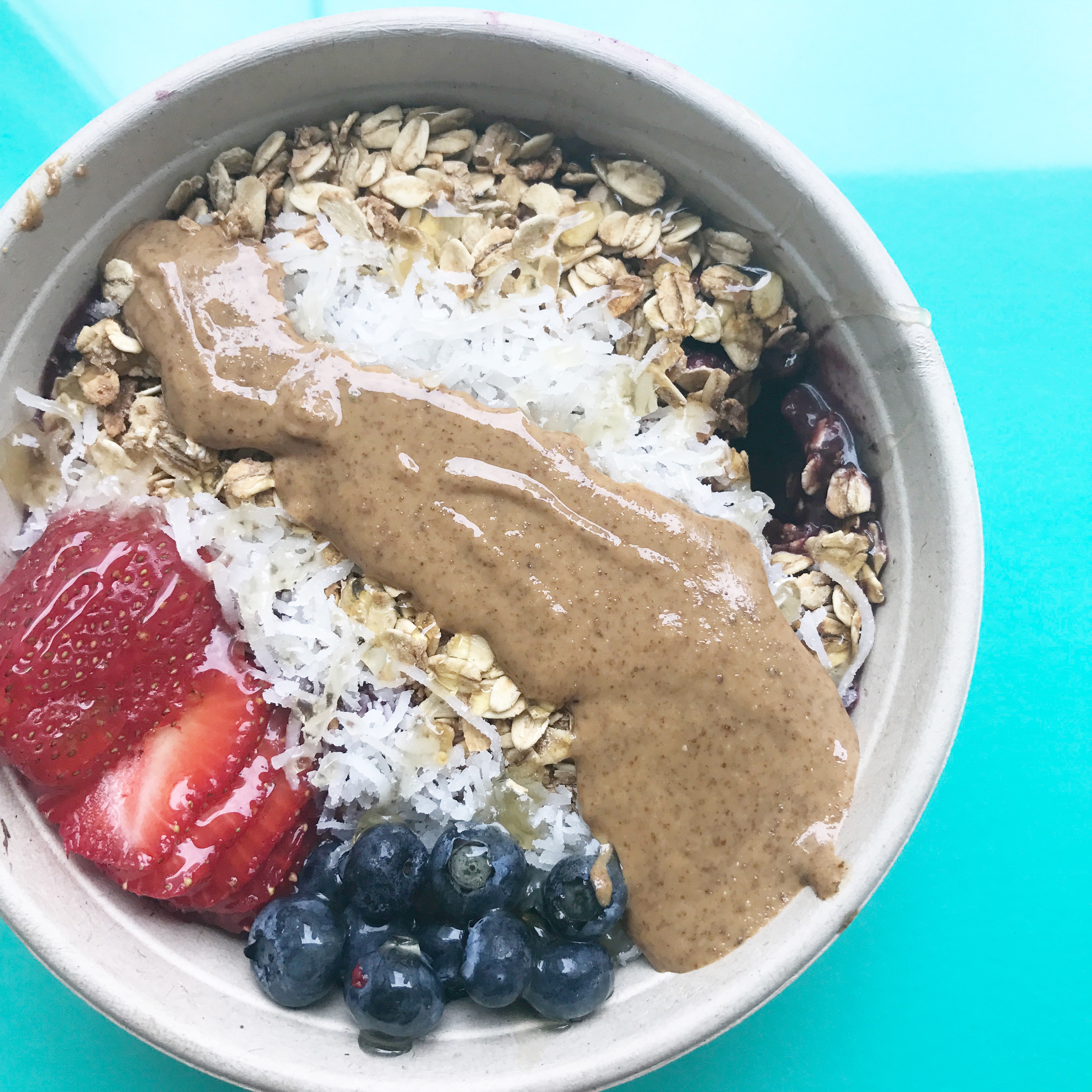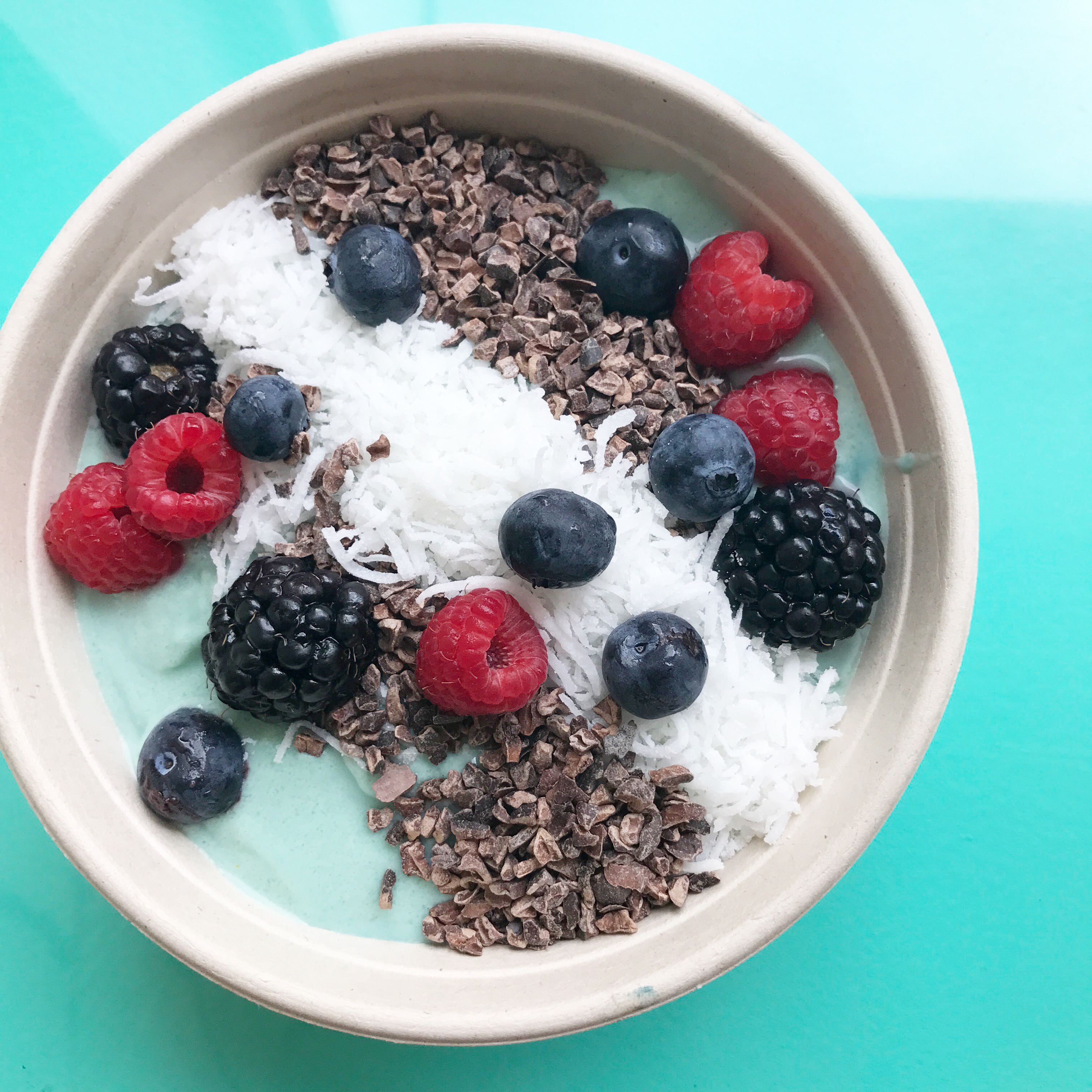 Fresh – 4 vegetarian restaurants throughout Toronto. I am in love with their sweet potato fries and squash tacos.  They also have awesome fresh juices.
Ruby Watchco – This is the restie of Chef Lynn Crawford of The Food Network's Pitchin' In and she's also been on Restaurant Makeover and Iron Chef.  She sets a four-course menu out for each day of the week, and dishes are served family style.  I recommend checking the menu for the week and pick the day of your favorite menu to make a reso on.  A highlight for me was meeting Chef Crawford as she was plating dishes before they went out for service.  And the cheese course was served with rosemary honey from her property!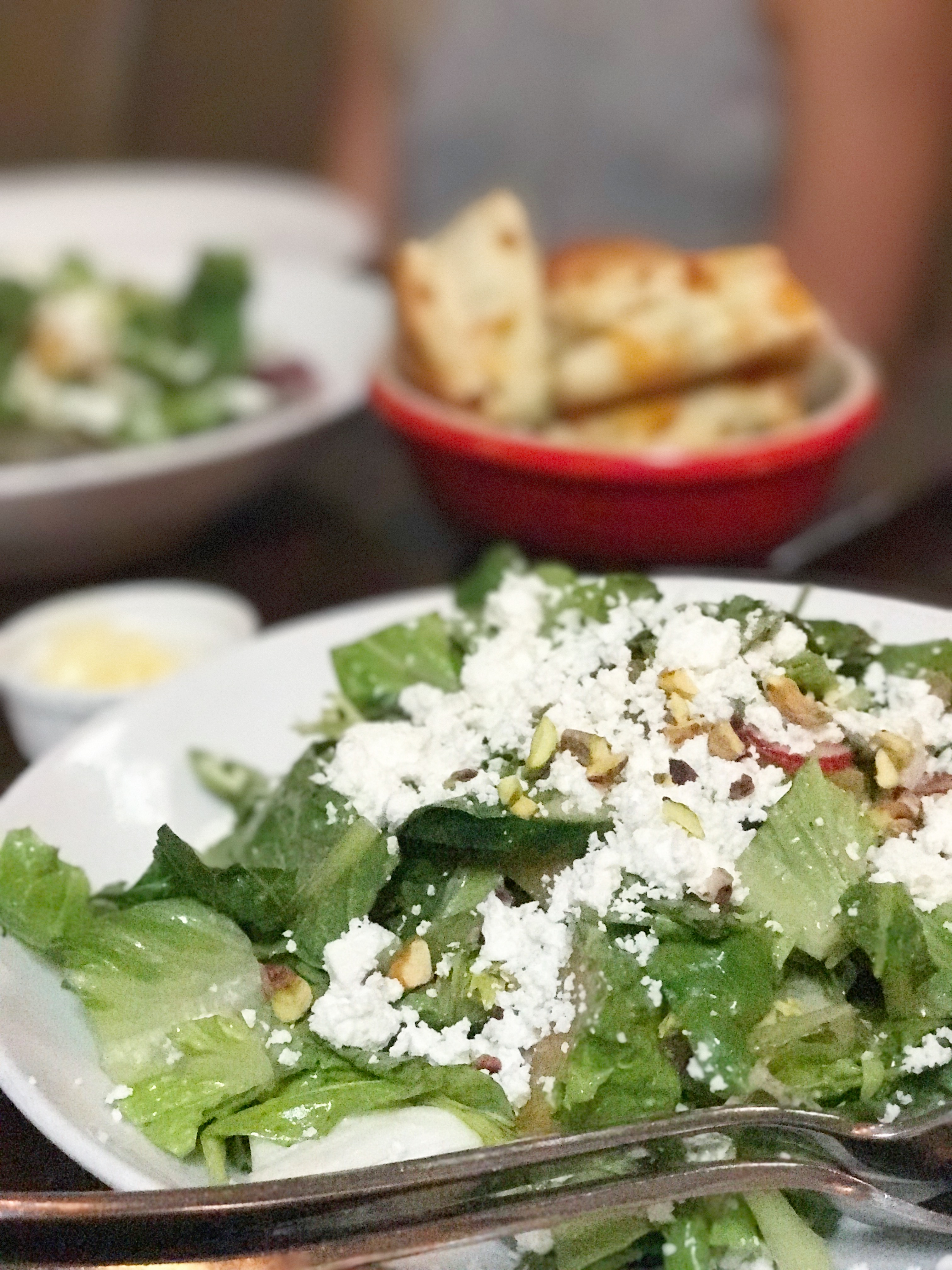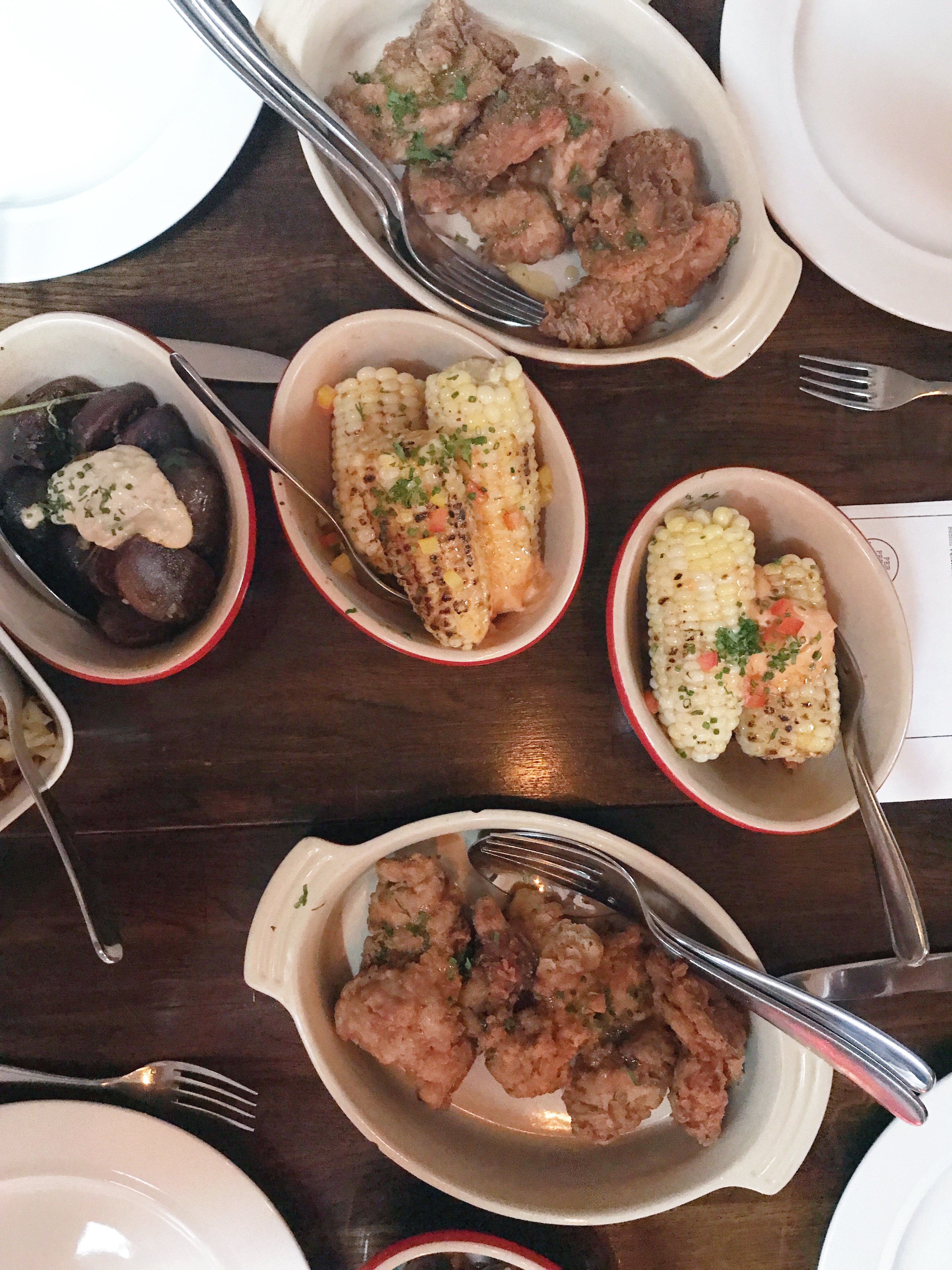 Saturday Dinette/Kid Chocolate – I have to mention Saturday Dinette here as it was probably my ultimate favorite brunch spot in Toronto.  I found out just before my last visit that they were closing due to landlord issues.  I had friends and family messaging me when they saw it on Instagram….that's how much I loved the place.  I did run into the owner, Johnny at Hailed, and he mentioned that they are opening a lunch counter, Kid Chocolate, just a few doors down in Riverdale and I'm hoping it will be open on my next visit!  Wishing you much success Suzanne and Johnny!
White Lily Diner– this new diner in the east serves all day breakfast.  The buttermilk griddle cakes with sour cherries and cottage cheese remind me of blintzes…so good!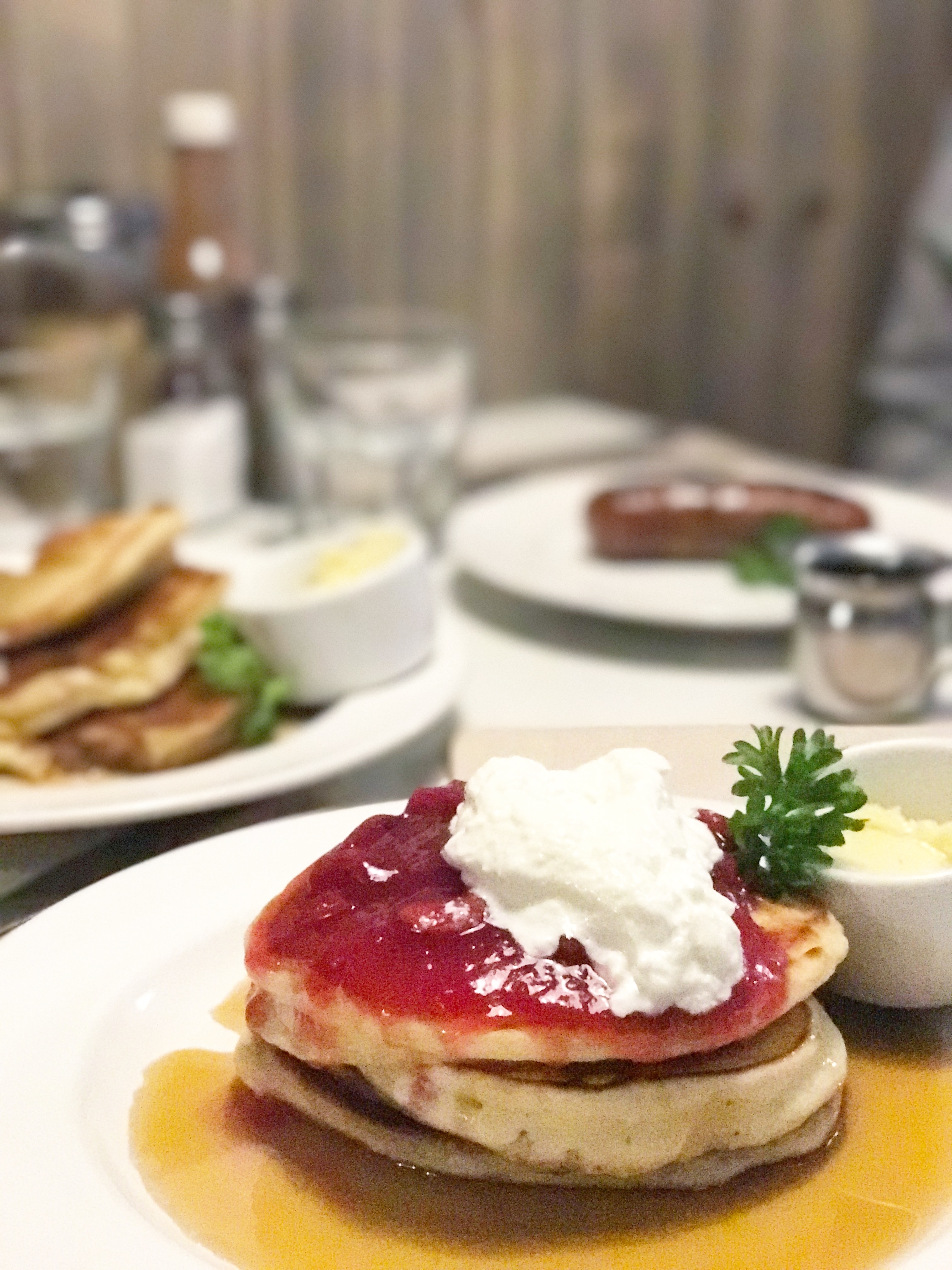 Gio Rana's Really Really Nice Restaurant, aka The Nose and when you walk by you will know why! I love the butternut squash stuffed crepes with sage butter and also the gnocchi.  We sometimes add the shaved Brussels sprout slaw with pancetta so we get our greens in!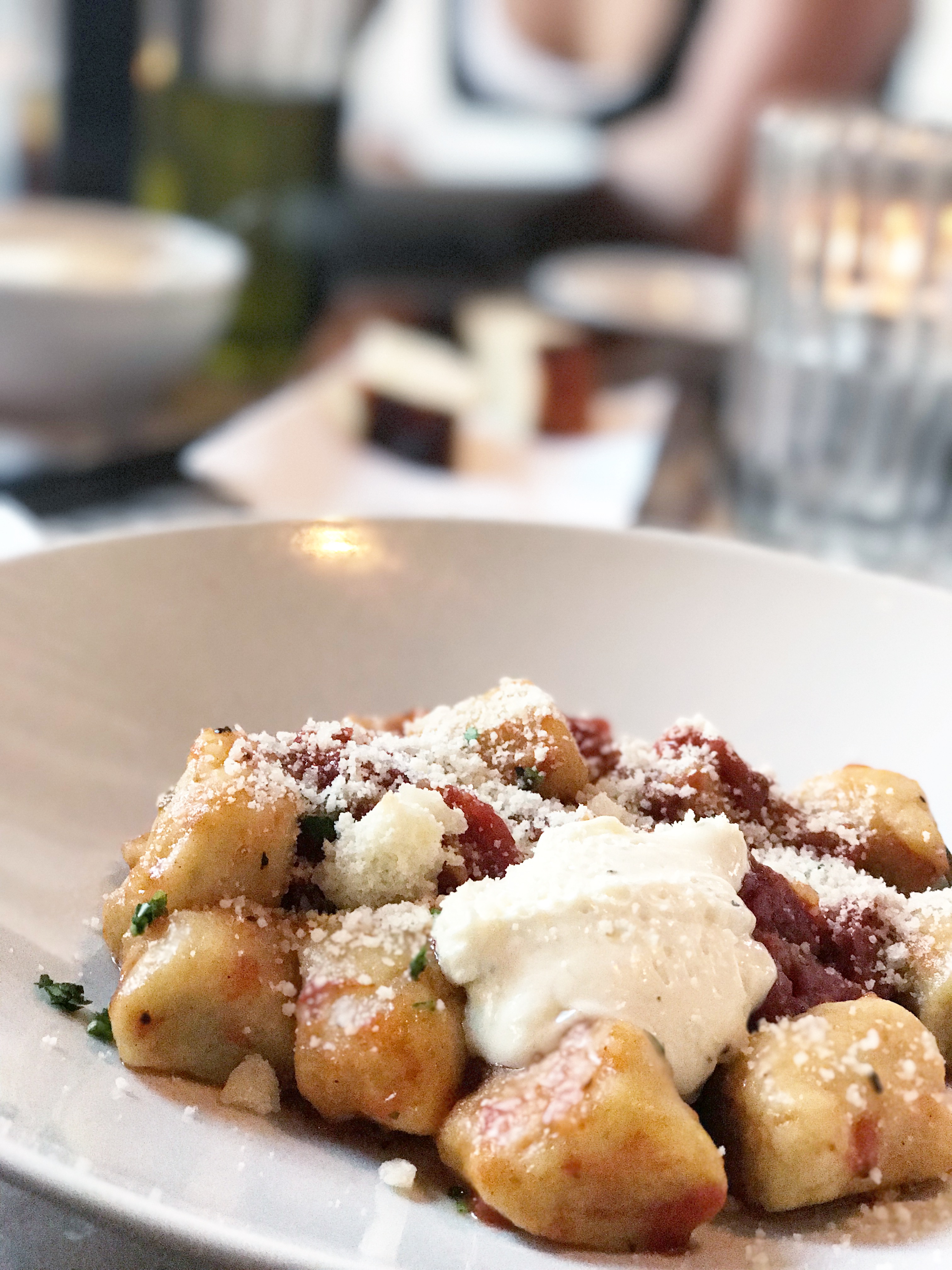 Mean Bao – they have locations both on the east and west sides.  The pork belly bao and shrimp dumplings are my picks.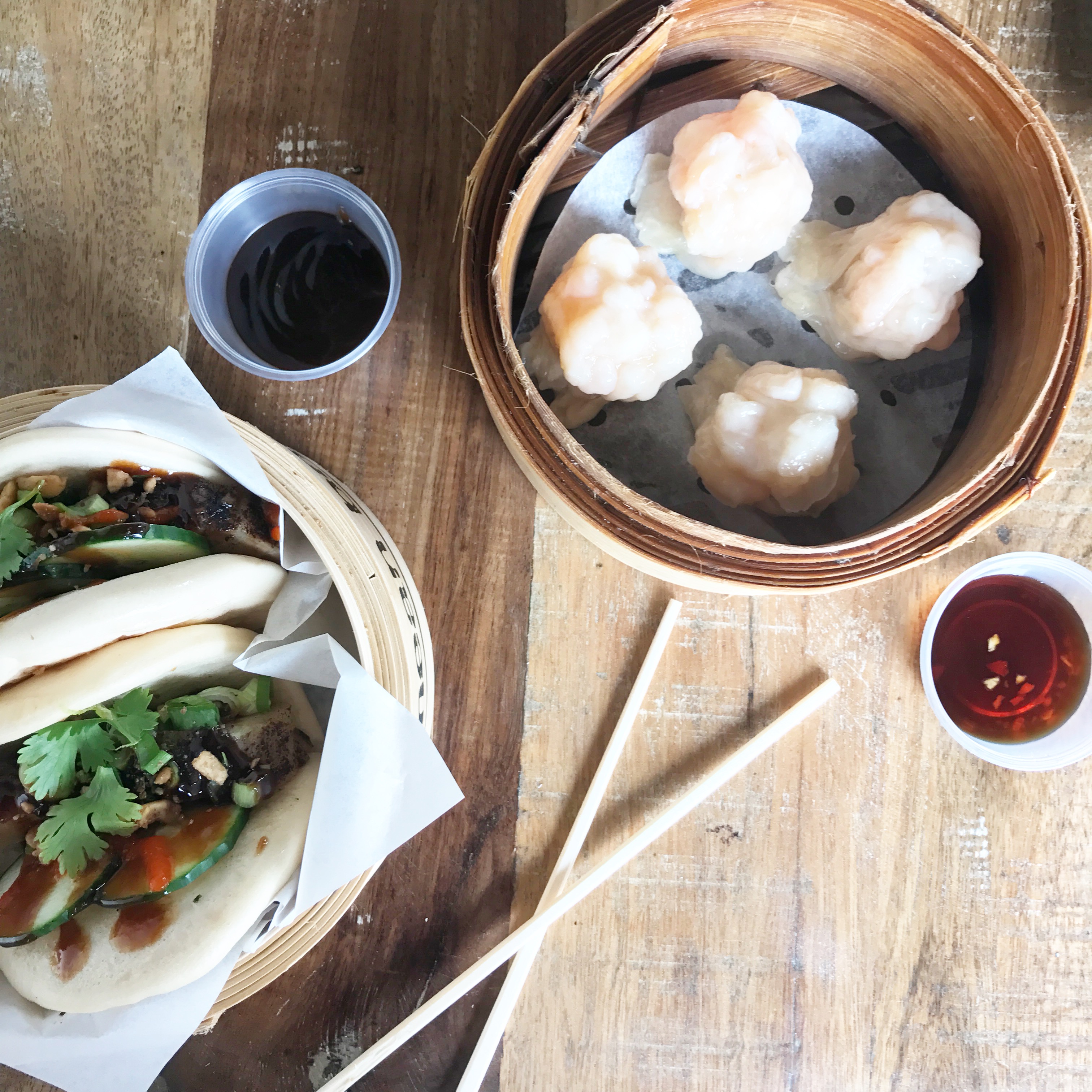 Il Fornello – with 6 locations in the greater Toronto area, it's my fave spot for pizza.  I always order the Pizza Fichi which is topped with mascarpone, prosciutto, fresh figs, shaved parmigiana, honey, and arugula!  Ahhh..soo good!  And they also have gluten free pizza crust.
This is by no means an exhaustive list…just things that I've tried and loved.  And now I'm on a sugar detox plan…seriously!  There really is so much amazing food and coffee in Toronto and I do indulge when I'm there!  What are your TO faves?