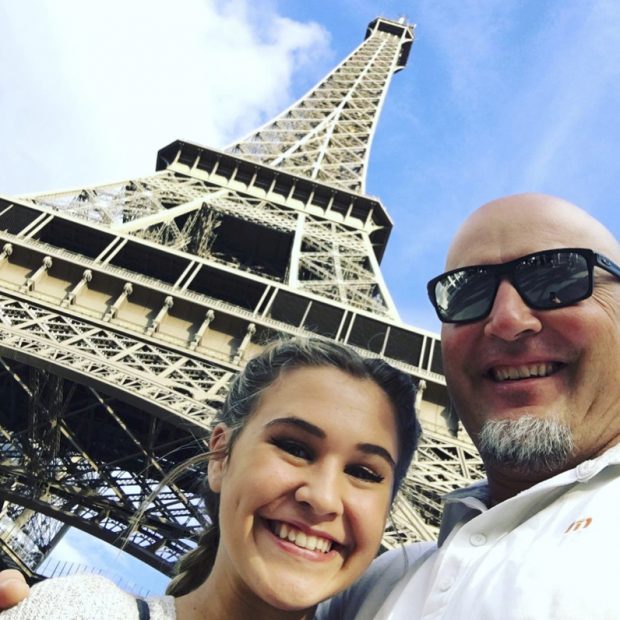 Today is super awesome because we get to introduce you to one of our friends who is clearly well qualified to share some Father's Day gifts that the man in your life would love. ps. I thought it appropriate to open today with a photo of my guy doing what he loves best: spending time with his kids!
Pam and I met Jon just over 2 years ago. Apparently we sisters and our friends hung out at Starbucks enough to be on a first name basis with the baristas ha! I'll never forget the day that Jon brought out treats for all of our table to help celebrate me finishing my chemo treatments. Ummm..so next level! In addition to being an all around great guy, Jon has incredible style and his brand The Road to Dapper has grown like crazy. It's clear that there a ton of guys that care about style…and he's helping em get there! We knew Jon would have some awesome suggestions for Father's Day!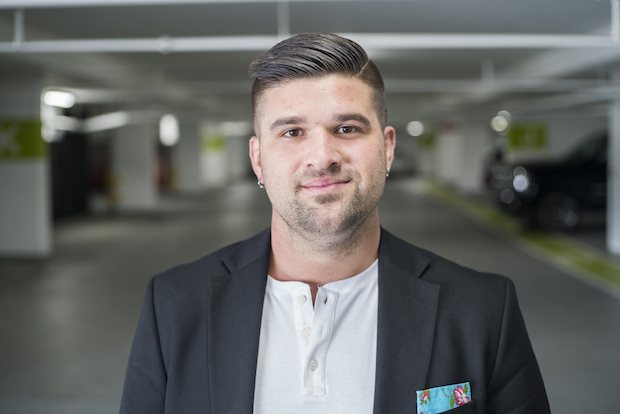 Hello! I'm Jon from the men's style blog The Road to Dapper. Pam and Laurel helped out us guys over on my site with a great Mother's Day gift guide; and I am here to return the favour!
The perfect Father's Day for me is when I can get outside and spend time with the family…after a great brunch of course. As a dad of young kids, I look forward each year to receiving handmade cards and art from the kids. If you want to treat your dad to a gift, here are some of my suggestions.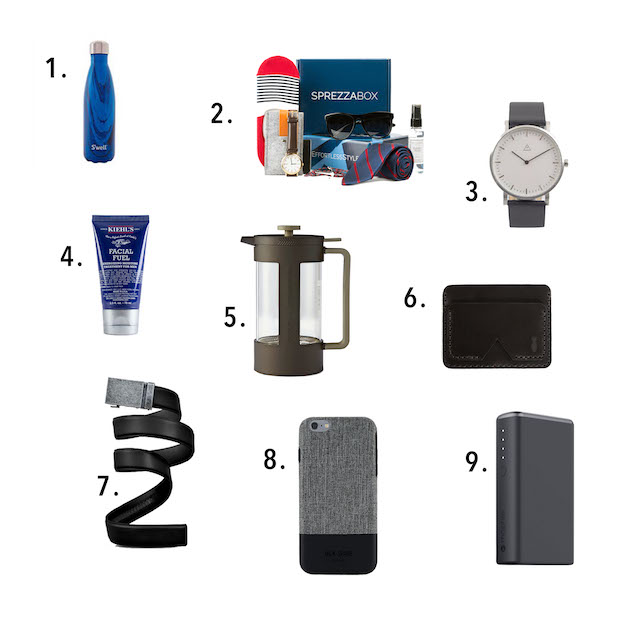 1. S'well Bottle
If your dad doesn't have a S'Well Bottle yet, now's the time to get him one. Not only are they metal and withstand getting dropped in the driveway while loading the kids in the car, but they come in a variety of colours, patterns, and sizes. They keep cold drinks cold for 24hrs and hot drinks hot for 12hrs.
2. SprezzaBox 
A tie is a classic Father's Day gift. If you want to keep your dad or that special man in your life looking dapper all throughout the year, check out SprezzaBox. It's a monthly subscription box that sends him 5-6 curated items each month – ties, socks, pocket squares, grooming products, and more! Use discount code: ROADTODAPPER for a 10% discount off your order
3. Watch 
Minimalist watches are super popular right now, like this one from Medium Watches. I love Medium Watches because they are a Canadian company – love supporting Canadian brands! Use discount code: ROADTODAPPER for a $25 discount off your order
4. Kiehl's Facial Fuel
This Kiehl's Facial Fuel is a part of my morning routine – and moisturizer is something that lots of guys overlook (like I did for many years).
5. French Press
A well caffeinated dad is a happy dad. French Press is one of my favourite coffee brewing methods. It creates a full-bodied cup of coffee. And while you are picking this up, grab him a pound of coffee too – my favourite is Komodo Dragon from Starbucks.
6. Wallet
Does your dad's wallet look George Costaza's from Seinfeld? Help him declutter his wallet (and help his back out at the same time).
7. Belt
When I was first introduced to Mission Belt Co. – it changed my life. Literally the perfect fitting belt because it doesn't use the traditional hole system. I have two of these belts and wear one every day.
8. Phone Case
Protect your dad's phone in style. Jack Spade (the men's version of Kate Spade) is one of my favourite brands for bags and accessories. This phone case keeps dad's phone protected and looking stylish at the same time. I resisted phone cases for a long time…until I found this one.
9. Portable Charger
Last but not least, your dad needs a portable charger to keep his tech going all day. This one from Mophie is great because it provides two full charges and doesn't take up much space in a bag or glovebox.