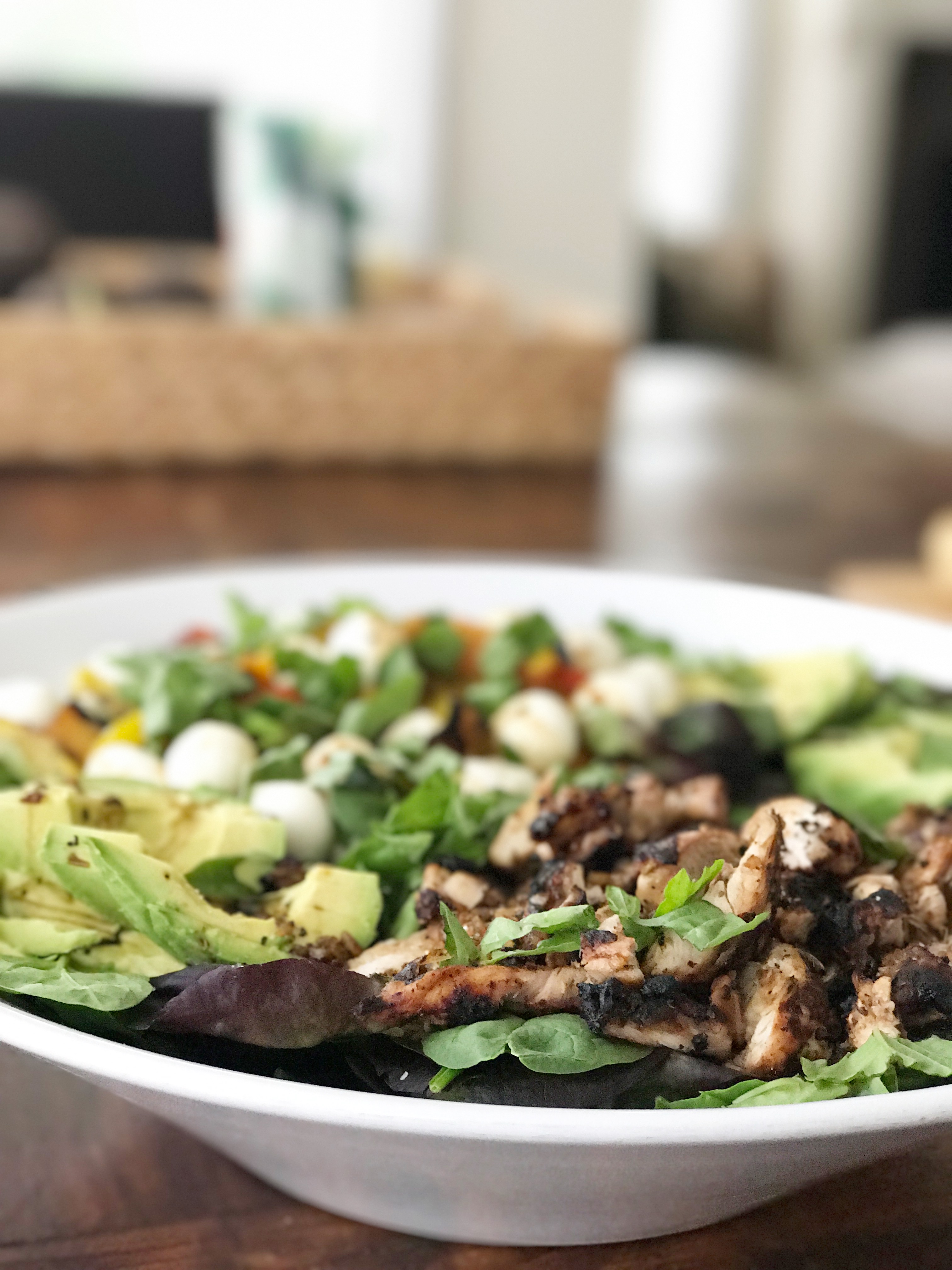 You may not know that Laurel and I live on a pepper farm.  That's right…we are farmers…well, sort of!  Laurel's hubby manages the greenhouses that the peppers grow in.  35 acres under glass.  So, we eat a LOT of sweet bell peppers….red, orange and yellow!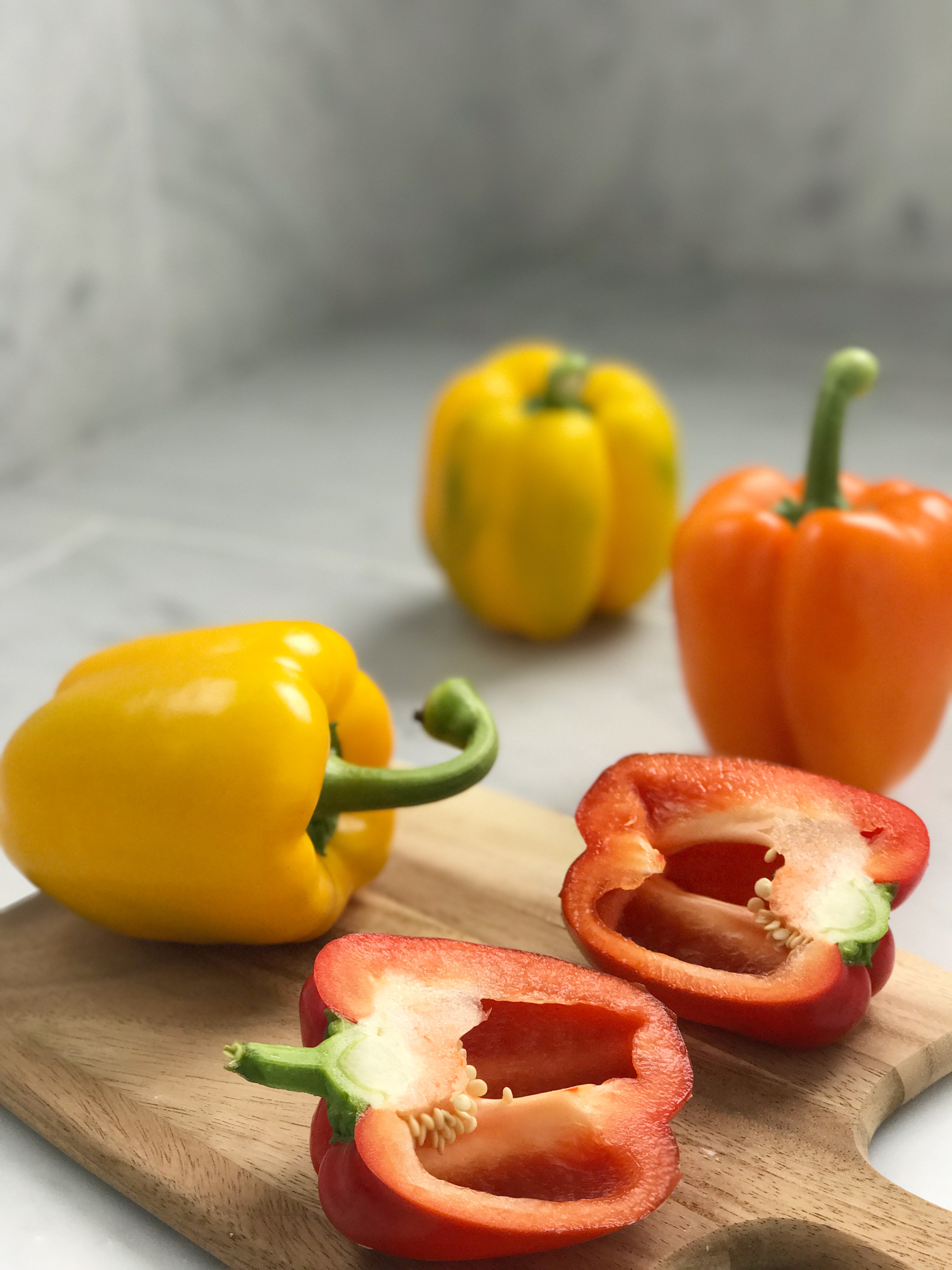 We LOVE them and they are so good for you!  Bell peppers are high in Vitamins A and C, both strong antioxidants. Did you know that the average red pepper has 3-4 times the vitamin C of an orange?  Red bell peppers are one of the few sources of lycopene, which scientist studies have shown to be helpful in preventing prostate cancer and cancers of the cervix, bladder and pancreas.  You can read more about the benefits of peppers here.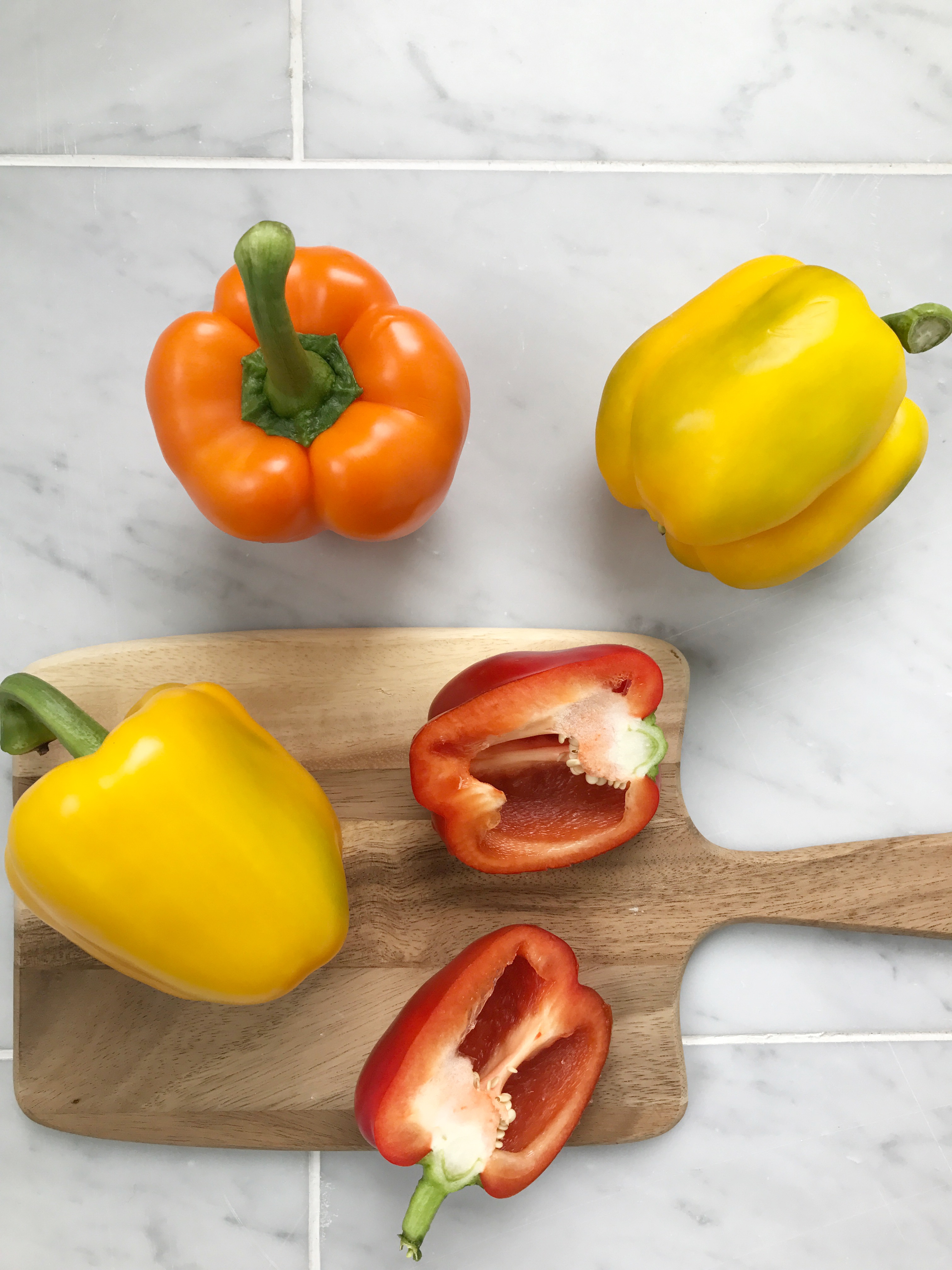 But sometimes I get in a rut with pepper recipes so last weekend I cruised around Pinterest for some inspiration.
I came across this recipe for Chicken Avocado Caprese Salad.  I love tomatoes, but Mac cannot deal, and I found another pin that suggested using grilled peppers in place of tomatoes in a caprese salad.  So, that's exactly what I did.  I cut the peppers in half and cored them.  Before grilling I brushed them with a little bit of olive oil and added salt and freshly ground pepper.  You can barbeque the chicken and peppers at the same time.  The peppers need about 5 minutes per side.  Once they are cooked, slice them and add them to the salad in place of tomatoes.   Laurel's hubby Scott will appreciate this too!  He's been known to say he has a tomato allergy at restaurants to ensure they omit the tomato slice on his hamburger!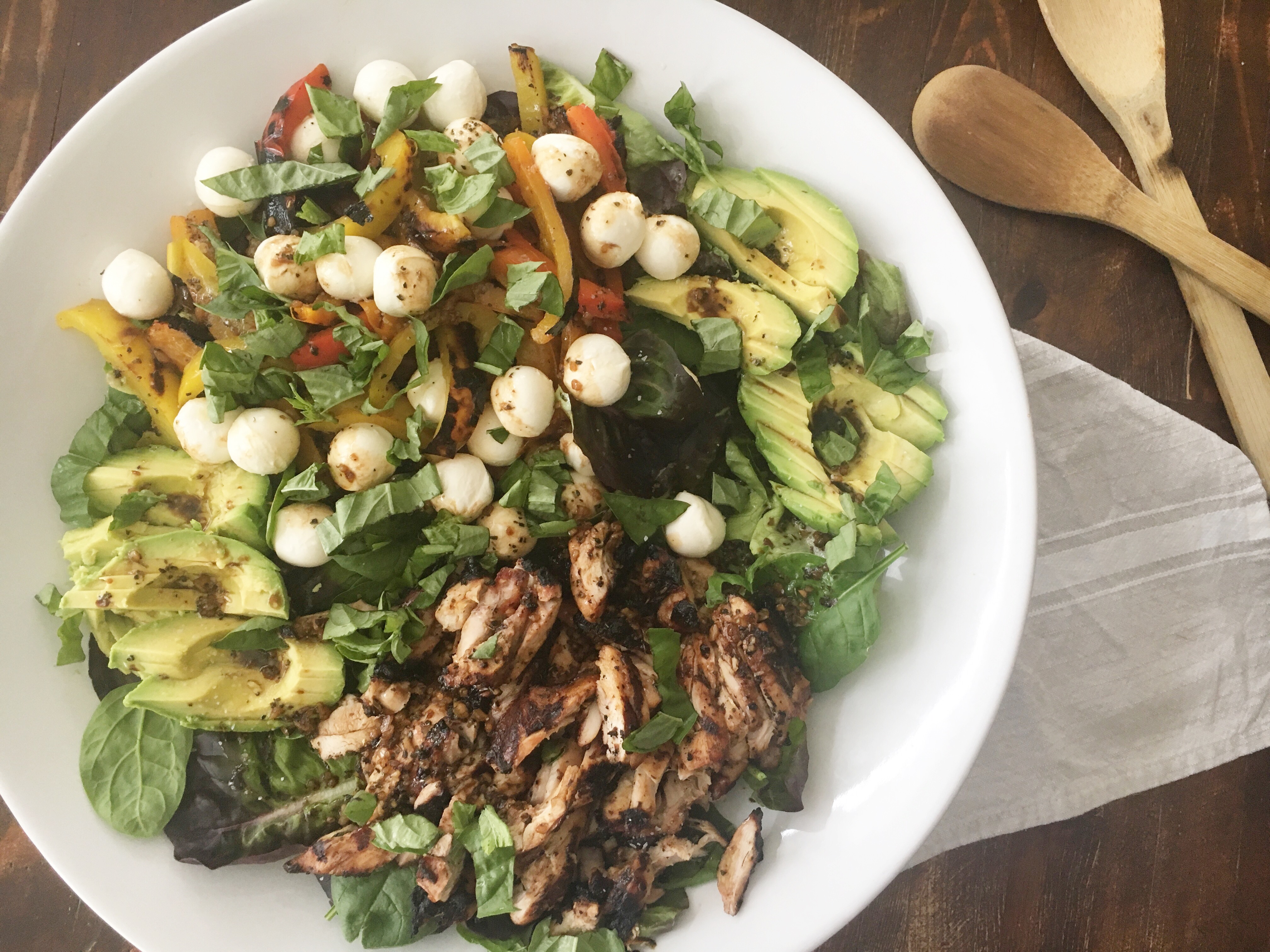 This salad makes a nice light dinner, perfect for the long weekend coming up.  Hey, it's almost barbeque season!  It's made up of all fresh ingredients and the prep time is minimal.  The mixture you make for the marinade is the same as the dressing…you use half for the chicken and reserve half to use as the dressing.  I used honey instead of the brown sugar as a healthier option.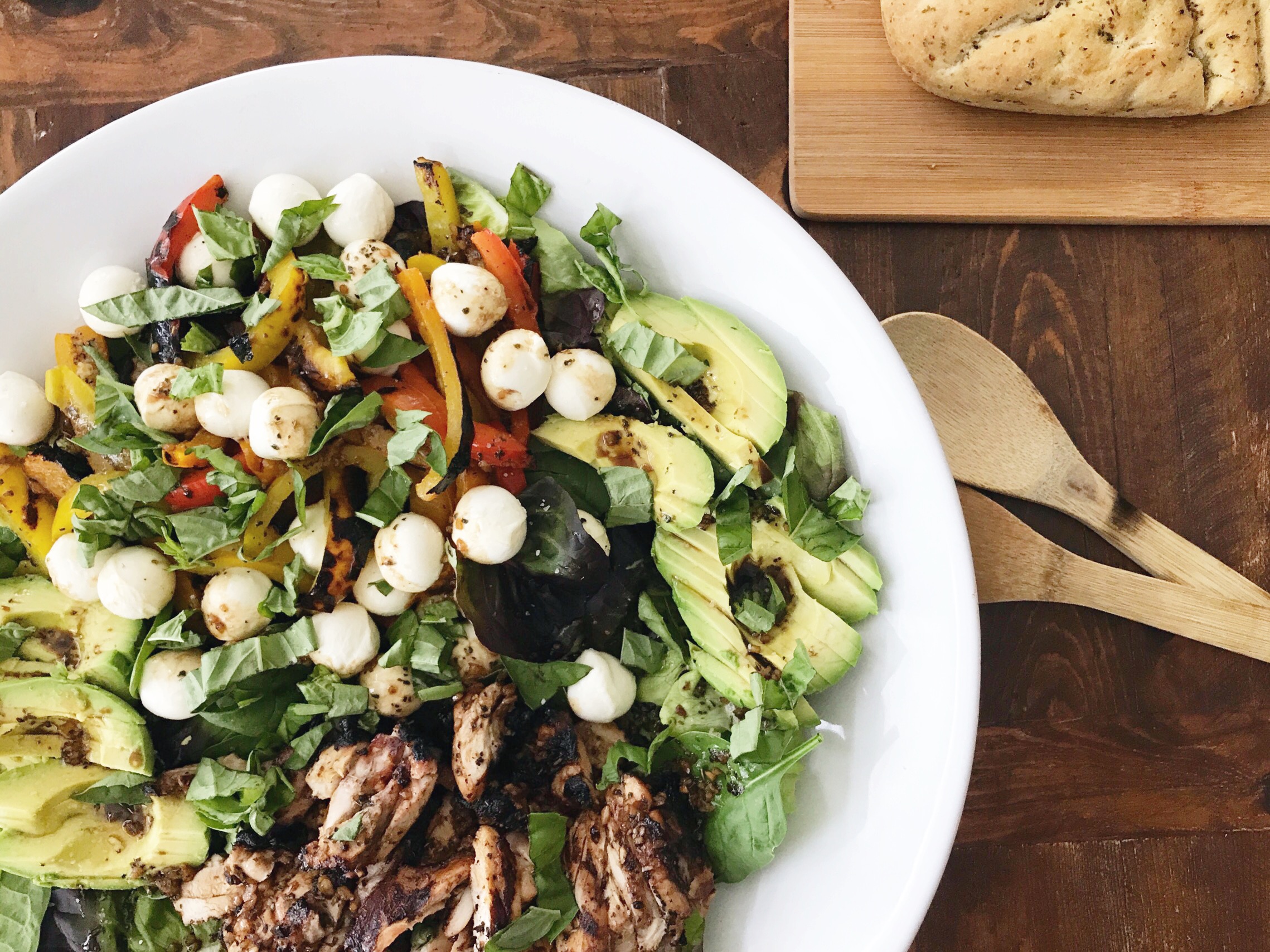 I served this with some warm focaccia.  You could also add some cooked quinoa to the salad for some healthy carbs.
This one bowl, healthy salad meal will definitely be on repeat here in summer as you don't need to even turn on the stove.