I am super excited to introduce you to the next two moms that we are featuring in our series A Month of Moms.  I have known both of these amazing ladies for a long time.  Jana is my sister-in-law and we are actually doubly-related.  Jana is Jason's sister, and she married my brother Mark.  So brother and sister married sister and brother.  That makes our kids double cousins…and it's all legal, trust me!  I met Karla back when I was in high school when she moved here for California and were a part of the same church.  Both of these ladies have very different journeys when it comes to motherhood.  I so admire them and their willingness to be so honest and open and I know that you will feel inspired reading their stories!  Enjoy!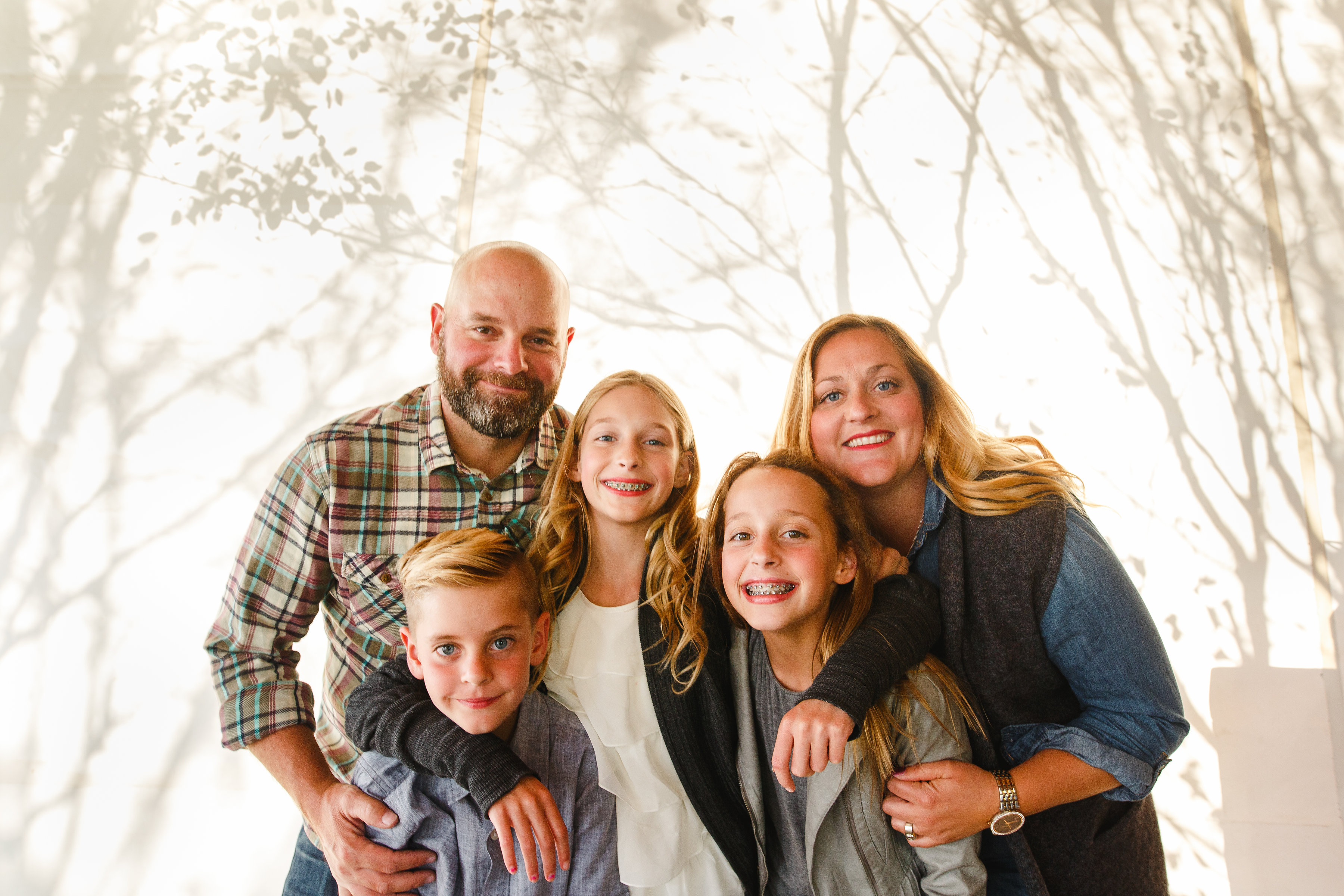 1.  Tell us a bit about your kids.
I have three kids whom I call "my little lambs". They are a blessing to me in so many ways.
Stella- My determined, passionate, funny girl, who has a real passion for sports, animals, and Jesus. She is wise beyond her years, and is very intellectual.
Hayden- I would consider her my "water off a duck's back" kind of child. She will not take a break when given a task to finish, but doesn't find stress in this. She rolls with the punches and is very warm and caring.
Griffin- Strong minded and stuck in his ways. If you say it can't be done he will show it can. He is a hard worker. At the age of two he enjoyed working rather than playing. He much prefers to shovel snow that to play in it.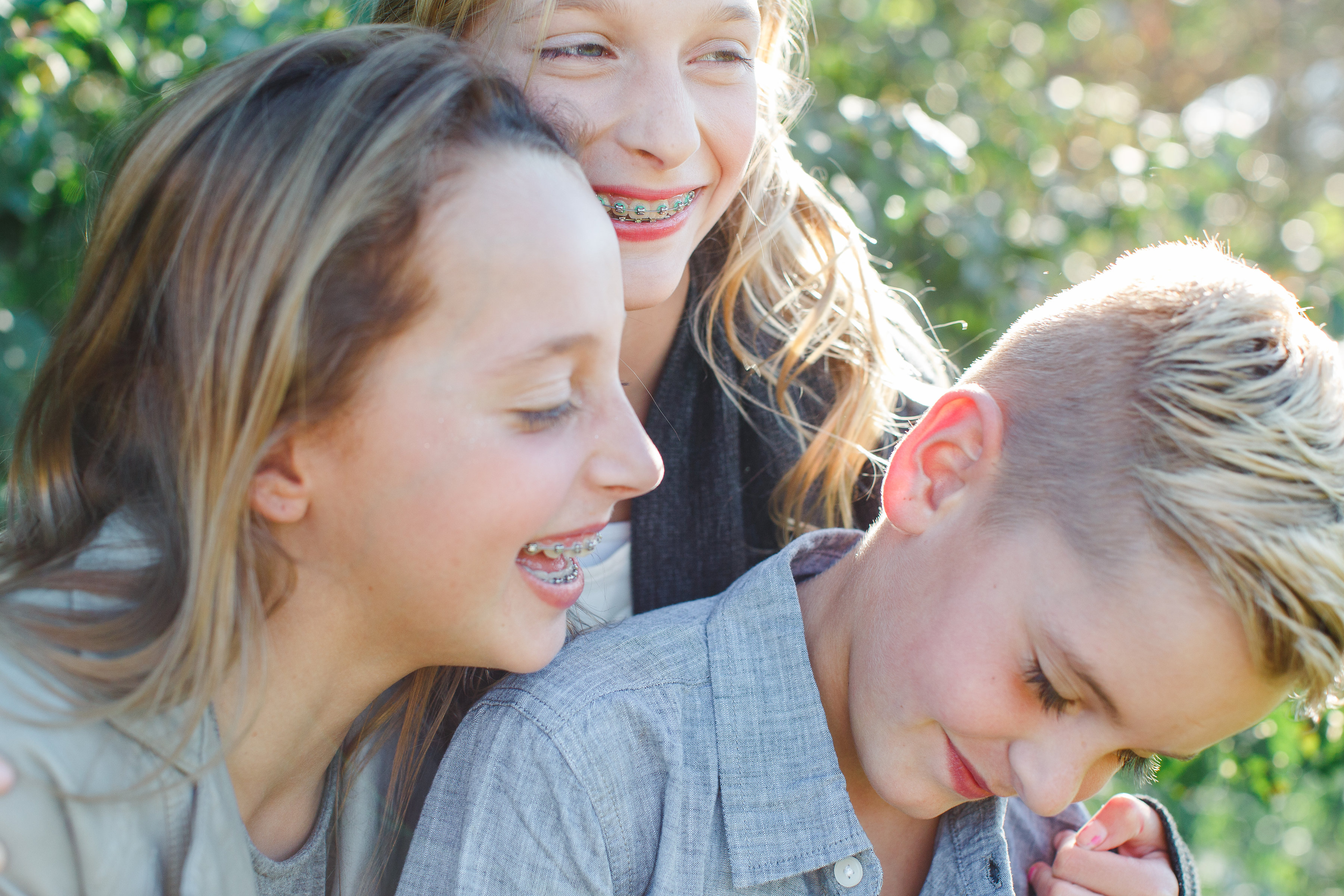 2.  You were raised many years by a single mom.  How do you think that has shaped the mom that you are today?
There is quite a bit of shaping that can happen when being raised by a single parent and not all shaping is good. In my case my mom was one of the best at this big task of single parenthood. She modeled a never ending faith in the Lord, especially when times and finances were tough. I learned to persevere in any aspect of parenting. I learned that a mom is capable of doing anything. I saw her as superwoman: changing light fixtures, mowing the lawn, running a business and keeping our house warm and cozy.  She had to be mom, dad, and everything in the middle. She took the time to do the extras so that we didn't feel different from other kids. She spent endless hours teaching us to love ourselves and to know that we aren't worth less because we "came from a broken home".  I never saw us broken, but rather whole and healing from our circumstances.  I think the biggest thing that I took from my mom's mothering and am using it to mother my own kids is to keep my kids tanks full no matter what the cost. Each of my kids have different emotional tanks that require filling every now and again (my middle ones tank needs to be filled more often than the other two).  To figure out what makes my children tick and then to keep that going is a fulltime job, but I'm up to the task because I learned from the best. I remember my mom always making sure we talked things out and never kept anything in. She worked full time to make ends meet, she was tired after a long day at work and I'm sure she just wanted some peace and quiet and yet she would take whatever time it took to make sure we were emotionally good and our tanks were full so that the next time something tried to offend us we were ready to deal with it. This history of being raised by a single parent has taught me to have compassion for those that have gone through divorce.
3.  From your perspective, what are some of the toughest things about being a single mom?
In my opinion the toughest things about being a single parent is the absence of the second set of hands to help with all aspects of parenthood, finances can become such a burden, and then the part of raising kids where is it so important to have both parents to play a part in your child's upbringing.  Some parents can work well together even if they "aren't together" and then there are the parents who can't or one isn't willing. In those situations you try to be both mom and dad and it's tough.
4.  What is the best thing about being a mom?
For me the best part of being a mom is really just watching them grow and learn. When they overcome a hardship and they can be excited for that. Add hugs and conversations to my last point and there you have it–the best part of being a mom.
5. What is one thing your mom did in parenting that left the biggest impression on you?
My mom's greatest impact on my life was the never ending desire to fight for us when we needed to be fought for. When things looked dark and dismal she kept going and fighting. I sometimes wonder how she never gave upon herself and us, but then I go back to her faith and I know why she didn't quit.
6. You went through a hard time in high school — how can you protect your kids from the sometimes tough teenage years?
Going through a difficult time in high school isn't hard for me to talk about, what I find difficult is the answer to how to protect my kids from making the same wrong choices. But when I look at myself today I think that the tough times I went through have helped make me who I am today. I pray that I can use what I went through to help my kids navigate some of the tough choices, to make sure they know that no matter what they do, they are loved and that forgiveness is never ending, and grace flows freely.
~~~~~~~~~~~~~~~~~~~~~~~~~~~~~~~~~~~~~~~~~~~~~~~~~~~~~~~~~~~~~~~~~~~~~~~~~~~~~~~~~~~~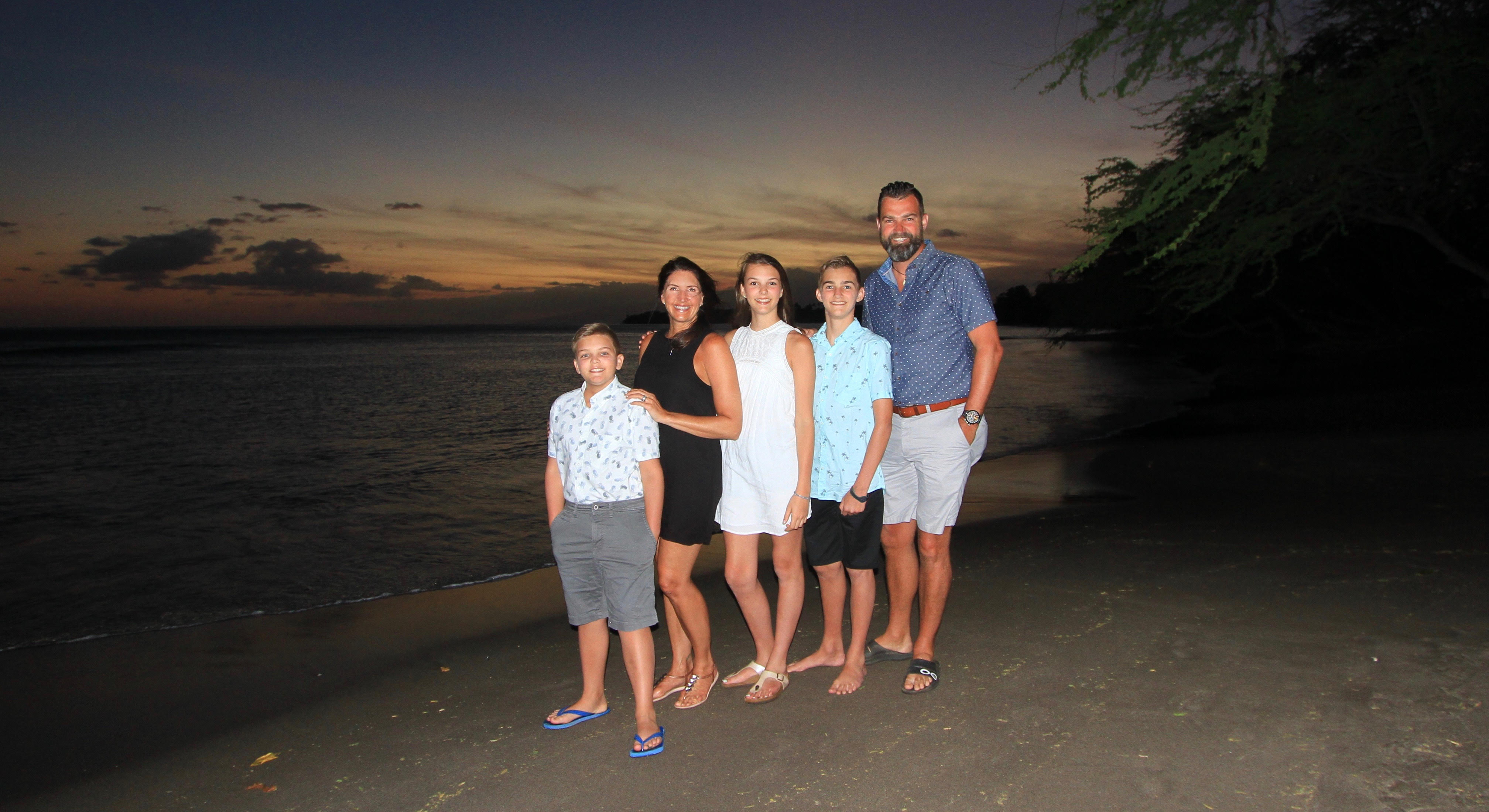 1. Tell us a bit about your kids.
Karli is 26 years old now (cannot believe it)! She was 7 when I married my husband. We have 2 sons and a daughter together. Riley is 14, Maya is almost 13 and Brody is 11. They all have their own unique personalities & ideas and we are enjoying teaching them about life and how to make their way in this crazy world we live in. Karli is a free spirit living on her own in Vancouver. She has studied for and is currently working in the hospitality business.  Riley is our "no fear" son. He likes to climb higher than others, bungee jump, explore new areas and he also enjoys video games ( a little too much). Maya loves art and all things bright and beautiful. She plays basketball, volleyball, and is active at school. Brody is the youngest and therefore the entertainer. He plays hockey and basketball. He is a deep thinker and has a wit that makes any experience with him very memorable. He has a direct social connection with anyone he meets, which is magical to witness.
2.  You became a single mom at the age of 19.  What were some of the struggles and the joys?
Teenage pregnancy is an unexpected and life-changing situation. Before I shared my pregnancy with my parents there were many options thrust at me. I struggled with the decision of adoption but ultimately decided to parent my daughter since I had such a strong support system. I could not imagine myself as a mother but when she was born I just fell in love with her the second I held her in my arms. My parents were a huge support to me and were happy to have an adorable new granddaughter. I went back to my full time job when Karli was one month old. Life was very busy and lonely at times. I spent many many evenings cross stitching and watching movies the first few years but I eventually made some good friends and was part of a single moms Bible study at my church. I made many mistakes along the way learning how to be a single mom in my 20's, balancing full time work, motherhood and a social life but I have so many great memories of Karli and my first years together. We took road trips together, went to Disneyland and had tea parties in Grandma and Grandpa's backyard playhouse. Motherhood can be a joy in any situation!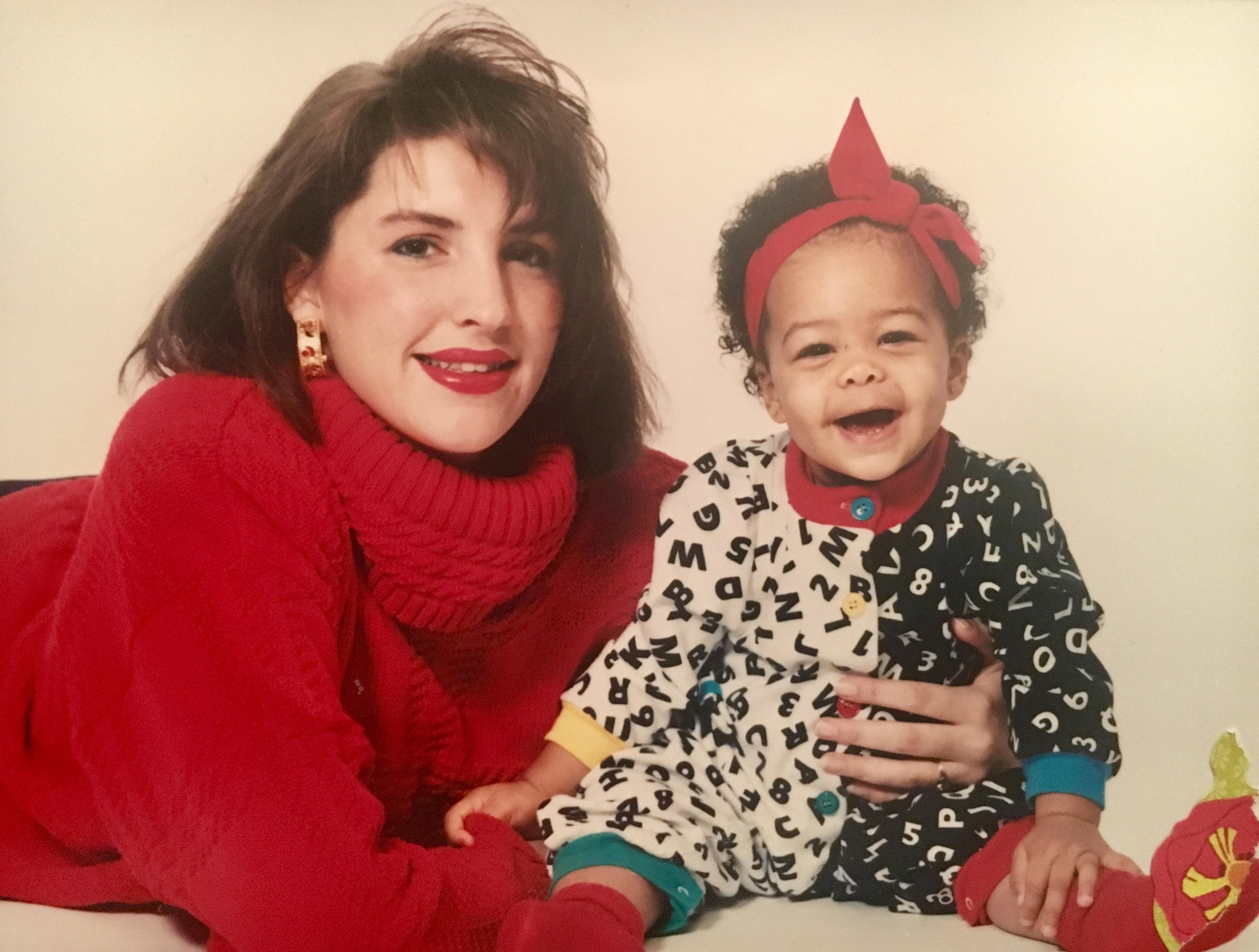 3.  What advice would you give to a teenage girl that is expecting?
If you are a teenage girl that is expecting, you have a lot more learning to do! Life is not over, just starting earlier. Educating yourself on your options is so important. Make sure you can find a strong support system to guide you through your decisions. I had some strong Christian women & my parents around me and I also an amazing pregnancy counselor at Hope Services that was so beneficial.
4. How you do think becoming a young mom shaped how you parent today?
There is no ideal time to become a mother, life throws us all curve balls in different ways…..mine just happened to be an unplanned pregnancy at 19. I had to own the timing of the pregnancy in my life I and take responsibility. . Karli was NOT a mistake and I had to trust God with my decision to parent her. I think as a mother there are so many worries and stresses that we all have, and just learning to trust God that He has a plan for our kids lives and we are there to guide them through it with love and discipline. By the time I was in my early 20's Karli and I had our routine going. She was such a fun easy going little girl, she loved to talk to people and we did everything together. I felt like I would just be a single mom for the rest of my life. Then along came this handsome, funny, amazing, passionate guy that loved my daughter and me. I was 27 when Menno and I were married and it is a memory I will never forget watching him put a ring on her finger also. Parenting hasn't always been easy, but we love all 4 of our kids and pray for their futures just as I did when there was only one.
5.   You have a teenage daughter…what advice would you give her about her teenage years?
This is a question I have been working on answering as my 2nd daughter is about to turn 13. Surrounding yourself with a strong peer group of Christian girls and positive influences is so important.  We are blessed to have her at a Christian school but I want her to be able to stand strong in her own beliefs and be prepared to battle the constant messages out there that "everyone is doing it" and that "it's not a big deal".  Everything you do has a consequence, good or bad. High school can be such a fun part of life and growing up but it is not "real life". We want to make sure she has the tools to go out into the world after school is over.
6.   I have to say that you look amazing and your skin always has a glow!  What are some tips for taking care of yourself and rocking the 40s?
First of all, thank you! Growing up in California I did some serious sun damage to my skin. Just before I turned 40 I got serious about taking better care of it. I lightly exfoliate daily and I have found that has made a huge difference in my skin, along with a great skincare routine, vitamins, lots of water and exercise. Some days I need too much coffee and getting more sleep is a constant battle. Maybe I will figure that out in my 50's!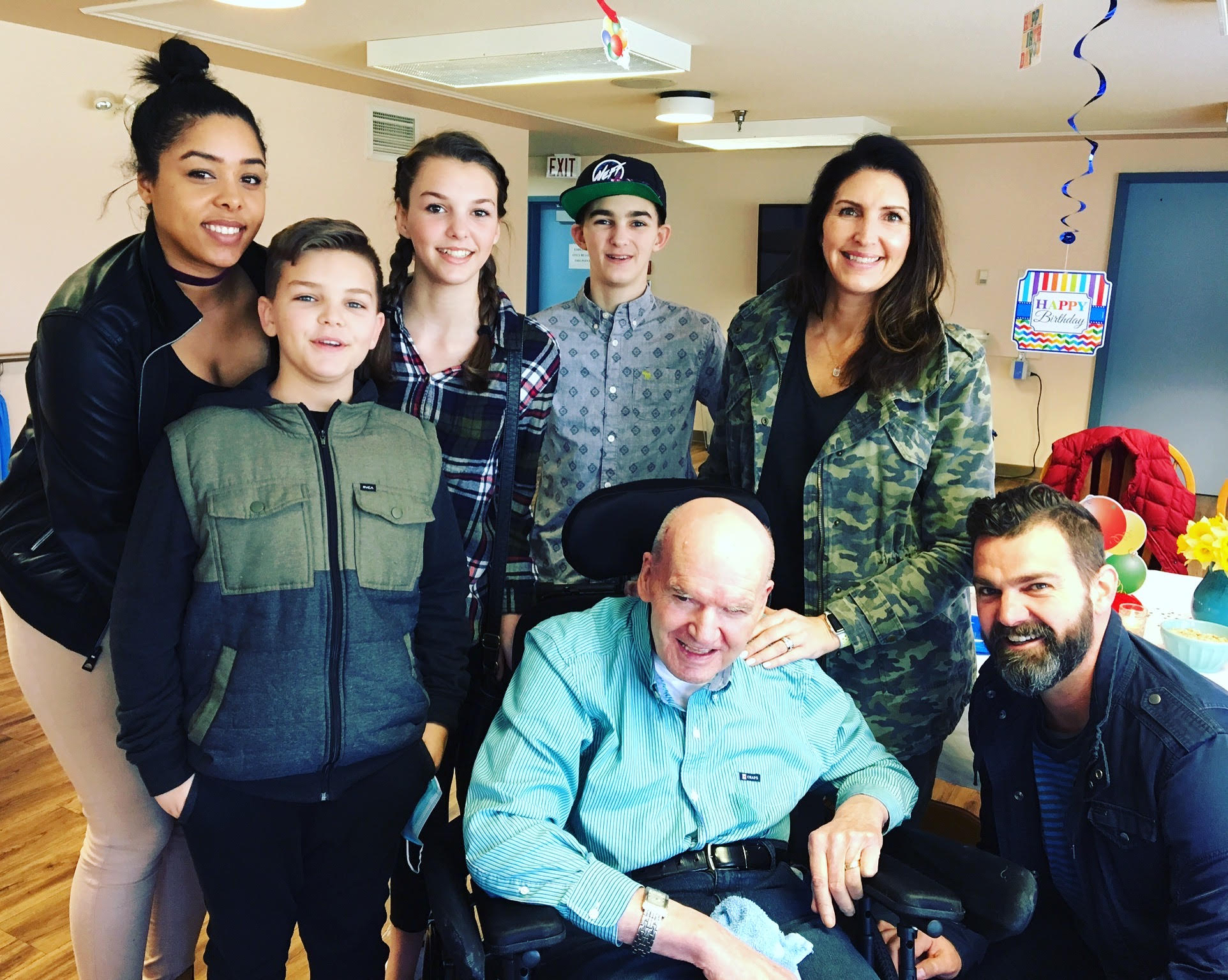 **This is Karla and her family with her amazing dad, Pastor Vern Heidebrecht.  He was very influential in my life as one of the most gifted preachers I've heard.  Pastor Vern also did premarriage counselling with Jason and I and also married us! ~Pam