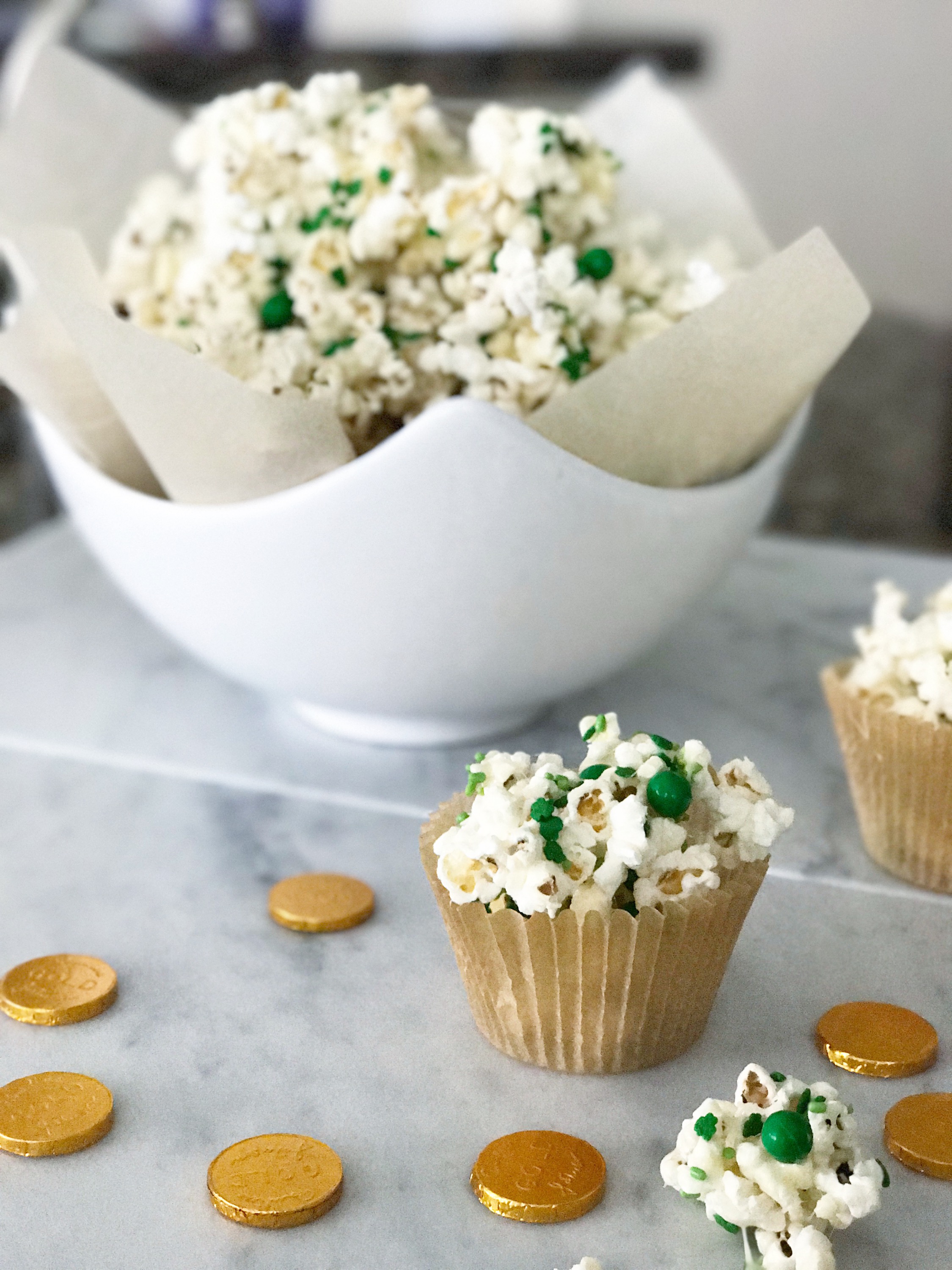 I don't make a huge deal out of St. Patrick's Day, but I do like to make a little treat for the fam…oh, and I do wear something green to avoid being pinched!  What could be better than combining our two favorite things…popcorn and rice krispie squares?!?  Basically you are putting the marshmallow mixture over popcorn and adding some candy and sprinkles.  Super simple and fast.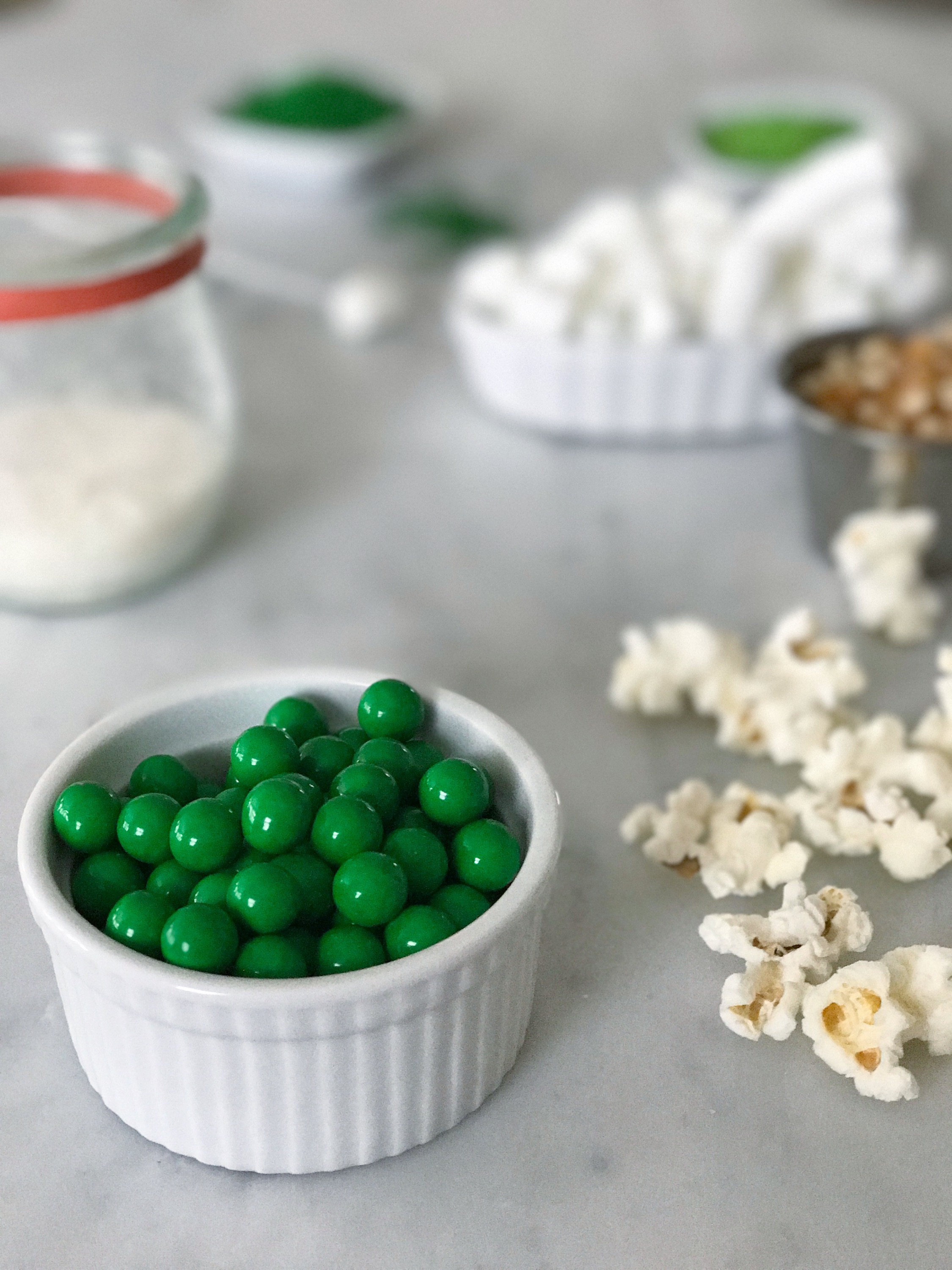 This recipe was inspired by Two Sisters Crafting.  Here are a few tips…I microwave my popcorn in a brown lunch paper bag.  Don't use more than 1/4 cup of kernels at a time!  Fold the bag over a few times and put a few rips in the top vertically.  This will keep the bag sealed without stapling it, which will cause sparks…don't do it!  I scooped the popcorn out of the bags and into a mixing bowl with a slotted spoon so that the unpopped kernels would fall through.  There's nothing worse the chomping down on one of those babies!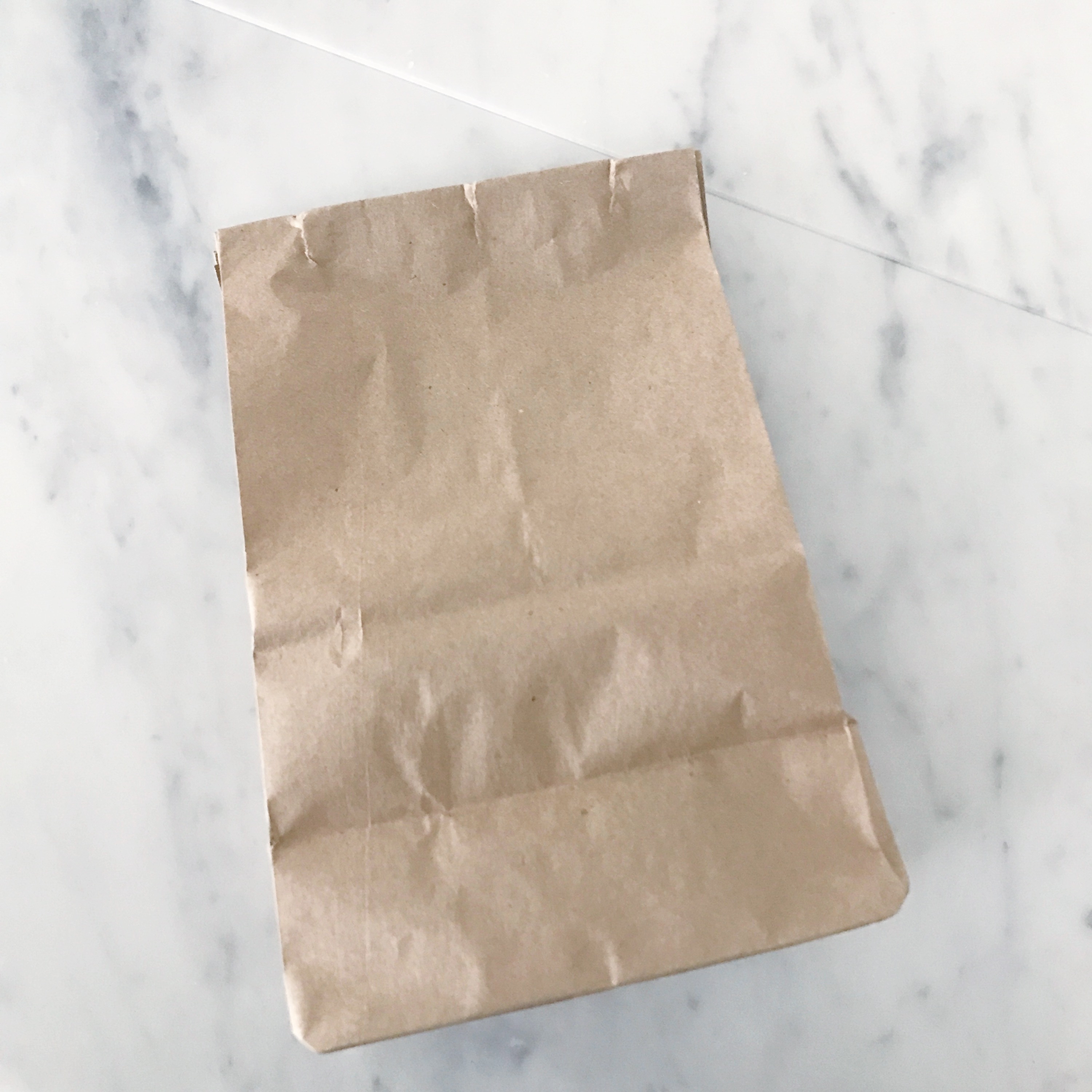 Make sure to add the sea salt…it really brings out the flavours!
I went to Scoop and Save to get the lime green jimmies, the shamrock sprinkles and the green sixlets, which are small chocolate balls covered in a candy coating.  Any cake decorating store would be a great place to find green treats to put in your popcorn!  Other ideas are green M & M's and Lucky Charms.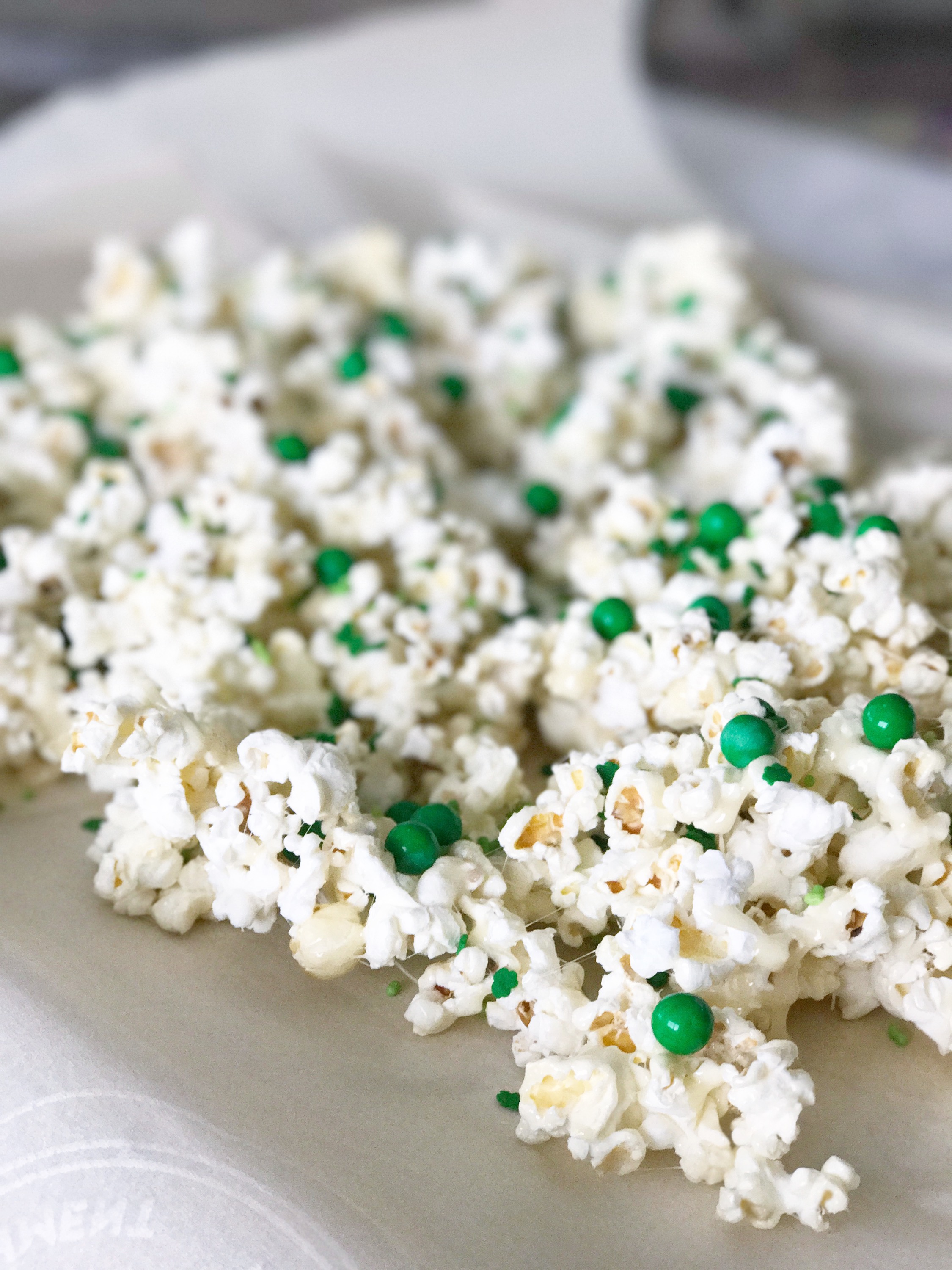 The real key to this recipe is step #8…pour a bit of the marshmallow mixture onto the spread out popcorn and then add the sprinkles and candy.  This will prevents the treats from melting and the whole thing becoming an unattractive muddy color.

St. Patrick's Popcorn
Author:
Adapted from Two Sisters Crafting
Ingredients
10 cups popcorn (I used ½ cup popcorn kernels)
3 Tablespoons butter
3 cups mini marshmallows
1 teaspoon vanilla
½ teaspoon sea salt
2 teaspoons green sprinkles
2 teaspoons shamrock sprinkles
¼ cup green sixlets
Instructions
Pop popcorn in microwave. Use ¼ cup kernels in brown lunch bag and fold over several times. Rip vertically to keep fold in place. Use popcorn setting on microwave and repeat for a second batch.
Put popped popcorn in large mixing bowl being careful to remove unpopped kernels.
In saucepan over medium heat, melt butter.
Add marshmallows and stir until they are all melted.
Add sea salt.
Remove from heat and add vanilla and stir.
Slowly pour the marshmallow mixture over the salted popcorn. Gently fold the marshmallow mixture in with the popcorn until the popcorn is mostly covered. Leave a little bit of the marshmallow mixture for the next step.
Pour the popcorn onto a cookie sheet covered with parchment paper. Drizzle a little bit of the remaining marshmallow mixture over the popcorn but do not mix it up. You will need the mixture at the top so the candy will have something to stick to.
Sprinkle the candy and sprinkles onto the popcorn, concentrating on the areas with the most drizzled marshmallow mixture. Allow the popcorn to cool. Break apart into pieces and serve.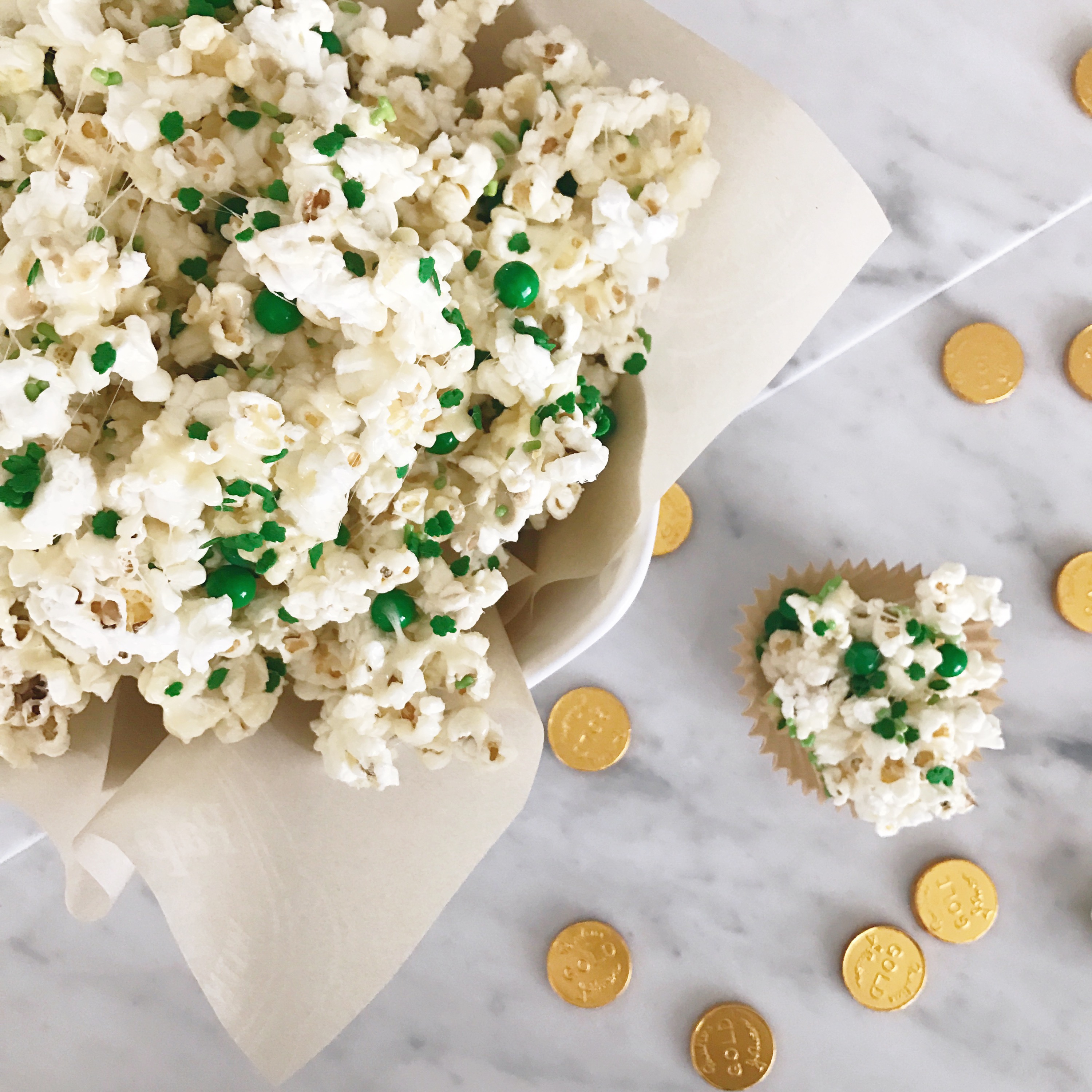 Here are a few other St. Patrick's Day treats that I've seen on Instagram that you may want to check out…homemade mint and chocolate chip ice cream, Lucky Charms milkshake, and Guinness ice cream floats (adults only!).