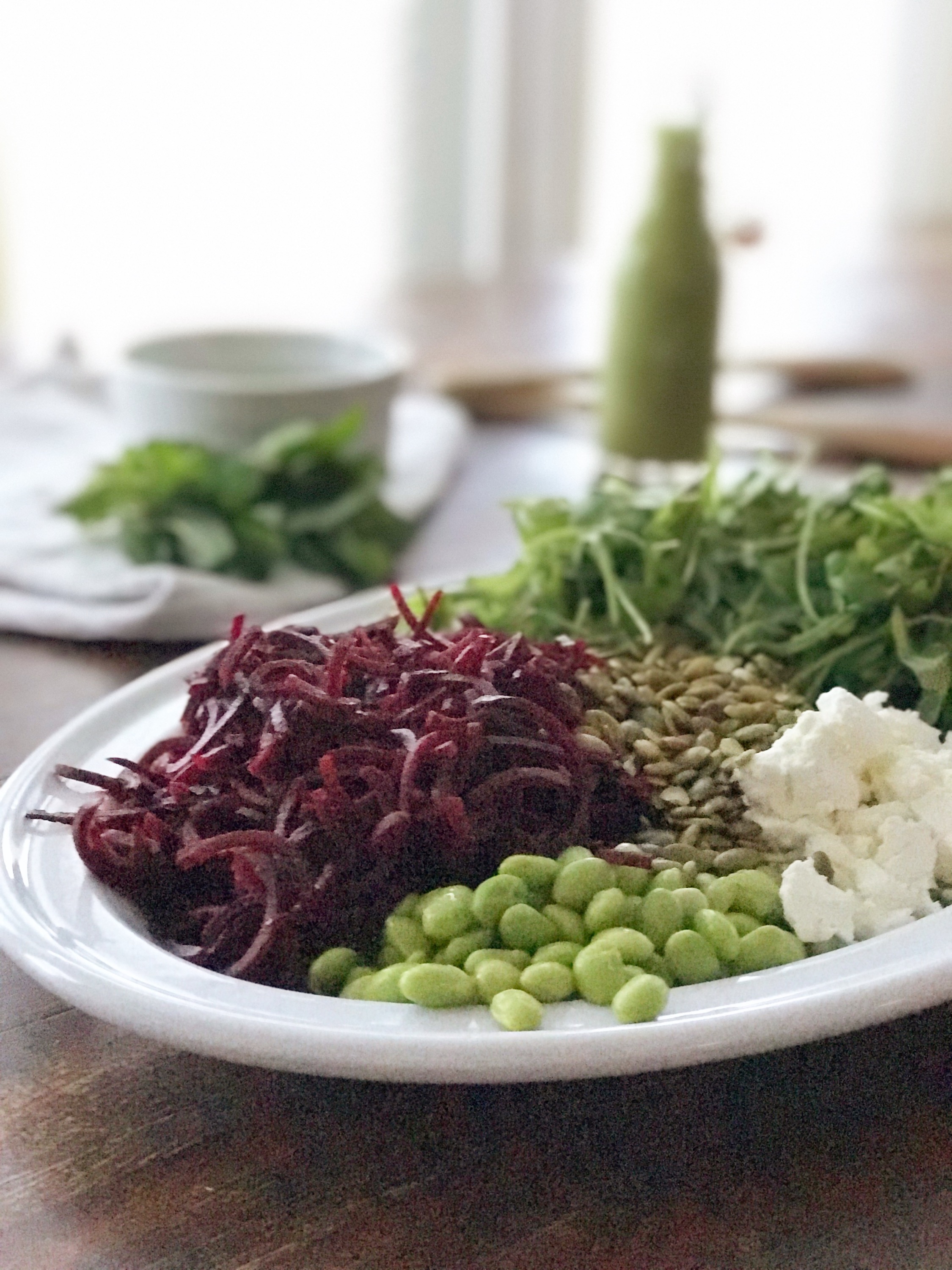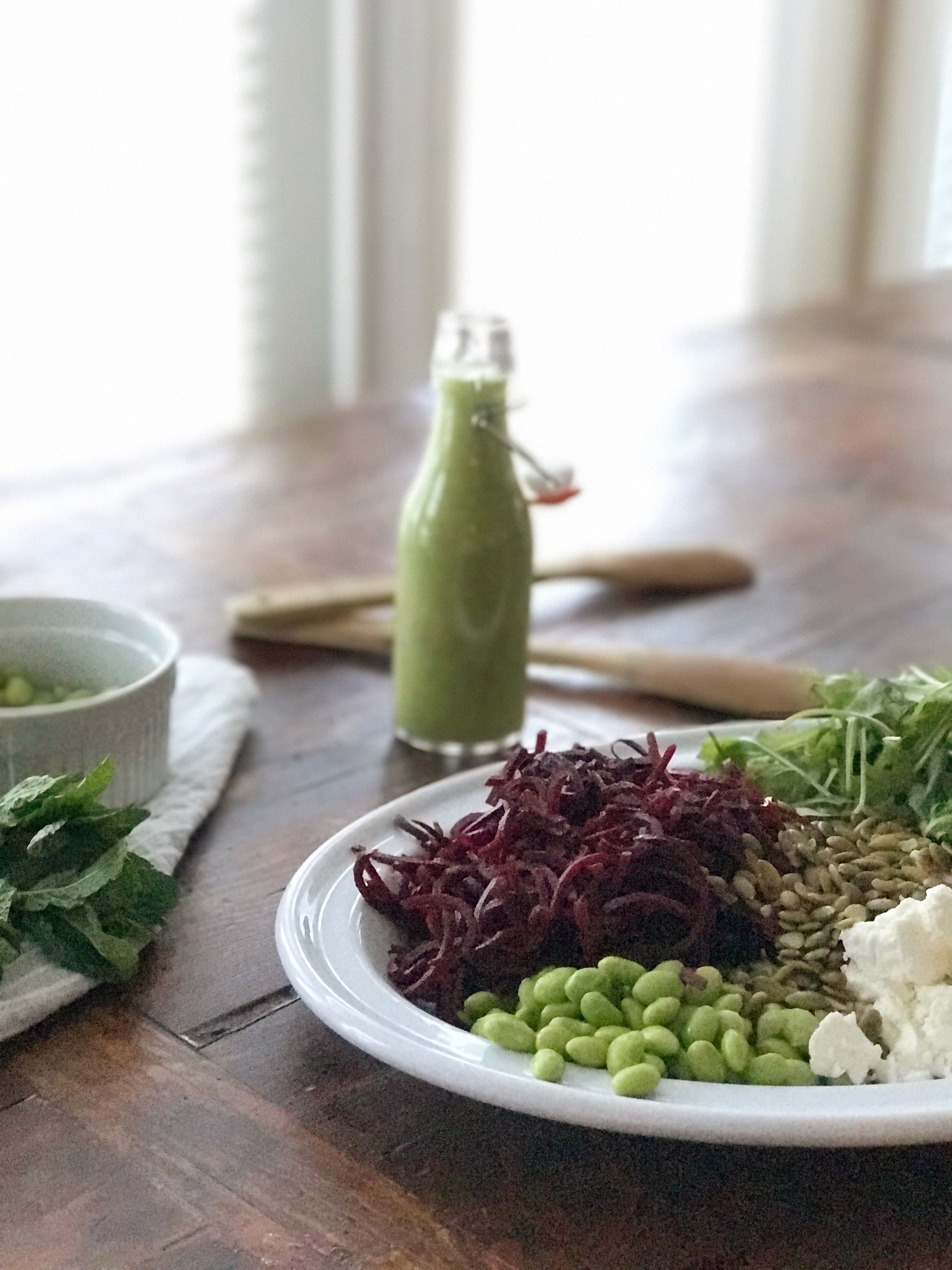 I recently found spiralized beets at the grocery store.  Spiralizing veggies is all the rage right now, but to be honest, it takes a lot of time.  So, when I saw the beets already done, I bought them without knowing what I was yet going to make.  I got inspired on Pinterest and came up with this recipe inspired by this recipe.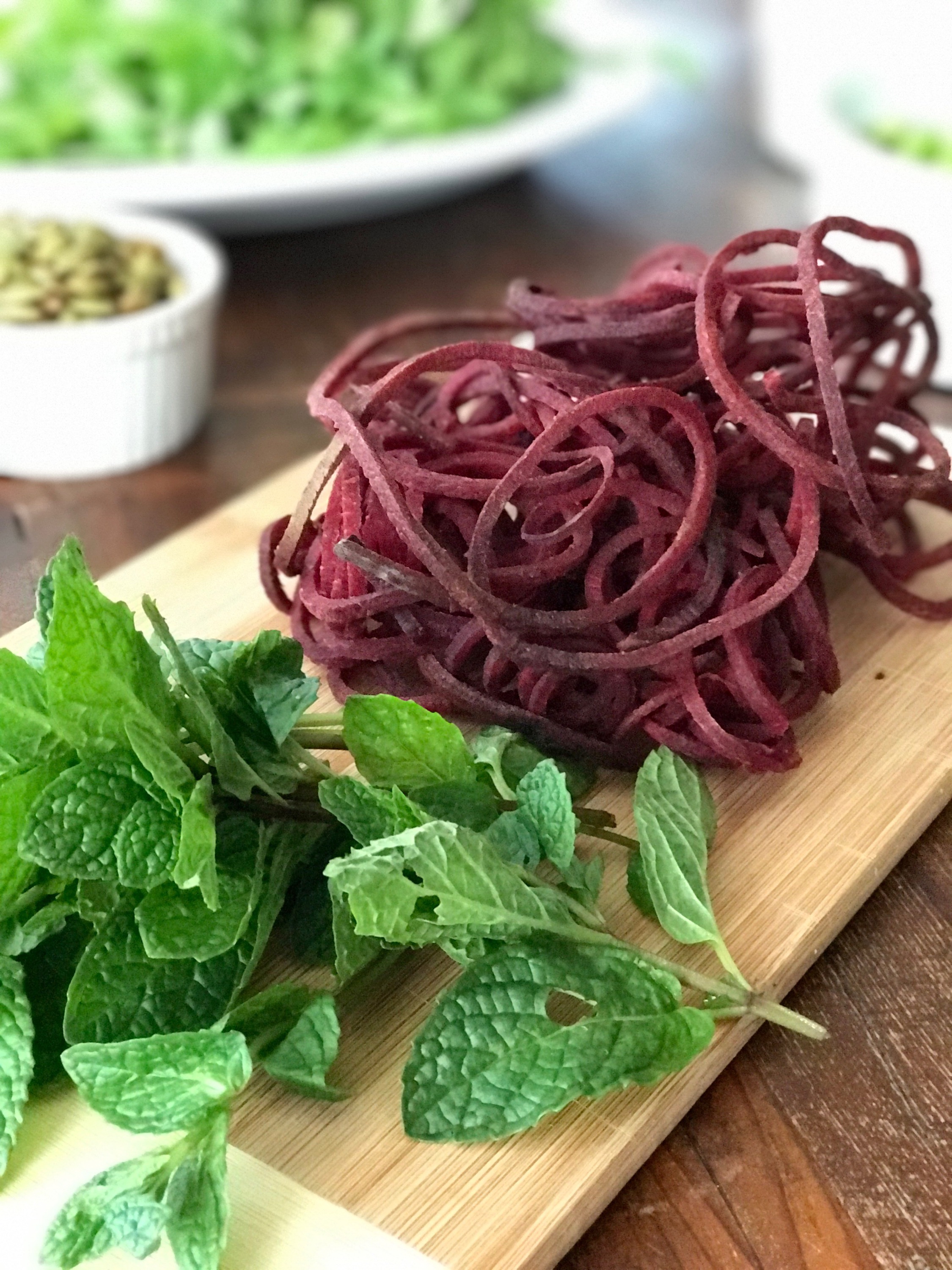 I'll be honest…I haven't been loving salads lately.  I think I've seriously overdone them the last 20 years.  Yes, that sounds dramatic, but it's true.  I've loved salads for a long time, but everything has been starting to taste the same.  What I LOVE about this recipe is that it tastes DIFFERENT!  Ahhhhh!!!!  That's a good thing!  The refreshing mint dressing nicely contrasts the earthiness of the beets.  The edamame adds a nice texture…and protein too!  I left out the avocado this time as I used goat cheese…something those two are a bit much together.  If you use feta, the avocado would be a nice addition.  And the raw beets are delicious and add awesome color!
This salad would work as an entree served with grilled chicken or pork.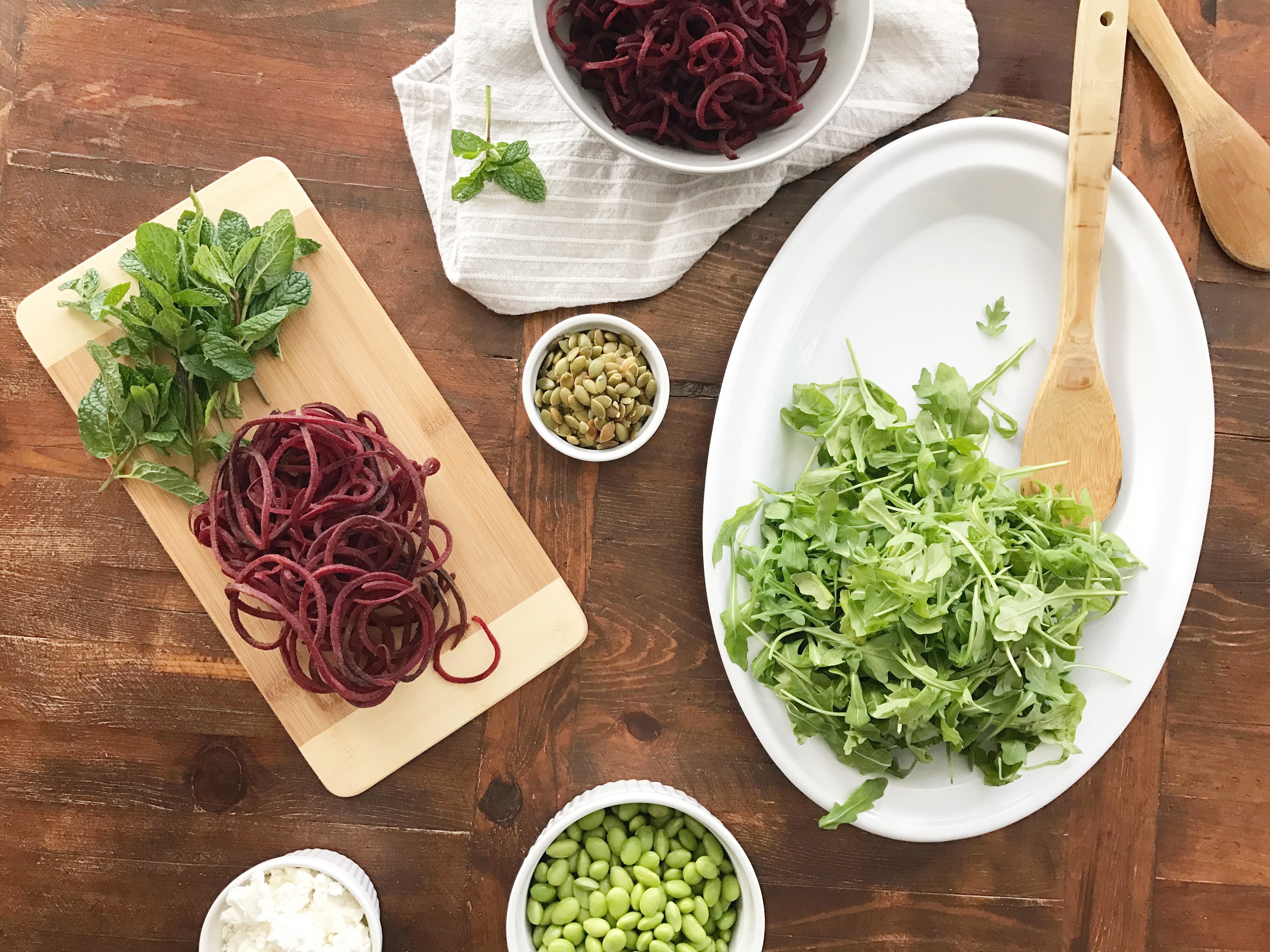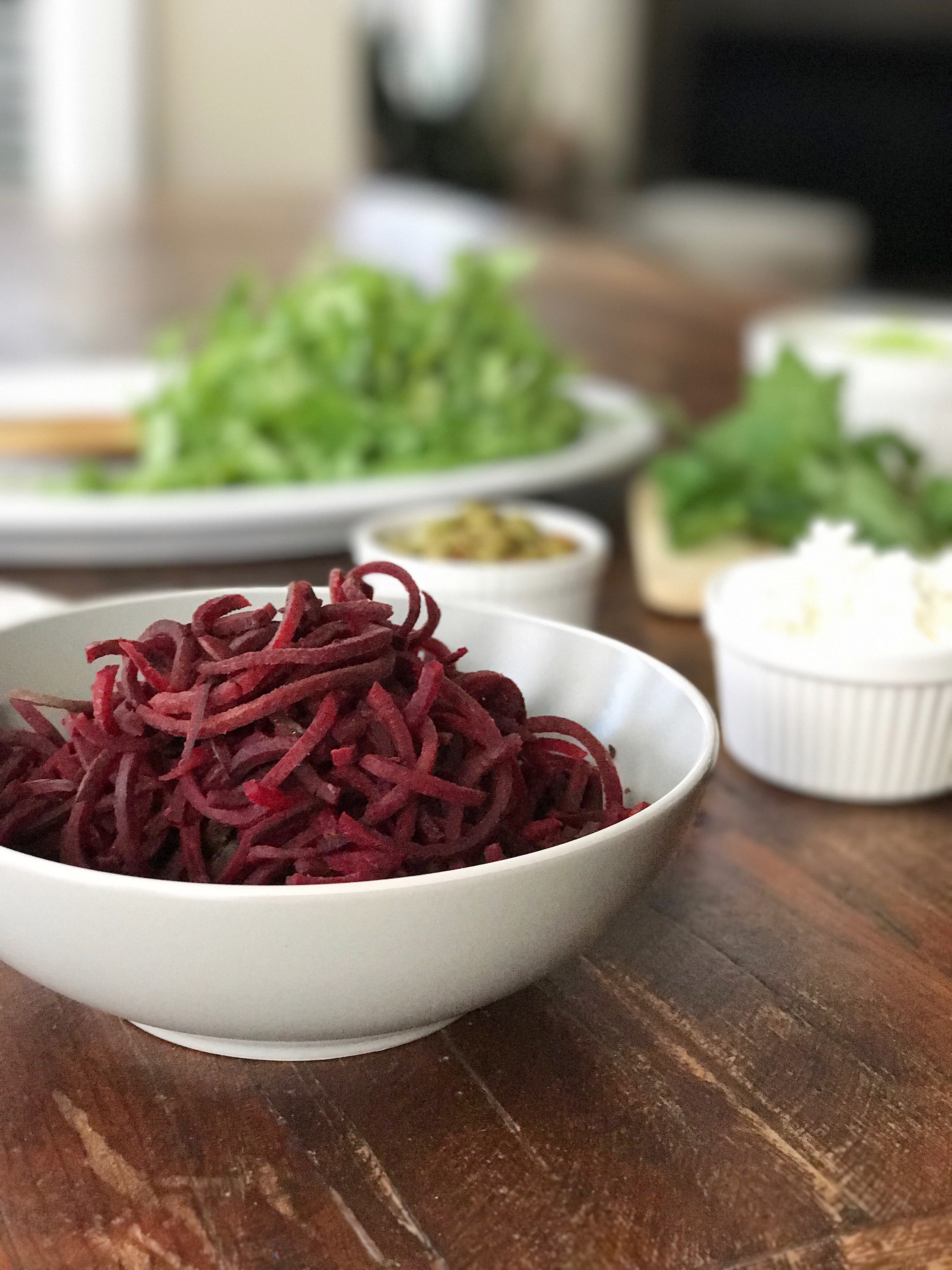 Beet, Arugula and Mint Salad
Ingredients
1 cup frozen organic edamame, shelled
⅓ cup roasted pumpkin seeds
2 medium raw beets, spiralized
3 cups baby arugula
1 avocado, cubed (optional)
⅔ cup feta cheese or goat cheese, crumbled
3 Tablespoons apple cider vinegar
2 Tablespoons lime juice
⅓ cup olive oil
2 Tablespoons fresh mint leaves
2 Tablespoons honey or maple syrup
1 teaspoon Dijon mustard
kosher salt
freshly ground black pepper
Instructions
Bring a pot of water to a boil and add the frozen edamame. Cook for about 5 minutes and then rinse with cold water and drain.
If your pumpkin seeds are not toasted, heat a skillet at medium heat and toast them for about 5 minutes, stirring often.
If you cannot find spiralized beets, you can grate them or slice them with a mandoline and chop them into long pieces.
For the dressing, add the apple cider vinegar, lime juice, olive oil, mint, honey or maple syrup, Dijon mustard, salt and pepper to a small blender and blend for a few minutes.
To assemble the salad, use a large platter or serving bowl and add the arugula, edamame, pumpkin seeds, beets, avocado and feta or goat cheese.
Gently toss with dressing.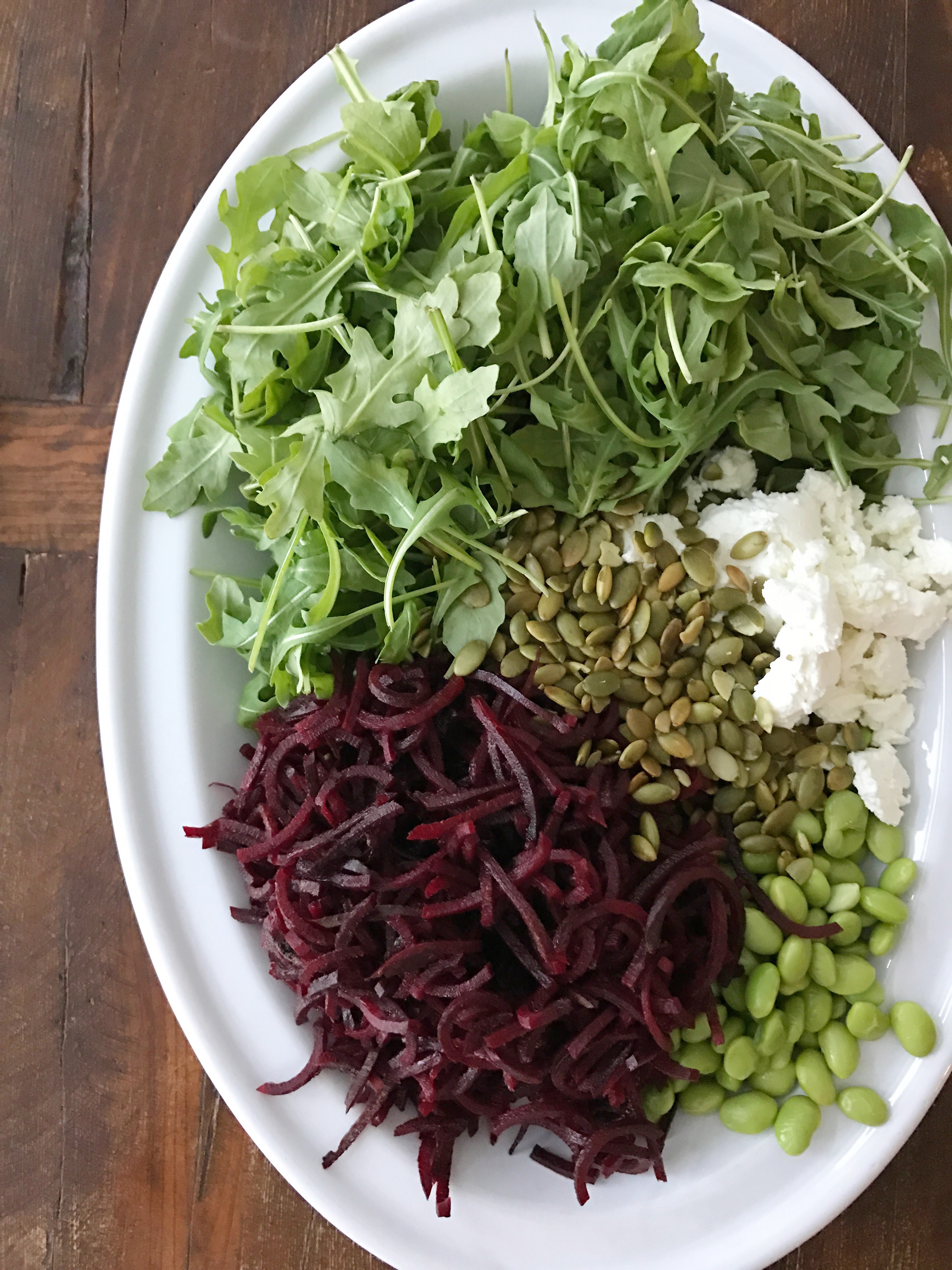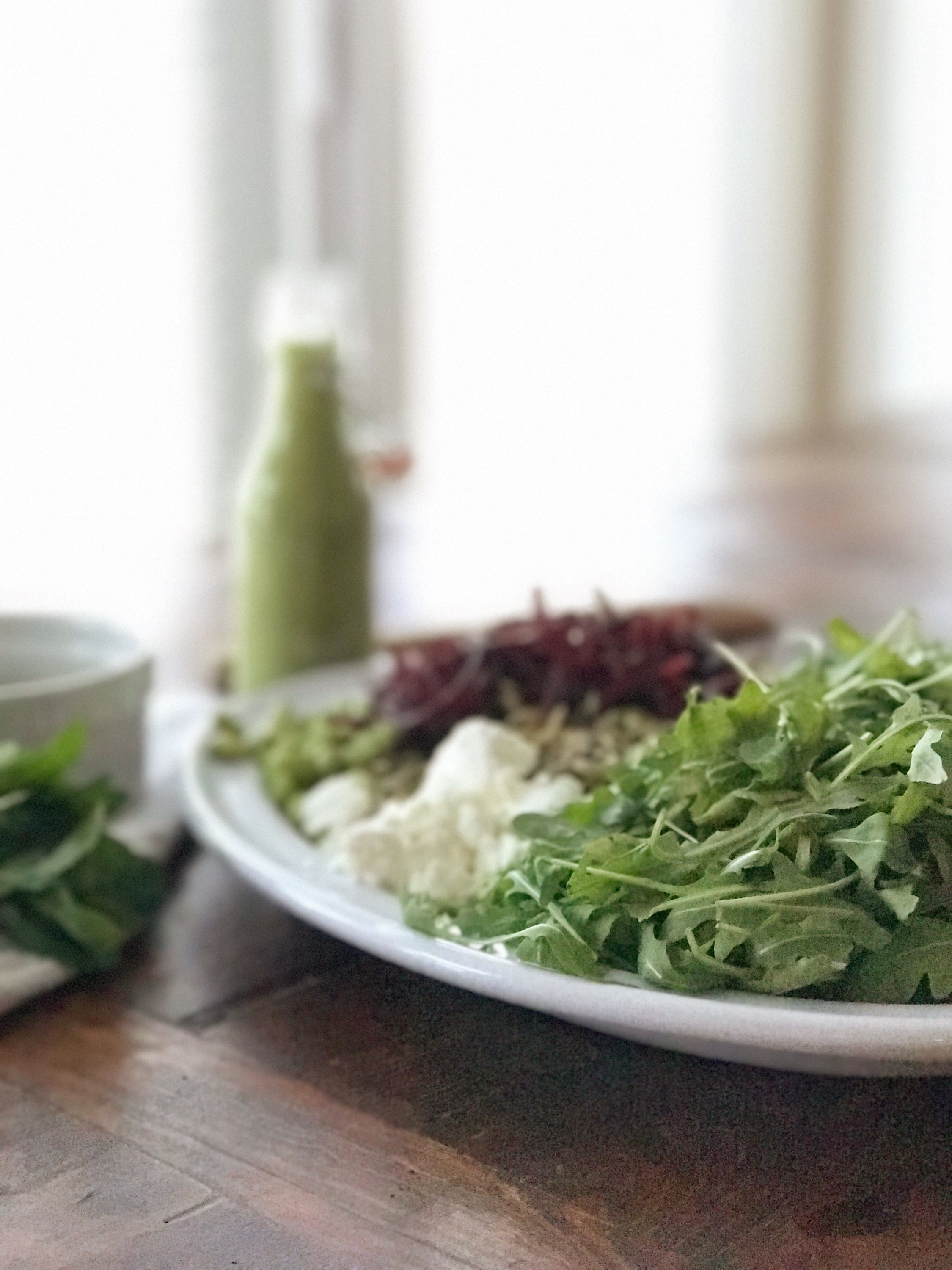 I found the spiralized beets at The Real Canadian Superstore in the produce section.  They also have spiralized zucchini, sweet potato and butternut squash.  They also have riced cauliflower.  However, availability seems to vary depending on the day and time.  But if you can grab them, it's a huge time saver and a great way to incorporate more veggies into your diet.