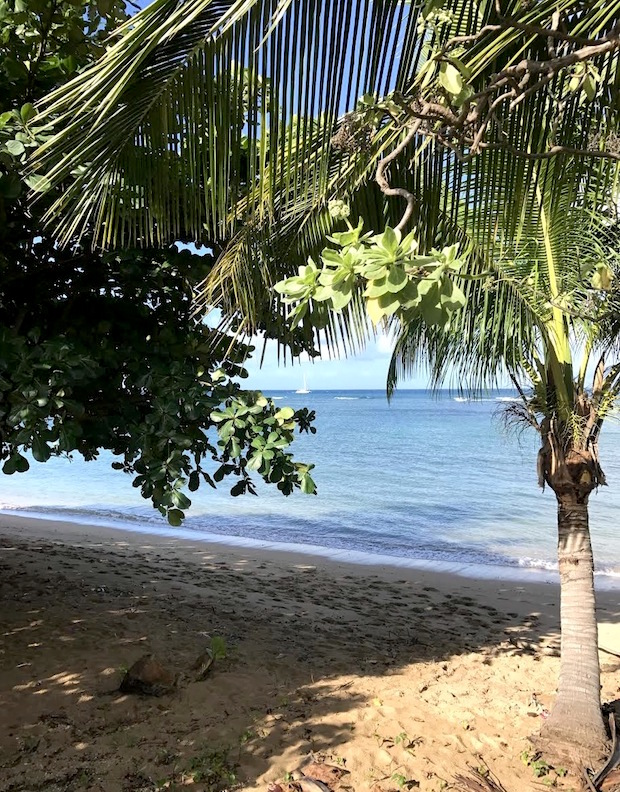 There really is no place like Hawaii. Would you agree? Ok, let's take it a step farther…there's really no place like Hawaii…in the winter! It was so awesome to be able to ditch the jackets and boots and enjoy flip flops and tank tops just after Christmas. Our parents devised this Christmas getaway for the whole family which meant 17 of us descended upon Maui ready for some serious ALOHA.  They had rented a home where we could all say and man, I kinda felt like I was a teen again…all us kids hanging out in our pjs, drinking coffee (oh and whiskey sours…our brother is a serious mixologist), cooking, eating, Dutch Blitzing, laughing. Seriously we had so much fun and some pretty great memories were made.
Not only did we go ready to enjoy some fun in the sun but as per SPS rules and regs we didn't go without a list of eateries we needed to visit. Both Pam and I hadn't been to Maui in years but….we happen to have a bestie who loves both Maui and great food. She hooked us up!! And lucky for you, she's letting me share her little "black book" of Maui recos with you. Andrea has the best way of sharing her tips, so I'm going to share it with you…in her words… It's extensive and awesome! Let's do it!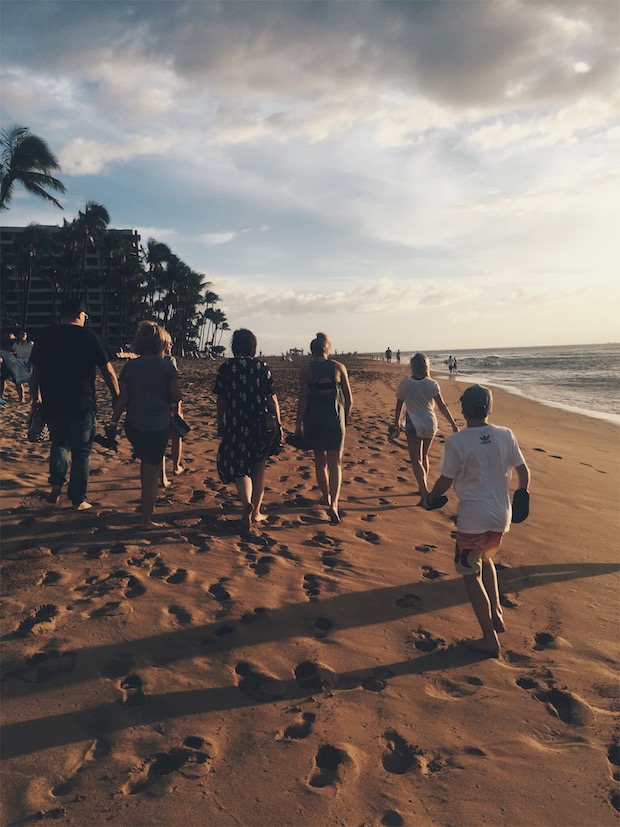 CASUAL EATS /
Maui Tacos: Lahaina and Kihei, Fast food but great fish tacos.
Jaws food truck: Makena beach. Great fish tacos.
The Cinnamon Roll Place: Kihei.  Seriously the best I've ever had. You have to go early in the day!
Tasty Crust: Wailuku. Okay, this is weird, and it feels like it's stuck in 1975, but their banana bread pancakes are the best I've ever had. Ask for the butter on the side though because it's margarine and they slab it on thick!
Julia's Banana Bread: Wailuku. This is really just a little banana bread stand in Wailuku. It's one of those things that's just fun to do. Bit of a scary drive in places but there are some great photo ops along the way and a super cute art studio along the same drive full of wonderful and local souvenirs. Combine this day with a hike and some pancakes at Tasty's and you've hit a few spots in one great morning.
Grandma's. Allegedly this is a frequent stop for Oprah Winfrey. It's charming and the baking is to die for. Fantastic breakfast spot. Do this before a stroll through Makawao.
Leoda's Kitchen and Pie Shop: Go for breakfast, preferably before the rush, which is hard to do sometimes. But it is such a surprisingly delightful spot. The coconut crusted french toast is so friggin fabulous you will crave it for years to come. Order an extra side of strawberries with it. The memory of the sauce that comes with it is making me drool. Totally can be shared, it's a massive portion.
Gazebo Restaurant: Tucked behind a hotel in Napili. This is the place that claims to make the best banana bread pancakes, but I beg to differ. I prefer Tasty Crust's. However, this spot is amazing. Please eat the fried rice, just share it and have a few bites. The pancakes are fluffy with chunks of perfectly ripe banana's inside. Ask for the whipped topping on the side. It's usually at least an hour wait so phone in your order, get it in 15 minutes and eat everything on the beach. Fabulous. There is something special about eating inside but mercy, there aren't enough hours in a day on Maui to stand in a line-up for that long. It's a super small place! Views are stellar though.
Cool Cats: Lahaina. This place is like a Hawaiian 50's diner. Cheap great burgers downtown Lahaina. If you have a lot of hungry kids that are tired of nice restaurants, this is your spot. Great fish tacos here too. But it's their burgers and shakes that they are known for. A ton of locals hang out here. There's usually live music. It's super casual and a great place to go when you need to just chill. Then walk Front Street and get shaved ice, gelato or dole whip for dessert.
DINNER RESTAURANTS /
Honu: In Lahaina is my favourite. Not sure why. Maybe the location, maybe the level of aloha, not sure. They give roasted chickpeas to start instead of bread! They are so yum. I love their cocktails too. The ahi bruschetta is to die for, the crab Mac and Cheese there has ruined mac and cheese for me from anywhere else for the rest of my life. The butternut squash soup and the kale salad. ALL highly recommend. Their usual expensive fish special has never seemed very special to me. You need reservations. Watching the sunset there is great but only if you are willing to eat early. Sun sets early and to get a spot at the window you pretty much have to be there by 5.
Star Noodle: Lahaina. Such a special and unique place. Food is delicious. This is in what seems like an industrial park. Up the hill from Lahaina. Reservations required for sure. Don't bother ordering, just tell the server to choose. They do a great job at giving you a variety of amazing things. It's shared plates so you can eat a little of everything. Great cocktails there too. PLEASE eat the pork buns though. AMAZING
Mama's Fish House: Paia. TOTALLY expensive and so special. If you have never been I highly recommend. It's a romantic spot, it's right on the most special little beach. Go early and take pictures. It's an old favourite on Maui and you'll know why once you've been there. One of those old school places that keep doing it right.
Lahaina Grill: Wow, expensive but super special. Food is really good. It feels pretty fancy in there. White tablecloths and rich food. A great place to celebrate a special occasion. It's downtown Lahaina.
Pacific O's : Lahaina. Great spot, the sunset here is spectacular too. They really care about using local produce. Their fresh seafood is creatively and deliciously prepared.
Monkey Pod: This is a funky place, I don't even love Mai Tai's but theirs is to die for. However I hesitate to recommend it because it's starting to feel so much like a chain restaurant. It's super busy there always. They are in Wailea but are opening on at Whaler's village very soon.
Merriman's: Kapalua. Andrea gave us the heads up that this place was next on her list so Pam and her fam went and LOVED it. Pam's recommendation is that you make sure to be there for sunset…book a table outside or sit at the bar for Happy Hour. Their Mai Tais are ridiculously good, as is the bread with the olive oil/garlic/tomato dip they serve each table. Make sure to save room for dessert whether its freshly made malasadas or mac nut bread pudding. Not cheap but the food is delicious and the photo ops are plentiful.
The Mill House at the Maui Tropical Plantation : Wailuku. All foods prepared are local and organic, many of which are grown on the plantation grounds. Creative food for more adventurous dining. Not inexpensive but a real experience in beautifully plated and carefully prepared dishes. Go a little earlier and walk around, it's lovely there.
Maui Steamer Pots: This isn't a restaurant but it's worth mentioning. You order a huge seafood steamer pot ahead of time and go pick it up. They sell fresh bread there too. You put it on your cooktop before you want to eat it and it's a meal in one. So easy, so delicious and worth every penny. So fun if you want to eat in and not cook! You get to keep the fabulous pot that it comes in too!
Thank you heaps Andrea.. your tips and reviews made our trip one culinary homerun after another. We have never eaten so well in Hawaii before!! I only wish we had more days to hit more of these spots….sigh…when can I go back?!?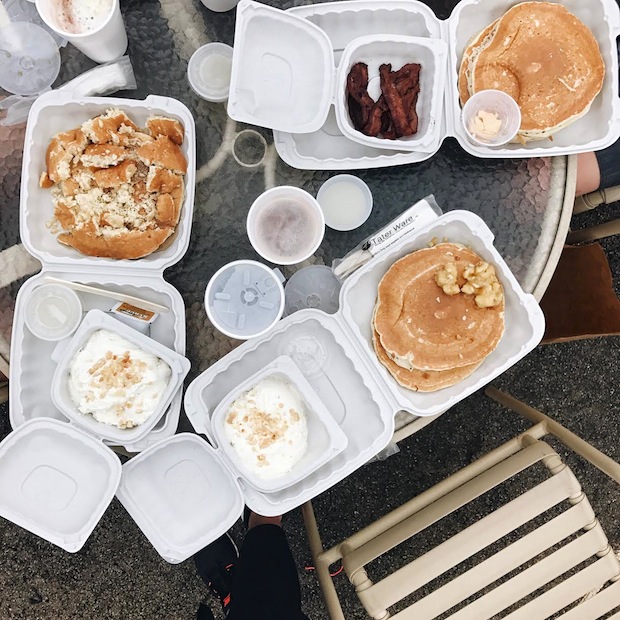 Let's talk about acai bowls…we were in their motherland after all.
Baya Bowls is located in a cute little food truck parking lot in Lahaina. Their smoothie bowls are delish…make sure to get the fresh papaya and toasted coconut on top…
Farmers Market is a bustling fresh food and health market just north of Kaanapali. Besides there fresh bowls, you'll probably want to stock up on some of the fresh produce or healthy snacks while you're there.
Oh and coffee…never to forget coffee. The best cups I had were at:
The Coffee Store: An unassuming place in Napili, but their americanos were smooth, rich and very low acid: all three things that score high for me!
Maui Grown Coffee Company: Located in a super cute green building right next door to the smoke stack in Lahaina. Super friendly staff and delicious almond milk lattes.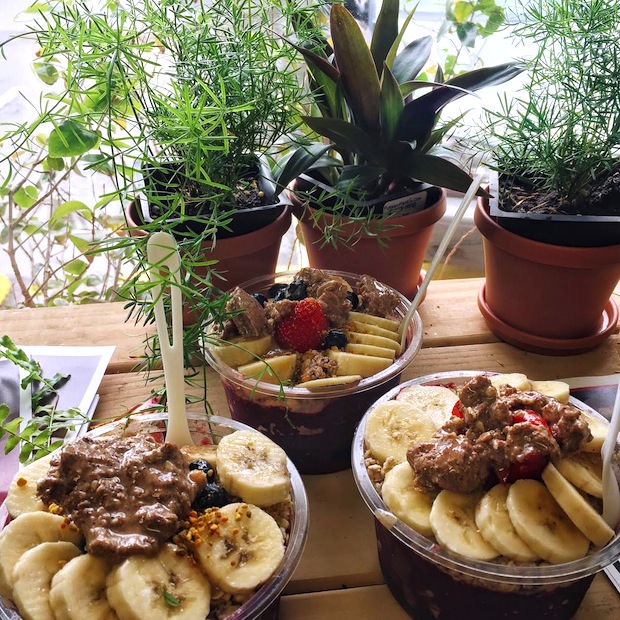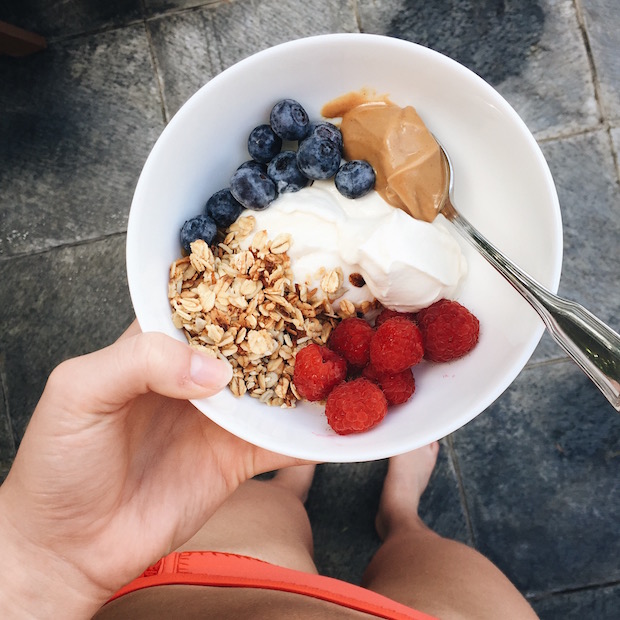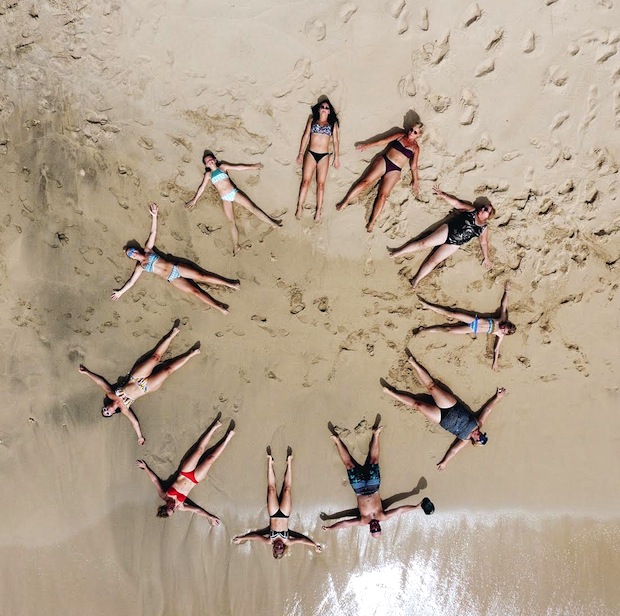 Maui is so beautiful and we loved being able to take it all in. Time just seems to go by way too fast when you're here but we did get a chance to do some exploring:
The Kapalua Coastal Trail walk is stunning and super easy so the whole family can take part…walk atop volcanic rock and then meander your way through the beautiful Kapalua Resort, ending up at DT Fleming Beach which is THE beach for boogie boarding. The waves here can be pretty intense so I'd advise against bikinis!!
A highlight for us was doing a day trip with Sail Maui. None of us have had the chance to experience Hawaii from the water so it was a fantastic day! We were able to enjoy brekkie on the boat as we sailed from Lahaina to the island of Lanai. First stop was Manele Bay, where the coral reef sets the stage for amazing snorkelling. Our kid's Go Pros came so in handy here! Next, we were dropped off at the  marina and given picnic lunches to go enjoy on the beach. Lanai is obviously a much more remote island and we loved the quiet beach. The sail home was probably my favourite as we had some whales playing right next to the boat. Honestly, those creatures are mesmerizing…and we were all screeching to see them so close! What a great day!
Pam and I had every intention of hiking but we literally ran out of days. Next time!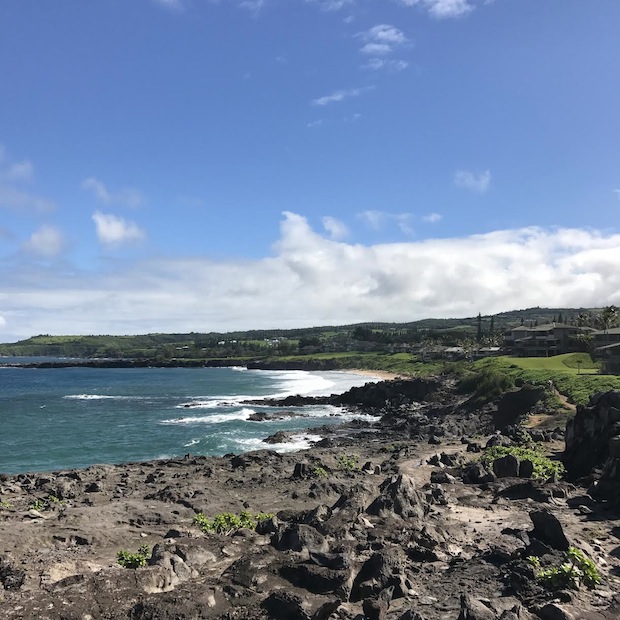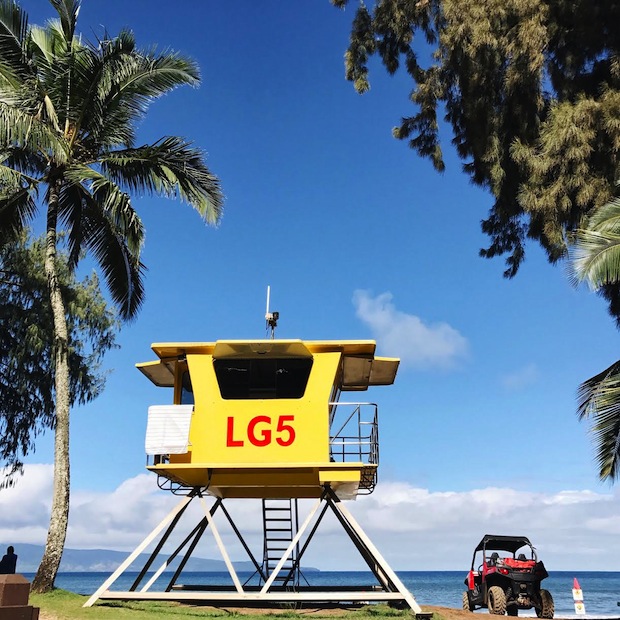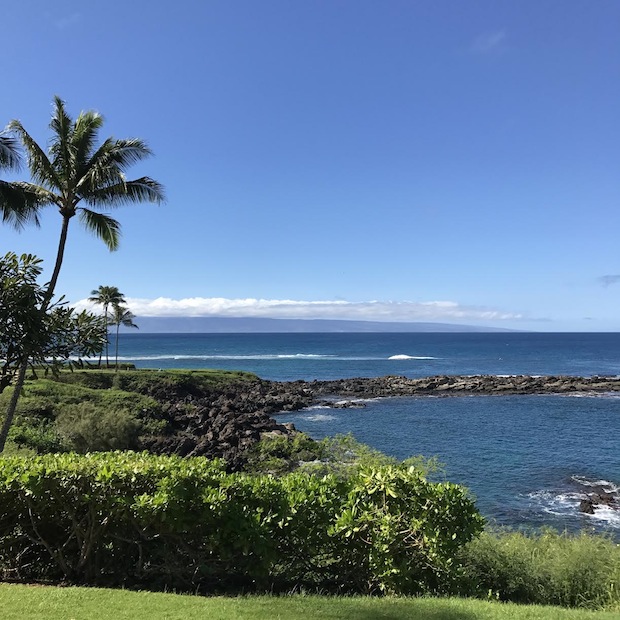 Well I won't be winning any awards for my capture of the whale pic (it's comin up)…it all happened so fast and we were grabbing for our phones and well, just work with me and imagine that massive tail coming out of the water! The turtle, on the other hand, loved the camera…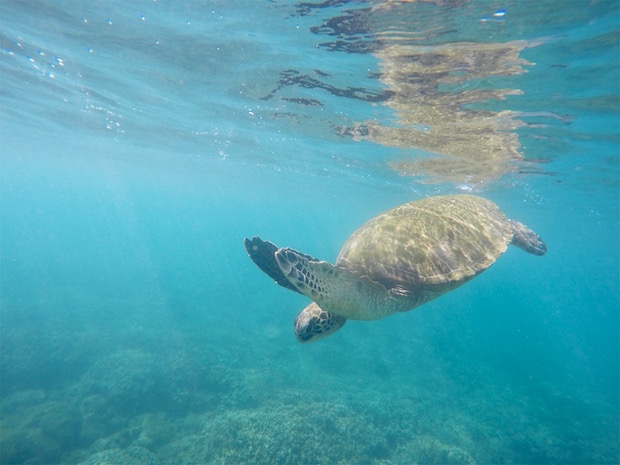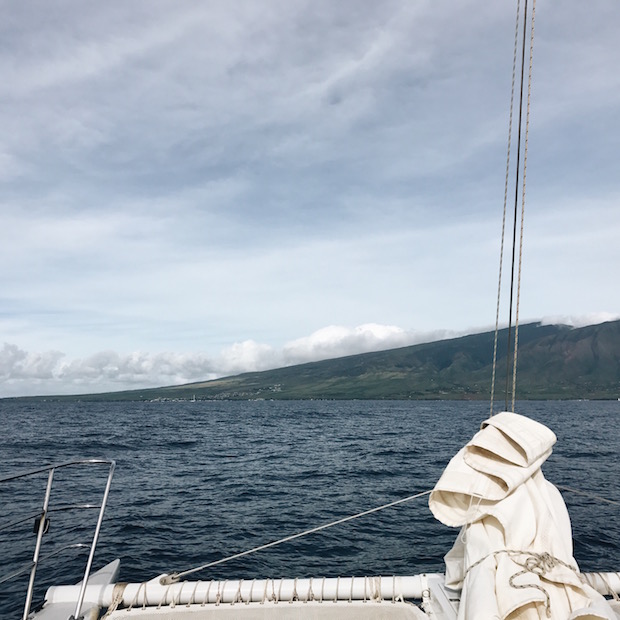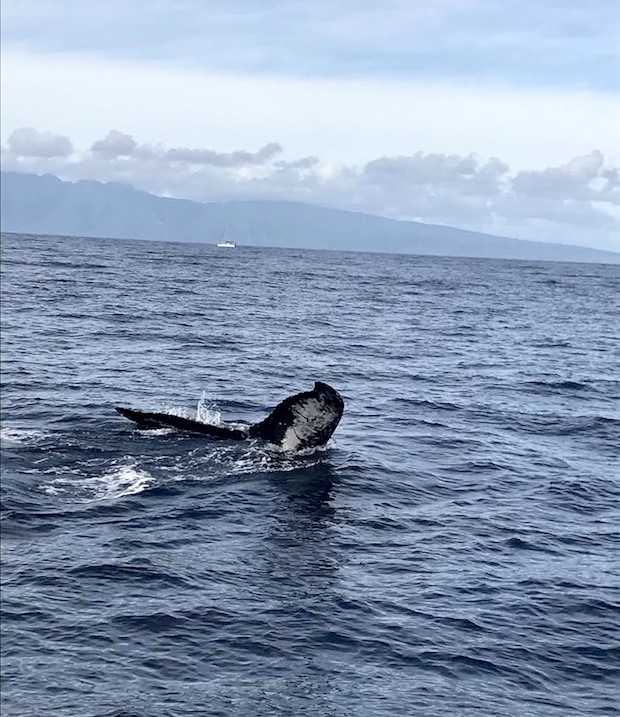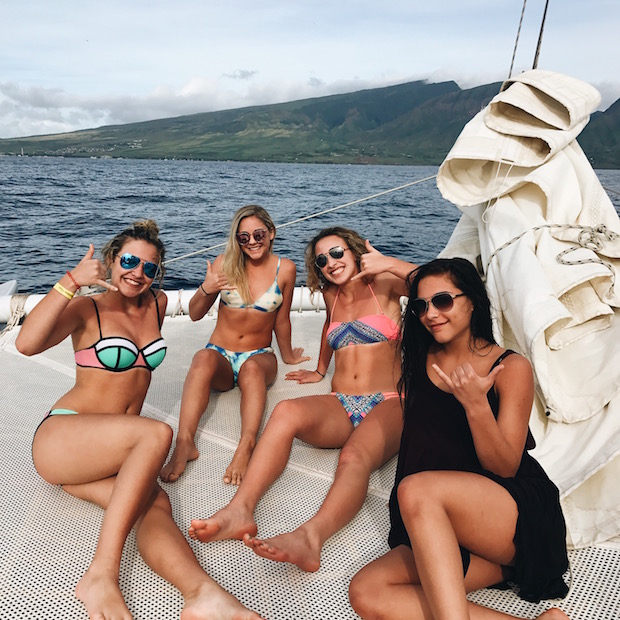 Our crew…what you're not seeing here is our inner turmoil as we were just leaving for the airport… ha! What a memory filled trip…so much love right here!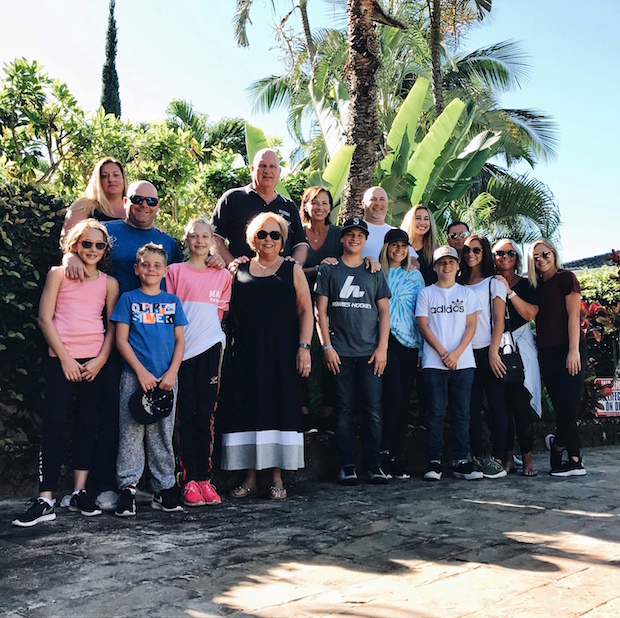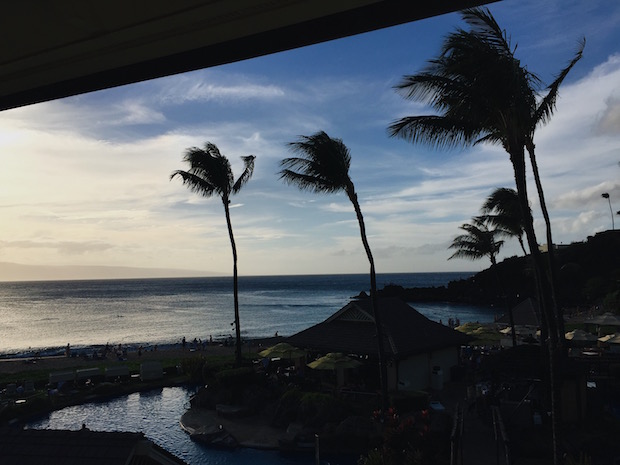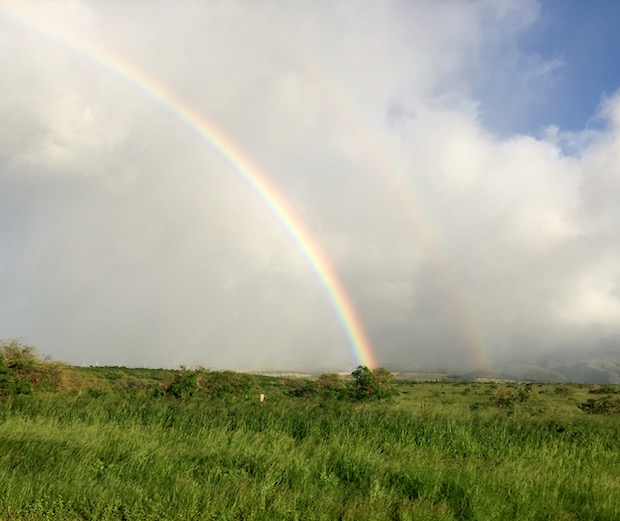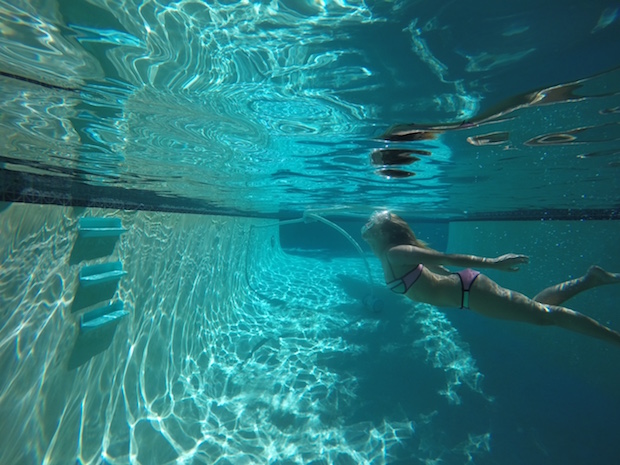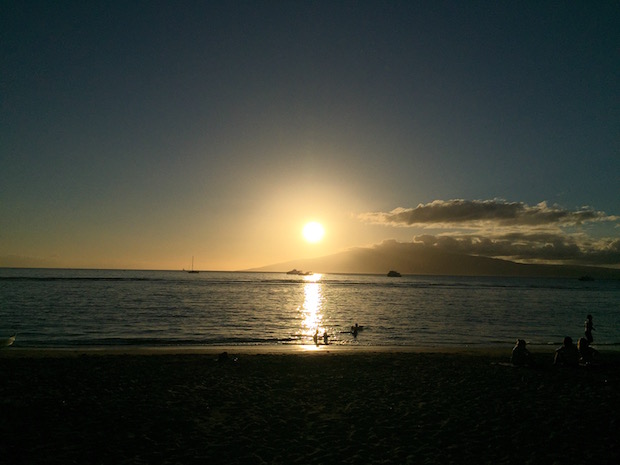 Wishing you a great weekend. Hope you're able to stay dry! Laurel xo