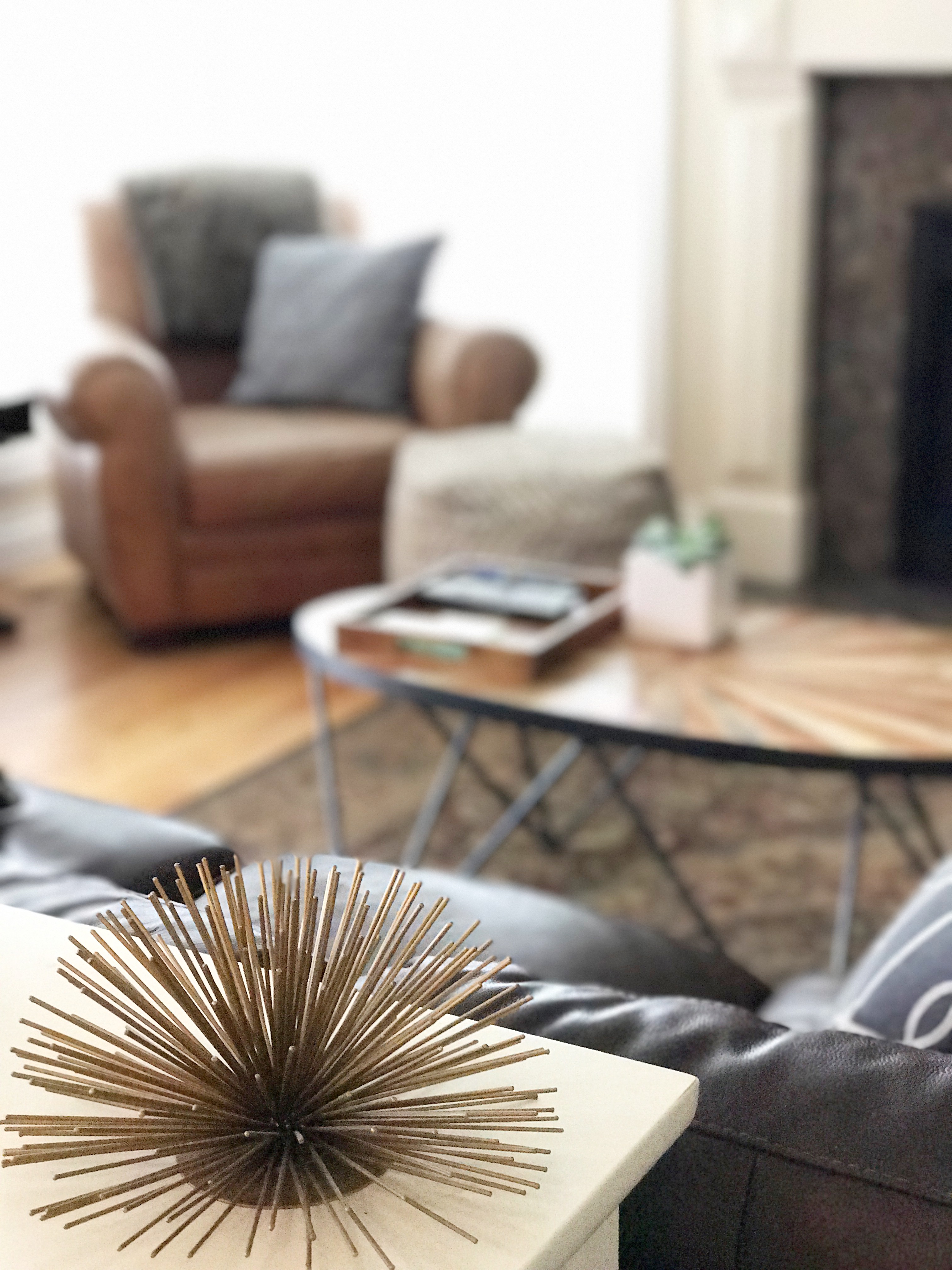 We've been living in our house coming up to 15 years.  A lot can change in that amount of time…including pretty much my whole design aesthetic! I have to admit that I often feel a bit insecure when people come over as I put pressure on myself that my house should be a true reflection of the blog and the bottom line is that the style of my house is very different that what I would choose today.  Yet, I am very thankful for my home and the farm that we  live on…honestly, I know that I'm super fortunate.
Ok, so how to solve the issue at hand?  We spend pretty much all of our time in our open kitchen family room area.  At least Jason and I do…as the kids are getting older, they spend a lot of time in their bedrooms.  Anyways, when we built our house, we put in antiqued cream  cabinets…they were the thing at the time.  And we painted our walls a dark, olive-y brown.  I am totally drawn to the whites and greys that are so common now…pretty much all of my Pinterest pins are this colour scheme.  But…you can't put stark white with antique, creamy cabinets and we just aren't in a place to redo the kitchen.  So, before Christmas, we decided to repaint and get rid of the dark brown. Ok, I'm totally kicking myself that I didn't take a before pic!  We repainted with Benjamin Moore Manchester Tan.  It's a good, creamy neutral without being too yellow.  You can pretty much put any colour with it.
My inspiration came from this pic on Pinterest…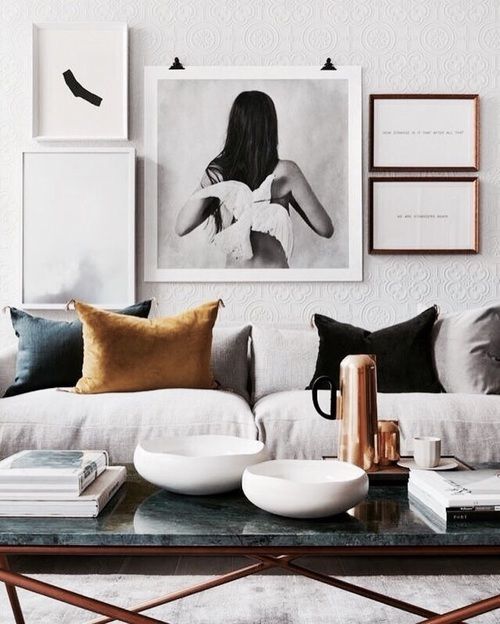 I love the caramels and greys and thought I'd try it with cream, even though I'm obsessed with the white. The current furniture had to stay (except a few green ottomans) and the area rug, so the transformation would come with accessories.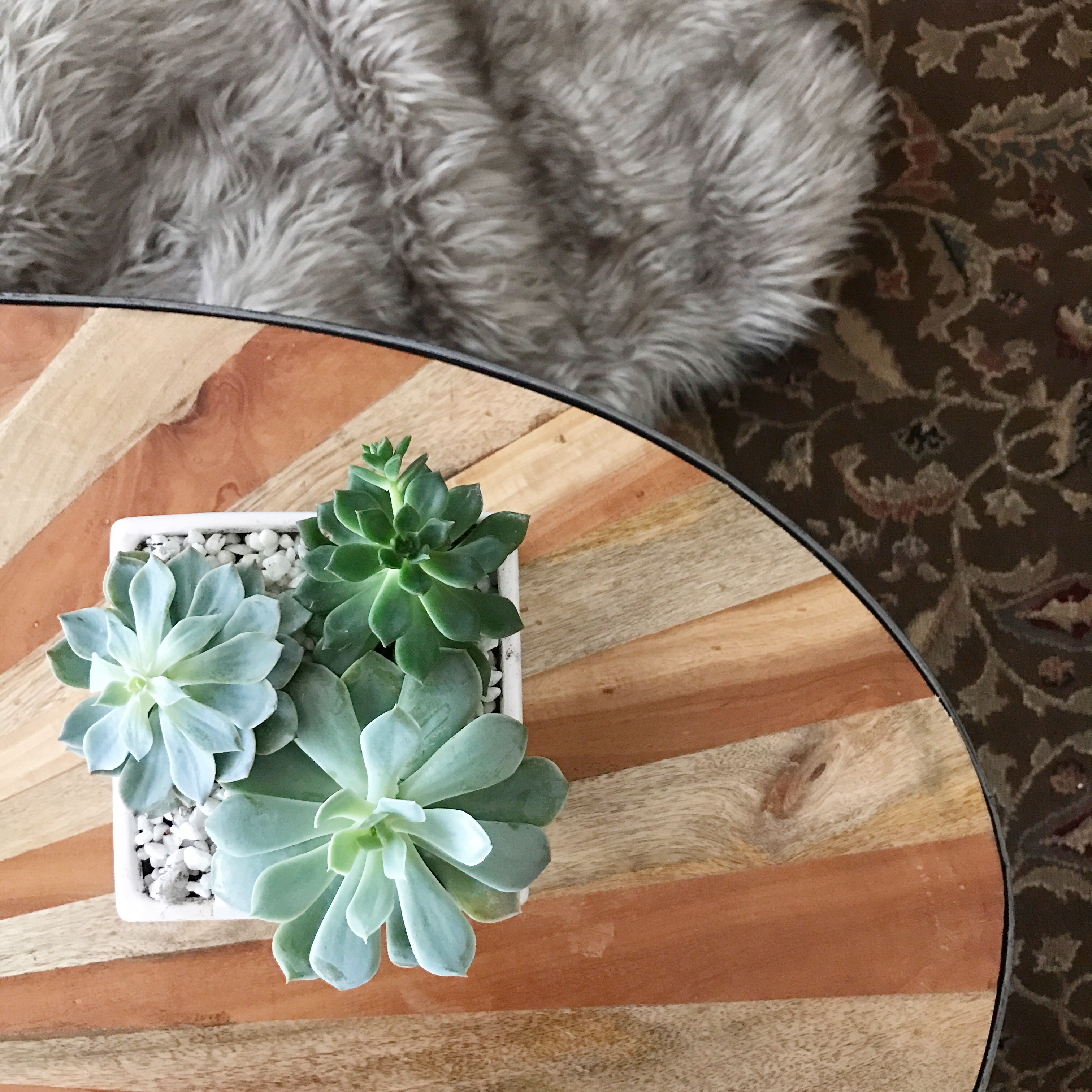 I replaced a green and brown ottoman with a wood and steel coffee table that was in rec room in the basement (sorry kids!).  I found most of my pieces between HomeSense and Bouclair Home.  Bouclair was having a close out sale in Abbotsford, so I found things at great prices!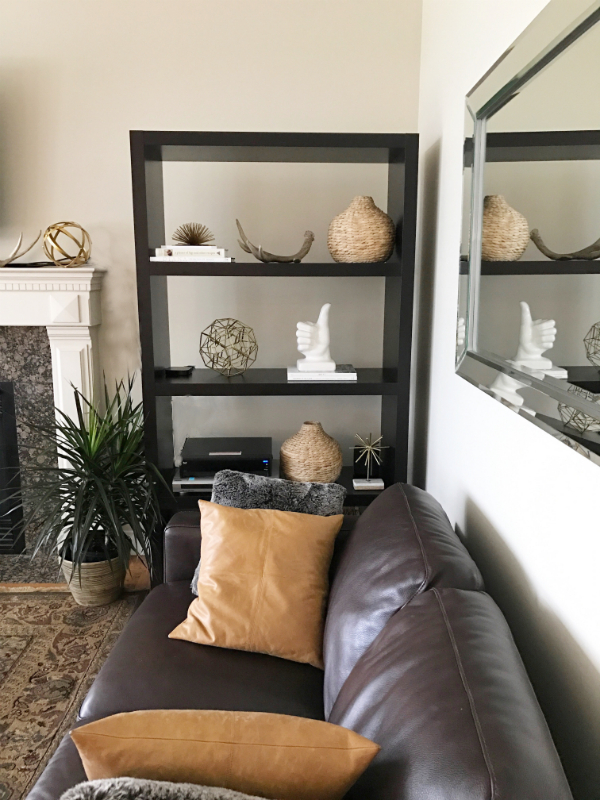 I swapped out my old green pillows with grey and caramel colored ones.  I had a mixture of faux fur ones that I added in.  I know that mixed metals are all the rage right now, but I prefer a streamlined look and removed all my silver and mercury glass pieces and went with all gold accents.  Candles are a must for me in every room and my go tos are soy candles by Vancouver Candle Co…they smell ah-mazing!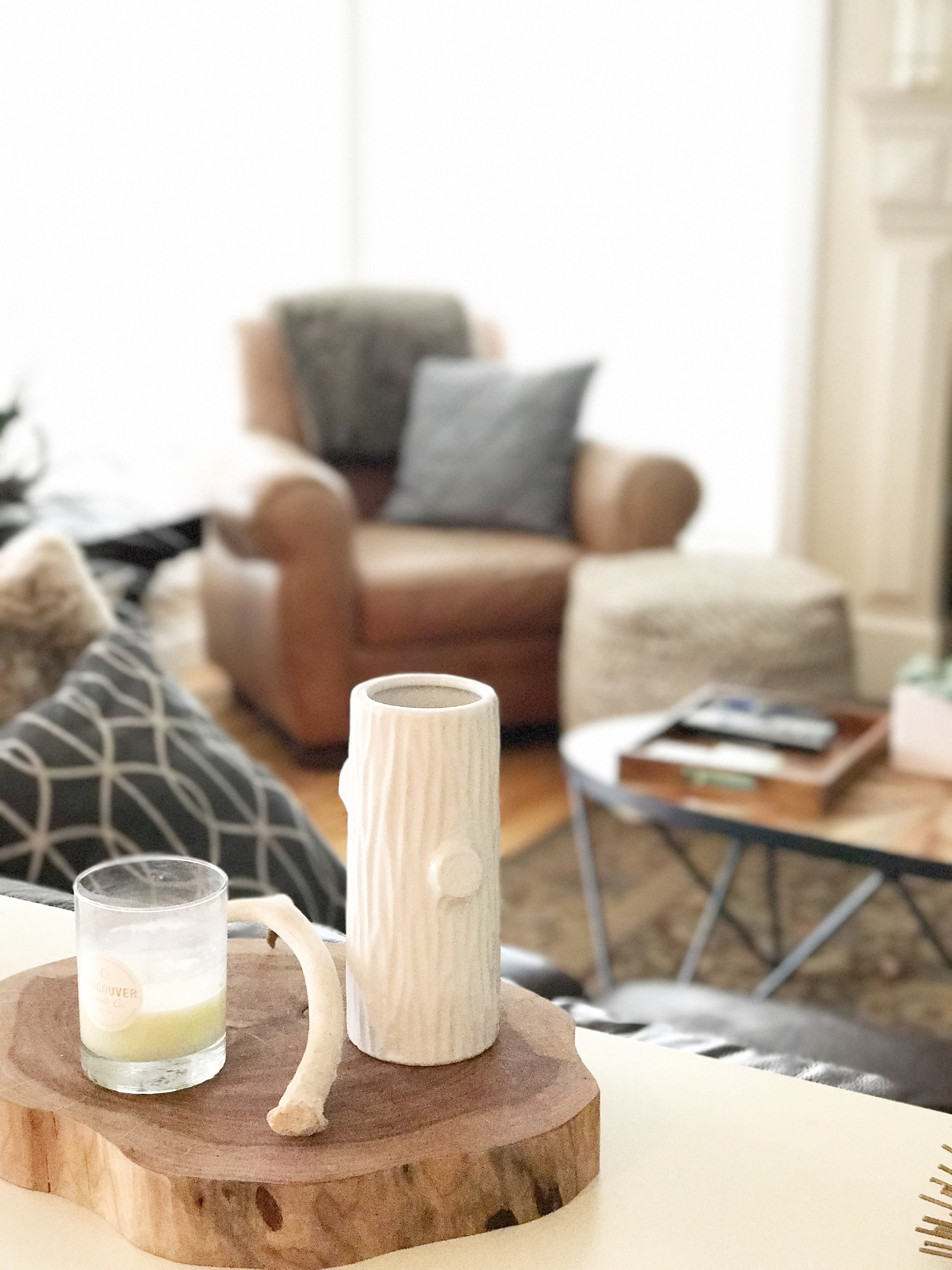 A little greenery goes a long way…it adds that organic element to a room.  I definitely do NOT have a green thumb so I was super excited when I found these Dragon Trees at Lowes for $17.99, in fact, the second one was half off.  So, there's no stress if they don't make it!  They look good now!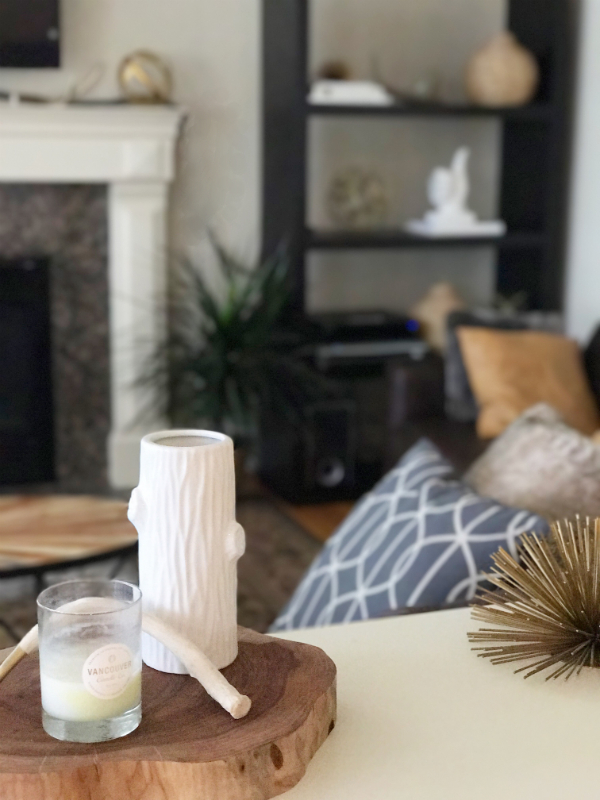 This update was all about texture, neutral shades including warm and cool tones and organic elements.  I repurposed a lot of things that I had put into storage so for under $500 I was able to transform my family room and it feels more like me!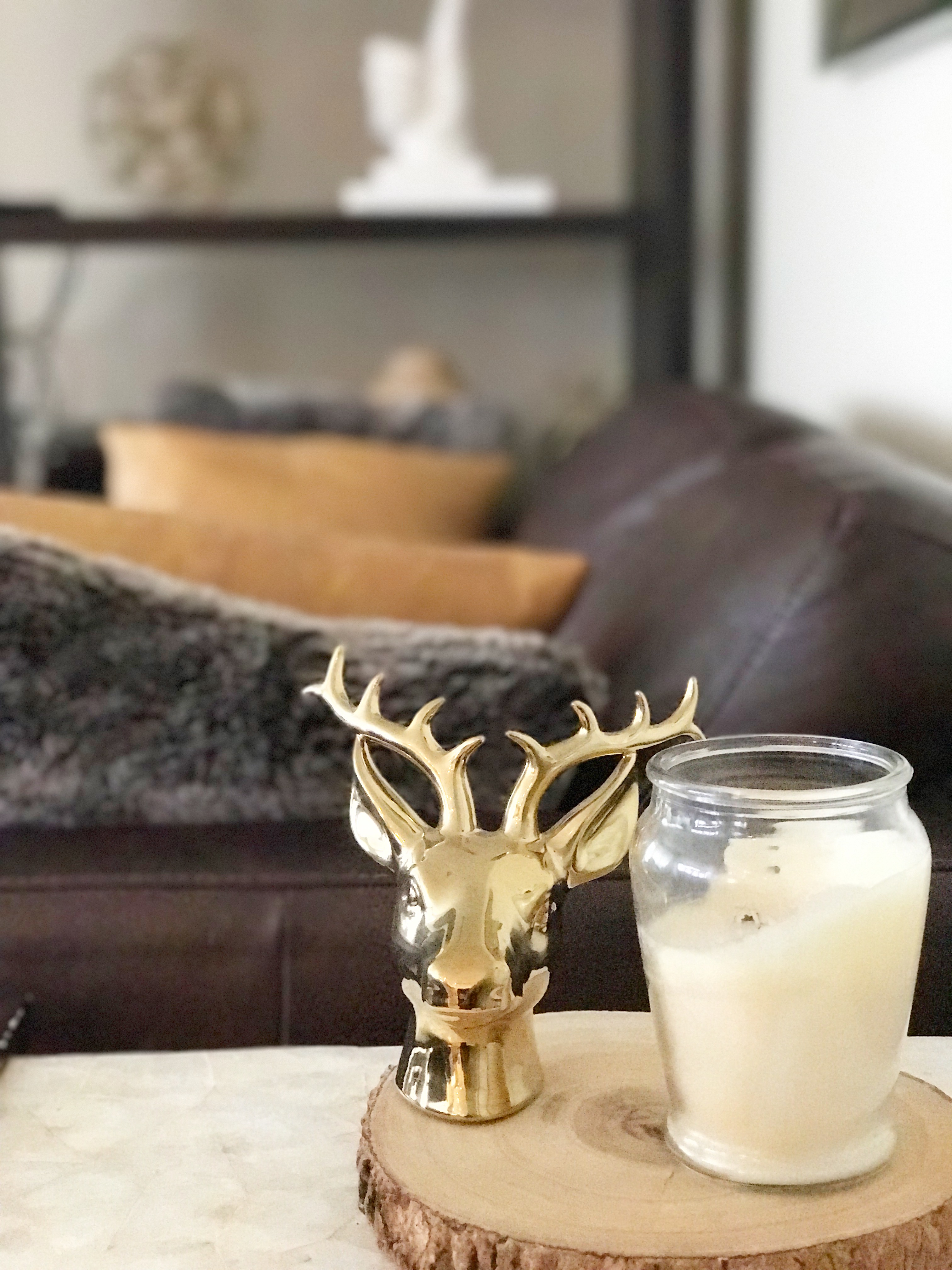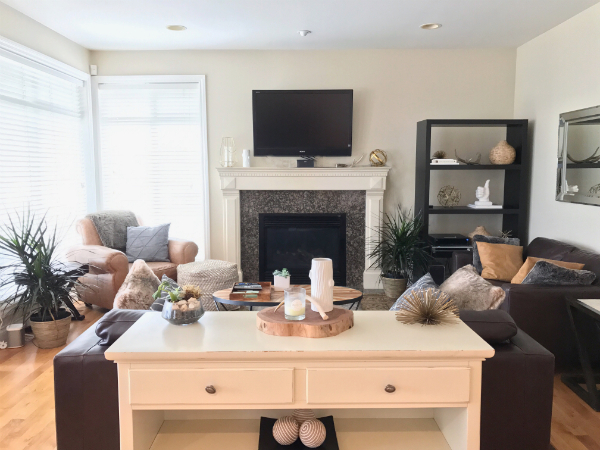 SOURCES
Paint | Benjamin Moore "Manchester Tan" HC-81
Ottoman | Bouclair Home similar here and here
Coffee Table | HomeSense
Candles | Vancouver Candle Co.
Gold Decorative Pieces and Thumbs Up | HomeSense
Decorative Rope Balls | Bouclair Home
Basket Vases | Bouclair Home
Faux Fur Rug | HomeSense
Decorative Pillows | old faux fur pillows, options available here and here and Bouclair Home here and here
Plants | Dragon  Trees and Succulents Lowes