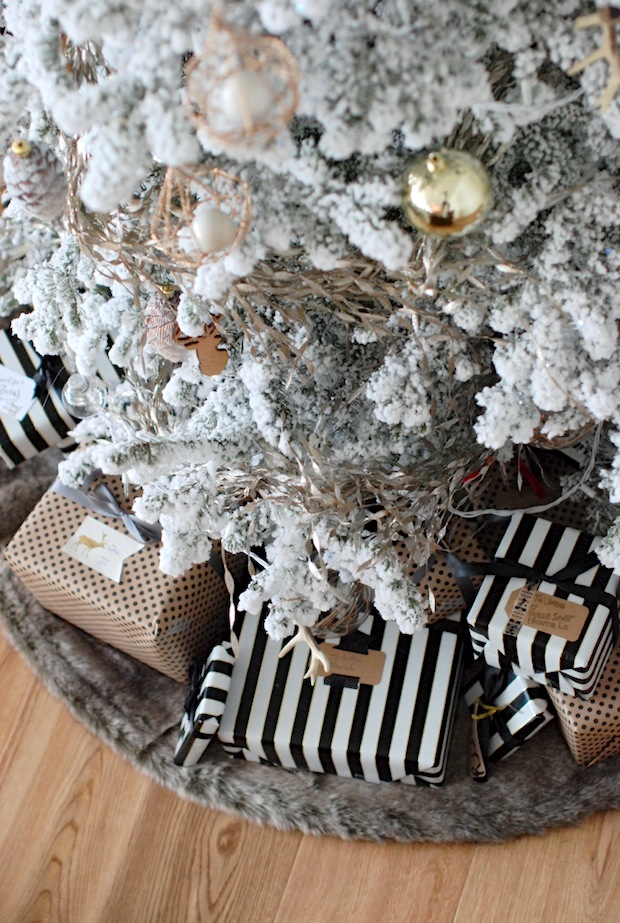 Hard to believe that Christmas is just over a week away? The freezing temps and frozen snow kinda make it feel more real…how many years has a white Christmas been a pipedream? Now I'm wondering if this stuff might stick around just to make it more festive!
Ok, enough with the small talk, right? If you haven't finished your Christmas shopping yet, you're probably wanting me to get straight to the goods…
This post is dedicated to you last-minuters. Online shopping gets a bit touch and go this close to the 25th, so here's my round-up of gifts that can be purchased locally. And…there's a super amazing giveaway that we've saved up for today! Our biggest one to date…. read on friends!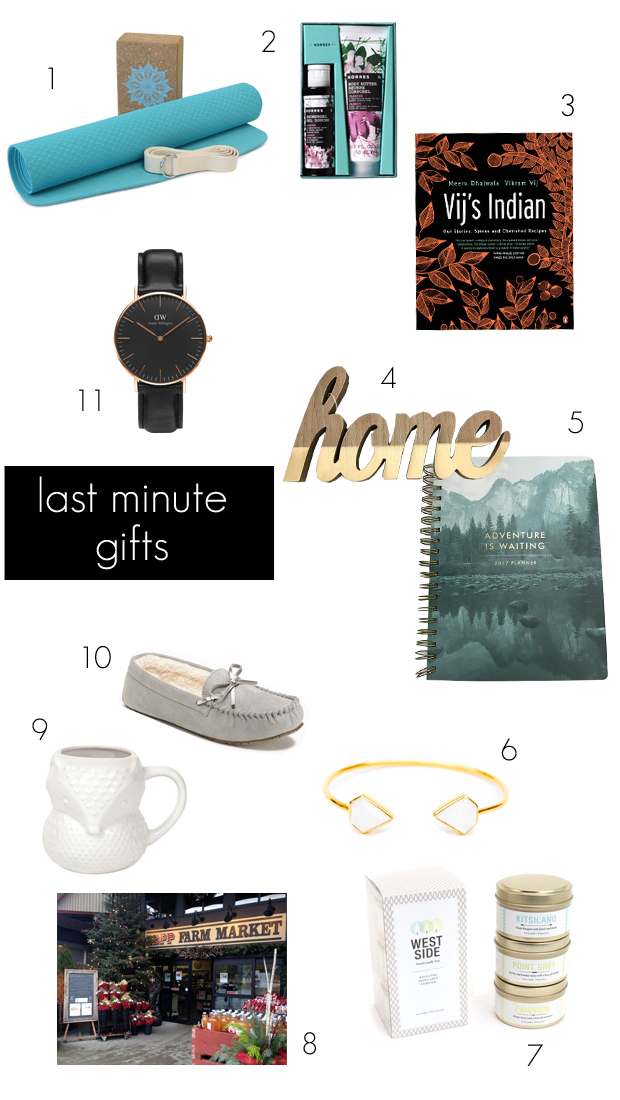 1. Yoga Kit | Whether she's a full on yogi or just a wannabe, no judgment! But a mat is essential… I love that this set comes with a cork block to help her customize her workout. Available at Marshalls & Winners.
2. Body Lotion & Shower Gel | This jasmine scented skin duo by Korres is available at Marshalls & Winners, which is a steal of a find for this luxury skincare brand. Perfect wrapped under the tree or stuffed into her stocking.
3. Vij's Indian Cookbook | Vikram Vij and Meeru Dhalwala, the famed team behind the beloved local Indian restaurants Vij's, Rangoli and My Shanti,  have released a collection of recipes they not only cook at their restaurants but ones they regularly cook at home. There is a huge emphasis on their plant based favourites, such as Chickpeas and Kale in Cardamom and Clove Curry (YUM!) as well as some of their more staple recipes and cooking tips that serve as basics in an Indian kitchen. Sign me up… Available at Chapters.
4. Wooden "Home" Sign | A warm gift that would make a lovely addition in any home.  Available at Marshalls.
5. 2017 Planner | the gift of organization. The New Year is best started on the right foot…a beautiful and well laid out planner can make that happen. Available at Marshalls & Winners.
6. Moonstone Cuff |  Fort Langley's Bella and Wren features many local jewelry artists and I find myself ogling the jewelry counter every time I visit. Leah Alexandra is one of my favourite artists…each piece is crafted with attention to detail such as this beautiful moonstone.  Take "her"arm stack to the next level..there are so many to choose from.
7. Candle | You can never go wrong with a candle. But even better is this beautifully packaged trio of Vancouver Candle Co's delicious scents. They burn evenly AND healthfully (aka they don't have any harmful ingredients in them!) Find them locally at Montrose & George.
8. Cooking Class at Lepp Farm Market | The gift of an experience is one of my favourites. The list of available cooking classes hosted by Lepp Farm Market is long, but I've got my eye on the class featuring Trevor Bird, the owner & chef of Fable Restaurant.
9. Mug |  Spruce Collective is full to the brim with gifts perfect for teachers, friends and family. I especially love this "foxy" little mug…if you're like me, collecting mugs is a thing!
10. Moccasin Slippers | So cozy…and I love the metallic silver cording. These could probably even fit in a stocking, depending on just how large the stocking is…ha! Available in a range of colours at Old Navy.
11. Watch | Love the minimalist style of this watch, with the rose gold accents. Aimee B in Fort Langley has a selection of these Daniel Wellington beauties.
Let's embrace some last minute holiday shopping, ok? We're hosting our biggest Giveaway to date! Together, Winners/Marshalls Canada and SPS would like to gift one lucky reader a $500 Winners/Marshalls gift card . Ummm…awesome, right??
To enter, simply head over to Instagram and:
Follow @winners @sugarplumlaurel @sugarplumpam
Leave a comment, tagging a friend.
Enter as many times as you like…each entry counts!
Doesn't get easier than that, does it?
*Giveaway closes Saturday, Dec 17th at 11:59pm PST. Open to Canadian residents.