It's that jolly time of year… and maybe it feels like it's even come sooner this time around. Anyone else feeling that way? Almost like Halloween couldn't get done quick enough cuz Christmas was movin on in. I'll admit that every year I act a little horrified to see decorations going up and then in about 2 seconds I'm all in. The 2 seconds have passed. Tree is getting set up tomorrow, stockings are going up…oh and the Christmas lights. Oh. my word. I begged Scrooge Scott this year for lights. He's so opposed. Well, we've had a breakthrough. I arrived home 2 nights ago to that "Seen on TV" thingy…that light/disco ball of sorts that sits on your lawn and shines these green random lights all over the front of the house. Scott was pretty pleased with himself. Well, it's a compromise…right? It's, umm, groovy.
But back to the preparation for Christmas. One of my favourite traditions used to be spending days on end filling my freezer with intricately designed shortbread, birds nest cookies, sugar cookies and a myriad of peppermint/eggnog infused sweets. I will admit that I haven't devoted as much time to that in recent years. It's hard to carve out the time! I've cut back but that doesn't mean I've stopped all together. There are a couple of treats that just are non-negotiable so I put the effort into making two or three of these things. It's the best to have treats on hand to bring to Christmas parties or serve to company.
Pam and I had the pleasure of having a little baking date with Tracy of Tracycakes last Saturday. We had such a great time learning how to make her cupcakes…and in preparation for Christmas, Tracy shared some seasonal cupcake recipes with us…and now, YOU!
Most surprising? Her riff on Grandma's fruit cake. Now don't furrow your brow…she took out all the things that might make a kid (or you) get all hot under the collar. No raisins, no dried fruit, and no soaking anything in rum or brandy…or was that the part you liked? ha! These cupcakes make "fruitcake" ridiculously tempting with a much more subtle and mellow flavour.  It all starts with a basic vanilla batter that takes on a more seasonal look with the addition of red and green candied cherries. What I loved the most was the almond flavour in the buttercream icing. You kinda have to try it. So good.
We also think this vanilla base would be good in so many different combos…what about adding crushed candy canes to the batter and topping it with a mint buttercream?
We've included the recipe below, but you might be tempted to order them straight from the creator herself. Keep em in your freezer, take out as many as you need when you need them and well, it doesn't get much easier than that.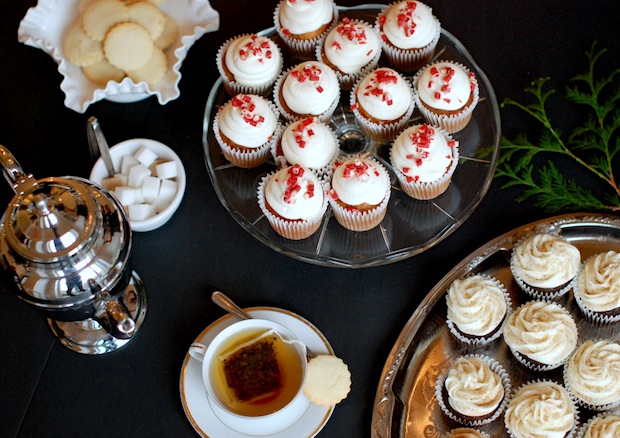 Spending time with Tracy made Pam and I realize that we could work on chilling out more in the kitchen. We both tend to like things done "just so" and well, it might take the joy out of experimenting, trying new things, adding a bit of this and a bit of that. She reminded us that there is huge pleasure in enjoying the process, not just the end result!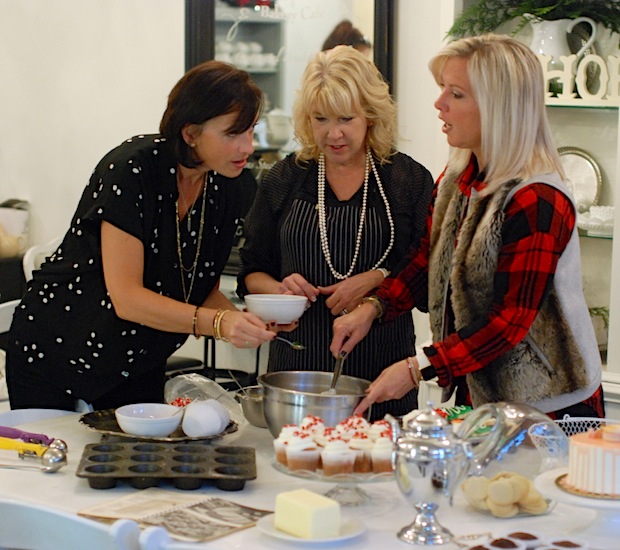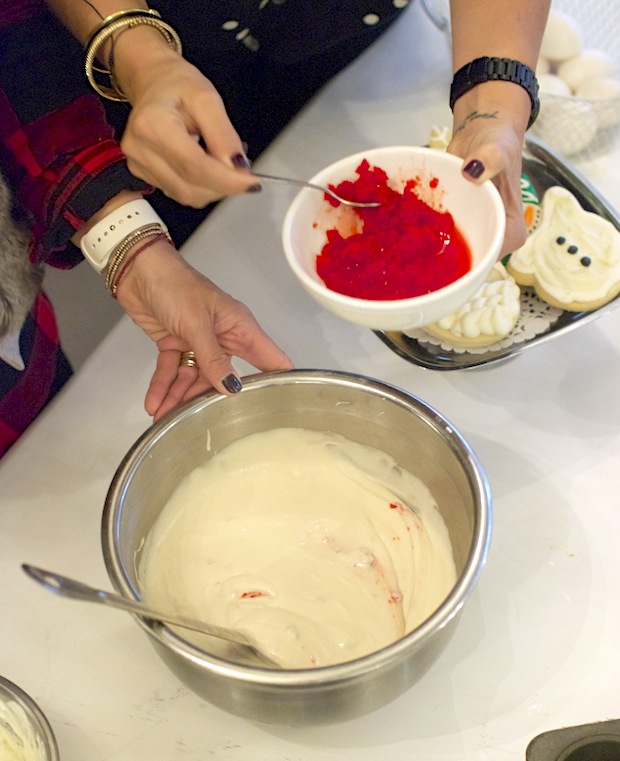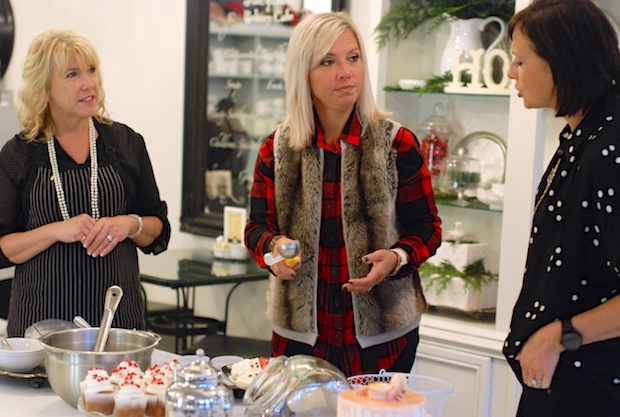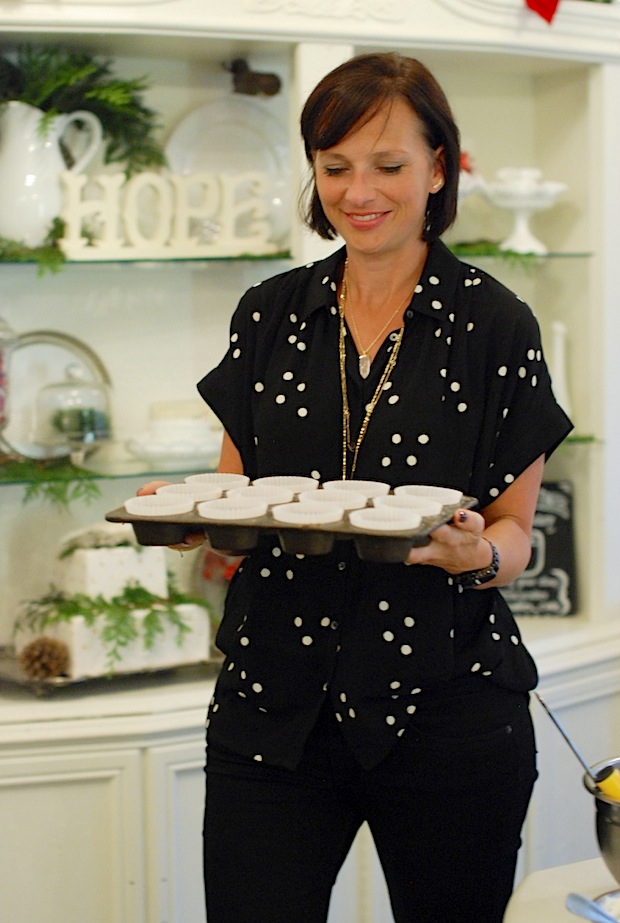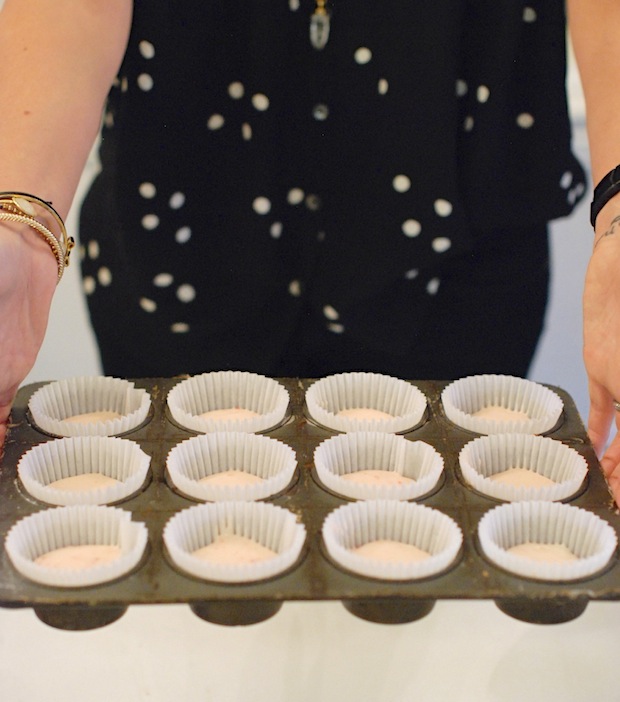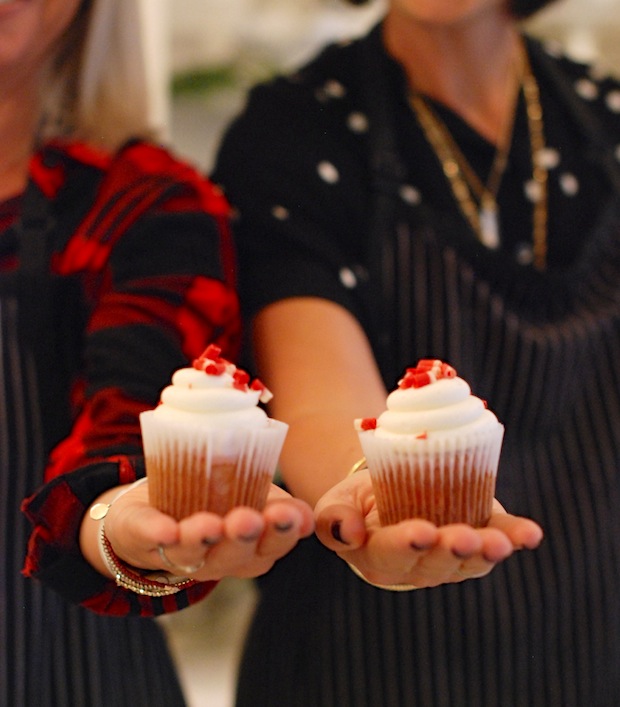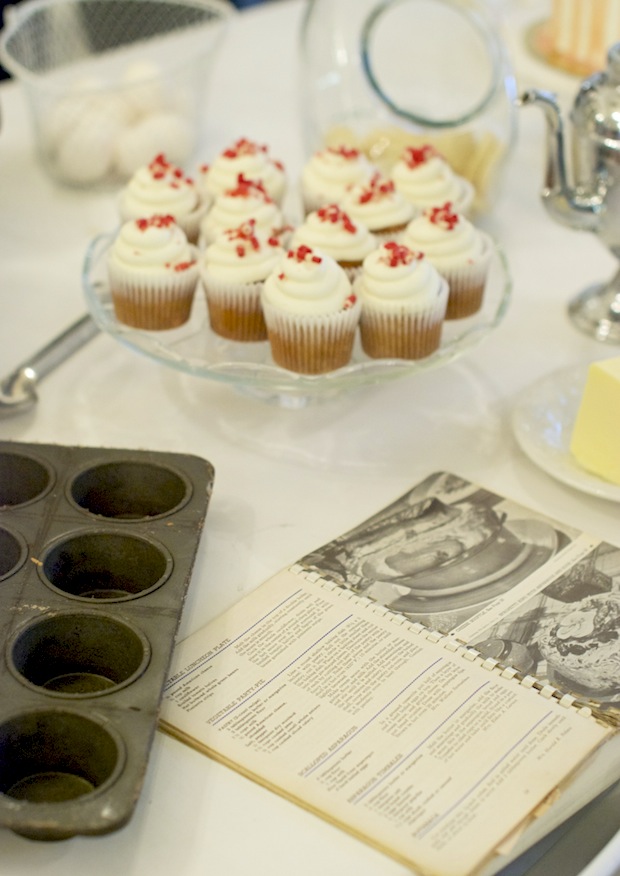 Here are a few of Tracy's tips to making the perfect cupcake:
Use the real ingredients that your Grandma used in years past. It's a treat, but enjoy cupcakes that incorporate real butter, eggs, etc. Here's a little sidenote: Ever notice that Traceycakes are kept in a refrigerated case? It's because she uses the real stuff. Cupcakes sitting out in room temperature aren't necessarily created equally…eeks!
To enjoy your cupcakes after taking them out of the refrigerator, let them sit about 10 minutes to soften.
Use a cookie/ice cream scoop to fill your cupcake tins. Not only does it keep things cleaner, but it ensures all your cupcakes will be the exact same size.
Icing. Make sure to eliminate any air bubbles in the icing bag by first squeezing some icing out of the tip into the bowl. Pipe confidently!
If you don't like your icing job simply turn the cupcake upside down, shake the icing off …and start all over.
Perfect (that word I used above) is non-existent. Be adventurous in trying different flavours with different toppings. That's where the fun part comes in!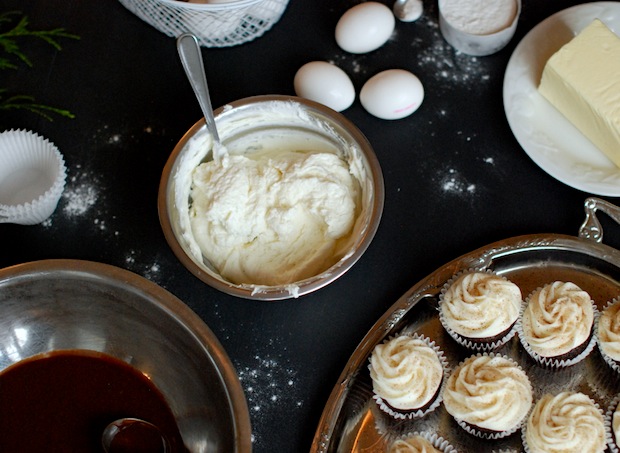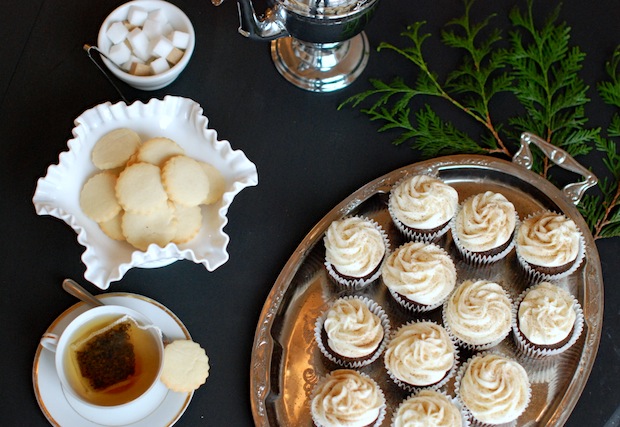 Gingerbread is also a favourite of mine…and I think the nutmeg sprinkle on top is the perfect spice to balance out the sweet icing. I'm also pretty proud that I learned how to ice a cupcake so prettily. I felt like I accomplished something BIG! And for the ones that didn't turn out, refer back to tip #5 above!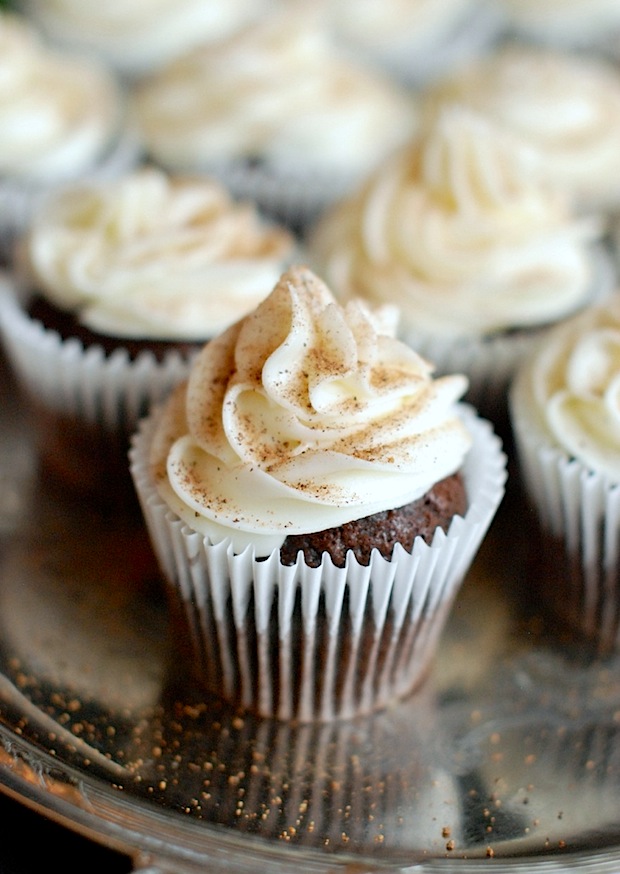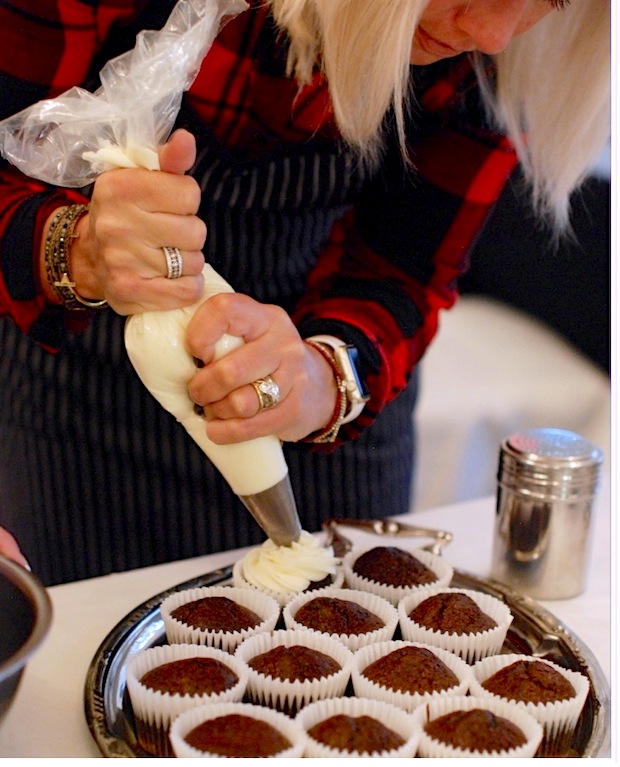 One of the best parts of baking up a storm last Saturday? Pam and I didn't have to clean up. Ummm…is that a treat or what? Huge!
Not only did Tracy spoil us with that, she's decided to spoil one lucky reader with cupcakes for a year! Say what?!? The lucky winner will be able to make a monthly visit to Tracycakes for the next 12 months to pick out a dozen Babycakes of his/her choice. What a sweet deal.
To enter the contest simply:
Head over to IG and follow @tracycakes_cafe , @sugarplumlaurel @sugarplumpam
Comment under our IG cupcake post , tagging a friend.
Each comment counts as an entry. Enter as many times as you like.
This contest will run until Sunday, Nov 20th at 9:00pm PST.
*Winner must be located within proximity of either of the Tracycakes Cafe locations (Abbotsford and Langley) to take advantage of this giveaway. Some restrictions may apply.
Good luck everyone!
This post is done in partnership with Tracycakes. All opinions are my own. Visit Tracycakes to place your Christmas order.