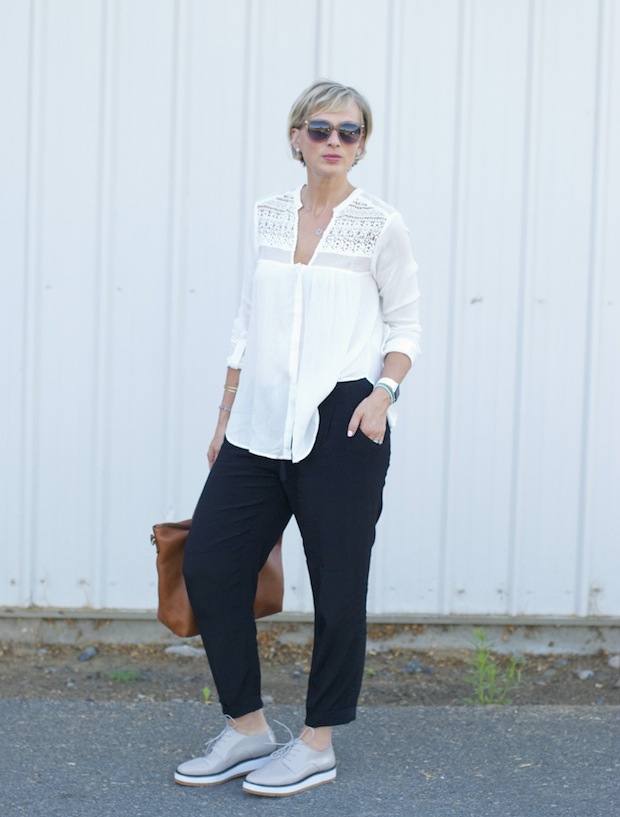 I've been running around like a crazy chicken this week.  I had my week all planned out and it was looking mighty fine…that was until it was brought to my attention that Melina had a dance intensive in Vancouver every day this week. Yaaa…I thought it was next week. That'll throw the schedule into the garbage in a hurry. We rallied though…in part because I have a husband who rocks the casbah. Secondly, because it gave me a chance to do a couple of "extras" this week in town: tackling the Grouse Grind, making a pit stop at Tacofino…you know, priorities ha!
But truthfully, though the week was ridiculously hectic with all three kids going in different directions…it was so good to spend that "car" time with Nina and her cousin, Berks. The drive back and forth was plenty of time to catch up, both in talking and music. Melina makes sure to keep me up to date with her selections (BPM though… sometimes makes me a little nutty!). And now, I can slide into the weekend with huge anticipation…that is, after I catch up with the laundry!
Weeks like this have me looking for easy outfits…ones that are both comfortable but also polished enough for those dinners out (tacos…remember??).  A basic black pair of pants does the job…with an easy, relaxed cut and lightweight material. These ones are a viscose and rayon crepe blend…similar to silk but without the wrinkles! I like to pair them with a shoe that, on the other hand, is a bit more structured… And this top. Currently a real favourite for me. I have been so attracted to the crochet details that we are seeing this season. This top, particularly, works for me because it incorporates the easy, boho look in a lightweight, ever so slightly tailored button down. A little more age-appropriate for me, rather than some of overly flowing or off the shoulder versions. Can't believe I just said that. But I did. It's all about taking the trends and working them for your body, right?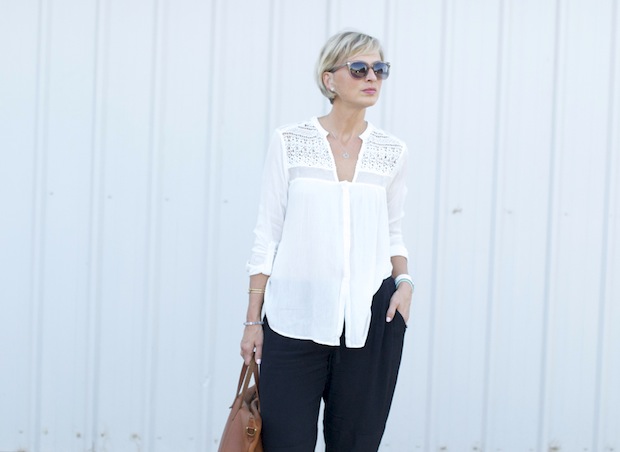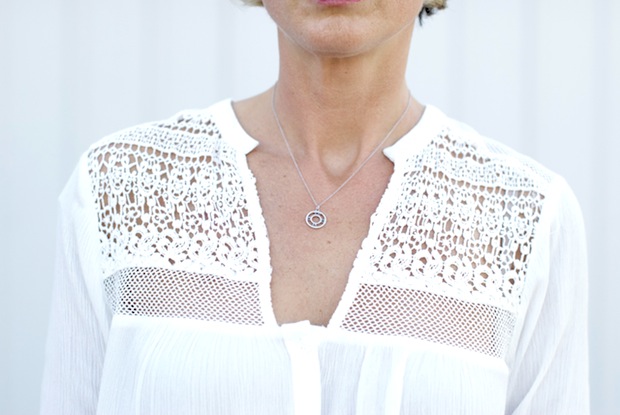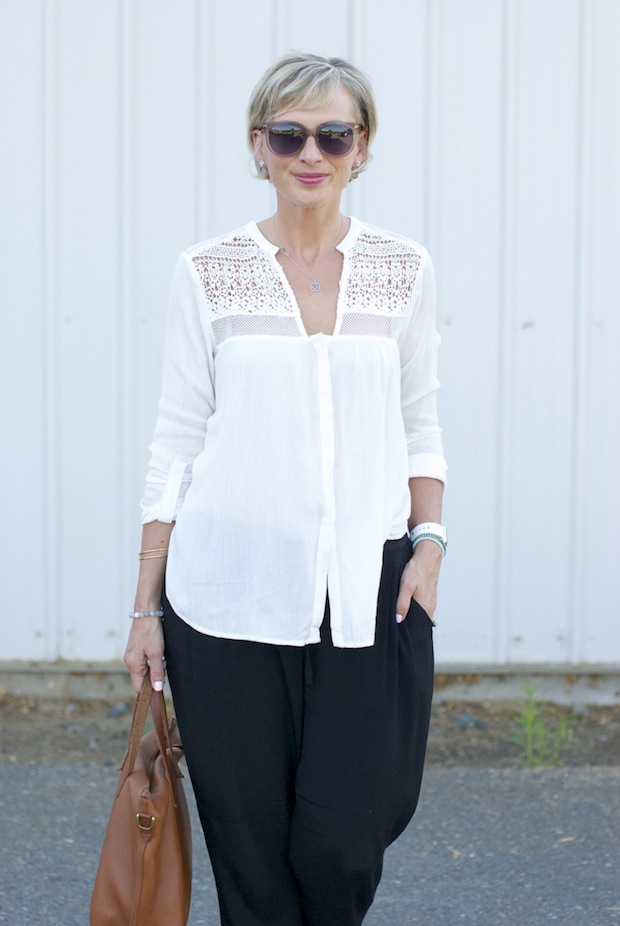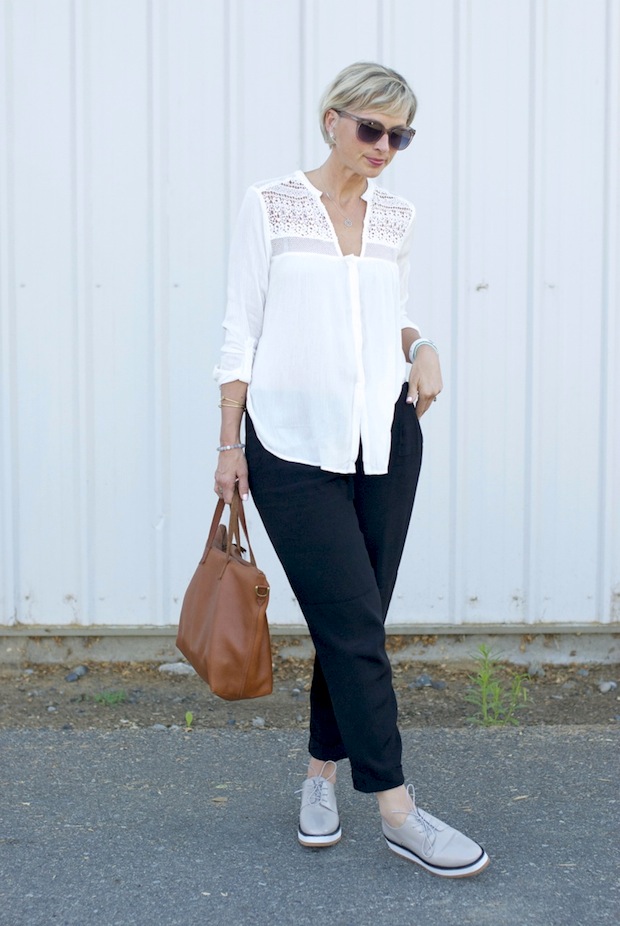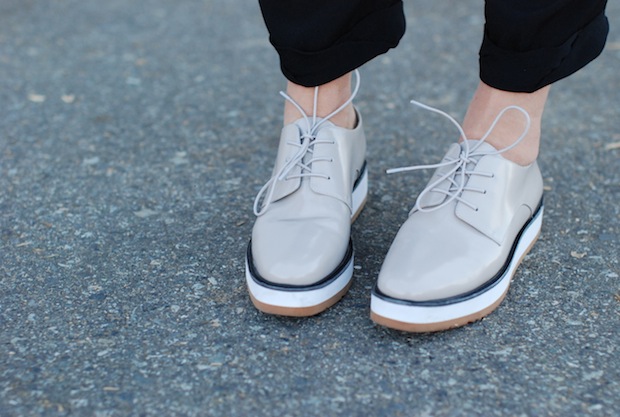 Top available at Bella & Wren Similar here and here (off the shoulder version) | Pants , similar here | Oxfords, similar here  and here | Handbag | Sunnies |
**You might notice that I've included a couple of links to Nordstrom…it's that time of year. The annual Nordstrom Anniversary sale is fast approaching, but for those of you who hold a Nordstrom debit or credit card, you can take advantage of their Early Access sale that runs until July 21st. Seriously, this is my favourite sale of the year!!! Just go to the Nordstrom homepage and click on the Early Access tab.  Fellow Tory Burch lovers, this is your chance to score fall items for incredible deals…this is new stock marked down! Yes!