I LOVE, LOVE, LOVE coffee….and am guilty of drinking way too much!  Coffee is so prevalent in North America…there is a Starbucks on almost every corner, and in Canada, across the street from the Starbucks is a Tim Horton's!  Coffee is readily and quickly available. What I've learned recently, is that coffee is an important part of many cultures and they treat coffee very differently that we do in North America.
When we were in Italy a few years ago, I couldn't believe that I couldn't get a coffee to go anywhere. You order your coffee at the bar and stand and drink it.  It's actually offensive to get your espresso to go.  The point is that you are supposed to stop, take a minute in your day, savor your coffee and maybe even have a conversation.  So, it's a social thing.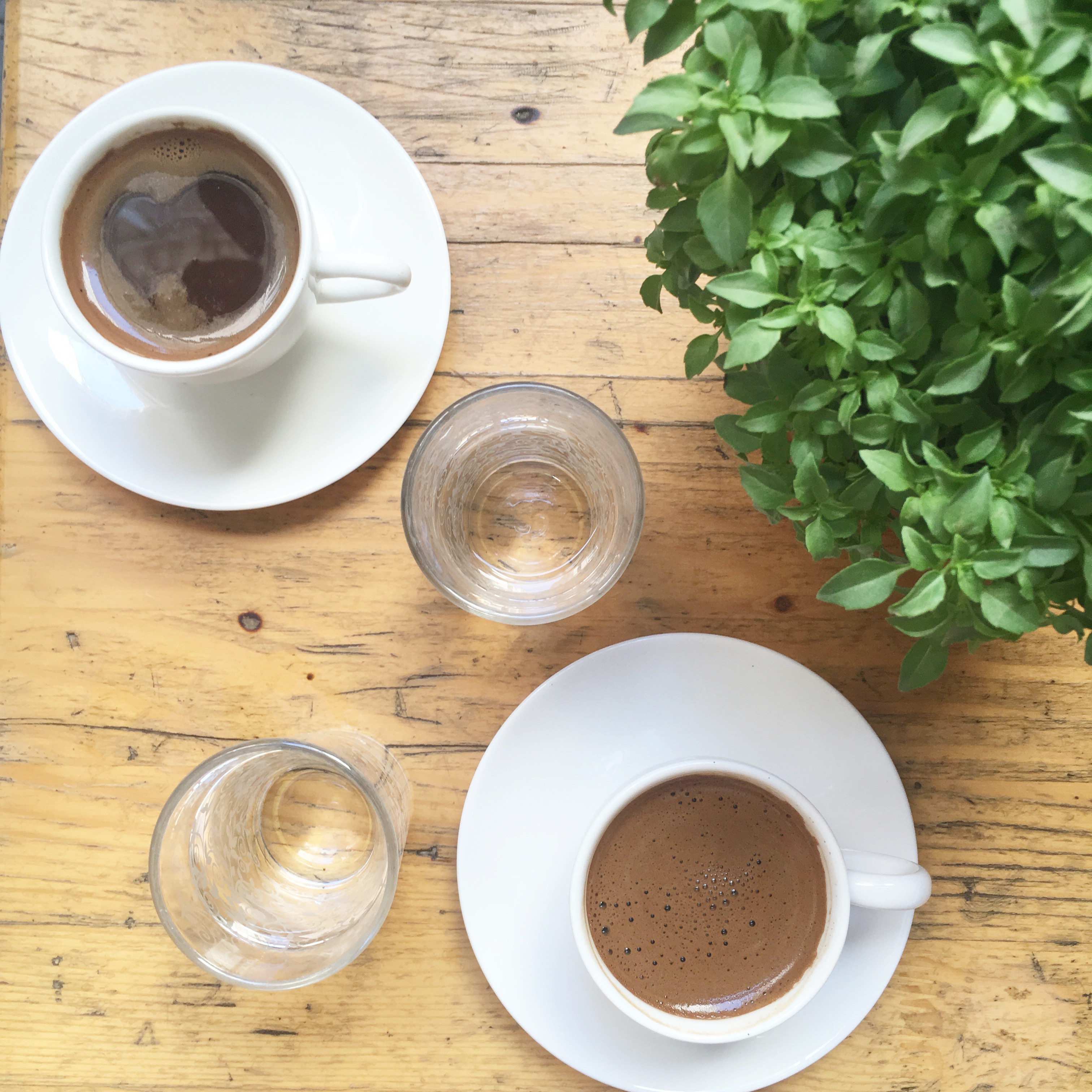 Before our trip to Turkey in May, Jason and I had heard a lot about Turkish coffee and people are quite opinionated about it.  You either love it or hate it.  Turkish coffee is unfiltered.  Finely ground beans are simmered in a pot and served in tiny cups.  Our guide during our walking tour with Culinary Backstreets explained the some of the rich customs and traditions behind Turkish coffee.
Turks start their day with tea…to gently wake up in the morning.  Coffee is drank more mid morning and into the afternoon.  Jason and I both broke this tradition and always had coffee first thing.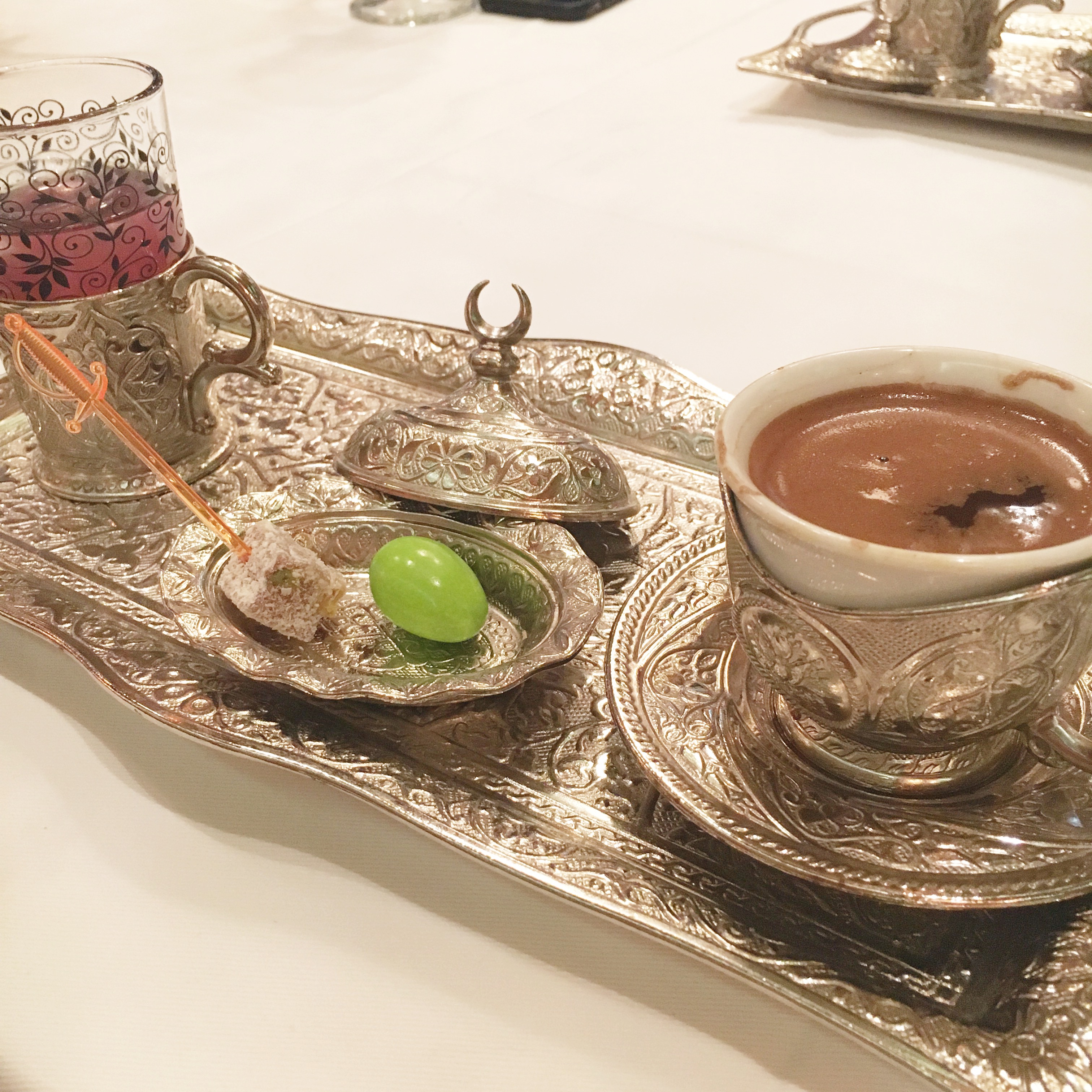 There is quite an art to preparing Turkish coffee as you can read here.  Guests are asked what level of sweetness (there are 4) before the coffee is prepared as the sugar is added during the simmering process.  Turkish coffee is served with a small glass of water to cleanse the palate, and usually a small piece of chocolate or Turkish delight….mint was my favorite paired with the coffee.  Once you are served the coffee, you must let is sit for several minutes to allow the grounds to settle to the bottom of the cup.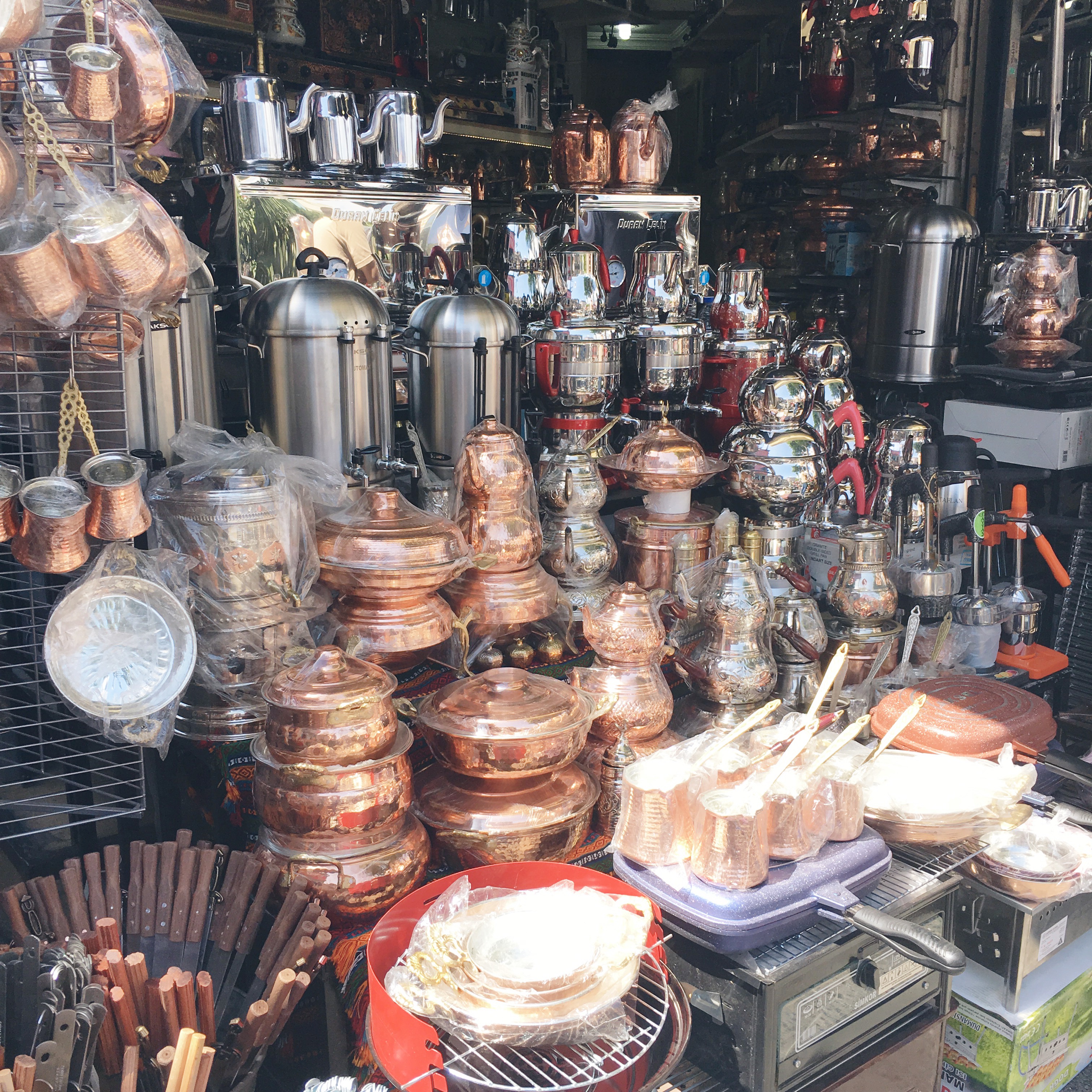 Ipek, our foodie tour guide, told us that the grounds left in the bottom of your cup after drinking the coffee can be used to tell your fortune.  Of course, I don't believe in fortune telling, but it was fun to play along.  So, once just the grounds are left, you turn your coffee cup over into the saucer and swirl it around.  You then flip the cup back over and the grounds will be in some sort of pattern.  Apparently, the pattern that's left is what they tell your fortune from.  In fact, they now have apps that you send in a pic of the grounds and they will text you back with your fortune!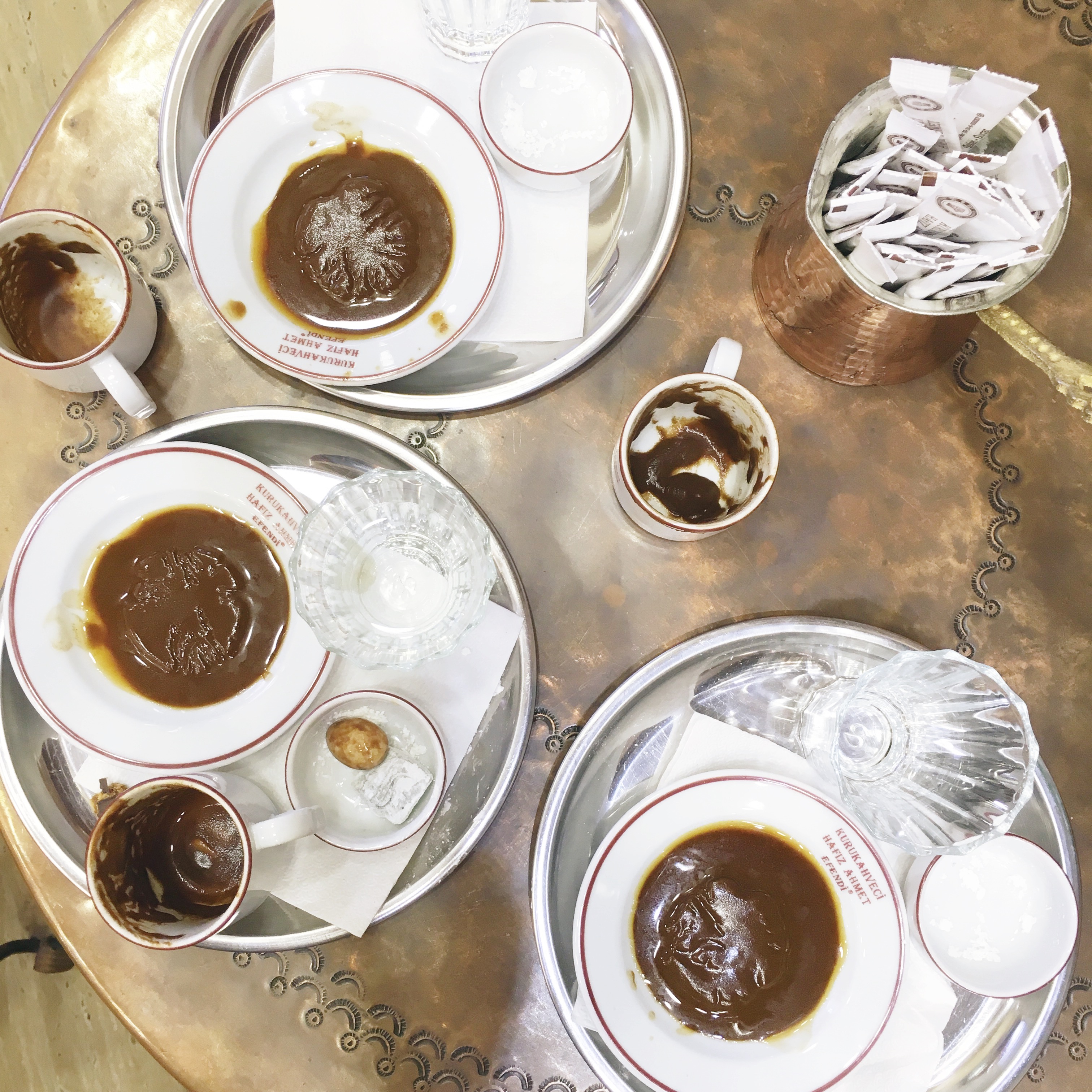 The other super interesting tradition with Turkish coffee is that when a young man's family visits a potential bride's house, the young lady makes coffee for them.  If she is uninterested in the young man, she adds salt to the coffee instead of sugar.  Upon taking a sip, he knows if she's interested or not!  In the past, the potential bride always prepared the suitor's coffee with salt to see how he would respond and if he could pleasantly drink the coffee.  During wedding season in Turkey there's actually a social media thing called "salty selfies" where potential grooms post pics after drinking salty coffee.
Jason and I really enjoyed Turkish coffee and had several each day that we were there.  Coffee is also a very social thing in Turkey.  It takes time to be prepared and is to be enjoyed over conversation.  There is no such thing as to-go Turkish coffee.  So, you sit down, relax, allow the grounds to settle and make sure NOT to drink to the bottom of the cup.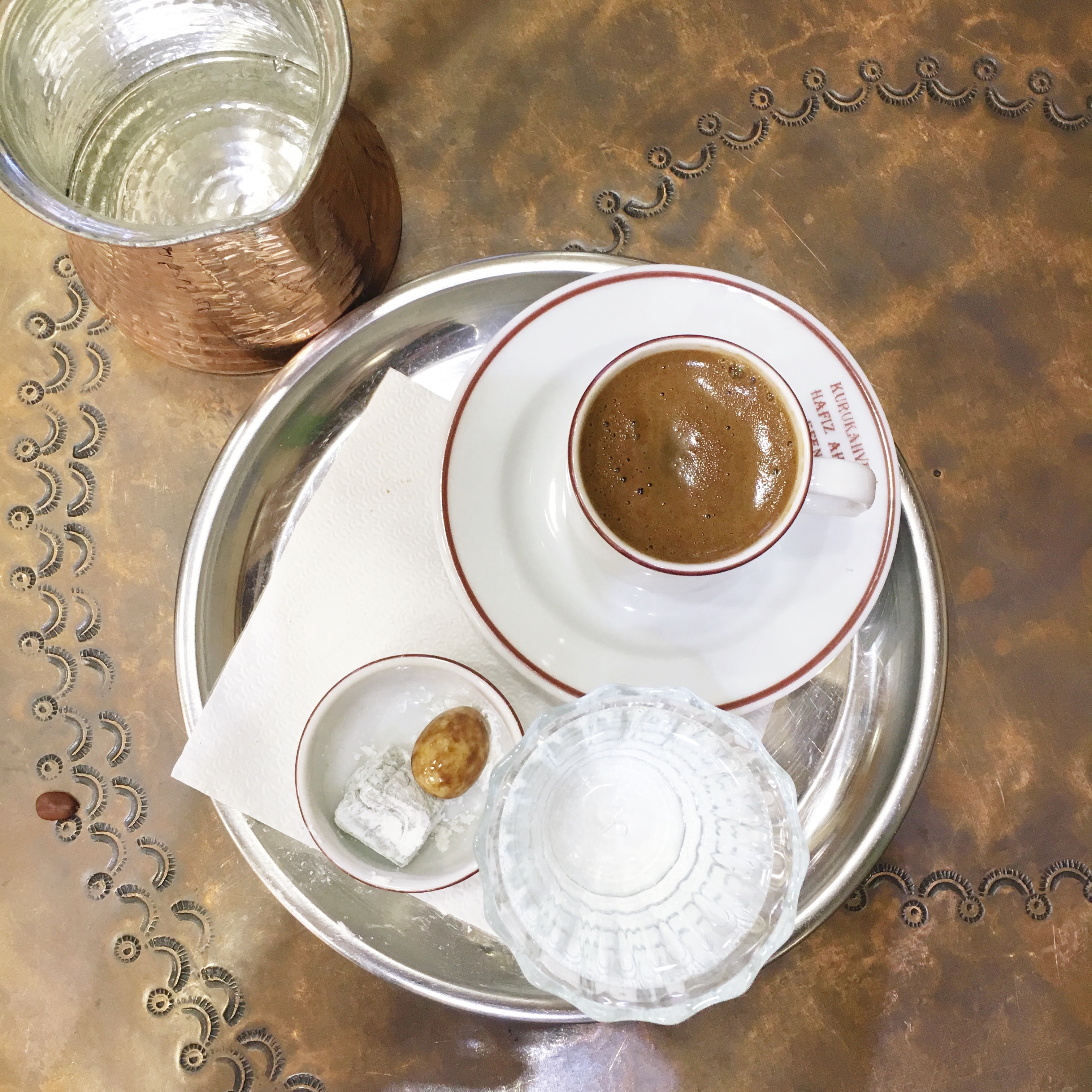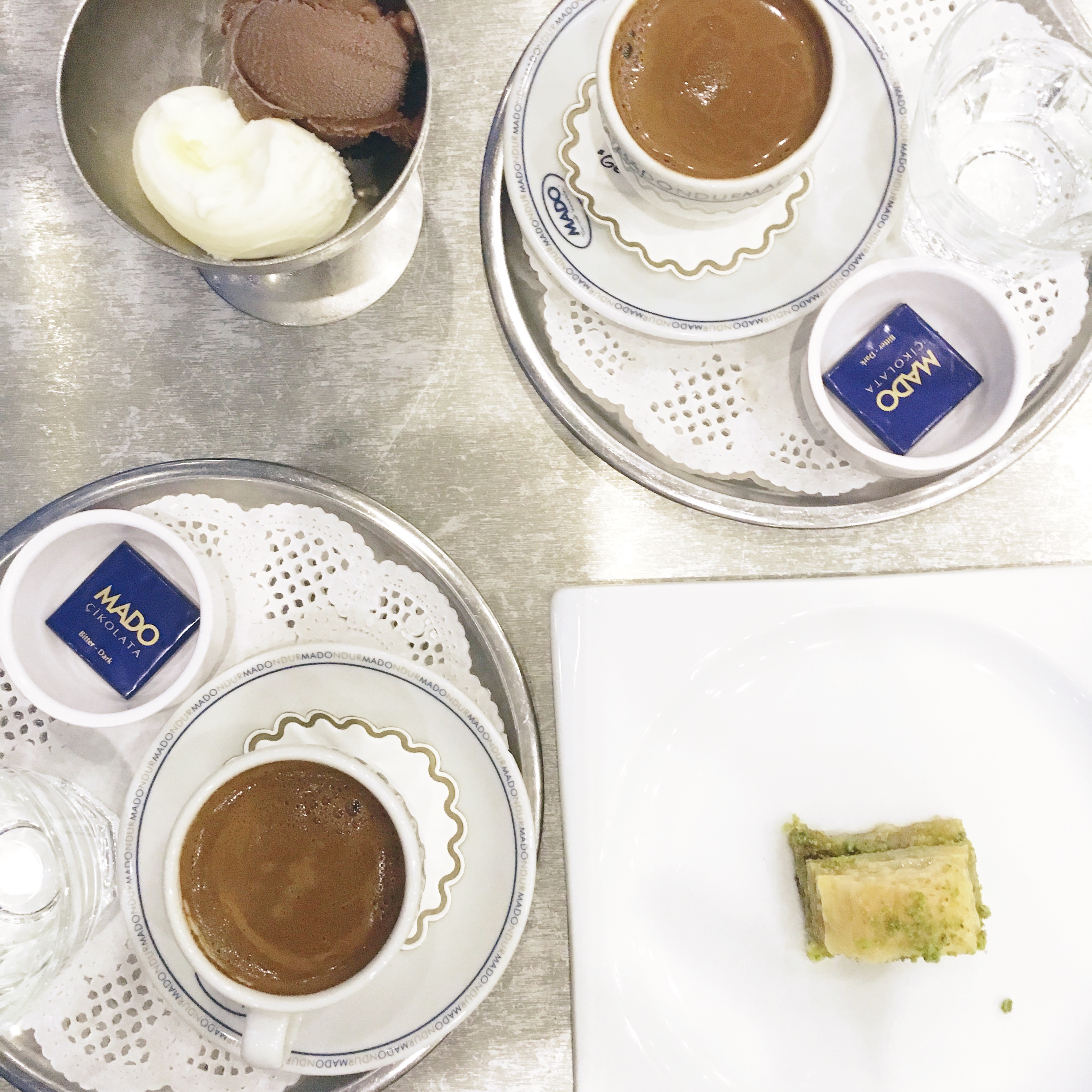 This last week I tried Arabic coffee.  In looking for coffee shops in Toronto, I was searching Instagram and came across Hailed Coffee.  It just opened up and is only about a 20 minute walk from our place.  They served "hailed" espresso beverages.  "Hail" in Arabic means cardamom, so if you get your bevvie hailed, they add cardamom syrup.  It's not overly sweet…it just adds a bit of spice to it.  I am seriously addicted!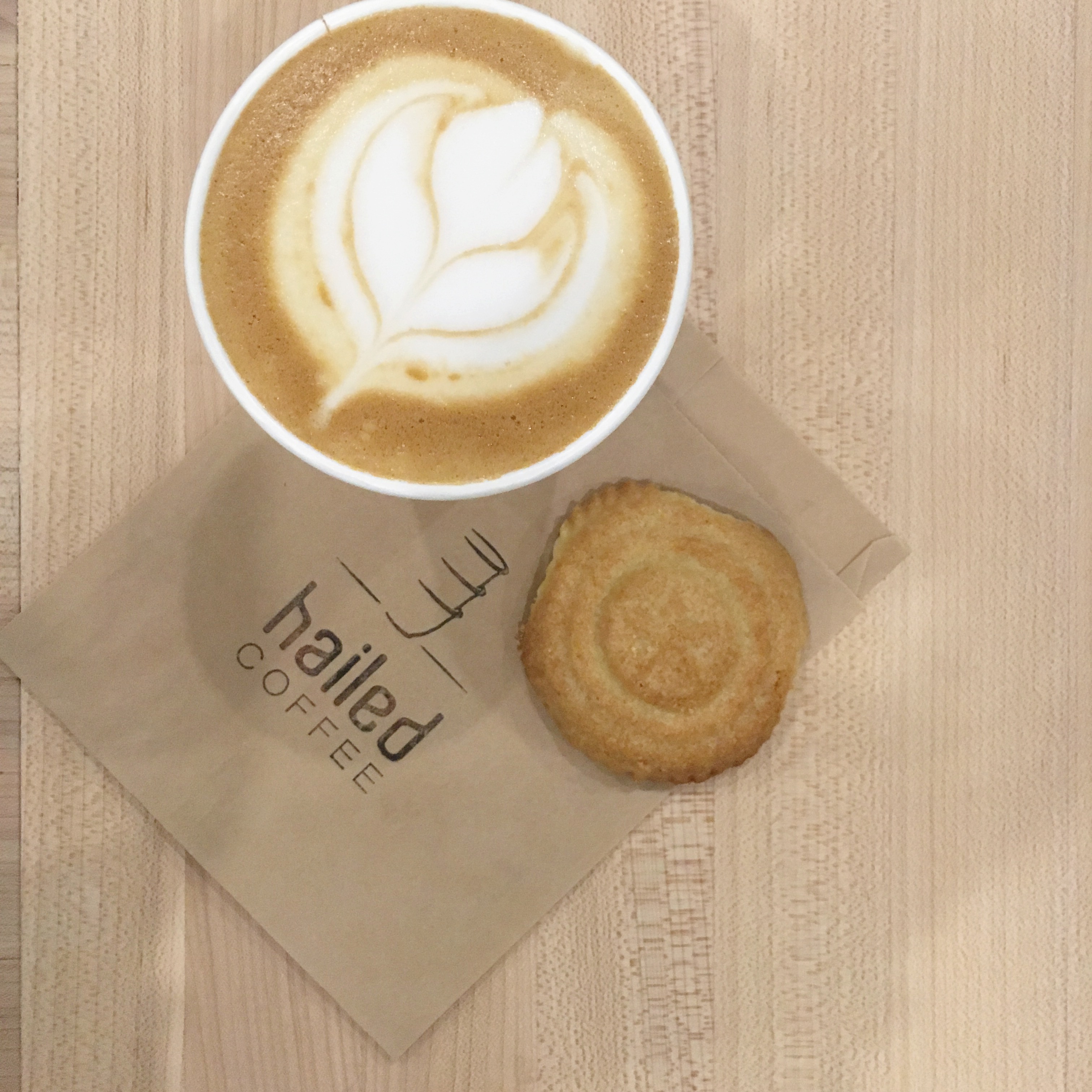 Hailed Coffee had a Ramaden Night last week so I made sure to go.  Sarah and Salim, the owners, are a delightful and welcoming couple….and very serious about serving the highest quality of coffee.  And besides their espresso offerings, they are passionate about educating people about Arabic coffee.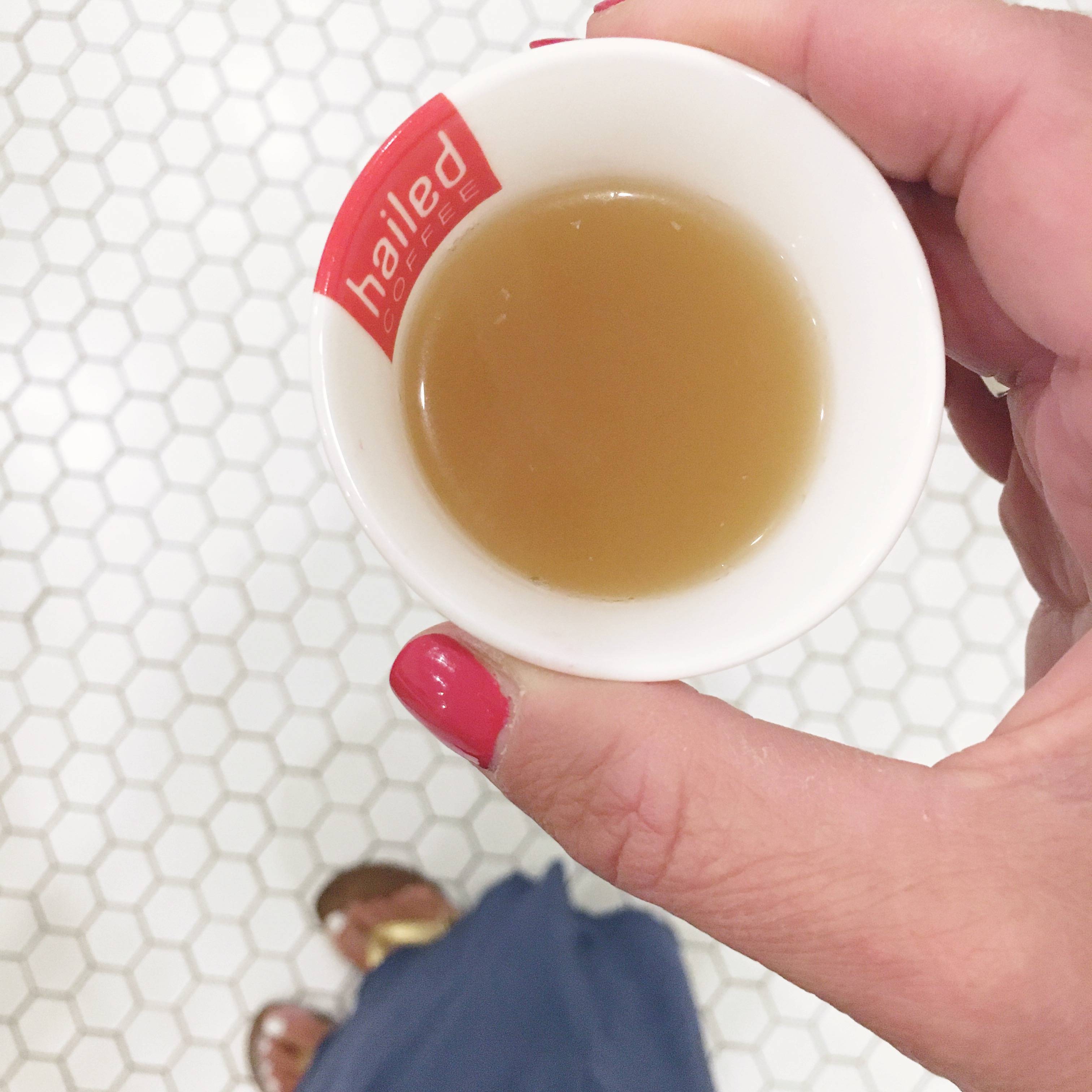 Arabic coffee is meant to be shared around conversation and dessert, usually in the evening.  Traditionally, Arabic coffee starts with roasting the beans when guests arrive.  They are very lightly roasted and the ground coffee looks yellow like mustard powder and smells nutty.  Spices, specifically cardamom, are added during the brewing process which takes about 20 minutes.  The coffee is served from a special pot called a dallah and poured into small cups with no handles.  The coffee is light in color, almost resembling more of a tea and it's spicy taste reminded me a bit of chai.  Arabic coffee does not have much caffeine, so usually multiple cups are consumed.  It is served along with dates and sometimes dessert.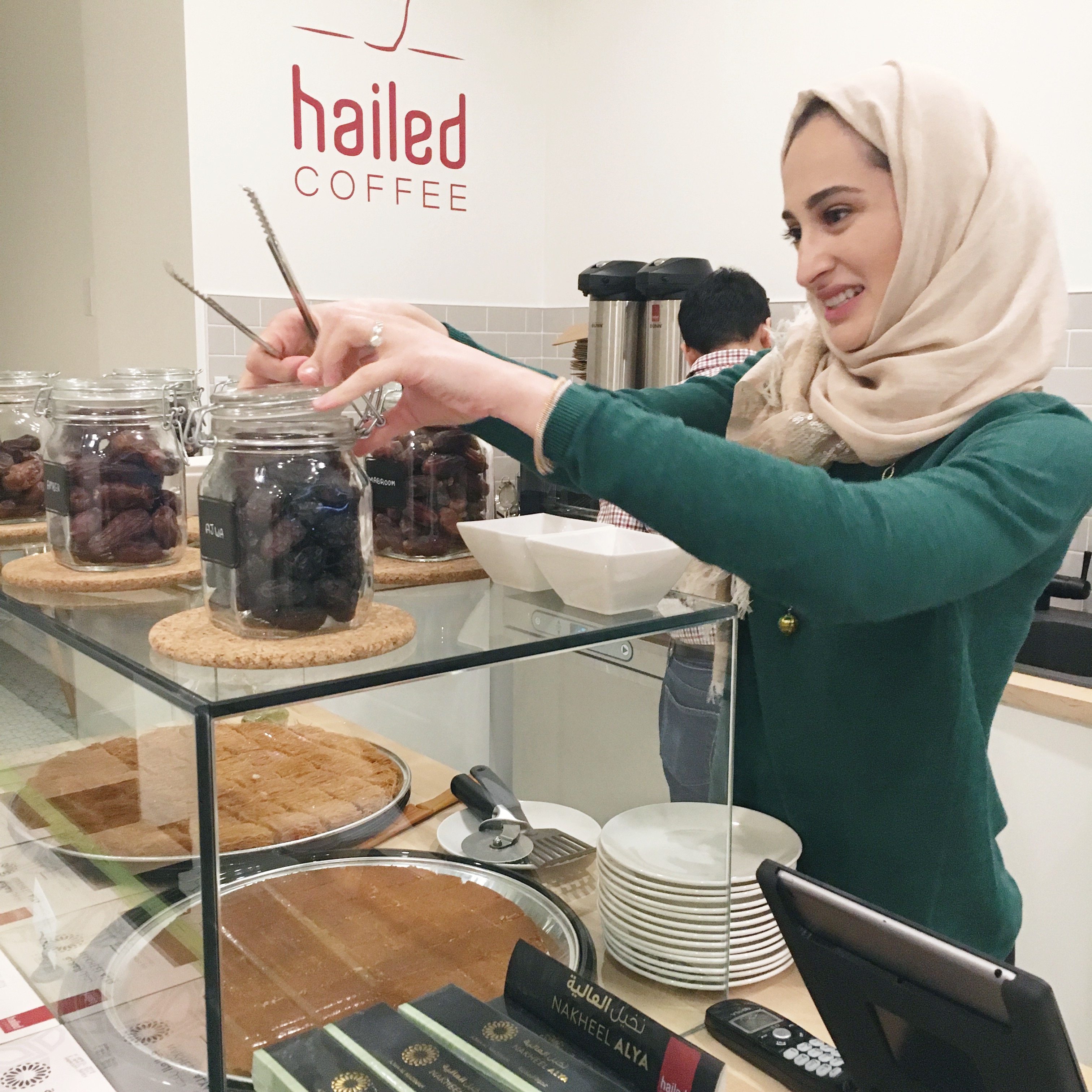 I really had no idea that there were so many different ways to prepare coffee.  I love the pride and care that different cultures take in making coffee their way.  One thing that I've definitely learned is that I need to slow down, stop and enjoy my coffee more.  Coffee and conversation is a common theme here.  I can get pretty caught up in the busyness of the day and checking my phone as I'm in line ordering my Americano, so there really is no "experience" in the process.  So, here's to putting my phone away when I go to get a coffee…and really savor it and talk to those with an around me.