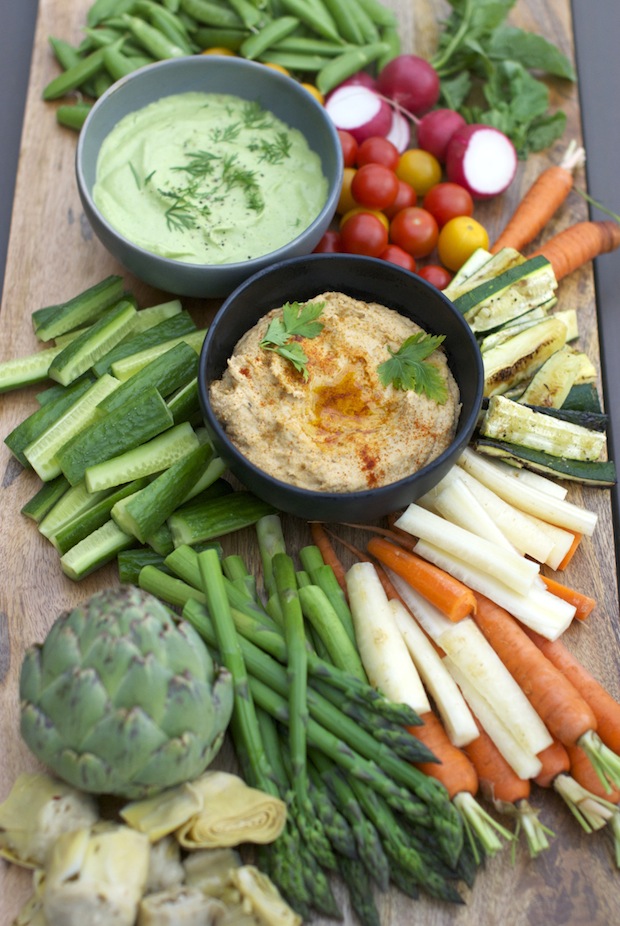 I've always wondered why everyone says that summer is the easiest time to lose weight. I always shake my head in agreement but inwardly I'm like HUH? BBQ's, cocktails, s'mores, appy nights…all of these things make it my most challenging time to stay healthy. Obviously the sunshine helps in the exercise department but… that 80/20 rule holds true…it's 80% what you put in your mouth. Period.  What I do think is easy in summer is the ability to get your hands on a huge selection of both fruits and veggies. I wish I had my own garden to harvest from, but that's a project for another year. Thankfully, there are lots of markets nearby to fill my fridge with the good & healthy stuff.
Last weekend we had our friends over for a night by the fire, and I was inspired by this link to make a large crudité platter. It ended up being a hit…it kinda served as a way for us to all hang around, picking and dipping and visiting! What's easy about a crudite platter is that you can use whatever is in season…there's no "recipe"… just use what is locally available and arrange to make the colours pop. There's a wee bit of prep involved with the slicing and dicing, but I kept the leftovers for my kid's lunches and that was so-o worth it!
A couple of dips is what makes this not just your regular veggie platter. An Avocado Ranch dip and Hummus gave colour, but more importantly, flavour! The Avocado Ranch bowl was almost licked clean…a little note, you don't have to love avo to dig this dip (just ask my hubby).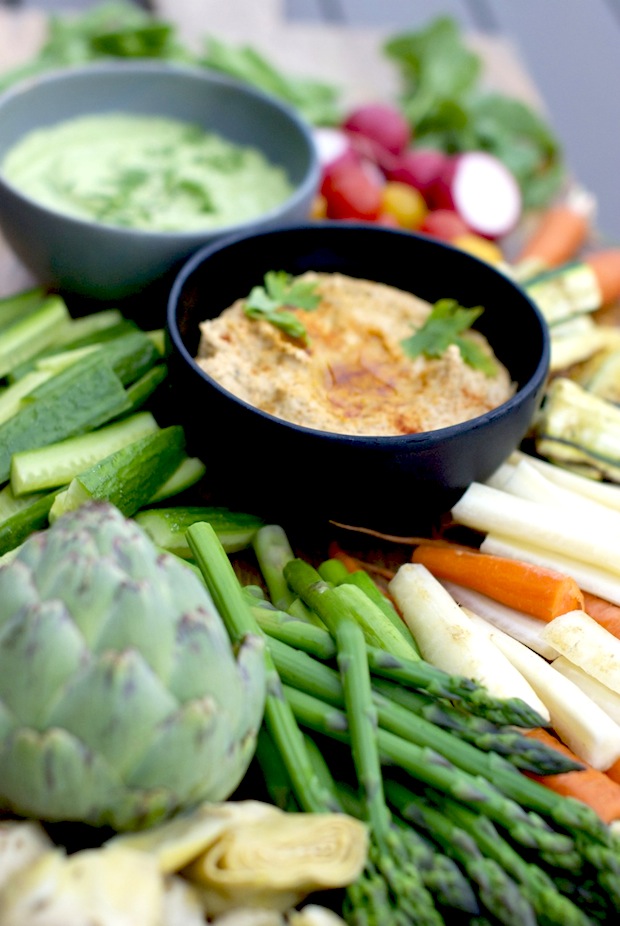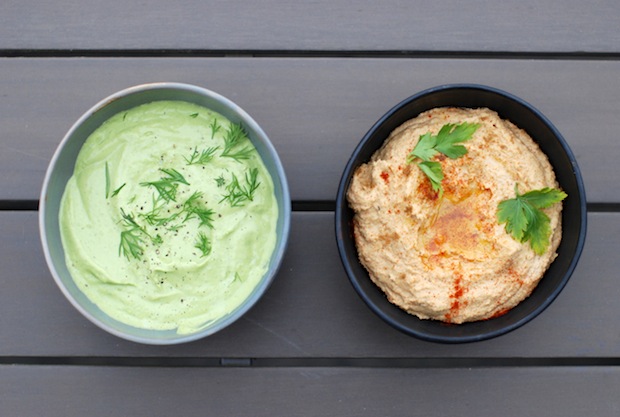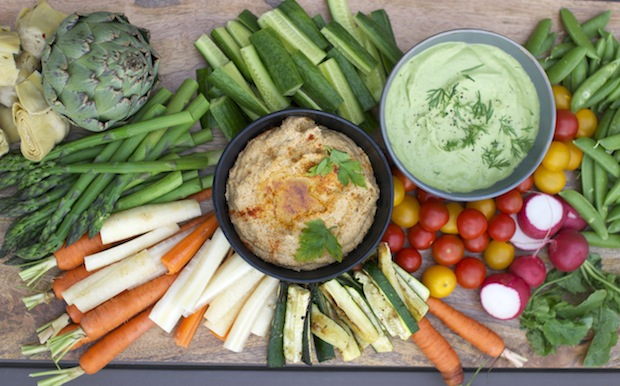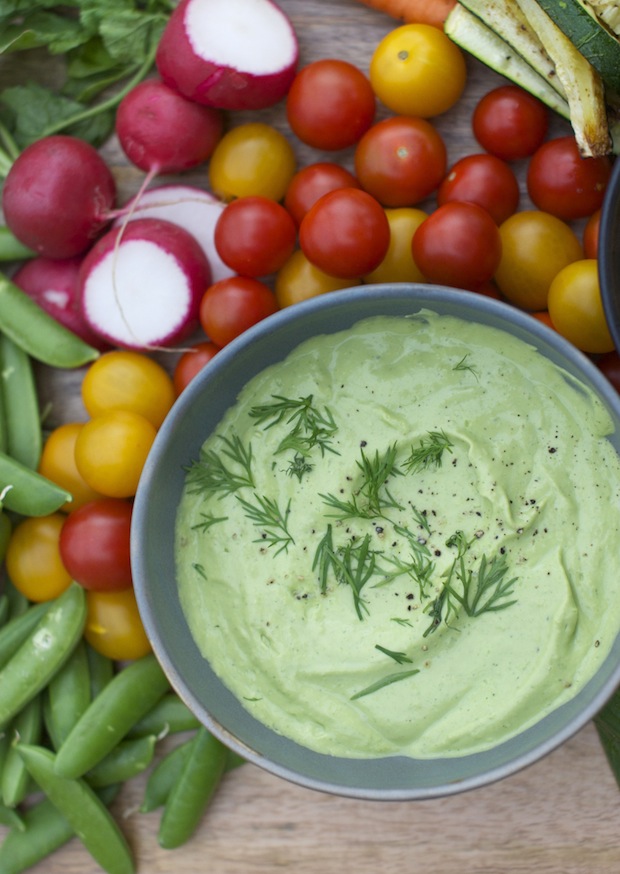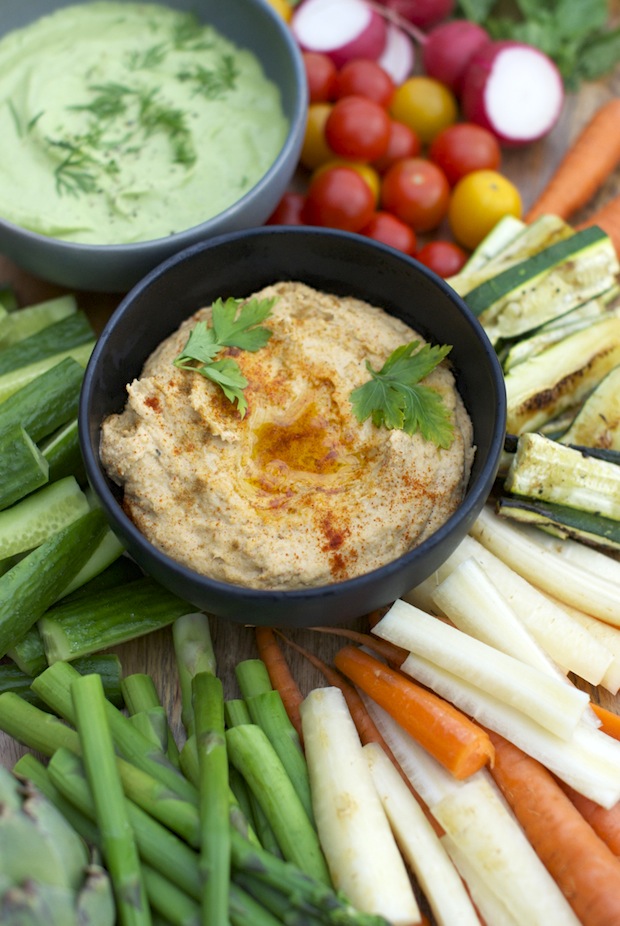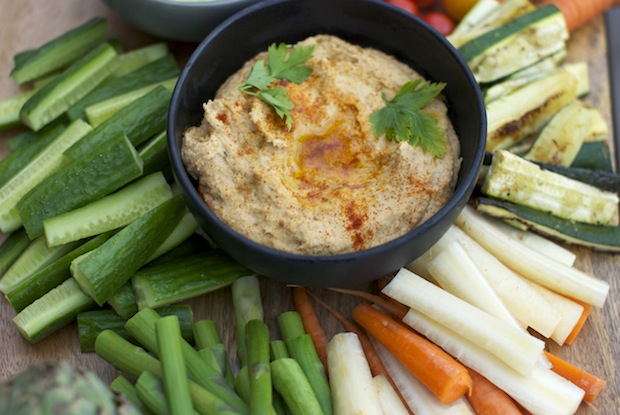 Crudité
Author:
adapted from Tieghan Gerard of the Half Baked Harvest
Ingredients
Avocado Ranch Dip
⅓ cup plain greek yogurt
½ cup buttermilk
1 ripe avocado, pitted
2 tablespoons fresh parsley (or 2 teaspoons dried)
2 tablespoons fresh dill (or 2 teaspoons dried)
1 tablespoon fresh chives (or 1 teaspoon dried)
½ teaspoon onion powder
1 clove garlic
salt + pepper to taste
Hummus
2 cups drained well-cooked or canned chickpeas, liquid reserved
½ cup tahini (sesame paste), optional, with some of its oil
⅓ cup extra-virgin olive oil, plus oil for drizzling
3 cloves garlic, peeled, or to taste
Salt and freshly ground black pepper to taste
1 tablespoon ground cumin
½ tbsp paprika, or to taste, plus a sprinkling for garnish
Juice of 1 lemon, plus more as needed
Chopped fresh parsley leaves for garnish
Crudite
Cucumbers
Radishes
Carrots
Snap Peas
Zucchini, sliced and roasted with a drizzle of olive oil and salt & pepper
Asparagus, blanched in boiling water for 3 minutes
Artichoke Hearts
Cherry Tomatoes
Instructions
Avocado Ranch
Combine all ingredients in a blender or food processor and blend until smooth and creamy.
Taste and adjust the salt + pepper to your liking.
Cover and keep stored in the fridge for up to 1 day.
Hummus
Put everything except the parsley in a food processor and begin to process; add the chickpea liquid or water as needed to allow the machine to produce a smooth puree.
Taste and adjust the seasoning Serve, drizzled with the olive oil and sprinkled with a bit more paprika and some parsley.
Prep
*If you're pressed for time, serve your favourite pre-made hummus. There are so many good ones available! We decided to make our own this time. This hummus recipe is adapted from The Best Recipes in the World by Mark Bittman.