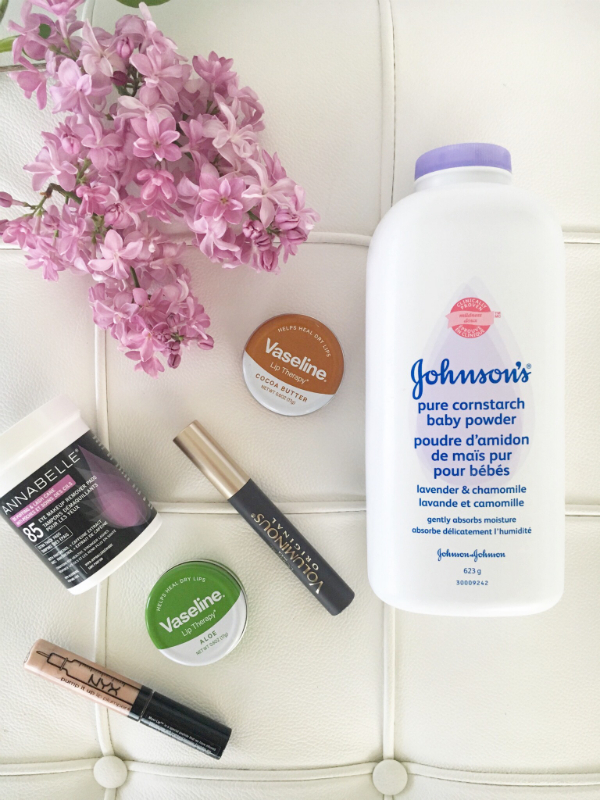 I definitely am a beauty product junkie.  But I don't like having to pay more than I have to.  I love nothing more than finding an awesome product that really works and isn't expensive!  I've found a few good ones lately and thought I'd fill you in…some of these might just become part of your spring beauty regime!
Vaseline Lip Therapy in Aloe and Cocoa Butter and here $3.99
I'm a Vaseline at night kinda girl.  I've used it on my lips before bed for years.  I'm a sucker for cute packaging so these lip pots intrigued me.  It's the simplicity of good ol' Vaseline with some amazing scents. I'm especially loving the aloe.  Perfect for your night stand and your purse!
Johnson's Pure Cornstarch Baby Powder with Lavender & Camomile and here $4.97
Ok, this is a really great tip…I had heard that a hairdresser put some of this baby powder on her scalp every night before bed and she only had to wash her hair once every two weeks!  What?!?!?  Now I defs cannot go two weeks, but I've been trying this and I've stretched it to 4 days!  Not bad!!  And man, it is a lot less expensive than dry shampoo, and I think it works even better.  Before bed, I sprinkle a little at my part, crown, and any other areas that tend to get greasy and massage with my fingers.  If necessary, I use a wee bit in the morning.  And it smells so good!  You can read more about this trick here.
Annabelle Eye Makeup Remover Pads De-Puffing & Lash Care $7.49
Not all makeup remover pads are created equal.  Trust me, I've tried a few.  These ones are non-irritating and they really do a great job of removing eye makeup…even eyeliner that's mean not to budge.  And less rubbing is good news for your lashes!
L'Oreal Voluminous Original Mascara in Blackest Black and here $9.98
I have a hard time spending $30 or more on mascara.  Is there really a huge difference the more you pay?  I talked to a makeup artist recently who said her go to is this.  So, I bought some and I've been impressed. It's awesome for everyday use.  For evening, add a few more coats.
NYX Pump it Up Lip Plumper in Angelina and here $8.99
This gloss lasts a long time.  I'm really liking this neutral color…and it comes in 7 other shades.  My favorite thing about it is the "sting" it gives your lips.  Does it plump?  I'm not really sure, but I like the thick formula and that it keeps my lips hydrated and buzzing, for lack of a better word.  Try it!