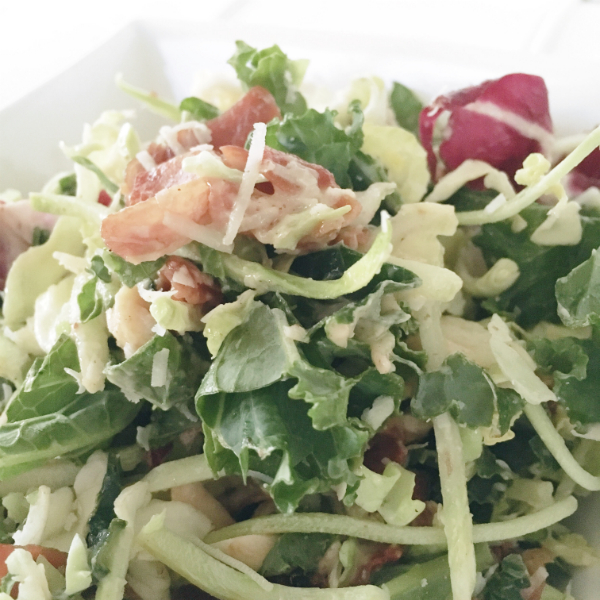 I am a salad girl, but my love for salads wanes a bit in the winter.  Veggies just aren't as fresh and I crave comfort foods.  But, I did come across a recipe for a Kale and Brussel Sprout Salad with Bacon and Pecorino that I just can't get enough of right now.  It's hearty, crunchy and totally satisfying.  In fact, if there's any left after dinner, you will see me digging in the bowl with my fork to finish it off…yup, it's that good!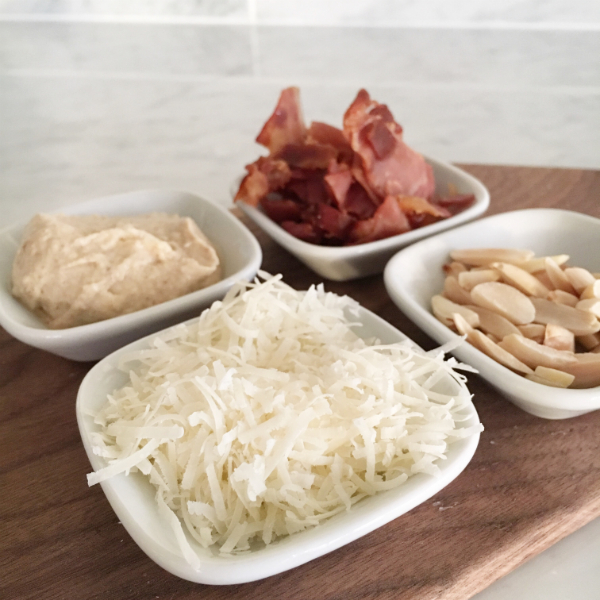 I've made a few adaptations to the recipe as I'm just  too lazy to slice up a bunch of kale and wash, trim and shave brussel sprouts.  This salad works perfectly using the Eat Smart Sweet Kale Vegetable Salad Kit you see at Costco and now at most other grocery stores.  Just ditch the poppyseed dressing and save the pumpkin seed and cranberry packets for the next time you make granola.  Voila…you just saved yourself a ton of time.  I also use this mix for other quick, easy, healthy recipes too….I'll share them very soon!

Winter Caesar Salad
Author:
Adapted from Sugar and Grace
Ingredients
2 Tablespoons fresh lemon juice
1 Tablespoon Dijon mustard
1 shallot, diced
1 clove of garlic, minced
¼ teaspoon kosher salt
pinch of freshly ground black pepper
¼ cup olive oil
340g package of Eat Smart Sweet Kale Vegetable Salad Kit (veggies only)
125 grams of prosciutto, sliced
1 Tablespoon olive oil
¼ cup almonds, roasted
½ cup freshly grated parmesan cheese
Instructions
For the dressing, blend the lemon juice, mustard, shallot, garlic, salt, pepper and olive oil in a Magic Bullet or blender. Store in fridge.
For the salad, cut the prosciutto into bite size pieces.
Heat olive oil in nonstick pan over medium high heat. Add prosciutto and saute until crispy.
Remove prosciutto with a slotted spoon onto a paper towel lined plate.
Roast almonds in a pan on the stove over medium high heat (I like to used slivered almonds).
In a large bowl, combine the sweet kale salad mix, the prosciutto, the almonds, the parmesan cheese and the dressing.
Toss and enjoy!
A couple of notes…make sure to use FRESH lemon juice. This is the only acid in the dressing and you want this to taste fresh! If you are worried about fat, you can diced up turkey bacon and fry it up instead of the prosciutto…but I do love the saltiness of the prosciutto. Use freshly grated parmesan cheese for this…the packaged stuff, even the grated, just isn't the same!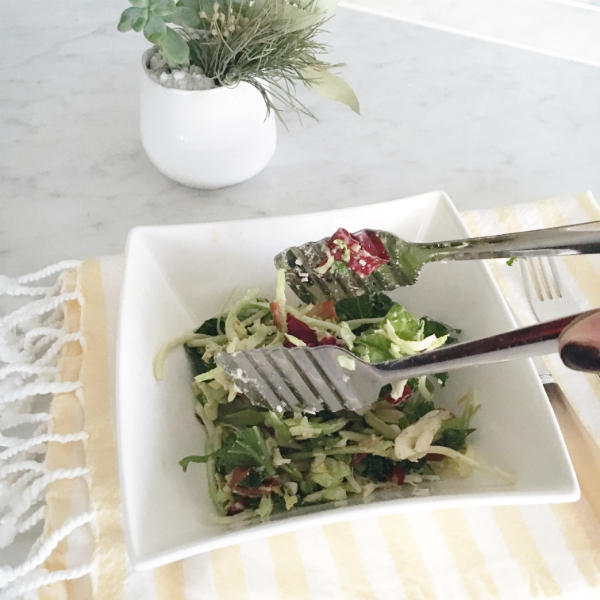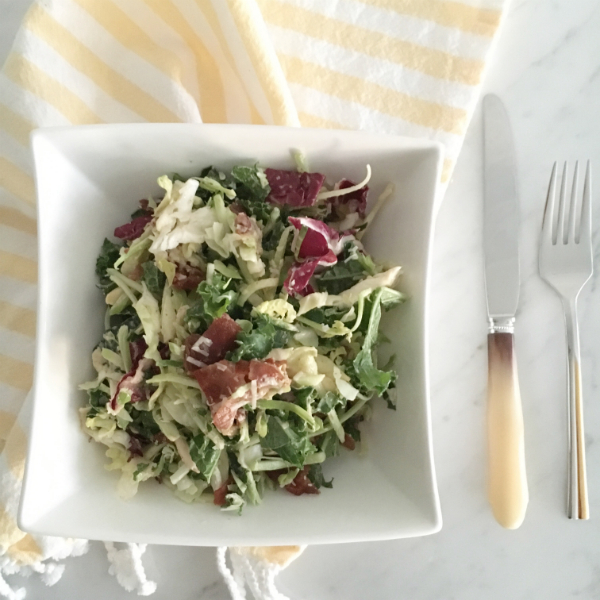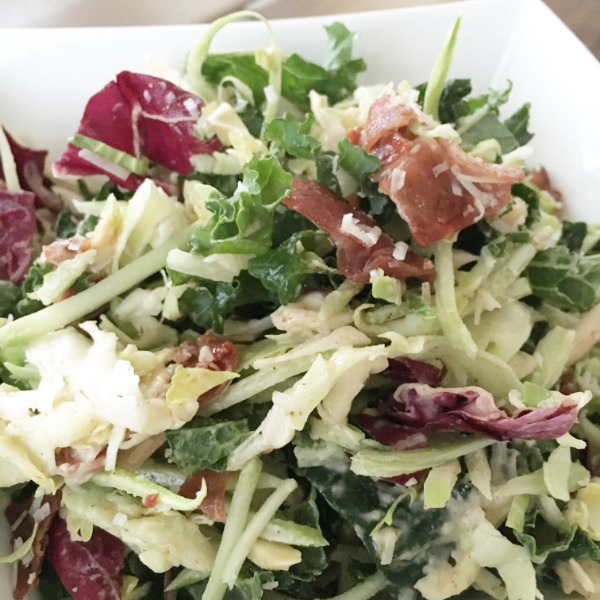 This salad is a perfect side when entertaining.  For larger groups, just double the recipe (the kale salad mix does come in a larger 794 gram bag).  This is also delicious for lunch with some cooked chicken.
You are really going to love this salad…and trust me, every last bite will be gone!