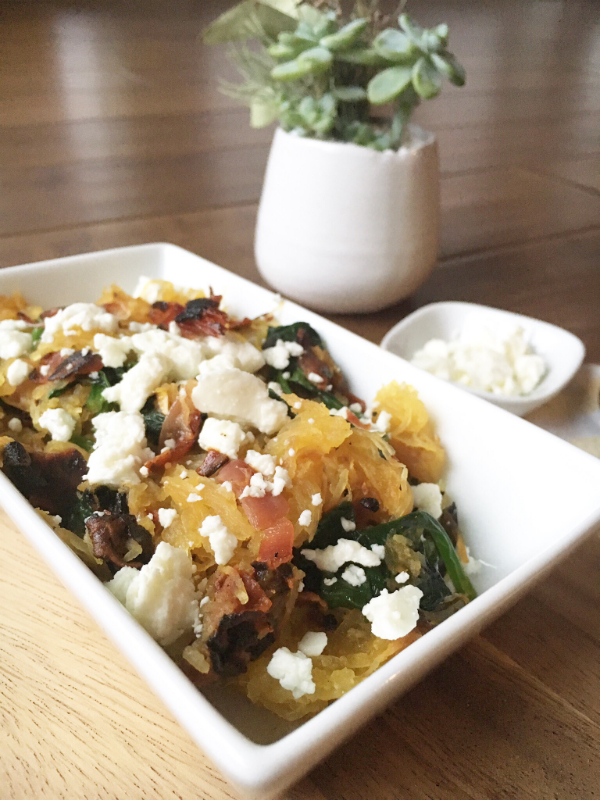 My kids are starting to complain about roasted vegetables.  They are getting a little tired of the usual around here…broccoli, cauliflower, brussel sprouts….I was cruising Pinterest (check out what we are pinning) and saw this recipe for spaghetti squash and thought I'd swap out the bacon for a family favorite…prosciutto.  Anything with prosciutto and goat cheese is a very good idea.
The nice thing too is that this recipe is low carb, but has all of the flavor of a great pasta dish.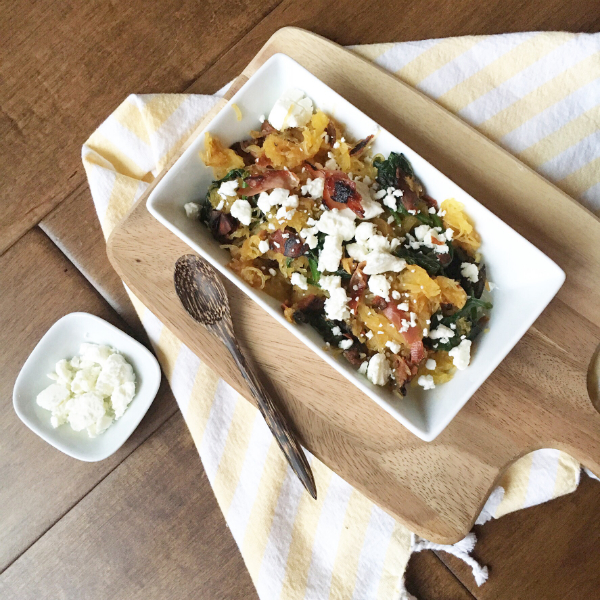 Roasted Spaghetti Squash with Prosciutto and Goat Cheese
Author:
Adapted from Christine Byrne
Ingredients
1 large spaghetti squash or 3 small
3 tablespoons olive oil
200 grams prosciutto thinly sliced and then diced
2 tablespoons red wine vinegar
1 tablespoon maple syrup
100 grams spinach
100 grams soft goat cheese, crumbled
Instructions
Preheat the oven to 400°F and spray a 9 x 13 pan with olive oil or coconut oil spray.
Cut the spaghetti squash in half width wise and scoop out flesh and seeds.
Brush olive oil all over the inside of each squash half and roast, flesh side down, in preheated oven, about 40 minutes.
When the squash is done, set it aside on the counter while you cook the bacon and spinach. It'll be much easier to handle if you let it cool for 10 minutes before taking it apart.
Heat a large skillet over medium heat with one tablespoon olive oil, then add the diced prosciutto.
Cook over medium heat, stirring often, until the prosciutto becomes crispy and fat is rendered.
When the prosciutto is done, add the red wine vinegar while stirring and scraping the bottom of the skillet. This will deglaze your pan, so that all of the caramelized bits end up in your food and not stuck to the bottom of your pan.
After about 20 seconds, turn the heat back down to low and add the maple syrup.
Stir everything together just to combine, then add the spinach, one handful at a time, stirring after every addition so that the spinach wilts and there's room in your skillet for more.
When all of the spinach is wilted, turn the burner off under the skillet and let everything sit in there while you finish the squash.
Use a fork or spoon to scoop out the roasted spaghetti squash from the skin.
When all of the squash is in the skillet, add the goat cheese and toss everything together just to combine.
A few notes…
I think I've almost lost my life trying to cut through spaghetti squashes in the past.  I read that the easiest way to deal with them is to cut them in half horizontally.  It's actually much easier as there is less cutting involved and the squash almost splits once you start cutting it.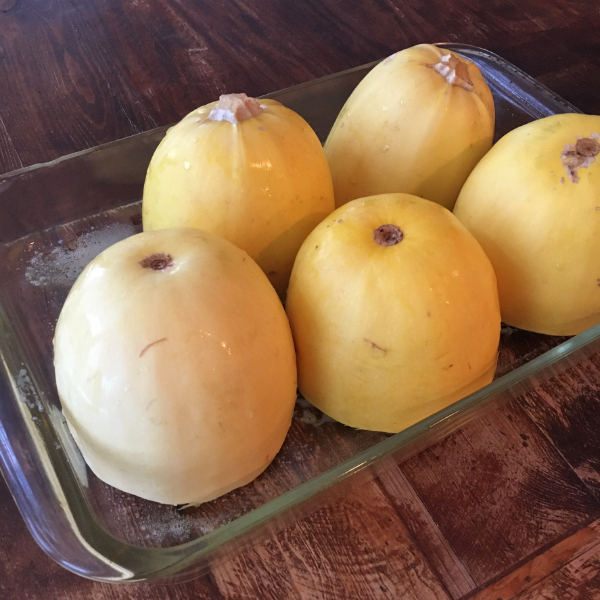 I used to always cook spaghetti squash with some water…I'm not quite sure why?  Roasting the halves with just a bit of olive oil is so much better…the caramelization gives it amazing flavor!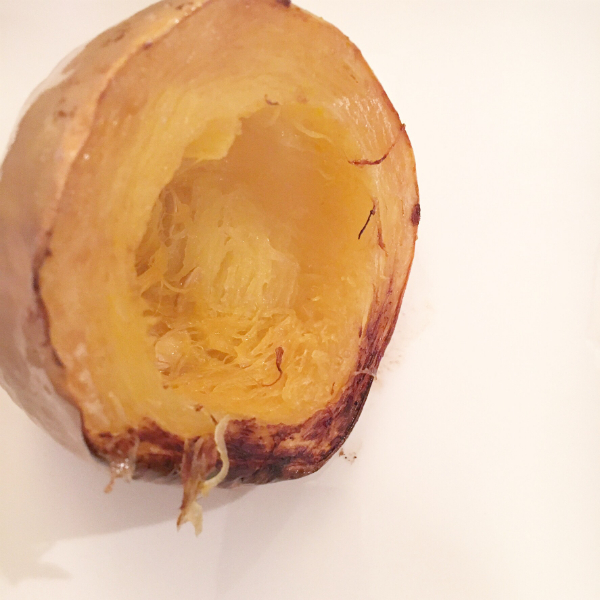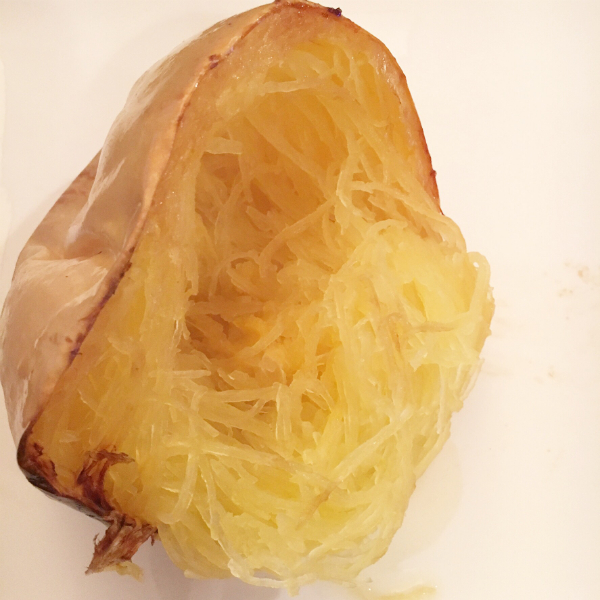 You can roast the spaghetti squash a bit in advance.  Once it's cooled, scoop out the roasted squash as you can reheat it in the skillet.
I love how colorful this dish is!  I have also used feta instead of goat cheese.  And you could also swap out the spinach for arugula.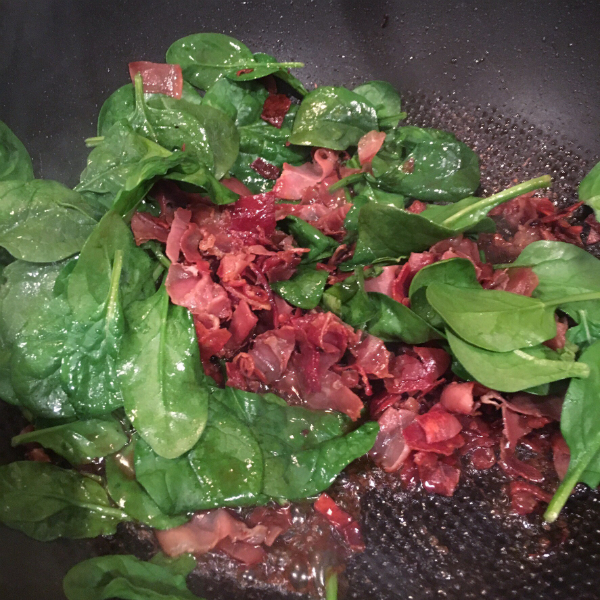 This veggie dish literally gets wiped out every time I make it!  It's a nice hearty side perfect for winter meals.