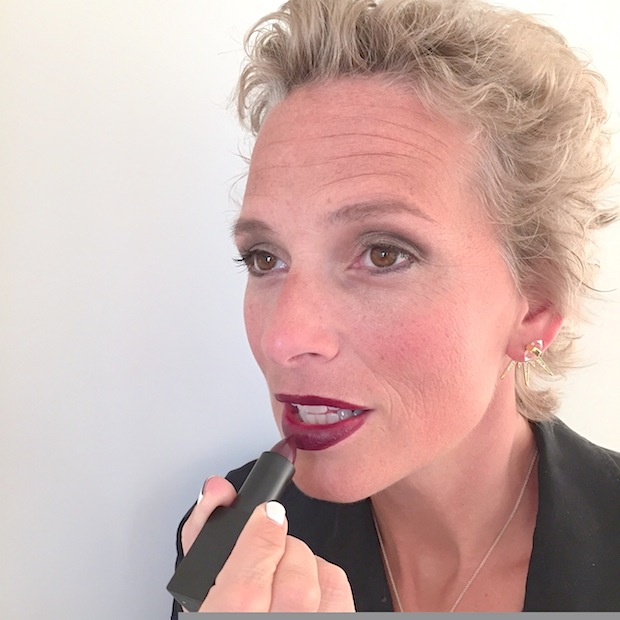 i would be lying if i didn't admit that i love being able to use product in my hair once again. i've always been a sucker for lathering in good smelling stuff. Hey, if your head smells good and clean, that's a good start! And true enough, as i was lathering away this last week, the thought struck that it might be worth sharing some of my current beauty favourites that are working for me.  Oddly, when i took a look at what i'm using right now, i realized there's a reason that the Sephora ladies are friendly to me..oops…kinda looks like i'm pushing that place. And while i do love Sephora (obviously!), these really are the products that are working for me right now. Some i've come upon on my own while others have been recommended. Let me share them with you: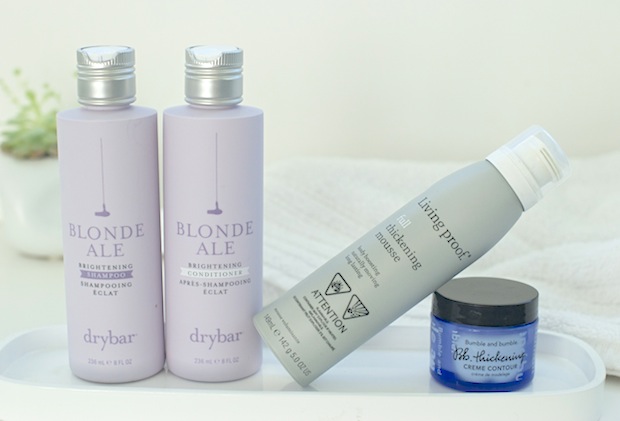 drybar shampoo | drybar conditioner | living proof mousse | bumble and bumble thickening creme 
Blonde has never been a colour i've had before, but this fall i went with a lavender silver tone and my stylist suggested getting a "purple" shampoo to counteract any brassy tones that might arise (they had to bleach my hair underneath so as the lavender faded, the blonde would come out). No one likes that overly yellow look and purple is the exact colour opposite on the colour wheel and thus is the best counter to the brassiness. This one from drybar is terrific. Your hair type will dictate how often you need to use it. i'm in the process of training my hair to be washed every other day, rather than daily, so i'm using this shampoo approx 3 times a week. Love both this shampoo and the brightening conditioner. And no worries, it won't make your hair purple.  If you overuse it, it can be washed out with regular shampoo. ps. these smell pretty fantastic too…
For styling product, my stylist also suggested a thickening mouse and creme. These both give me some ability to get volume in, while still taming the mane. Who'da thunk i'd be dealing with big hair? But really, without the creme it's Kramer all the way!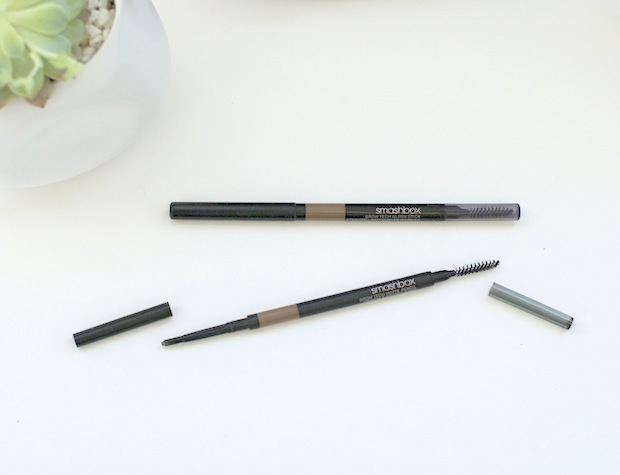 Smashbox Brow Tech Gloss Stick | Smashbox Brow Tech Eye Pencil 
Eyebrows. i used to have thick ones that were the bane of my existence. Now, they've morphed into thin, almost non-existence patches. arggg.  Now if i could go back to the former, you wouldn't hear one complaint! This fall, i had a Smashbox beauty expert do my makeup and i was blown away. My eyebrows looked natural and thick and sculpted. Not that i ever used to think i cared about that…but once you don't have those brows, you feel like your face looks completely different.  Maybe older too? Anywho..she got me onto these two brow sticks. Contrary to some varied reviews, i am loving these sticks. Maybe the magic is in using them both together. The Tech Eye Pencil is super fine and allows you to add hair-like strokes. But what makes the brow look even more natural is the addition of the Gloss Stick over top. Real hair has a gloss to it so this mimics that.  Used very sparingly, i find this layered application makes my eyebrows look as natural as i could ever hope.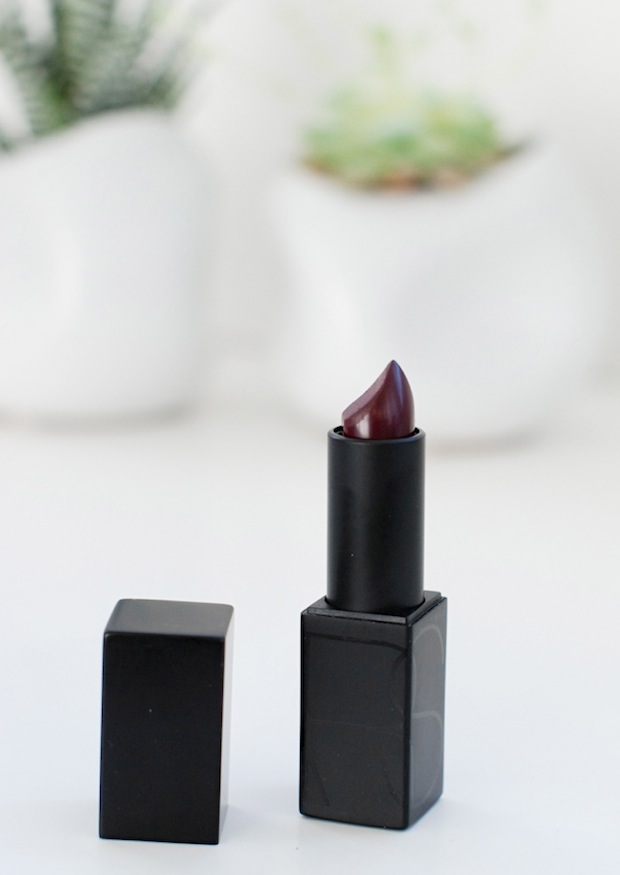 nars lipstick
Rich, dark hued lip colour is perfect this time of year.  i was on the hunt for a deep plum that i could wear when going out as well as layering for daytime wear. This Nars shade is dark. Really dark. But i think it's somewhat fun to step beyond the comfort zone a bit. So i went for it. My one must: it has to be creamy vs matte. i can't deal with anything drying so this one fit the bill. It's a wonderful shade to give more of a dramatic effect.
Would love to hear your current favourite beauty picks…what's making a difference in your routine at the moment?