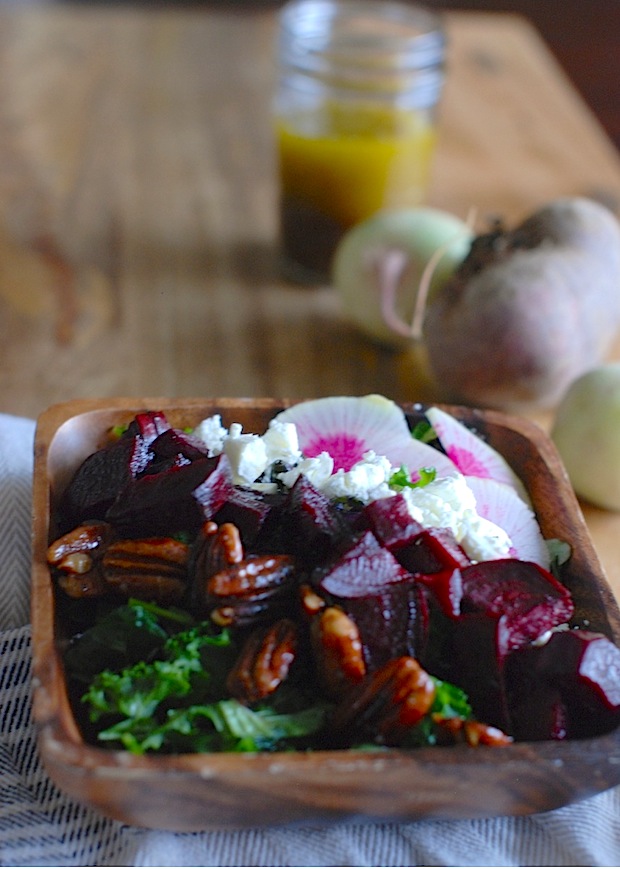 i couldn't resist sharing this recipe with you…this was a Pinterest find…and it really hit the mark.
Full of colour and flavour, this is a one of those salads to bring over to your friends when you're on salad duty. i'm not a fan of the word potluck…it's so, well… mennonite?? Makes me think of mystery casseroles…on the flip side, i also think of some pretty awesome buns and mennonite baking so it's actually not all that bad! Anyways side note there. Truly though, this might become a favourite for you to make…either as a side dish or an entree. I did both… i doubled the recipe and then brought the salad to a friend's brunch. Later on, i whipped together the second batch for dinner along with some blackened steak to add to the mix. I really like a dish that, at this time of year, can sport so much colour. Those watermelon radishes…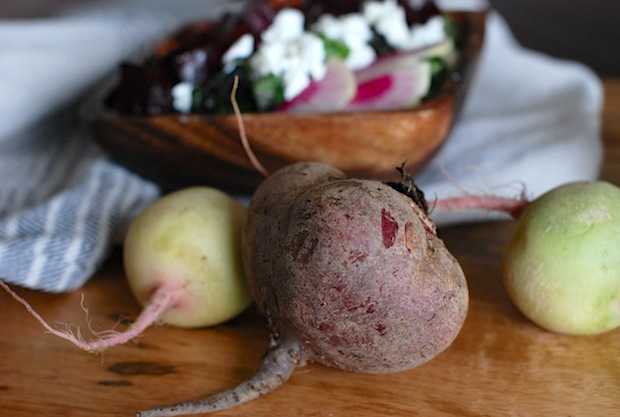 This salad can be prepped ahead of time by roasting the beets, making the dressing and candying the nuts. Assembly is quick. I actually like to mix the salad dressing in with the kale and let it sit about 15 minutes ahead of time to get the flavours going and also to soften the kale.  After this, simply slice your radishes (or use a mandolin if you have one) and add these and the other toppings. PS the dressing would be so good with many salads…the perfect mix of sweet and savoury.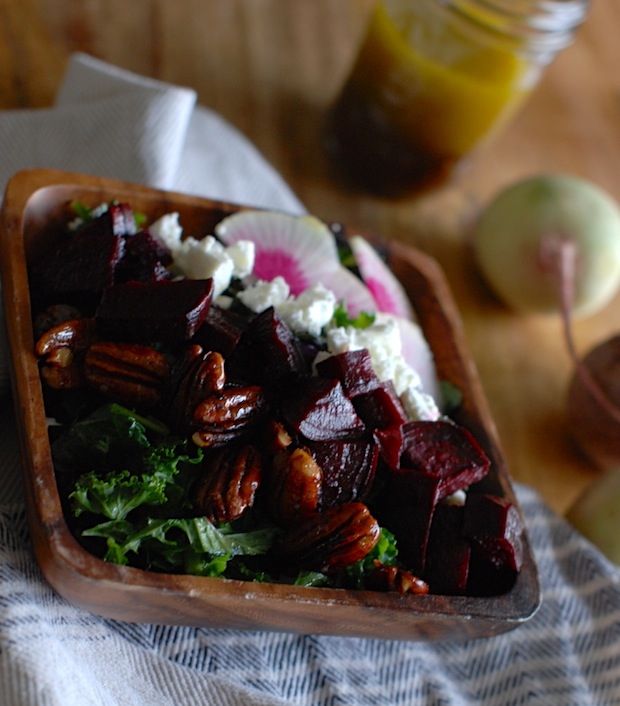 Kinda love that there's no soggy factor here…anyone else get a little eeked out by soggy lettuce leaves? So much leeway here because those awesome kale leaves are anti-soggy. Just sayin…
Hope you all love this salad…it is so delicious.

Roasted Beet Kale Salad
Author:
Kirsten Stevens, Hello Healthy
Ingredients
1½ pounds beets, peeled and quartered (or cut into bite sized pieces if you're using large beets)
1 teaspoon extra virgin olive oil
1 cup walnut halves… i used pecans
3 tablespoons pure maple syrup
¼ teaspoon sea salt
⅛ teaspoon fresh cracked pepper
4 packed cups of curly kale, washed and torn into bite sized pieces.. (i like to chop them quite fine)
Optional: ¼ cup goat or Boursin cheese (a diced avocado makes a great vegan alternative to creamy cheeses in salads!)
For the Dressing
3 tablespoons apple cider vinegar
2 tablespoons honey
1 teaspoons balsamic vinegar
½ teaspoon dijon mustard
1 small garlic clove, grated on a microplane or very finely minced
A pinch of sea salt
¼ cup extra virgin olive oil
Instructions
Preheat the oven to 425 degrees F. Line a baking sheet with parchment paper.
Place the beets on the prepared baking sheet and drizzle the oil over top. Use your hands to toss them in oil. Cover the baking sheet with aluminum foil and bake in the oven for 30-40 minutes, or until they can be pierced using some pressure with a fork.
While the beets are roasting prepare the rest of the salad. Add the walnut halves to a small frying pan over medium high heat. Let them cook until they are fragrant and start to brown in places, shaking the pan frequently. Pour over the maple syrup and sprinkle with sea salt and fresh cracked pepper. Let them cook, stirring constantly, until the maple syrup has almost evaporated, about 1 minute. Remove the walnuts from the pan and place them on a piece of parchment paper, separating them from each other as much as possible.
Add the kale, optional cheese or avocado and the walnuts to a large bowl. When the beets come out of the oven let them cool slightly then add them to the bowl too. Pour the dressing over top and toss well so that everything is coated.
To make the dressing, combine all the ingredients except for the oil in a medium sized bowl. Slowly add the oil in a thin steady stream while whisking the dressing constantly. If the oil starts to build up at all stop pouring it and whisk the dressing vigorously. It will take you about 1 minute to whisk in the oil. Taste the dressing and season with salt to taste.