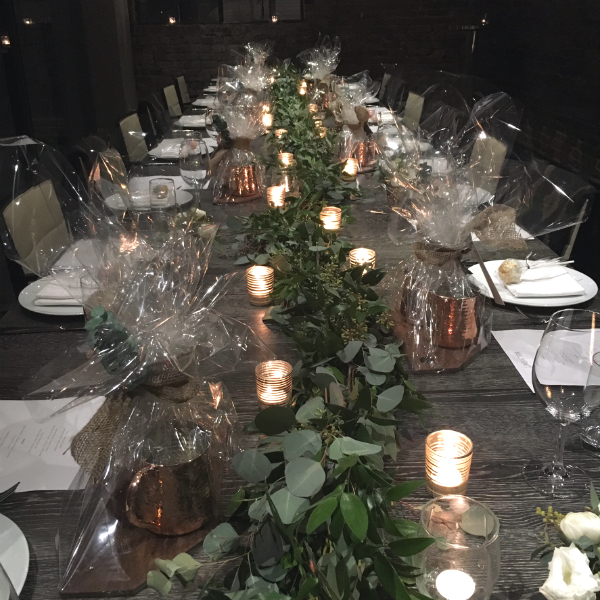 Jason opted to have his work party after Christmas.  I have to say that I'm a big fan of doing that!  You can enjoy the evening without feeling quite so frazzled and spread out the indulging a bit. We just had the dinner last Saturday in Vancouver, and I have to say that we had a nice, relaxing evening with great people, flavorful food, good wine and lively conversation.  That's my kind of night!
We chose to host the dinner at L'Abattoir in one of their private dining rooms in Gastown in Vancouver.  We had dined at their restaurant so I knew that the food would be amazing!  They have separate building for private parties with it's own kitchen.  The space is amazing…old brick walls with black steel framed windows.  The main floor is an open kitchen and the upper floor is a private dining area that can be split into two.  We had 14 people in our party, so we used half of the upstairs space.  Such a cool view from the windows into the alley…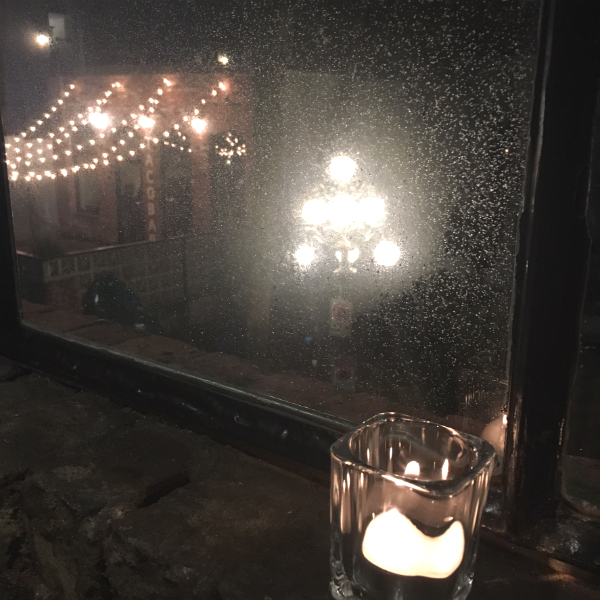 I knew who to call right away for florals…I've been dying to work with The Flower Factory.  I called Gloria and let her know that I wanted some sort of runner for the table and individual arrangements that the ladies could take home.  She focussed on greenery and found some amazing antique-looking rose gold containers and filled them with greenery and white ranunculus.  I brought a ton of gold mercury glass votive holders and sprinkled candles along either side of the runner.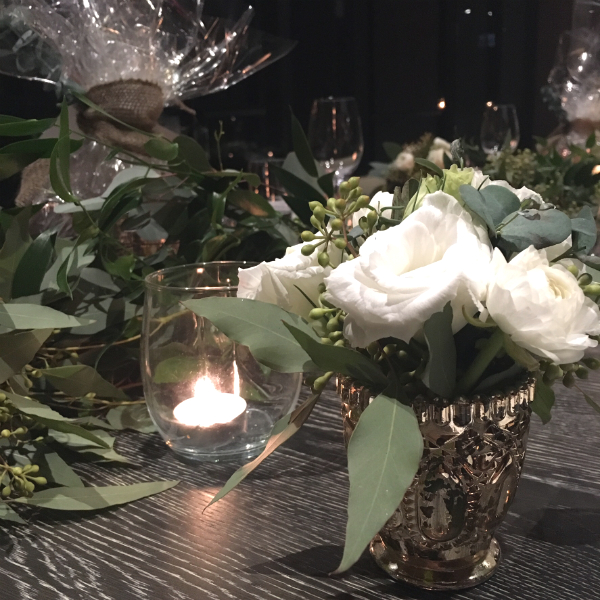 Rose gold was the inspiration for the salted caramel cake pops made by Crystal at Reddy Made Cakes…a little treat to enjoy on the way home.
I love include take home gifts if the budget allows.  So in addition to the arrangements, each of the ladies got a blanket scarf from Aritzia that I had draped over each of their chairs.  Each of the men received a Moscow Mule kit with a two copper mugs on an individual wood serving plate.  I wrapped each kit in cello, tied them with a wide burlap ribbon and included some eucalyptus to bring in some additional greenery.  And the copper mugs tied in again with the rose gold.  Oh and of course I included a printed out recipe for a Moscow Mule.  So, the gifts really added to the decor.  That's a great little tip when you are planning a party…have the take home gifts be a part of the decor…double duty!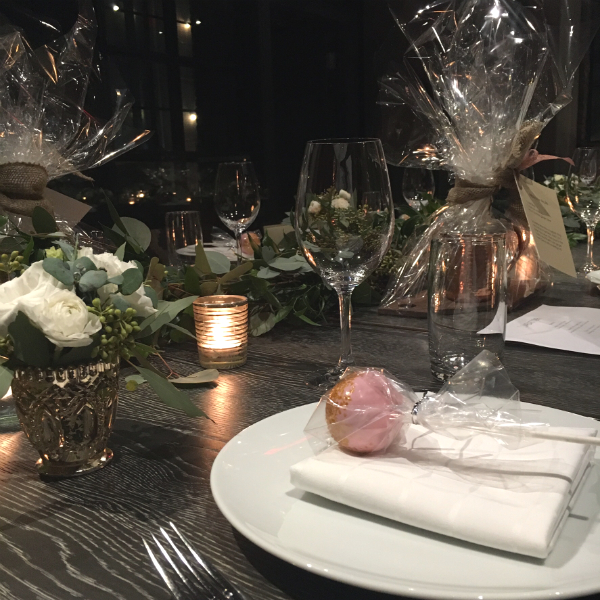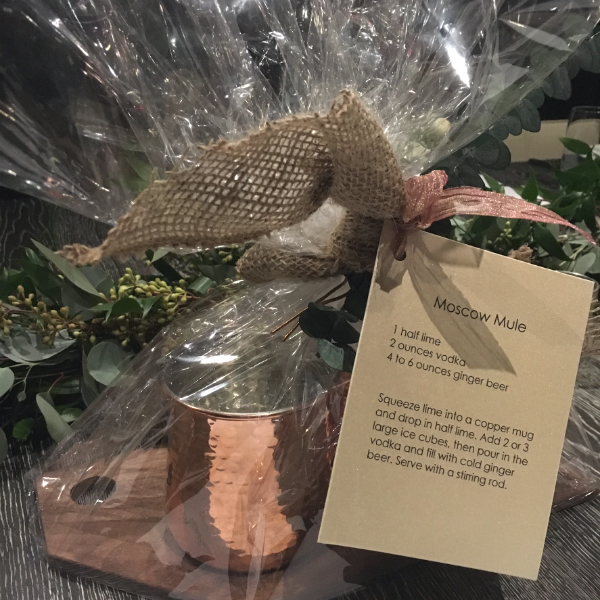 One thing that made the evening interactive and relaxing was that L'Abattoir served the dinner family style.  I've always thought of family style being more for a casual event, but this was actually a lot of fun.  I was able to order 3 starters, 3 mains, 3 sides and 2 desserts, and we all had to pass them around and we got to try them all!  No difficult choices to make.  We maybe had to fight my dad for the last bit of burrata!  The service and the food at L'Abattoir was outstanding!  If you are looking for great food and atmosphere without a stuffy attitude and you are in Vancouver, you need to go!
The food….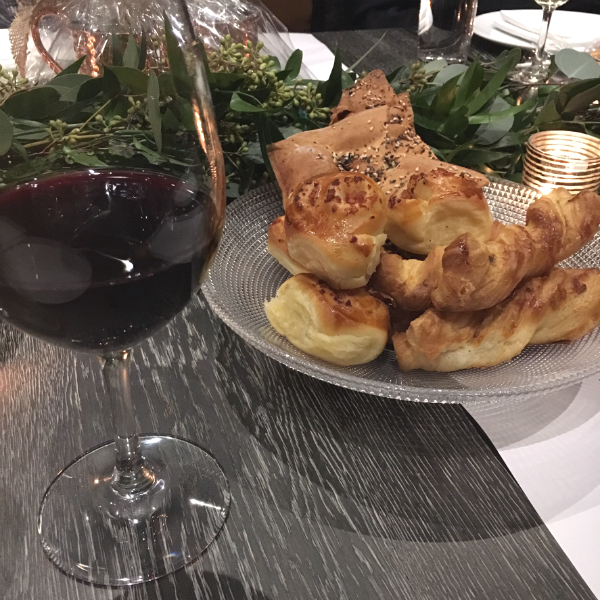 I highly recommend the bread service.  It's all made fresh, daily on site.  Bacon swirls, anchovy twists and seedy flat bread.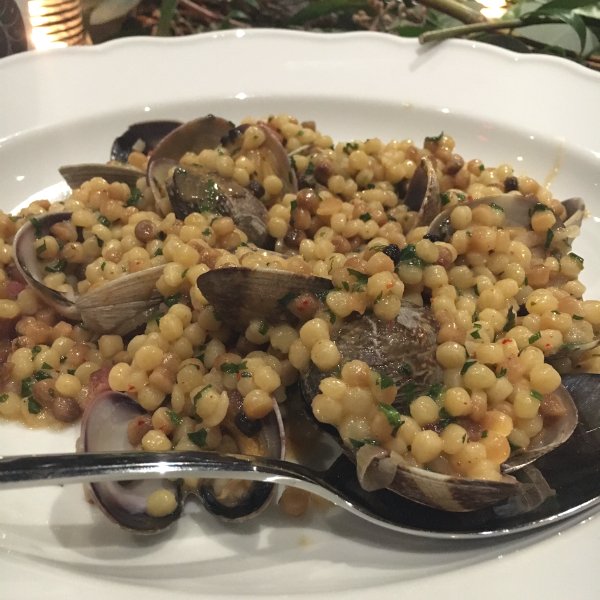 Steamed mussels and clam with smoked pork, fregola and white wine.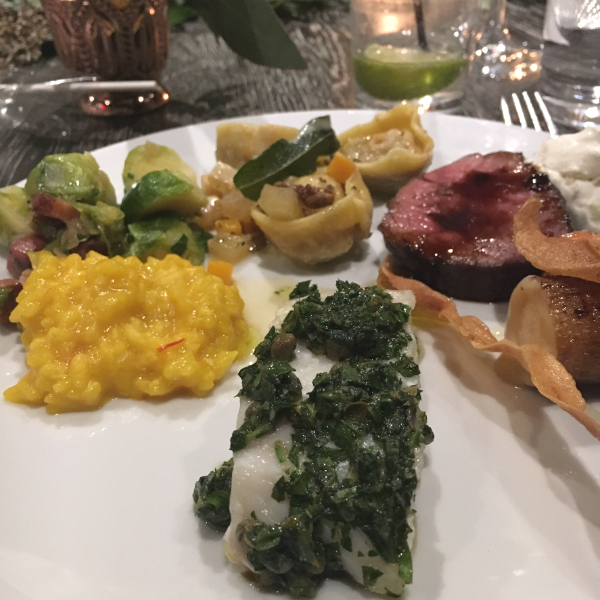 I loved being able to taste so many things…beef tenderloin with horseradish cream (we called it a horseradish cloud…so good!), Pacific ling cod with salsa verde, and pumpkin filled pasta with sage and brown butter.  Sides were carrots and crispy parsnips, saffron risotto and brussels sprouts with bacon.
The sticky toffee pudding with whipped vanilla creme fraiche was the perfect ending to an outstanding meal.
Planning a party with vendors you trust and are on the same page as you makes it easy and seamless.  Asking people for recommendations of who they've worked with before is a great source of information and makes planning so much simpler.