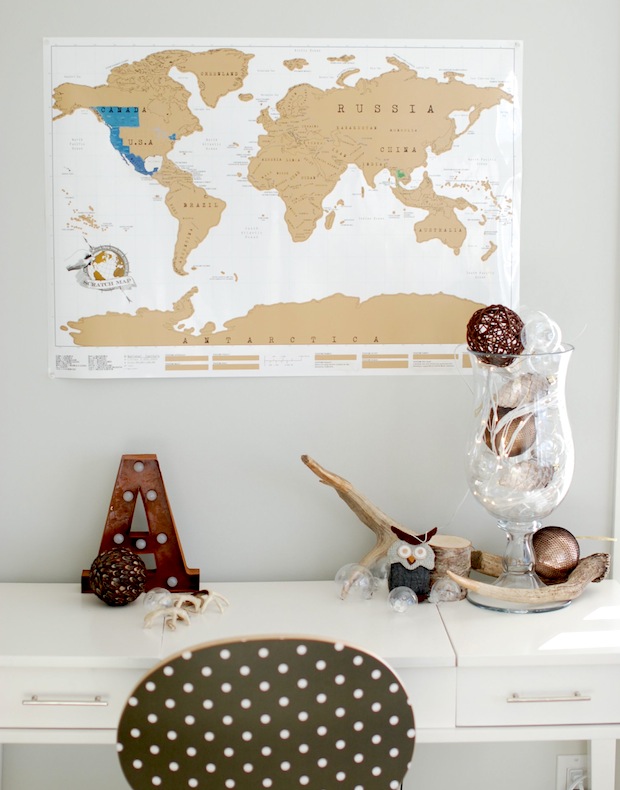 I simply cannot believe that its this time of year again. But it's time to get my head in the game. Whether i'm ready or not, people are decking the halls, and generally fa-la-la-la'ing so consider it dually noted!
In the vein, Pam and I are excited to kick off Christmas with a week of gift giving ideas…yep, next week Monday to Friday we will be posting gift guides everyday that we hope will help you find the perfect gift..for everyone on your list!
Today we're getting warmed up with Uncommon Goods, an online marketplace that is really cool. I came across them last year when i was on the hunt to find the perfect gift for Scott. i was looking for something different…and landed myself on this site. The "cool" factor starts with the company itself…it's like a virtual marketplace, highlighting individual artists and their goods. Each product gives you the artists story. There are a ton of handmade goods as well as items made out of recycled goods…hence the name Uncommon Goods…you're not going to find these on every street corner! Another neat side note? A portion of your sale will be donated to a nonprofit organization when you check out..you get to choose from a list. I really do like a company with heart.
Pam and i have chosen our favorite picks from this site that might work for the more difficult to buy. You know the peeps that have you scratching your head??
Here are our favorites: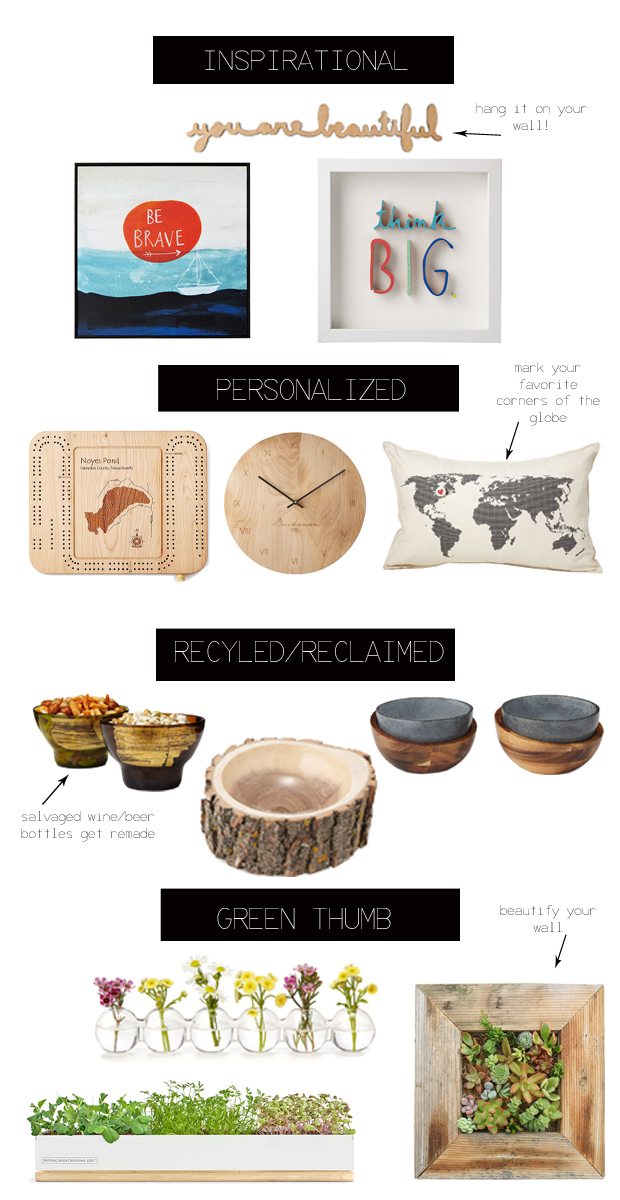 INSPIRATIONAL | "you are beautiful" | be brave | think big |
PERSONALIZED | Custom Lake Cribbage Board | Maple Clock | Pillow |
RECLAIMED/RECYCLED | Gold Leaf Bowls | Live Edge Bowl | Soapstone Bowls |
GREEN THUMB | Caterpillar Bud Vase | Micro- Greens Kit | Succulent Living Wall Planter Kit |
Ok, let me give you a couple of coles notes here…
The Custom Lake Cribbage Board is a perfect gift for someone who lives lakeside. Choose from an extensive list of lakes (like 4,000!) and enjoy details of your favourite one…water depths and other details, while you relax and play cribbage. The personalized touch makes it a gift to be treasured.
The soapstone bowls are another one of my favourites…Soapstone is one of the most effective natural materials this planet produces for conducting and retaining temperature..keep frozen treats super chilled or have appies piping hot, by baking the soapstone first. Beautiful AND functional.
For you who like your greens year round, i love this micro-greens kit. I'm always scouring markets for interesting greens to add to my salads. The veggie kit would be my pick: Red Acre Cabbage, Mini-Carrot Greens and Tom Thumb Pea Greens. I also think this container would look great on any kitchen sill…
Succulents are having their moment right now…there is something extremely clean and organic and low maintenance about them. This is truly a living piece of art! Hung vertically or placed horizontally, it will bring a touch of the outdoors inside.
A splurge item for the person who has EVERYTHING, is the live edge wood bowl. I know the price may make you cringe, but this is a piece that would treasured forever. An organic sculpture beautifully crafted. Each piece is one-of-a-kind and is handmade in Alberta, Canada.
One extra… our pick for a stocking stuffer? That was easy! Keep track of your world travels with this AWESOME scratch map.  Lexi had this on her bday list…and it took about 5 minutes for her to put it up on her wall as i've shown above. Scratch off the places you've been and start dreaming of where your next "scratch" will be. It's a big world out there!!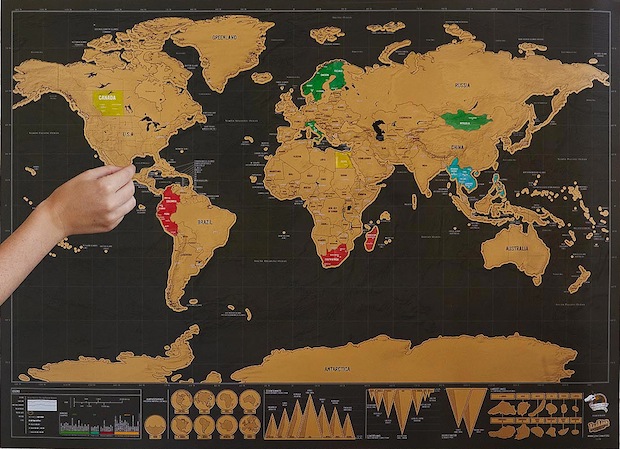 Check out Uncommon Goods for some other awesome gift guides…20 gifts for people under 20 , or one for the DIY 'er (awesome crafty gifts for kids here!)
**This post is sponsored by our friends at Uncommon Goods. All opinions are our own…happy to say that i've been a lover of this site for its unique and personalized gift ideas for some time! There are also some of my picks that are making there way under my tree!