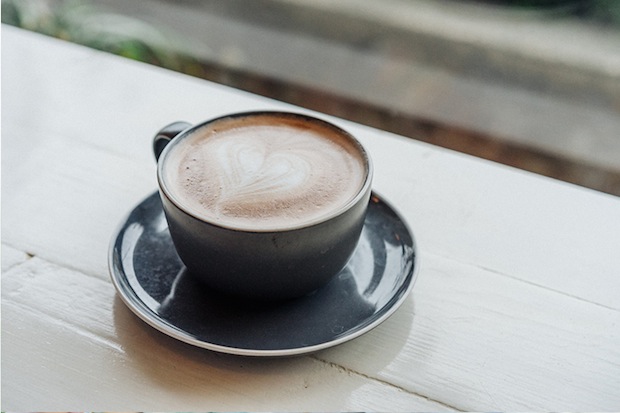 Image | Dana Fisher Photography |
There have been many times that i can recall being frustrated to live 45 minutes from downtown Vancouver. Shopping and eating can be…well…frustrating in our parts. And those are two things i love to partake in!
But, wow, is the vibe ever changing. And i couldn't be happier. The push for buying local is also ever present…for a number of reasons. The American dollar makes me cringe at the moment. But this also sets the stage to allow young (or old for that matter!) and upcoming artisans, creators and entrepreneurs to get their amazingness out for us to see. There is something special about "handmade", "from scratch" and "old school".
The Fraser Valley is full of these creatives and i wanted to share some of my favourite stops with you:
Let's start with Fort Langley. It is hard to top a day spent in this quaint village. Tree-lined streets with intimate boutiques make me feel like i'm on a bit of a vacation. Everything moves a little slower here, which makes it a perfect escape from the chaotic schedule.
Bella & Wren – i quite simply fell in love with this boutique the first time i visited. How is it possible to have so many of my favourite things in one place? Beyond beautiful clothing, there are fabulous shoes, gifts, jewellery, home accents, kids, beauty products and more. Truly, there is something for everyone here. And every time i go to look with someone else in mind? I end up treating myself too. Favorites: Melanie Auld Jewelry, Butter Nailpolish, KV Bijou, Herschel.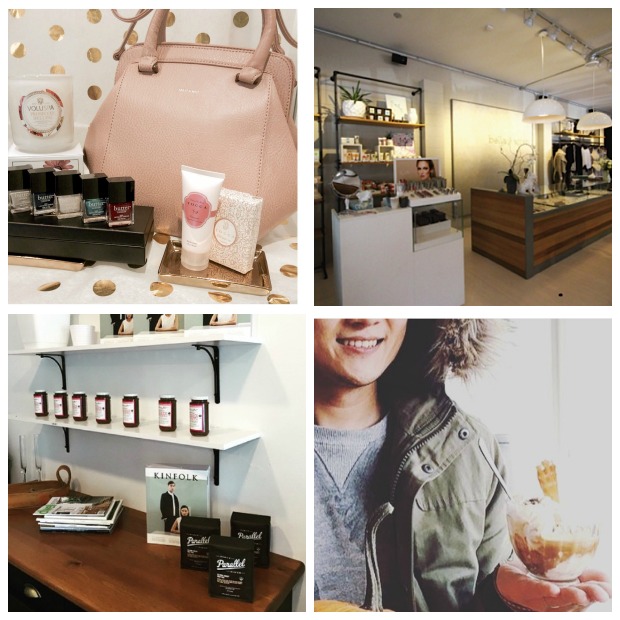 Top: Bella and Wren  || Bottom: Ritual Ice Creamery and Creperie
Ritual Ice Cream – A bonifide creamery, i have completely enjoyed my visits here. For the coffee lover, there is 49th Parallel Coffee (yes please!) which pairs perfectly with a crepe. And if you're an ice cream lover, you'll be impressed with their selection. Favorites: Daily Ritual Crepe (feta, balsamic…you get my drift), Pearis Crepe (pears, caramel sauce, sea salt) and my kids go bananas for their Bubblegum and Cookies & Cream ice cream. i keep eyeing the Sea Salt Caramel…
Aimee B – Head a little further down the main street of Fort Langley and you will find this intimate boutique. It is truly a little slice of Europe right here in the Fraser valley…and offers carefully curated pieces with exceptional service.  Favorites: Rails Clothing (they have the best plaid blouses in the best fabrics!), AG Jeans, Hudsen Shoes and a great selection of blanket scarves.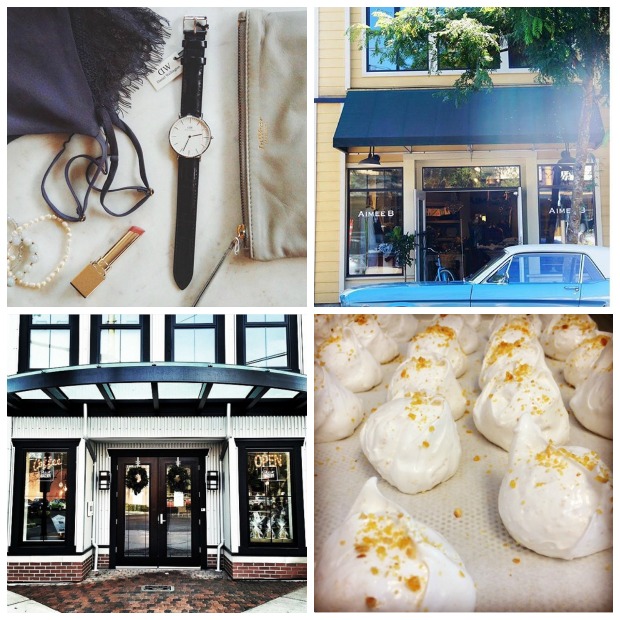 Top: Aimee B || Bottom: Blacksmith Bakery
Blacksmith Bakery – After poking through the shops or a walk along the Fort Langley trail, a stop at Blacksmith Bakery for a coffee and treat rounds out the experience perfectly. I imagine bringing a good book here one day and really settling in…. Favorites: Traditional Scottish Shortbread (seriously, a MUST try), Chocolate Meringues, Pain Au Chocolate
And my stomping grounds…Abbotsford. It is a thrill to be able to support these local friends who are bringing "IT":
Old Hand Coffee – When Abbotsford welcomed it's first artisinal coffee cafe, i was fairly jumping with glee. It does not disappoint. The staff is incredibly welcoming and you feel like slowing down and chilling out for awhile in their hipster/retro space. Kristina and Johannes truly appreciate the connection between food, drink and community and are providing a space for others to join in. Favorites: Bows and Arrows coffee, Earl Grey Snickerdoodle, Brown Butter Coconut Cookie, and the Avocado Goat Cheese Tartine.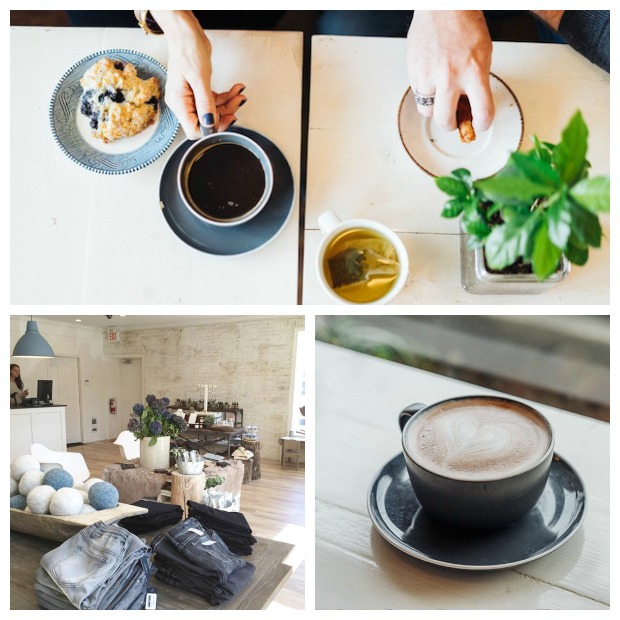 Top & Bottom Right: Old Hand Coffee Shop – image via || Bottom Left: Montrose & George
Montrose & George  – i love the general store feel. Where there is a bit of this and a bit of that.  The ladies of M&G describe their space as one part country store and one part concept shop which hits up many of my favourites. From small gift type items to investment pieces that will serve your wardrobe for years to come. Look for a special shopping event coming soon here…i can't wait! Favorites: Fidelity Denim, Vancouver Candle Co, Naked Sheep Knittery Cowls, Matt and Nat Handbags.
Spruce Collective – Everytime i'm in downtown Abbotsford and am unrushed, i love to peruse Spruce Collective. 5 incredibly talented and creative ladies have come together and created a space that reflects their love of vintage, whether that be in home goods, paper goods, the kitchen or jewelry.  Artful merchandising allows one to poke around their store and continuously come across both beautiful vintage finds and new rustic/organic pieces.  Favorites: Woodlot Candles, Missing Goat Jam, Rifle Paper Co.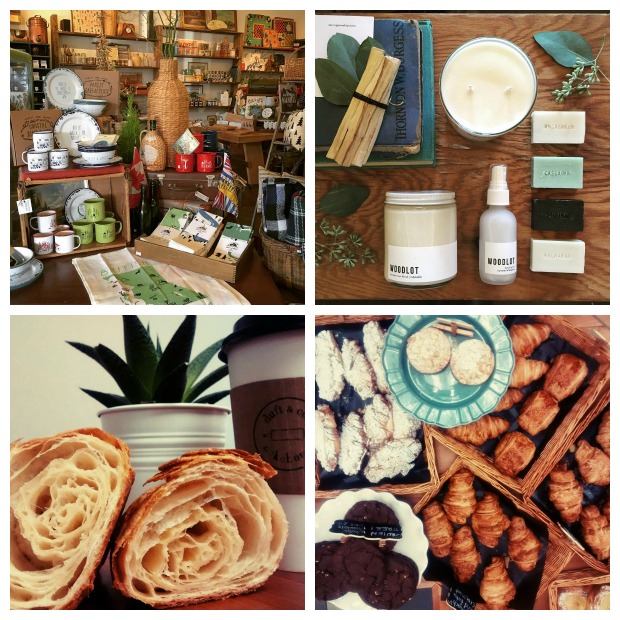 Top: Spruce Collective || Bottom: Duft & Co. Bakehouse
Duft and Co Bakehouse – I can't help myself but tell you that this bakery's double baked almond croissants are…plain and simple..ree-donk-u-lous! Well, that's a word that might describe most everything i've sampled here. I'm not the only one who knows this…thus, get there early to ensure you get what you want. This bakery is bustling, and has quickly become a go-to for lunch meetings, post workout coffees and after school snacks. Everything is from scratch…just the way we like it. And a little side note..their take out boxes come in all sizes…not that i would know! Favorites? Almond Croissant, Pumpkin Muffin, Daily Scone, Pain Au Chocolate.
I hope you add these places to your favourites. Especially with the Christmas season approaching, let's make it more fun and relaxing…and less stressful. Coffee in one hand and a sweet treat in the other…make a day of it!
xo