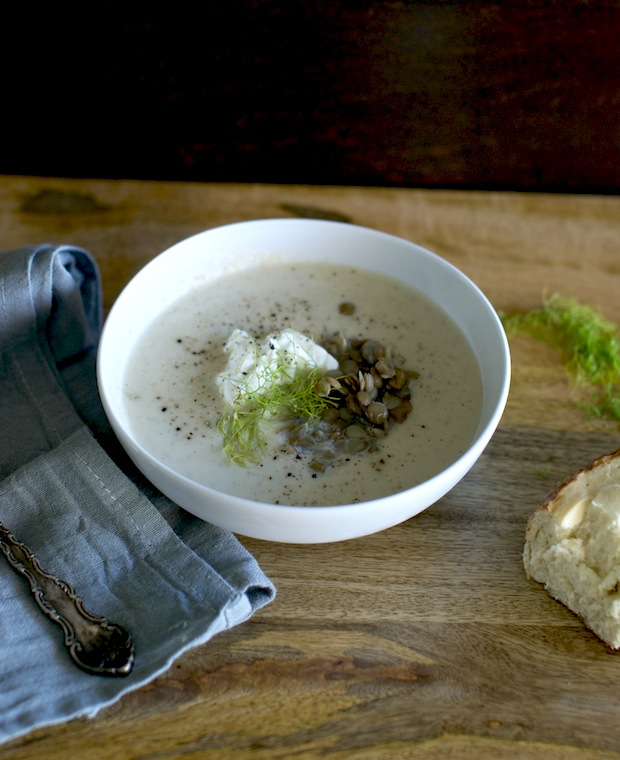 Scott and i have an ongoing battle. I love a piping hot bowl soup on a crisp autumn day…Scott says that soup simply isn't substantial enough to be a meal. We've had this disagreement since we got married…18 years later and there still has been no declared victor. I haven't given up on trying to win Scott over. Case in point with this delicious soup. A friend has been working her nutritionist magic with me the past month and suggested this recipe from Sarah Wilson of "I Quit Sugar".  We made a couple of changes..nixing the potatoes and adding green lentils and cauliflower and i could not get over just how good the end result was. Scott's verdict? While he might still feel like soup isn't a meal, he actually gave the coveted head nod of approval… yes!!!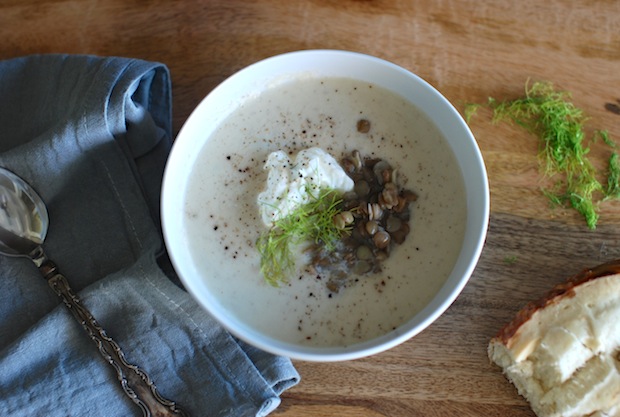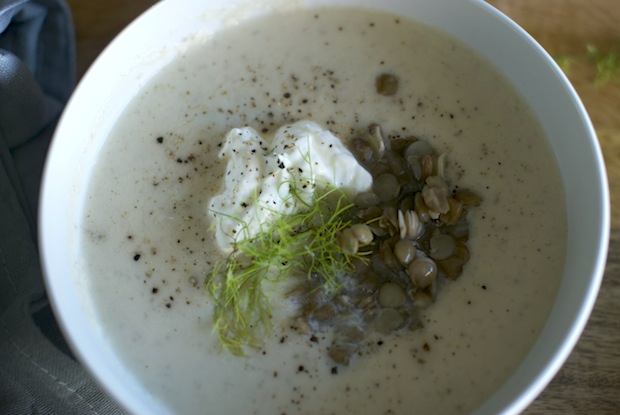 A dollop of sour cream, some remaining lentils, a sprig of fennel and freshly cracked pepper not only beautify the soup but also add some delicious flavour and texture to the finished product. Add some crusty bread on the side (or not, if you're watching your carbs…darn them!) and you have a hearty and healthy meal.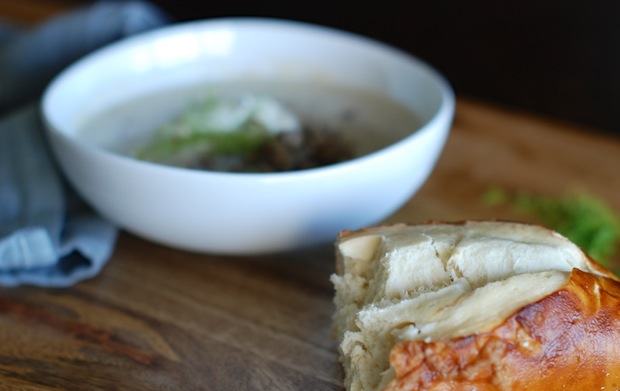 Fennel Soup
Author:
adapted from Sarah Wilson
Recipe type:
Fennel Leek Soup
Ingredients
80 g butter.
2 large bulbs fennel, sliced (reserve the leaves to garnish).
2 leeks, sliced.
2 teaspoons fennel seeds or a mixture of fennel and anise seeds and ground liquorice root.
splash apple cider vinegar or white wine.
6-7 cups Chicken Bone Stock.
2 cloves garlic, chopped.
1 head of cauliflower, chopped and cooked
1 cup green lentils, cooked
4 slices pancetta, fried until crisp, cooled and crumbled (optional)
pinch salt
Instructions
Melt the butter in a large saucepan.
Sauté the fennel and leeks until soft, then add the fennel seeds.
Add the vinegar, stir a little, and pour in the stock. Bring to the boil.
Add the garlic, cooked lentils (save some for garnishing) and cauliflower then cover and simmer for 30 minutes.
Remove from the heat and blend using a stick blender.
Serve the fennel soup with a dollop of yoghurt, some sour cream or shaved parmesan, sprinkled with the crumbled pancetta, a spoonful of lentils and snipped fennel leaves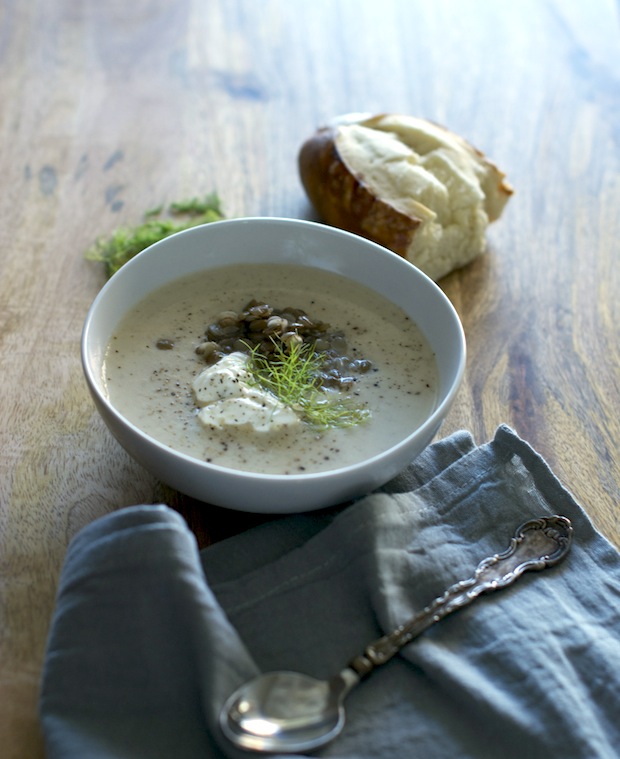 Some quick notes:
This soup is a good one for freezing as well…if you're like me you take every opportunity to get more than one meal out of a recipe.
Also, i'll admit that i had never prepared lentils before. Umm. super easy. I purchased organic raw lentils. All that was required was to boil them for 5 minutes and then let them sit for an additional 10 min. EASY!