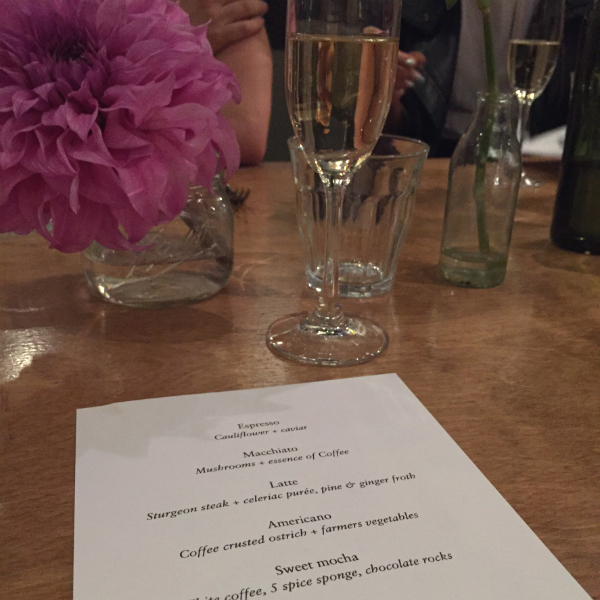 I loved Laurel's post last week about ways that she and Scott keep their marriage strong.  Marriage involves effort, just like any other relationship…it can't be left to chance.  But if I'm being totally honest, it's a super challenging stage of life for Jason and I to spend time together.  We are busy shuttling the kids to dance and hockey and the house is no longer quiet at 8pm…a time after which we used to call adult-time.  Oddly, teenagers don't take to kindly to an 8 o'clock bedtime! I'm really loving this stage of life in so many ways, enjoying our kids company immensely.  It just means we have to be much more deliberate and intentional in setting aside time for the two of us…and we've really been slacking on this lately.  Let's be honest, if we have down time, we are both usually too tired to go anywhere…but that's when you just have to do it anyways!
So, last week, I decided I would surprise Jason with a date night.  A dinner event in Vancouver popped up on my Instagram feed and I knew this was it!  Chef Jefferson Alvarez was putting on a pop-up dinner at Revolver Coffee presented by When They Find Us.  Called "Illusions of Coffee", all 5 courses would be inspired by coffee.  Jason and I both love good food and we are both pretty, ok, very obsessed with coffee.  In fact, Jason often finds new coffee bars in Vancouver before I do, and I've received more than one pic text with him enjoying a coffee at Revolver before his morning meeting…ok, that's just plain cruel!  And I've been following When They Find Us on Instagram for a while, and Luis and Sarah have a way of finding the best of the best in Vancouver when it comes to food and drink…and the photographs are nothing short of gallery worthy.  I know I can trust anything they recommend!
The dinner was hosted at a long table at Revolver Coffee…just 20 guests.  We were greeted with a glass of champagne from Veuve Clicquot and started with a "snack" as Chef Alvarez called it of a radish in an aioli.  The first course was cauliflower with caviar.  I've never particularly loved caviar, but this dish totally changed my mind.  The cauliflower mousse was so smooth and the caviar added just the right amount of saltiness.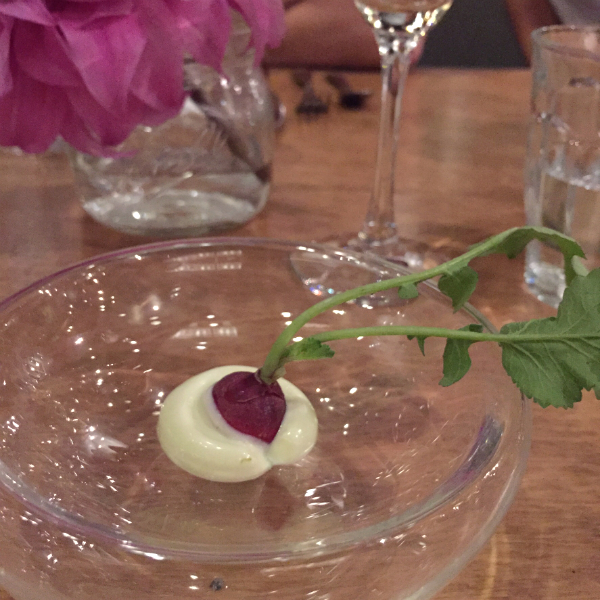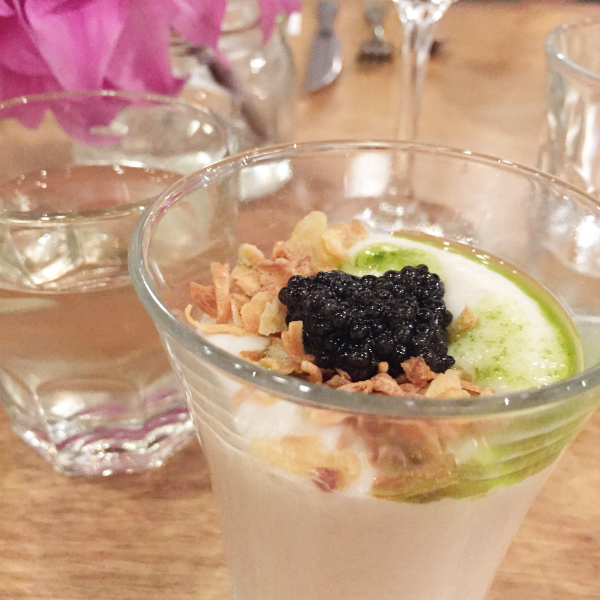 Other faves from the evening were the sturgeon steak with celeriac puree…the sturgeon was meaty and flavorful.  The ostrich was complemented with the roasted outside "berry" part of the coffee bean called the cascara…it added amazing flavor and crunch.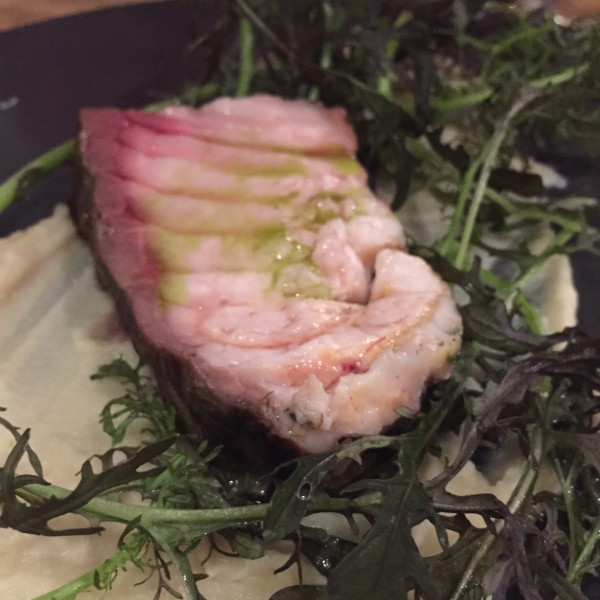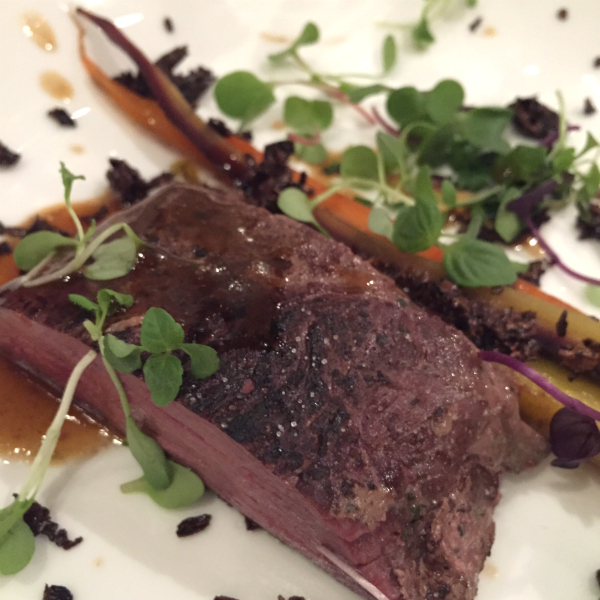 Each course was meticulously presented like a piece of art.  And as we enjoyed each dish, Chef Alvarez explained the ingredients, the use of coffee and the preparation.
The dessert was just so cool…literally.  We each received a lidded jar and were told to remove the lids at the same time and stir together the custard, sponge cake, chocolate rocks and wild blackberries.  As we did, "smoke" filled with jar from liquid nitrogen that had been infused with coffee beans.  A coffee flavored dessert with no coffee…brilliant really!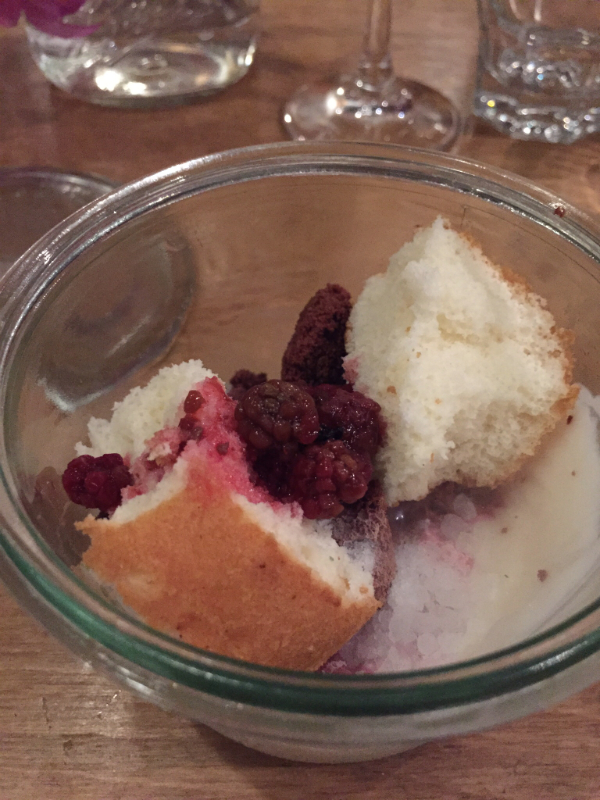 The key to date night for us, especially if you've been married a while (we are approaching 19 years) is to do something that you both will enjoy.  Jason and I both loved the whole experience…that's really what food should be.  And in this case, it was art and an experience…and precious time spent together.  So, here's to getting back into a dating routine!  Cheers!