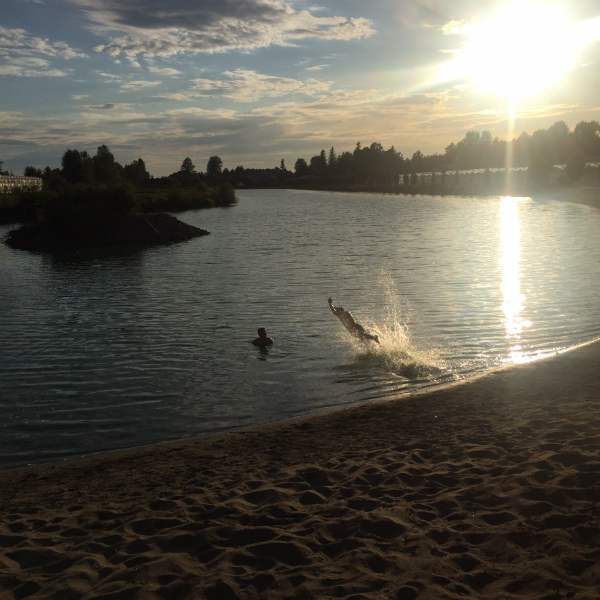 How has your summer been?  It's my favorite season…by far!  I love the warm weather and the more relaxed schedules…well, different schedules.  And this summer, we've been spoiled on the West Coast with some of the best weather we've had in years!  Summer really started for us in May.  I feel like this is one of the first years that we've really taken advantage of the longer days, often sitting around our fire pit, watching the sun set around 10 o'clock.  Yes, that's a definite benefit to living a little further north…late sunsets!
It seems a bit silly to be going away when the weather is so great here, but sometimes I find that I can't totally relax if I'm at home.  I probably need to learn…but there is something about getting away and not seeing all of the things that could be done around the house, right?  So, Lo and I are both heading out for some time away with our families. We often travel together, but this year decided on separate plans.  Lo and her fam are heading to the Big Island…it's been quite a journey from them as a family with Laurel going through chemo and surgery the last 8 months, so they are going to enjoy a well-deserved break and a celebrate!  Neither of us have been to the Big Island, so I'm super excited to follow along as they explore a new place.  We are heading down to Palm Desert and Orange County for vacation, visiting friends and also for the girls to do some dance training.  I'm looking forward to checking out a lot of the places that are on my "list"…foodie recommends, coffee spots and boutiques.  But I'm also looking forward to riding bikes along the beach, heading out for some hikes and sleeping in.
While we are away, we will take a short break from posting on the blog.  But we will still be posting on Instagram, so you can follow our travels at @sugarplumpam , @sugarplumlaurel and on our Facebook page.
Laurel and I have been talking about the blog to a lot of our family and friends and we are super excited about some new ideas that we will be incorporating very soon.  And we find that each time we go away, we come back with new ideas and inspiration.  We'd also love to hear from you if you have things you'd like to see us talk about!  Leave a comment…we will be checking them.  And we will see you back here August 10!