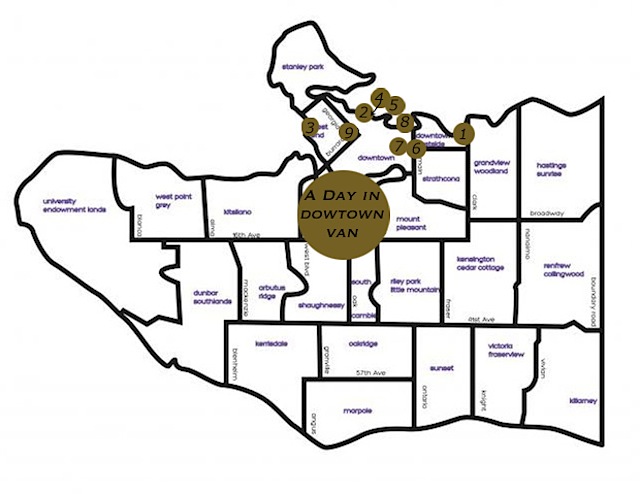 map from the Emily Carr University of Art and Design
There are few things more pretty than Vancouver in the summer. The city can be a downright show-off. Good thing because it has to make up for the gloomy wet days we experience other times of the year!
We, as a family, love to make the short drive there and take advantage of all the city has to offer.
Here's our version of a perfect day in Vancouver, taking in the sights, the tastes and the eclectic vibe downtown. I've also mapped out a day that doesn't require a ton of driving and re-parking. After brunch, head downtown and park for the day…the rest can be done on foot!
1. Start the day with a full belly.  Yolks (1298 East Hastings St) is one of my Pam's favorite brekky stops. Think beignets with salted caramel sauce…or poached eggs with goat cheese over truffle lemon hash browns. Killer! It's a perfect place to start your day on the way into the city.
2. Next stop: A bike ride around the sea wall. There's no better way to see the glorious views of Van City neighbourhoods than from the sea wall. There are tons of places to stop along the way for the budding photographer in you. The bike rental shop at Club 16 Trevor Linden (1055 Canada Place #50) is a great place to get started. A cruiser bike costs $18 for a 2 hour rental..plenty of  time to make it around the Sea Wall at your leisure. Helmets and locks included.
3. Need a quick re-fresh? Detour to Cactus Club (1790 Beach Ave) concession stand at English Bay for a drink and some yam fries oceanfront. Find a log to sit on and dig your feet into the sand before finishing your bike ride.
4. Once the cycling has come to an end, make the most of your vantage point. Take in the view of seaplanes arriving and departing, yachts slowly making their way out to open water and the beauty of the North Shore Mountains. Find a bench along the West Convention Centre Sea Wall promenade and get comfy.
5. Cool off with a showing of Fly Over Canada at Canada Place (201-999 Canada Place) . The 30 min experience is family friendly and will make you proud as a peach to be Canadian. Showings are every 20 minutes.
6. A late afternoon coffee, iced or hot, will keep you fueled. Milano Coffee Roasters (36 Powell St) in Gastown has great beans. Period. Grab a cup of java and take a walk through historic Gas Town. If your camera is on hand, there are plenty of visually stunning spots for an impromptu photo shoot.
7. Meander over to Gastown's lively new taco bar: Tacofino (15 Blood Alley Square). A casual yet vibrant commissary that serves dy-no-mite tacos (fish are my favorite!!), fresh cut guac and refreshing margueritas. Consider yourself lucky if you snag a patio table.
8. and 9. Finish the night off with one more treat, if you have some room left in your belly! You're at a crossroads here… if you're an ice cream lover, you'll want to make one last pit stop at Soft Peaks (25 Alexander St) where they offer…wait for it…organic soft serve ice cream! Favorites? Honeycomb Peak (made with Campbells Gold honeycomb) and Salty Himalayan (their original ice-cream with pink sea salt) with caramel sauce. Crazy crazy good!    If your body is begging for a bit more time to recover from the tacos, it's a leisurely stroll back to the Coal Harbor area. Take your place in line at Bella Gelateria ( 1001 West Cordova St) for the best gelato ever. The line is long, but that just gives you more time to build up an appetite. Flavors such as Erin Ireland's "It's to Die For Banana Bread", Lavender Earl Grey Tea and Toasted Pecan with Maple Syrup will explain why they won Best Gelato in the World at the Florence Gelato Festival 2012.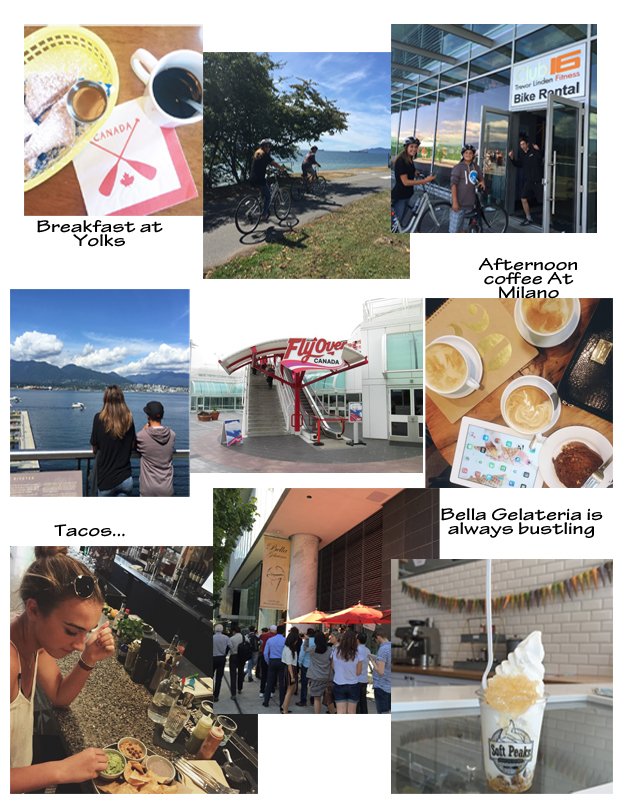 A perfect day in Vancouver is sure to include an overindulgence of food but tempered with at least 10,000 steps or shall we say cycles. It will be a fabulous day of active eating shall we say?!