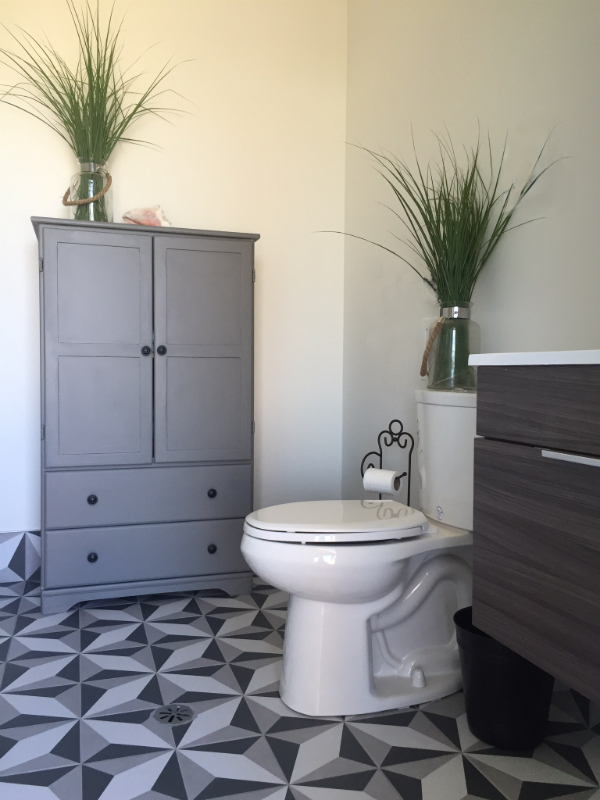 I mentioned a few weeks ago here that we were finally finishing off a bathroom that we had built with our addition but had never finished off.  The bathroom is only accessed from the outside…the thinking was it would be great for summer parties and it could also function as a change room for a pool or hot tub down the road.  We finished it off just in time for the luau party we hosted last weekend.  And I'll tell you, it was a beautiful thing not having guests drag grass and sand into the house to use the bathroom.
When starting an interior design project, you always need a jumping off point.  My inspiration was the new Olympic Village location of Earnest Ice Cream and their use of concrete tile.  You can read here about my search for an affordable version of the tile.  I was drawn to the use of white, oiled bronze accents, the warm wood and, of course, the tile.  It's a sort of vintage industrial look.
Another factor was budget.  This is an "outdoor" bathroom that will really only get used a couple of months of the year, so finding affordable materials was super key!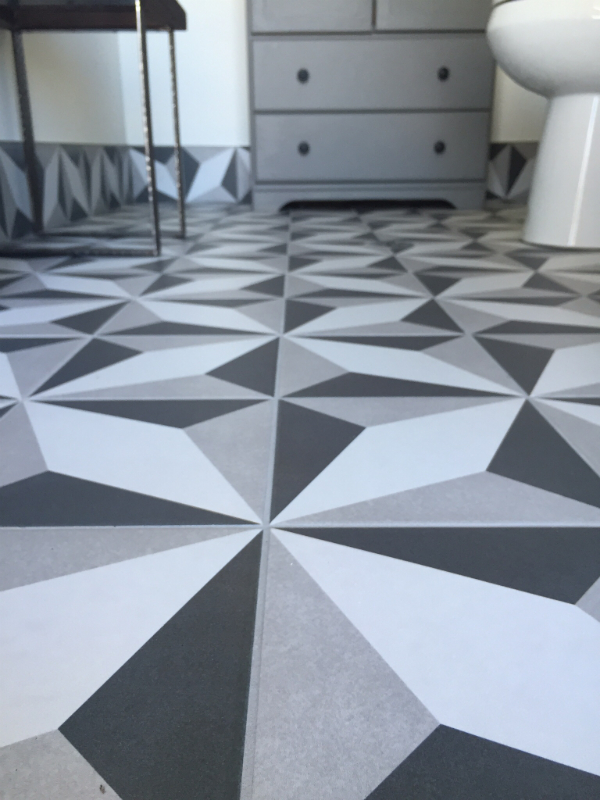 The walls were painted white with General Paint's "Snow Ballet" (8690W).  We went with a prefabbed cabinet that had an acrylic top with sink.  Acrylic wouldn't be my first choice, but again I had to consider that this bathroom is only used a few months of the year and acrylic is really low maintenance….and we didn't have to buy a sink.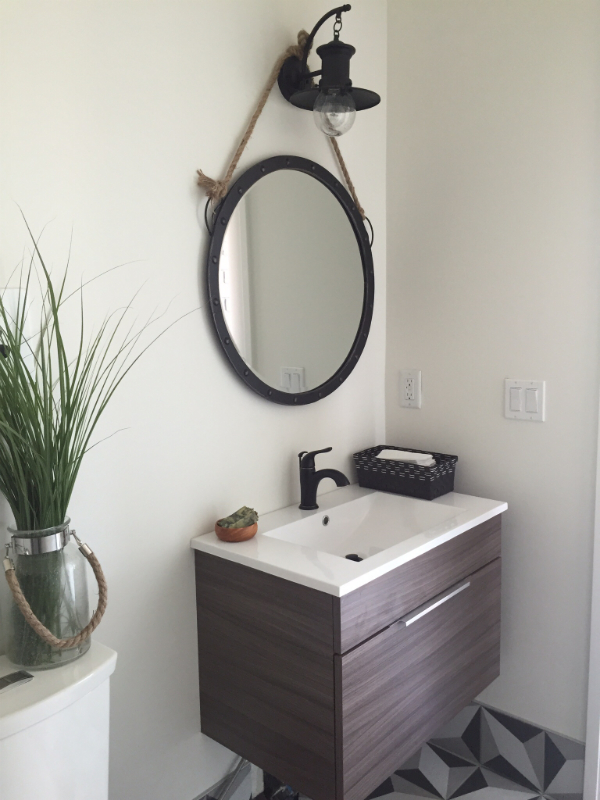 We already had the armoire.  Jason just painted it gray with Benjamin Moore's "Asphalt" (CC-548) to pick up on the floor tile and we added oiled bronze knobs to match the faucet.  It's a great place to store towels and extra bathroom supplies. I found the mirror on Hautelook, which only features sales for a few days, so it's no longer available.  But it's a great source if you are looking for home decor items…they have great deals, but you have to act quickly.  HomeSense is such a great place to look as well for accessories.  I found the end table, that is used as a bench, and the toilet paper holder there.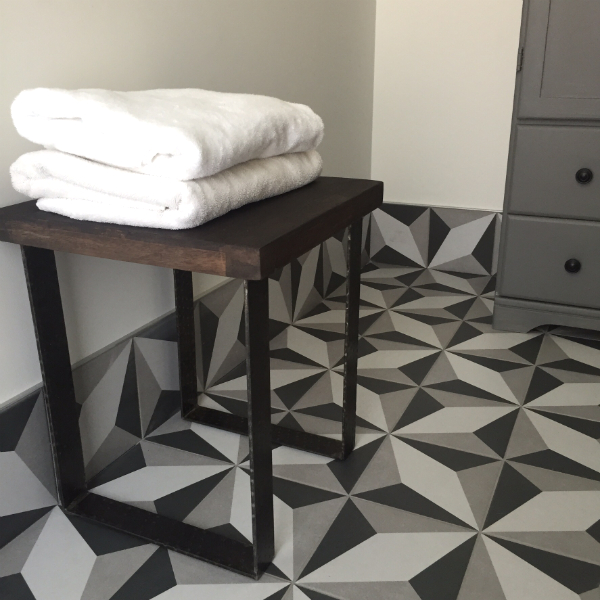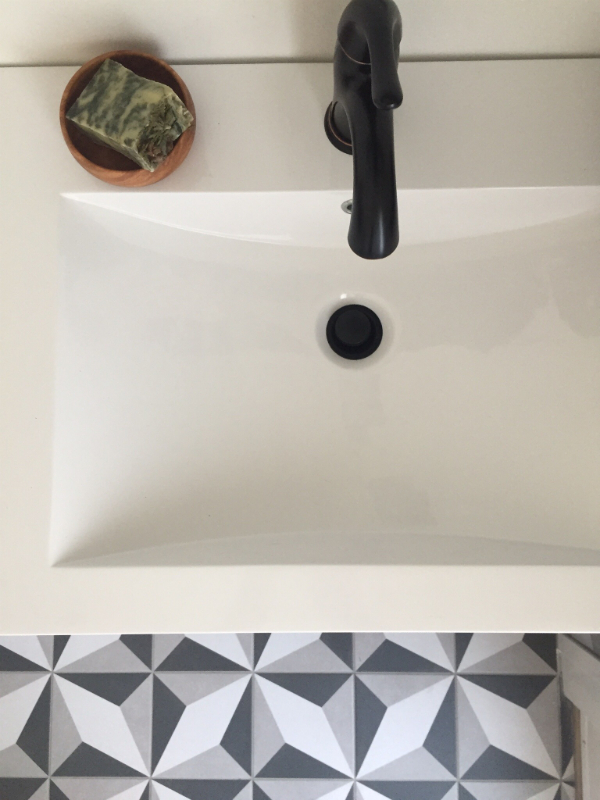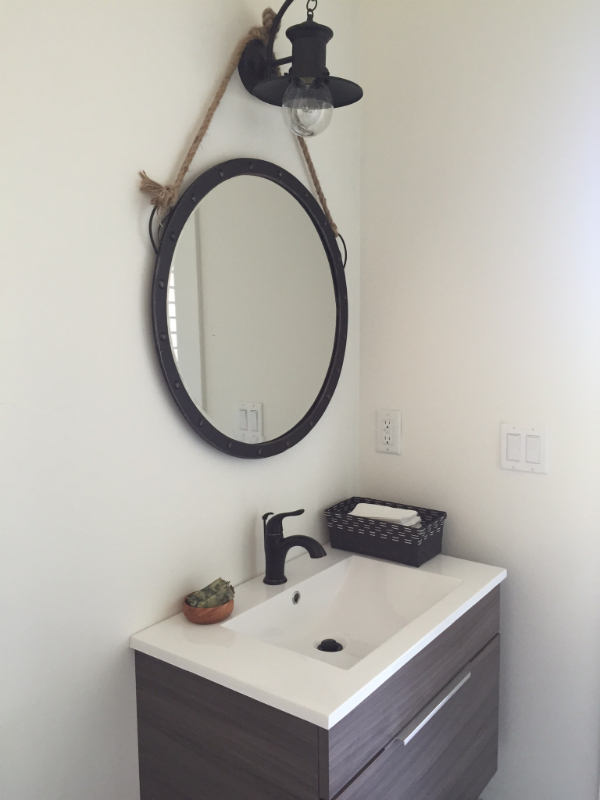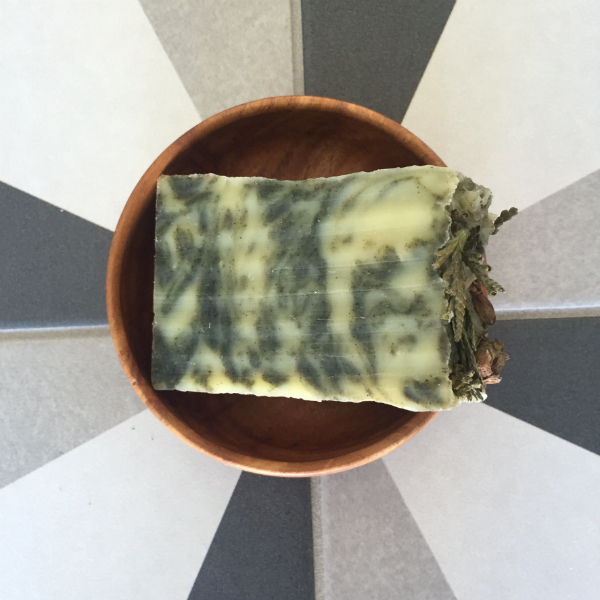 I did stay pretty much on point with the budget.  It took a bit more time to source the right-priced products for the look I wanted, but I'm pleased with the result…and Jason is pleased with the price!  It's a win-win!
Source:  Bathroom Vanity | Faucet | Light | Tile | Mirror, similar here |Armoire, similar here | End table, similar here and here | Soap