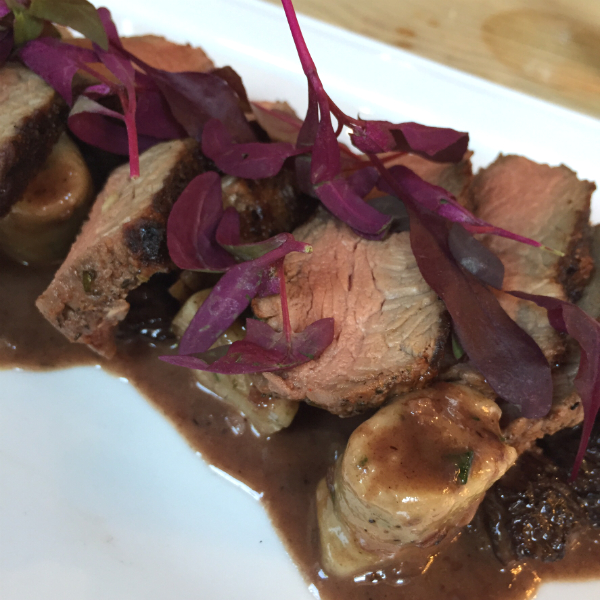 For my birthday, Jason arranged for us to take an Italian cooking class at The Dirty Apron with Scott and Laurel.  I've been wanting to take a class there forever and each time we've tried to book, the class has been full!  So I was pretty stoked when Jason had arranged this!  Their classes are super popular and book up very quickly.
And now I know why!  This wasn't just any cooking class…this was an EXPERIENCE!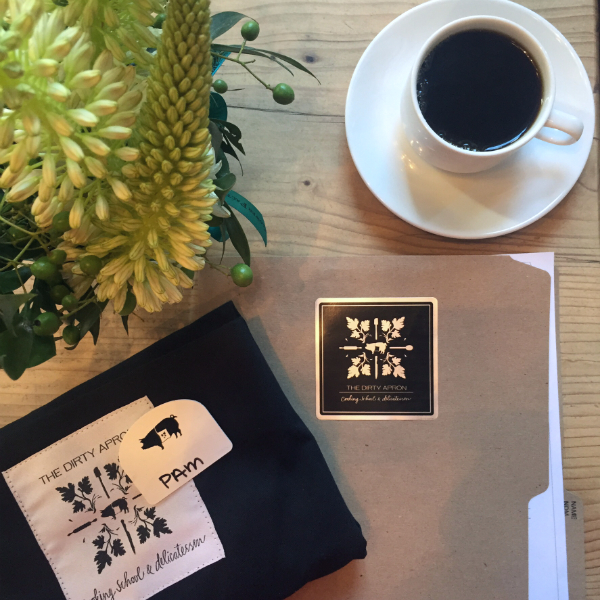 I have to admit that when we first arrived and I started to page through the recipes we were going to prepare, I felt a bit overwhelmed.  Arugula Goat Cheese Ravioli with Walnut & Sage Brown Butter Sauce, Grilled Lamb Sirloin with Herb Ricotta Gnocchi & Morel Cream Sauce and Lemon Pana Cotta with Candied Lemon Zest. Ok, it all sounded super yummy, but man, it sounded like a lot of work!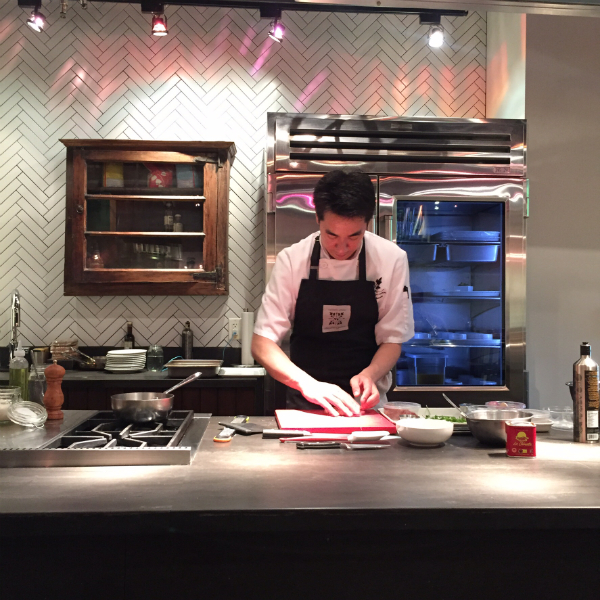 Chef Takashi Mizukami started the class off by demo'ing the pana cotta and the pasta dough for the ravioli. He broke everything down into simple steps.  Everyone has their own cooking station.  You share a prep area and stove with one other person, in my case Jason, and you get to do everything…it's super hands on. The best part is that you receive a tray with everything measured out for you for each dish so you really get to do just the fun stuff!  Oh to have a sous chef at home!  And the stations were magically cleaned up during the demos.  Now that's how I like to cook…no prep, no clean up!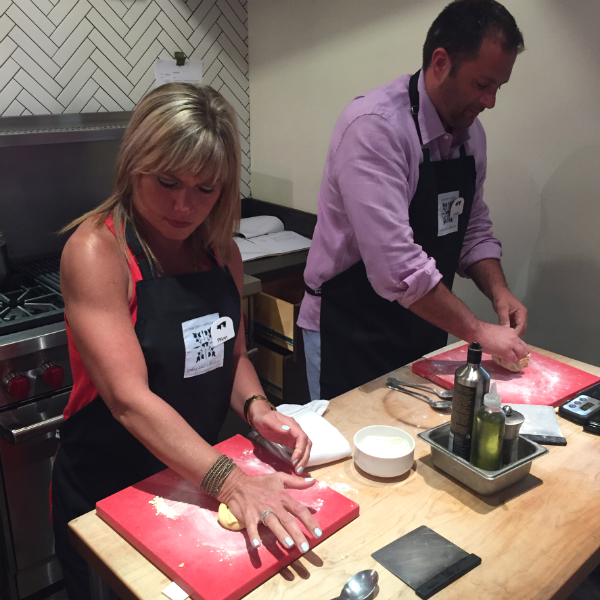 Over the four hour class, Chef Takashi did three demos and then we would go back to our stations and assemble the ingredients just as he had showed us…or as closely as we could!  He walked around the room, helping us, offering tips and bantering as he noticed that Jason and I were slightly competitive with each other!
I think the biggest surprise for me was how easy it is to make your own pasta.  I had imagined that my ravioli dough would be a train wreck with holes, but it looked almost perfect.  Yes, it's a bit time consuming, but not difficult!  I'm actually tempted to buy a pasta machine.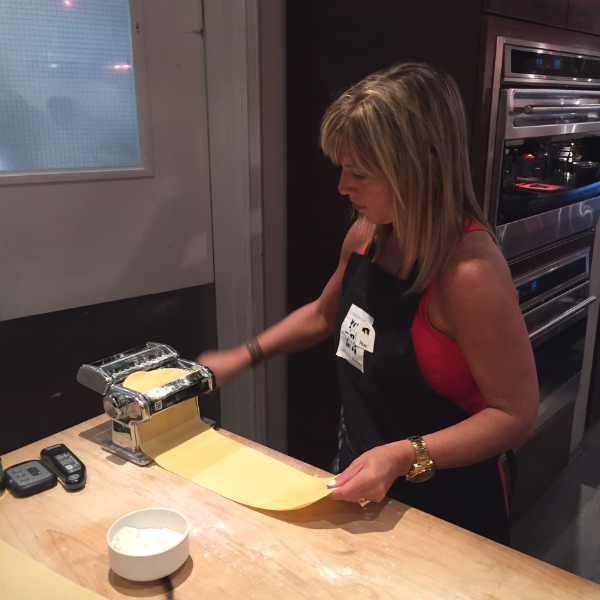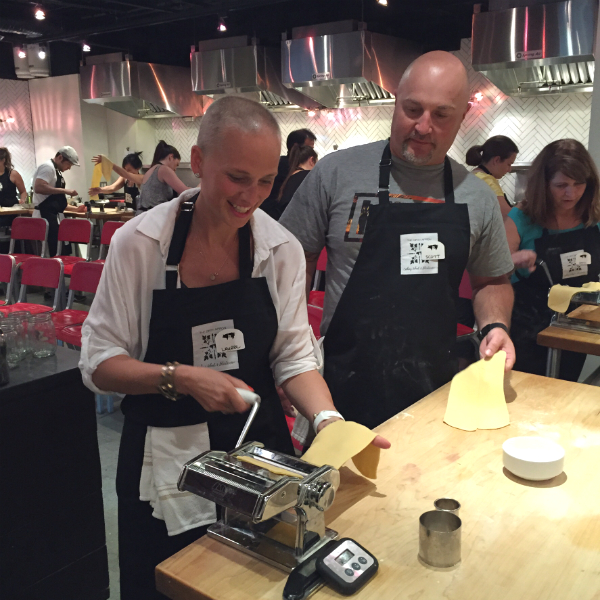 The Dirty Apron has developed a very good thing!  The class was fun, interactive and educational.  But, I also felt almost spoiled…in a good way.  No detail has been overlooked.  As we ate our dishes in the long table dining room, we were served wine, beer and sparkling water.  Their staff was extremely helpful and friendly, calling us by name.  They really have thought of everything…coffee and tea as you arrive and pursue the recipes in a take home folder, aprons with your name on them, a charcuterie platter to snack on so you don't get too peckish before you eat your first course, and biscotti to go with your dessert.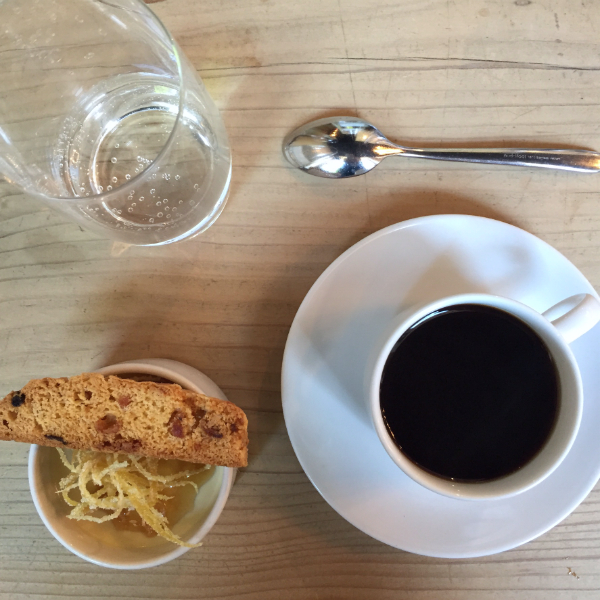 I know that we will definitely be back…I'd like to take a French or Mediterranean class next.  It was such a great afternoon to do something together as couples…and love that I learned techniques and tips that I will incorporate into my everyday cooking.  I highly recommend the classes at The Dirty Apron, they are a great idea for a date, a birthday, an anniversary, a bridal shower…fun to go with a group or with a friend.  Just be sure to book well in advance!