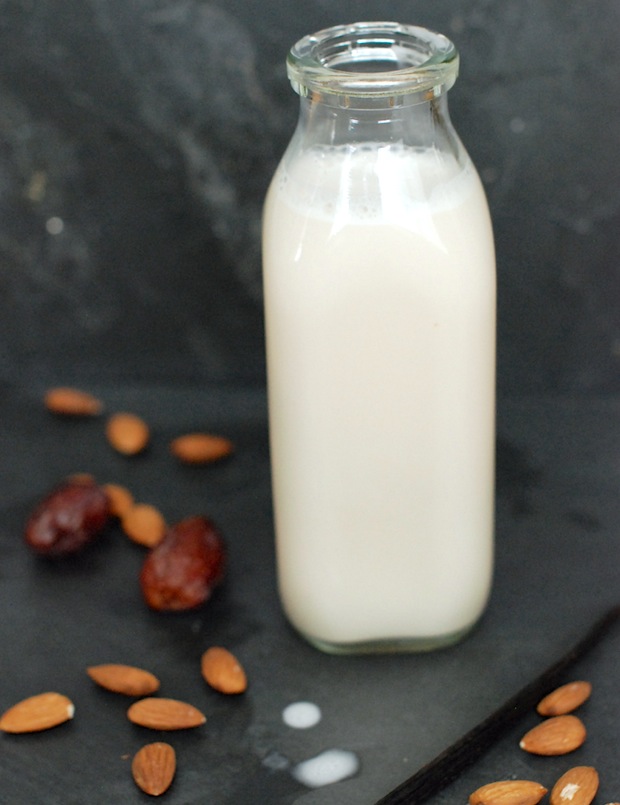 i'm having a love affair with almond milk… i use it in smoothies, granola and in my coffee as a treat. I've been feeling all healthy-like by making the switch and buying unsweetened almond milk. And while it still is a pretty great choice, a friend asked me to check out the ingredients on the side of the container. Uh oh..some words i don't even recognize were on the list. Upon looking them up, most are good… a couple though? Not the best.
The same friend made me a batch of homemade almond milk and i was like YES! It even tastes better. But, it's a lot of work to make, right? Nope.. so easy that i've whipped up some myself and i could honestly drink it to excess. Fresh almond milk is extremely nutty and full in its taste..and with the addition of some natural sweeteners, it is way better for you. 4 easy steps and you're golden. The only thing you will need that you might not already have in your kitchen is a nut bag** (insert giggle).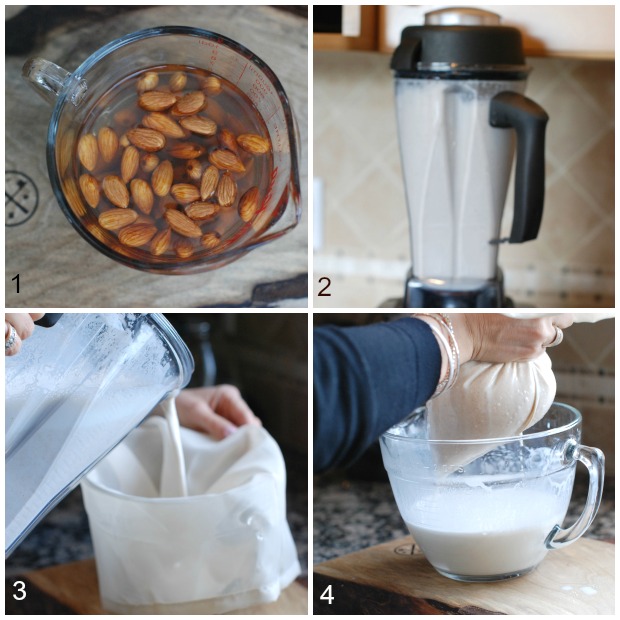 1. Soak almonds in water overnight.
2. Drain and rinse almonds well. Add the almonds, along with dates, vanilla bean or extract, cinnamon and coconut water/plain water. Blend on high for one minute.
3. Pour milk into the nut bag that is sitting overtop of a bowl.
4. Squeeze bag and allow the milk to strain through the bag and collect in the bowl.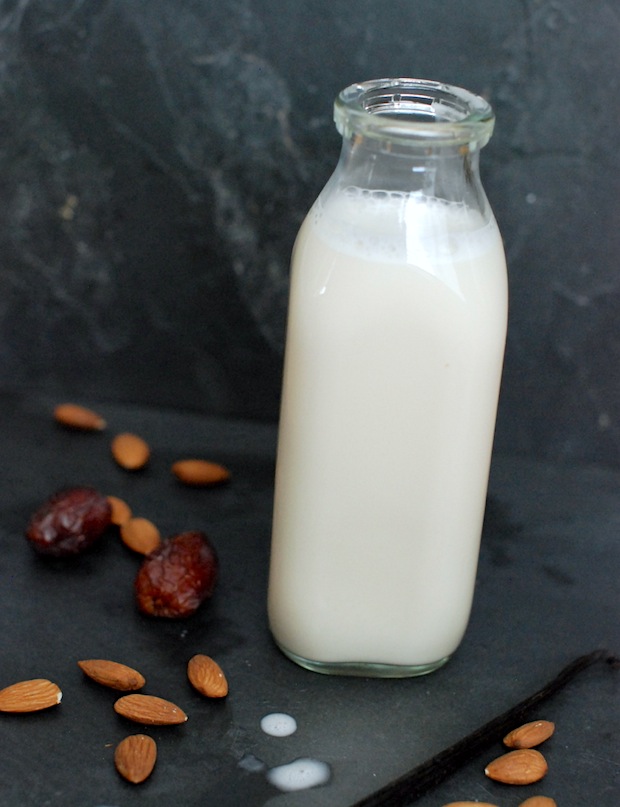 You don't have to feel guilty indulging in an almond milk latte (only 60 calories per cup of almond milk)… no added flavouring is needed. Just be sure to steam it to a lower temperature than cow milk, approx 130 degrees F,  or you'll risk burning the almond milk.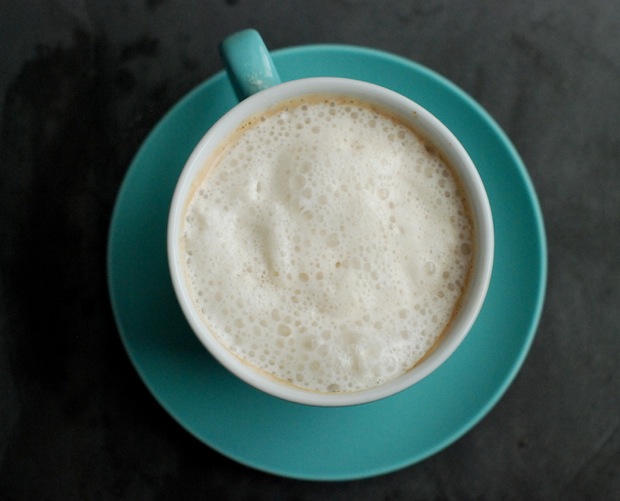 ** Nut bags can be purchased at most kitchen stores, as well as Bed Bath and Beyond, Silver Hills (local) and on Amazon.

Fresh Almond Milk
Ingredients
1 cup raw almonds, soaked in water
3.5 cups filtered water/coconut water
2-4 pitted Medjool dates* (I used 3)
1 whole vanilla bean*, chopped (or ½-1 tsp vanilla extract)
¼ teaspoon cinnamon
small pinch of fine grain sea salt, to enhance the flavour
Instructions
Place almonds in a bowl and cover with water. It's preferred to soak them overnight (for 8-12 hours) in the water, but you can get away with soaking for 1-2 hours in a pinch.
Rinse and drain the almonds and place into a blender along with filtered water, pitted dates, and chopped vanilla bean.
Blend on highest speed for 1 minute or so.
Place a nut milk bag over a large bowl and slowly pour the almond milk mixture into the bag. Gently squeeze the bottom of the bag to release the milk. This took me about 3-5 minutes to get all the milk out.
Rinse out blender and pour the milk back in. Add the cinnamon and pinch of sea salt and blend on low to combine.
Pour into a glass jar to store in the fridge for up to 3-5 days. Shake jar very well before using as the mixture separates when sitting.
Prep
If your dates or vanilla bean are dry/stiff, soak in water to soften before use. You can also use another sweetener of your choice like maple syrup. Same goes for vanilla – feel free to use vanilla extract for a more subtle vanilla flavour.

Use within 3-4 days.