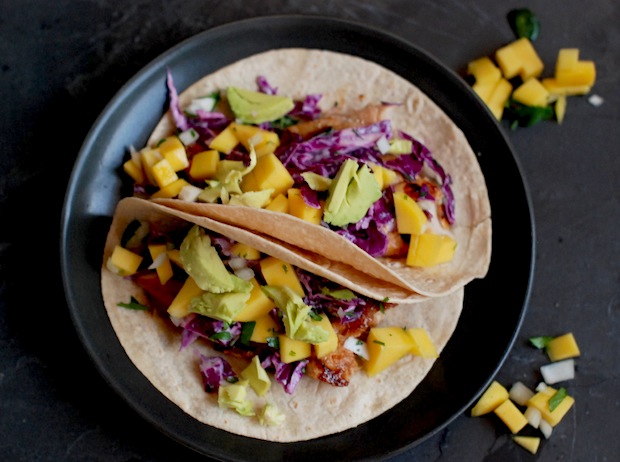 i'm a sucker for fish tacos…and knowing that our fish-phobic (understatement) Lincoln wasn't going to be home for dinner gave me the perfect excuse to get my fish taco on! They were yum… and felt like a decidedly more spring-ish dinner.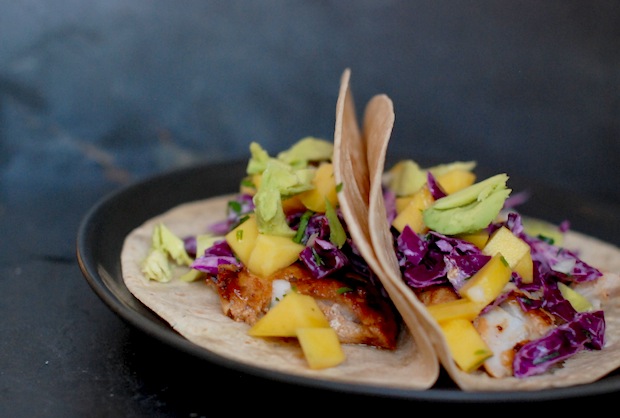 The add-ons for fish tacos are both colourful and flavourful: mango salsa, sliced avocado and purple cabbage slaw.. make your slaw in advance to let the flavours meld together. It's just as good to eat the day after, too! Another side note…the more colourful, the more healthy as far as i'm concerned. All of these fresh ingredients aren't just pretty, they are good for you…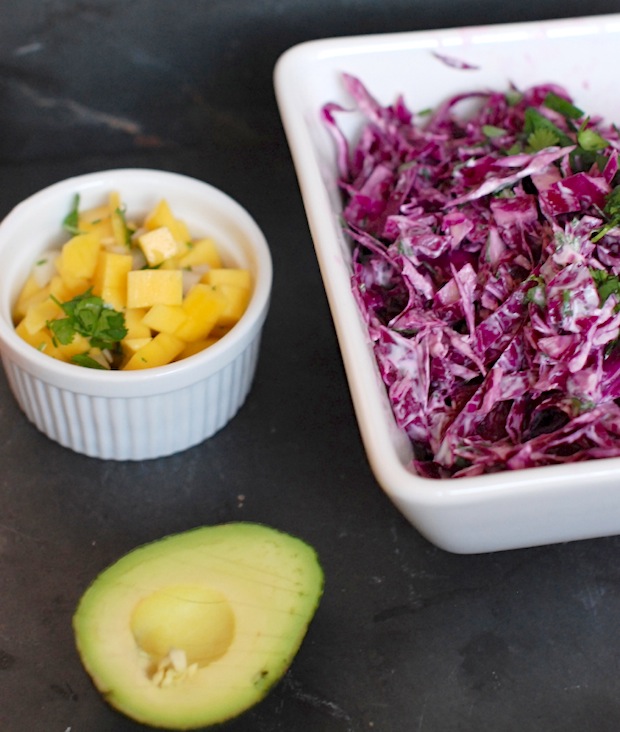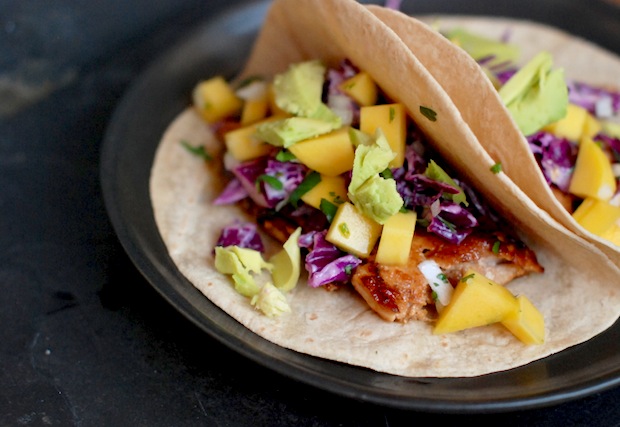 A mango slaw is the perfect flavour compliment to fish. It's incredibly easy and quick to make..only 4 ingredients are needed: mango, cilantro, lime juice, red onion. (i had used my red onion up, so i grabbed a yellow onion)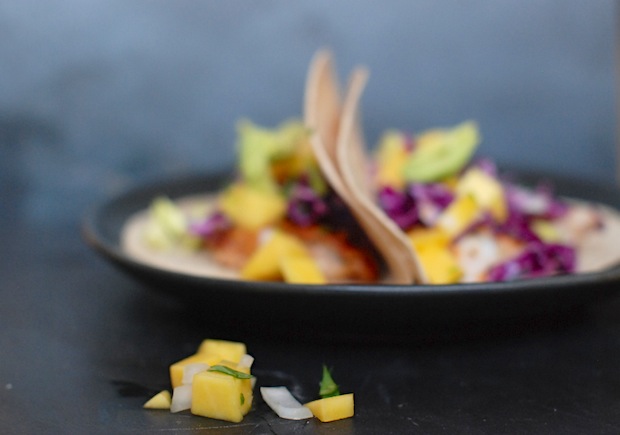 Fish Tacos
Author:
adapted from Monique of the Ambitious Kitchen
Ingredients
1 pound tilapia
1 tablespoon olive oil
3 tablespoons fresh lime juice
2 teaspoons honey
2 garlic cloves, finely minced
1 tablespoon chili powder
1 teaspoon cumin
¼ teaspoon red cayenne pepper
salt and freshly ground black pepper, to season
For slaw
2 cups shredded red or napa cabbage
2 tablespoons fresh chopped cilantro
¼ cup low fat sour cream
½ tsp chipotle pepper
1 tablespoon fresh lime juice
salt and pepper, to taste
Mango Salsa: 1 ripe mango, diced, ½ cup red onion, ½ cup chopped cilantro, juice of one fresh lime
1 avocado, diced
8 small corn tortillas
avocado and extra cilantro, to garnish
Instructions
Preheat grill to medium-high heat.
Place fish in large ziploc bag and add olive oil, lime juice, honey, garlic, chili powder, cumin, and cayenne pepper. Season with salt and pepper.
Close bag and massage seasonings into fish. Let marinade for 20 minutes.
Prepare slaw: In a medium bowl combine cabbage, cilantro, sour cream, lime juice, chipotle pepper, salt and pepper to taste. Place in refrigerator.
Prepare mango salsa: combine chopped mango, red onion, cilantro and lime juice. Set aside
Remove fish from marinade and place onto hot grill. Grill fish for 3-5 minutes each side, it will vary depending on the temperature of your grill. Typically the second side will take less time. Remove fish to hot plate.
Grill tortillas for 10-20 seconds each side. Divide fish equally into tortillas, add slaw, and mango and avocado. Garnish with extra cilantro, if desired.