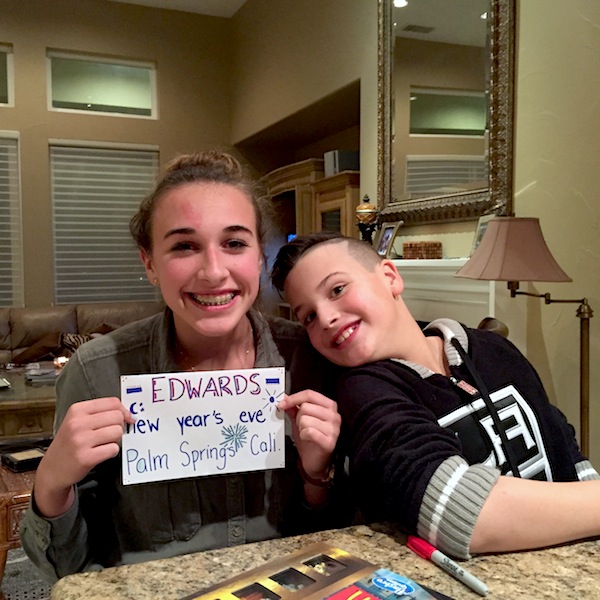 Am i the only one who views New Years Eve as kinda blahhhhh… So much hype and it's a bit lost on me. Don't get me wrong… i LOVE a good party but NYE is a bit of a letdown after Christmas. Maybe it has something to do with the fact that Scott calls it a night around 10pm…even on NYE. The kids always have good intentions but they drop off like flies too. And last year a couple of us night owls forced (some successfully and some not) to make people stay up. That's fun. Everyone sitting and looking at their watches and at the strike of 12 a mass departing as everyone ran to their beds. I kind of don't blame them.
This year i begged Scott to stay up..i even told him he could plan the evening and we would do whatever he wanted. Score! He came up with a new riff on the traditional progressive dinner and was it ever fun! This evening really sparked the idea that this could be an incredibly fun way to entertain and spend interactive time with guests or to make it a family affair with the kids. And not just on NYE.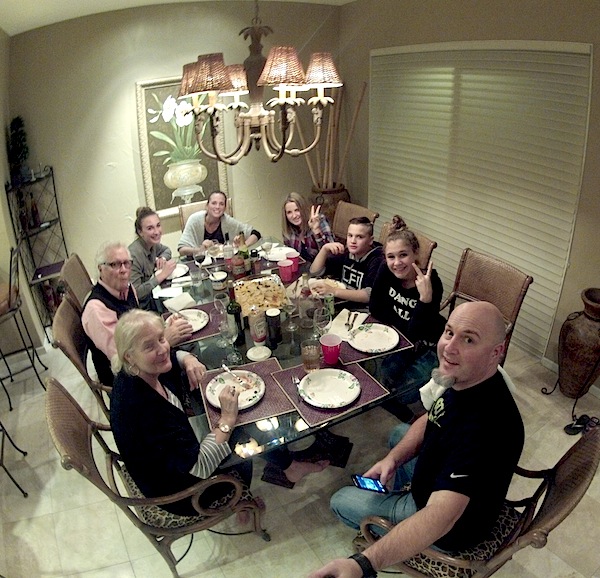 The method was simple:
1. Everyone decide on a dish to create in the kitchen. Anything goes…appetizer, main course, snack, dessert.
2. Do your grocery shopping…we combined the lists and made a master one so that the dishes would remain a surprise.
3. Pick times out of a hat. Who knows if dessert will be served first or last? That's part of the fun!
There were 8 of us, so we began eating at 5pm and finished at 12 midnight. Every hour on the hour, a new dish was served.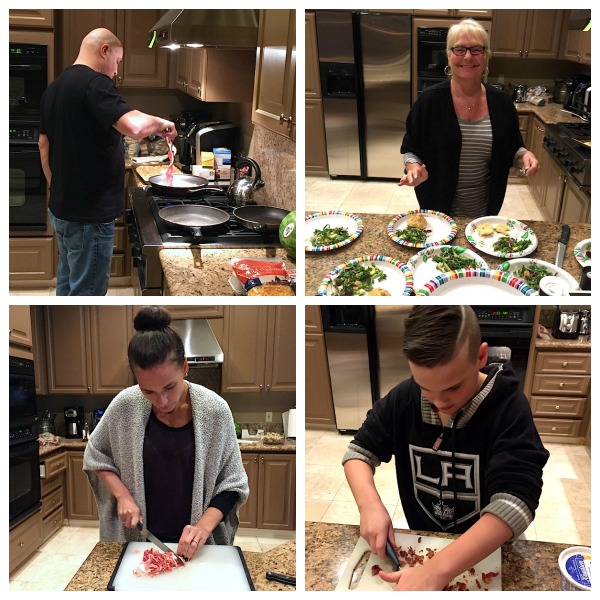 Watching everyone in the kitchen was so entertaining…you realize that everyone has their own shtick! I was even impressed with Lincoln's knife skills…i think he might be a foodie like his mama!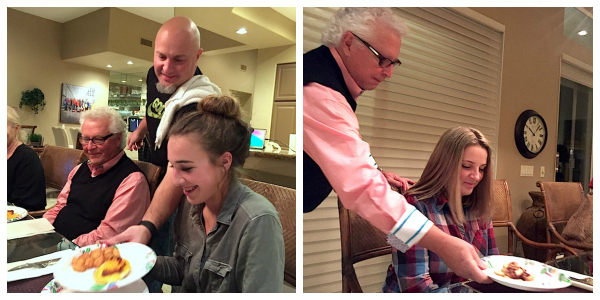 The other part of the deal was that upon serving your dish you needed to romanticize it..you know…sell it to your crowd! Scott won this department hands down. Shocking right? He introduced his Fat Eddy's (aka breakfast sandwich) with gourmet "totted potatoes".  Yes, he managed to have us eat tater tots!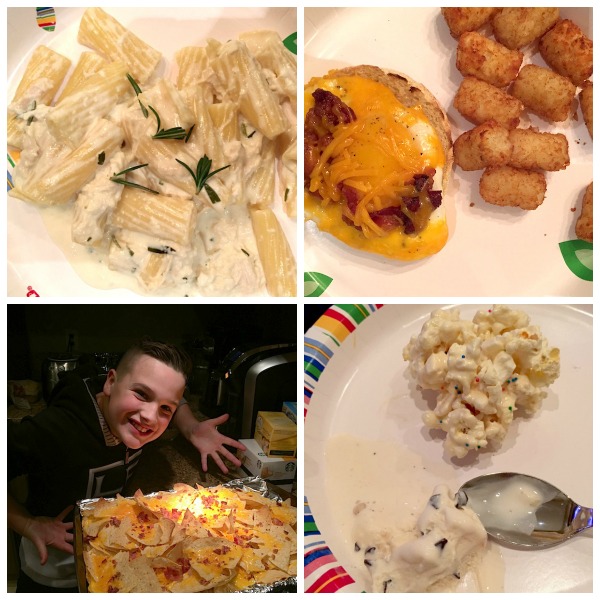 We ate some incredibly delish food. Gourmet mac and cheese with roasted chicken, rosemary and goat cheese.  Link's fully loaded nachos with "halipenos and lots of everything" were snack-o-licious. Popcorn balls with Ben and Jerry's chocolate cookie dough ice cream, home-made honey biscuits, avocado cilantro rice and blackened chicken, pastry encrusted brie with blackberry compote, grilled romaine with pancetta, parmesan and fresh rustic croutons…can you sense the state of our bellies by the end?
This evening was a hoot..we all collectively agreed it was one of the best New Years ever.  Not only did it allow us as a group to hang out together for the whole evening and eat some great food, but everyone could interact and just "be". No rushing, no stressing, no overpriced and underwhelming dinner out. It was awesome. And i can't wait to do it again! If your group is large, pair up and test your culinary skills working with a partner. So many different ways you can do this…