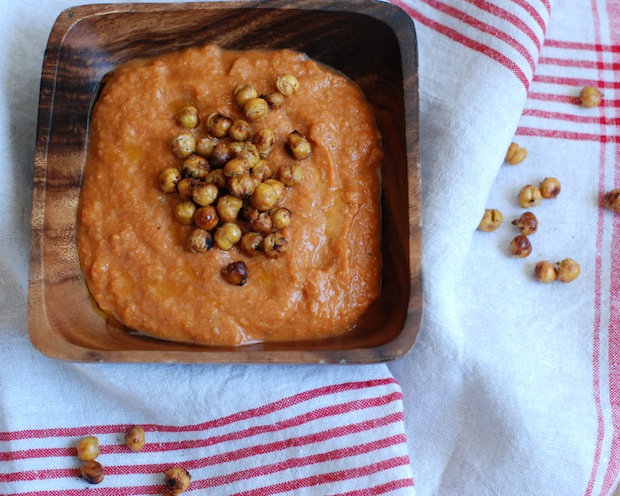 Tomato soup makes me nostalgic. It elicits memories of my "growing up" years… my favourite lunch ever was tomato soup with macaroni in it! Add a grilled cheese on the side and…nirvana.
While i'd like to think that my palette has progressed, i'm pretty sure if it was placed in front of me that soup would still be so good. But…. so not good for me. This recipe for tomato soup from Oh She Glows is delicious. And while it doesn't call for macaroni (that's a good thing!) it has roasted crunchy chickpeas on top, which are pretty addicting. This is definitely a more gourmet and tasty version of the old classic that would be perfect for both lunch guests, or eating solo in your lulus cozied up on the couch.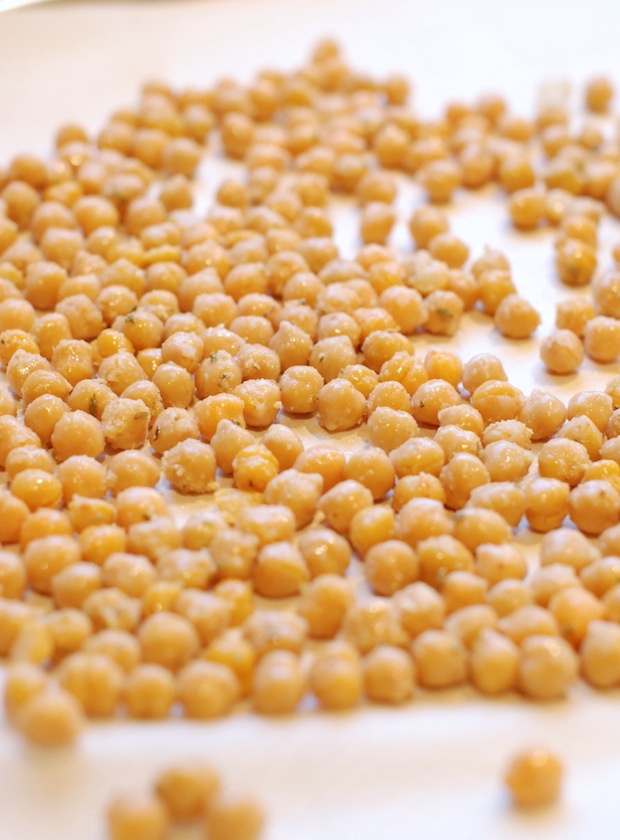 Chickpeas drizzled with olive oil, garlic powder and other spices and then roasted become delicious crunchy "croutons".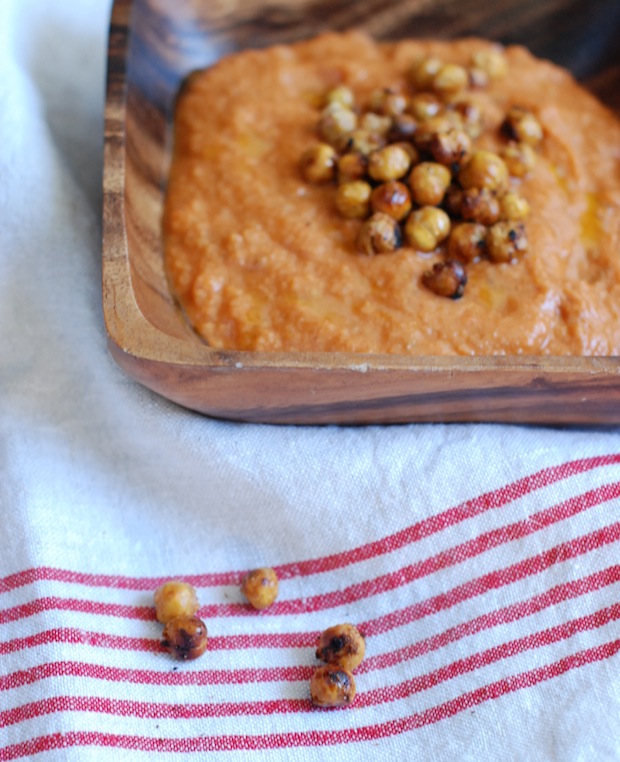 Who knew that you could get the effect of a cream soup by soaking cashews and then blending them? Brilliant!
Leftovers can be frozen and at the ready for a quick meal. Which is good in theory…we didn't have leftovers…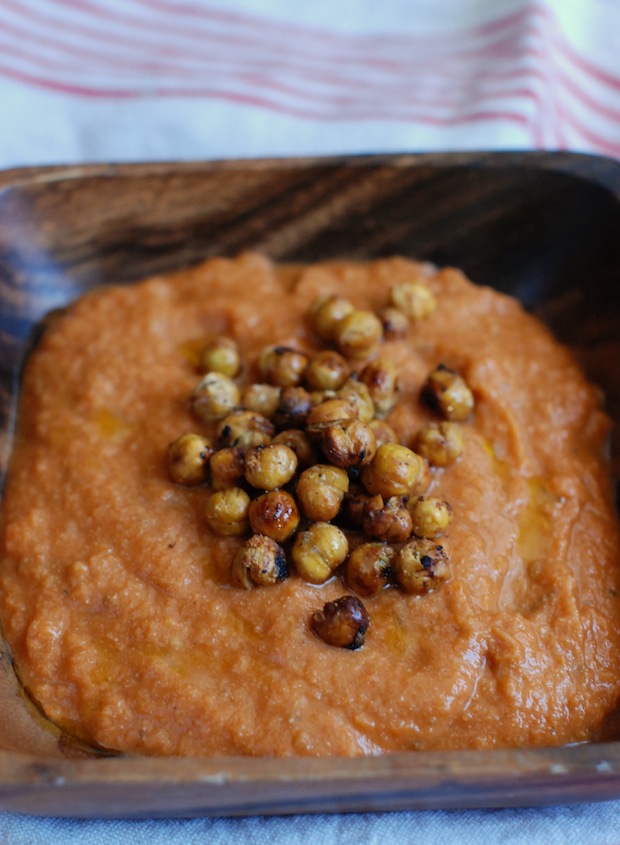 If you don't have the Oh She Glows cookbook in your kitchen arsenal, you may just be missing out! Normally, i'm a bit fearful of vegan, gluten free, grain-free, etc. I usually think "no taste". Not the case here… i'm only slightly completely addicted to her Monster Green Smoothies and just stocked my kitchen with ingredients to make her Enchiladas with Cilantro Avocado Cream Sauce….does that sound good or what??

Cream of Tomato Soup
Author:
Angela Liddon of Oh She Glows
Ingredients
For the Chickpea Croutons:
1 (15-ounce/425-g) can chickpeas, drained and rinsed
1 teaspoon (5 mL) grapeseed oil or melted coconut oil
½ teaspoon (2 mL) dried oregano
⅛ teaspoon (0.5 mL) cayenne pepper
1 teaspoon (5 mL) garlic powder
¼ teaspoon (1 mL) onion powder
¾ teaspoon (4 mL) fine-grain sea salt or Herbamare
For the Tomato Soup:
1 tablespoon (15 mL) extra-virgin olive oil
1 small to medium yellow onion, diced (1.5 to 2 cups/375 to 500 mL)
2 large cloves garlic, minced
½ cup (125 mL) raw cashews, soaked (see page 11)
2 cups (500 mL) vegetable broth
1 (28-ounce/793-g) can whole peeled tomatoes, with their juices
¼ cup (60 mL) oil-packed sun-dried tomatoes, drained
3 to 4 tablespoons (45 to 60 mL) tomato paste
½ to 1 teaspoon (2 to 5 mL) dried oregano
¾ to 1 teaspoon (4 to 5 mL) fine-grain sea salt
½ teaspoon (2 mL) freshly ground black pepper, plus more as needed
¼ to ½ teaspoon (1 to 2 mL) dried thyme
For serving:
Fresh basil leaves
Olive oil
Freshly ground black pepper
Instructions
Make the Chickpea Croutons: Preheat the over to 425 degrees F (220 degrees C). Line a large rimmed baking sheet with paper towels. Place the chickpeas on the paper towels and place a couple of paper towels on top. Roll them around until any liquid on them has been absorbed. Discard the paper towels.
Transfer the chickpeas to a large bowl and stir in the grapeseed oil, oregano, cayenne, garlic powder, onion powder, and salt. Line the baking sheet with parchment paper and then spread the chickpeas in an even layer on the baking sheet.
Bake for 15 minutes. Give the pan a shake from side to side and cook for 15 to 20 minutes more, watching closely, until the chickpeas are lightly charred and golden.
Let cool on the baking sheet for at least 5 minutes. The chickpeas will crisp up as they cool.
Make the Tomato Soup: In a large saucepan, heat the olive oil over medium heat. Add the onion and garlic and saute for 5 to 6 minutes, or until the onion is translucent.
In a blender, combine the soaked cashews and the broth and blend on high speed until creamy and smooth. Add the garlic-onion mixture, tomatoes and their juices, sun-dried tomatoes, and tomato paste and blend on high until smooth.
Pour the tomato mixture into the saucepan in which you cooked the onions and set the pan over medium-high heat. Bring the mixture to a simmer, then stir in the oregano, salt, pepper, and thyme, all to taste.
Gently simmer over medium heat, uncovered, for 20 to 30 minutes, until the flavors have developed.
Ladle the soup into bowls and top each with ⅓ to ½ cup (75 to 125 mL) of the Chickpea Croutons. Garnish with minced fresh basil leaves, a drizzle of olive oil, and freshly ground black pepper.
Prep
Tips: The chickpeas will lose their crispness in the soup, so be sure to add them just before you sit down to eat — or you can even add the chickpeas as you eat the soup.
If you have leftover chickpeas, make sure they're cool, then pop them into a baggie or container and throw them in the freezer. Freezing the chickpeas seems to retain their crispness better than leaving them at room temperature. To reheat, simply pop the frozen chickpeas into the oven at 425 degrees F (220 degrees C) for 5 minutes or so, until thawed. Voila — instant roasted chickpeas!