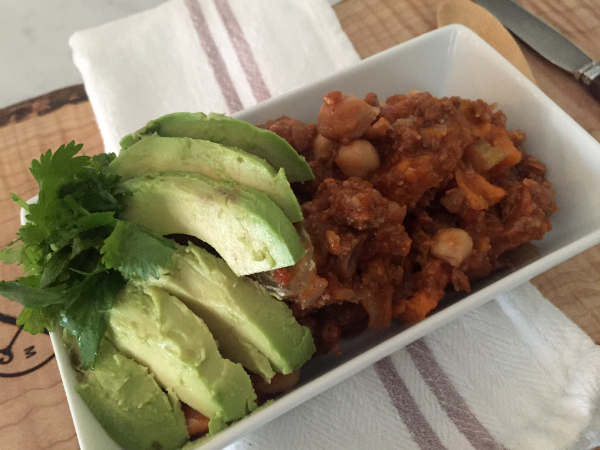 Nothing is better on a chilly, damp winter day than comfort food. But so many…almost all…comfort foods just aren't good for you.  Think mac and cheese, fried chicken and mashed potatoes…you know what I'm takin' about! I've been looking for clean eating recipes that fit the bill of comfort food and are good for you too. A friend told me about a yummy chili she made and I headed to Pinterest and found this recipe from Savory Lotus that sounded similar. I made a few changes…yes, it's what I do…and I have to say that it was good!

Clean Eating Moroccan Chili
Ingredients
2 pounds of grass fed ground beef, bison or buffalo
1 Tablespoon coconut oil
1 small onion, chopped
4 cloves of garlic, minced
1 cup low sodium tomato sauce
1 cup low sodium crushed tomatoes
2 cups chicken or beef broth
1½ teaspoons sea salt
2 bay leaves
2 Tablespoons chili powder
1 Tablespoon cumin
½ teaspoon oregano
½ teaspoon cinnamon
¼ teaspoon ground ginger
¼ teaspoon ground allspice
2 cups of yams (the orange ones), chopped into 1 inch pieces
1 cup celery, diced
14 ounce can of organic garbanzo beans (chickpeas)
2-3 cups baby kale
avocado
fresh cilantro, chopped
Instructions
Combine the spices in a bowl and set aside.
Melt coconut oil in Dutch oven or large pot over medium high heat. Add onion and cook until just slightly browned. Add ground meat and garlic and cook until there is no pink left in the meat.
Add tomato sauce, crushed tomatoes and broth. Add spice mixture. Stir together, cover, and simmer for about 5 minutes.
Add yams, celery and garbanzo beans. Stir, cover and simmer on low for 40 minutes. Stir occasionally.
Add baby kale, stir and cook for another 5 minutes.
Spoon into bowls and top with avocado and cilantro.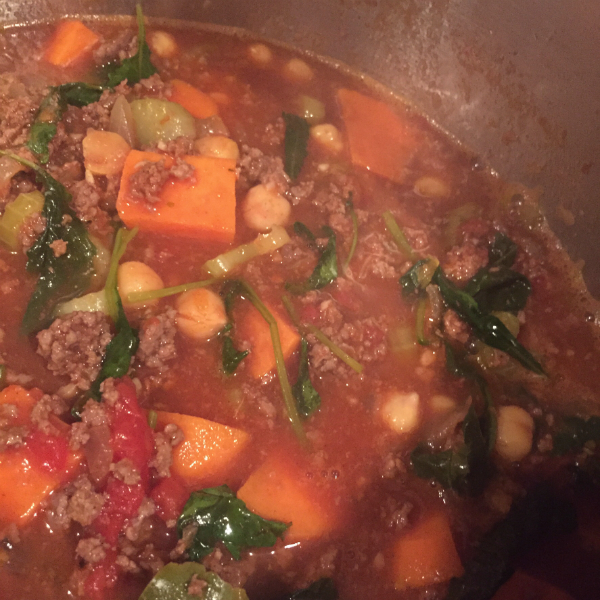 I used ground buffalo (eeks…I know!?!) and no one even knew.  It was a bit out of my comfort zone, but I'm trying to use meats that have been grass or vegetable fed and haven't been given hormones or antibiotics. It didn't taste game-y at all and was super lean.  But if that's a little too out there for you, ground beef or chicken work too!  I wondered a bit about the spice mixture, but it gives the chili a nice Moroccan flair without being overpowering.  The spices work really well with the yams and chickpeas.  Laurel just posted last week about a healthy cream of tomato soup with chickpea croutons…I'm sensing we are both craving healthy comfort food!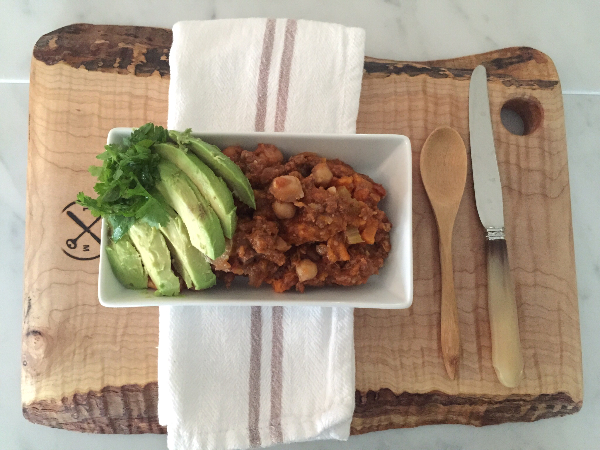 If you're not too worried about carbs, serve it up with some warm sourdough. I did skip the bread as this chili is very filling and satisfying. Hearty, warm and really good for you…yup, it's my new comfort food!