Wrapping. I have a love-hate relationship with it. Only because every year i have high hopes that i will wrap as i buy. I will take my time, play the Christmas carols and sip my hot chocolate while leisurely tying fabulous bows, and attaching gleaming jingle bells to each precious package. Enter reality. It never happens! And when i look at the jumble of shopping bags, it becomes an overwhelmingly un-fun task! So this year, because i've already failed at the shop-wrap ideal, i wanted to keep it super simple. Simple and efficient, yet with the ability to personalize and make each gift look a wee bit special too!
I loaded up on 4 items that have formed my wrapping arsenal this year: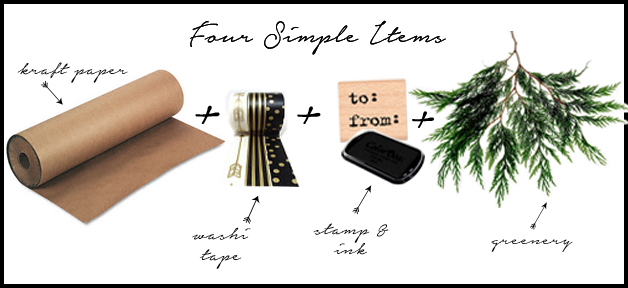 1. Kraft Paper is in abundance…i have found it in many different places, my 2 favourites are the dollar store as well as the post office. The cost is a fraction of traditional wrapping paper and is perfect for making a blank canvas to be personalized.
2. Washi Tape is where your choice of color and pattern come into play. I kept it simple staying in variations of black, gold and white. There's no right or wrong way to use it…I experimented with stripes, lines and label adhesive strips. Really, the sky (or your tape supply) is the limit here!
3. A stamp is so much easier than tying on labels, wouldn't you agree?
4. Greenery is the finishing touch that adds that "organic" feel. Cedar is in abundance but really any green works. My only advice is that you might want to wait a bit closer to Christmas to add these touches in order to keep them looking and smelling fresh and vibrant! Attached with washi tape, live greens add a the finishing touch.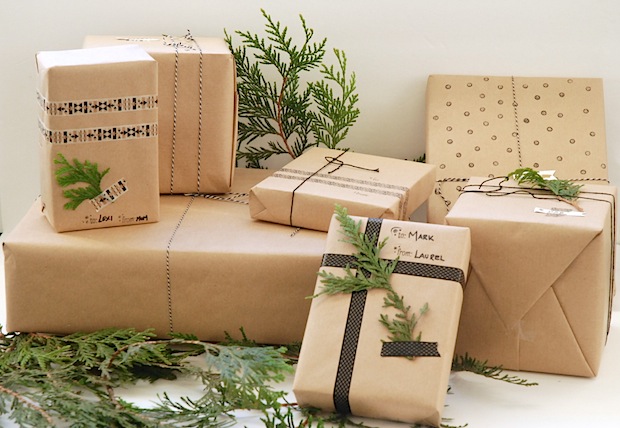 With these four items as your base, you can embellish your gifts further if that strikes your fancy. I dug out some twine and added them to some gifts. And the polka dots? I used the end of a pencil eraser and my ink pad…easy! Fun too, i'll admit!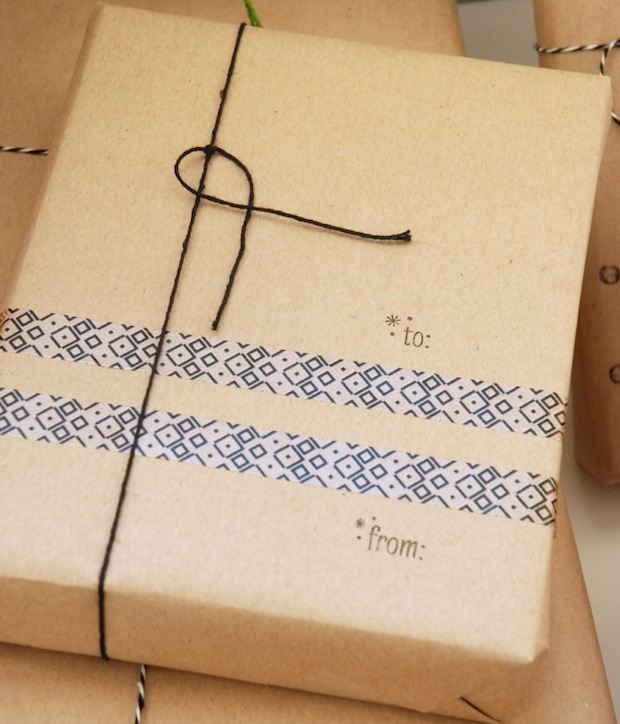 I hope this inspires those of you who are seeking ideas…and maybe gives some hope to others who have been dreading your "wrap" session. This is do-able…and i'm betting your kids would love to help too!