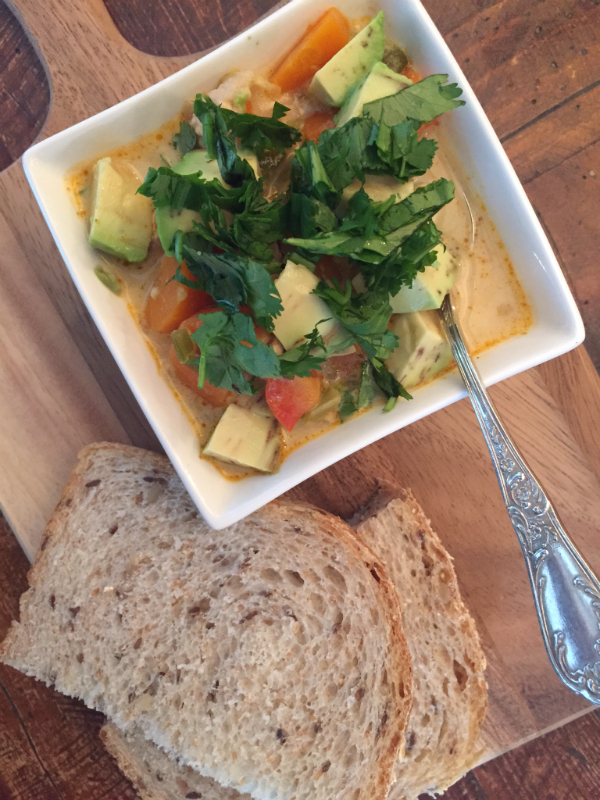 I'm trying to be better about what I eat.  I seem to jump on and off the healthy eating wagon much too often these days!  Clean eating for me usually means a dinner of lean protein and grilled veggies….no carbs, no sugar.  But with the colder weather setting in, I just feel like comfort food.  So I looked up some Paleo-friendly chicken chili recipes and combined a few to make up my own.  The result is really much more like a soup or stew.  It isn't thick enough to be a chili, but it's super packed with flavor and really good for you.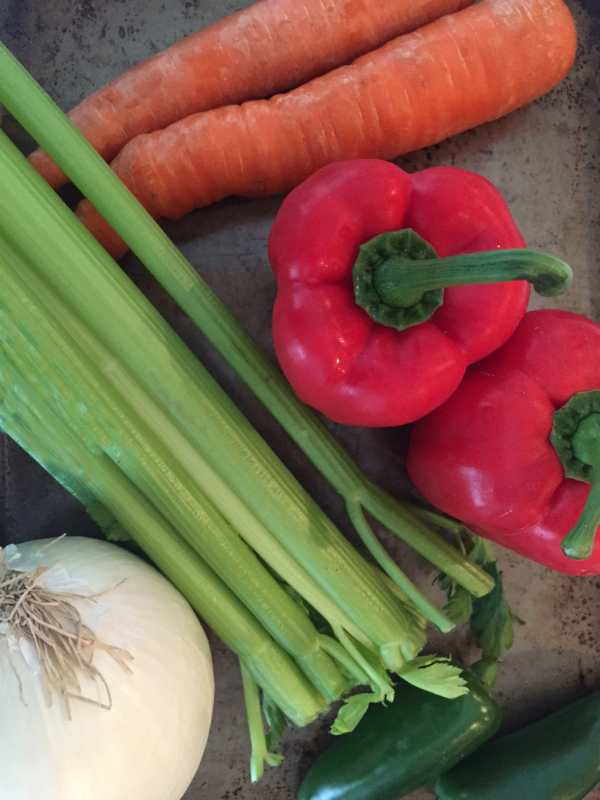 Clean Eating Chicken Soup
Ingredients
2 Tablespoons olive oil
1 large white onion, diced
4 cloves of garlic, minced
2½ pounds boneless, skinless chicken breasts, cubed
4 carrots, peeled and chopped
6 celery stalks, chopped
3 red peppers chopped
1½ jalapeno peppers, seeded and finely chopped
2 cans green chilies
3 teaspoons salt
2 teaspoons cumin
1 teaspoon coriander
3 teaspoons chipotle chili powder
4 cups chicken stock
1 can full fat coconut milk
4 Tablespoons cilantro
2 avocados, diced
Instructions
Heat olive oil at medium heat in a dutch oven and saute garlic and onions under tender.
Add the chicken and saute until opaque and cooked through.
Add carrots, celery, red pepper and jalapeno and cook until veggies are tender (about 10 minutes).
Add green chilies and spices and stir.
Add chicken broth. Bring to a boil and then lower heat and simmer covered for 20 minutes.
Add can of coconut milk and heat through.
Garnish with cilantro and avocado.
Ok, so the kids need carbs!  They are WAY more active than I, so I served it with oat and sunflower bread from
Duft & Co.
 No, I didn't try it..booooo!!  But it was super tempting!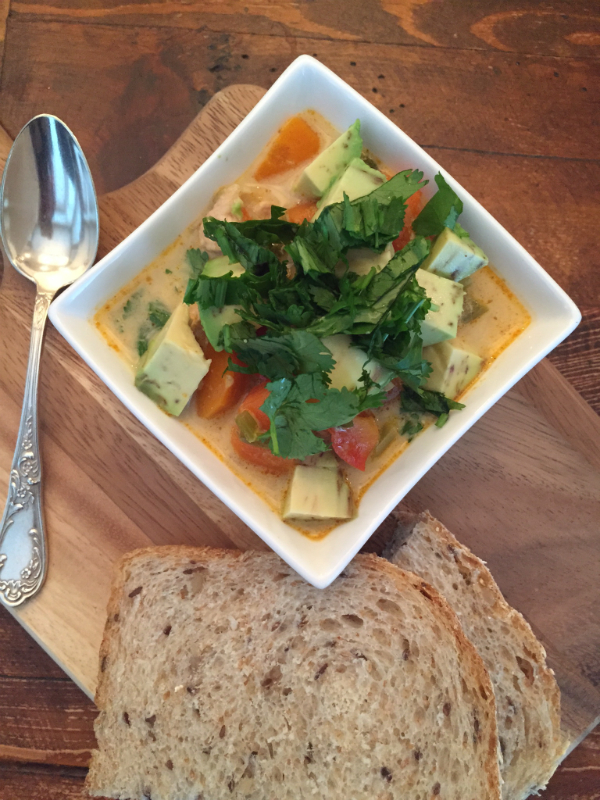 When I packed up the leftovers for the girls for their dinner at the dance studio, I cooked up some multigrain fusilli and added it to the soup.  It thickened it up a bit and they loved it!
The result….this clean eating chicken soup was a hit with the fam and left me super satisfied.  I have a feeling this soup will be on our dinner table a lot this winter!