Clean Eating Chicken Soup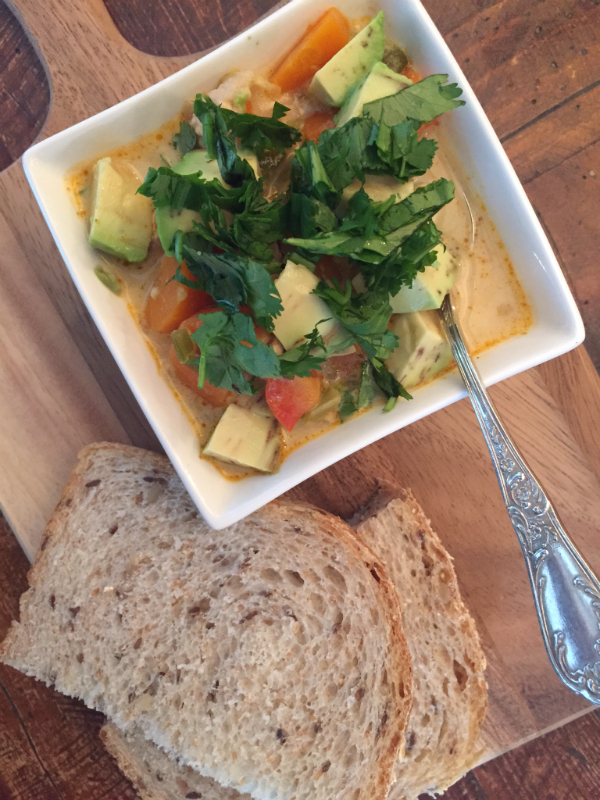 2 Tablespoons olive oil
1 large white onion, diced
4 cloves of garlic, minced
2½ pounds boneless, skinless chicken breasts, cubed
4 carrots, peeled and chopped
6 celery stalks, chopped
3 red peppers chopped
1½ jalapeno peppers, seeded and finely chopped
2 cans green chilies
3 teaspoons salt
2 teaspoons cumin
1 teaspoon coriander
3 teaspoons chipotle chili powder
4 cups chicken stock
1 can full fat coconut milk
4 Tablespoons cilantro
2 avocados, diced
Heat olive oil at medium heat in a dutch oven and saute garlic and onions under tender.
Add the chicken and saute until opaque and cooked through.
Add carrots, celery, red pepper and jalapeno and cook until veggies are tender (about 10 minutes).
Add green chilies and spices and stir.
Add chicken broth. Bring to a boil and then lower heat and simmer covered for 20 minutes.
Add can of coconut milk and heat through.
Garnish with cilantro and avocado.
Recipe by
Sugar Plum Sisters
at https://sugarplumsisters.com/2014/11/clean-eating-chicken-soup/