OK…we were worried that we were Paris-ing you all out. But we've had enough of  you ask us for more info to warrant a little Coles notes edition of the Paris Pop Up and what to expect!

WHEN: Oct 23-25th
Oct 23: 6-9pm  The Exclusive Preview Night. Tickets still available here   Your $25 ticket includes, a Highstreet fashion trunk show, a welcome drink, live DJ and lots of Parisian goodies to sample. A serious night on the town!
Oct 24: 5-9pm *
Oct 25: 10am-5pm *
*Entrance is a $5.00 donation, with a portion of the proceeds going to the Arts at the Reach Gallery Museum in Abbotsford
WHERE: Highstreet FV, Abbotsford.  Find us across from Milestones, where we're transforming an empty space into our own industrial and chic French boutique
WHY:
1. Every item in the Pop-Up shop has been handpicked by the Sugar Plum Sisters and Taya Hawes-Puiu. If we wouldn't choose if for ourselves, it won't be there!
2. Each item has a story behind it whether it is a vintage find from Paris or a locally created good…
3. We have shopped with you in mind…we think we've covered the range from young ones to old…and spanned both tasted and budget. Great giving pieces will be aplenty.
4. And lastly, because we would love to have a visit with you…perhaps over a pain au chocolate or baguette???
Tickets can be purchased at Guest Services, 604-381-3934 or at click here to buy tickets. Space is limited but we've still got room for you!
Here's the pretty version: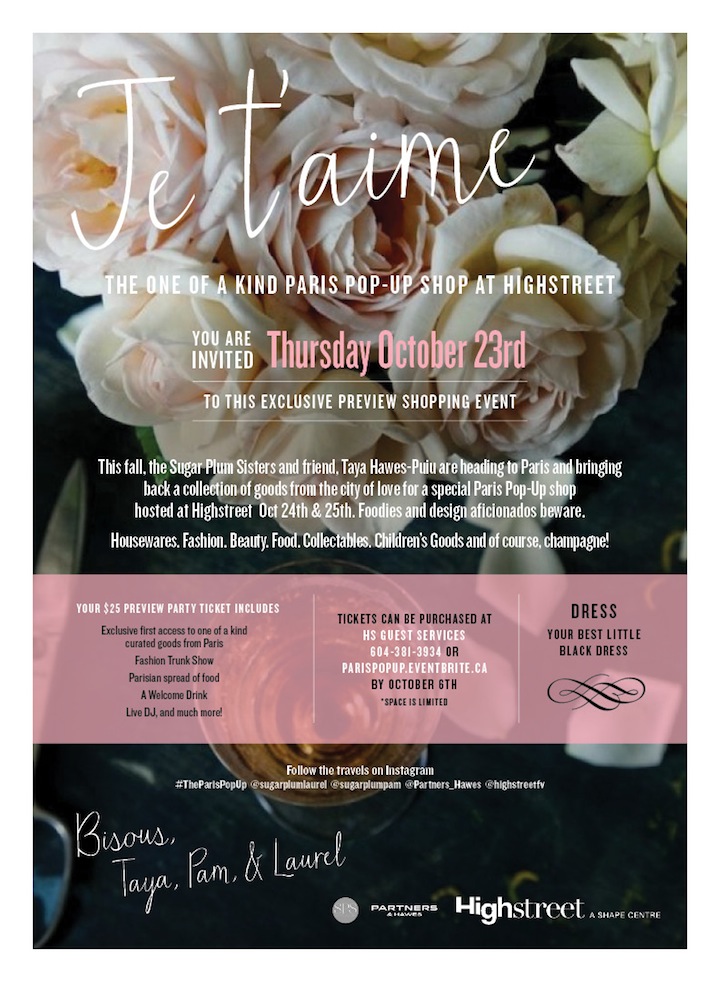 Hope this helps xo