Lincoln was desperate for a birthday party this year…you see, last year i completely mommy failed and never got around to it! How does that happen? It got to the point where it was so far past, that i was embarassed to even start planning one! I promised i would deliver this year. And guess what? I was only about 5 weeks late…baby steps!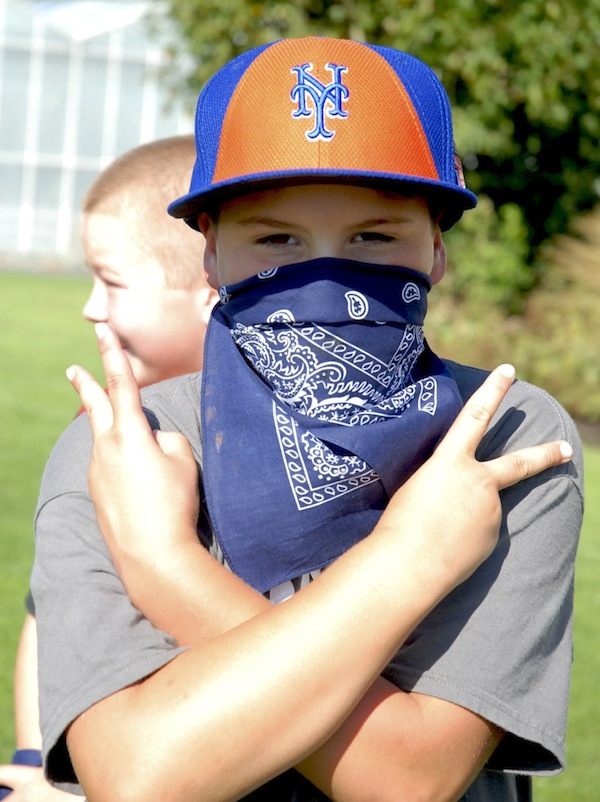 10 year old boys = busy boys so i knew something semi-structured was in order. Here's where my helpers stepped in! My girls and Pam's girls took over…coming up with a crazy good Amazing Race course that had the boys running, hopping, eating, roasting and …groaning in exhaustion! Does that equal success? I kinda think so!
Here are the deets:
Graphics found online at Mom of 6  made our Amazing Race feel all the more authentic…complete with route info and road blocks.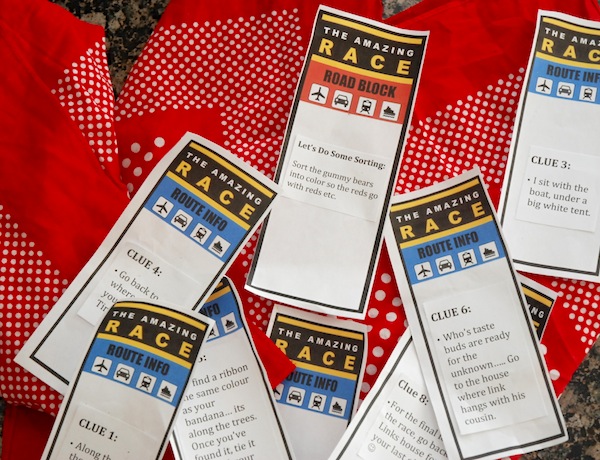 Bandanas ( Dollar Store finds!)  earmarked the teams. And the highlight of handing out the pink bandanas? After telling them real men wear pink, pretty much everyone was fighting to bear the cheerful color!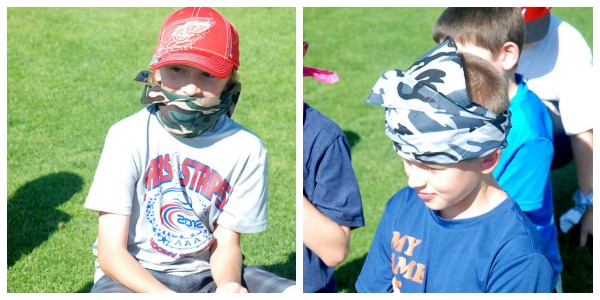 Nothing like an air horn to mark the start of the race…. the first task? Find your shoes (which where strewn about) and then have YOUR PARTNER put your shoes on your feet …we got right into the team work!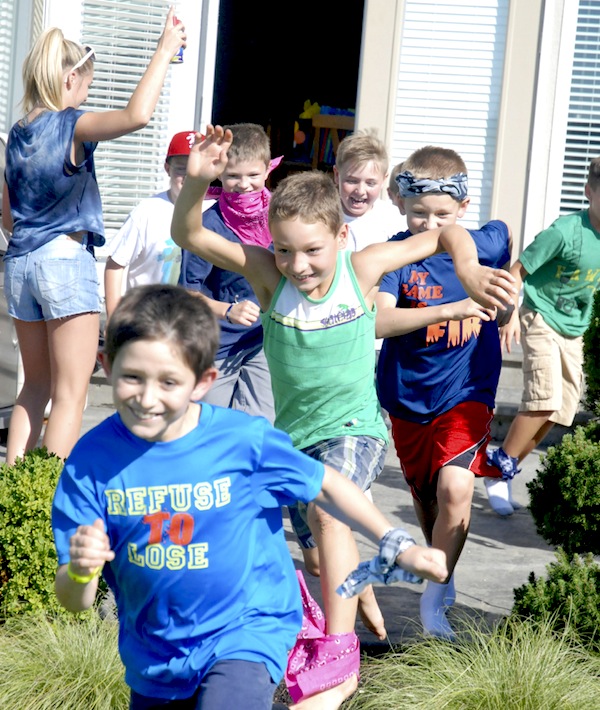 Tailor your activities to what you have at your disposal. The girls took advantage of the space we had…making the boys run to different areas of the property to perform their tasks. The idea was to keep them moving…and thinking!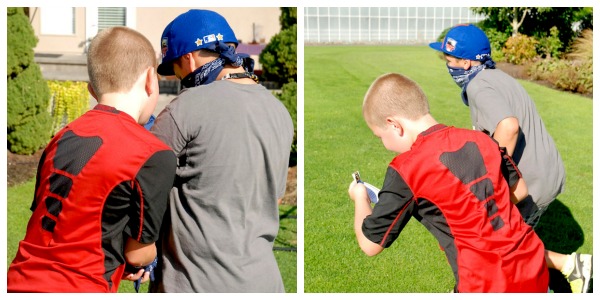 True to the televised show, include activities that focus on more than just physical skills… i'll be honest, getting that Oreo into their mouths without using their hands tested their patience (but was incredibly entertaining to watch)!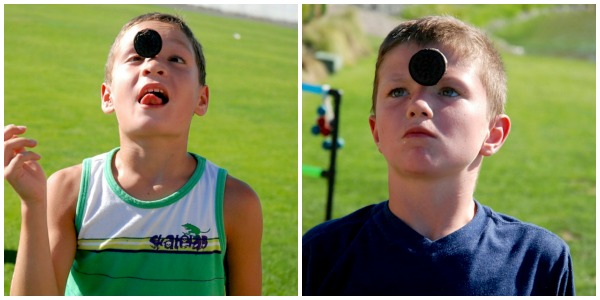 Other activities included:
– Test Your Tastebuds – a blind taste test included baby food, mushed bananas, ketchup , chocolate to name a few…
-Running barefoot along a gravel course…ouch!
-Roasting the perfect marshmallow, deemed "perfect" by a judge.
-Sorting gummy bears using only your mouth.
-Play the matching game with hockey cards.
-A Hackysack relay- Hackysacks purchased for the relay were, once again, from the Dollar Store. They served a dual purpose and were also given to the kids to take home!
-Find your matching bandana in a tree, grab it and tie it on for the three-legged race.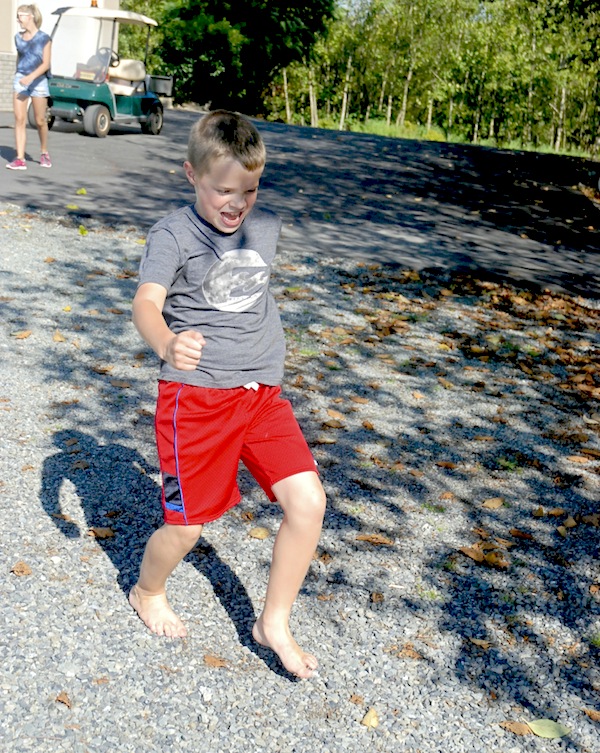 Charging barefoot on gravel.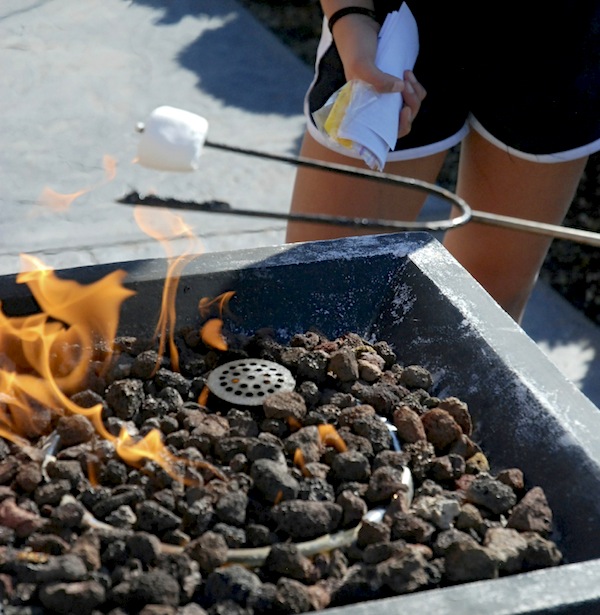 Trying to end up with the most perfectly golden marshmallow..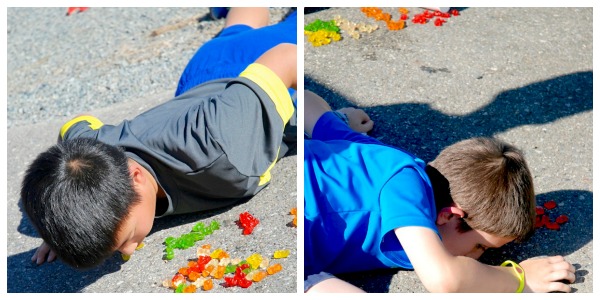 Didn't even catch anyone sneaking some gummies…too busy trying to finish first!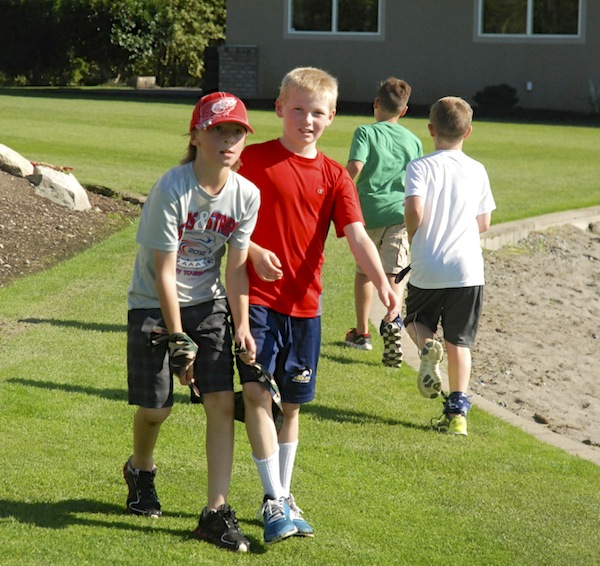 The three-legged race was more successful for some than others…but they improvised well!
Hosting your own Amazing Race doesn't have to be limited to just summer. A fall party could incorporate tasks with leaves, rainwater and even mud…us adults might not find that enticing but mud + kids= FUN! What i also loved about this party is that it was completely economical. It took some planning (this is where do a major fist pump for the girls helping me out!), but required very little from the budget. We used much of what we had around the house and added some purchases from the Dollar Store. Sometimes it doesn't have to be complicated!
I think Link forgives me for being late on the party….but let's not get our hopes up for next year's bday!