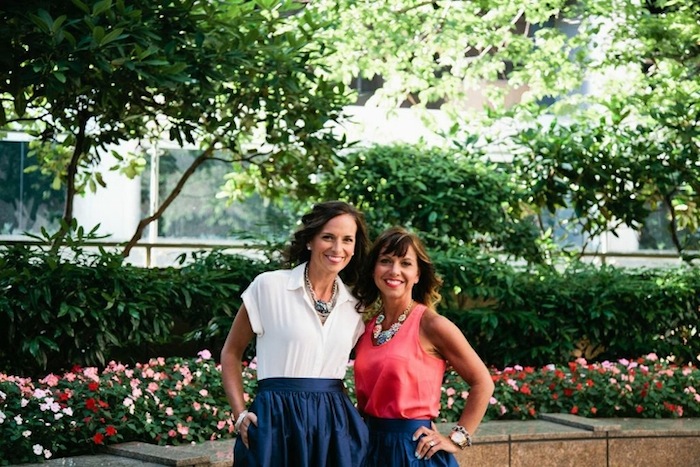 I'm surprised at how often we've been asked lately if Pam and i are actually sisters. I'm betting i give a bit of a "really?" stare..oops! It's safe to say that I've been assuming all who follow us know us. And it's beginning to dawn on me that maybe that's not the case. So to set the record straight, Pam and I are most definitely sisters. I'd ask you if you knew who was older and who was younger but that might ruffle Pam's errr…our feathers!
Whether that's news to you or not, i'm also surprised when people comment on how similar we are. And then have to remind myself that indeed we do like a lot of the same things! Having said that, we are quite different. I think that's what makes us able to work together…and actually enjoy it! I'd like to think that we offset each other's weaknesses. And play to each other's strengths. And most definitely we have also complimented each others styles over the years: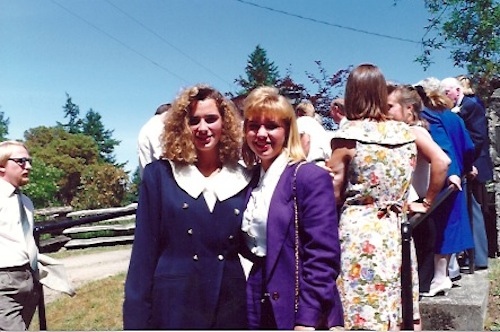 Ok, well maybe that last one was a wee bit of a stretch? Seriously, double breasted suits with collars that just don't end… oh and one sweet perm. That was my fave high school "do"..it so shoulda been a "don't"!
So here's the 411 …if you think we're 2 peas in a pod, you might realize we're more like 2 pods with some of the same peas?? Or something like that…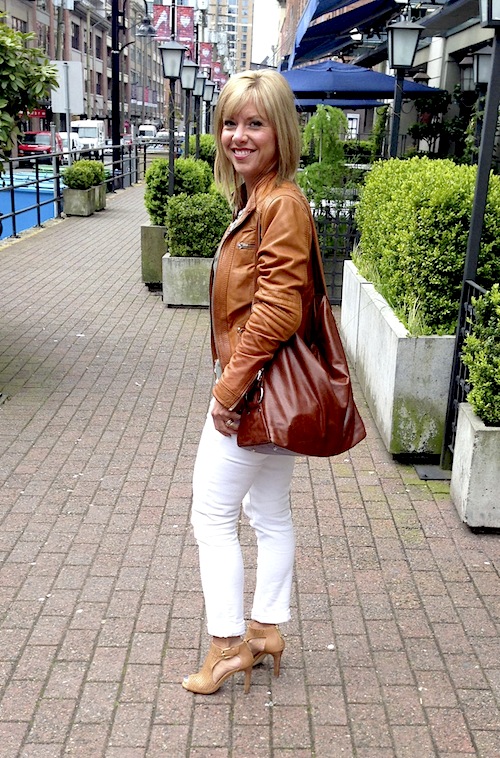 //PAM//
Current app you're loving? Yelp and Trip Advisor. With the travelling we've done this summer, they are my go to for recommends for resties, a good cup of coffee and local joints.  And i always read the review to find out the specialties at each place.
Right now i'm snacking on…I'm loving making my own trail mix right now.  I mix up peanuts, almonds, ribbon coconut, pumpkin seeds, dark choco chips and add cut up prunes/dried figs.
Best vacation ever… It's a tie! Turks & Caicos, as well as the British Virgin Islands by catered luxury catamaran complete with a gourmet chef!!
Best style advice you've ever been given…  Not all trends work on every body type.  Skip the trends that don't do you any favours.  Play up your assets.
Favorite Indulgence… Movie popcorn with layered butter and anything peanut butter & chocolate.  My last fave of that flavour duo was the candy bar pie at Momofuku Milk Bar in NYC..killer!
I've got half an hour to kill so i'm going to…grab an iced almond milk latte and catch up on my Instagram feed or in the summer take my cruiser out for a ride with the kids to get them slushies and pick up fresh veggies for dinner
Words of wisdom that hit home…When looking at a situation, will this matter a thousand years from now? If it will, then make it a priority.  If it won't, let it go.
Currently reading…Ok, I'm not really a reader. I know…tisk tisk! My guilty pleasure is a People mag when i travel.
I'm visiting Vancouver…where do i need to go? If it's your first time to the city, you need to cover some of the basics: walk the Seawall or rent bikes to ride it. Take the Aqua Bus to Granville Island Market (weekday, not the weekend!). Go see Fly Over Canada at Canada Place. Grab a coffee in Gastown (Nelson the Seagull or Revolver). Have lunch from the food trucks at the Vancouver Art Gallery. And…after that..if you have time to drive up to Whistler, do it! It's beautiful!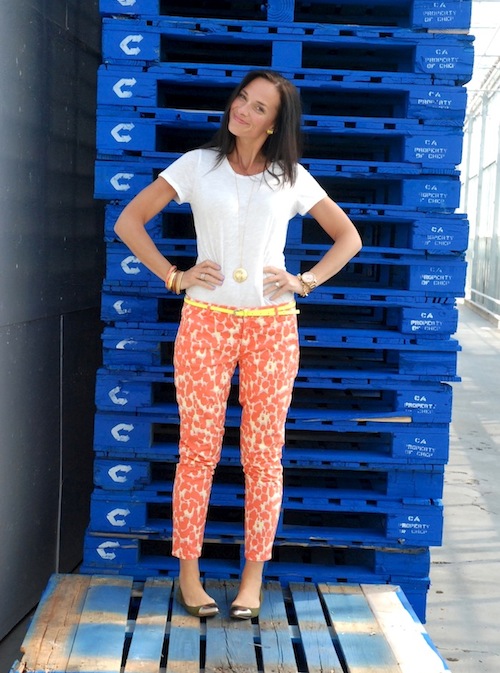 //LAUREL//
Current app you're loving? I'm a little lot  obsessed with Pic Tap Go…love layering the filters. Also love Open Table, where you can book online restie reservations when you're on the go!
Right now i'm snacking on…coconut almond butter with apple slices. Killer combo.
Best vacation ever… a catamaran trip through the British Virgin Islands was a trip i won't soon forget. But at the risk of sounding incredibly sappy, i'm happy whenever we are away as a family…the time we spend with our kids in amongst the busy-ness of life is a riot. They're at the age where we can be adventurous and just go for it!
Best style advice you've ever been given…the most attractive thing you can wear is confidence.
Favorite Indulgence…besides fuzzy peaches? Homemade guac with taco chips is one of my serious weaknesses.. oh and chocolate. Himalayan Salted Caramels from Purdy's to be exact.
I've got half an hour to kill so i'm going to… grab a coffee and a great book. If that fails, take a nap! Let it be known that neither of these end at just thirty minutes…
Words of wisdom that hit home… There are seasons in your life. Some require you to give of yourself to others by helping them along. The harder seasons in your life are the ones where you will need to accept the help of others. RECEIVE it.
Currently reading… And the Mountains Echoed by Khaled Hosseini. I'm also taking my time working through A Thousand Gifts by Ann Voskamp.
I'm visiting Vancouver…where do i need to go? Treat yourself to brunch at Cafe Medina…the Fricasse is to die for, as are their lavender lattes. Warm weather? Head to Spanish Banks where the beach opens up to brilliant views of the city and mountains. West 4th in Kitsilano is a great area to park and wander the streets for a coffee and doughnut (49th Parallel/Luckys Doughnuts), shopping, and dinner (Fable, Oakwood).  Take a moment to visit the Olympic cauldron and watch the seaplanes taking off and landing… and while you're in that area, make a stop at Bella Gelateria for the best Italian gelato you will ever taste. Such a short list for an incredible city…