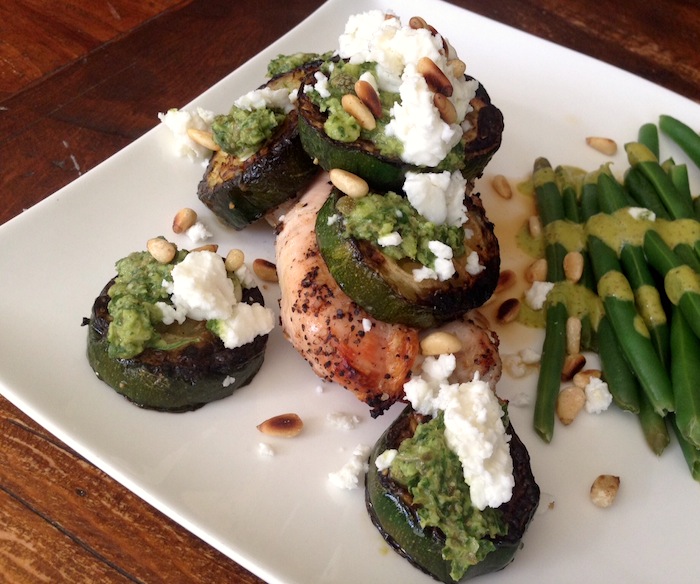 Can you say Pinterest score?? When i'm looking for din-spiration, i find myself on Pinterest and really, after rabbit trailing my way through clothes, interior design and dreamy travel destinations, i reign myself in and get back to the task at hand. So many options, i'm always left deciding between a handful of beautifully photographed recipes. This was no exception to the rule. We eat a lot of veggies at dinner around here…and i've been wanting to get a bit more creative with my prep of them. This zucchini recipe is the bomb. dot. com. So much so that i had to call Pam promptly after dinner to rave about it. And she promptly let me know after she made it that it was a home run at her place too!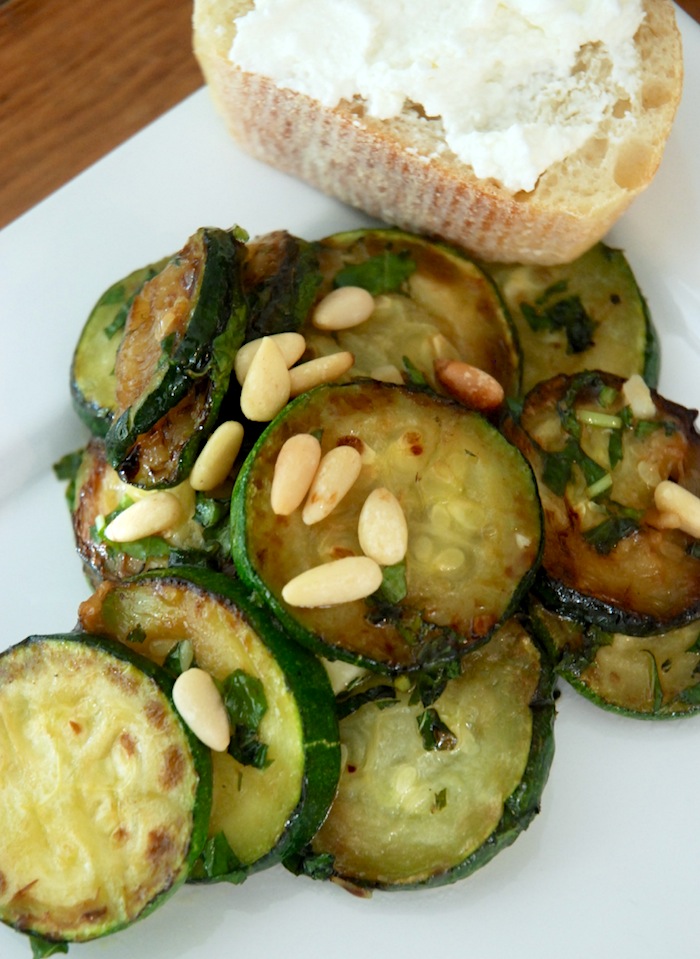 This really is perfect for a summer meal. Fresh, light and and so flavorful. Fresh herbs have a way of imparting those characteristics in a meal! I opted to serve fresh baguette smeared with ricotta alongside to keep the meal light. Pam complimented it with grilled chicken. I wanted to show you both presentations…My simple prep shown above. Pam loves to play around with recipes and i'm loving what she did. Atop the grilled chicken she placed the thick slices of sautéed zucchini and then topped those with the fresh herbed pesto (rather than mixing it all in together). The dish is finished off with some goat cheese and toasted pine nuts.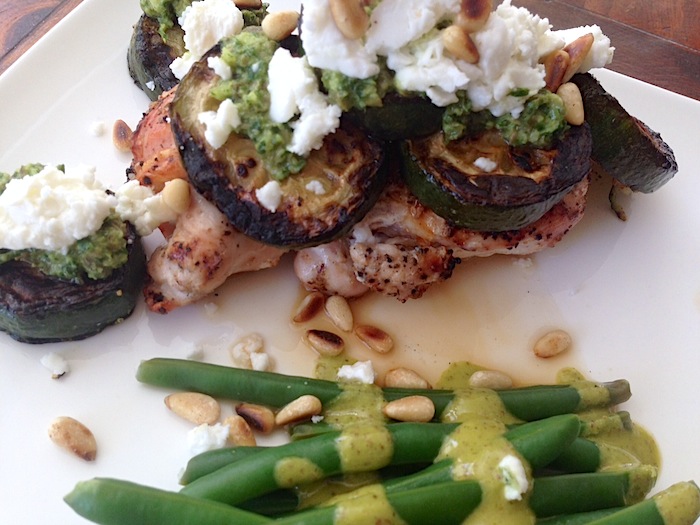 Whether you serve this zucchini as a simple meal for your family or to a table full of guests, i'm pretty sure the result will be some happy bellies! Bon appetit!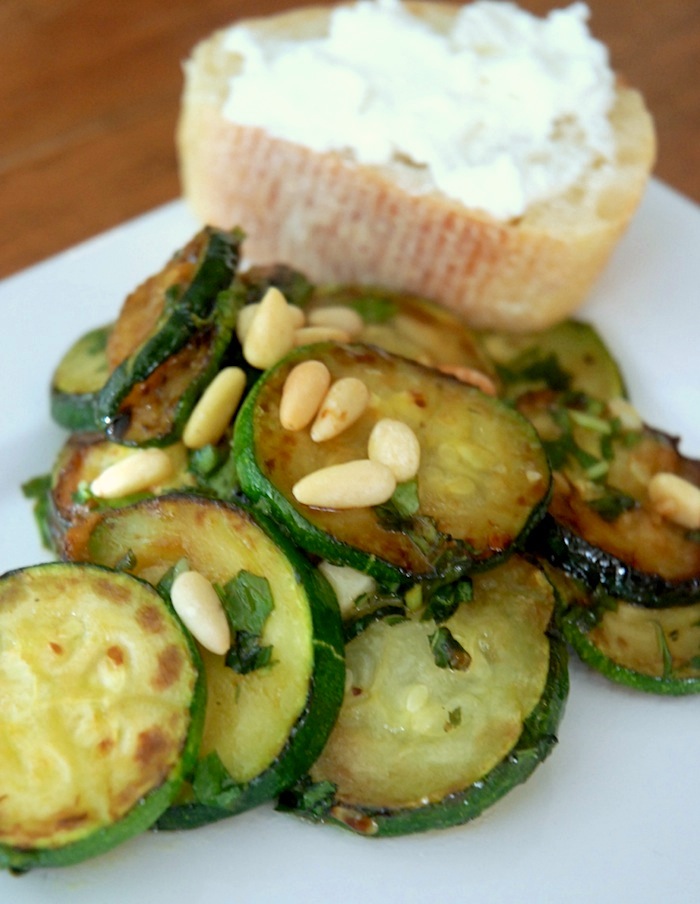 Sauteed Zucchini with Basil, Mint and Pinenuts
Author:
Mariana Bull of Food 52, ever so slightly adapted from Deborah Madison's "Vegetable Literacy"
Ingredients
1 pound zucchini (or any summer squash), sliced into ½-inch rounds
3 tablespoons olive oil, divided
3 small cloves garlic
10 mint leaves
5 basil leaves
1 heaping tablespoon capers, rinsed
2 tablespoons walnuts or pine nuts, lightly toasted
1 to 2 teaspoon red wine vinegar
Sea salt and freshly ground pepper, to taste
Additional mint and basil, torn, to garnish
Ricotta and your favorite bread (optional, for serving)
Instructions
Heat half of your olive oil in a 10-inch skillet over medium-high heat.
When the oil is hot, add half the zucchini and sauté, flipping and turning every few minutes, until golden brown, about 15 minutes. Don't salt them yet!
While your zucchini cooks, chop together the garlic, mint, basil, and capers so that they intermingle and turn into a sort of knife pesto.
When the zucchini is golden, remove it from the pan and cook the remaining zucchini in the remaining oil, just as you did the first batch.
Then add the first batch back into the pan, along with the herb-garlic mixture and the vinegar, to taste.
Taste for salt; add a good pinch, plus a few cracks of pepper. Toss well. Scoop everything out onto a serving plate.
Right before serving, sprinkle on the nuts and extra herbs as a garnish.
Carve out a corner of my serving dish, dollop on a big pile of ricotta, and serve everything together with thick slices of crusty bread.