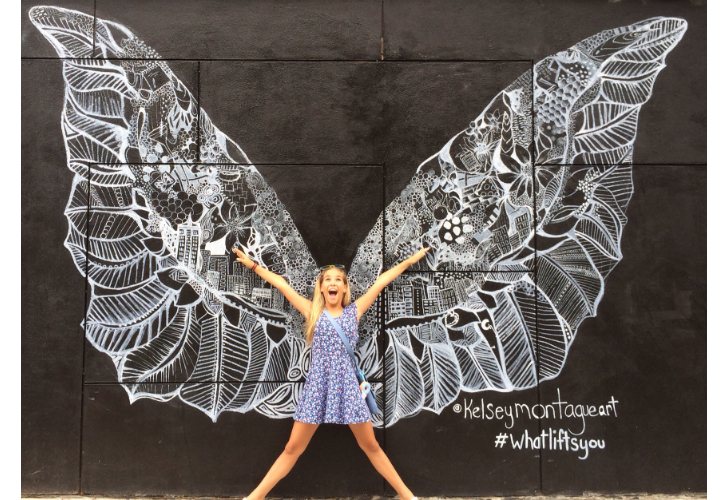 Hello New York City!  After the Turks and Caicos, we headed north to NYC  for The Dance Awards…a dance competition and convention that the girls were participating in.  I SERIOUSLY LOVE New York…it's one of my favorite cities!  There's such great energy and I love discovering new neighbourhoods each time I'm there.
Jason, Mac and I headed to different parts of the city while the girls were dancing and then they joined us in the evenings for dinner and more exploring.  We bought the kids all unlimited one week subway cards…it's the fastest way to get around the city.  I felt like a mole every time we surfaced from a subway station, trying to get my bearings or see street signs to figure out which direction we needed to walk in!!!
So, my top 10 highlights from NYC are…..
1.  Walking the High Line – It's a public park built on a historic freight rail line elevated above the streets on Manhattan's West Side running from the Meatpacking District to Chelsea. Jason and I had walked this with the kids 5 years ago when it was brand new and it was amazing to see how much the foliage has grown creating an oasis in the city.  There are food vendors along the way selling popsicles, gelato and other treats. It's a great way to get an elevated view of some of the coolest neighborhoods in the city.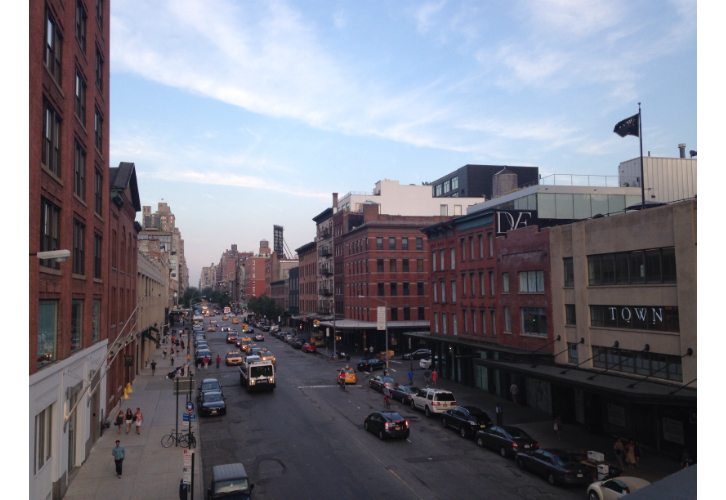 2.  Blueberry pancakes at Clinton Street Baking Company – I'm not a pancake person, but after waiting at this popular breaky spot in the Lower East Side, I had to try their signature dish and….wow….yes, the BEST pancakes I've ever had!!! The chocolate scones we bought at the counter when we put our name in were so good…short, with lots of chocolate chunks…the perfect cure to our hunger pangs as we waited!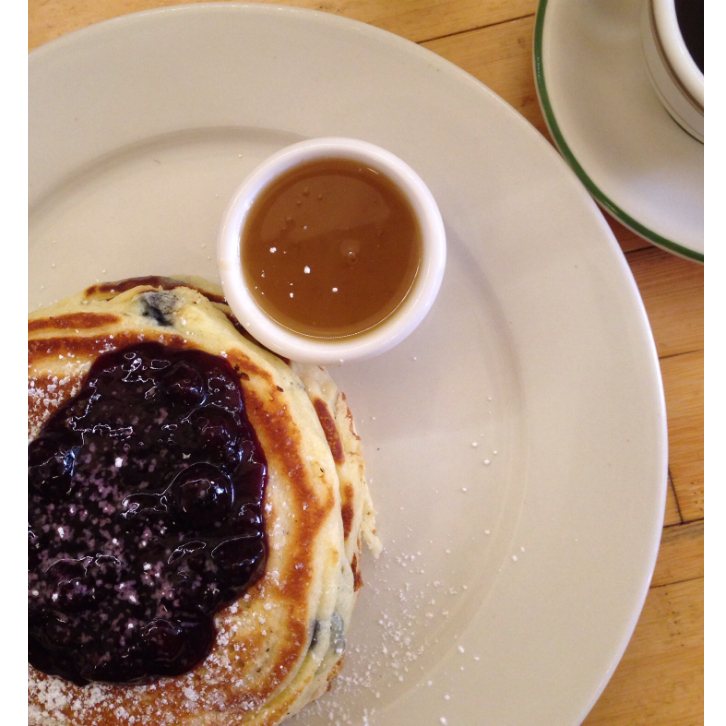 3.  The 911 Memorial Museum – On my last trip to NYC, I visited the 911 Memorial reflecting pools.   It was extremely sobering to walk around the site that used to house the World Trade Towers, which I had gone up with my family on my very first trip to New York when I was 16.  Reading the names along the edges of the reflecting pools was so emotional. Since our last visit, the museum has opened up.  I'm not much of a museum person and neither is the rest of the fam, but Laurel and Scott had gone and insisted that we should go.   This museum is incredibly well done, from explaining the architecture of the World Trade Towers, to recounting the events of September 11, to the recorded phone calls of passengers, to transcripts of the terrorists conversations in the cockpit, to damaged firetrucks that were onsite, to tracking the movements of the terrorists in the U.S. as they planned this attack.  It was both fascinating and incredibly moving at the same time.  The personal effects that were gathered made it so personal…shoes, IDs, a receipt from Home Depot, a MetroCard. The visit really educated the kids about 911…I remember that day so vividly but they were too young. If you are planning to visit New York, I highly recommend that you plan a morning or afternoon to spend here.  You can buy tickets in advance and plan on staying around two hours.  You won't regret it.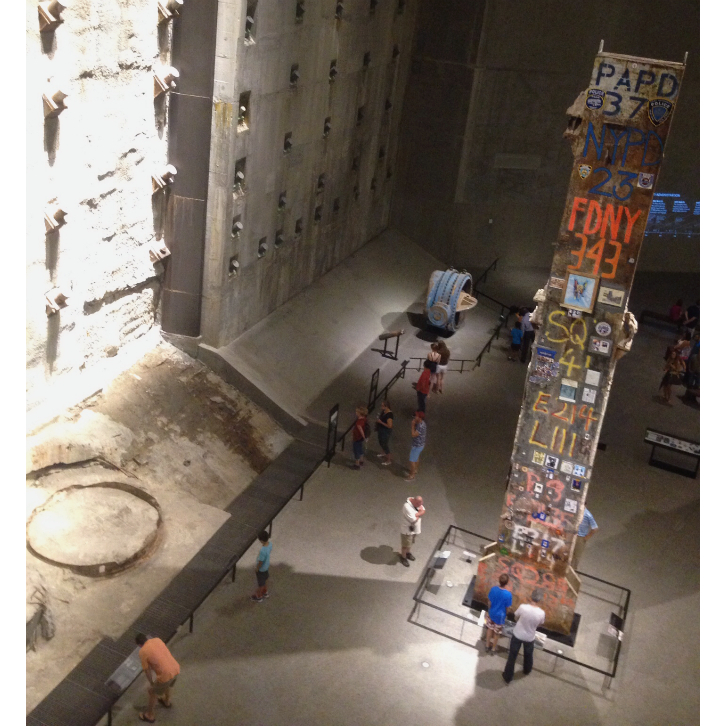 4.  Wicked!!!!  The girls and I along with a bunch of their dance friends went to Wicked one evening on Broadway  It was amazing!!  I'm not a huge musical person, but I so enjoyed the incredible singing, stunning costumes and the humor!  I even found myself emotional at the end…it was that good!  If you are planning on seeing Wicked, make sure to buy tickets a few days in advance as it's one of the more popular Broadway shows.
5.  The Empire State Building – it's iconic!  I always tell first time visitors to New York that one of the first things you should do is visit the Empire State Building.  You get such a great overview of the city from there.  You can look uptown to Central Park, downtown to the Financial District and even see Lady Liberty.  It really gives you a good flavor for the different areas of the city and helps to get your bearings.  If you know what day are you going to be visiting the Empire State Building, I recommend purchasing tickets in advance to avoid the line.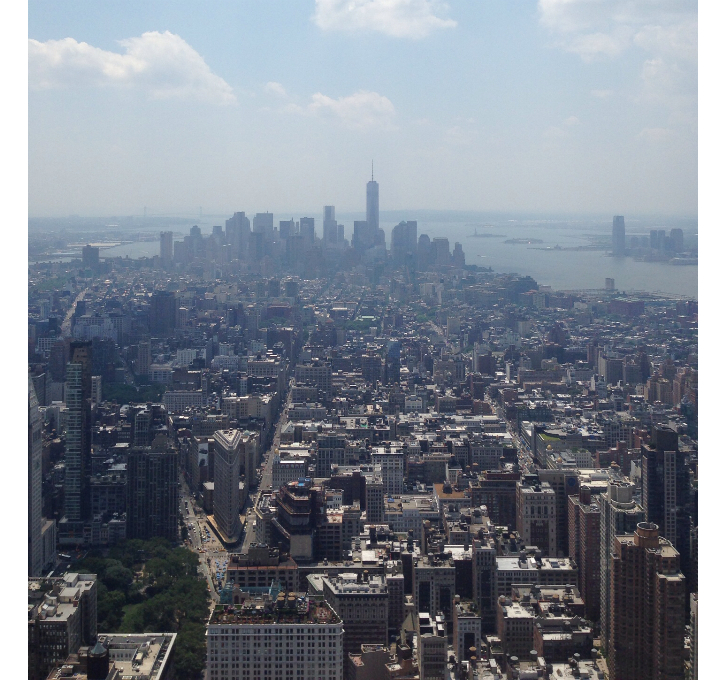 6.  Eating dinner at the long table at Buddakan – it's located on the heart of the Meatpacking District.  This was our fourth visit to Buddakan…..Jason says that the test of a good restaurant is that they deliver good food and great service each time…and yes, they did!  I was thrilled to find out that we were seated at the long table.  I've always wanted to sit there! Favorite dishes…edamame dumplings, chilled udon noodles, hoisin glazed pork belly buns.  Their specialty cocktails are so worth a try.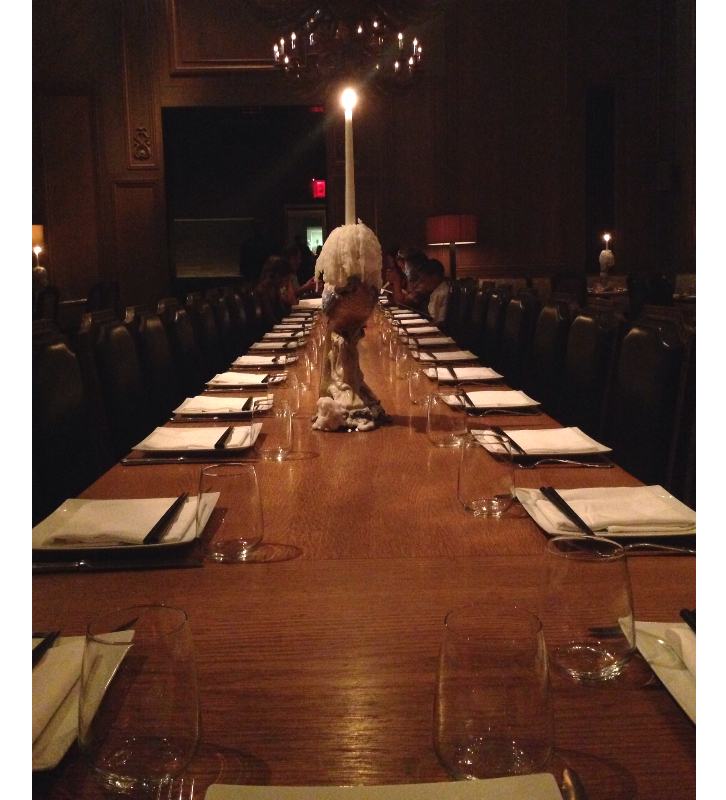 7.  Seeing celebs in Soho – Berkeley has some serious celeb radar.  She spotted Selena Gomez and Ansel Elgort (The Fault in Our Stars) walking around in Soho on two different occasions .  She froze….but Dylan ran, so they got pics with each of them. Watching them squeal and shake after meeting Ansel was pretty funny…can you say teenage swoon?! They make quite the celeb spotting team….or maybe paparazzi?!?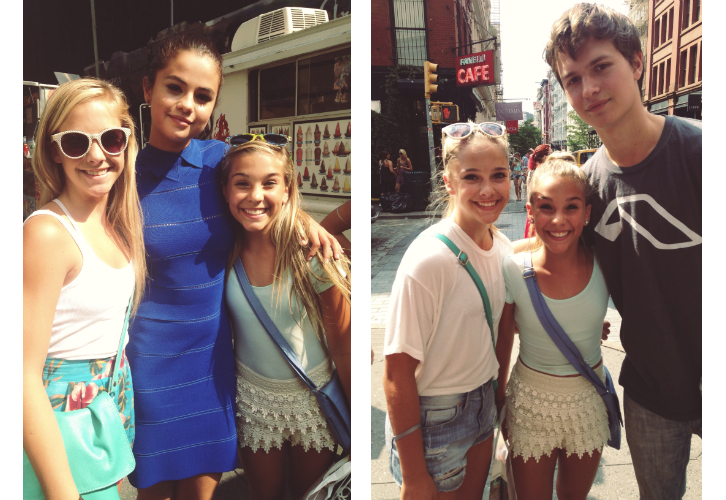 8.  Late night halal – if you are having halal in New York, don't be fooled…you have to go to The Halal Guys!  Jason prefers the original location at 53rd Street and 6th Avenue Midtown, but they have expanded to 5 locations.  We arrived at our hotel around 11pm and after dropping off our bags we headed for halal….Jason insisted…it's his fave!   I love the lamb, rice and lettuce with pita and a healthy dose of their secret white sauce….that stuff is amazing!!  And the portions are huge, perfect for sharing….and only $6.  Be prepared to stand in line, but it moves quickly.  They are open until 4am.
9.  Some of the best coffee evah!  Watch for Laurel's post on our fave NYC coffee joints.
10.  Getting drenched to the bone in a thunderstorm – After walking through the 911 museum, we walked up the stairs to see that it was raining, actually pouring!  And then the thunder and lightning started, echoing between the highrises in the Financial District.  It had been sunny when we headed to the museum in the morning, so we didn't have jackets and only one umbrella that Amanda, the girls' dance teacher, brought.  Apparently we didn't check the forcast.  We debated whether we should wait it out, but it seemed like it could be a while as alerts for flash floods popped up on our phones.  We decided to run for it….the site is so large so there were no shops to buy umbrellas close by.  Amanda shared her umbrella with me, but the wind and sideways rain made it pretty much useless. Luckily it was warm, but by the time we scurried into a souvenir shop we were soaked! We bought a bunch of umbrellas and continued to run to the subway station.  We all looked like drowned rats, running and laughing… it's a memory that we won't soon forget.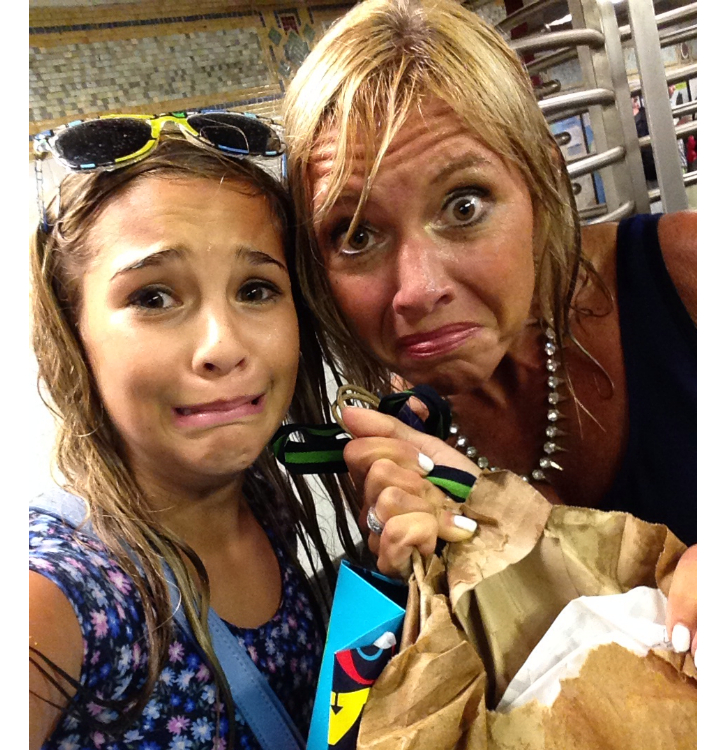 Each time I visit New York, I come away with a list of things and areas that I want to check out on my next visit, and even though we were there for 9 days, I came away with a long list again.  I'm pretty fortunate that my family loves NYC just as much as I do, so I know that we will be back as often as possible!