Pam and i love a good cup of coffee. Period. Problem is, we kinda fancy ourselves to be coffee connoisseurs, which means we need to actively seek out where we can get our hands on exactly that. A good americano isn't available on every street corner if ya know what i mean!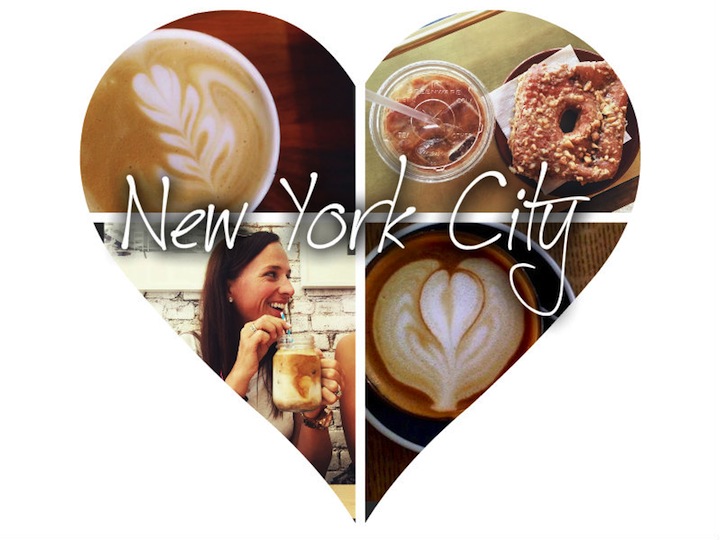 On our recent trip to NYC we made a pact to place a friendly ban on Starbucks (hold up…no dissing Starbucks, but we decided we needed to branch out and delve into the coffee culture in town). We had a ton of fun wandering off the beaten path and found some kick butt coffee houses in all parts of the city! We're also happy to report that we now know where a ton of restrooms are too..ha!
Interestingly, we found ourselves in the company of many a Down Under accent.  Australians are bringing their coffee culture to new coffee houses in NYC. Bucking the "grab your watered down coffee and run" attitude, they are reviving the appreciation of organic, fair trade coffee beans. What i also love is that they are encouraging the social element of drinking coffee. Beautifully designed spaces…modern, organic, raw and bright spaces that make you want to have a sit down and stay for awhile. PS. just need to say that the aussies have to be the friendliest out there and made our coffee research (wink wink) all the more enjoyable! Here's our list…enjoy!
1. Bluestone Lane -a West Village must stop if you're serious about your coffee. Worth the splurge is the Aussie Iced Latte: a double shot of espresso poured over milk and ice cream. We kinda went crazy over it. For eats, think fresh Avocado Smash paired with tahini, heirloom tomatoes, sprouts, fetta and lemon, topped with delicate poached egg. Nuff said. Their seating areas are incredibly charming so give yourself time to sit down and take it all in. A back patio also has cozy tables, with string lighting and ivy surrounding..it's an escape from the city for sure.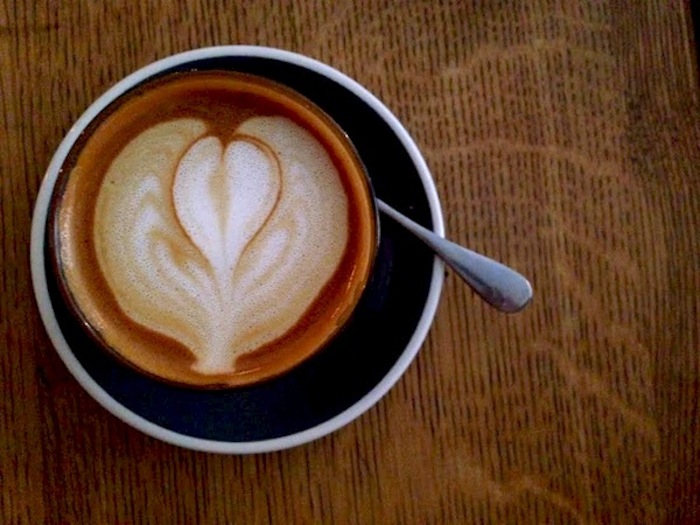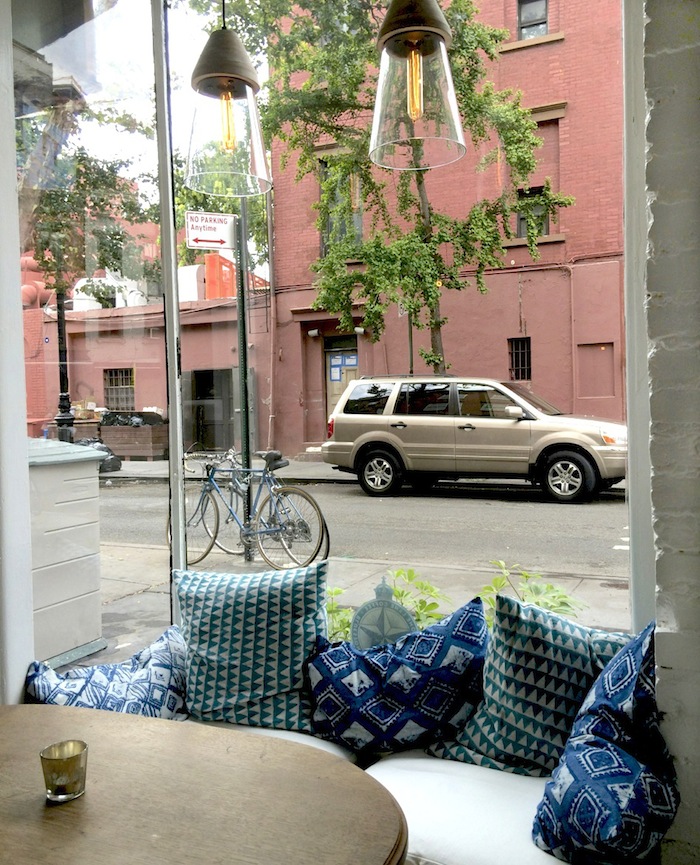 Bluestone Lane's inviting seating area…
2. Two Hands – Fell in love with this place…Located in Little Italy (bordering China Town), Two Hands was one of my very favourite breakfast spots. My iced almond milk latte was delicious..and i loved that it was served to me in a mason jar…hey, its all in the details! Their fresh fruit and veggie smoothies were a great option for those who aren't coffee lovers.  Avocado toast or granola with yoghurt and fresh berries make it the perfect place to grab a fresh and healthy breakfast in short order.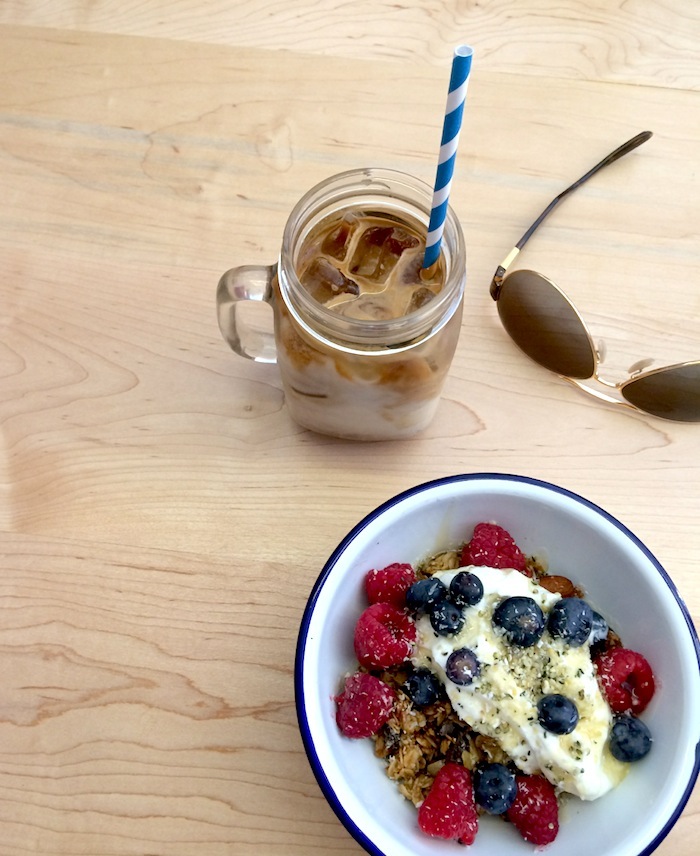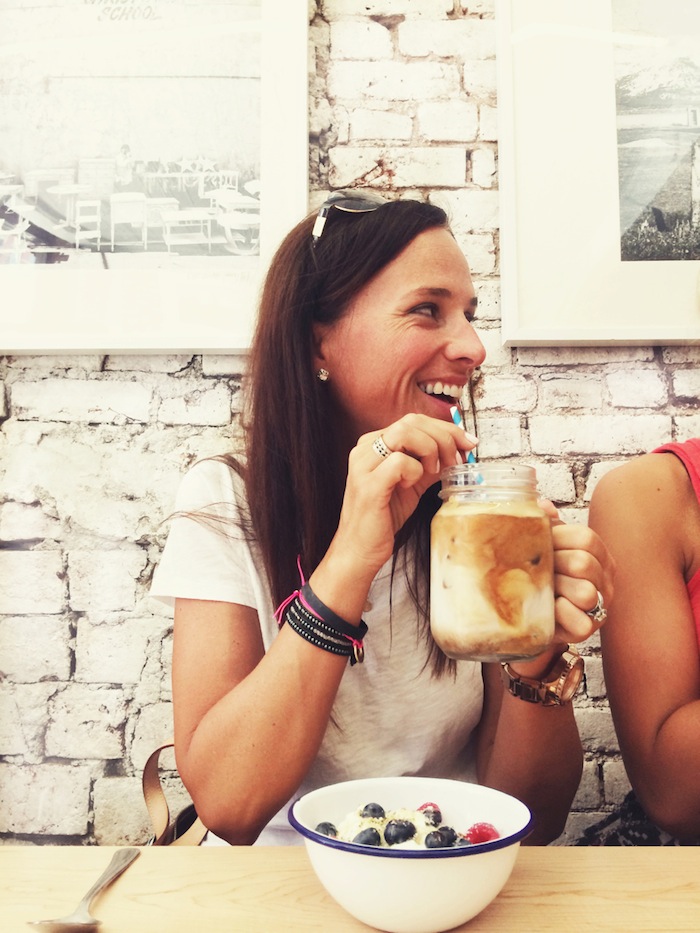 The perfect breaky to start our day of shopping at Two Hands Coffee..
3. Toby's Estate Coffee-In the Flatiron district, this Aussie joint was bustling! Definitely more of a pick-up and go situation as there isn't much seating. The building is charming with the tin-pressed ceilings and a huge vintage mirror for their menu board. Delicious lattes. For an authentic Aussie coffee, order a Flat White.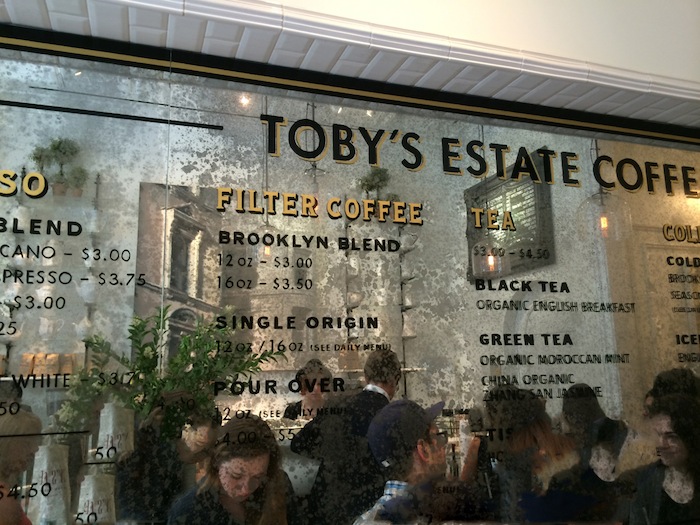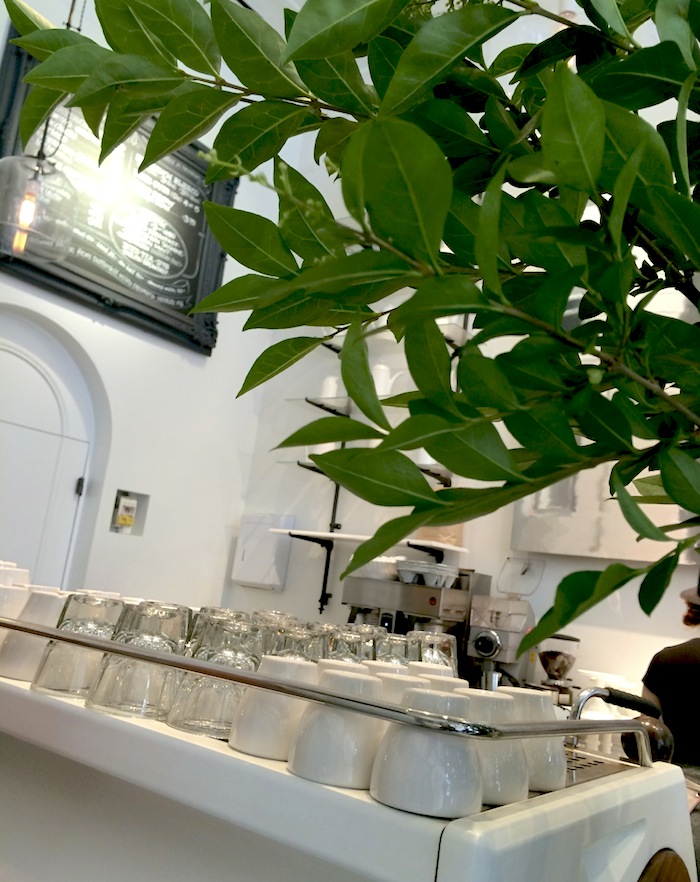 4. Blue Spoon- a hipster haunt in the otherwise slightly sterile Financial District, they serve up some good beans..Intelligentsia coffee, which i've loved for a long time. Their honey lavendar latte is so-o good!  Another enticement is their use of Balthazar breads..best. bread. ever.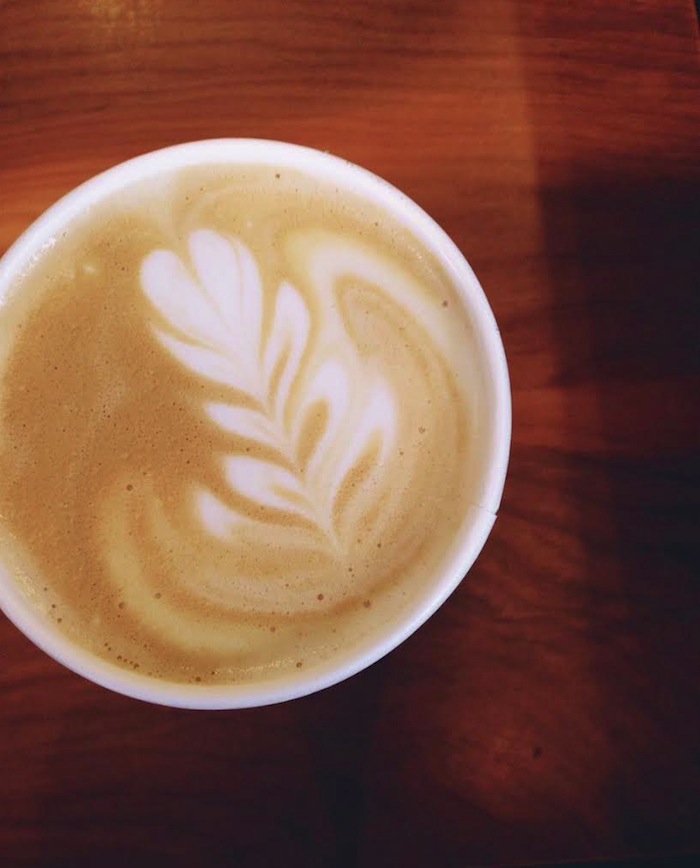 Honey Lavender latte at Blue Spoon
5. Stumptown Coffee – located in the swanky Ace Hotel in the Flatiron district, this Pacific Northwest import serves a f-i-i-ne iced almond milk latte. Roasters of their own beans, they take coffee seriously!  Their baked treats are also delicious. The Ace's incredibly rad lobby serves as a seating area..the free wi-fi made it a perfect chance to rest our weary feet, caffeinate and get our instagram on!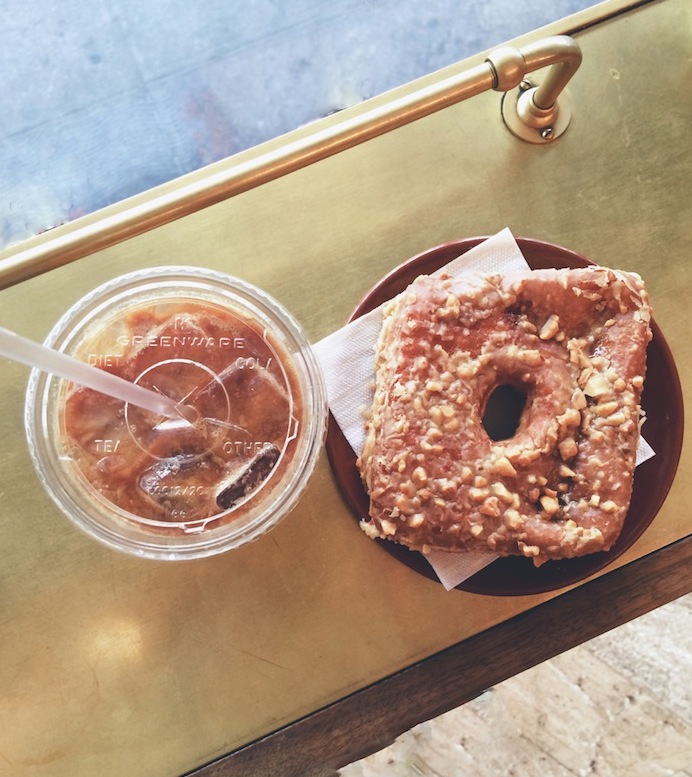 We went old school when refuelling at Stumptown Coffee: Peanut Butter and Jam! There was some serious negotiating over that doughnut..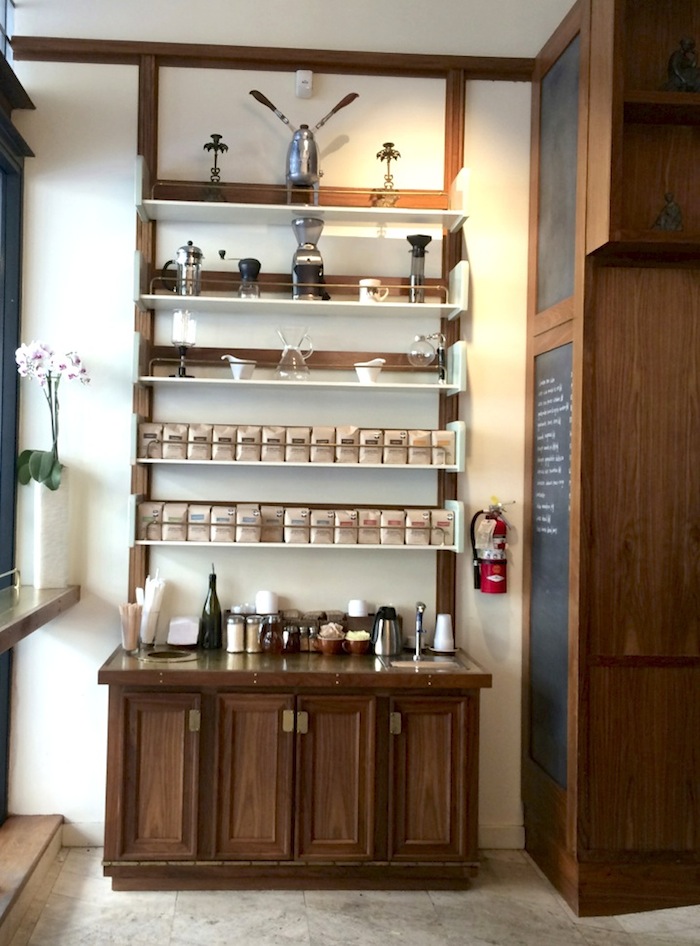 Loved the warm yet clean aesthetic of Stumptown…
6. Dean and Deluca – a trip to New York City must include a visit to Dean and Deluca. Our favourite location is in Soho on Prince St. A bustling fine foods outlet, expect to feel the crowd, but they succeed in providing a European atmosphere which is worth the visit. We love to grab a latte and then browse their highly curated departments: produce, artisanal treats, cheeses, teas…they make grocery shopping look like a treat!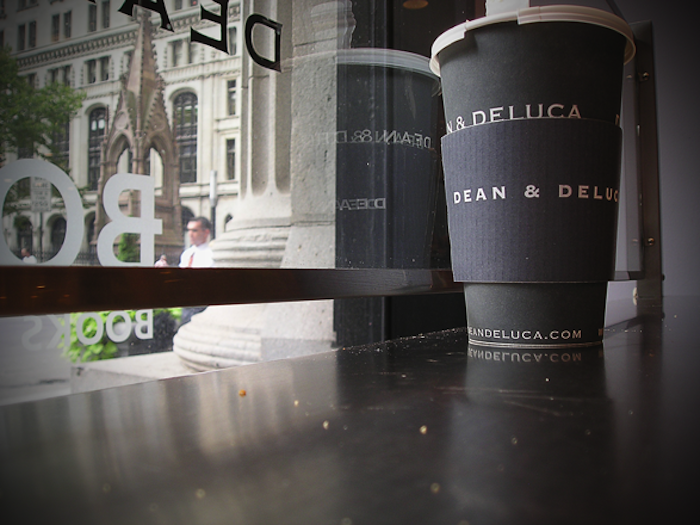 image via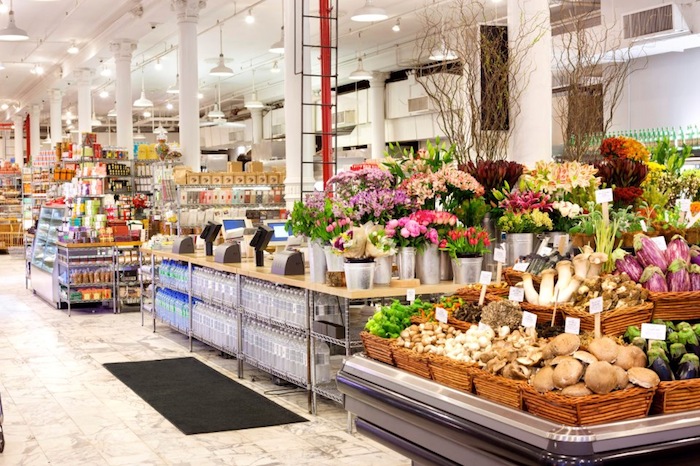 Stroll the aisles with coffee in hand…. image via
I know this is just the tip of the iceberg. We had more on the list but literally ran out of time…well maybe ran out of patience on our hubby's and kid's part! Next time NYC…in the meantime, i'm in serious withdrawal. Help!